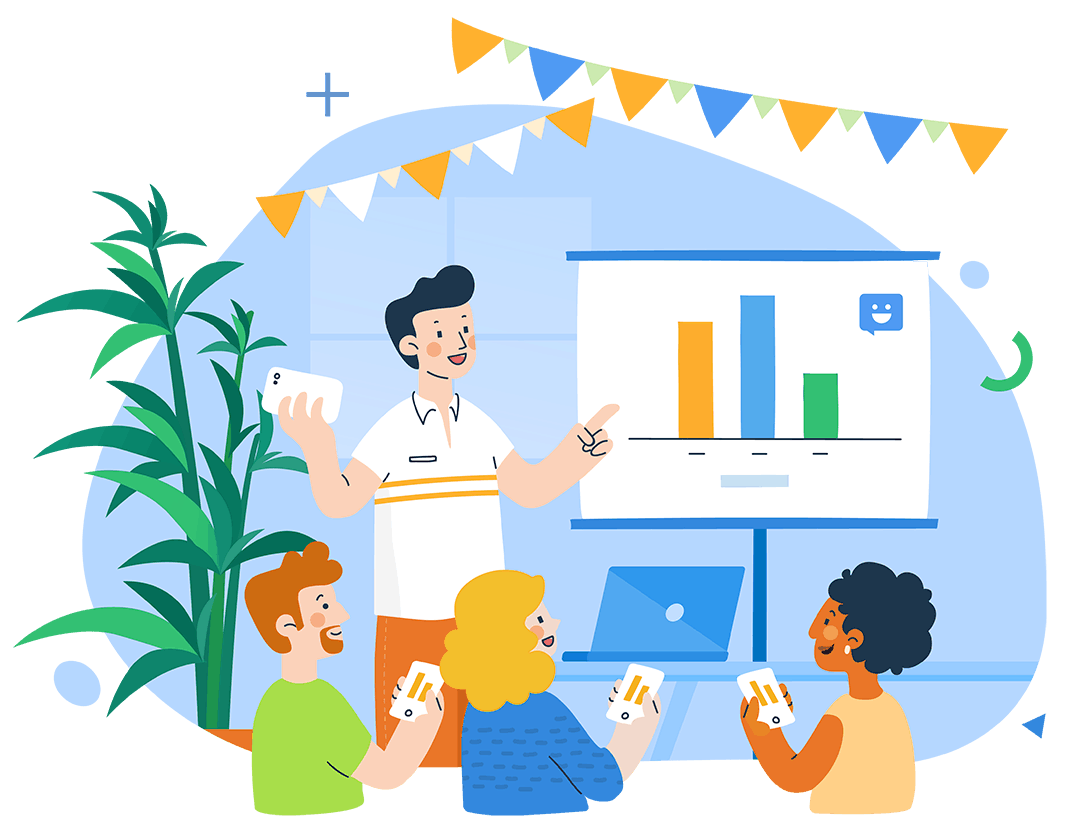 Live audience engagement for your
meetings, classrooms, trivia nights, workshops, events, Zoom hangouts
meetings
Live audience engagement for your meetings, classrooms, and hangouts
AhaSlides makes it easy to add polls, live charts, quizzes, word cloud, spinner wheels, engaging Q&A sessions to your presentation. So you can be the real star on stage!
How does AhaSlides work?
Capture your audience's full attention in 3 easy steps!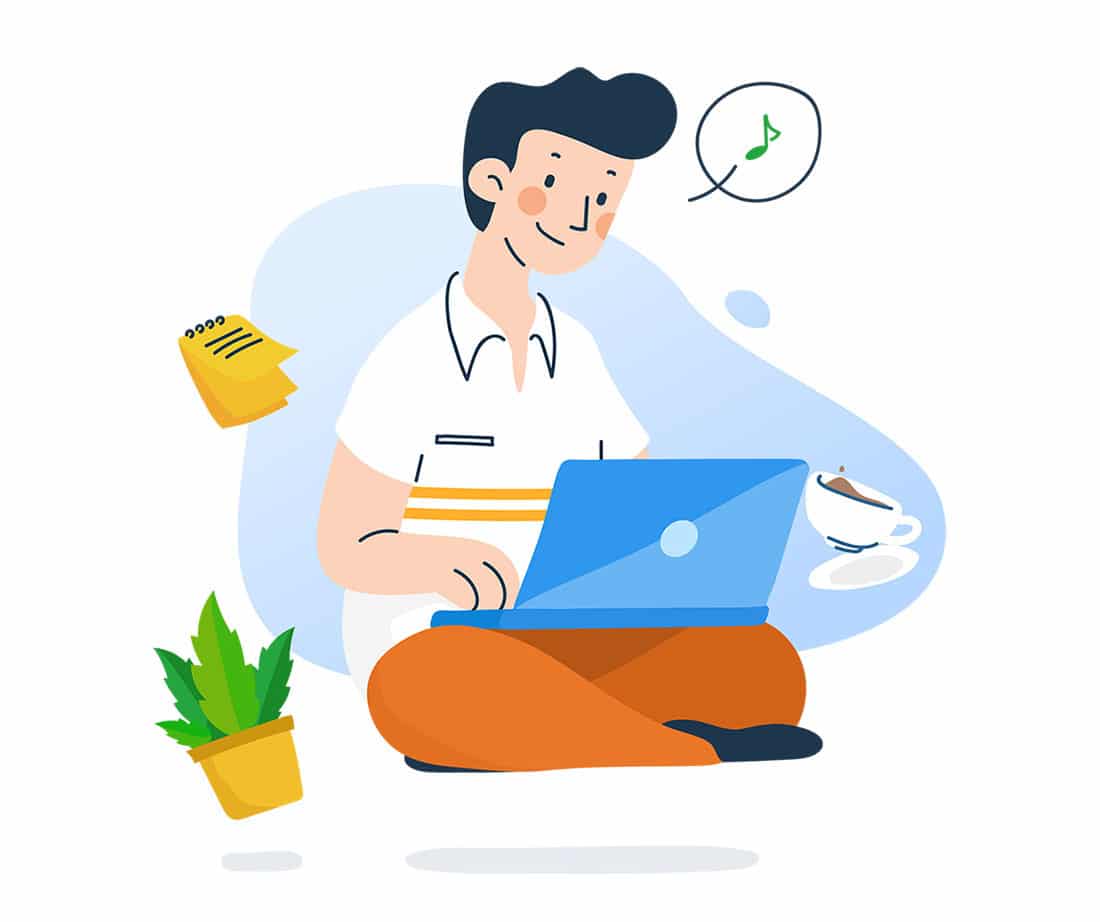 1

Ask a question

Create a presentation right on the web and write the questions you want to ask. You can also add regular slides with text and images in between the questions.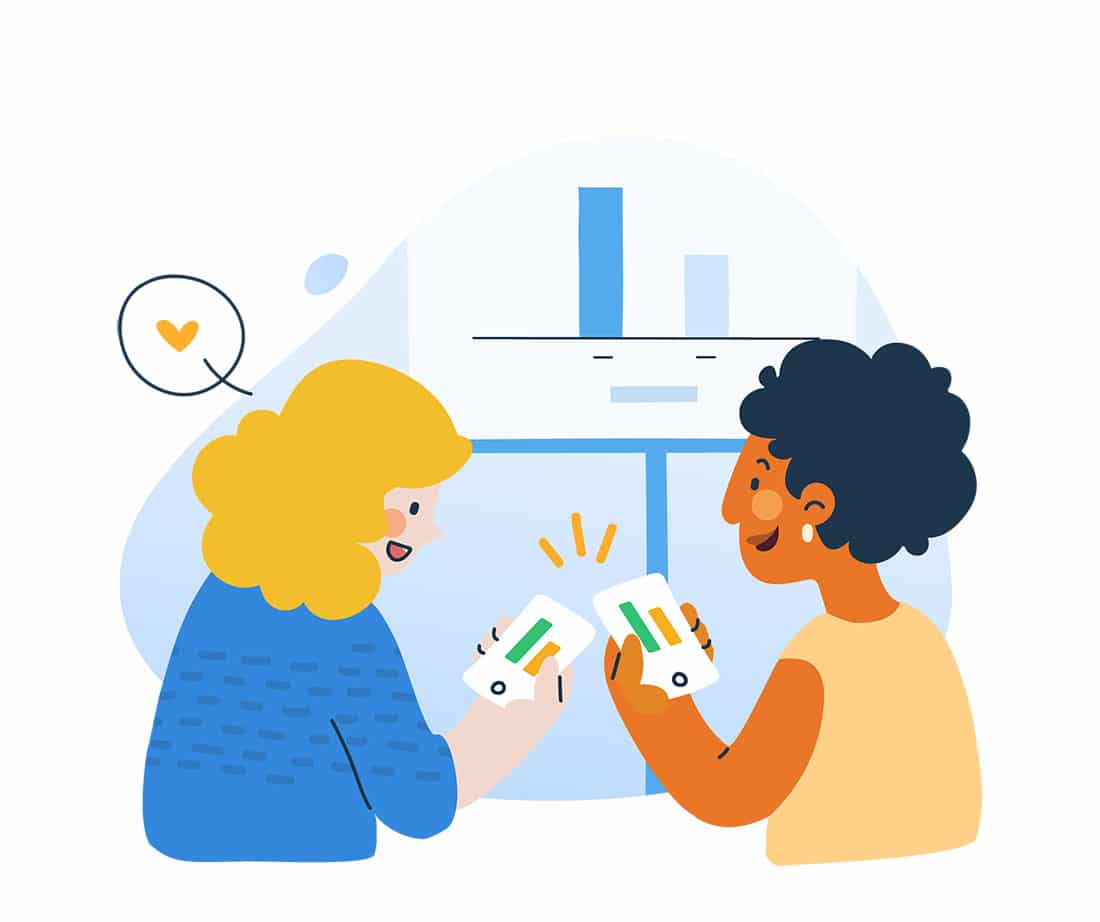 2

The audience respond

Your audience scan the QR code or follow the link to cast their votes. They can also send live reactions and submit questions. No installation or setup needed.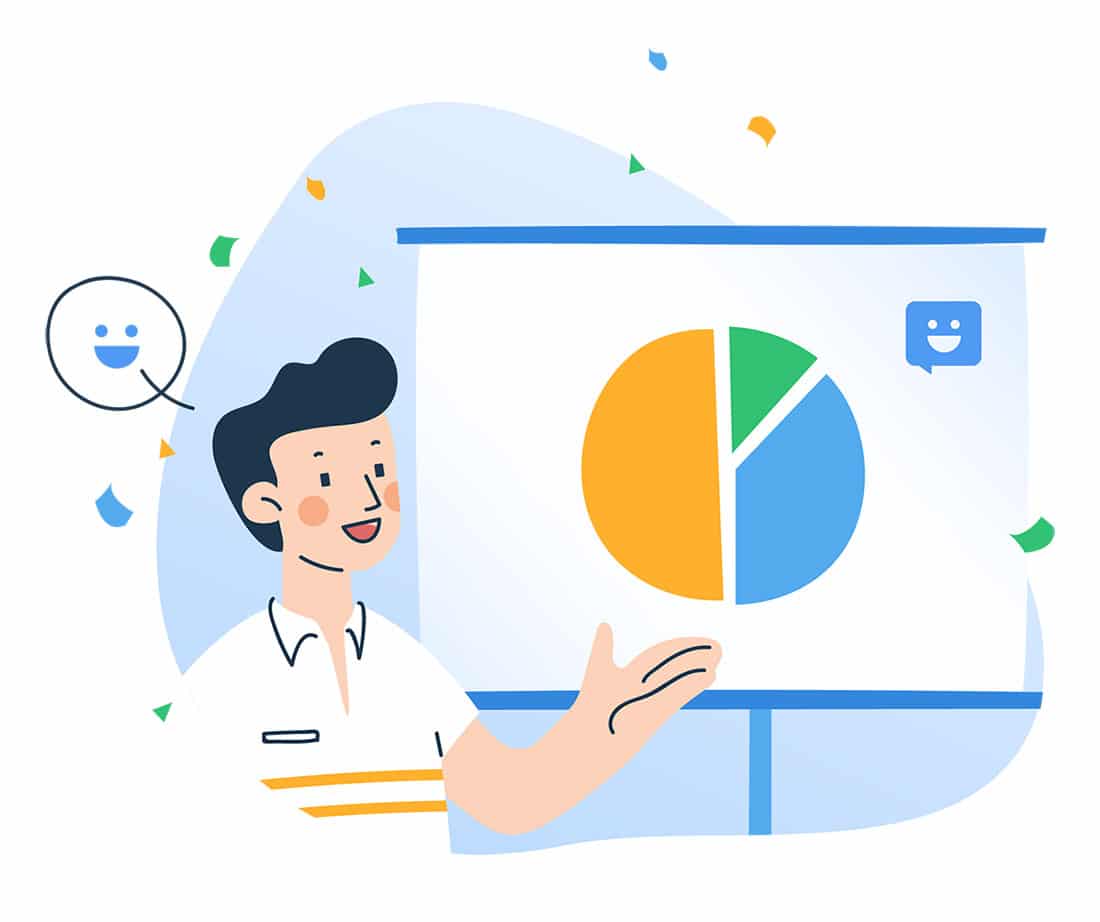 3

Results updated live on screen

As the audience submit their votes, the results are instantly displayed on your slides as beautiful charts, or in any other interactive format of your choice.
Charts that show live feedbacks from your audience
Wow your audience with striking charts. Make their voices heard. Capture everyone's attention.
All at the same time.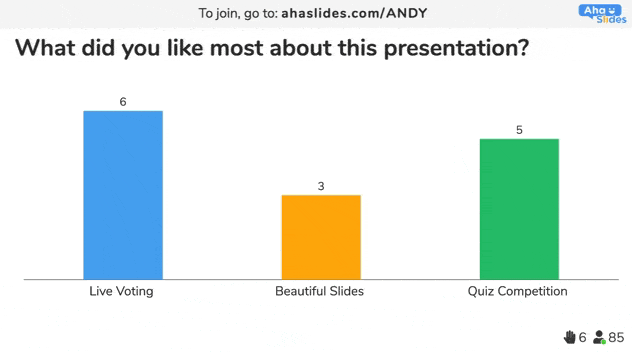 Add some fun (or serious) competition with AhaSlides Quiz
Create an exciting Quiz in just a few simple steps. Let the audience compete for the victory and pride. Make your event something they will truly remember.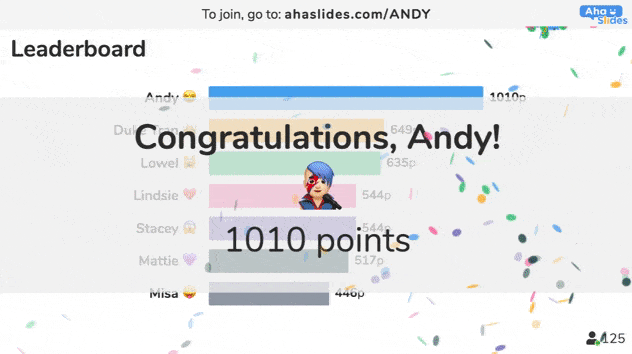 Brainstorming with Word Cloud and Open-Ended questions
Collect the best ideas from everyone in the room quickly. Display it in stunning formats.
Export full result data into Excel files for deeper analysis.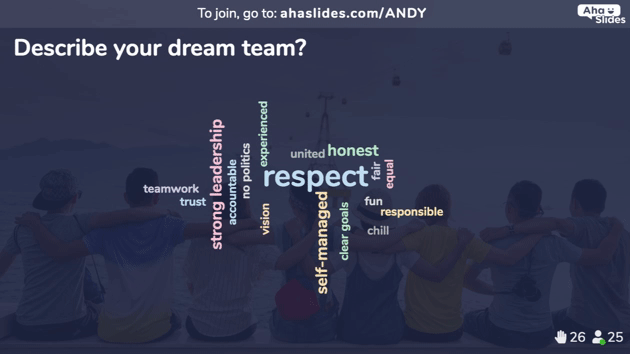 Host smarter Q&A sessions
Crowdsource the best questions from your audience. Involve everyone no matter where they sit. No more awkward waits for the microphone. No more interruption.
Hosting a Q&A has never been this easy!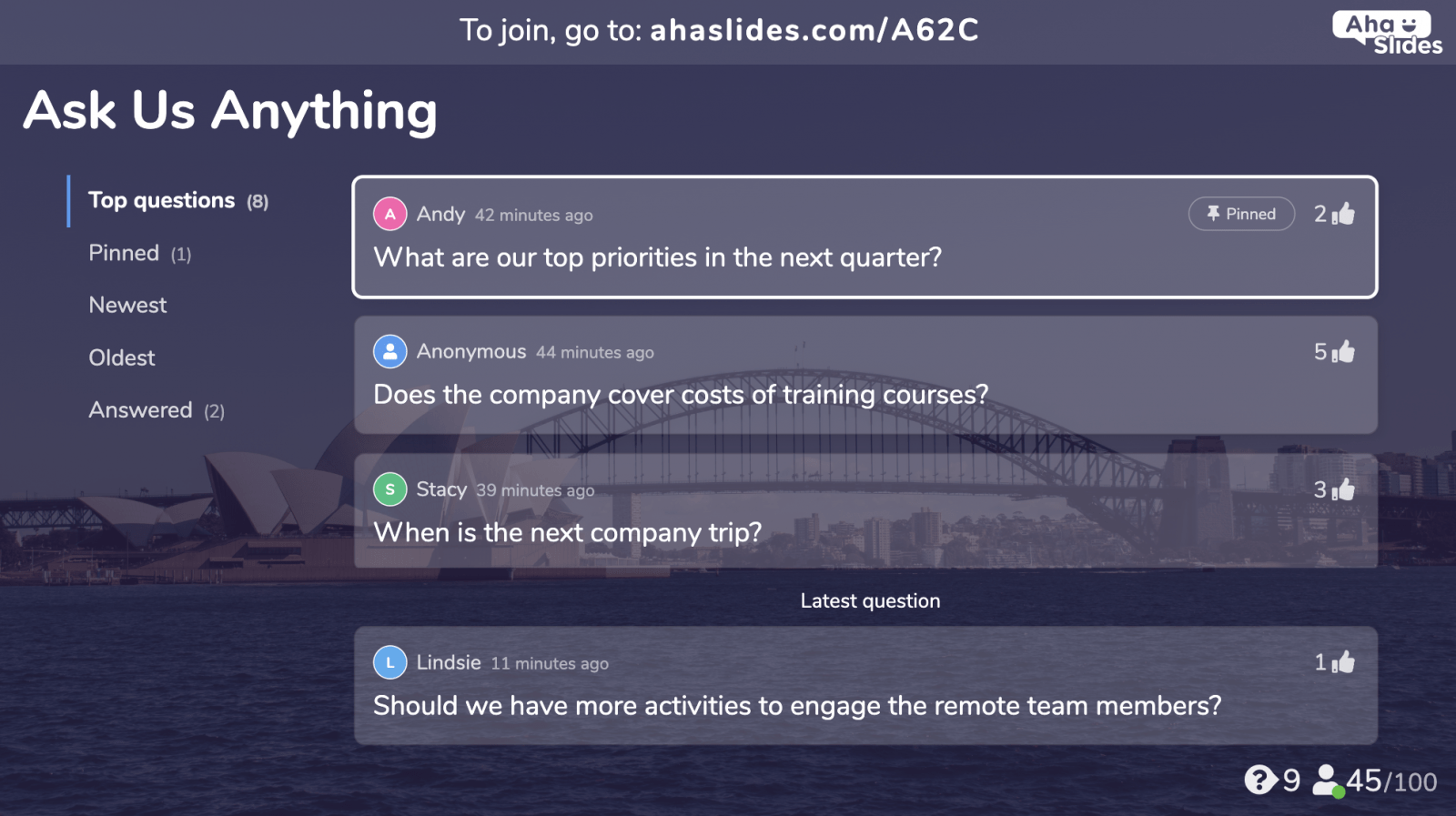 AhaSlides is super simple to use. Start now and see for yourself!
Thousands of public speakers, educators and teams around the world are using AhaSlides to create fun and impactful experience for their audience.
Thank you AhaSlides! Used this morning at MQ Data Science meeting, with approx 80 people and it worked perfectly.
People loved the live animated graphs and open text 'noticeboard' and we collected some really interesting data, in a quick and efficient way.
10/10 for AhaSlides at my presentation today – workshop with about 25 people. Worked like a charm and everyone saying how awesome the product was.
Also made the event run much more quickly.
Thank you!
Using AhaSlides in our remote Year 8 Geography lesson we were able to recap over 25 questions from the first three lessons of the new Urban unit. This competitive quiz really helped students tap into what they have learnt in the past two weeks and have fun!
Features
Let's make your presentation awesome!
We have made AhaSlides really easy to use. So that you can fully focus on creating a great interactive presentation, instead of worrying about the software.
Ask your audience in any way you like
Multiple Choice, Open-Ended, Quiz, Word Cloud, Image Question... Just pick the format that suits your event best, we've got them all.
Beautiful real-time charts
Amaze your audience with voting results displayed in colourful, snappy charts.
Analyse data
When your AhaSlides presentation is over, export full results and audience data for further analysis.
Fun Quiz games
Everyone likes winning. Make your presentation an unforgettable experience for your audience!
No installation required
You can use AhaSlides right away, from your laptop, tablet or smartphone.
Fully customisable themes
Make the presentation truly yours with beautiful backgrounds, custom logo and font.
Start using AhaSlides now, for free!
And public speaking will never be the same again.