Idea Board | Free Online Brainstorming Tool
Brainstorm Without Bounds.
Unleash
Aha!

Moments.

AhaSlides' Idea Board let ideas collide, merge and take shape. Our fluid, frictionless brainstorming platform sparks collaboration like nobody's business.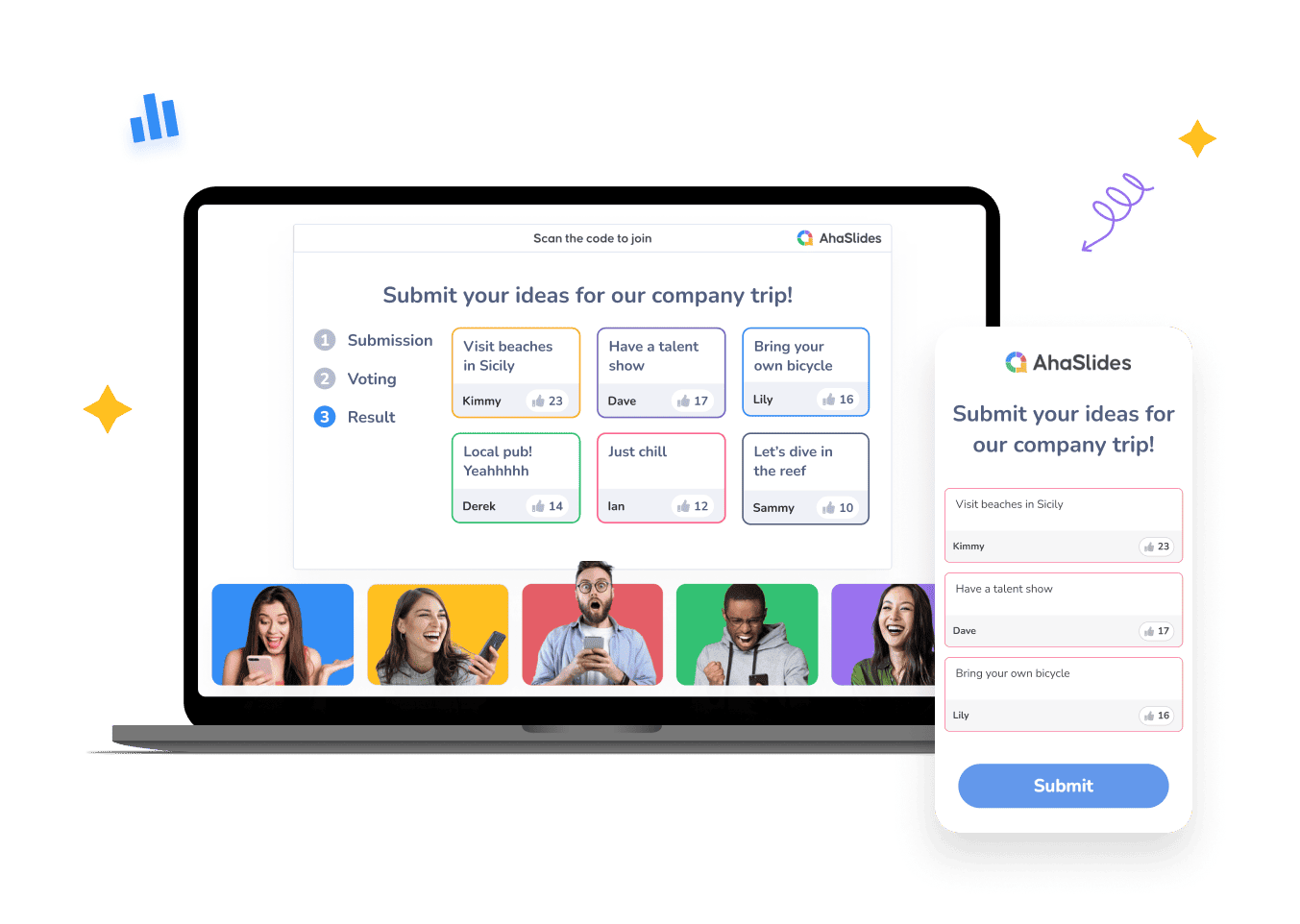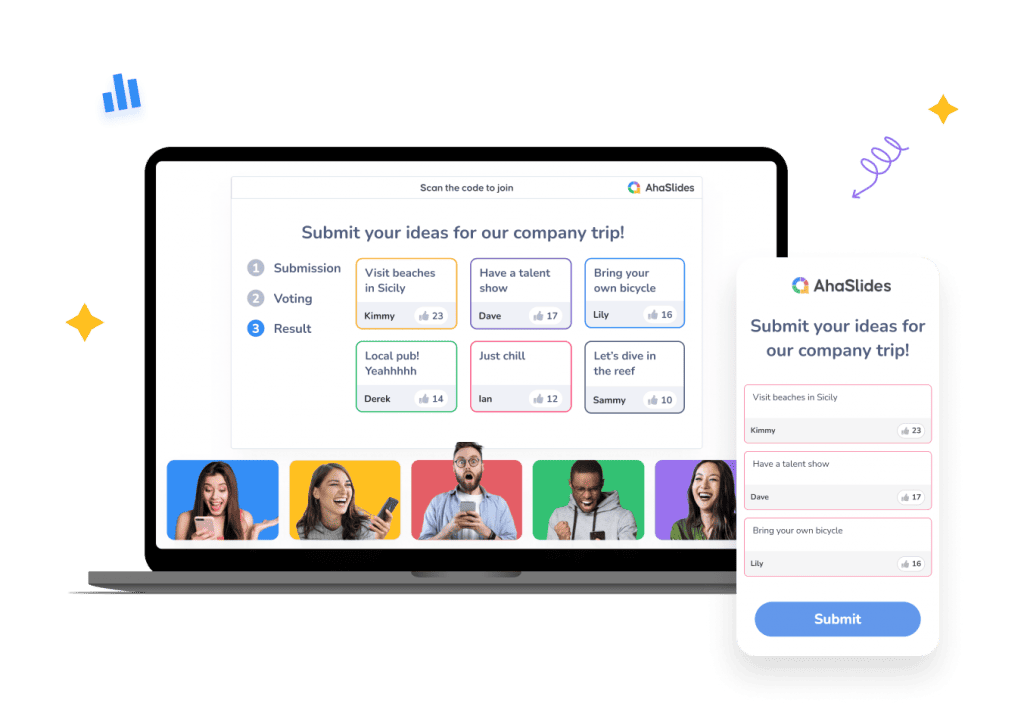 Real-time collaboration
Doesn't matter where your team are, our easy-to-use tool will let ideas flow and minds connect. Anonymous voting
Let participants submit ideas anonymously or with their names/emails/avatars, everything's possible! Idea tracking
Like an idea? Our upvoting feature will make prioritising and decision-making a breeze~
How AhaSlides' Idea Board Work
In just 3 easy steps, participants can throw open the floodgates of ideas, discuss, and vote on the best ones.
Networked minds discover what one alone may never find.
Uses for Idea Board
See how our brainstorming software can unleash untapped inspiration across every situation👇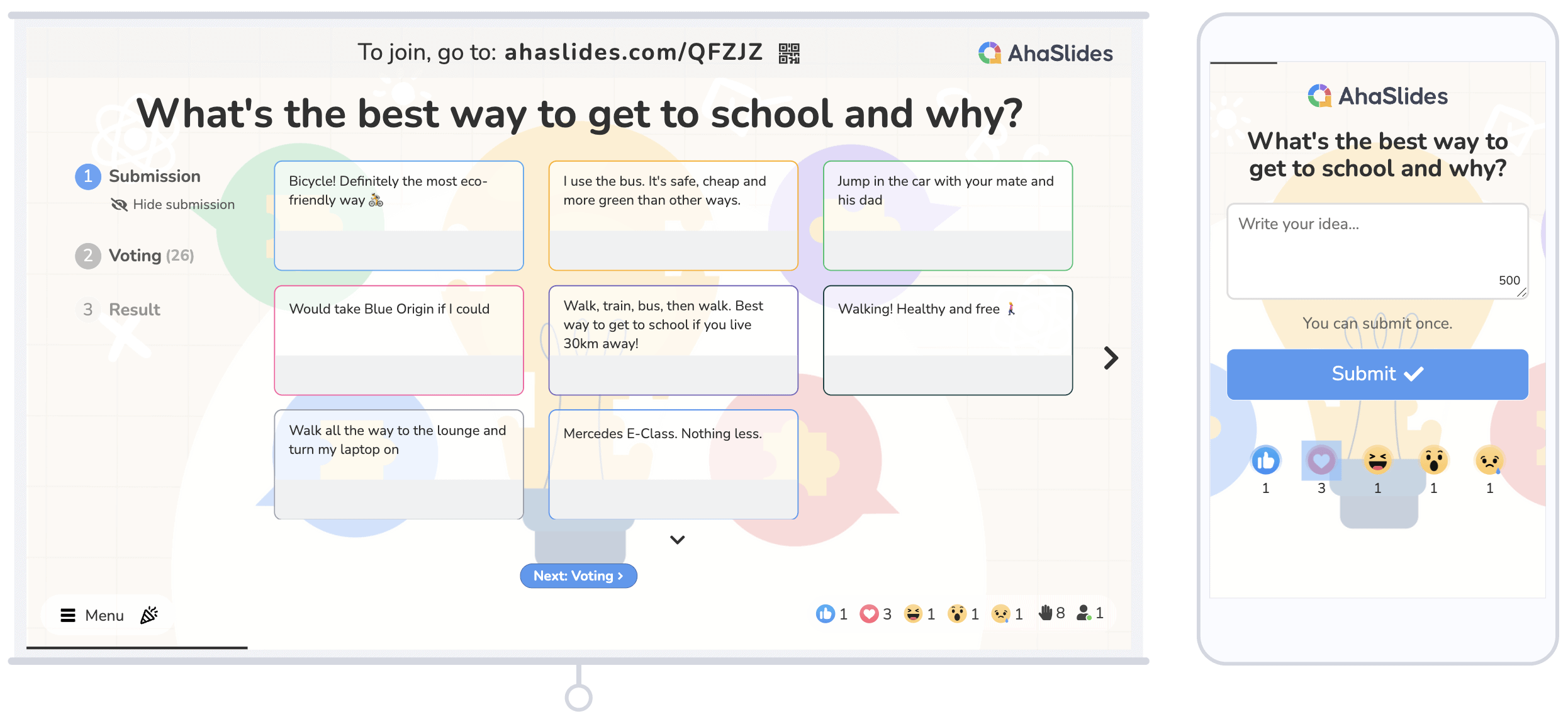 In the Classroom
Guide adventures in thinking beyond what textbooks allow. Encourage students' participation during lesson planning, project brainstorming, or coming up with discussion questions.
Remote/Hybrid Meetings
Jot down sparks, and weave ideas live among global teams, whether sitting in the office or cosying up at a coffee shop.
Training sessions
Engage trainees and push progress two steps further through breakout brainstorming and discussion activities.
Community engagement
Crowdsource ideas from participants through open brainstorming on themes/issues. Solutions can be built upon the shoulders of others' sparks.
Product development
Build bonds while breaking new ground via shared visioning. Everyone has a voice in the process.
Family/social planning
Dream up vacation ideas, birthday celebrations, or housing renovations with your members. The more the merrier.
Try Our Brainstorming Templates!
Whether it's an idea board for a retrospective, or a brainstorming session to help students spark their ideas, we've got some cool templates for you to try. Click below to check them out or access our Template Library👈
More Tips to Utilise Our Online Brainstorming Tool
Need more tips to sail the brainstorming session smoothly? Let our practical articles supercharge your strategy meetings!