Engage your audience with the right tools.
Discover a trove of interactive, collaborative, and customisable features in AhaSlides.
---
Pass the Mic
Get real-time audience opinions on your topic through polls, scales, word clouds and idea-sharing slides. Perfect for illustrating your point and visualising ideas.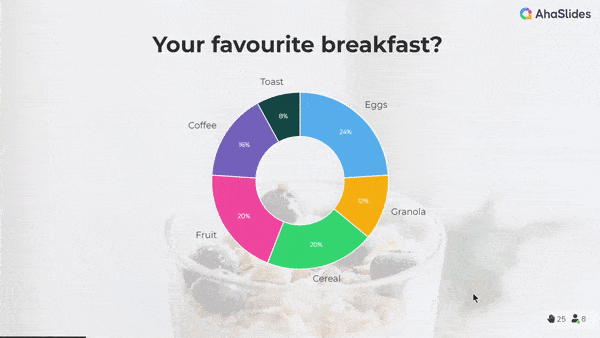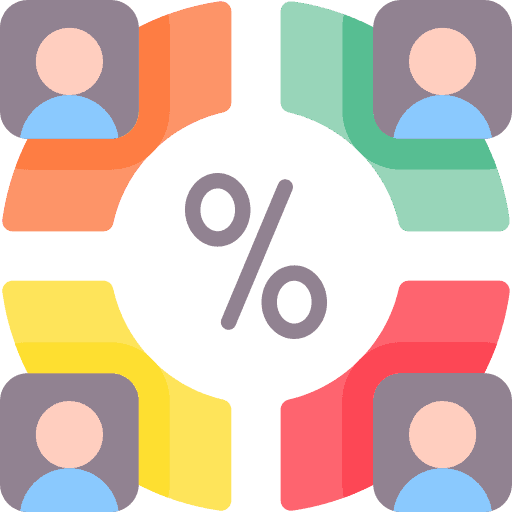 Polls
Visualise the opinions in front of you. Ask a question and the audience choose a text or image option from their phone.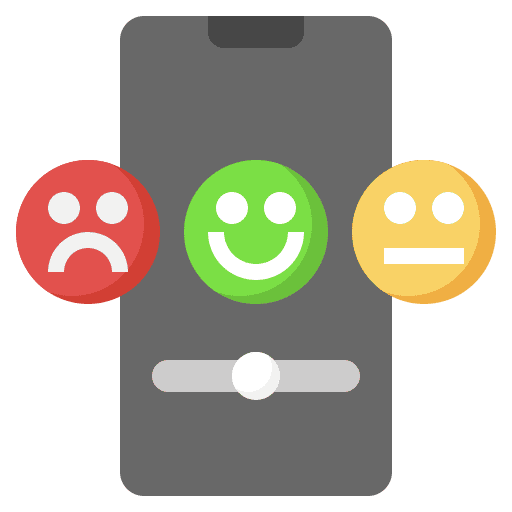 Scales
Participants rate different statements to a question on a sliding scale. Great for ordinal surveys.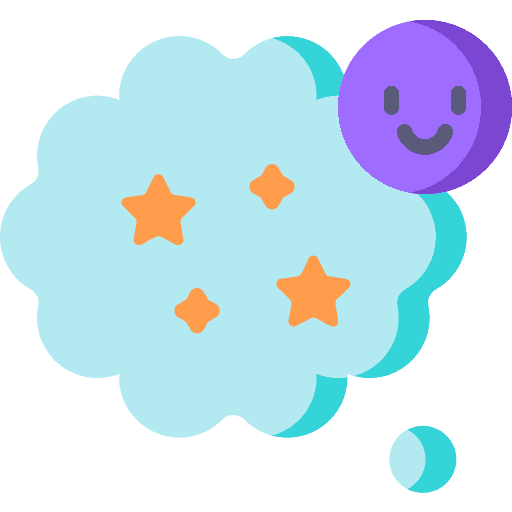 Word Clouds
See shared opinions with a word cloud generator. Get one-word opinions and see how many people share them.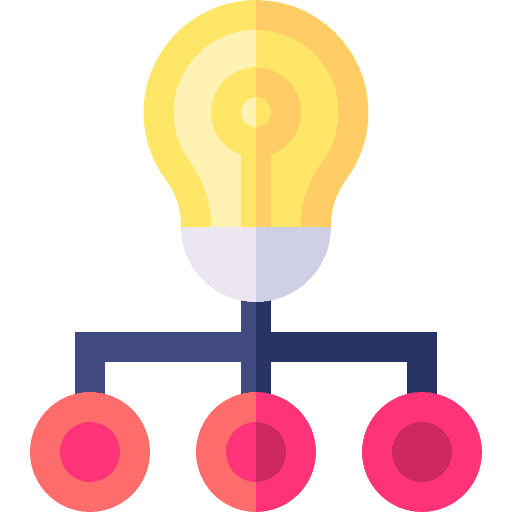 Idea Sharing
Let everyone submit their ideas and vote for their favourite in the group. Awesome for brainstorming.
| | | Free? |
| --- | --- | --- |
| Self-paced surveying | Participants can proceed through the entire presentation without the need for a presenter. Great for surveys. | ✅ |
| Chart types | Reveal your audience opinions through a bar chart, donut chart or pie chart. | ✅ |
| Show or hide results | Choose to show results while participants are submitting, or keep them hidden for a big reveal at the end. | ✅ |
| See results on phone | Your participants can see the full results of a multiple choice or image choice slide on their phones. | ✅ |
| Time limits | Add a time limit to your questions to ensure rapid responses. | ✅ |
---
Make Checkpoints Fun
Assess understanding with a live quiz, where players compete against each other for a place on the podium.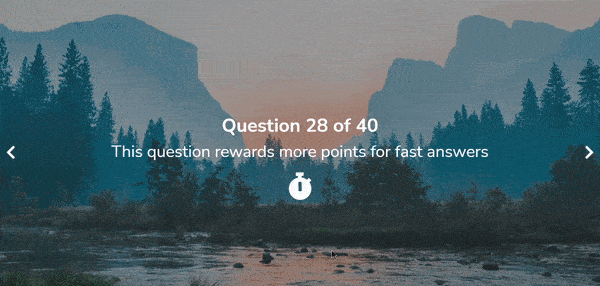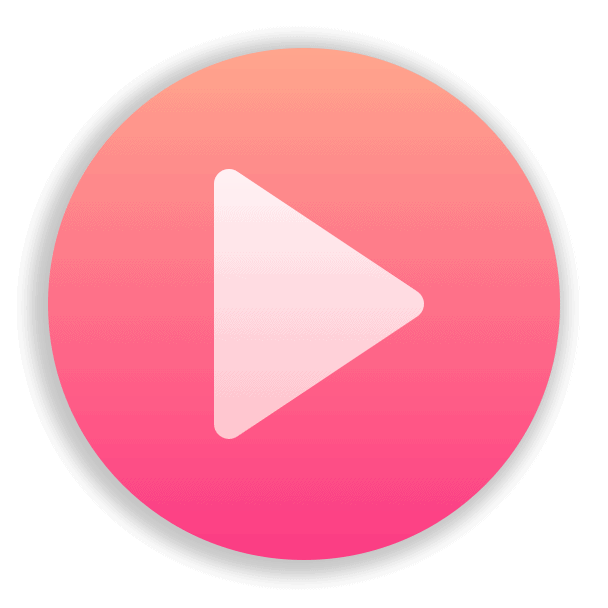 Walk-through video: How to Make a Live Quiz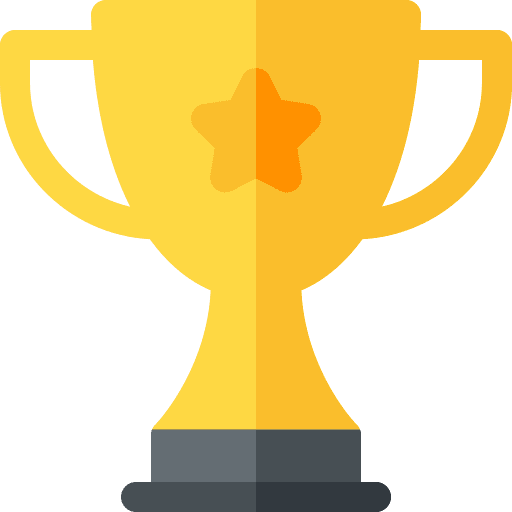 Variety
Use quiz questions with text, image, audio and more for a true multimedia trivia experience!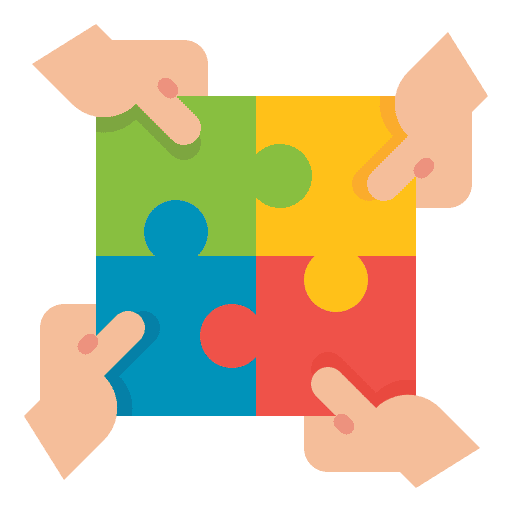 Teamplay
Group your players and have them work together. 3 different team scoring modes to choose from.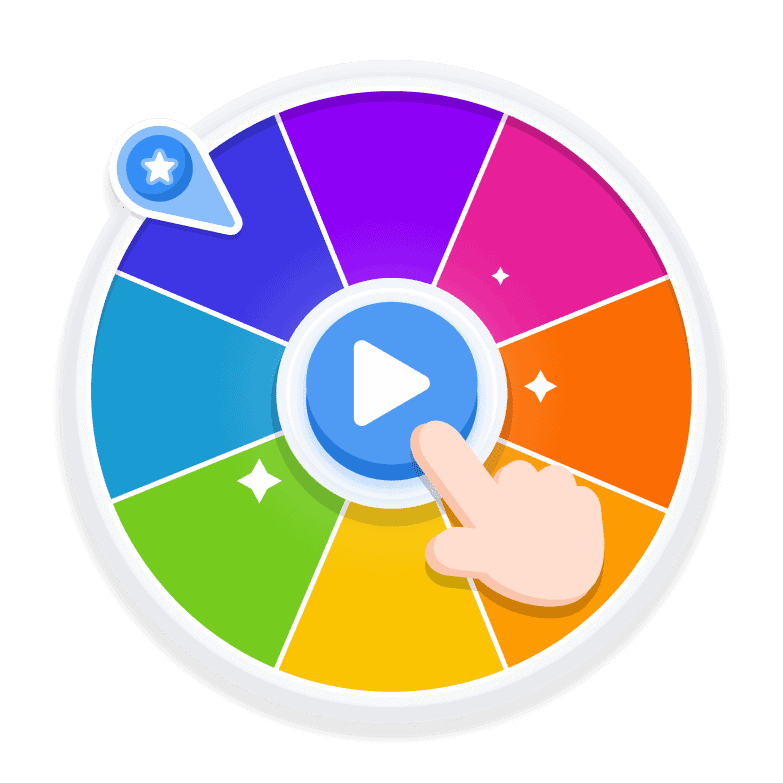 Spinner Wheel
Pick anything at random with the spinner wheel! An easy way to reach peak engagement.
| | | Free? |
| --- | --- | --- |
| Self-paced quizzing | Have players complete the quiz without a host. Great for assigning fun homework. | ✅ |
| Different quiz types | Non-standard quiz types like Match Pairs and Correct Order. | ✅ |
| Multiple right answers | Designate 2 or more answers as correct. There are 2 scoring modes with this option. | ✅ |
| Countdown timer | Enable or disable a 5-second countdown timer, where players can see the question but can't answer. | ✅ |
| Time settings | Change the time limits of individual questions and reward faster answers with more points. | ✅ |
| Leaderboard | Use a colourful leaderboard to show the standings at any point in your quiz. Shows team and individual scores. | ✅ |
| Open-ended moderation | See a full list of answers offered in a 'type answer' slide and handpick the ones you want to accept. | ✅ |
---
Keep Everyone Following
Take written questions from your audience and answer them in an organised, moderated, and inclusive way.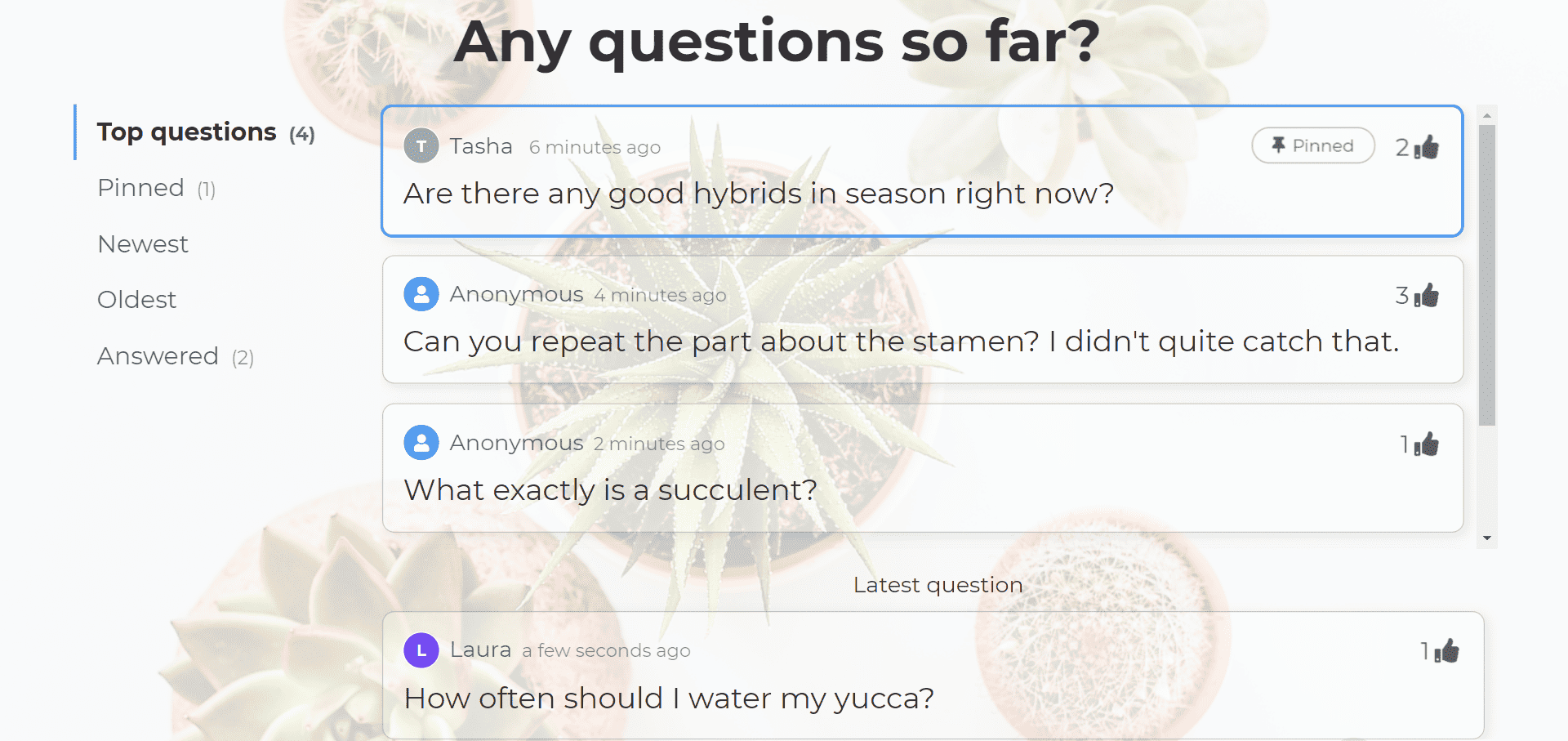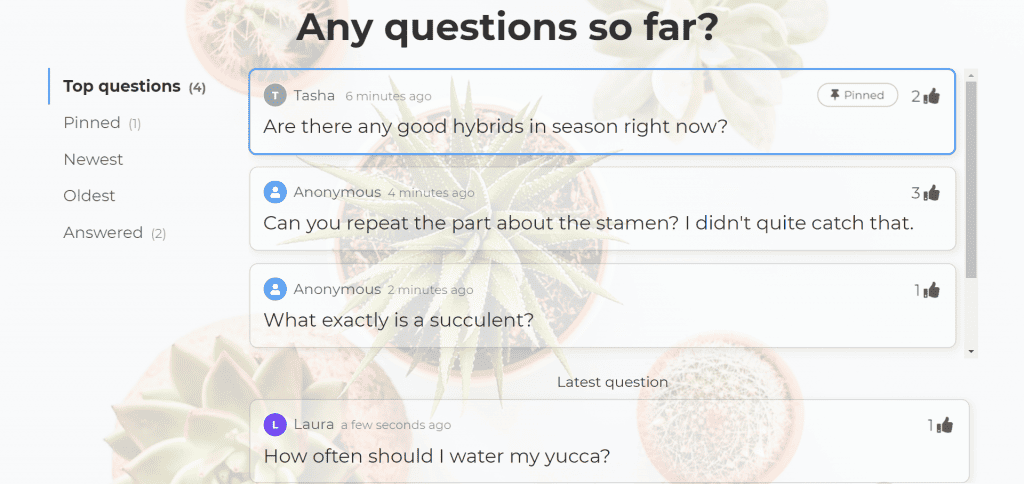 Organisation
See questions in an orderly table. Address the most recent or popular queries, save them as answered or pin them for later.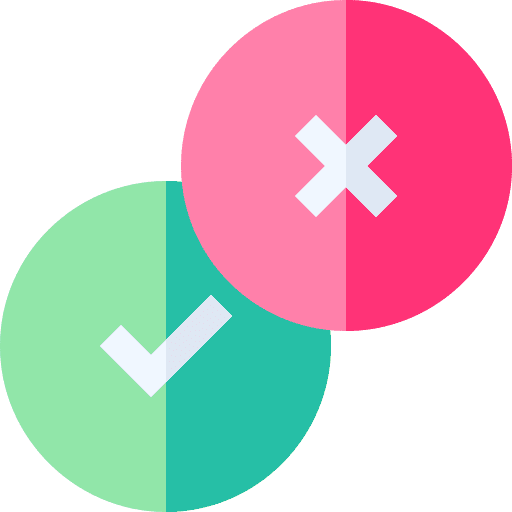 Moderation
Decide what questions to approve or decline before they're shown on screen.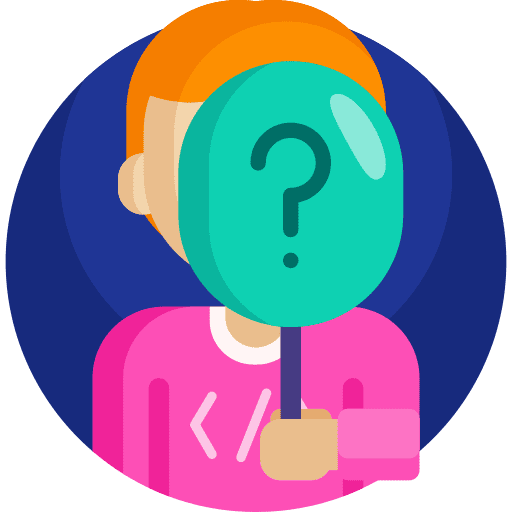 Anonymity
Toggle no-name questions to give everyone a voice. Allow the shyest of participants to be heard.
| | | Free? |
| --- | --- | --- |
| Voting | Let participants vote for the questions they want to see answered through the upvote system. | ✅ |
| Continuous Q&A | Allow the audience to send you questions throughout the presentation, or save them for a Q&A slide. | ✅ |
| Team moderation | Pass the moderation responsibilities to anyone, meaning they can filter the questions while you focus on answering them. | ✅ |
| Hide questions | Choose to conceal incoming questions so only you can see them. | ✅ |
| Profanity filter | Censor swear words in submitted questions. | ✅ |
---
Craft your Masterpiece
From start to finish, creating and altering your presentation is as simple and smooth as your favourite presentation software.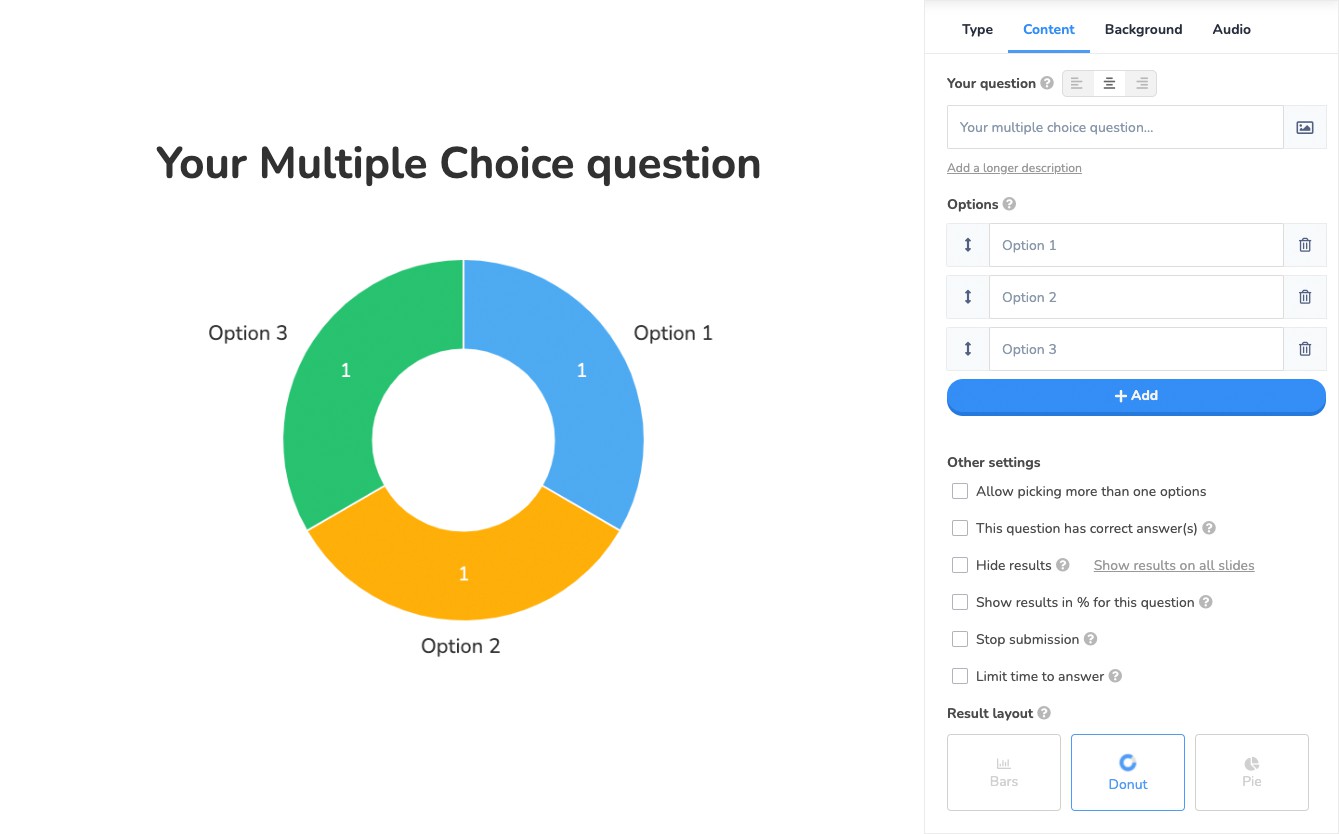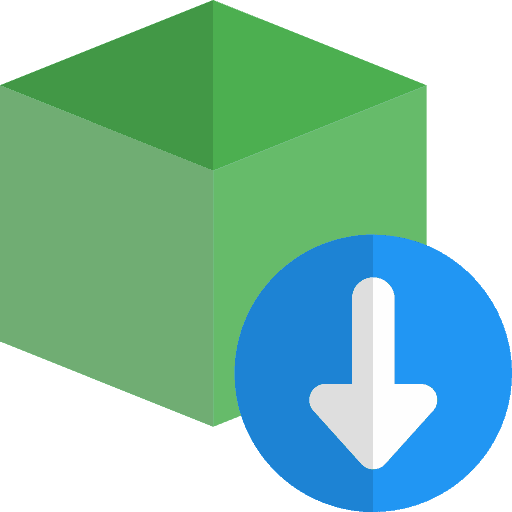 Import
Import your Google Slides or PowerPoint presentations to add a kick of AhaSlides' interactivity.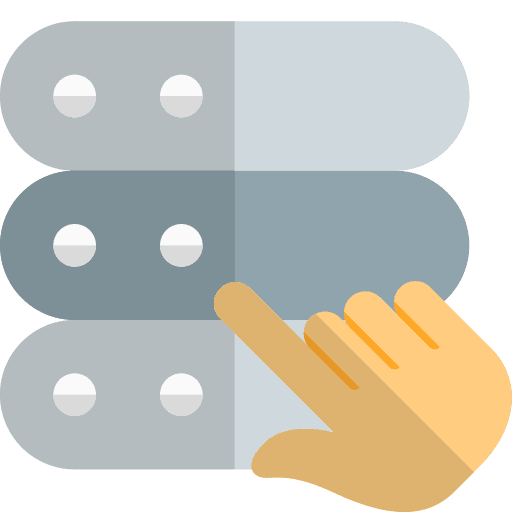 Multi-Slide Editing
Edit 2 or more slides at the same time. Duplicate, copy or alter en masse.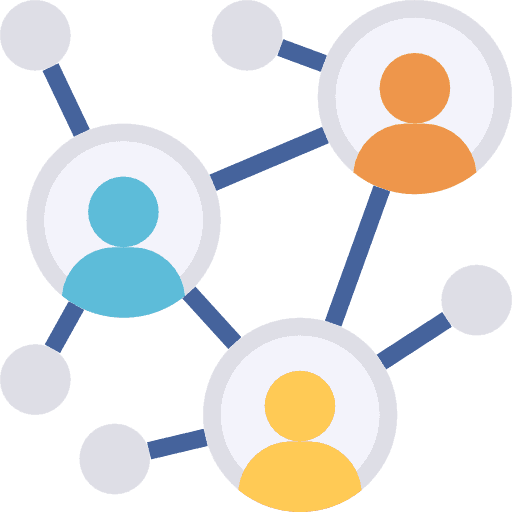 Collaborative Editing
Coordinate and collaborate on presentations for free. Slash preparation time with your friend or colleague.
| | | Free? |
| --- | --- | --- |
| Easy interface | Create with ease on the 3-column editor. See the slide preview, slide settings and presentation index in a super clear way. | ✅ |
| Slide variety | 17 slide types and growing! Make it varied through question, quiz and content slides. | ✅ |
| Grid view | See an expanded presentation index in grid view and move slides around with ease. | ✅ |
| Participant view | See how your slide will look on your participants' mobile screens. | ✅ |
| Remembered settings | Your favoured settings from previous presentations will automatically be implemented for your next presentation. | ✅ |
| Share presentations | Instantly download any presentation via its shareable link. You can then edit it however you want. | ✅ |
| Folders | Organise your presentations into different folders on the dashboard | ✅ |
| Public or private mode | Toggle whether or not your audience can interact with your slides while you're editing them. | ✅ |
---
Make it Yours
Flexible customisation options mean you can craft a presentation that looks and feels exactly like you want.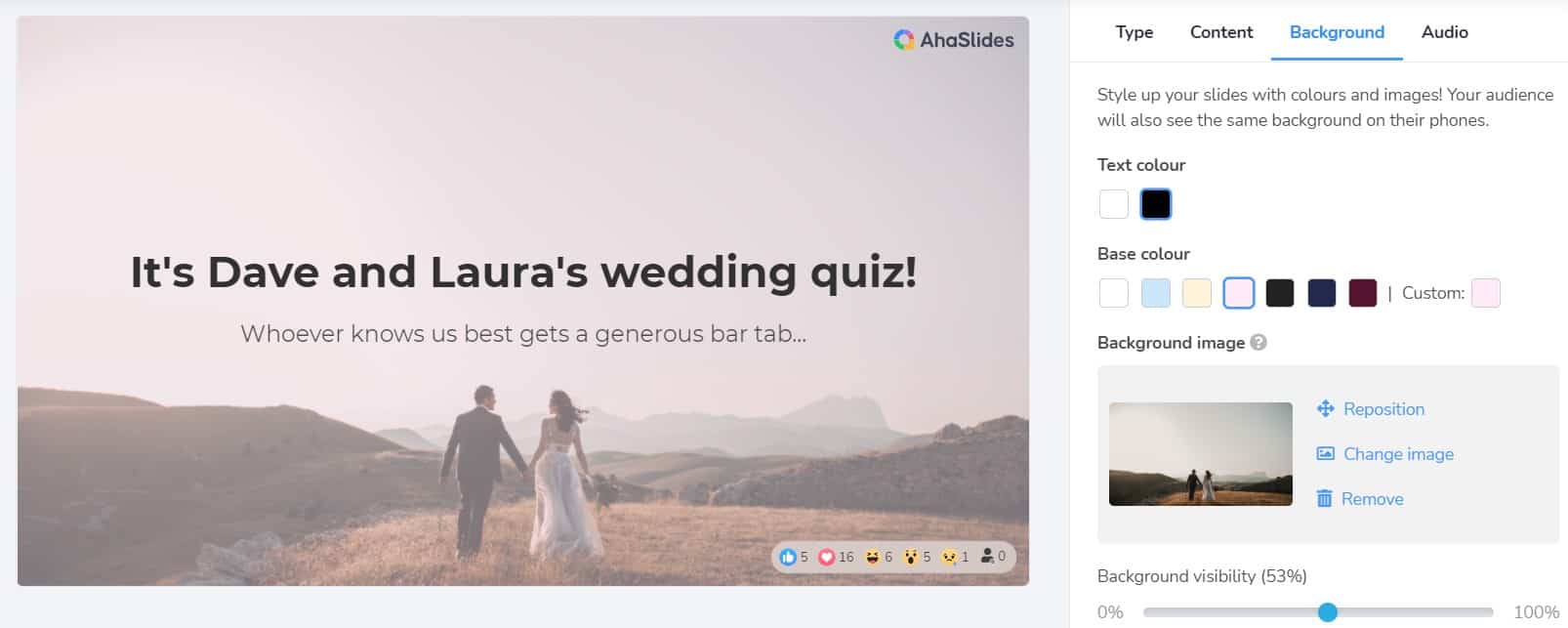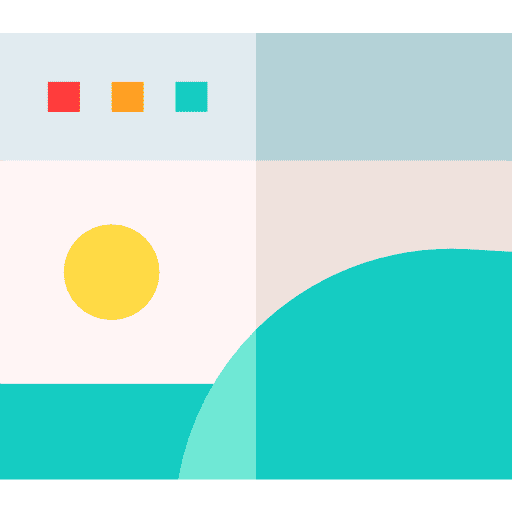 Change Backgrounds
Set any colour, image or GIF as the background to your slide.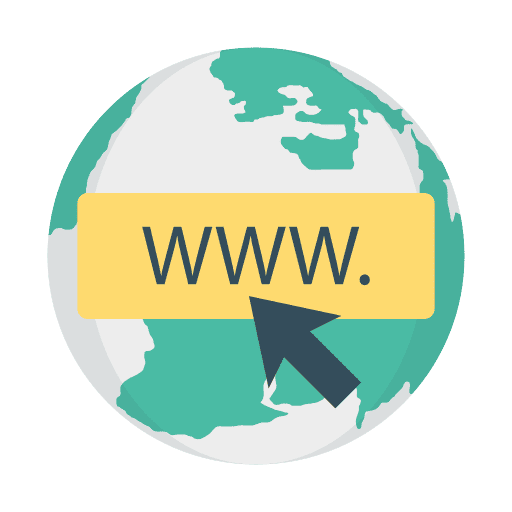 Personalise Links
Customise the URL access code to make invitations to your presentation more personal.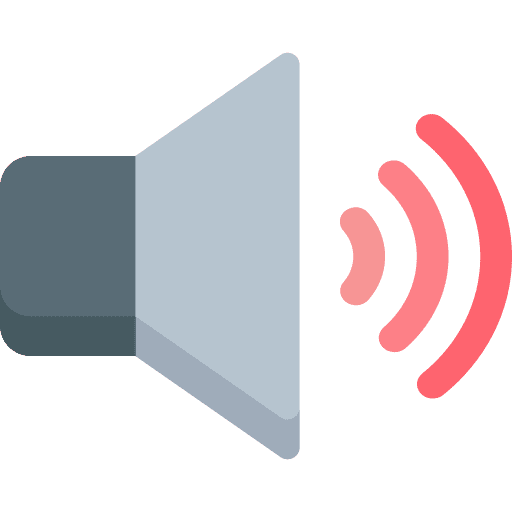 Embed Audio
Add an audio clip to your slide. Playable on all audience members' devices.
| | | Free? |
| --- | --- | --- |
| Image and GIF libraries | Choose from thousands of image and GIF options across integrated libraries. | ✅ |
| Customise multiple slides | Change the backgrounds of multiple slides at the same time. | ✅ |
| Fonts | Select one of 11 fonts for your presentation. | ✅ |
| Branding | Place your own logo in the corner of all slides in your presentation. | Upgrade |
---
Be the Top Host
Give your audience the power of interactivity and a presentation they won't forget.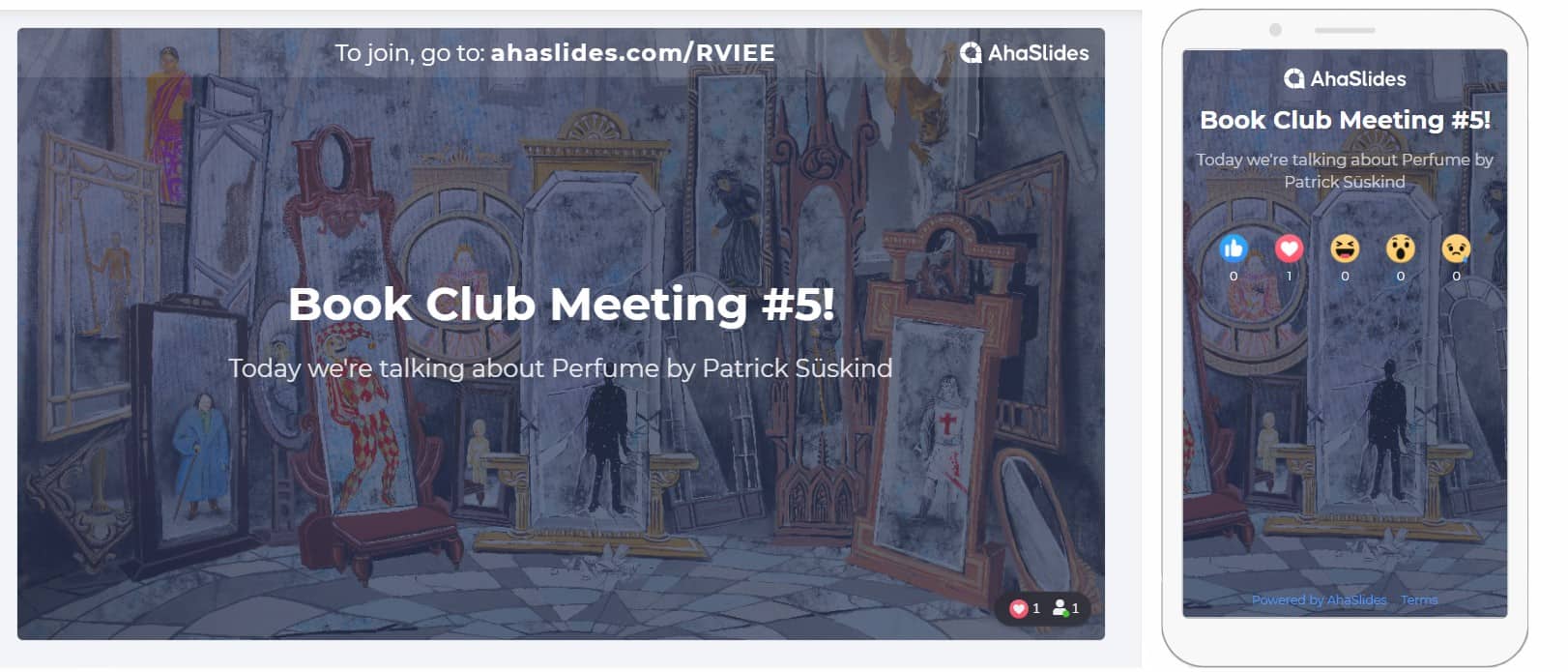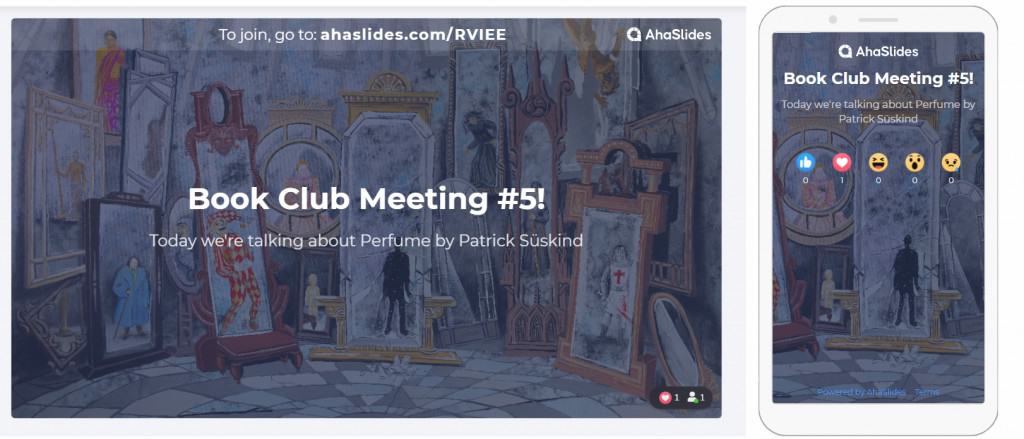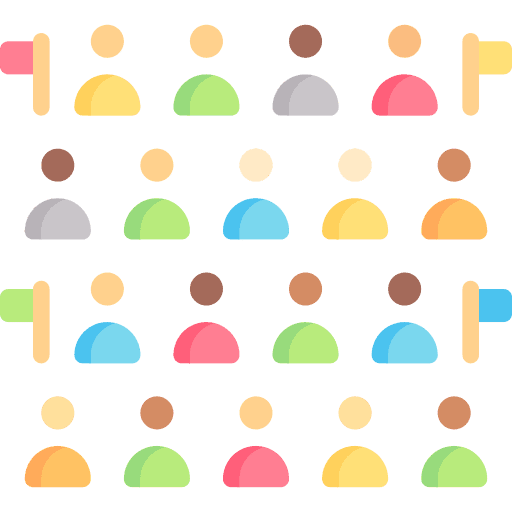 Audience Size
Allow up to 10,000 people to join your presentation at one time. 7 for free – upgrade for more.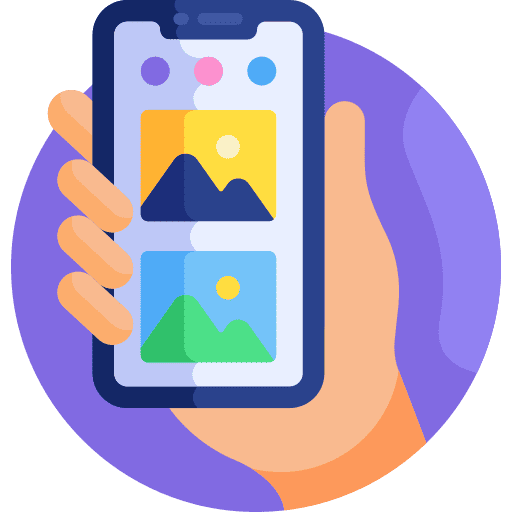 Follow on Phone
All question, quiz and content slides appear on mobile – no need for the presenter's screen.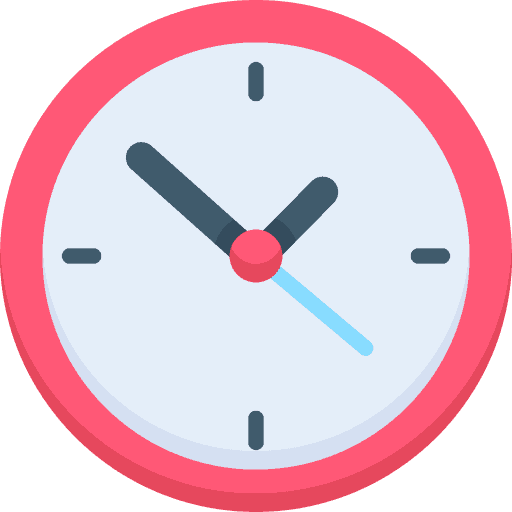 Self-Paced
If selected, the audience can progress through questions and quizzes at any time.
Free?
Audience size
Allow up to 10,000 people to join your presentation at one time.
7 participants.
Upgrade for more.
QR code
Participants can scan a unique QR code to join your presentation.
✅
Image sharing
On an open-ended slide, participants can upload images from their phone
✅
Display language
Choose from 15 in-built display languages to show your audience on your presentation.
✅
Mobile-friendly interface
No matter what's on your slide, it looks great on mobile.
✅
Follow on phone
All question, quizzes and content slides appear on mobile – no need for the presenter's screen.
✅
Self-paced
Self-paced surveys and quizzes mean the audience can progress through your presentation at any time.
✅
Share online
Participants can share their quiz scores across social media with just one tap.
✅
Reactions
Let participants react to all your slides with 5 colourful emojis.
✅
---
Get the Whole Picture
See a full report of audience engagement, download the response data and share your full presentation with others.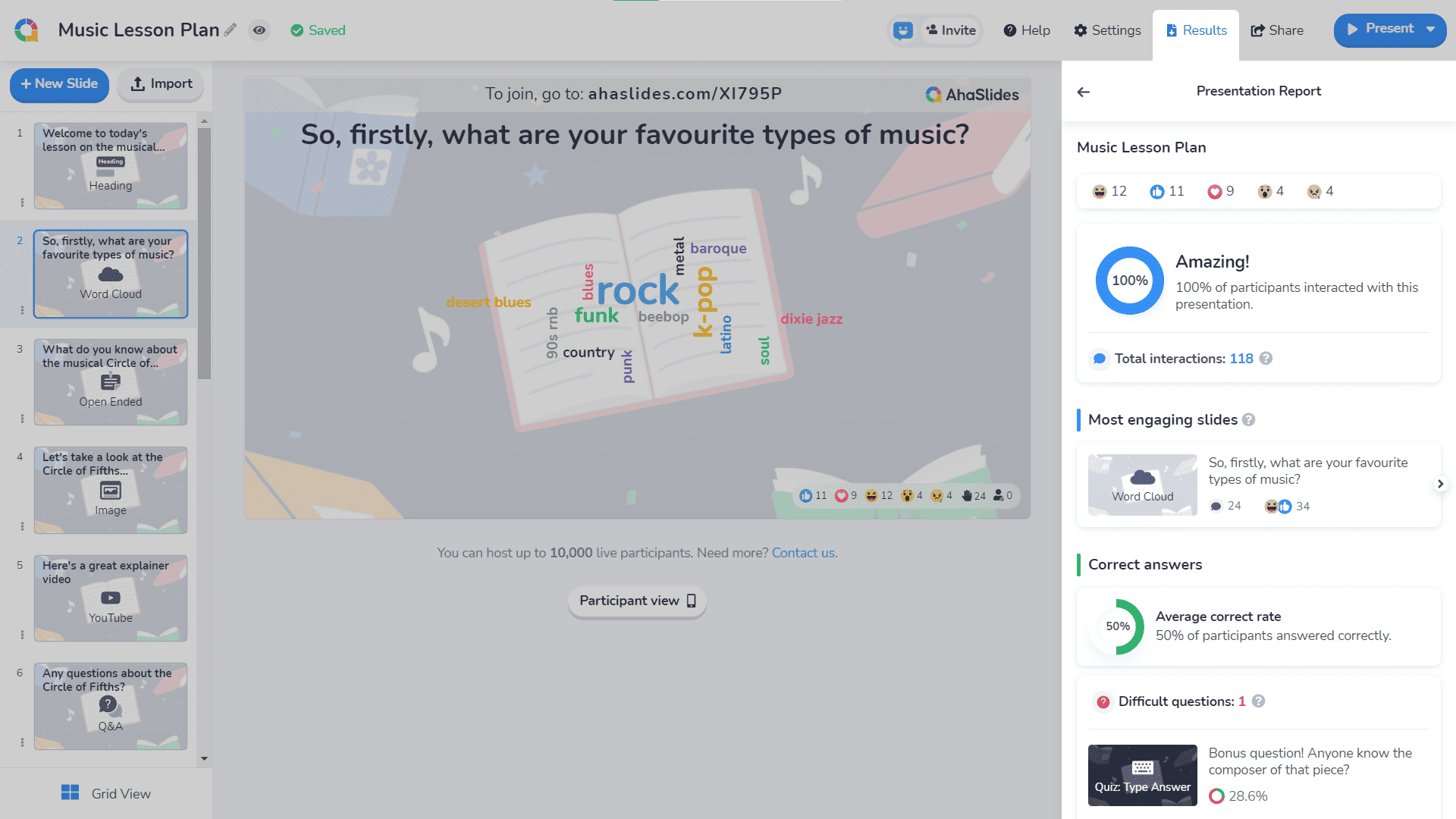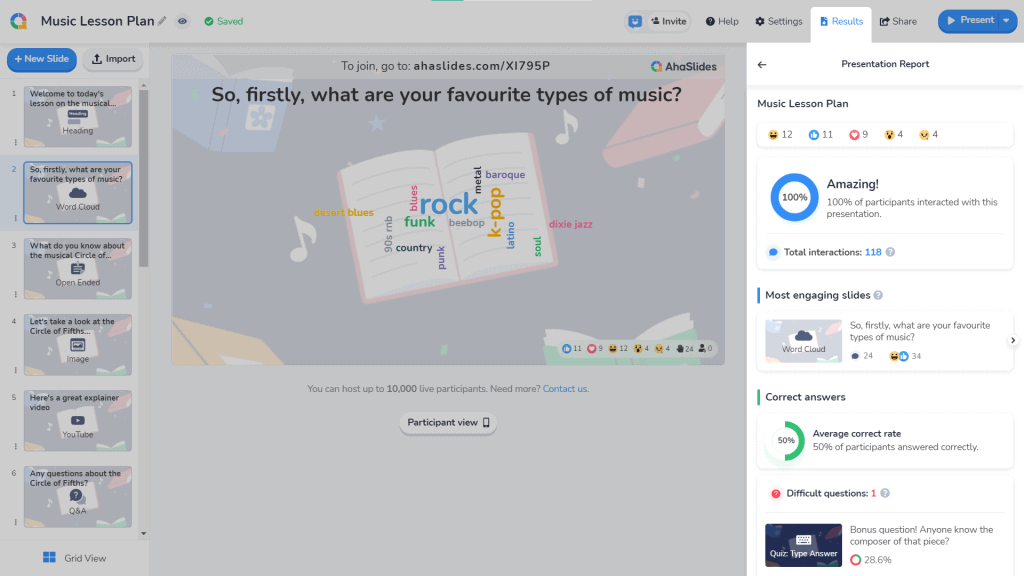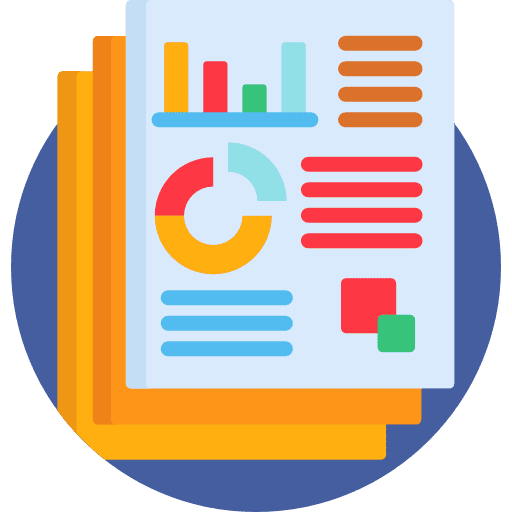 Get the Report
See your engagement rate, top slides and how players performed on your quiz.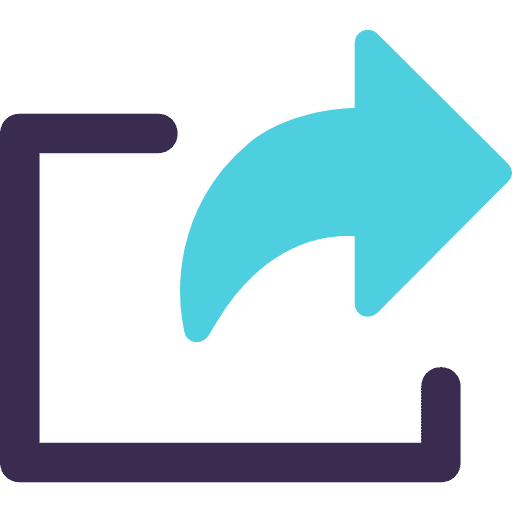 Share Presentation
Share your presentation with audience responses via a permanent link.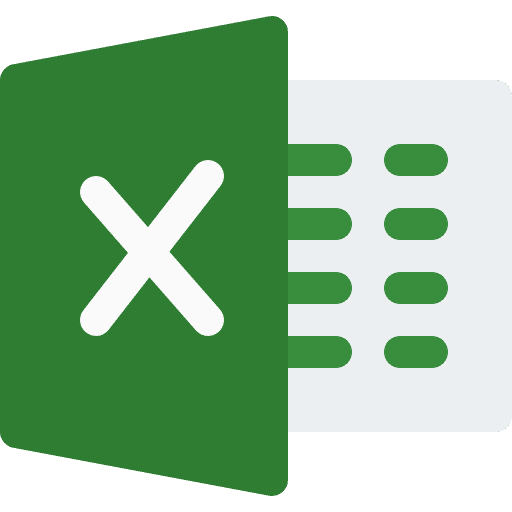 Excel Export
Export response data from your presentation into a spreadsheet or PDF. Paid plan only.

Get Started for Free.
Elevate your engagement. Sign up to AhaSlides for free - no credit card required!
Let's Engage