Word Cloud – What it is and How to Gain Engagement in 2023
The word cloud is one extremely powerful and useful tool. Also known as a tag cloud, it is simply a visual representation of a bunch of words. The closest example would be a library register that contains information about all the books in the library).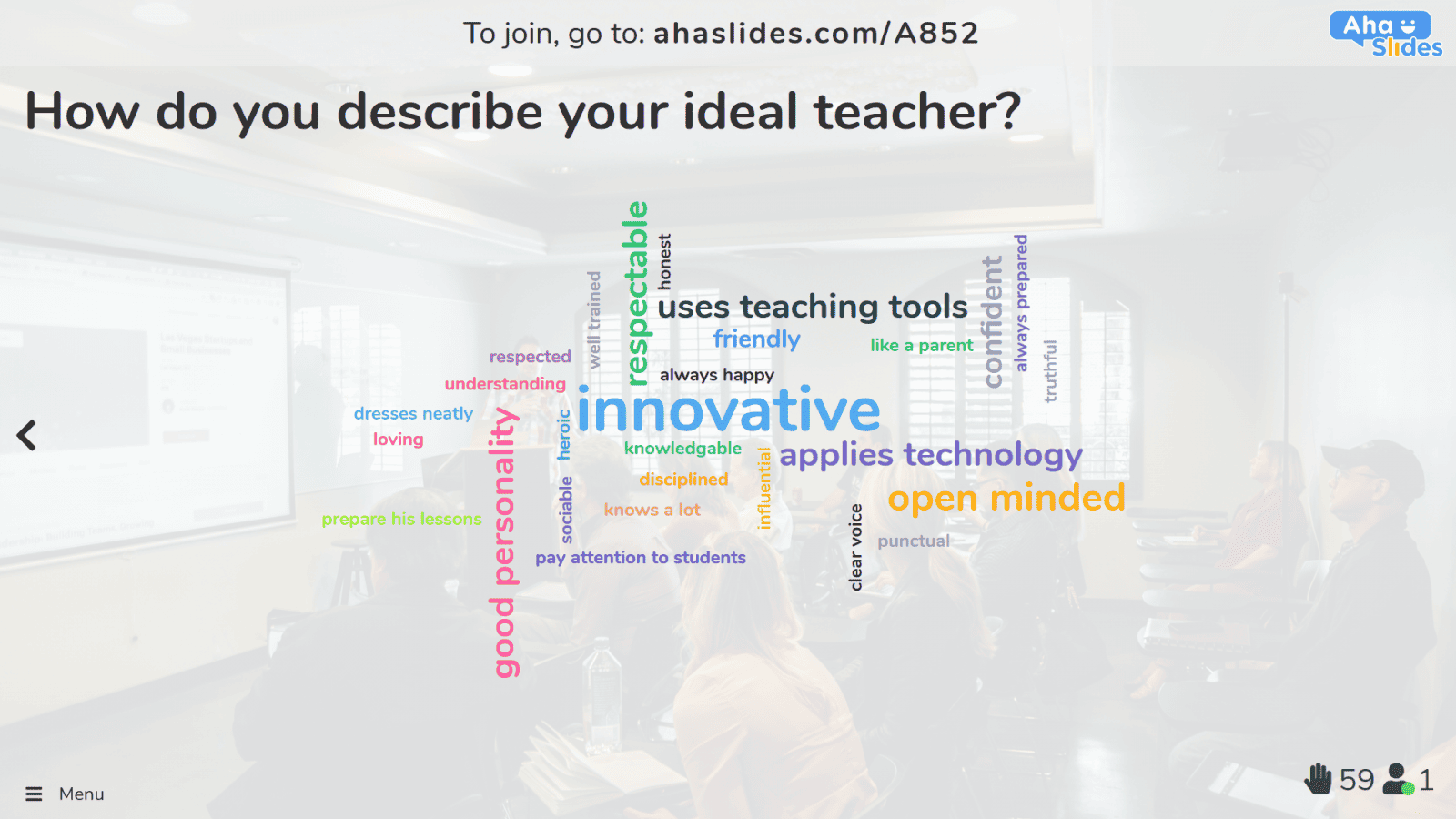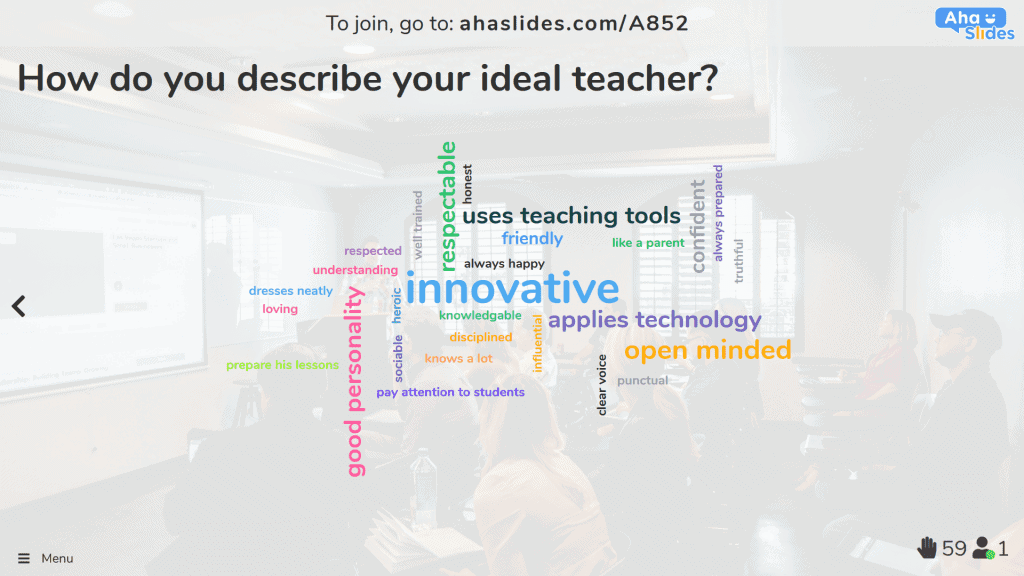 Be Inspired with AhaSlides Word Cloud
Live Word Cloud Generator Pros and Cons
Here we've laid out some of the common pros and cons of using a live word cloud.
| | |
| --- | --- |
| Pros ✅ | Cons ❌ |
| Their simplicity makes them super easy to understand, especially within a Word Cloud PowerPoint in education. | Hard to view every word, especially smaller ones. |
| Words make a stronger emotional impact than other visualised data. Try word cloud with images now! | Too much colour and action can be an attack on the senses. |
| They've visually vibrant and appealing. | Some factors can influence how viewers perceive the importance of words. |
| Their anonymity is great for encouraging participation. | Small variations in a word are presented as separate results. |
| Great for understanding how much all your students have taken in, and areas they need to improve on. | |
| Allows other participants to see how the rest of the group feels about an issue or topic. | |
| They can be a fun classroom task, a change in activity. | |
Why Using WordCloud?
Word clouds are a fun and interactive form of representation and, in most cases, are a popular choice as an icebreaker! A few reasons that might convince you about the usefulness of word clouds are:
Provides instant analysis and visualization of word data and feedback.
Engages the audience and spikes curiosity.
Useful as a quick summary slide or takeaway.
Get insight into the audience's most interesting or popular sentiments and views.
Brainstorm concepts or ideas.
They are quick and informative.
Word Cloud versus Excel
So far, we have spoken about the benefits of using a wordcloud. Hold on. There's more! Yet another advantage of using a wordcloud is that it can be used on Excel. However, please note that Microsoft Excel does not offer any native feature that allows us to create a wordcloud on it.
Although, some add-ons can be installed to create wordclouds. Some of these add-ons are paid options, and some others are available on a trial basis. In cases where there are no preferred options, one can use any online wordcloud generating tool that'll enable us to import the data from our Excel sheet and create a wordcloud.
Microsoft Excel might not have a native feature to generate a wordcloud, but Powerpoint wordclouds have been one of the absolute favourites for many, around the world. Learn more about Powerpoint Word Cloud and how to create them.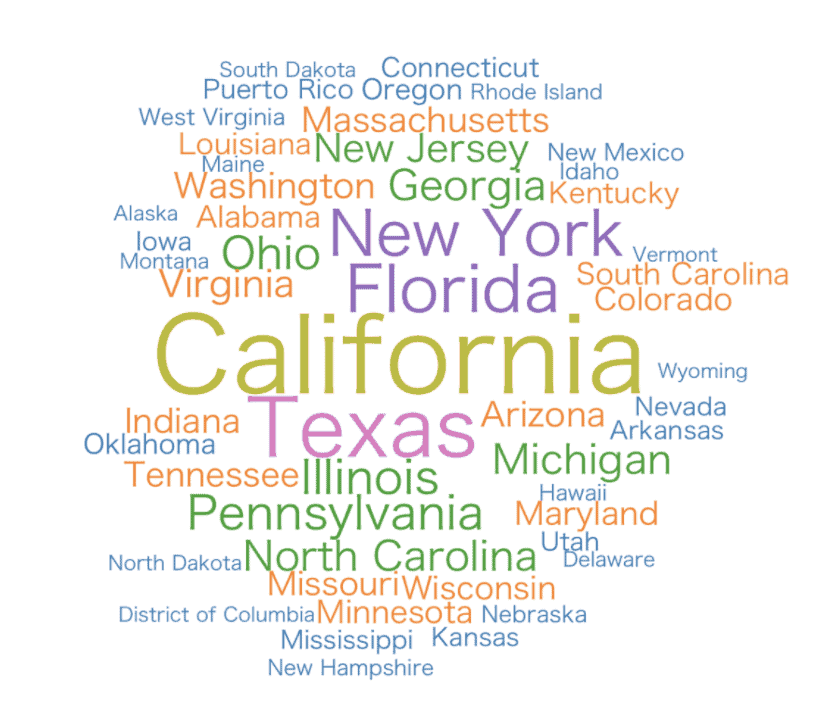 Top 5 WordCloud Generator Tools Just for You
When it comes to looking for tools that help us in our tasks, there is no shortage of them online. The same is true for generating wordclouds. A myriad of tools available will make it easier for you to create the wordcloud that suits your preferences.
Here's a list of some of them that you may like:
MonkeyLearn WordCloud Generator
A free word cloud tool, MonkeyLearn WordCloud Generator, stands apart in the way it reduces words to their root form (i.e., stemming) and identifies the popular words by analysing how rare, descriptive, and long they are, as compared to just looking at the frequency.
AhaSlides Live WordCloud Generator
AhaSlides is an online interactive presentation tool with multiple slide options such as brainstorming, Q&A, word cloud, quizzes and more. You can also add a little bit of colour and fun to the word clouds with background images, audio and other customisations.
WordClouds.com
This is a user-friendly tool that offers a wide variety of customization as well as formatting options. It is also a great tool for using MS Excel.
WordItOut
It is a simple and effective wordcloud creator that recognizes emojis and various symbols. It also allows you to edit your wordcloud to filter out any words you don't want to be included.
Tagxedo
This tool helps you create tag clouds from URLs, blogs, tweets, and so much more. It also allows the user to import their fonts and shapes to be used in the word cloud! Please note that you must download Microsoft Silverlight, which is only supported by Internet Explorer, Firefox, and Safari, to use Tagxedo's wordcloud generator.
Check out more collaborative wordclouds here.
How to Create a WordCloud?
Creating a wordcloud is as easy as it can be, whatever the occasion may be. Follow these simple steps to create a fun and interactive wordcloud.
Create a free account on AhaSlides
Click on a 'new presentation' and create a new slide using the "wordcloud" option
Type in your wordcloud question into the sidebar
Customise your wordcloud slide with images, audio and more, according to your needs (Here are three ways to create a wordcloud with images)
Invite the participants using a QR code or a join code name, and they will be able to join using their smartphones
Free Word Cloud Creator
See how it all works….
Here's a step-by-step guide on how to create an AhaSlides word cloud and receive words from your audience…
More Stuff You Can Do with the AhaSlides Word Cloud
The online free word cloud creator above is for teachers, students and others to use alone. If you want to make an interactive word cloud with your audience responding live, you can try the AhaSlides interactive word cloud.
Among AhaSlides' current 19 slide types, the interactive word cloud is one of the best-visualised slides to receive live responses and show data. It can enliven any of your meetings, lessons, interactive presentations, webinars and so much more.
Although you can't change the layout and colour of the word cloud on AhaSlides, there is room for other customisation to make it suitable for any situation.
1. Set a time limit
To make it more interesting, you can choose a time limit and participants have to submit their words within that period of time.
2. Hide results
To avoid copying or bias, you can hide results while participants are still submitting their answers. The word cloud won't appear until everyone has sent their entries.
3. Lock submissions
Some presenters want to have a few minutes to introduce the question, context or purpose of the word cloud before participants send their answers. In that case, try lock submissions. Once you're done introducing the question, you can open the submissions.
4. Allow participants to submit more than once
Once the answers are submitted, participants can't change or add anything, but they can send more words if you've turned on this setting.
5. Profanity filter
It's hard to keep track of all answers and remove all unwanted words before they're shown on the big screen. The profanity filter can help automatically hide inappropriate words on the cloud.
6. Change background
AhaSlides provide you with six different themes that are ready for use. Otherwise, you can change the background colour, add your own image and can even adjust background visibility to meet your expectation.
7. Add audio
Jazz up your word cloud with some music! Add a catchy tune to your word cloud that plays from your laptop and your participants' phones while submissions are flying in!
Interactive Word Cloud Examples
With the AhaSlides interactive word cloud, you can do more than just find the popularity of words in a text. Ask questions and let the participants let loose their ideas, opinions or anything related in one or two words. You can use the word cloud to warm up the atmosphere, brainstorm, and further engage with your audience.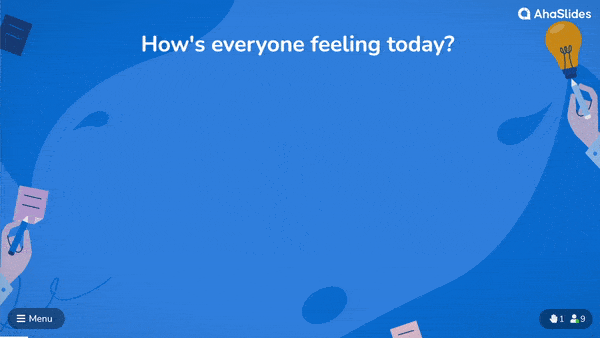 How's everyone feeling today?
Break the awkward silence at the beginning of meetings, webinars or hangouts with this simple question. You can let your participants answer in emojis too.
Which city are you tuning in from today?
This is another question to check in with your audience at the beginning of your presentation. It's best for virtual discussions in which people from all over the country or even the world can join and contribute.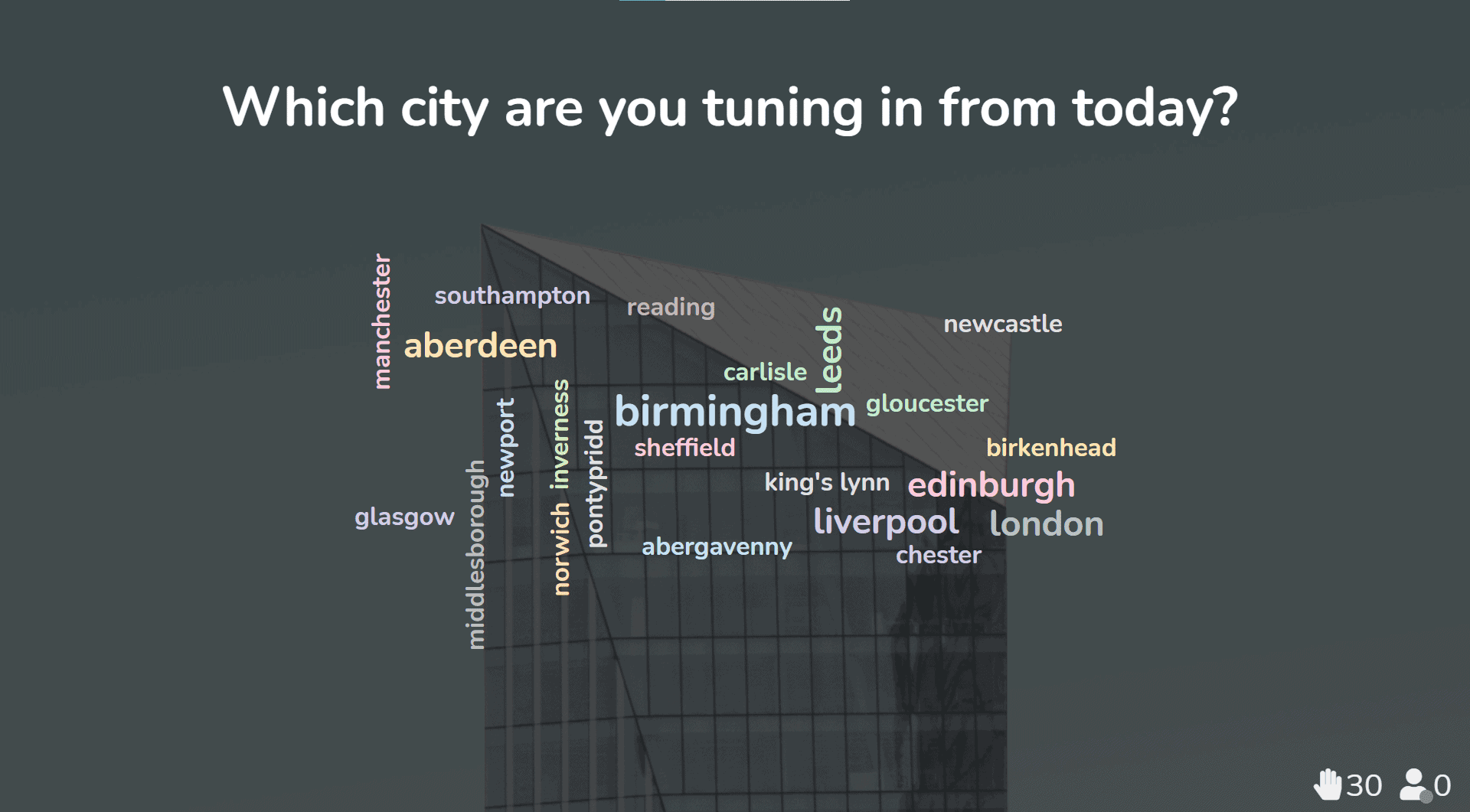 What would you like to discuss today?
Team meetings are sometimes one-way and stressful if there is only one or two people talking. Try to make it more interactive and engaging by encouraging other team members to speak up (or type up).
Who nailed it this week?
This is another question to ask during team meetings to recognise everyone's efforts during the week, month or quarter. Because it's anonymous, people can freely tell their opinions or even vote for themselves without the fear of judgement.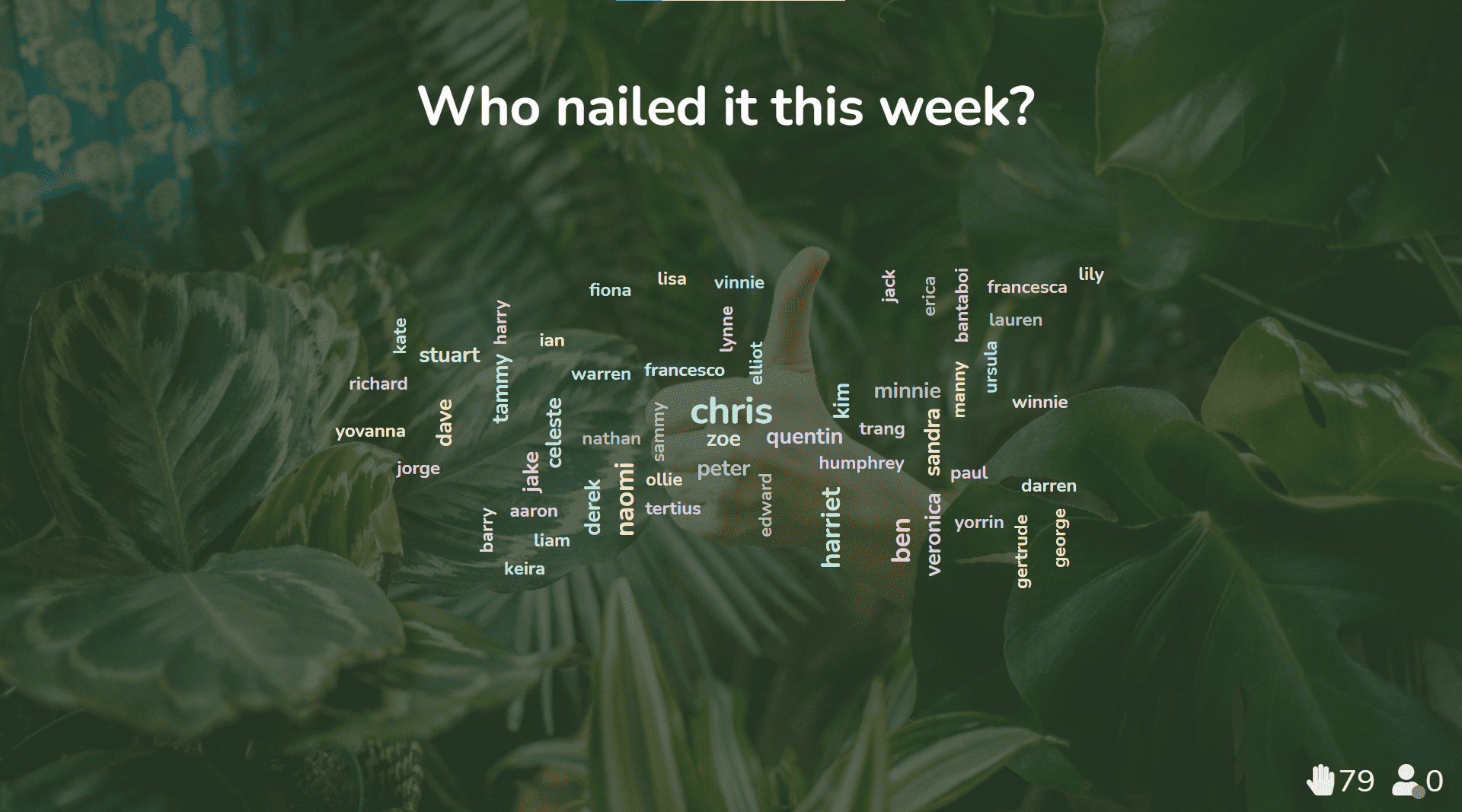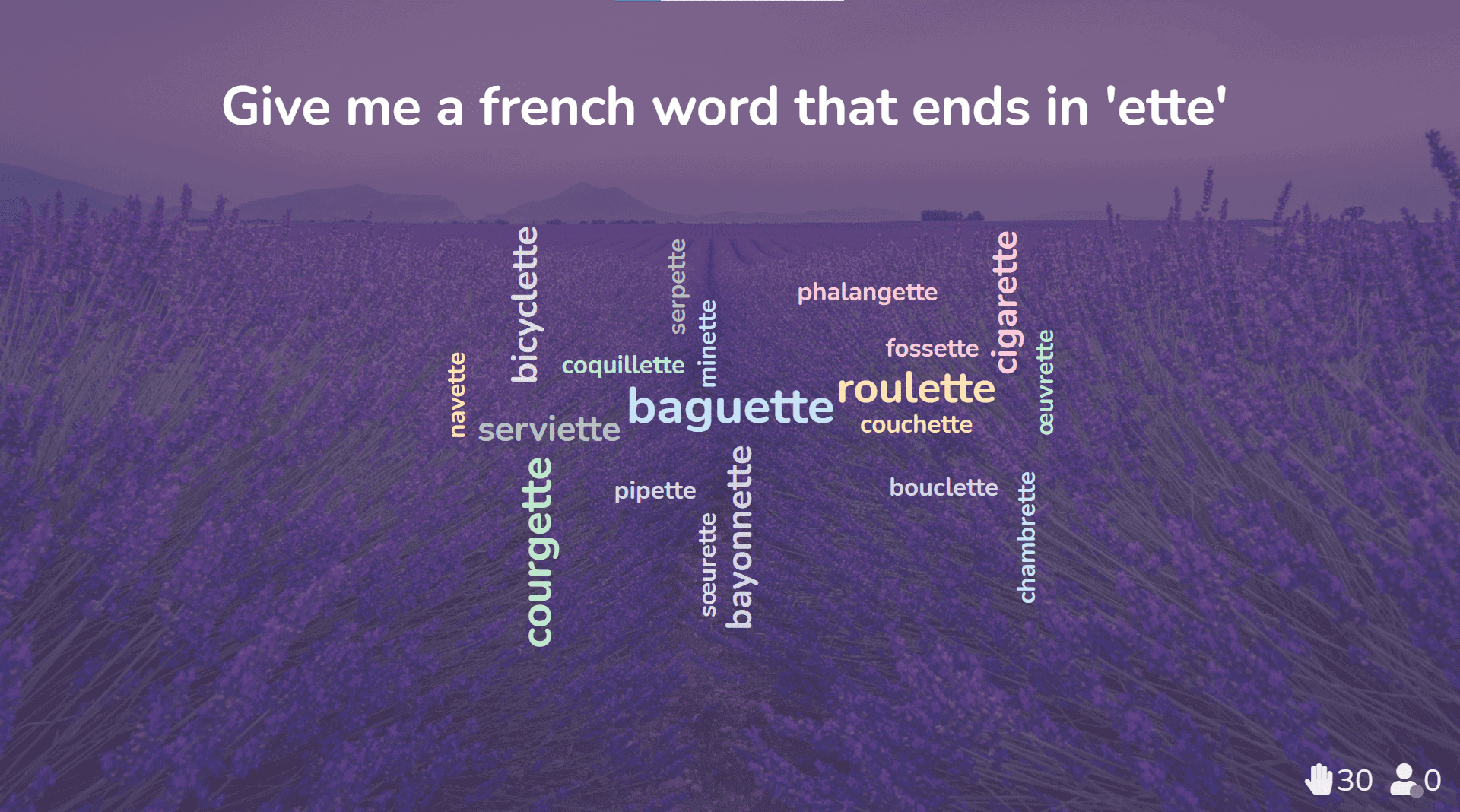 A word that ends in...
Word clouds are effective for classes, especially when you want to check students' vocabulary. They can also learn some words from the word cloud too. Ask for synonyms, antonyms or any concepts that your students can answer. You can use prompts to indicate the topics, like in u003ca href=u0022https://www.vocabulary.cl/Lists.htmu0022 target=u0022_blanku0022 rel=u0022noreferrer noopeneru0022u003ethis listu003c/au003e.
Countries starting with...
Help your students revise some geography knowledge with this word cloud. You can also use questions like this on many occasions like team bonding, family gatherings or hangouts with friends.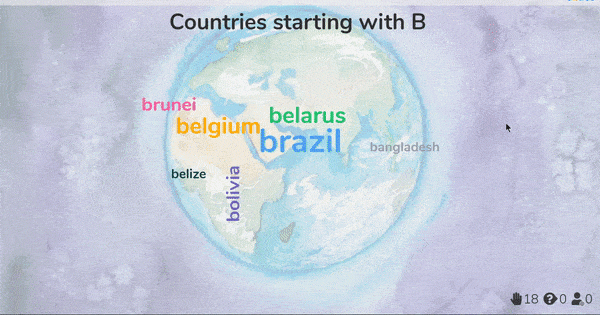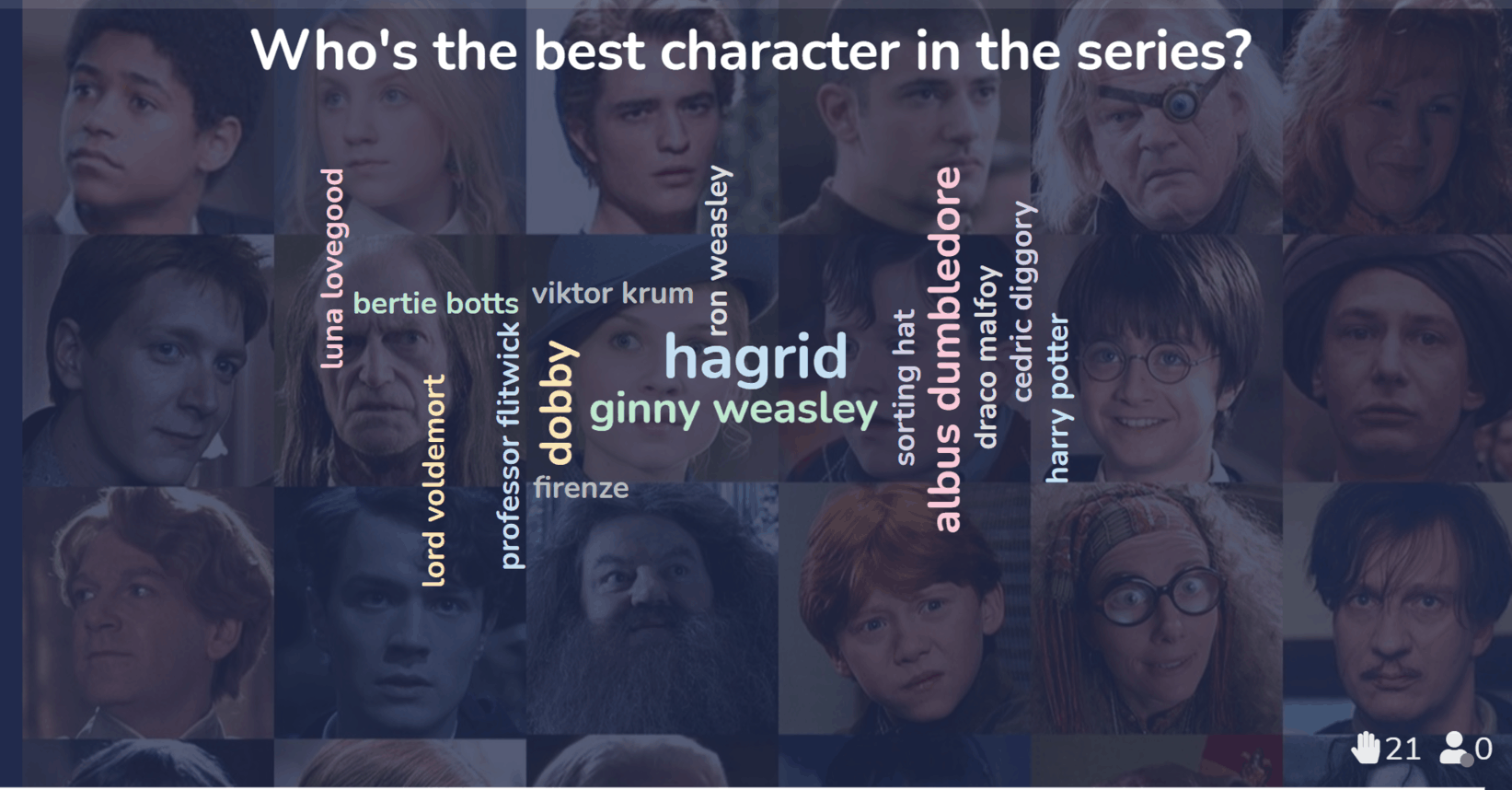 Movie characters
Hosting a gathering for film buffs or a group of people who share movie interests? Use the word cloud to recall the characters, plots or famous scripts together and bring back good memories.
Top 5...
More word cloud ideas for meetups, gatherings or team bondings. Ask for participants' preferences and let them share what they like. Maybe they'll find they've got more in common than they thought!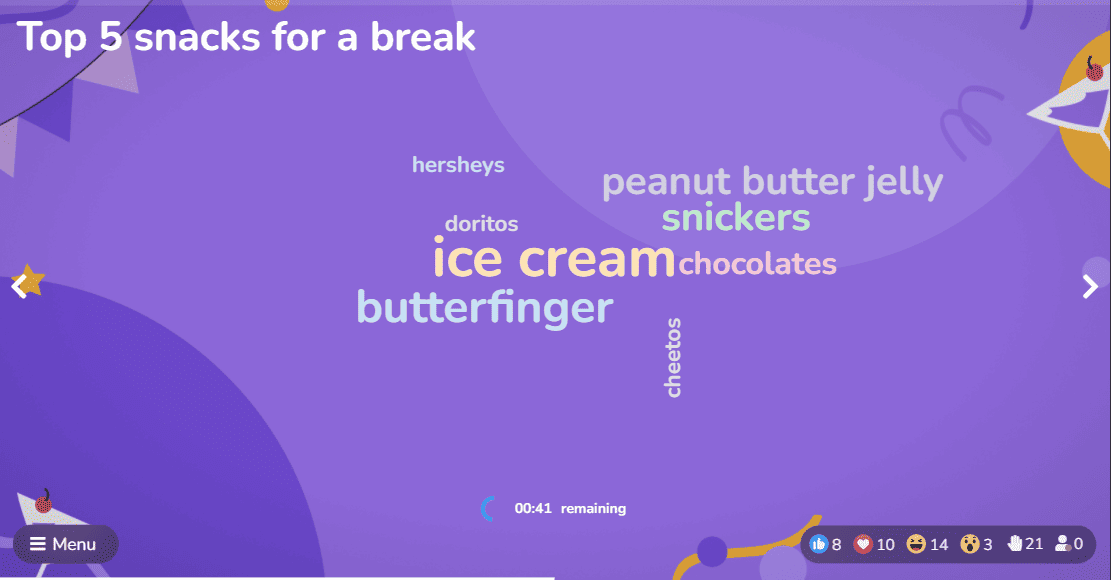 Frequently Asked Questions
<
Bonus: Origin of Word Cloud
What is WordCloud? Once upon a time, in faraway lands, people had enough patience and expendable time to sit and read through multiple books and other sources to gather information. However, in today's world, having time, patience, or even the attention span to consume large amounts of content is as rare as the fantasies and magic in fairytales that begin with 'Once Upon a Time'.
The most commonly asked question is, "but why spend so much time when so many tools help us gather information much easier?"
And rightly so! The growing technology and limitless opportunities they present have helped the average human learn and consume more information than anyone from a 'faraway land' could even dream of!
In the world of fast data consumption, we are surrounded by many data visualization tools such as charts, graphs, tables, and so many more that help us use our time efficiently and make informed decisions about the topic or content in question.
The word cloud is one extremely powerful and useful tool. Also known as a tag cloud, it is simply a visual representation of a bunch of words. The closest example would be a library register that contains information about all the books in the library).
A wordcloud represents the popularity of words or phrases in that particular content. Say, for example, you ask a group of students what their favourite breakfast meal is. It is depicted by a cluster of words, in which the most popular ones appear larger or bolder when compared to the rest of the words.
A wordcloud is a great tool to get the audience's opinion, relevance, or interest when it comes to a specific topic. It is also a tool that many presenters and teachers favour. Wordclouds are efficient, cost-effective, and entirely reliable options to understand peoples' opinions on certain things.
Wordclouds are the best way to engage your audience, whether you are hosting a live presentation or something on Zoom.
Conclusion
There are always plenty of reasons to having WordCloud in your class, meetings and seminars… This is the perfect tool for brainstorming, icebreaker, idea collection or team retro sessions…
So don't hesitated and let's have a look at our WordCloud Solution, freely available on AhaSlides Template Library, with so many application of AhaSlides WordCloud you take advantages of…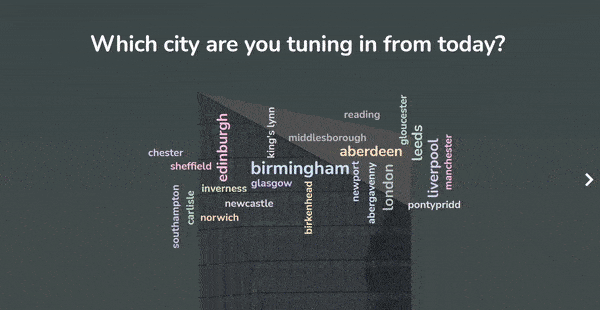 Hold an Interactive Word Cloud with your Audience.
Make your word cloud interactive with real-time responses from your audience! All they need is a phone to make any hangout, meeting or lesson more engaging!
🚀 To the clouds ☁️