🎉 Congratulations! 🎉
You've hosted your first killer presentation on AhaSlides. It's onwards and upwards from here!
If you're looking for a bit of guidance on what to do next, look no further. Below we've laid out our top 5 quick tips for scoring big engagement points on your next AhaSlides presentation!
Tip #1 💡 Vary your Slide Types
Of course, many people like to play it safe on their first experience with AhaSlides. A poll here, a Q&A slide there, and hopefully a walk off to rapturous applause.
There are so many more ways to engage your audience on AhaSlides. Here's a few of the less-explored slide types for first-timers….
1. Word Cloud
Grab single-word opinions from the whole group. Responses appear larger the more popular they are amongst your audience, with the most popular appearing largest and at the centre.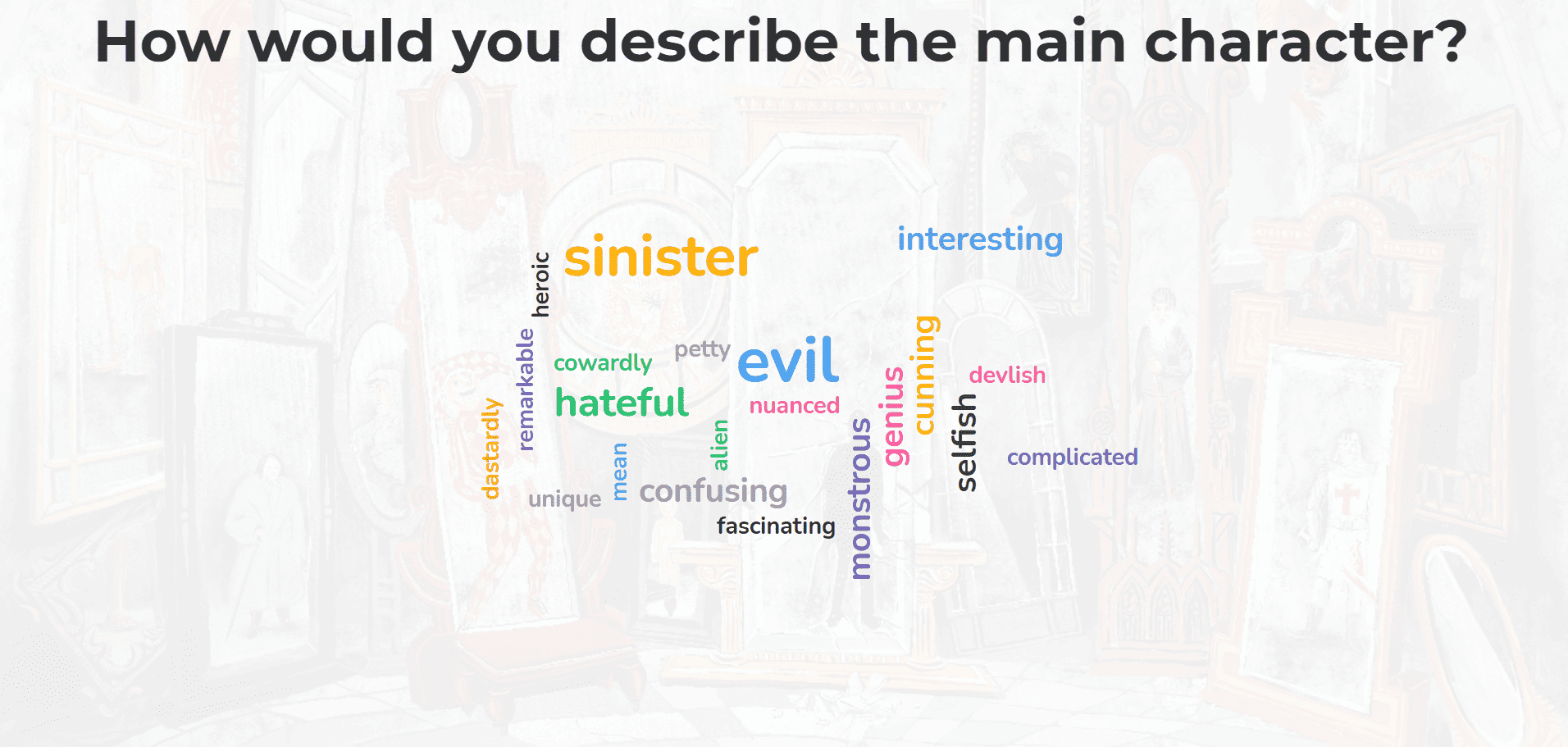 2. Scales
See opinions on a sliding scale. Ask a question, write the statements and get the audience to rate each statement from 1 to X. Results appear in a colourful, interactive chart.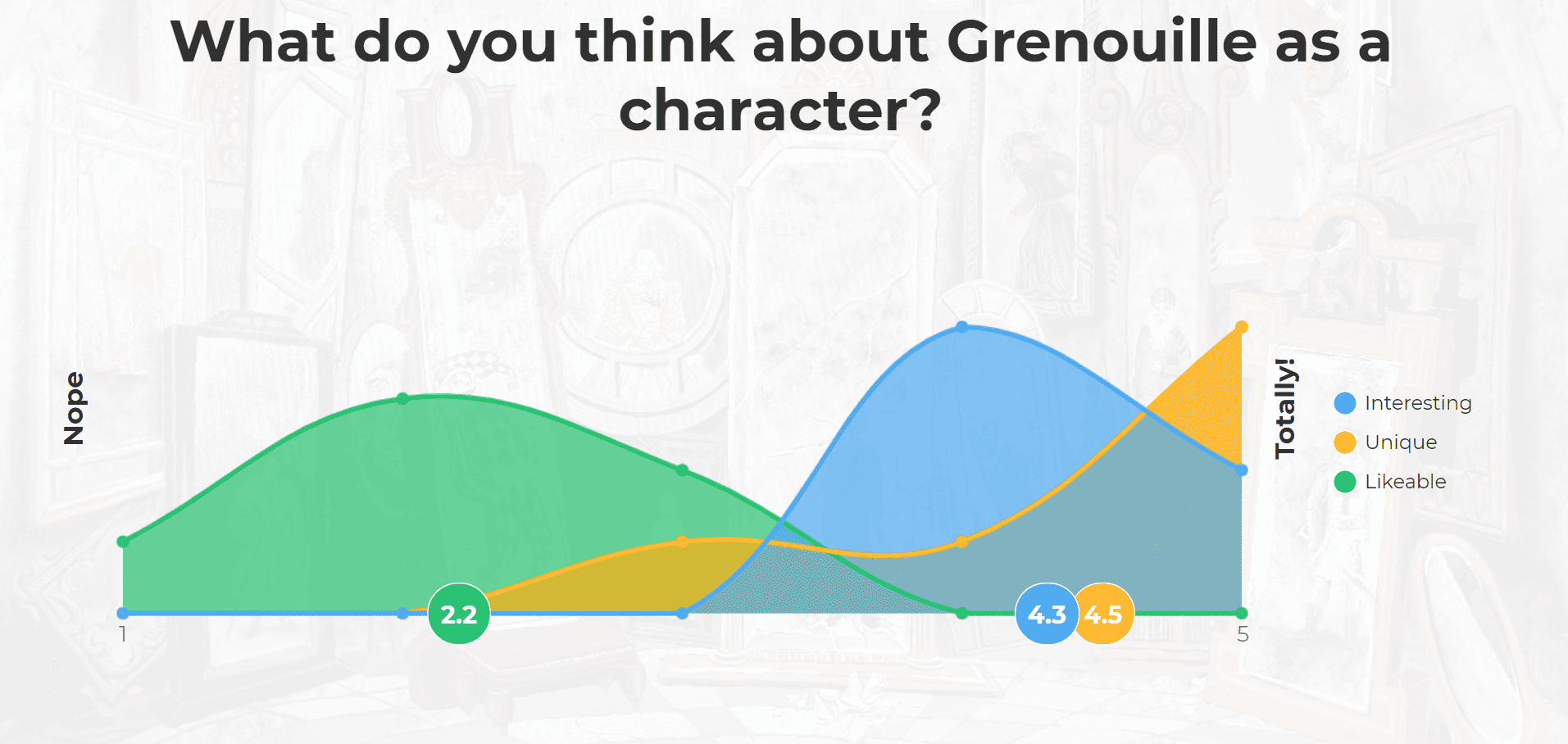 3. Spinner Wheel
The spinner wheel is great for random selection of anything. Simply write the entries directly onto the slide, then press the big button in the middle to spin the wheel.
With this, participants can even fill in their own names live, which is a huge time saver. Great for trivia, game shows or calling up participants.
Note that this video has been sped up for demonstration purposes.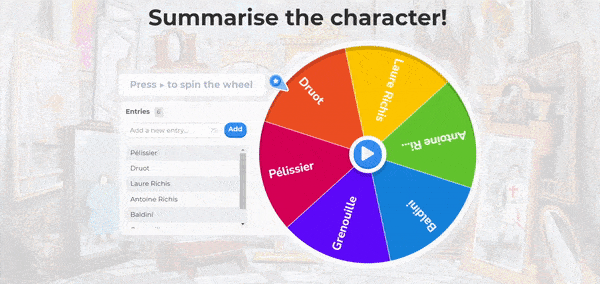 Tip #2 💡 Alternate Content and Interactive Slides
As you know, we're all about interactivity at AhaSlides. The general lack of interactivity in presentations was the whole reason we built AhaSlides in the first place.
On the other hand, too much participation can be draining on the audience and can bury the message that you're trying to get across.
A great presentation is a balance between content slides and interactive slides:
Content slides are slides like headings, lists, images, YouTube embeds, etc. They provide information and don't require any participant interaction.
Interactive slides are all poll and open-ended slides, Q&A and quiz slides. They need input from the audience to work.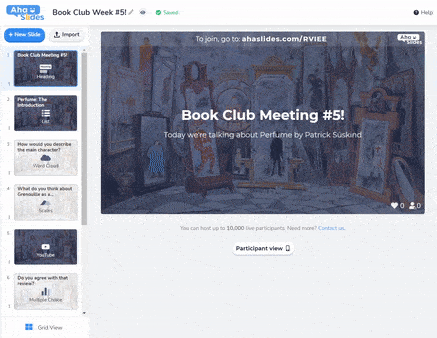 ⭐️ Check this example
In this presentation, the interactive slides are spaced nicely between the content slides.
Using content slides in this way means that the audience gets a breather in between the sections where they participate. This keeps focus high in the long-term.
Presentation Protip 👊 Try to avoid using a content slide for everything that you want to say in your presentation. Reading directly from the screen means the presenter offers no eye contact and no body language, which leads to the audience getting bored, fast.
Tip #3 💡 Make the Background Beautiful
It's easy to focus all your attention on the interactive slides on your first presentation, and to maybe overlook the overall visual impact.
Actually, aesthetics are engagement too.
Having a great background with the right colour and visibility can do a surprising amount for increasing engagement in your presentation. Complimenting an interactive slide with a gorgeous backdrop makes for a more complete, professional presentation.
You can start either by uploading a background from your files or selecting one from AhaSlides' integrated image and GIF libraries. Firstly, choose the image and crop it to your liking.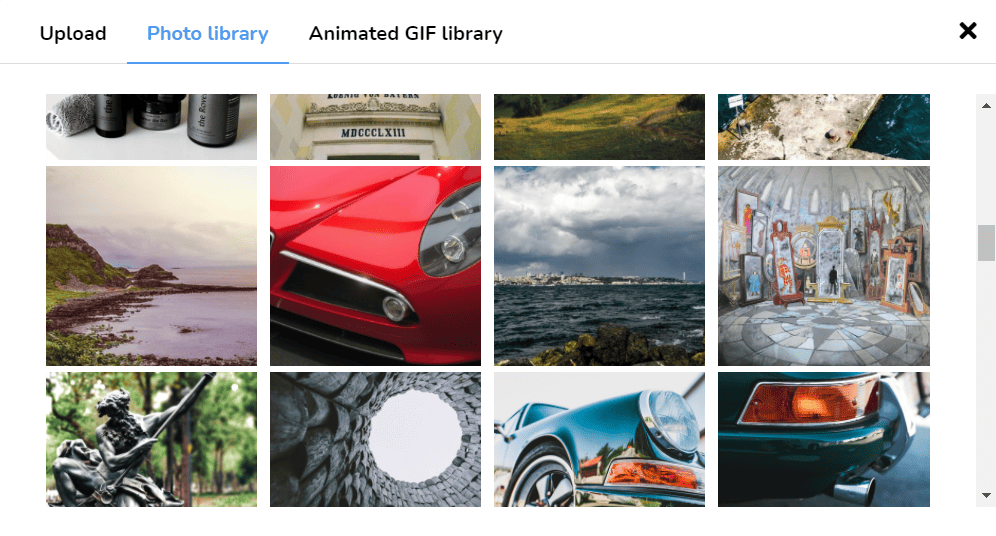 Next, choose your colour and visibility. The choice of colour is up to you, but you should make sure that background visibility is always low. Beautiful backgrounds are great, but if you can't read the words in front of them, they do your engagement rate more harm than good.
Check these examples 👇 This presentation uses the same background throughout, but alternates colours across slides depending on the category of that slide. Content slides have a blue overlay with white text, while interactive slides have a white overlay with black text.
Before you've settled on your final background, you should check how it will look on your participants' mobile devices. Click the button labeled 'participant view' to see how it looks on a more narrow screen.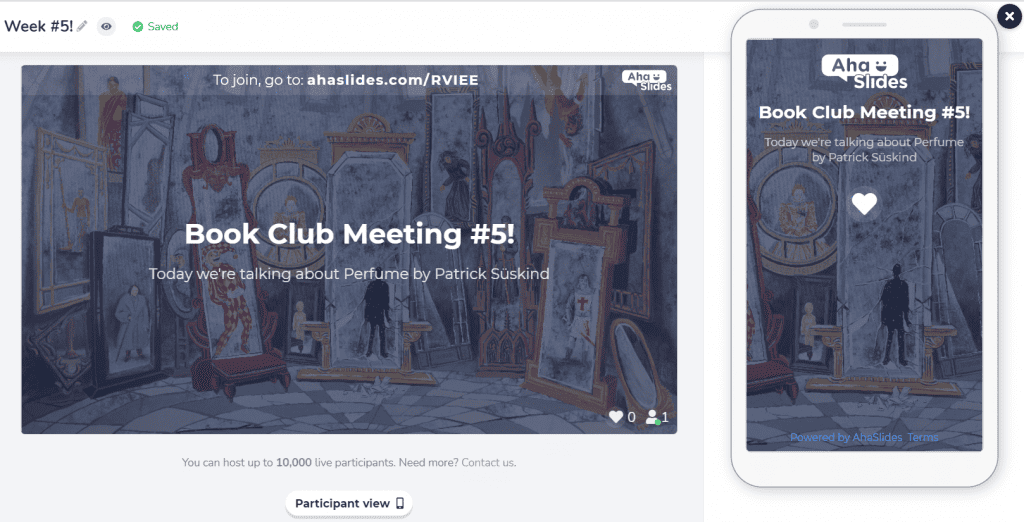 Tip #4 💡 Play Games!
Not every presentation, sure, but certainly most presentations can be livened up with a game or two.
They're memorable – The topic of the presentation, presented through a game, will linger longer in participants' minds.
They're engaging – You can usually expect 100% audience focus with a game.
They're fun – Games simply let your audience unwind, giving them more incentive to focus afterwards.
Besides the spinner wheel and quiz slides, there's a tonne of games you can play using different features of AhaSlides.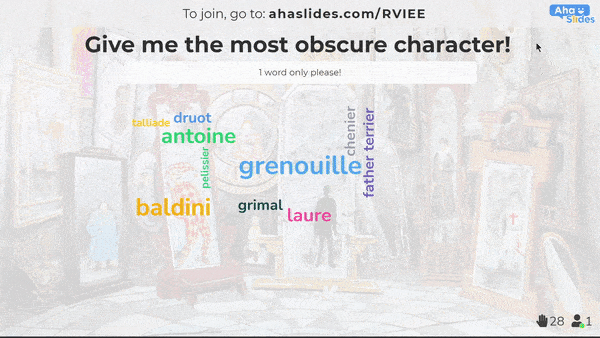 Here's one: Pointless 💯
Pointless is a British game show where players have to get the most obscure correct answers possible to win the points.
You can recreate it by making a word cloud slide and asking for one-word answers to a question. The most popular response will appear in the centre, so when the answers are in, keep clicking on that central word until you're left with the least submitted answer(s) at the end.
Tip #5 💡 Take Control of your Responses
Standing in front of a screen, accepting unmitigated responses from a crowd can be nerve-racking.
What if someone says something you don't like? What if there's a question you can't answer? What if some rebel participant goes all-guns-blazing with the profanities?
Well, there are 2 features on AhaSlides that help you to filter and moderate what the audience submit.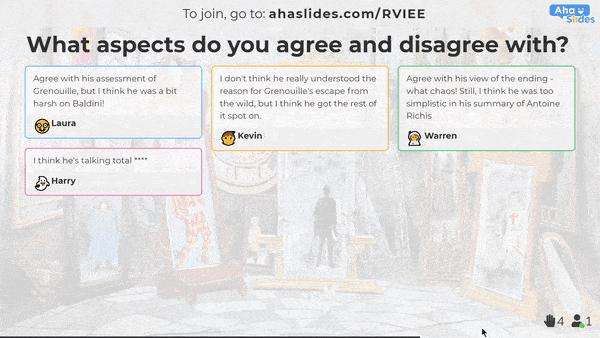 You can toggle the profanity filter for your whole presentation by clicking on a slide, heading to the 'content' tab and ticking the checkbox under 'other settings'.
Doing this will automatically block English language profanities when they're submitted.
With the profanity blocked by asterisks, you can then remove the entire submission from your slide.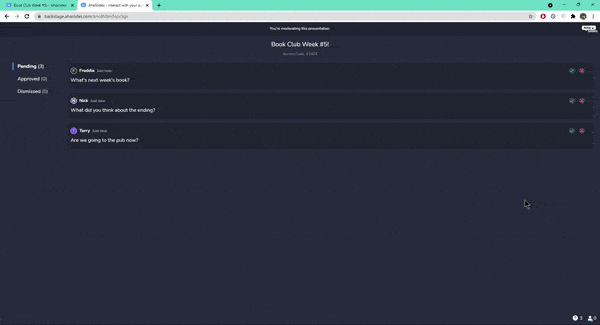 Q&A moderation mode lets you approve or decline audience submissions to your Q&A slide before they have the chance to be shown on screen. In this mode, only you or an approved moderator can see every submitted question.
You simply have to press the button to either 'approve' or 'decline' any question. Approved questions will be shown for everyone, while declined questions will be erased.
So… Now What?
Now that you're armed with 5 more weapons in your AhaSlides arsenal, it's time to start creating your next masterpiece! Feel free to choose one of the three options below, or head to the features page to see everything you can do with the software.
Head back to your dashboard and build something to be proud of.
Grab the book club template used in this article and alter it however you want.
Check out the AhaSlides template library to take something to get your started