We're so excited to announce that AhaSlides has become a part of Microsoft Teams Integration. From now on, you can share AhaSlides directly in your Microsoft Teams workflows to deliver better team presentations with more engagement and collaboration among team members.
AhaSlides Microsoft Teams Integrations is a promising tool that can help create a truly seamless experience for all presenters and all audiences while using virtual platforms like Microsoft Teams. You now won't worry about experiencing issues of sharing the presentation screen incorrectly, difficulties in navigating between screens during sharing, being unable to view the chat while sharing, or lack of interaction among participants, and more.
So, it is high time to learn more about using AhaSlides as Microsoft Teams Integrations.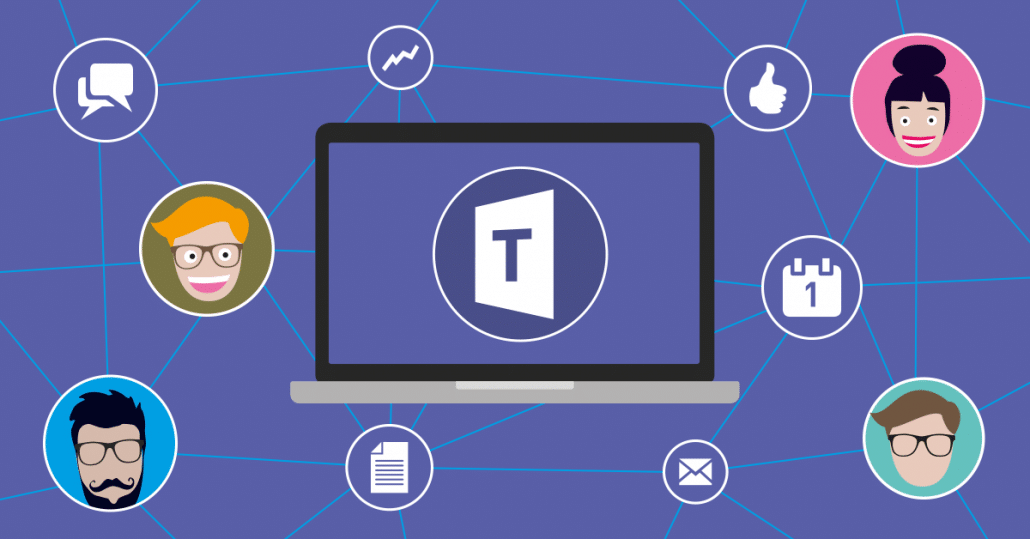 Table of Contents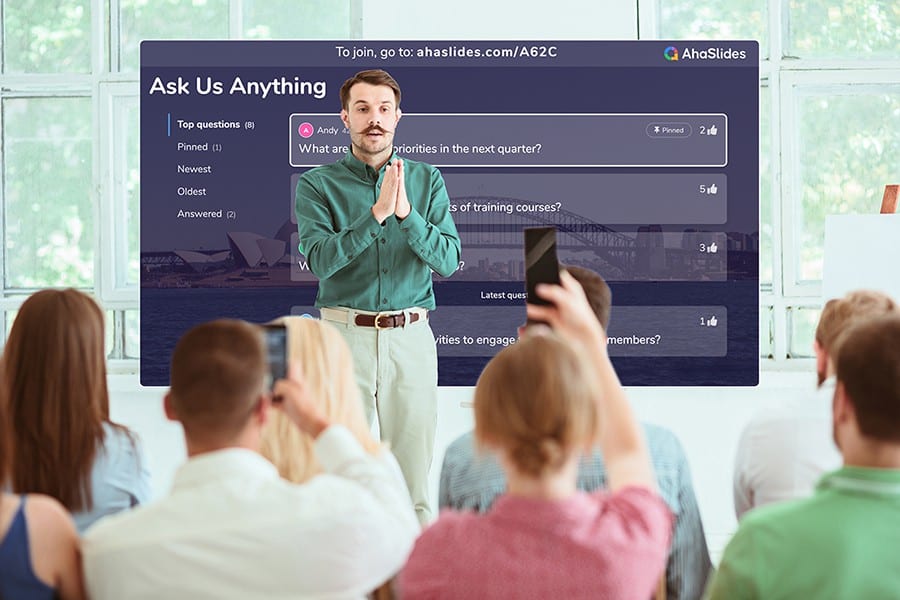 Start in seconds.
Be Interactive with your Live Presentation. Sign up for free and take what you want from the template library!
🚀 Grab Free Account
What is AhaSlides Microsoft Teams Integrations?
AhaSlides Microsoft Teams Integrations can be an excellent alternative for PowerPoint, Prezi and other collaborative presentation apps that users can use and integrate into Microsoft virtual meeting software for free. You can present your live slide show in a more innovative way and promote interaction among participants.
How AhaSlides improve live presentation in MS Teams
AhaSlides has been introduced in the market in recent years, but it soon became one of the best alternatives to PowerPoint, or Prezi, especially a strong preference among those who like to display and present ideas in an innovative way and focus on real-time interactive among audiences. Check out what makes AhaSlides the best app for presenters and their advantages!
Collaborative activities
With AhaSlides, you can foster collaboration and teamwork by incorporating interactive activities into your Microsoft Teams presentation. AhaSlides allows participants to contribute and collaborate in real-time, such as interesting trivia quizzes, quick icebreakers, enabling productive group brainstorming and discussion.
Interactive features
AhaSlides offers various interactive features to engage your audience during Microsoft Teams presentations. Incorporate live polls, quizzes, word clouds, or Q&A sessions into your slide deck to encourage participation and keep your audience actively involved.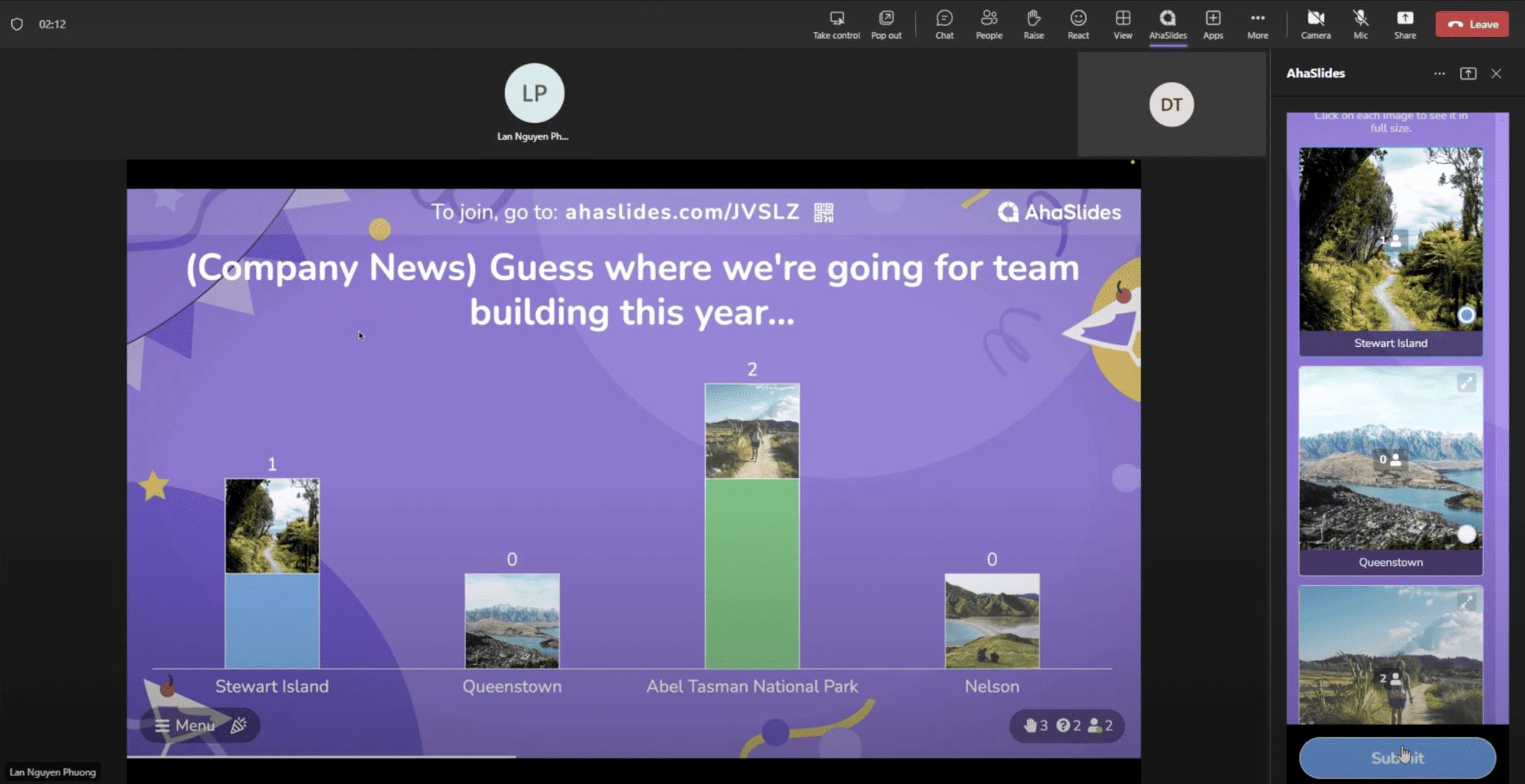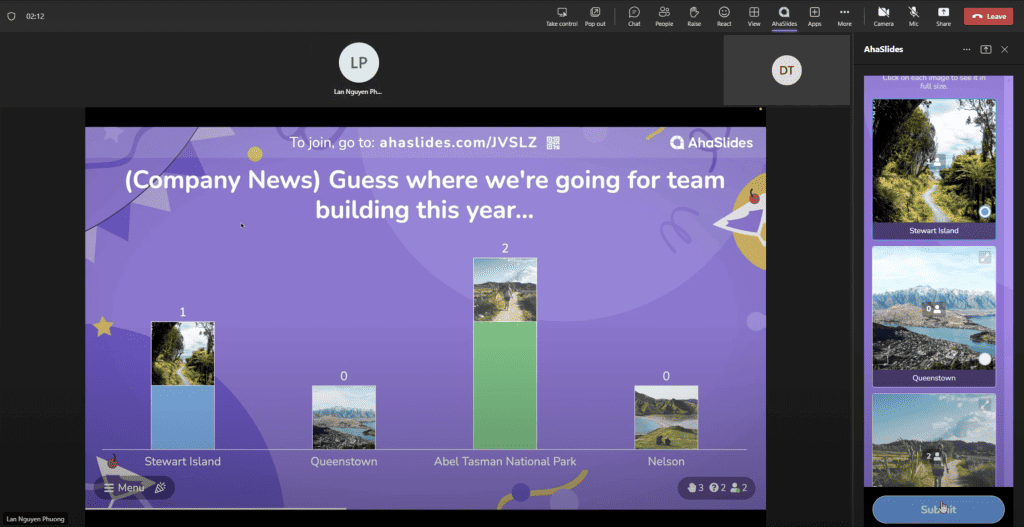 Enhanced visual experience
Presenters can leverage full features of AhaSlides to create visually stunning and captivating presentations that leave a lasting impact on the audience in your MS Teams meetings, such as a range of visually appealing templates, themes, and multimedia integration options. And, all of them are customizable features.
Real-time feedback and analytics
AhaSlides also provides real-time feedback and analytics during your Microsoft Teams presentation. Monitor audience responses, track participation levels, and gather valuable insights to assess the effectiveness of your presentation and make adjustments if needed.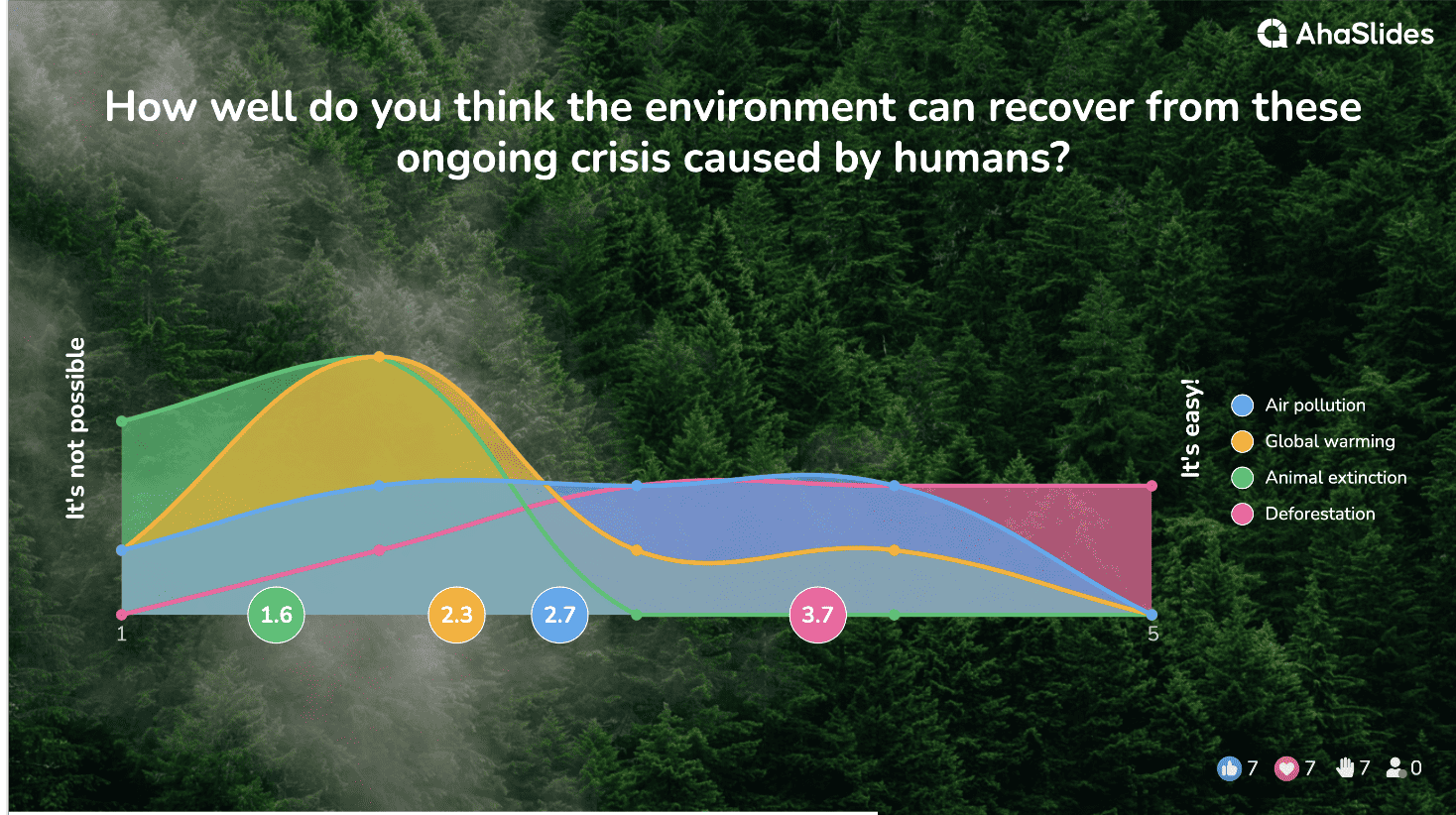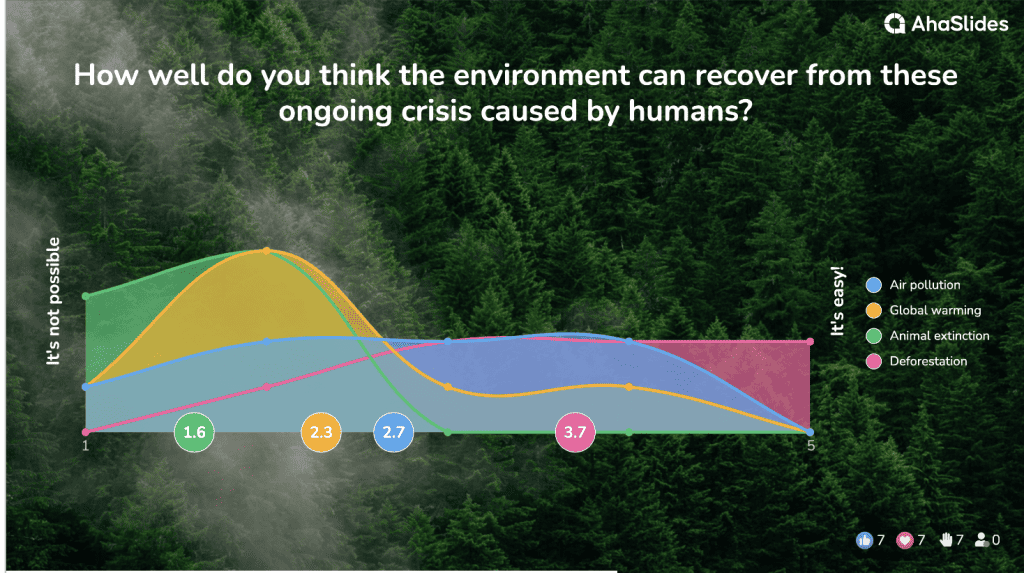 Tutorial: How to integrate AhaSlides into MS Teams
If you are not too familiar with incorporating new apps into MS teams, here is our tutorial to help you to install AhaSlides App in Microsoft Teams software in simple steps. There is also a video to help you quickly grab important information about AhaSlides Microsoft Teams Integrations in below.
Step 1: Launch the Microsoft Teams application on your desktop, Go to Microsoft Teams App Store and find AhaSlides apps in the Search box.
Step 2: Click on the "Get it now" or "Add to Teams" button to initiate the installation process.After the AhSlides app is added, log into with your AhaSlides accounts as required.
Step 3: Select your Presentation file and chose "Share" option.
Step 4: Start your MS Teams meeting. In AhaSlides MS Teams Integrations, Choose "Switch to full screen" option.
6 Tips to Create Engaging Microsoft Teams Presentations with AhaSlides
Making a presentation can be a daunting and overwhelming task, but you absolutely can use some tricks to make your presentation more captivating and grab everyone's attention. Here are the five top tips that you cannot miss to master your technical and presentation skills.
#1. Start with a strong hook
It is important to grab your audience's attention with a hook to kickstart your presentation. Some fantastic way you can try as follows;
Storytelling: It could be a personal anecdote, a relevant case study, or a compelling narrative that immediately grabs the audience's interest and creates an emotional connection.
Startling Statistic: Begin with a surprising or shocking statistic that highlights the importance or urgency of your presentation's subject matter.
Provocative Question: A captivating introduction or a thought-provoking question. Start your presentation with a compelling question that sparks curiosity and encourages your audience to think.
Start with a Bold Statement: This can be a controversial statement, a surprising fact, or a strong assertion that generates immediate interest.
HINTS: Display the question on an attention-grabbing slide using AhaSlides' textAhaSlides allows you to create visually appealing opening slides to set the tone for your presentation.
#2. Eye-catching sound effects
If you know that sound effect can improve the level of engagement, you definitely don't want to miss them. A tip is choosing sound effects that align with your presentation's theme, topic, or specific content and don't overuse them.
You can utilize sound effects to highlight key moments or interactions, evoke emotions and create a memorable experience for your audiences.
For example, if you're discussing nature or the environment, you could incorporate soothing nature sounds. Or If your presentation involves technology or innovation, consider using futuristic sound effects
#3. Use multimedia elements
Don't forget to incorporate multimedia elements like images, videos, and audio clips into your slides to make your presentation more visually appealing and interactive. The good news is AhaSlides supports seamless integration of multimedia content.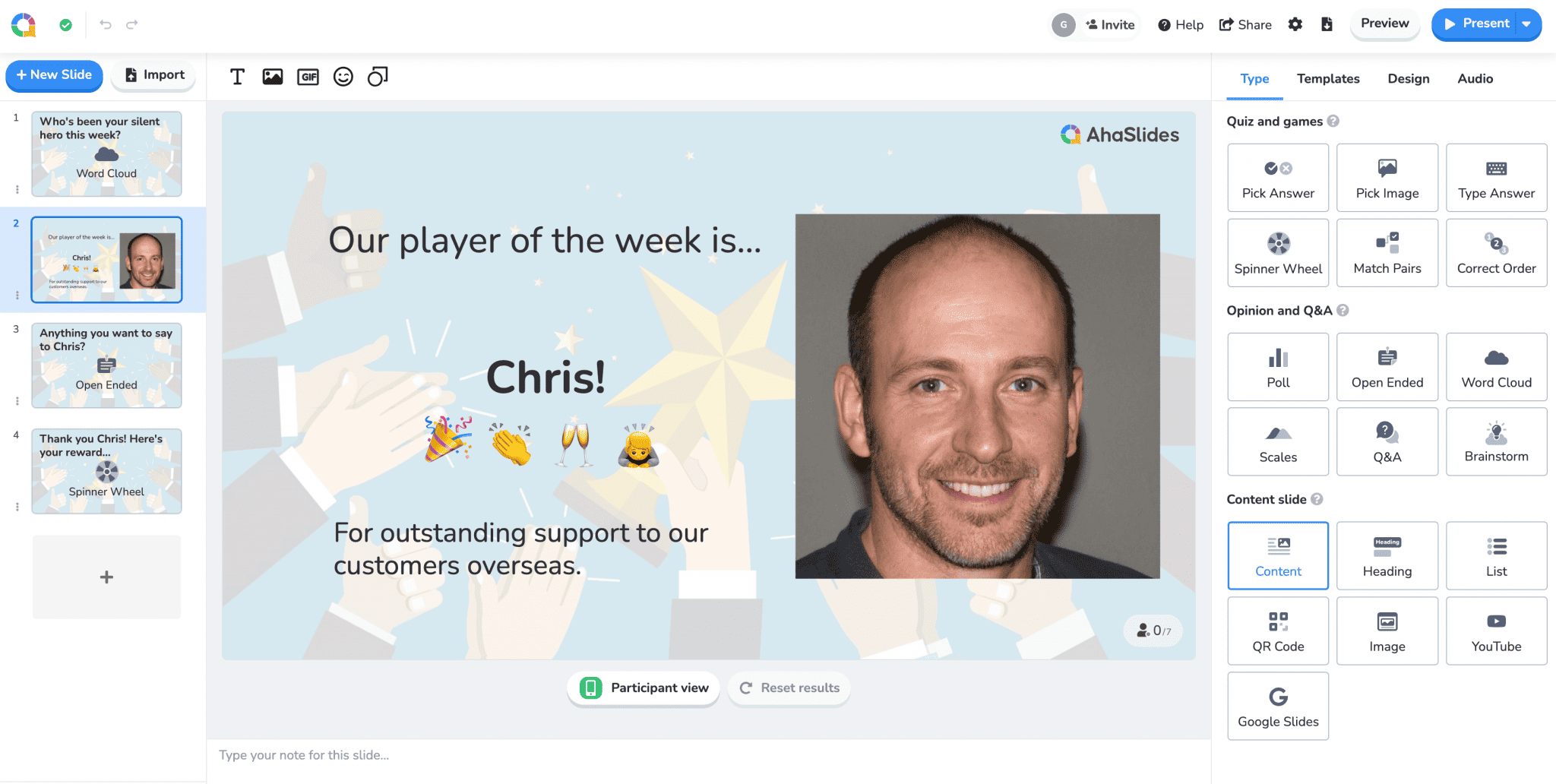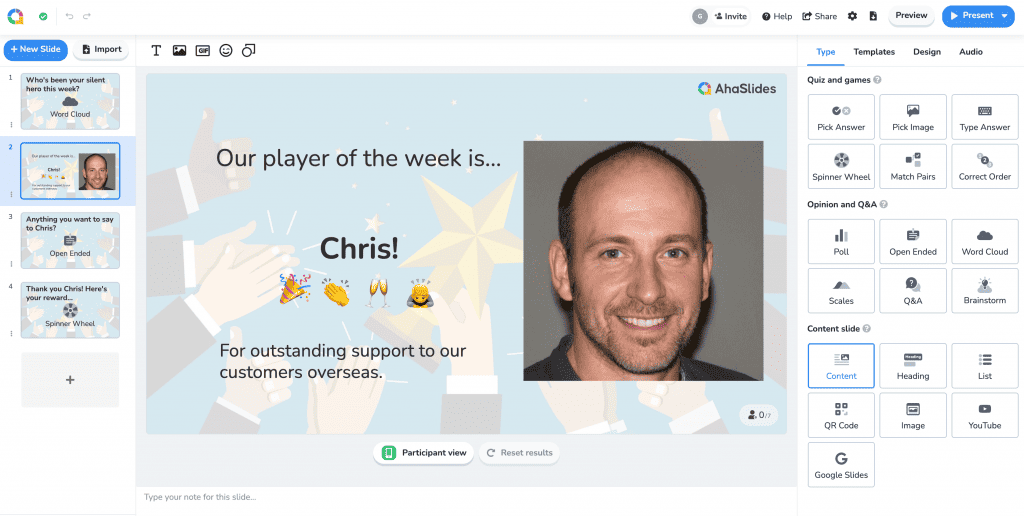 #4. Keep it concise
You should avoid information overload by keeping your slides concise and focused. Use bullet points, visuals, and brief explanations to convey your message effectively. AhaSlides' slide customization options allow you to create visually appealing and easy-to-read slides.
#5. Enable Anonymous participation
When doing a survey or poll in an MS Teams meeting, fostering a comfortable and privacy environment for your audience to leave answers is significantly crucial. In most cases, anonymity can lower barriers and unwillingness to participate. With AhaSlides, you can create anonymous polls and surveys where participants can provide their responses without revealing their identities.
#6. Emphasize key points
Last but not least, it is necessary to highlight key points or important information by using visual cues such as bold text, color variations, or icons. This helps your audience focus on essential details and aids in better retention of the information presented.
"The three fundamental pillars of our strategy are Innovation, Collaboration, and Customer Satisfaction."
Use a light bulb icon next to innovative ideas, a checkmark icon for completed tasks, or a warning icon for potential risks
FAQ
Frequently Asked Questions
---
Got a question? We've got answers.
Bottom Line
By AhaSlides x Microsoft Teams Integration, you can unlock the platform's full potential and take your team's collaboration to the next level.
So, don't miss the opportunity to captivate, collaborate, and communicate effectively. Experience the power of AhaSlides integrated with Microsoft Teams today!