Are STEM Schools better than regular schools?
Our world is changing fast. "Schools have to prepare students at all levels for jobs that have not yet been created, for technologies that have not yet been invented, to solve problems that have not yet been anticipated", according to OECD Learning Framework 2030.
Jobs and high pay is increasing in STEM fields. This leads to the increasing prominence of STEM schools in recent years. Plus, STEM schools also train students with the right skills for a future outside tech-related field.
It is time to raise awareness about STEM schools and find better ways to engage students to STEM knowledge naturally and effectively. In this article, you will be equipped with a comprehensive guide to building excellent STEM courses and programs.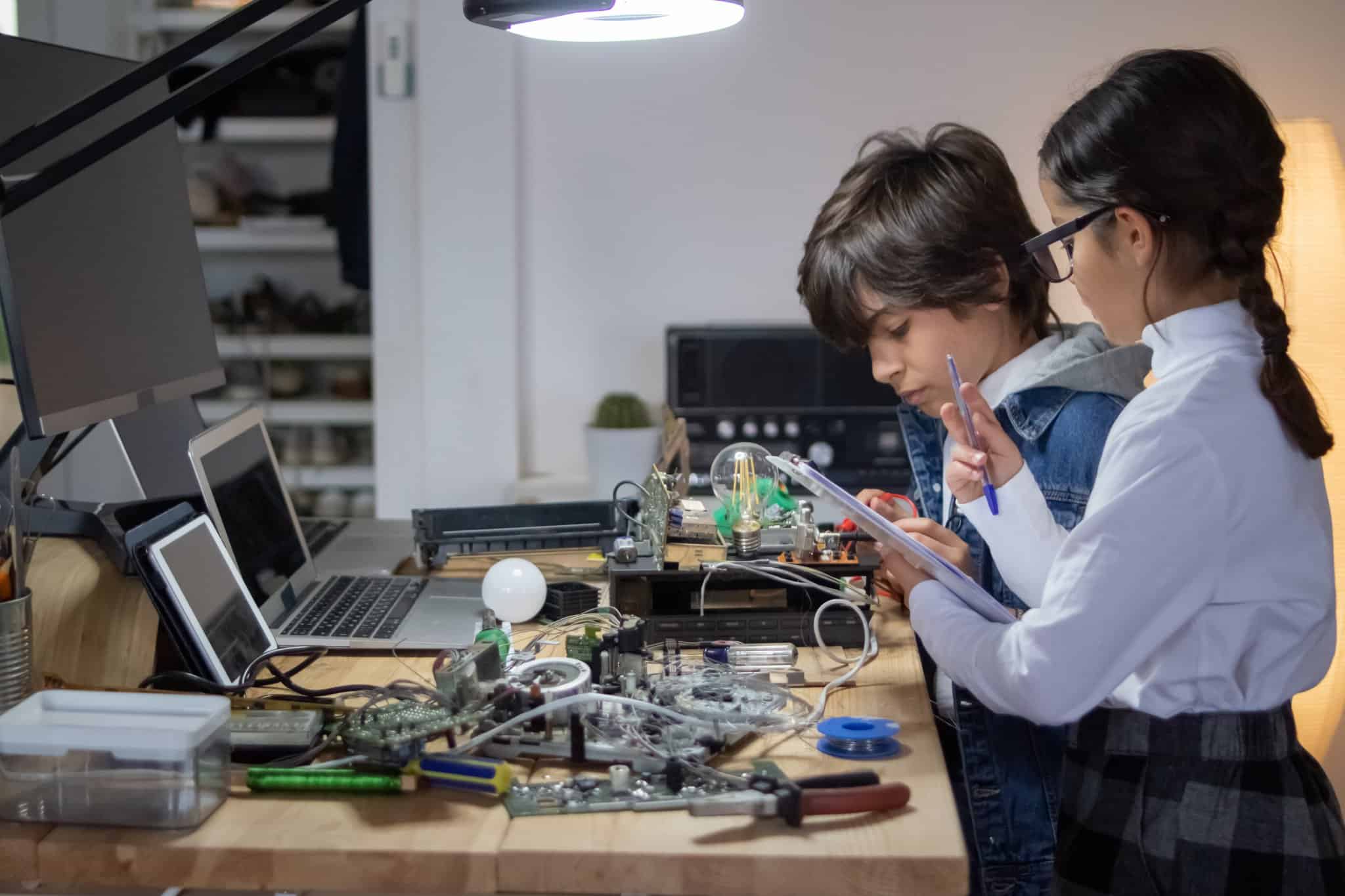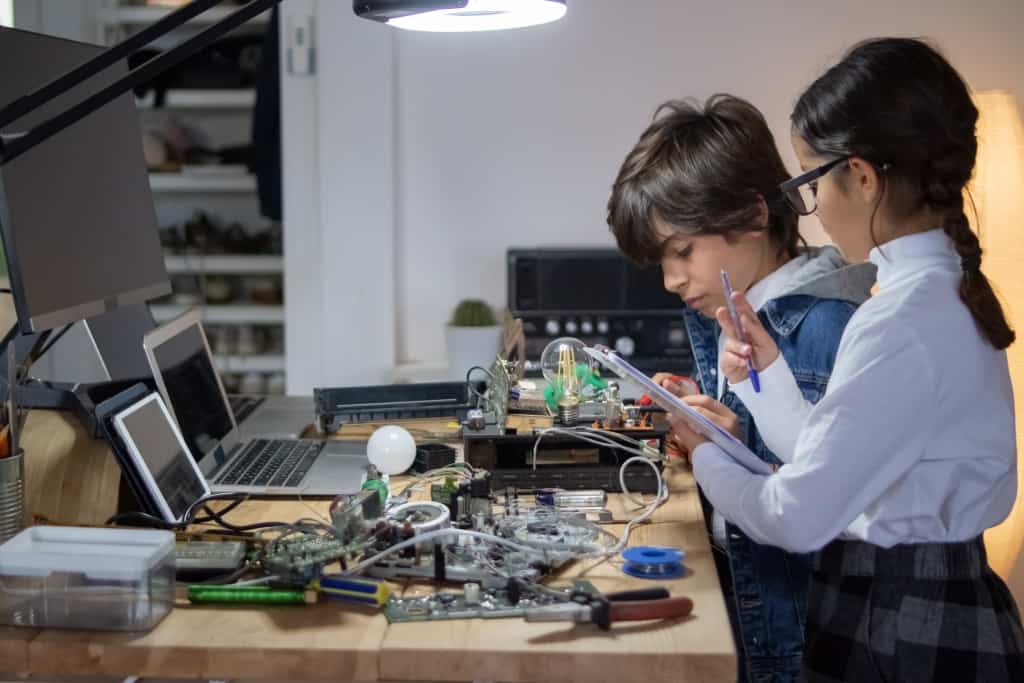 Table of Contents
What is the meaning of STEM schools?
Broadly speaking, STEM schools focus on four major fields of science, technology, engineering, and mathematics. The primary purposes of curriculum design in STEM schools are:
Inspiring students to take an interest in STEM subjects at an early age.
Exploring the relevance of STEM skills in the modern world.
Discussing the demand for STEM professionals and the career opportunities available.
Emphasizing the need to cultivate a STEM literacy for problem-solving and critical thinking.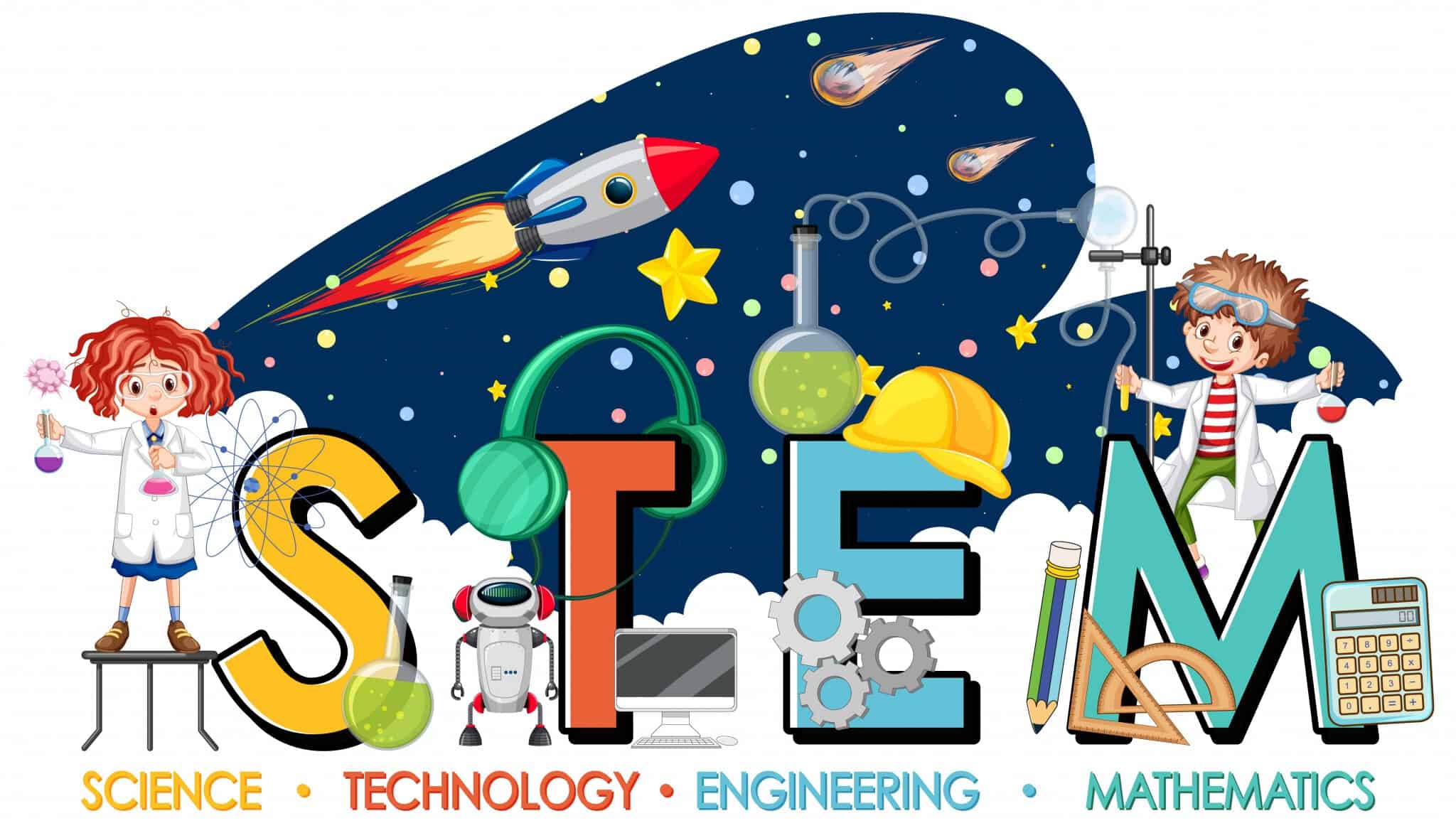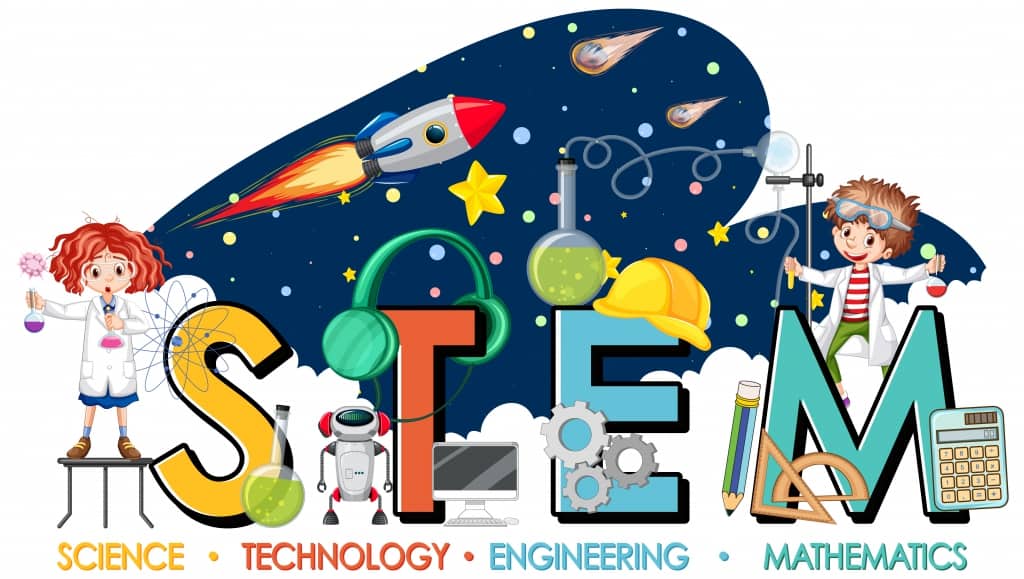 Why are STEM schools important?
It's been proven that STEM education brings a range of benefits. Here are some examples:
STEM schools encourage students to think critically, analyze problems, and develop innovative solutions.
STEM education equips students with the skills needed to navigate and excel in a technology-driven world
STEM schools nurture creativity by inspiring students to explore, experiment, and think outside the box.
STEM schools emphasize collaboration and teamwork, mirroring real-world work environments.
STEM schools bridge the gap between theory and practice by connecting classroom learning to real-world applications.
STEM education prepares students for a wide range of career opportunities in rapidly expanding fields such as technology, engineering, healthcare, and renewable energy.
Three types of criteria to identify successful STEM schools
For parents who are preparing their children to attend STEM education, there are three aspects that determine whether this is a successful STEM.
#1. Student STEM Outcomes
Test-score doesn't tell the whole story of success, STEM schools focus on the learning process where students learn with joy and a sense of discovery and innovation.
For example, by participating in official STEM schools, like STEM curriculum elementary, students will have a chance to visit museums, off-campus clubs or programs, competitions, internship and research experiences, and more.
As a result, students learn the ability to think critically, address problems, and work effectively with others, along with the kinds of knowledge and skills measured on state assessments and college admission tests.
#2. STEM-Focused School Types
Effective STEM schools, such as highly regarded STEM-focused career and technical schools and programs are the best guide to direct students to achieve desired STEM outcomes.
With a specific academy and customized courses, STEM schools produce stronger student outcomes than other models, and more STEM talents will be soon discovered.
Selective STEM schools will provide a high-quality education that prepares students to earn STEM degrees and succeed in professional STEM careers.
Students will have a chance to access a project-based learning approach, meet expert teachers, advanced curricula, sophisticated laboratory equipment, and apprenticeships with scientists.
#3. STEM Instruction and School Practices
It is important to note that STEM practices and school conditions, its culture and condition matter. They facilitate effective STEM instruction, which is the main indicator that captures students' interest and involvement. Some examples are :
School leadership as the driver for change
Professional capacity
Parent-community ties
Student-centered learning climate
Instructional guidance
It is believed that effective STEM instruction actively engages students in science, mathematics, and engineering practices throughout their learning at school.
Students have opportunities to develop their own identity as STEMcs, and engineering by addressing problems that have real-world applications.
The importance of STEM teachers is mentioned here, their dedicated teaching and expertise knowledge can foster positive effects on student achievement.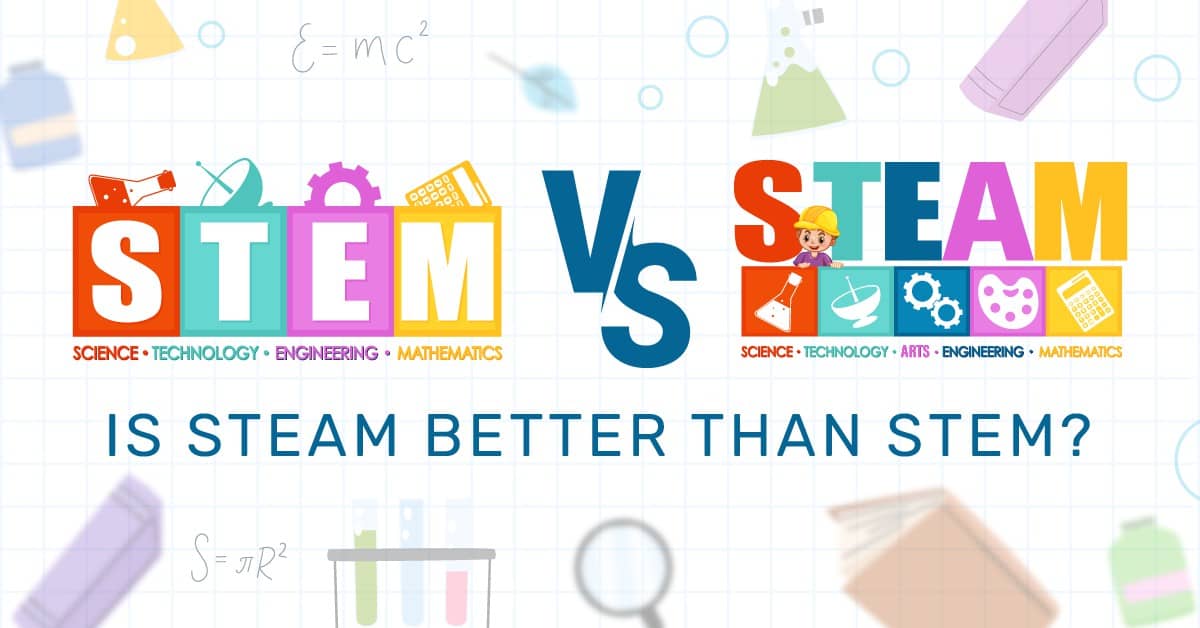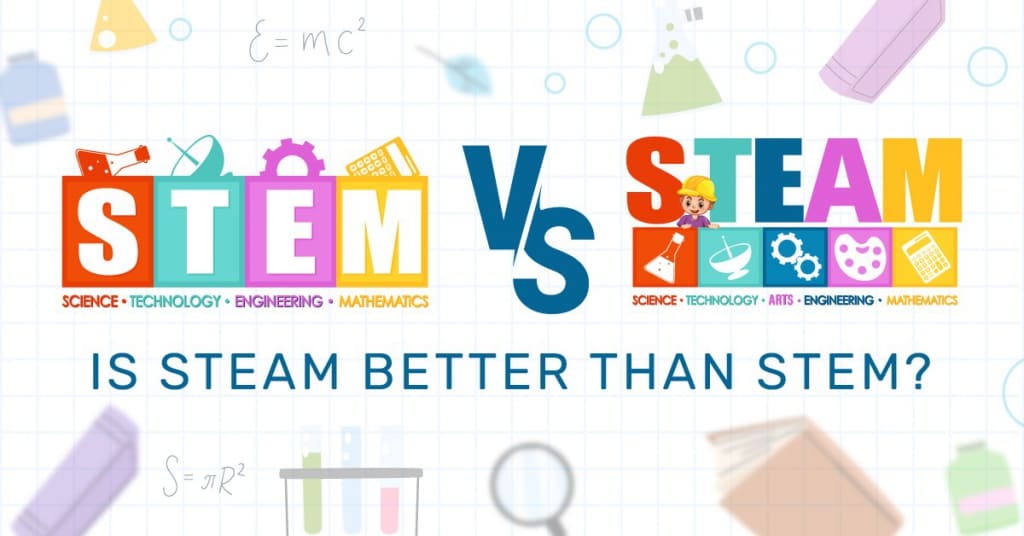 What are the differences between STEAM and STEM?
At first, STEM and STEAM seem about the same, so what's the big deal?
STEM stands for science, technology, engineering, and math. In the meanwhile, "STEAM" follows the STEM framework plus the arts.
STEM education often focuses on practical application and preparing students for careers in STEM fields. While creativity is encouraged in STEM, the arts are not explicitly incorporated into the framework.
In STEAM education, the arts, including visual arts, media, theater, and design, are integrated into STEM subjects to foster innovation, imagination, and a holistic approach to problem-solving.
20 STEM Activities for all level learners
Involvement in STEM hands-on exercises, for instance, exciting experiments, crafts, and projects helps students figure out the real meaning of these subjects. While they are participating, they are questioning, observing, and experimenting in a thrilling and engaging manner.
Building a hurricane-proof house
Creating a bubbling flute
Playing the Maze Game
Inflating a balloon with dry ice
Exploring Transpiration
Building marshmallows and toothpicks structures
Creating a balloon-powered car
Designing and testing a paper bridge
Creating a lemon battery
Designing and launching a Straw Rocket
STEM curriculum elementary
Utilizing drones for environmental monitoring
Building and programming robots
Creating and designing video games
Designing and printing 3D models
Exploring Space Science
Using Virtual and Augmented Reality
Practicing basic Coding and Programming languages
Designing and building structures
Investigating renewable energy
Learning about machine learning and neural networks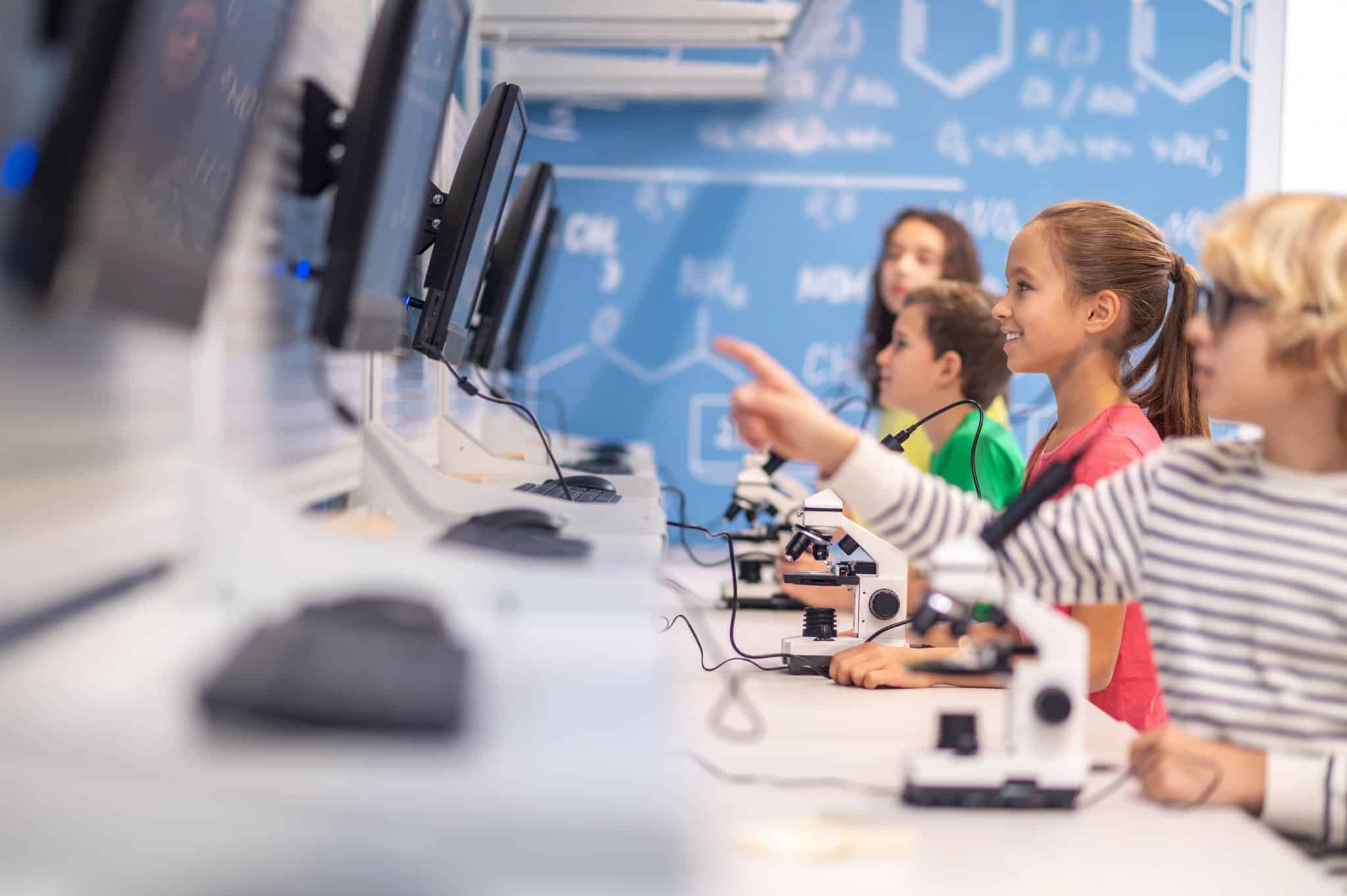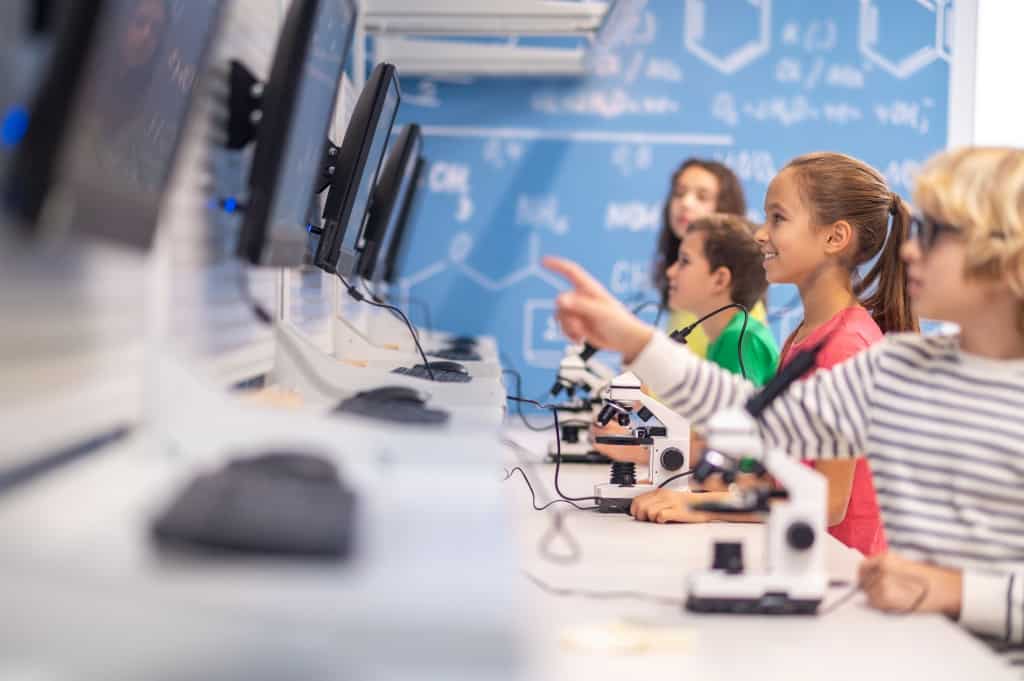 How to improve the learning experience in STEM schools?
Teaching in ways that motivate all students and strengthen their familiarity with STEM content and practices is a challenging task.
Here we introduce 5 innovative educational tools for enhancing teaching STEM education that educators can consider:
An online collaboration platform like CollabSpace is designed specifically for STEM education. It provides a virtual workspace where students and educators can collaborate, share ideas, and work on projects together.
#2. Micro: bit Small-Board Computer by BBC
The micro: bit is a small-board computer designed to introduce students to coding, electronics, and computational thinking. It is a compact device equipped with various sensors, buttons, and LEDs that can be programmed to perform a wide range of functions.
An interactive learning platform like Nearpod enables educators to create engaging STEM lessons with multimedia content, interactive activities, and assessments. It offers features like virtual reality (VR) and 3D models, allowing students to explore STEM concepts in an immersive and interactive way.
Lego Boost is a robotics kit created by the LEGO Group that combines building with LEGO bricks and coding to introduce young learners to robotics and programming concepts. Students can explore topics like motion, sensors, programming logic, and problem-solving through creative play with their Lego models.
AhaSlides is an interactive and collaborative presentation and polling tool that can be used to engage students in STEM lessons. Educators can create interactive presentations, and brainstorming sessions with quizzes, polls, and interactive questions to gauge student understanding and promote active participation. AhaSlides also offers features like live Q&A sessions and real-time feedback, allowing educators to instantly adapt their teaching based on student responses.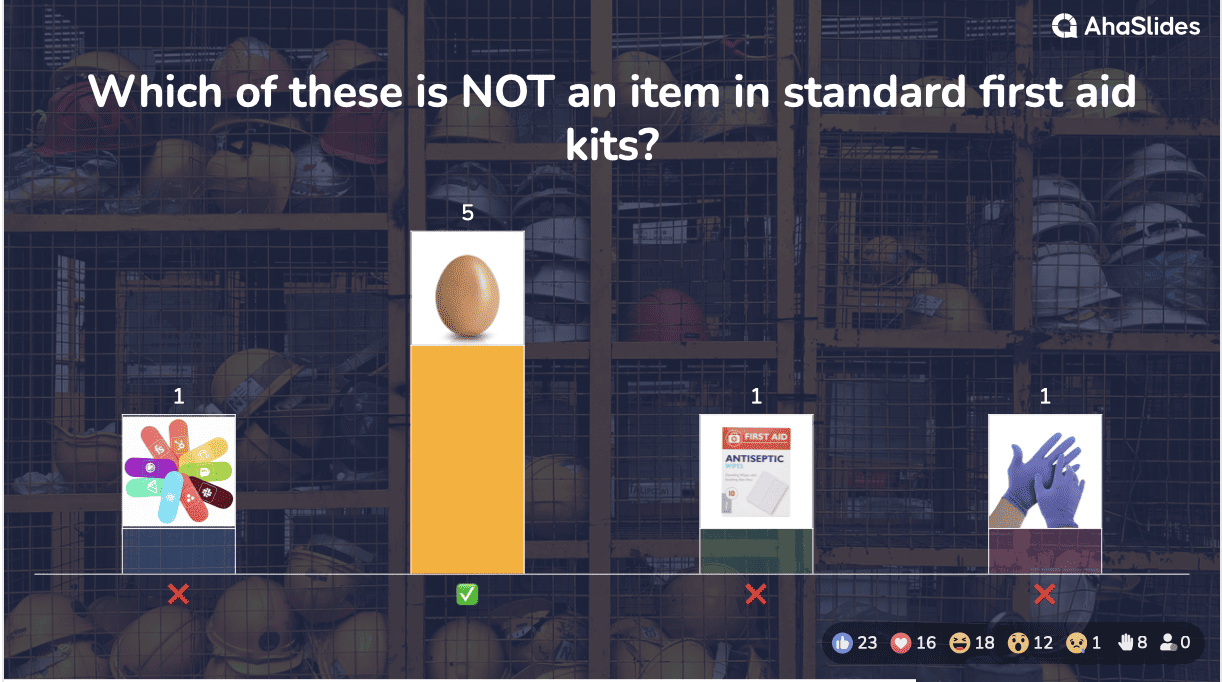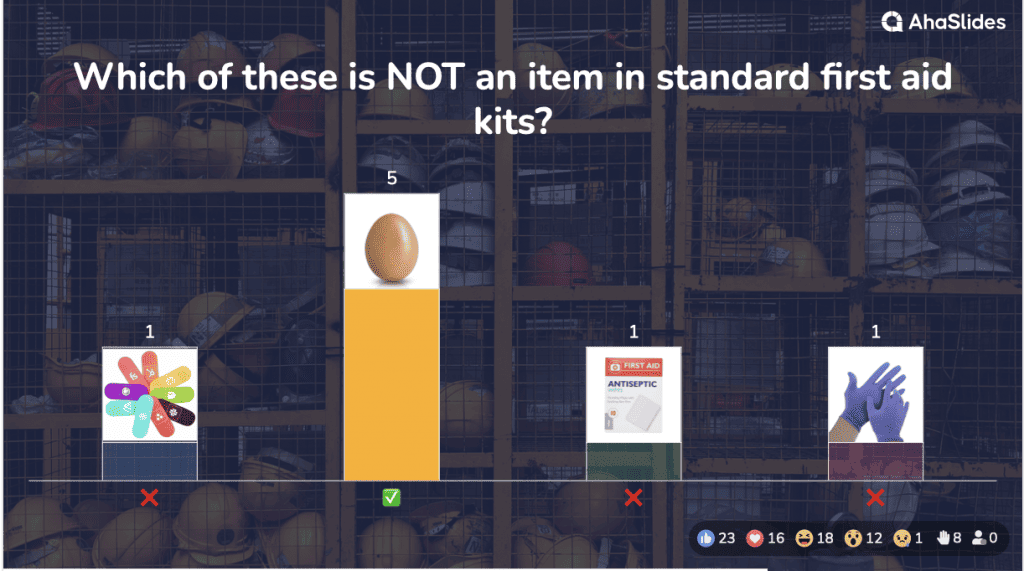 Frequently Asked Questions
What is an example of STEM learning?
Here are some examples of STEM learning:
Learning about online safety and security within cybersecurity courses
Learning about the potential benefits and risks of IoT
Examining the potential impact of Nanotechnology on society
Why is STEAM good in schools?
It helps students to become familiar with tech-related knowledge through experiential learning as well as prepares students for essential skills such as problem-solving, teamwork, and research skills.
What is the #1 STEM school in the US?
The top best STEM schools in the US are listed below, according to Newsweek magazine
School of Science and Engineering Dallas
Stanford Online High School
School for the Talented and Gifted Dallas
Illinois Mathematics and Science Academy
Gwinnett School of Mathematics, Science, and Technology
What is STEAM Education UK?
STEAM education represents Science, Technology, Engineering, the Arts, and Math. In the UK educational system, STEM learning is important to help students develop creativity and design thinking which solve complex problems in the technology-driven landscape.
Final Thoughts
Science, Engineering, and Technology are dominant drivers of the future economy and the associated creation of jobs.
And many people agreed that K-12 STEM education is linked to continued scientific leadership and economic growth of the world.
To fill an increasing portion of elite STEM positions, the role of STEM schools is undeniable to help students succeed in pursuing their dream careers.
Improving STEM students' learning experience with AhaSlides for free right away!