Meet Péter Bodor
Péter's a professional Hungarian quiz master with over 8 years of hosting experience under his belt. In 2018 he and a former university friend established Quizland, a live quizzing service that brought people in their throngs to the pubs of Budapest.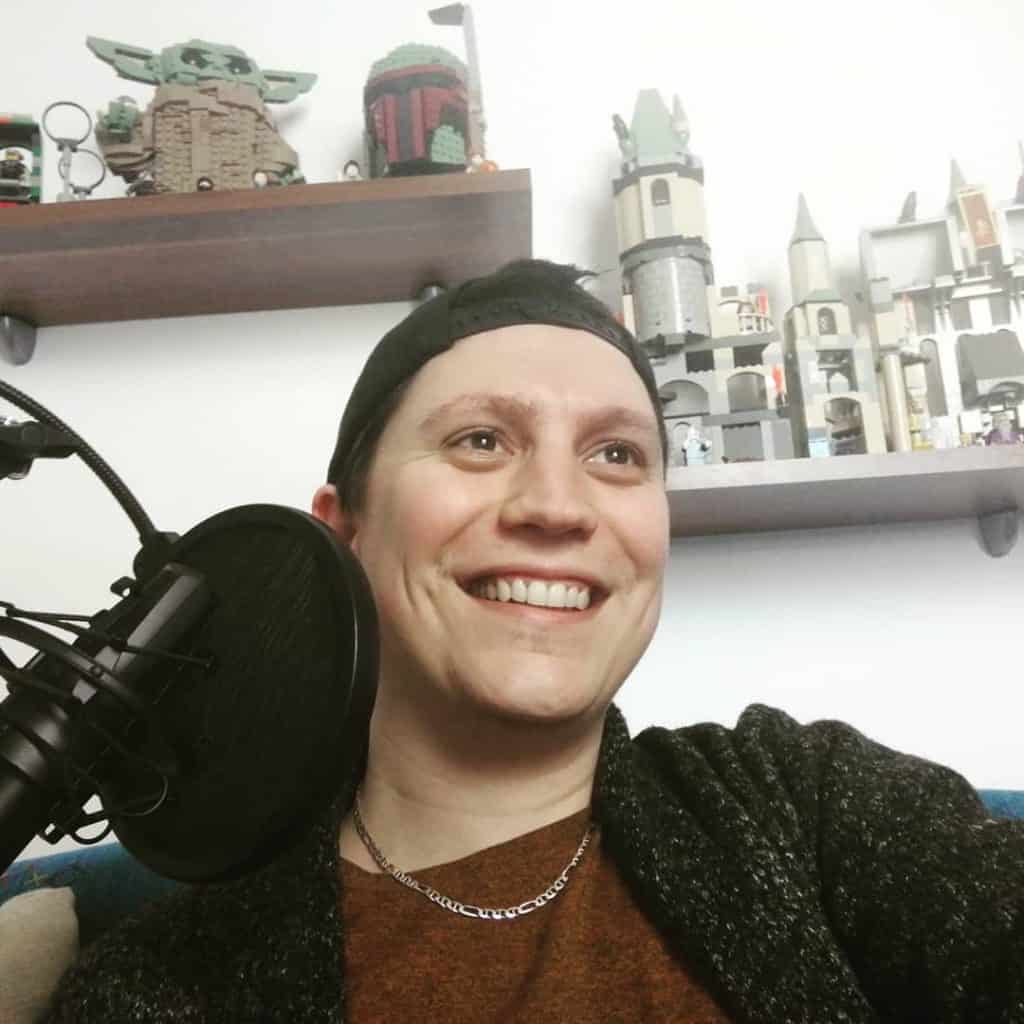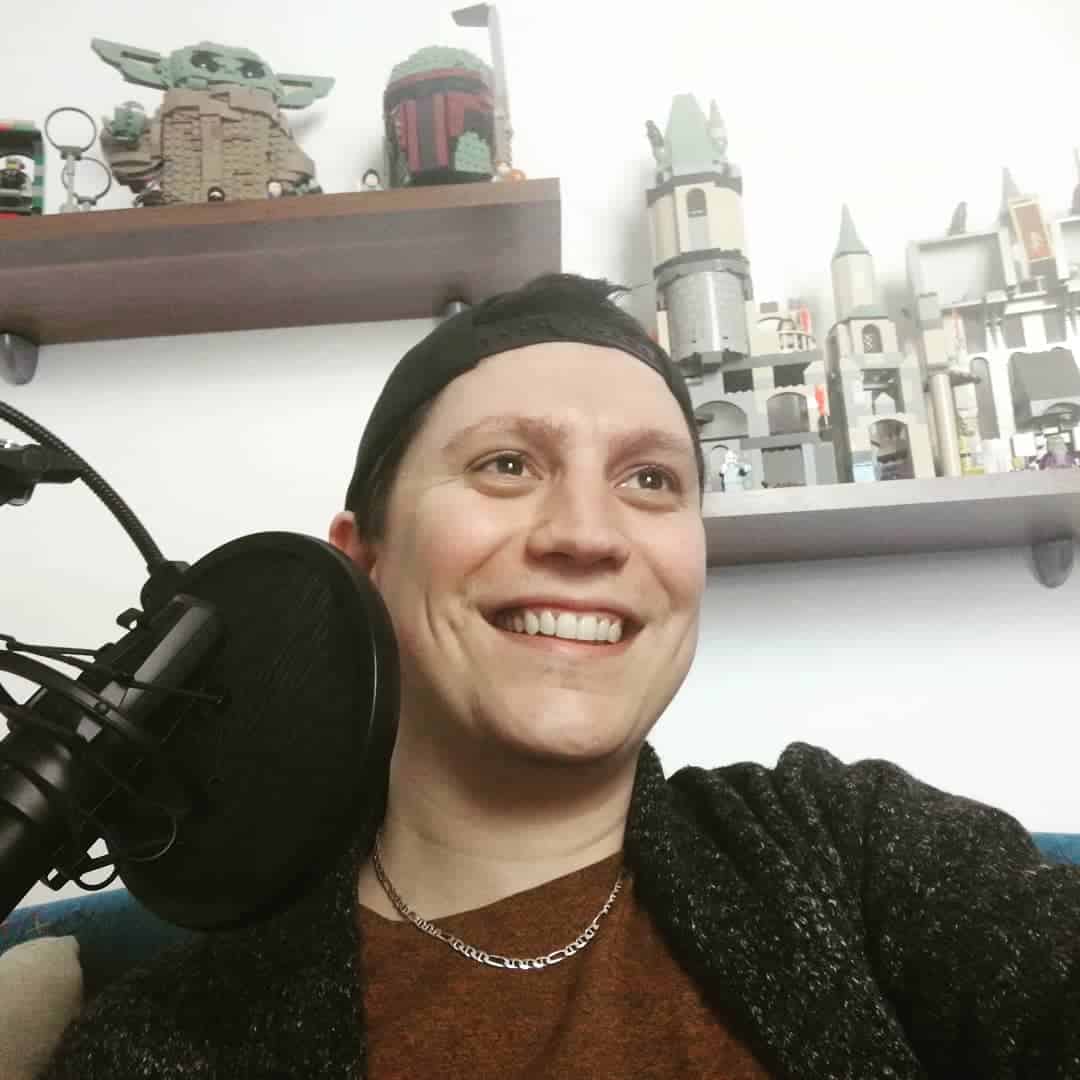 It didn't take long before his quizzes become super popular:
Players had to apply via Google Forms, because seats were limited to 70 - 80 people. Most of the time we had to repeat the same quizzes 2 or 3 times, just because so many people wanted to play.



Every week, Péter's quizzes would revolve around a theme from a TV show or movie. Harry Potter quizzes were one of his top performers, but attendance numbers were also high for his Friends, DC & Marvel and The Big Bang Theory quizzes.
In under 2 years, with everything looking up for Quizland, Péter and his friend were wondering exactly how they were going to handle the growth. The eventual answer was the same as it was a lot of people at the dawn of COVID in early 2020 – to move his operations online.
With pubs shut across the country, and all of his quizzes and team building events cancelled, Péter returned to his hometown of Gárdony. In the office room of his house, he started plotting how to share his quizzes with the virtual masses.
How Péter Moved his Pub Quiz Online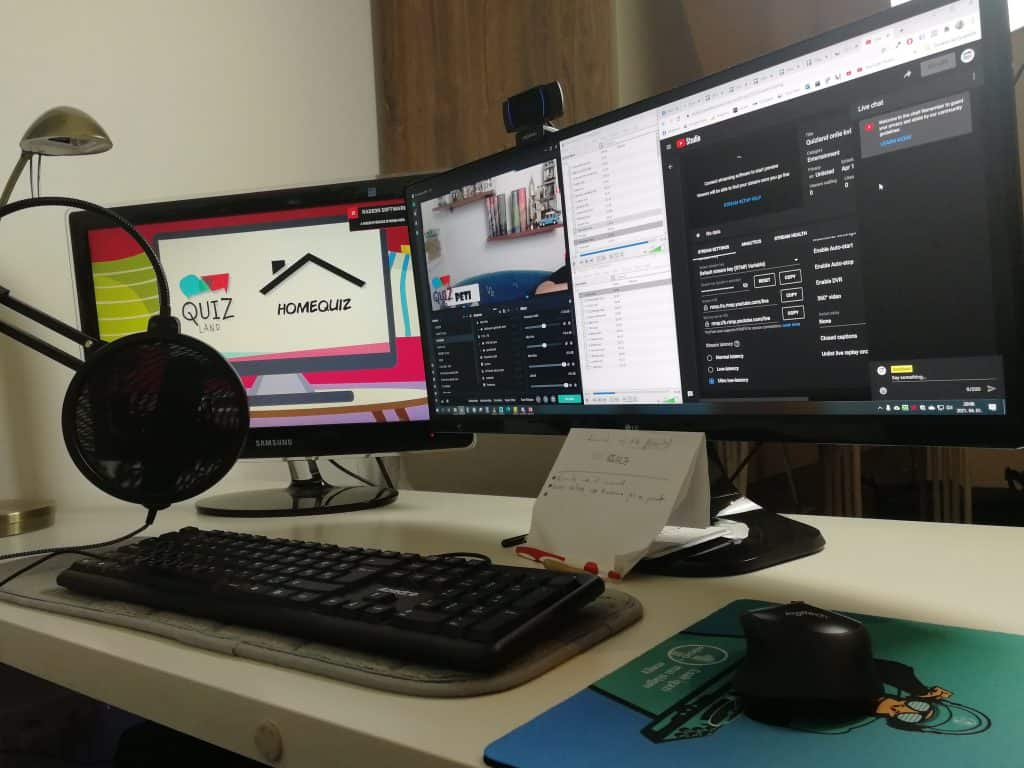 Péter started his hunt for the right tool to help him host a live quiz online. He did a lot of research, made a lot of purchases of professional equipment, then determined the 3 factors he needed most from his virtual pub quiz hosting software:
To be able to host large numbers of players without issue.
To show the questions on players' devices in order to bypass YouTube's 4 second latency on live streaming.
To have a variety of question types available.
After trying out Kahoot, as well as many similar bits of kit, Péter decided to give AhaSlides a go.
I checked Kahoot, Quizizz and a bunch of others, but AhaSlides seemed to be the best value for its price.



With a view to continuing the fabulous work he had done with Quizland offline, Péter started experimenting with AhaSlides.
He tried out different slide types, different formats of headings and leaderboards, and different customisation options. Within a few weeks of lockdown, Péter had figured out the perfect forumla and was attracting bigger audiences for his online quizzes than he did offline.
Now, he regularly pulls in 150-250 players per online quiz. And despite lockdowns being eased in Hungary and people heading back to the pub, that number is still growing.
The Results
Here are the numbers for Péter's quizzes in the last 5 months.
Average Players per Event
Average Responses per Event
They like my games and the way they are prepared. I'm lucky to have a lot of returning players and teams. I very rarley receive negative feedback about the quizzes or the software. Naturally there have been one or two minor technical problems, but that's to be expected.



The Benefits of Moving your Pub Quiz Online
There was a time when trivia masters like Péter were highly reluctant to move their pub quiz online.
Indeed, Many still are. There are constant worries that online quizzes are going to be fraught with problems related to latency, connection, audio, and pretty much everything else that can go wrong in the virtual sphere.
In fact, virtual pub quizzes have come on leaps and bounds since the start of lockdown, and pub quiz masters are starting to see the digital light.
1. Huge Capacity
Naturally, for a quiz master who maxes out capacity at his offline events, the unbounded world of online quizzing was a big deal for Péter.
Offline, if we hit capacity, I need to announce another date, start the reservation process again, monitor and handle the cancellations, etc. There's no such problem when I host an online game; 50, 100, even 10,000 people can join without problems.



2. Auto-Admin
In an online quiz, you're never hosting alone. Your software will take care of the admin, meaning you just have to proceed through the questions:
Self-marking – Everyone gets their answers marked automatically, and there are a bunch of different scoring systems to choose from.
Perfectly paced – Never repeat a question. Once time's up, you're onto the next one.
Save paper – Not a single tree wasted in printing materials, and not a single second lost to the circus of getting teams to mark other teams' answers.
Analytics – Get your numbers (like the ones above) quickly and easily. See details about your players, your questions and the engagement level you managed.
3. Less Pressure
Not good with crowds? No worries. Péter's found a lot of solace in the anonymous nature of the online pub quiz experience.
If I make a mistake offline, I have to react to it immediately with a lot of people staring at me. During an online game, you can't see the players and - in my opinion - there isn't such a high pressure when dealing with issues.



Even if you run into technical issues during your quiz – don't sweat it! Where in the pub you may be met with a horrible silence and the occasional boo from impatient trivia nuts, people at home are far more capable of finding their own entertainment while the issues are getting fixed.
4. Works in Hybrid
We get it. It's not easy to replicate the raucous atmosphere of a live pub quiz online. In fact, it's one of the biggest and most justified grumbles from quiz masters about moving their pub quiz online.
Hybrid quizzing gives you the best of both worlds. You can run a live quiz in a brick-and-mortar establishment, but use online technology to make it more organised, to add multimedia variety to it, and to accept players from both the in-person and the virtual realms at the same time.
Hosting a hybrid quiz in a live setting also means that all players will have access to a device. Players won't have to crowd around a single piece of paper and quiz masters won't have to pray that the pub's sound system doesn't fail them when it matters.
5. Many Question Types
Be honest – how many of your pub quizzes are mostly open-ended questions with one or two multiple choice? Online quizzes have a lot more to offer in terms of question variety, and they're an absolute breeze to set up.
Images as questions – Ask a question about an image.
Images as answers – Ask a question and provide images as potential answers.
Audio questions – Ask a question with an accompanying audio track that plays directly on all players' devices.
Matching questions – Pair each prompt from column A with its match in column B.
Guesstimation questions – Ask a numerical question – closest answer on a sliding scale wins!
Protip 💡 You'll find most of these question types on AhaSlides. The ones that aren't there yet will be soon!
Péter's Tips for the Ultimate Online Pub Quiz
A quizmaster has to be able to speak. You need to talk a lot, but you also have to let people playing in teams talk to each other.



One of the huge differences between offline and online pub quizzes is the volume. In an offline quiz, you'll have the noise of 12 tables discussing the question, whereas online, you might only be able to hear yourself.
Don't let this throw you – keep talking! Recreate that pub atmosphere by doing the talking for all players.
Unlike an offline quiz, there is no real-time feedback online (or just very rarely). I am always asking for feedback from my audience, and I've managed to collect 200+ bits of feedback from them. Using this data, I sometimes decide to change up my system, and it's great to see the positive effect that has.



If you're looking to build a following like Péter's, you're going to need to know what you're doing right and wrong. This is especially vital for brand new quiz masters and ones who have just moved their trivia nights online.
I always do tests before I try something new. Not because I don't trust the software, but because preparing a game for a smaller group before going public can highlight a lot of things a quiz master should be aware of.



You'll never know how your quiz will perform in the real world without some serious testing. Time limits, scoring systems, audio tracks, even background visibility and text colour need to be tested to make sure that your virtual pub quiz is nothing but smooth sailing.
Tip #4 💡 Use the Right Software
AhaSlides helped me a lot to be able to host a virtual pub quiz the way I was planning. In the long term I definitely would like to keep this online quiz format, and will be using AhaSlides for 100% of online games.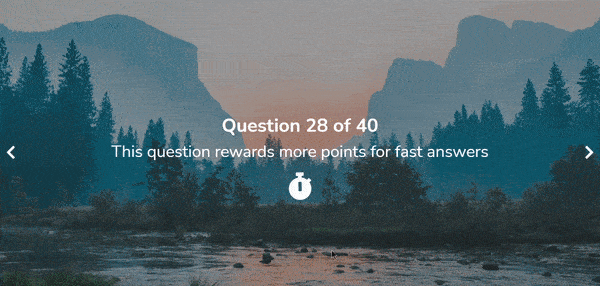 Want to try quizzing online?
Host a round on AhaSlides. Click below to see how a free quiz works without signing up!
Thanks to Péter Bodor of Quizland for his insights into moving a pub quiz online! If you speak Hungarian, be sure to check out his Facebook page and join one of his fantastic quizzes!