Unlike in a traditional classroom setting, where you always have teachers and academic advisors to guide you, the journey of career and life requires you to learn knowledge, soft skills, and behavior from multiple sources of inspiration.
Not only can the seniors with more experience become your "teachers," but your peers can also be great mentors. They can bring you great experiences and lessons. This comes with the concept of peer mentoring.
So, what is peer mentoring? How to use this technique in the workplace? Don't miss out on the chance to make your employees grow at a lower cost and more effectively.
Table of Contents
What is Peer Mentoring?
What is Peer Mentoring in your opinion? Generally speaking, peer mentoring refers to a relationship in which participants are guided and directed by someone who is closer to them in terms of age, experience, and various other factors.
This is a fundamental difference between a peer mentoring program and traditional mentorship, as mentors in traditional mentorship are typically assumed to be older and more experienced than their mentees.
In a broader understanding, this method is also described as a multi-dimensional relationship. Beyond just listening, learning, and transferring knowledge and experience, this type of training can also build a strong support system. It involves mutual support and collaboration among mentors and mentees, which is extremely important in a business environment.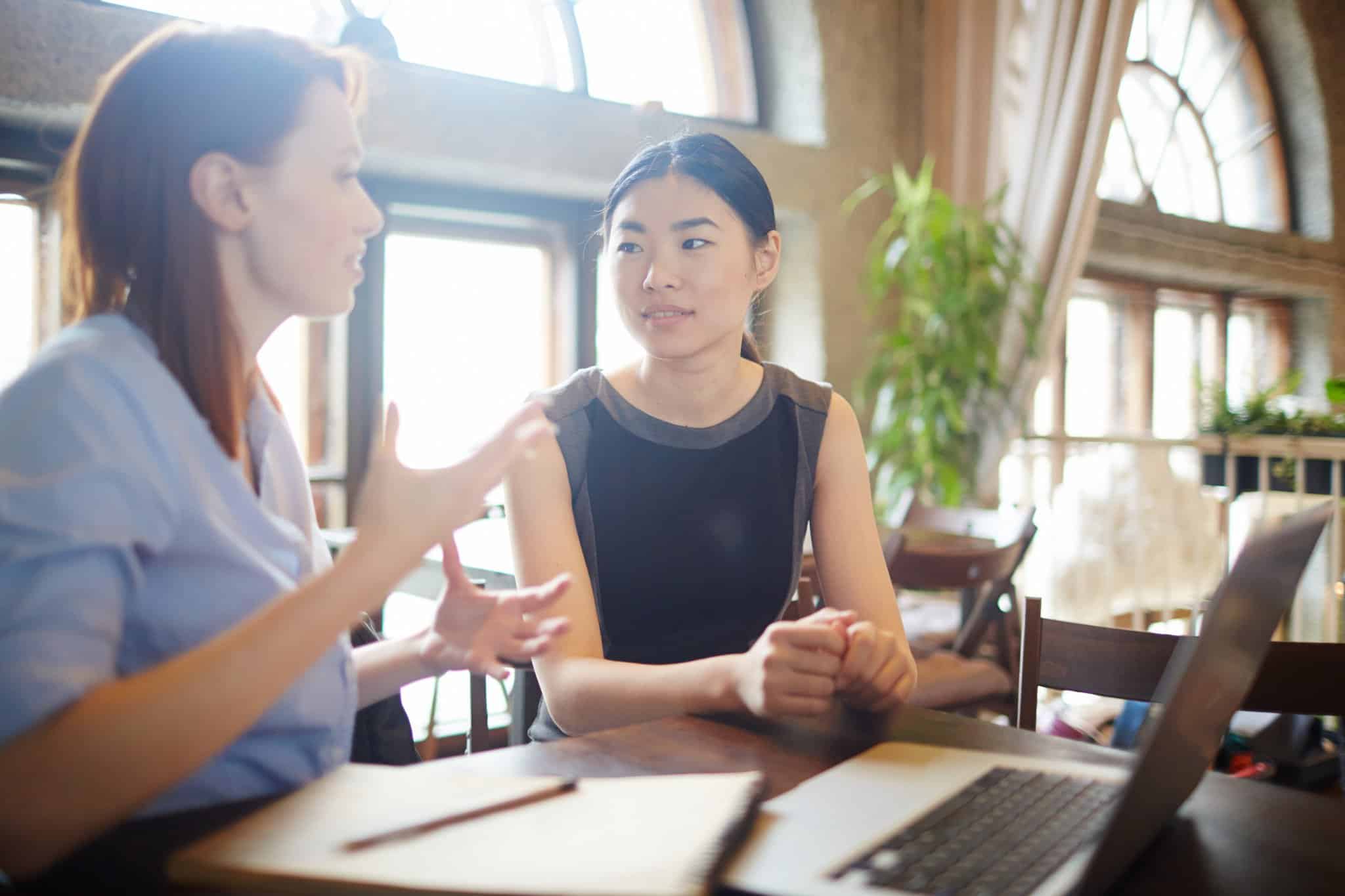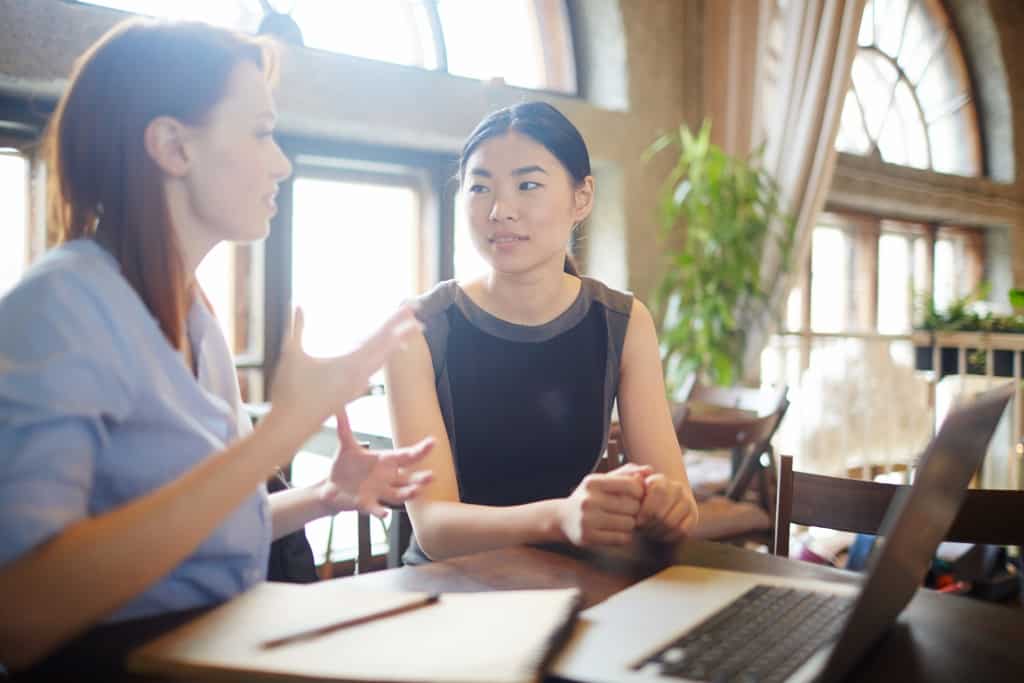 More from AhaSlides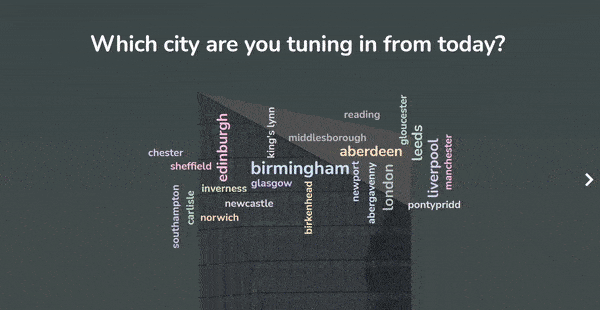 Looking for More Fun During Gatherings?
Gather your team members by a fun quiz on AhaSlides. Sign up to take free quiz from AhaSlides template library!
🚀 Grab Free Quiz☁️
What is Peer Mentoring in the Workplace?
A peer mentoring strategy arises from the overarching developmental needs of our era. Whether in educational settings, workplaces, or everyday social interactions, we frequently encounter instances of knowledge exchange and learning among individuals of similar age and experience.
Within a professional office setting, this concept flourishes. New recruits inject fresh energy into an organization and possess a strong desire to learn from their peers and colleagues. This collective thirst for knowledge fosters the robust growth of peer mentoring programs.
Rather than relying solely on a single mentor to impart all the "time-honored" wisdom, you and your peers engage in a dynamic process of sharing newfound knowledge. Together, you embark on explorations and challenges that venture into uncharted territory, embracing opportunities that no one within your organization has previously encountered.
Why is Peer Mentoring?
What is peer mentoring example in modern life? The generation gap can serve as a significant catalyst for the transition from traditional mentoring programs to peer mentoring programs. Gen Z represents an intriguing generation with a considerable potential for innovation.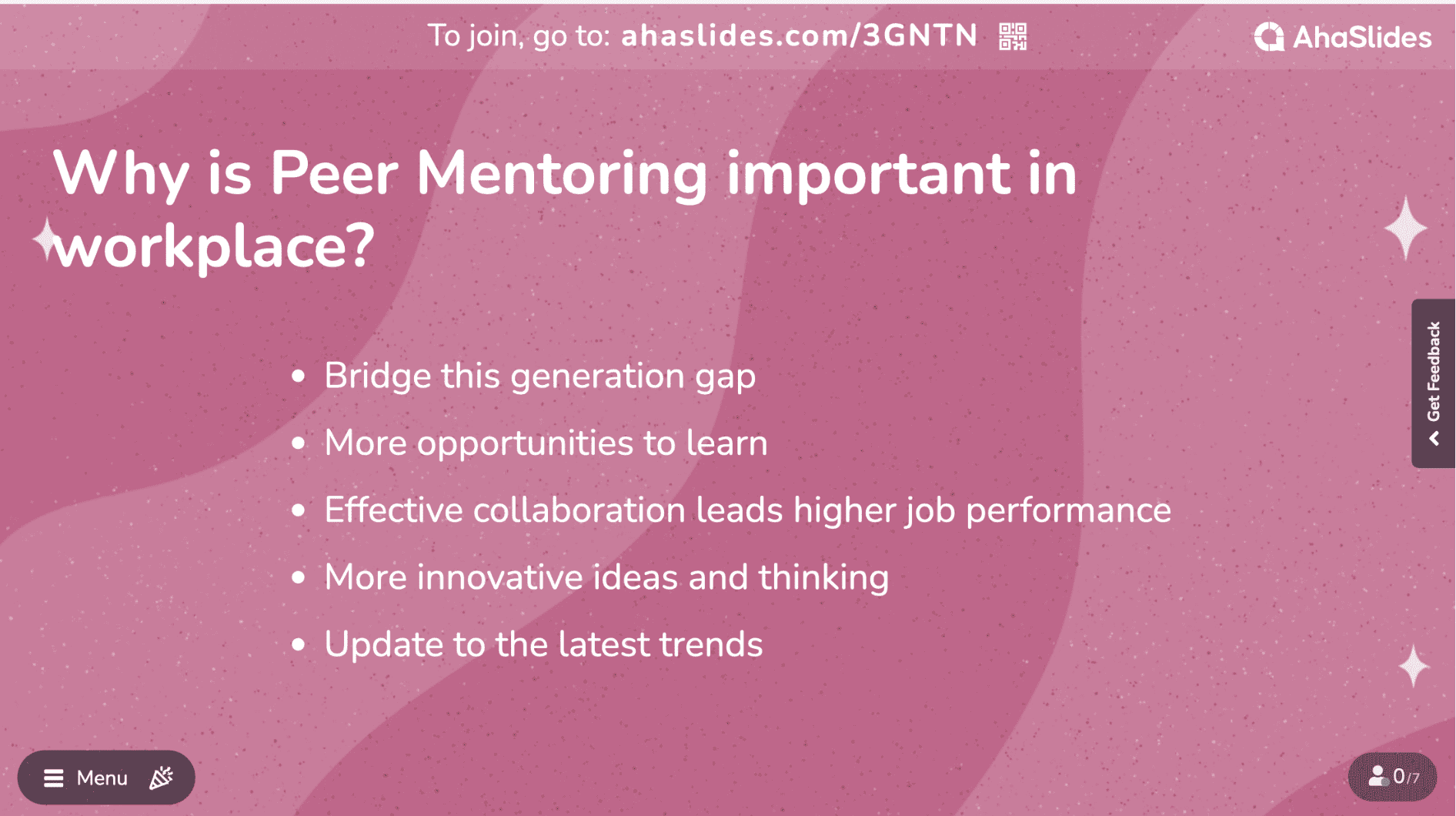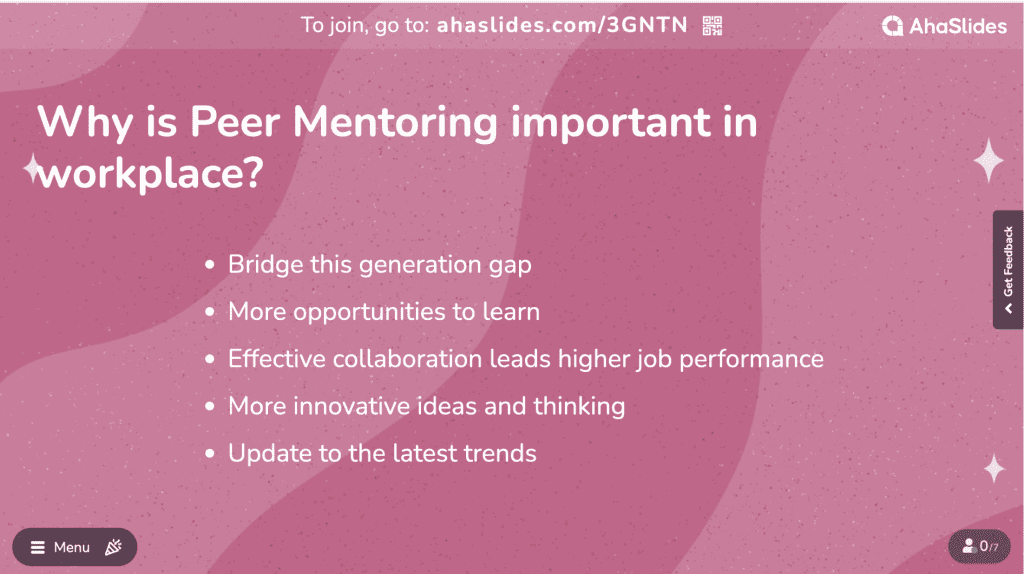 Bridge this generation gap
Nevertheless, they also pose challenges for employers and managers due to their distinct thinking and working styles. Rather than dwelling on criticism and focusing solely on the negatives, many organizations, and astute managers have opted for this mentoring program as a means to bridge this generation gap, harness their maximum potential, and gain a better understanding of crucial resources for the future.
The young are more sensible about the latest trend
Another equally compelling reason stems from the demands of businesses and the prevailing social context. Businesses often face intense pressure to evolve, and the individuals who possess the most adept knowledge of new technologies and adaptive skills are not necessarily those with the most extensive experience.
Remarkably innovative individuals with groundbreaking ideas may well be recent graduates. This program offers a solution that allows businesses to leverage the strengths of young talent effectively by fostering peer relationships. Young individuals can engage in mutual learning and support, creating a robust support system that helps businesses thrive.
What are the Benefits of Peer Mentoring?
The benefits of peer mentoring in the workplace are undeniable. With a great orientation from their mentor, learners somehow find themselves improved quickly. It also benefits the company as well.
This is particularly significant as job satisfaction among workers reached a historic low in 2022. According to Metlife, only 64% of women and 69% of men expressed contentment with their current jobs.
More opportunities to learn: You will learn from each other and form peer mentorship more easily, compared to worrying about not having juniors with extensive experience. It often occurs in young businesses, and new startups with a proportion of inexperienced personnel.
Proactively create your own value: Not only can you learn, but you can also express your thoughts and experiences to contribute to the team and the organization. This flexibility helps you remain proactive and eliminates any self-consciousness or reservations about your role in the group.
Enhance job satisfaction: Reciprocal sharing not only deepens your connections with colleagues but also boosts your motivation to generate ideas and foster a productive work environment.
Competitive talent acquisition: Everyone wants to learn and share. Therefore, an environment that is conducive will attract better human resources, especially the younger generation – those who attach great importance to a sense of purpose in their work.
How to Build Successful 1 on 1 Peer Mentoring?
What is a peer mentoring example for success? A complete peer mentoring program should cover at least one of the above. Of course, the more the better.
Leadership skills
Interpersonal skills
Time management
Collaboration skills
Communication skills
Functional skills
To make the most of these skills, it's essential to approach them systematically and not overlook these fundamental and crucial steps: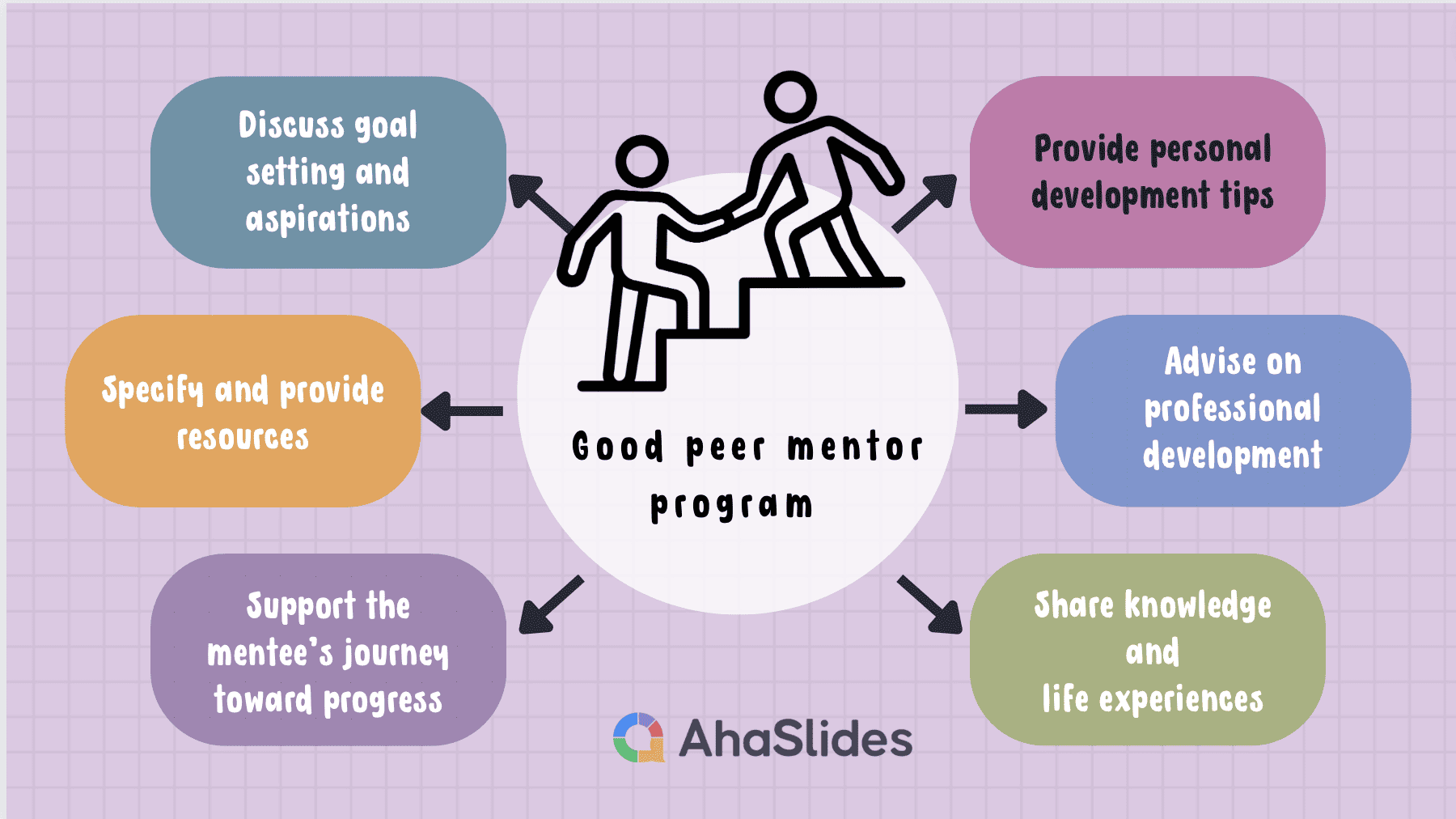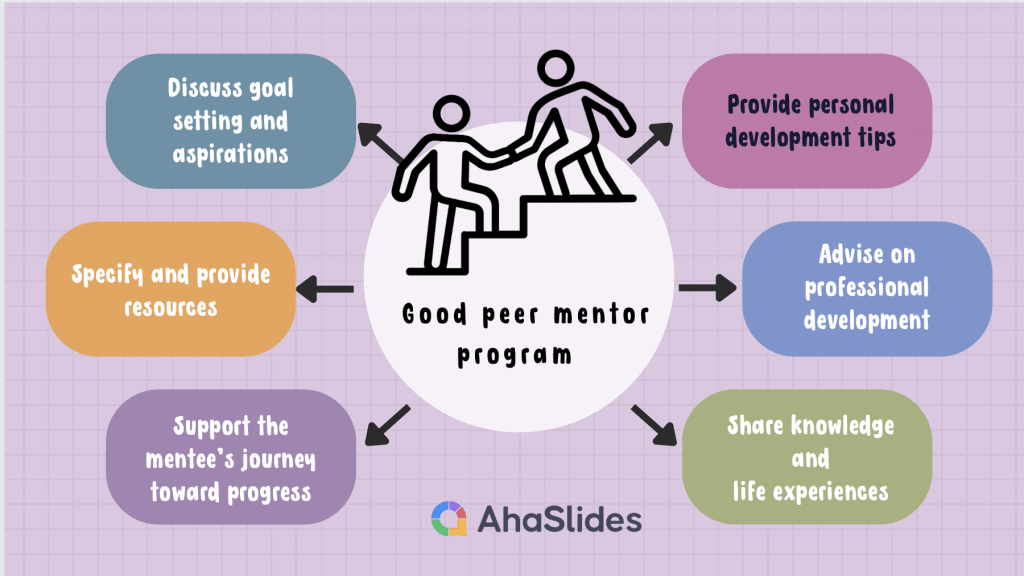 Step 1: Find a good peer mentor
Identifying someone who can accompany and support you dedicatedly. There are three criteria for you to determine compatibility with a companion:
Knowledge: Your peer mentor can help fill the gaps in your knowledge and encourage you to learn more.
Experience: This aspect matters. Your mentor should have practical experience gained through their own learning and work. Equally important, they should be able to share and inspire you through their experiences.
Attitude: Your mentor should possess a positive attitude that aligns with the environment and is a good fit for you. This is especially crucial in peer mentoring, as the goal is to build a strong support system. Negative attitudes can't foster the kind of support needed for success.
Step 2: Define goals
Depending on your own situation and peer mentoring goals, discuss with your manager what you need to achieve after all, and tell them your overall and specific goals.
For example, if you want to learn internal event organization skills, and you know your mentor has a lot of relevant skills, don't hesitate to discuss your desire with him or her.
Step 3: Actively engage
Once you have established your peer mentoring goals, found motivation, and secured the necessary resources, there will be nothing to hinder you from embarking on an exciting journey of peer mentoring strategy. Approach it with a progressive and positive mindset.
Don't hesitate to express your and your partner's desires to make adjustments in this peer mentoring relationship. You can also modify general goals, timelines, and other factors with the guidance and support of a manager or a traditional mentor.
Key Takeaways
What to do when it comes to remote peer mentoring? You need more effort to remain smooth and effective process. With AhaSldies, you and your mentor can take advantage of fun methods to make your mentoring a seamless experience. Check AhaSlides right away!
Frequently Asked Questions
What are the five roles of a peer mentor?
A Peer mentor usually comes with multiple roles including connecting link, peer leader, learning coach, student advocate, and trusted friend.
What is an example of a peer mentor?
It often occurs in campus life, such as an excellent student being a peer mentor to a new student, the peer mentee, in a particular subject, or in a new school.
Should we promote a workplace mentoring program?
As mentioned before, a peer mentoring program benefits employee professional growth, both mentees and mentors, which later contributes to company success.