⭐ Welcome to the AhaSlides Template Library! ⭐
This space is where we keep all of the ready-to-use templates on AhaSlides. Every template is 100% free to download, change and use in whatever way you want.
How to Download any Template Below
Firstly, use the arrows at the side of any of the previews to check out the content of the template.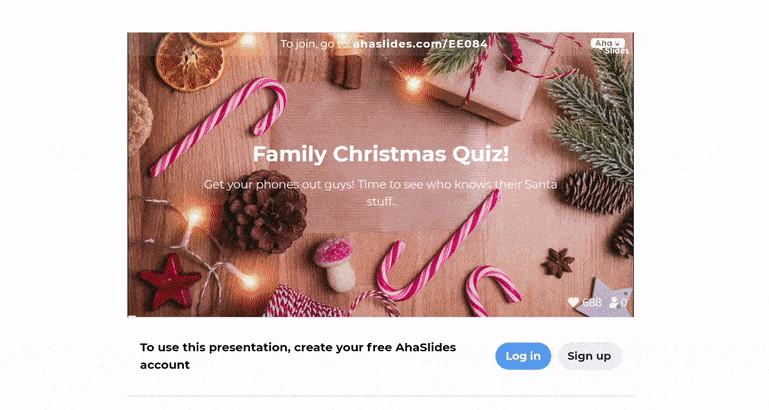 If you're happy with the template, use the buttons at the bottom to log in or sign up.
You'll be taken back to the full preview screen, where you can press the 'Copy to your Account'. Once the presentation is copied, you can press the same button to 'Go to your Presentations'.
And you're set! The template is now officially yours and you can change it in any way you want.
Check out our ever-growing library of templates below!
Educational Templates
A 25-question assessment for teachers to use with their students. Students' answers help teachers discover their learning styles.
Some example questions for teachers looking to start a virtual book club for their school. Here we have a pre-club survey to determine what students want to read, then a poll template to get the most participation out of students.
General Knowledge Quiz
5 rounds, 40 questions: it's the ultimate pub quiz!
Film and TV Quizzes
The ultimate knowledge test about everyone's favourite bespectacled Scarface.
I'll be there for… who?
The highest grossing quiz of all time…
I find your lack of Star Wars knowledge disturbing…
Music Quizzes
25-question audio quiz. No multiple choice – just name the song!
25 questions of classic pop music imagery from the '80s til the '10s. No text clues!
Holiday Quizzes
Family-friendly Christmas quiz (40 questions).
Christmas quiz for colleagues and overly festive bosses (40 questions).
All that beautiful cosy imagery of Christmas in one place (40 questions).
Christmas carols and movie soundtracks from the holidays (40 questions).
The ultimate for festive film lovers (50 questions).
Serving up a wildly oversized portion of gorge-worthy Thanksgiving goodness (28 questions).