The good news here! Your PowerPoint presentations will be more engaging and lively than ever with the interactive features of AhaSlides. You are not mistaken! AhaSlides Polls is now available on an extension for PowerPoint and will soon be Quiz and WordClouds.
More Tips with AhaSlides
AhaSlides is a flexible and intuitive presentation software with no learning time. It allows you to add links, videos, live quizzes, and much more to your presentation with ease. Besides the polls feature, soon Quiz and WordClouds will also become an Extension for PowerPoint.
As the extension for Powerpoint, don't forget we're here to make your presentations better, more interactive, and engage a wider audience. Here are some inspirations and ideas to help you become more professional every day.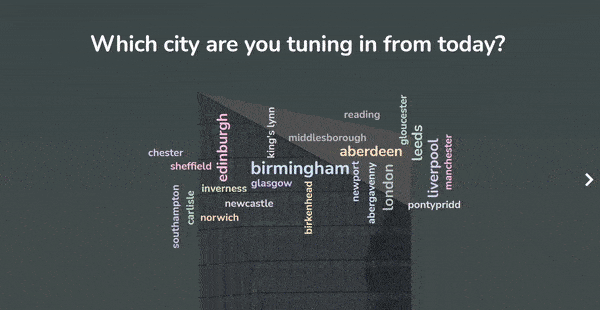 Start in seconds.
Get free Powerpoint templates. Sign up for free and take what you want from the template library!
🚀 To the clouds ☁️
Use AhaSlides in your PowerPoint Presentation
With this new extension for PowerPoint, you can add Ahaslides interactive Polls directly to your PowerPoint presentations. It's now easier than ever to connect and engage with your audience! But remember to create a free account first and log in to AhaSlides.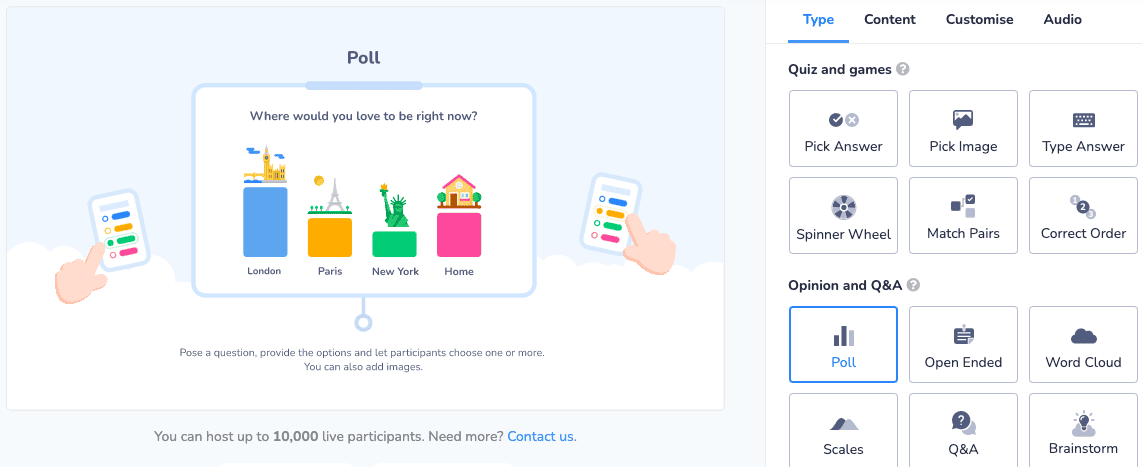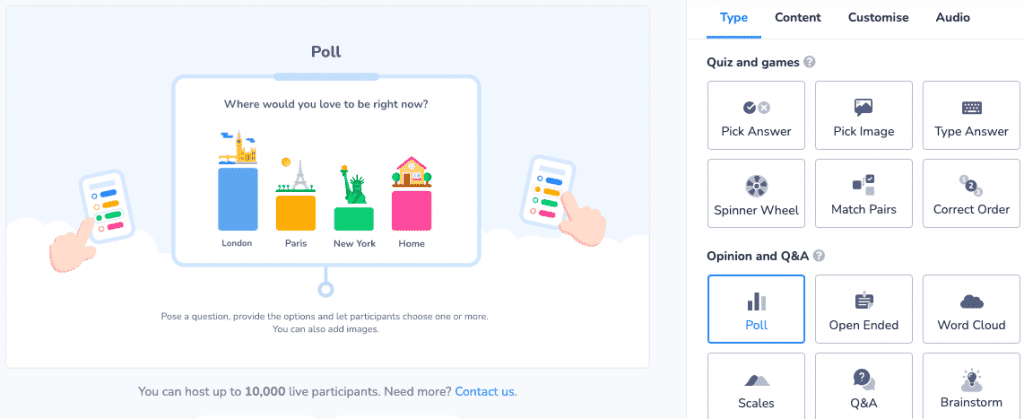 This add-in can keep your audience find your presentation interesting and more attractive. It is a feature to support spark discussions, collect real-time feedback, and keep energy levels high.
How to use AhaSlides and PowerPoint together
Follow the simple steps below, and you've got a perfect combination presentation:
Open PowerPoint and click the Insert tab followed by Get Add-ins. Then, search for AhaSlides and click Add.
Login to your AhaSlides account, and create Polls on the AhaSlides tab.
After creating a poll, choose to Add to PowerPoint button, then Copy the link of the poll just created.
Back to the presentation, Paste the link of the poll, and it will be automatically uploaded.
All that is left to do is invite your audience to vote by sending them your unique QR code!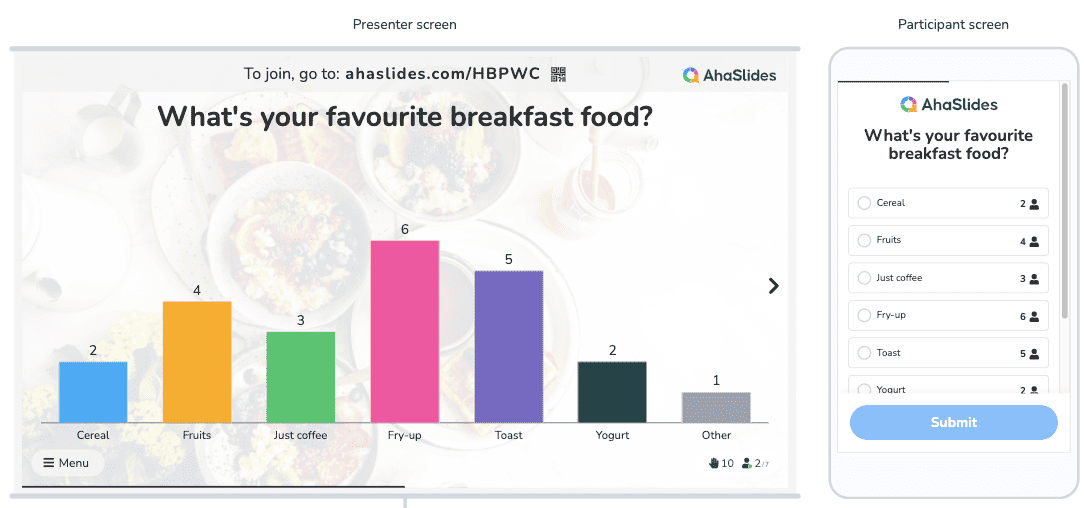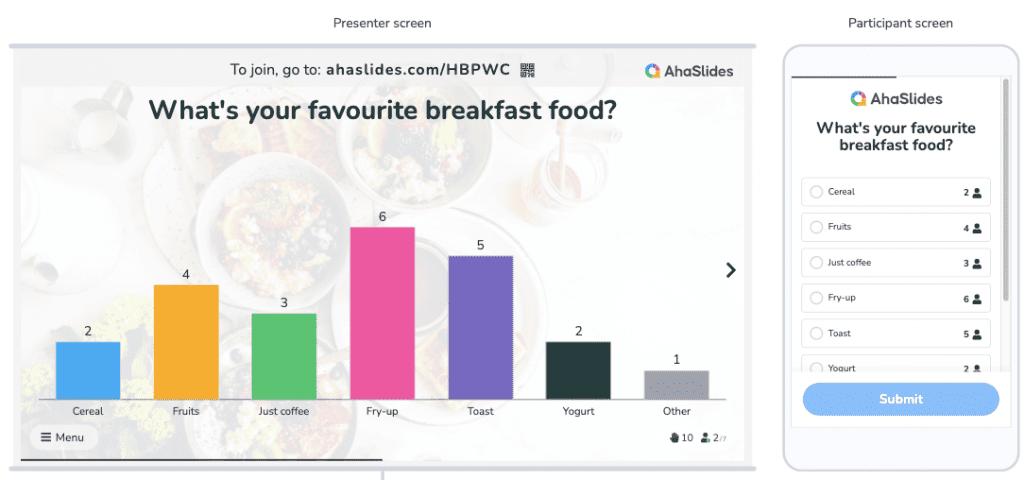 Import PowerPoint slides directly into AhaSlides
In addition to using the new extension for PowerPoint, you can also import PowerPoint slides directly into AhaSlides. Your presentation only needs to be in a PDF, PPT, or PPTX file. Up to 50MB and 100 slides capacity.
Tips for Creating an Effective Poll
Knowing how to create polls mechanically is not enough, how to get the audience interested in your polls is essential. Here, we give you some tips to design an ideal poll for any target.
1. Use a simple and friendly voice
Questions should be simple and easy to understand. At the same time, it should also be engaging enough for the audience to want to respond.
For example, If you were asked to develop a feature for a better interactive presentation, what would you choose? Then give 3 options: quiz feature, survey feature, and voting feature.
This will make respondents feel they are part of the decision-making process.
2. Keep the questions neutral
You may not know it yet, but polls should be limited to factual, neutral questions. Questions about personal or more complex opinions, or open-ended questions such as questions about religious views, should be used in the survey form.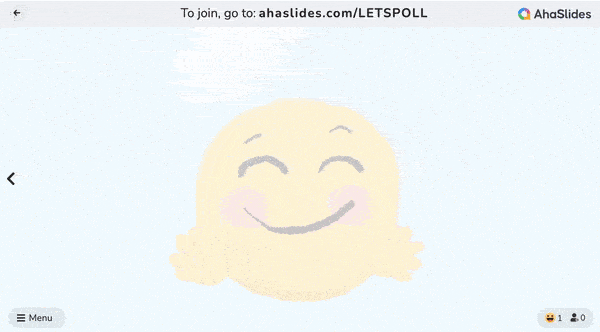 The more options that are presented, the more confused and difficult it will be for your audience to respond. So the number of choices should be limited to no more than four, including options like "Other" or "Do not want to answer".
4. Avoid misleading questions
The aim is to keep the polls as objective as possible, so you can get the honest opinion of respondents. Avoid asking questions that are comparable to your competitors, or that are meant to belittle the other party.