Making vital connections happens through networking, and if done right, business networking can propel your career forward.
But who do you talk to first in a crowded room full of strangers? How can you strike the first conversation?
Please continue reading to know what exactly business networking is and why it is a stepping stone for your success, plus 10 tips on how to do the job on point🎯.
Table of Contents
Tips For Better Engagement
Overview
| | |
| --- | --- |
| What is business networking? | Meaningful and closely connections with clients, partners and peers in your industry. |
| What are the 3 P's of networking? | Purpose, people, and process. |
What is Business Networking and Why is It Important?
Business networking is about cultivating meaningful connections with clients, partners and peers in your industry.
These relationships enable vital exchanges of knowledge, advice and opportunities that fuel growth and success.
Picture this: you meet Melissa, an expert in a niche you're trying to crack. Turns out she's looking for someone just like you to partner with. You both win big.
Or Adam mentions an upcoming project perfect for your services. You nail it and land your biggest client yet.
These gold mine connections only happen when you expand your network.
Over time, real trust and rapport develop. When the moment is right, you can introduce them to someone they'd benefit from meeting or ask for advice on a tough challenge you face.
These acquaintances deepen into collaborators and advisers. Together, you can accomplish more than either could alone – unlocking new heights for your business and career through the power of your united networks.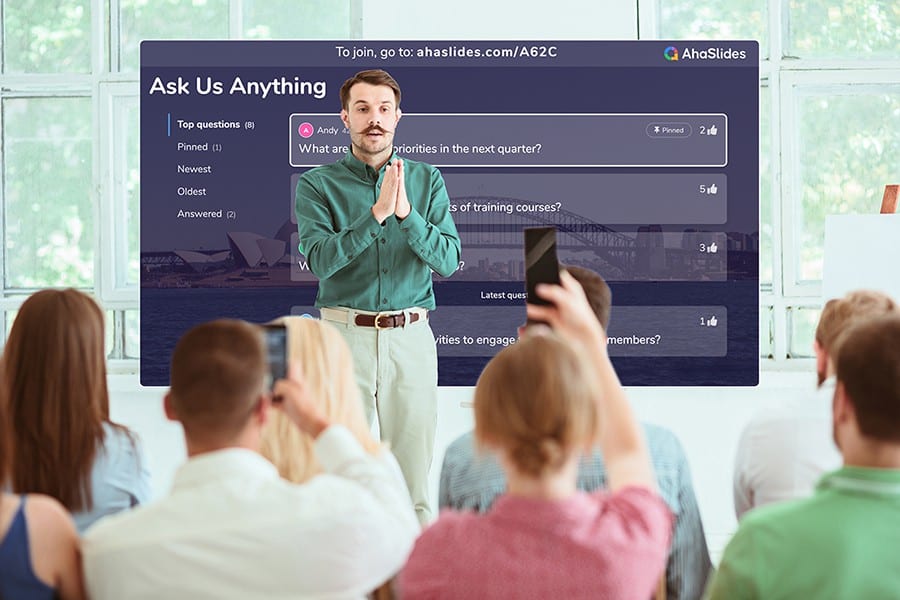 Get your organisation engaged.
Start meaningful discussions, get useful feedback and educate. Sign up for FREE!
🚀 Get Free Templates ☁️
What are The 5 Benefits of Networking?
You'd be surprised at how these benefits bring to your table👇
#1. Expand your circle of influence
When you network, you meet new people who expand your professional circle. A wider network means:
Access to more potential clients, customers, investors, partners, suppliers, and job opportunities.
Exposure to more ideas, knowledge, and expertise that can help you grow.
Greater chances of making that pivotal connection that propels your business forward.
The more people you meet, the larger your network – and the more influence, resources and opportunities it provides.
#2. Gain career and business advantage
Provide referrals and recommendations that help you get jobs, clients, and projects – as 31% of job seekers find listings through the referral channel.
Make you aware of new positions, contracts or collaborations before they're publicly listed.
Offer career advice, feedback and coaching to help you improve your work.
Give you industry insights that help you make better business decisions.
Those in your network may directly or indirectly help your business succeed through the connections, information and advice they provide.
#3. Access exclusive information
Your network serves as a conduit of valuable information like:
Industry news, trends and disruptions before they become common knowledge.
Best practices, expert tips and strategies for improving your work.
Upcoming opportunities, projects or partnerships before the general public finds out.
Feedback and perspectives that challenge your thinking and spark creative solutions.
The people in your circle share information, resources and opportunities that help you gain a competitive edge.
#4. Increase visibility
The more you network, the more visible you become within your field. This can:
Raise your professional profile and credibility among clients, prospects and industry peers.
Lead to client and job referrals or recommendations from satisfied connections.
Help people become familiar with your work, making them more willing to buy from or hire you.
An expanded network boosts your visibility, reputation and chances of people thinking of you for the right opportunities.
#5. Improve problem-solving
Picking the right network members' brains allows you to:
Leverage different perspectives that inspire novel solutions you wouldn't think of alone.
Gain insights on how others have solved similar issues, giving you a place to start.
Test ideas against your connections' experience to determine feasibility and viability.
Access knowledge that fills gaps in your expertise, aiding you in making better decisions.
The collective intelligence of your network helps you come up with more creative, effective solutions to the challenges you encounter.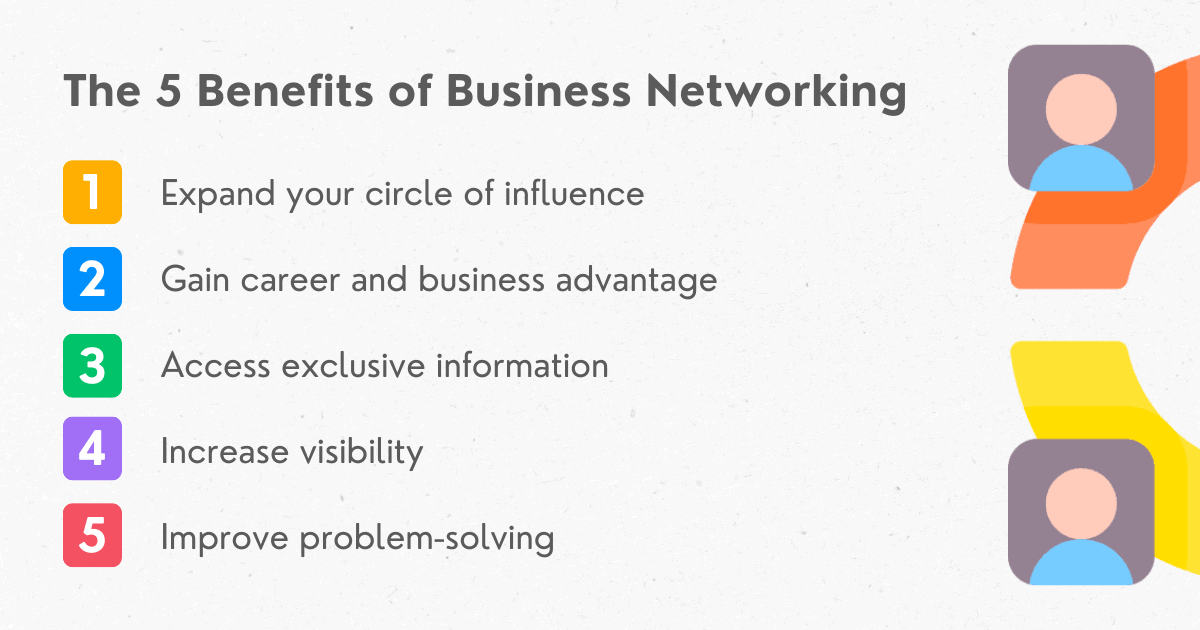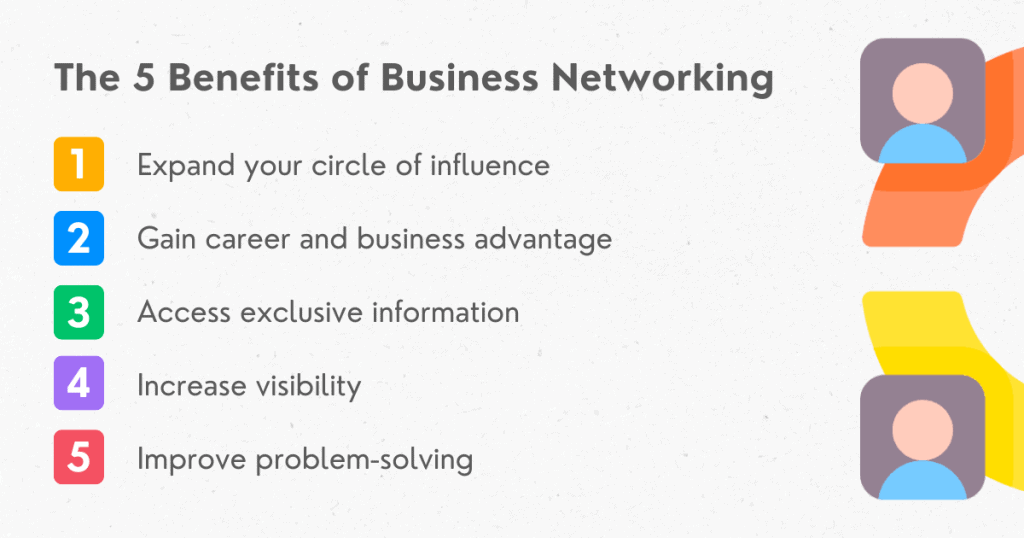 Besides these 5 business networking benefits, industry networking also brings additional values, such as:
Build confidence in your skills. Networking involves practising your communication, listening and relationship-building abilities. The more you do it, the more confident you become in your professional skills and capacity to make valuable connections. This confidence then feeds into all aspects of your work.
Combat isolation. For those who work independently or in small teams, networking connects you to a community of like-minded professionals. This reduces the potential isolation of working solo and increases a sense of belonging in your field.
Receive external validation. Hearing others value your work or see potential in your ideas through your network provides meaningful validation that spurs you on in your career or business.
The benefits of networking allow you to build relationships with a broad range of professionals who can provide valuable resources, knowledge, opportunities and support that benefit your career or business. Your expanded network gives you access to potential clients, partners, investors, mentors, advisers and job opportunities. Connections also share industry insights, best practices, tips and feedback that help you improve your work. A wider circle enables more creative problem-solving through diverse perspectives and exposes you to new ideas that spark innovations. Overall, the quality connections you develop through networking serve as assets that help propel your success and fulfilment in both work and life.
What are The Types of Business Networking?
In today's world, various business networking types are used widely. The more types of networking you employ, the larger and more effective your professional circle will become.
Try experimenting with different approaches below to find what works best for networking your business.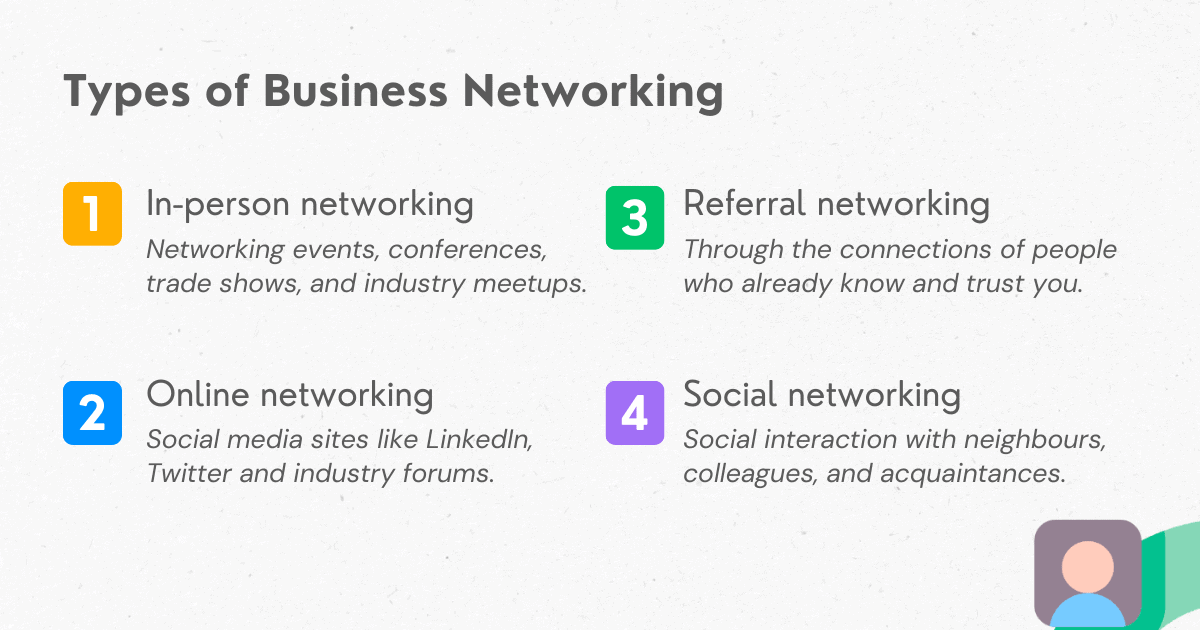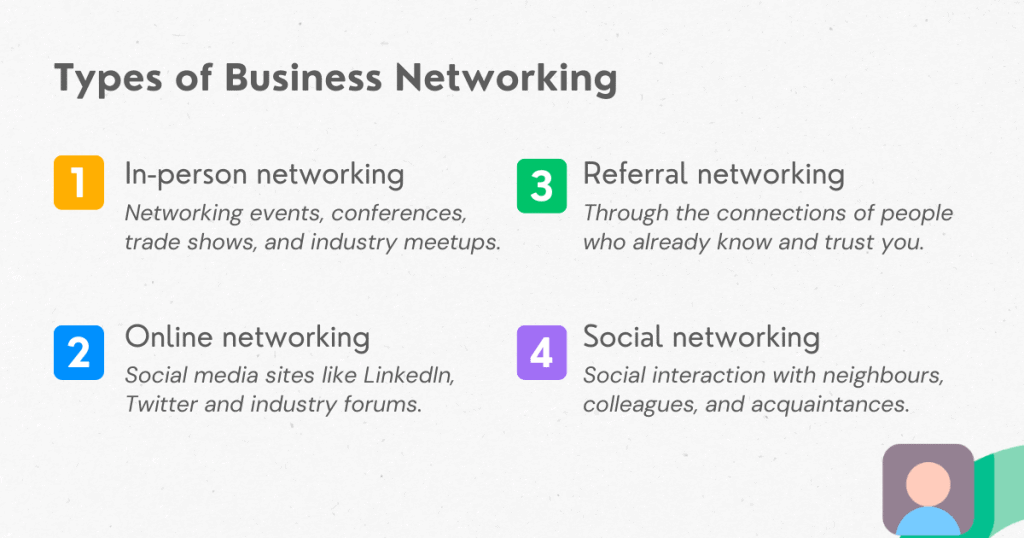 #1. In-person networking
This involves meeting and interacting with people face-to-face, like at networking events, conferences, trade shows, and industry meetups.
In-person networking allows you to form stronger connections through body language, eye contact and face-to-face conversations.
#2. Online networking
This refers to using online platforms and tools to build your network.
You can connect with people through social media sites like LinkedIn, Twitter and industry forums. Although not as personal, online networking allows you to reach a wider audience and maintain connections more easily.
#3. Referral networking
This involves expanding your network through the connections of people who already know and trust you.
You can ask your existing network to introduce you to their contacts that may benefit from knowing you.
#4. Social networking
This happens through everyday social interactions, like chatting with neighbours, colleagues, and acquaintances.
While more casual, these connections can lead to valuable referrals and opportunities over time.
10 Tips for Business Networking
Are you ready to step out of your comfort zone and get down to work?
Here are some helpful business networking tips for effective business networking that bring you real, authentic connections💪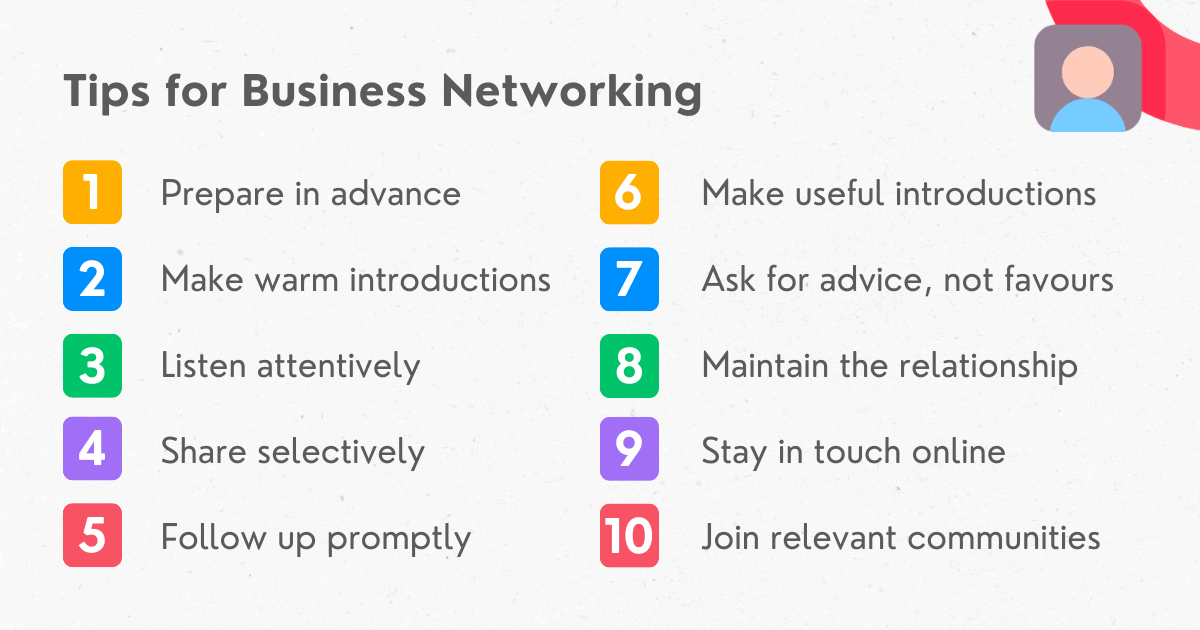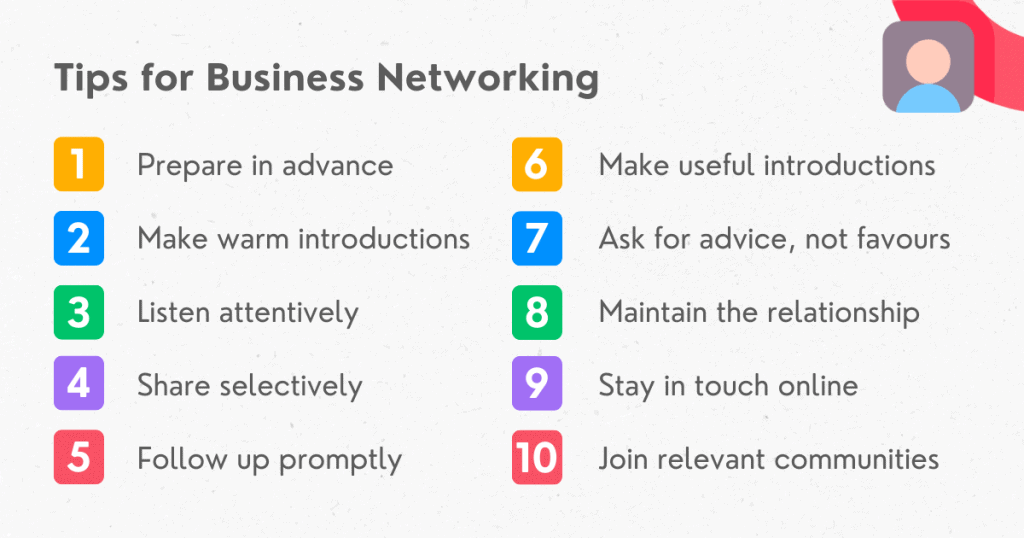 • Prepare in advance – Do your research on events, attendees and topics of discussion beforehand. Having some knowledge and questions ready will make you come across as interested and engaged.
• Make warm introductions – Start a conversation by making a warm, genuine introduction. Mention something you have in common or that interests you about the person, such as: "Were you at the last year's event?" or "I'm not from around here, what restaurants are your favourite in the area?"
• Listen attentively – Focus on listening more than talking. Ask open-ended questions to show you're interested in the other person. Learning about them first builds rapport and connection.
• Share selectively – Don't overshare details about yourself at first. Offer just enough to build intrigue. Save most of the talking for when trust has been established.
• Follow up promptly – Send a thank you message after meeting someone new, reiterating what you enjoyed from the interaction. This creates a positive impression and shows your focus is on building a relationship, not just getting something from them.
• Make useful introductions – Once a connection has formed, look for opportunities to introduce people in your network who may benefit from knowing each other. Play matchmaker when the moment feels right.
• Ask for advice, not favours – People enjoy helping others by sharing knowledge and experience. Avoid directly asking for referrals, jobs or clients when first networking. Over time, trusted connections will offer to help in meaningful ways.
• Maintain the relationship – Check in occasionally with updates and requests to return past favours. Brief catch-ups keep the relationship alive without expecting anything in return immediately.
• Stay in touch online – Connect through relevant social media such as LinkedIn, Twitter, and Facebook groups and share useful content. Keeping your profile up to date allows easy connections whenever offline relationships evolve.
• Join relevant communities related to your job – In a time where everything is interconnected online, joining a community group related to your field is an easy way to connect with like-minded professionals in the industry.
Best Places to Network for Business
So now you might wonder where to start. We've compiled a list of recommended places for business networking below. Have fun exploring it!
• Industry events and conferences – These are specifically designed for professionals in your field to connect, share knowledge, and explore opportunities. They often provide structured networking activities and are often organised by big players in the industry. You can go directly to their websites to register.
• Trade shows and exhibitions – If your industry has relevant trade shows, attend them to meet potential clients, partners, and suppliers face-to-face. Wander the exhibitor booths and see who you connect with.
• Chamber of commerce and business association events – Groups like your local chamber of commerce and industry-specific associations regularly hold mixers, seminars and talks that bring local professionals together.
• Alumni and professional groups – Connecting with others who have mutual schools or professional certifications can lead to relevant connections. These groups often organise formal and informal meetups.
• Local business networking groups – Find groups in your area focused on your niche or open to all industries. They typically meet once a week or a month for structured networking.
• Online platforms – Sites like LinkedIn, Twitter and industry forums in text-message apps such as WhatsApp, Telegram, or even Slack allow you to connect with people anywhere at any time. Search by keywords related to your profession or interests.
• Introductions through existing connections – Leverage your current network by asking contacts to introduce you to people who may benefit from knowing you.
• Cold connections at informal events – You never know who you'll meet at a coffee shop, restaurant, local gathering or even the gym. Strike up a genuine conversation and make a connection.
The wider the variety of places you network, the larger your overall professional circle will grow. Keep an open mind, put yourself out there and focus on forming authentic connections – not just collecting contacts. Meaningful relationships take time and effort to cultivate, no matter where you meet someone initially.
Frequently Asked Questions:
Why is it essential to foster network relationships?
A successful business networking isn't only making new relationships, it is also how you maintain existing ones. This is because people with whom you've connected can give you a helping hand and support when you need it in your career path.
How do I stay connected after networking?
Here are some pieces of advice for you:
1. Keep in touch with them through social media
2. Share your favorite articles or inspirational quotes
3. Give them meaningful presents, such as a book or watch.
4. Praise them on their career milestones.
5. Show your gratitude to them for their support
6. Invite people out sometimes
7. Last but not least, give them space!
Key Takeaways
Effective business networking is about cultivating quality relationships based on mutual value, trust and generosity of spirit. The right connections at the right time can transform your work – but those relationships take consistent effort and care over months or even years.
So put yourself out there, start making connections and watch your network transform your success over time.
Try AhaSlides to put engagement in your business at the forefront! Access thousands of ready-made templates for your organisation's needs: Team-building, OKR planning, NPS survey, and such.