For many decades, humans have been trying to get an insight into many great scientists and artists in history, such as Albert Einstein, Leonardo DaVinci, Charles Darwin, and more, to figure out the origins of their inventions and works. There are two kinds of controversial opinions as someone believes that the breakthrough scientific achievements might stem from either their natural intellectual or inspiration popping up spontaneously.
Set aside the fact that many inventors are geniuses, introducing innovation might come from collective and cumulative progress, in other words, the idea generation process.
More Tips with AhaSlides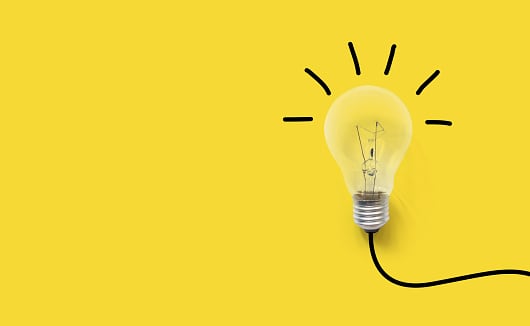 By understanding the essence of the idea generation process, humans can discover the true origins of creative behaviour, which promote further journeys of unlocking the impossible for a better world. In this article, you will gain new insight into the notion of the Idea Generation Process in different areas and how to start an effective Idea Generation Process in some simple steps with technological support.
Get ready to explore the new perceptions of the Idea Generation Process. Let's dive into the best idea-generation techniques!
Table of Content
The Importance of The Idea Generation Process
Ideation, or the Idea generation process, is the first step to creating something new, which leads to an innovative strategy. For both business and personal contexts, Idea Generation is a beneficial procedure that contributes to personal growth and business thriving for both the short-term and long-term.
The notion of creativity is to leverage available resources, competitive intelligence, and market analysis to support the company in achieving its overall goal. Whether your companies belong to SMEs or giant enterprises, the Idea generation process is unavoidable.
Idea Generation in Different Careers
A much deeper insight into Idea generation depends on the industry they work out. As mentioned before, the Idea generation process is compulsory in all areas. Both employers and employees must generate new ideas for business development in any career. Let's take a quick look at the adoption of Idea generation in different jobs.
If you are working in the Digital Marketing field, there are many daily requirements for creative activities. For example, you must run many ads and promotions to attract customer attention and enlarge market shares. The tricky part is the Ads name ideas generator needs to be specific, sentiment, and unique.
Besides, the content marketing generator and generating more blog article ideas are also required to attach to the ads to ensure they go viral quickly, and the effect is doubled in the given time.
The first and most crucial step is to stand out from your competitors if you are a new startup or entrepreneur, especially in e-commerce or tech-related business. You can think about these directions: product or service portfolios such as new product development, idea generation, and brand names.
It is crucial for the company to carefully generate digital marketing business name ideas or creative agency name ideas in advance before choosing the final brand names to avoid duplicates, customer confusion, and the possibility of changing another character in the future.
In many big and multinational companies, there is more than one team to cover the same position, especially in sales departments. They can have more than two sales teams and even up to 5 teams to increase motivation, productivity, and job performance between employees and the team leaders. Therefore, innovative sales team name ideas should be considered instead of naming teams after numbers like team no.1, no. 2, no.3, and more. A good team name can help the members feel proud, belonging, and inspired, boosting motivation and ultimately enriching service and standards.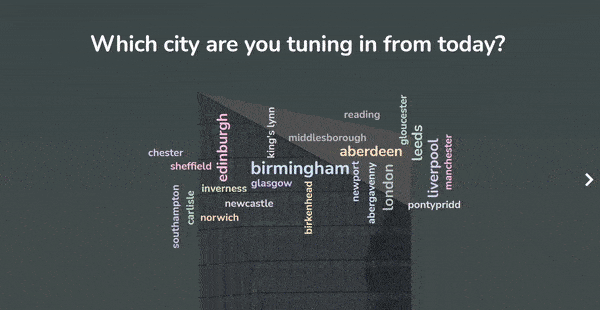 Start in seconds.
Learn how to set up a proper online word cloud, ready to share with your crowd!
🚀 Get Free WordCloud☁️
5 Ways to maximize Idea Generation Process
If you think that the generation of unconventional ideas and behaviours happens randomly, the time seems right for you to change your mind. There are some idea-generation techniques that many people have adopted to trigger their brain and creativity. So, what are the best idea-generation techniques you should give a try? The following section shows you the best practices and step-to-step to generate ideas.
#1. Best Idea Generation Technique – Mindmapping
When it comes to mind mapping, people think of systematic hierarchy and complicated branches showing connections among the different pieces of knowledge and information in a more structured and visual way. You can see the big picture of it and the details at the same time.
To start mind mapping, you can write down a key topic and add branches that will suggest the most basic subtopics and relevant concepts while attaching some images and colours to avoid monochrome and dullness. The power of mind mapping lies in clarifying complicated, wordy, and repetitive accounts, in other words, simplicity.
#2. Best Idea Generation Technique – Attribute thinking
The best description of Attribute thinking is dividing the current issue into smaller and smaller sections and sizing up potential solutions to the cells. The best part of attribute thinking is that it can be leveraged for almost any type of problem or challenge.
The standard way to do attribute thinking is to start identifying backlogs that matter to your company's performance and goal achievement. Outline as many attributes or characteristics as possible and try to link them to innovative ideas. Then, specify the selection to determine the best option for your targets.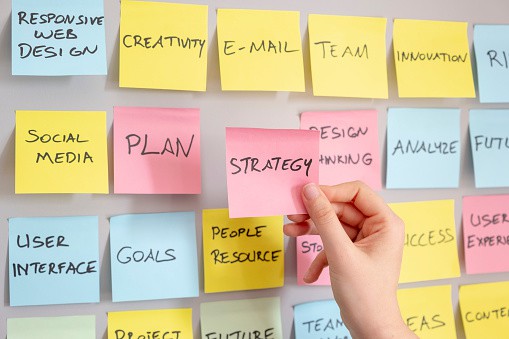 #3. Best Idea Generation Technique – Reverse Brainstorming
Reverse thinking addresses an issue conventionally from the opposite direction and sometimes leads to unexpected solutions to challenging problems. Reverse thinking is digging out the cause or worsening of a problem.
To practice this method, you should ask yourself two "reverse" questions. For example, the usual question is, "How can we get more paid members to our app?". And the reversal is: "How can we get people to stop purchasing our paid packages? In the next step, list at least two possible answers, the more possibilities, the more effective it is. Finally, think of a way to promote your solutions in reality.
#4. Best Idea Generation Technique – Finding Inspiration
Finding inspiration is an arduous journey; sometimes, listening to others' opinions or going out of your comfort zone is not so bad. Or travelling to new places to experience new things and different stories, which may surprisingly inspire you in a way you never thought of before. You can find inspiration from many sources, such as social networks, surveys, and feedback. For example, in a couple of steps, you can launch a live poll on social media platforms to ask people's opinions about specific topics via AhaSlides interactive polls.
#5. Best Idea Generation Technique – Use an online tool
You can fulfil your idea generation goals using an online tool like Word Cloud to ignite your brainstorming. The internet is crammed with many new technology solutions and is free. As more people bring e-notebook and laptops than pens and paper, the change to using online apps to brainstorm is obvious. Apps like AhaSlides Word Cloud, Monkeylearn, Mentimeter, and more can be used in many systems, and you can freely come up with new ideas at any time and any place without concern of distraction.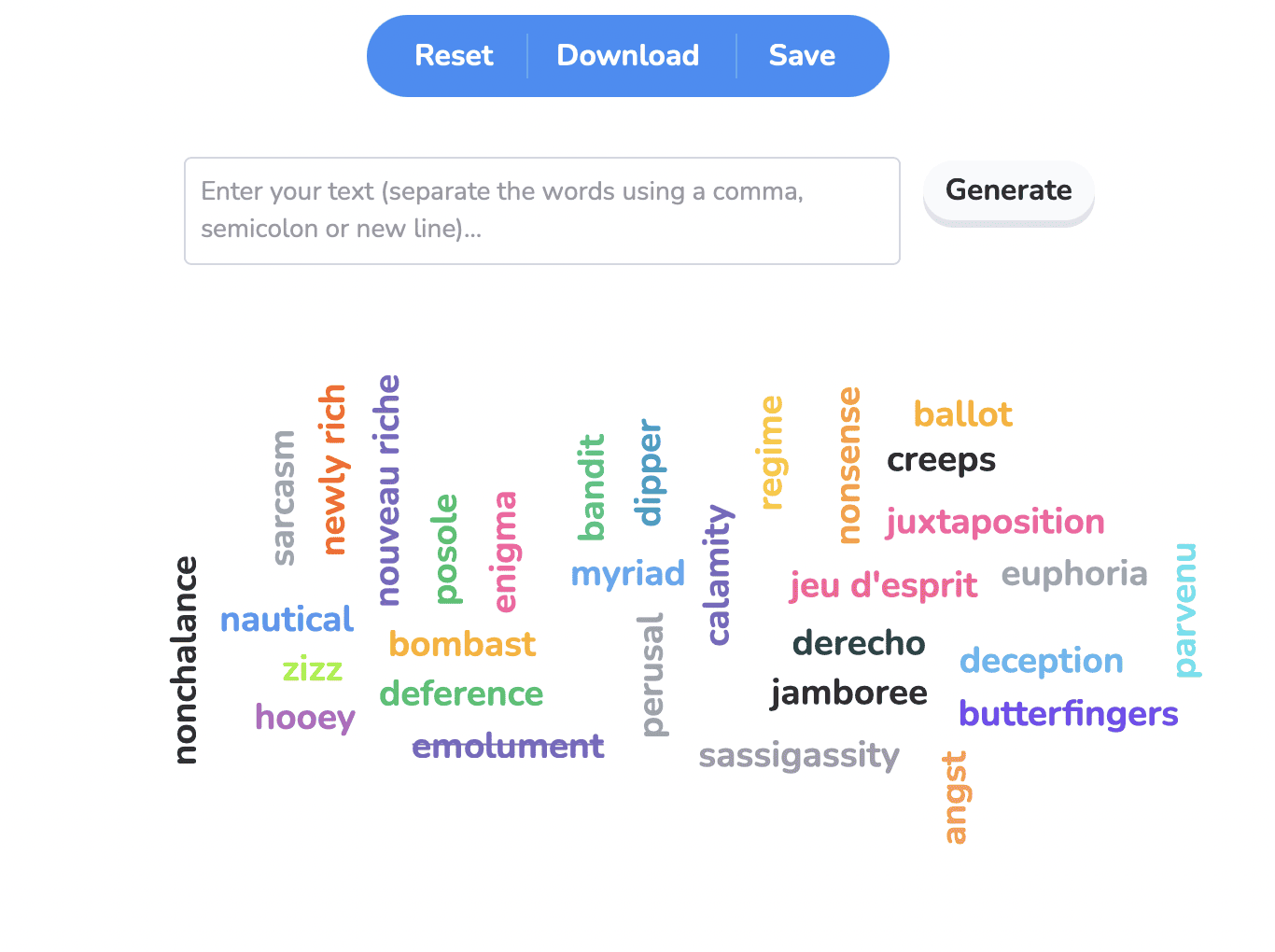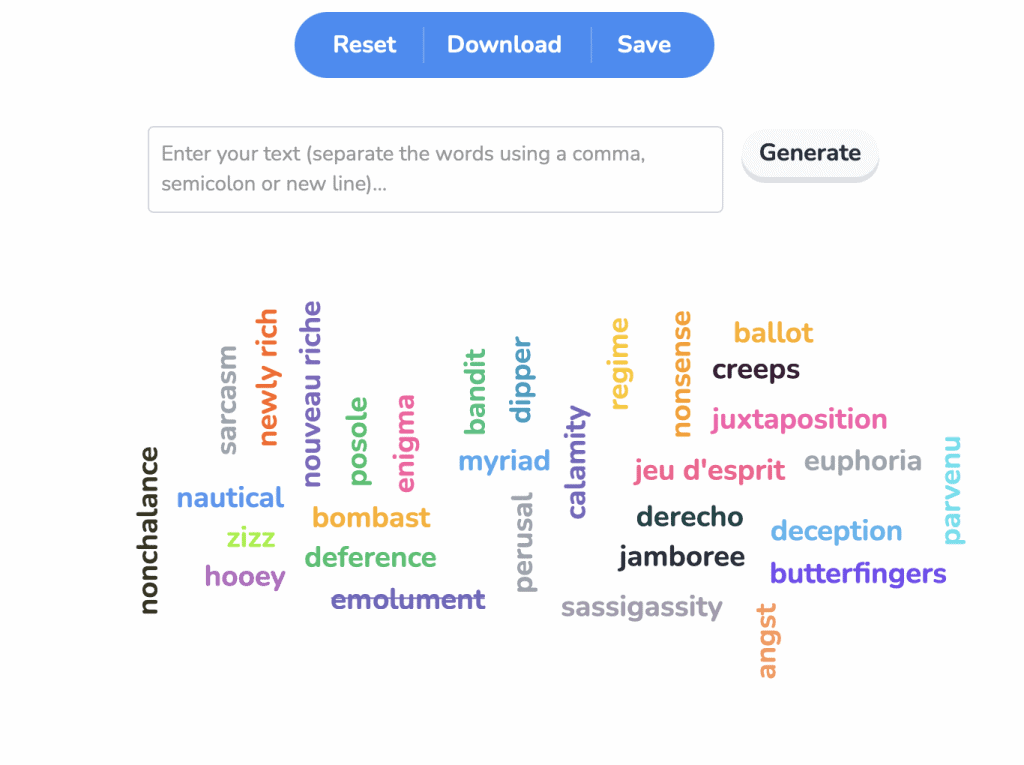 Generate Novel ideas with AhaSlides Word Cloud Generator
You can fulfil your idea generation goals using an online tool like Word Cloud to ignite your brainstorming. The internet is crammed with many new technology solutions and is free. As more people bring e-notebook and laptops than pens and paper, the change to using online apps to brainstorm is obvious. An app like AhaSlides Word Cloud can be used in many systems, and you can freely come up with new ideas at any time and any place without concern of distraction.
Smart tools were introduced to lessen people's pressure and increase efficiency, especially online ones in the digital age. For optimizing the Idea generation process, using the Word Cloud feature of AhaSldies software is incredibly helpful. Entirely dissimilar to other Word Clouds,
AhaSlides Word Cloud is an interactive platform where all the participants can communicate, engage and interact with each other to find the ultimate answers for the common objectives. You can access the real-time data on any occasion via your laptops or notebooks in both iOS and Android systems. 
Create a link for Word Cloud and integrate it into the presentation if needed.
Gather your team and ask people to enter the link of AhaSlides Word Cloud
Introduce a challenge, problems and questions.
Set up the time limitation for collecting all responses.
Require participants to fill the Word Cloud with many keywords and relevant terms as possible
Discussing with each other while generating ideas in the app simultaneously.
Save all the data for further activities.
The Bottom Line
Bringing novel ideas into the light can be difficult. Remember that when it comes to brainstorming, your thoughts or anyone's idea cannot be defined as true or wrong. The goal of generating ideas is to come up with as many ideas as possible so that you can discover the best key for unlocking your challenges.
The benefits of Word Cloud are undeniable. Let's get started to explore AhaSlides right away to find the best solution for your problem.