AhaSlides Free Word Cloud Creator
This free word cloud maker is a great tool to visualise data and show the popularity of words or phrases. Use this free word art maker to find the density of words in any text!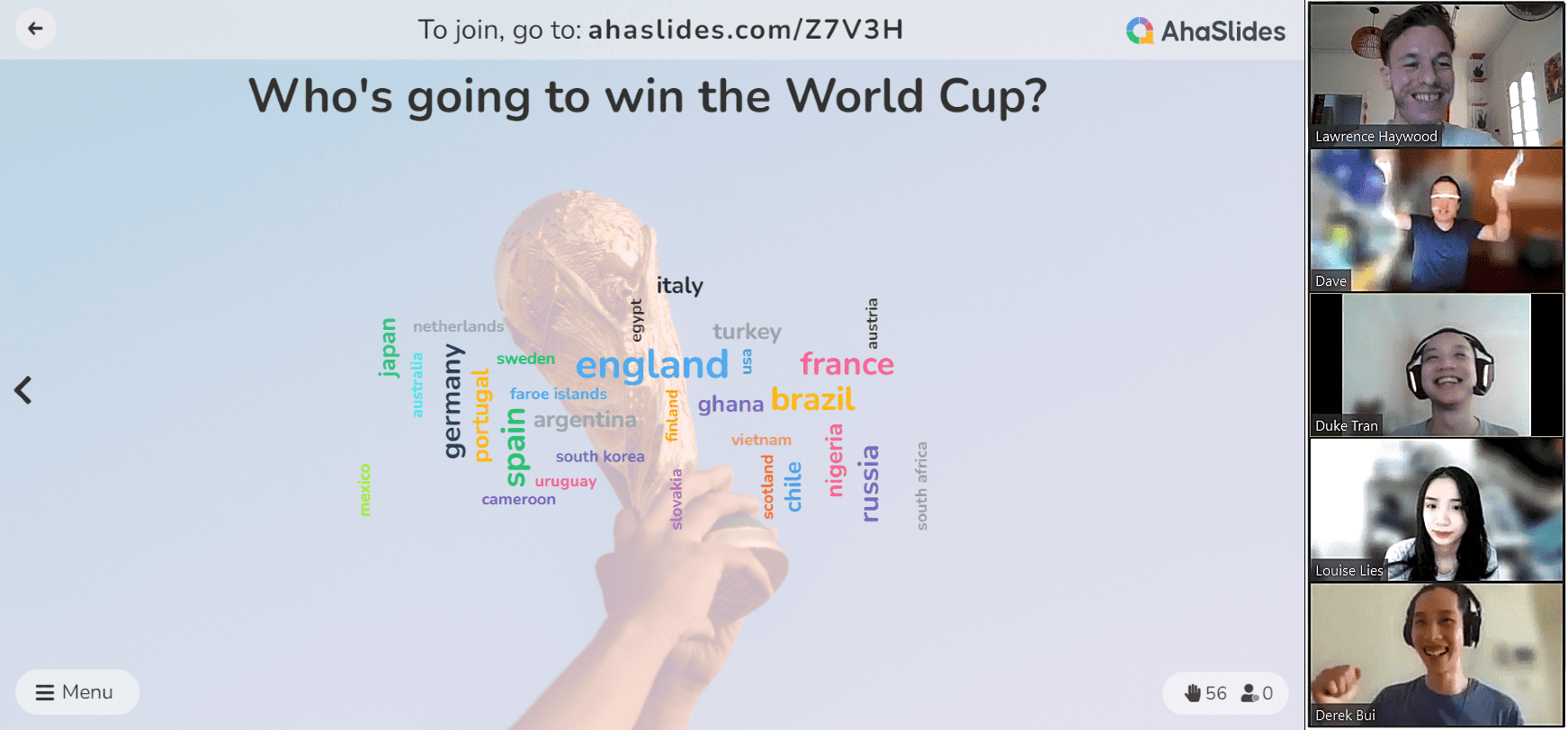 Hold an Interactive Word Cloud with your Audience
Make your word cloud interactive with real-time responses from your audience! All they need is a phone to make any hangout, meeting or lesson more engaging.
To THE CLOUD
How to Use This Word Cloud
When you type or paste some texts into the box, this word cloud colours and arranges each word at random. It can show the most popular words from the text: the more popular the answers get, the bigger it is shown in the cloud. Whichever word has the greatest popularity is placed in the middle of the word cloud.

Step 1: Enter your text
Type the words or paragraphs into the box (remember to use a comma, semicolon or make a new line after each word) then click 'Generate'. You don't have to delete the default word cloud, just add your text and the tool will create yours.
Step 2: Reset, download or save
1. Reset – Clear whatever you've generated and reset it to the demo word cloud.
2. Download – Download your word cloud as a PNG image.
3. Save – Save your word cloud as a slide on the AhaSlides interactive platform.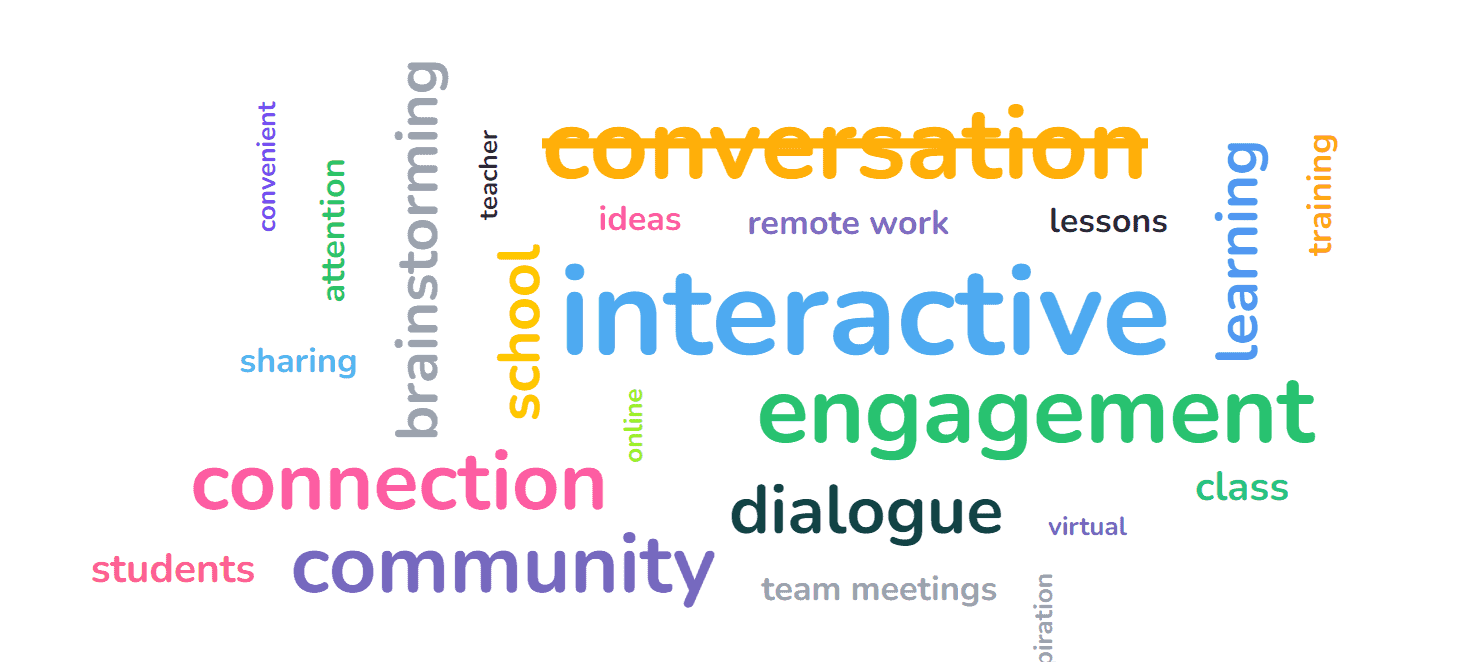 Step 3: Delete unwanted words
If you want to delete any word in the word cloud, hover over that word and click it.
How to Make an Interactive Word Cloud
The free word cloud maker above is generated by one person only. If you want to make a free, interactive word cloud where other people can pitch in their words, try using AhaSlides' free word cloud tool. AhaSlides is a platform that helps you make interactive presentations with many slide types (one of which is the word cloud) for you to engage with your audience.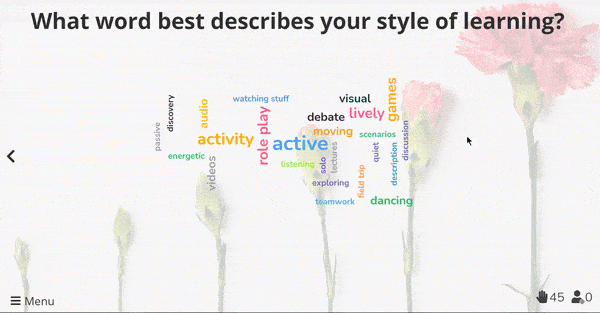 Whatever you're using AhaSlides word cloud for, the way to make and join one is very simple and time-saving. It's perfect for warm-up or ice-breaking activities, and also can be used to gather ideas, opinions or brainstorming.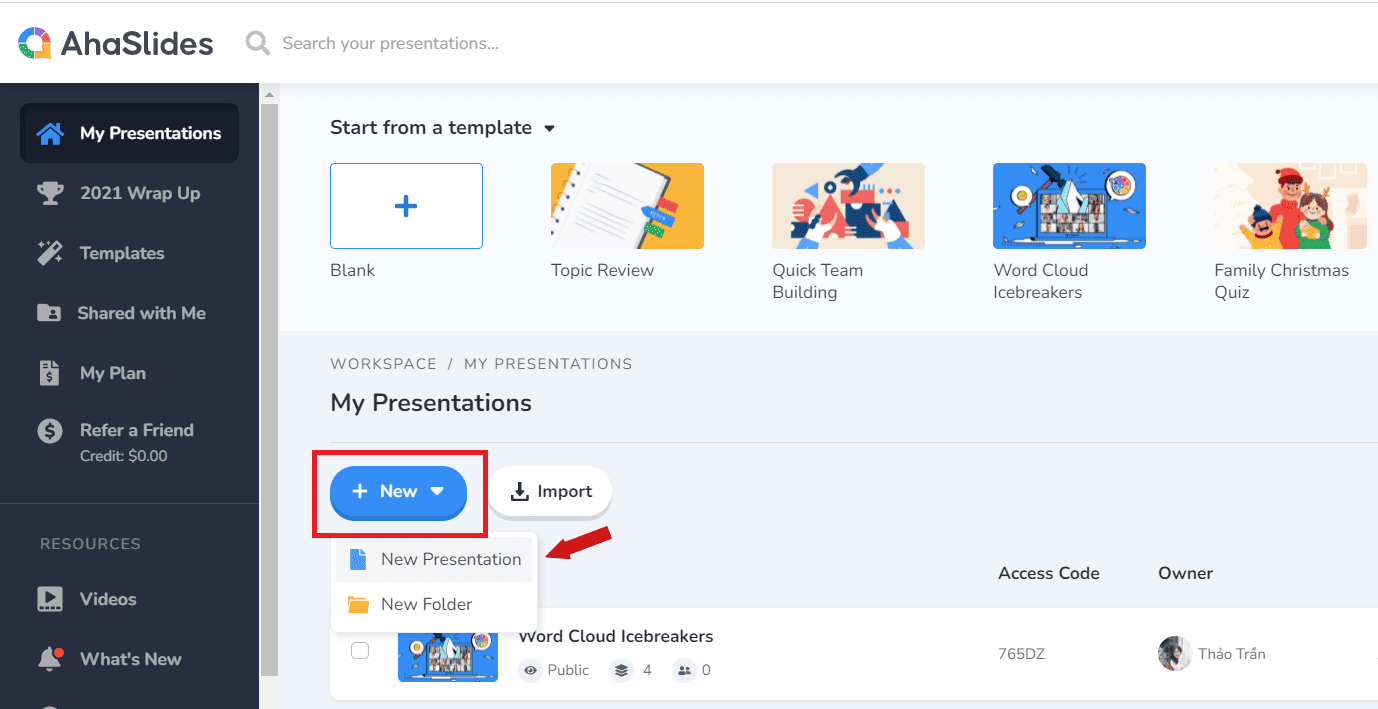 1. Create a new presentation
Sign up for a free account, then create a new presentation or begin with a template.
2. Type your question
Choose the word cloud slide on the editor canvas. Type the question you want to ask your participants in the box and feel free to add an image or description.


3. Change the number of entries
You can set a limit on the number of entries participants can submit. One entry can consist of several words.
4. Invite participants
Share the QR code or joining link with your audience, so that they can join on their phones. You can press the 'Present' button, followed by the i button on the joining instruction bar at the top of the slide.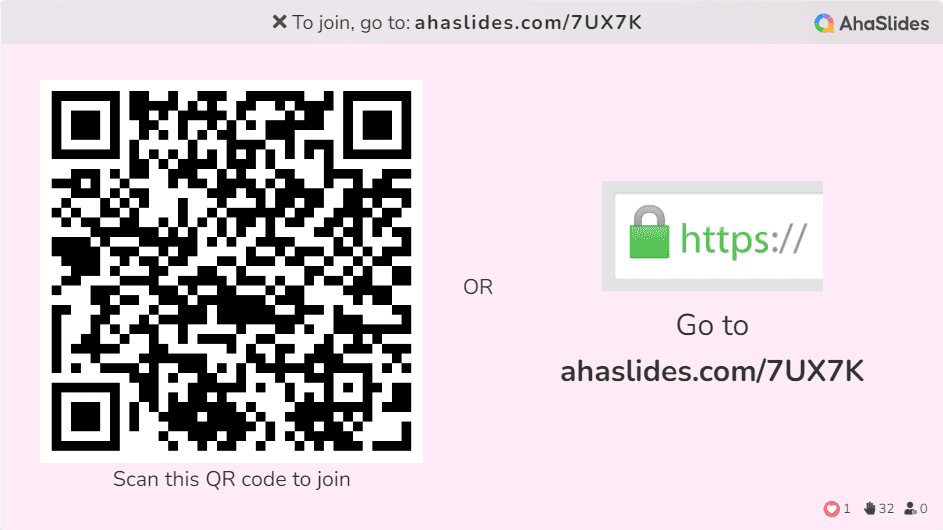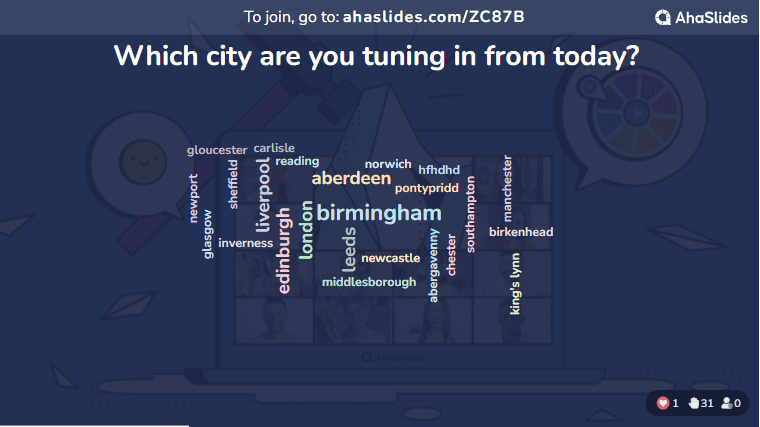 5. Present your word cloud
Participants who have joined on their devices can send their answers. All the words will appear immediately after they're submitted.
6. Delete words
If you want to delete any words on the word cloud, hover over those words and click them. (You can use the in-built profanity filter) to stop bad words in the first place!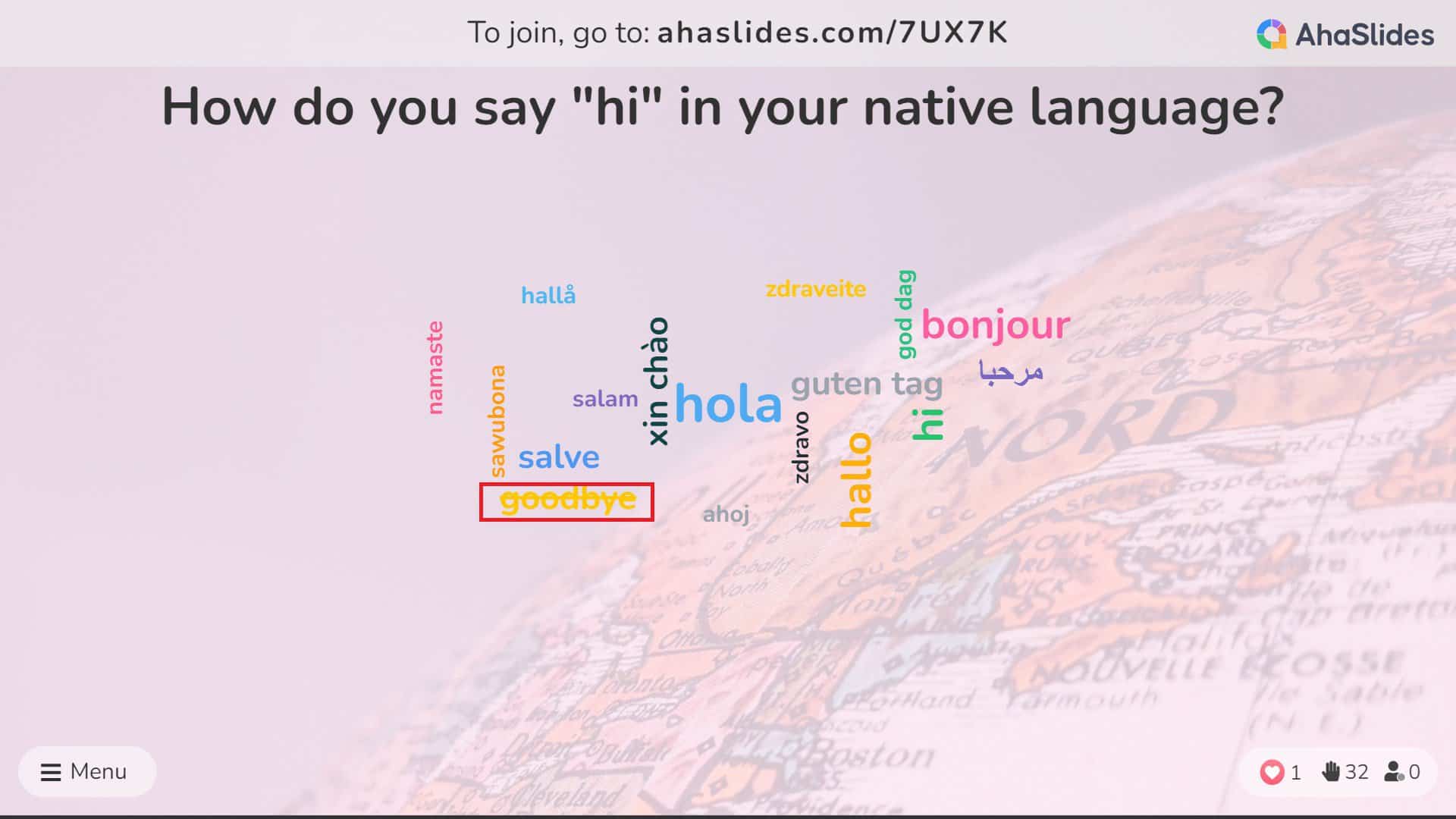 See how it all works….
Here's a step-by-step guide on how to create an AhaSlides word cloud and receive words from your audience…
More Stuff You Can Do with the AhaSlides Word Cloud
The online free word cloud creator above is for teachers, students and others to use alone. If you want to make an interactive word cloud with your audience responding live, you can try the AhaSlides interactive word cloud.
Among AhaSlides' current 19 slide types, the interactive word cloud is one of the best-visualised slides to receive live responses and show data. It can enliven any of your meetings, lessons, interactive presentations, webinars and so much more.
Although you can't change the layout and colour of the word cloud on AhaSlides, there is room for other customisation to make it suitable for any situation.
1. Set a time limit
To make it more interesting, you can choose a time limit and participants have to submit their words within that period of time.
2. Hide results
To avoid copying or bias, you can hide results while participants are still submitting their answers. The word cloud won't appear until everyone has sent their entries.
3. Lock submissions
Some presenters want to have a few minutes to introduce the question, context or purpose of the word cloud before participants send their answers. In that case, try lock submissions. Once you're done introducing the question, you can open the submissions.
4. Allow participants to submit more than once
Once the answers are submitted, participants can't change or add anything, but they can send more words if you've turned on this setting.
5. Profanity filter
It's hard to keep track of all answers and remove all unwanted words before they're shown on the big screen. The profanity filter can help automatically hide inappropriate words on the cloud.
6. Change background
AhaSlides provide you with six different themes that are ready for use. Otherwise, you can change the background colour, add your own image and can even adjust background visibility to meet your expectation.
7. Add audio
Jazz up your word cloud with some music! Add a catchy tune to your word cloud that plays from your laptop and your participants' phones while submissions are flying in!
Interactive Word Cloud Examples on AhaSlides
With the AhaSlides interactive word cloud, you can do more than just find the popularity of words in a text. Ask questions and let the participants let loose their ideas, opinions or anything related in one or two words. You can use the word cloud to warm up the atmosphere, brainstorm, and further engage with your audience.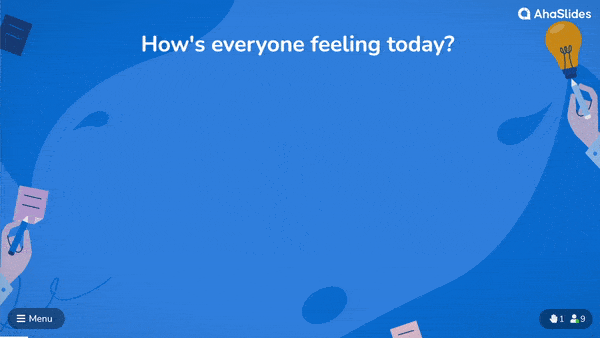 How's everyone feeling today?
Break the awkward silence at the beginning of meetings, webinars or hangouts with this simple question. You can let your participants answer in emojis too.
Which city are you tuning in from today?
This is another question to check in with your audience at the beginning of your presentation. It's best for virtual discussions in which people from all over the country or even the world can join and contribute.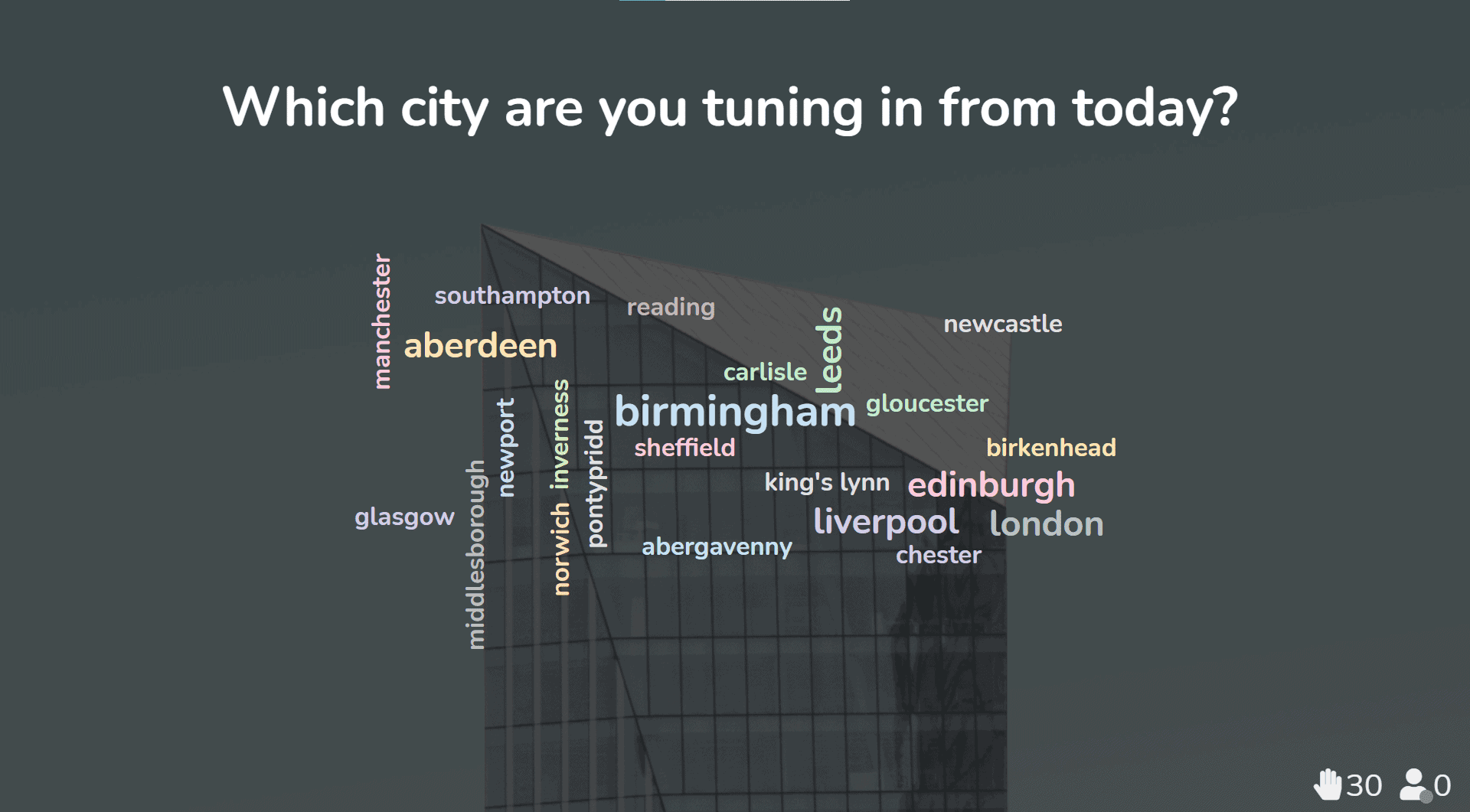 What would you like to discuss today?
Team meetings are sometimes one-way and stressful if there is only one or two people talking. Try to make it more interactive and engaging by encouraging other team members to speak up (or type up).
Who nailed it this week?
This is another question to ask during team meetings to recognise everyone's efforts during the week, month or quarter. Because it's anonymous, people can freely tell their opinions or even vote for themselves without the fear of judgement.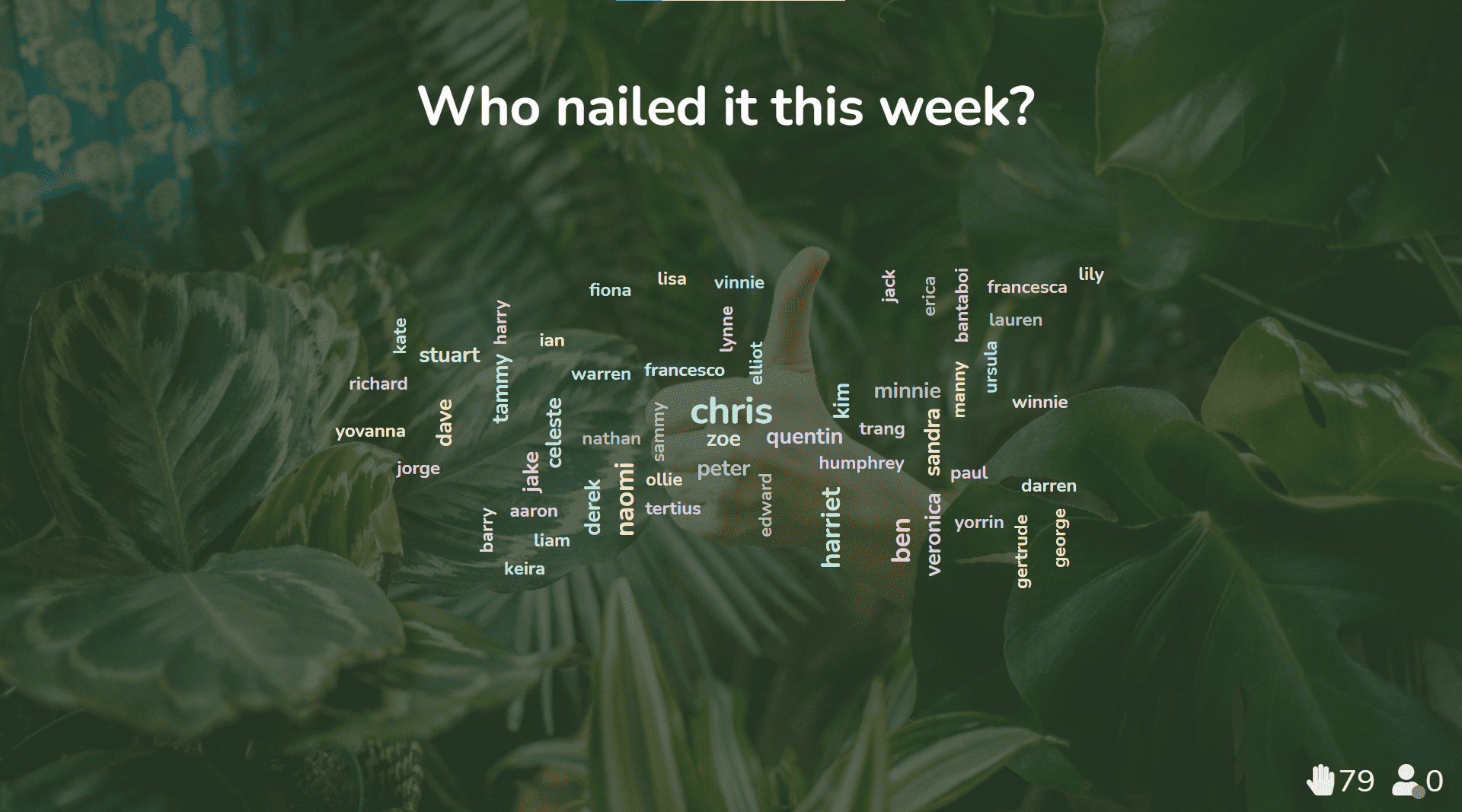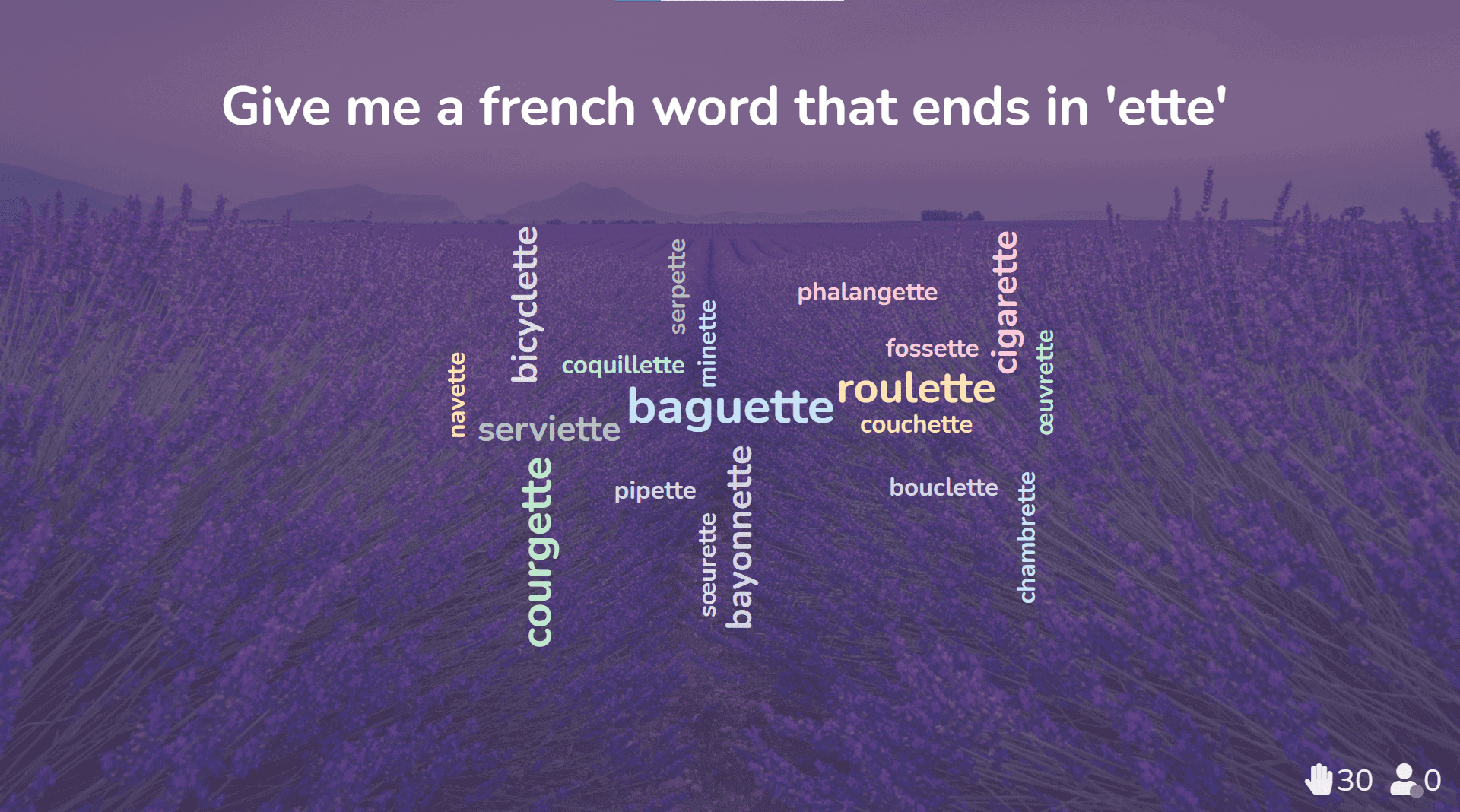 A word that ends in...
Word clouds are effective for classes, especially when you want to check students' vocabulary. They can also learn some words from the word cloud too. Ask for synonyms, antonyms or any concepts that your students can answer. You can use prompts to indicate the topics, like in this list.
Countries starting with...
Help your students revise some geography knowledge with this word cloud. You can also use questions like this on many occasions like team bonding, family gatherings or hangouts with friends.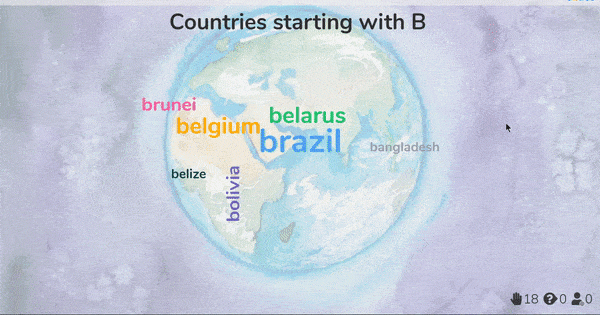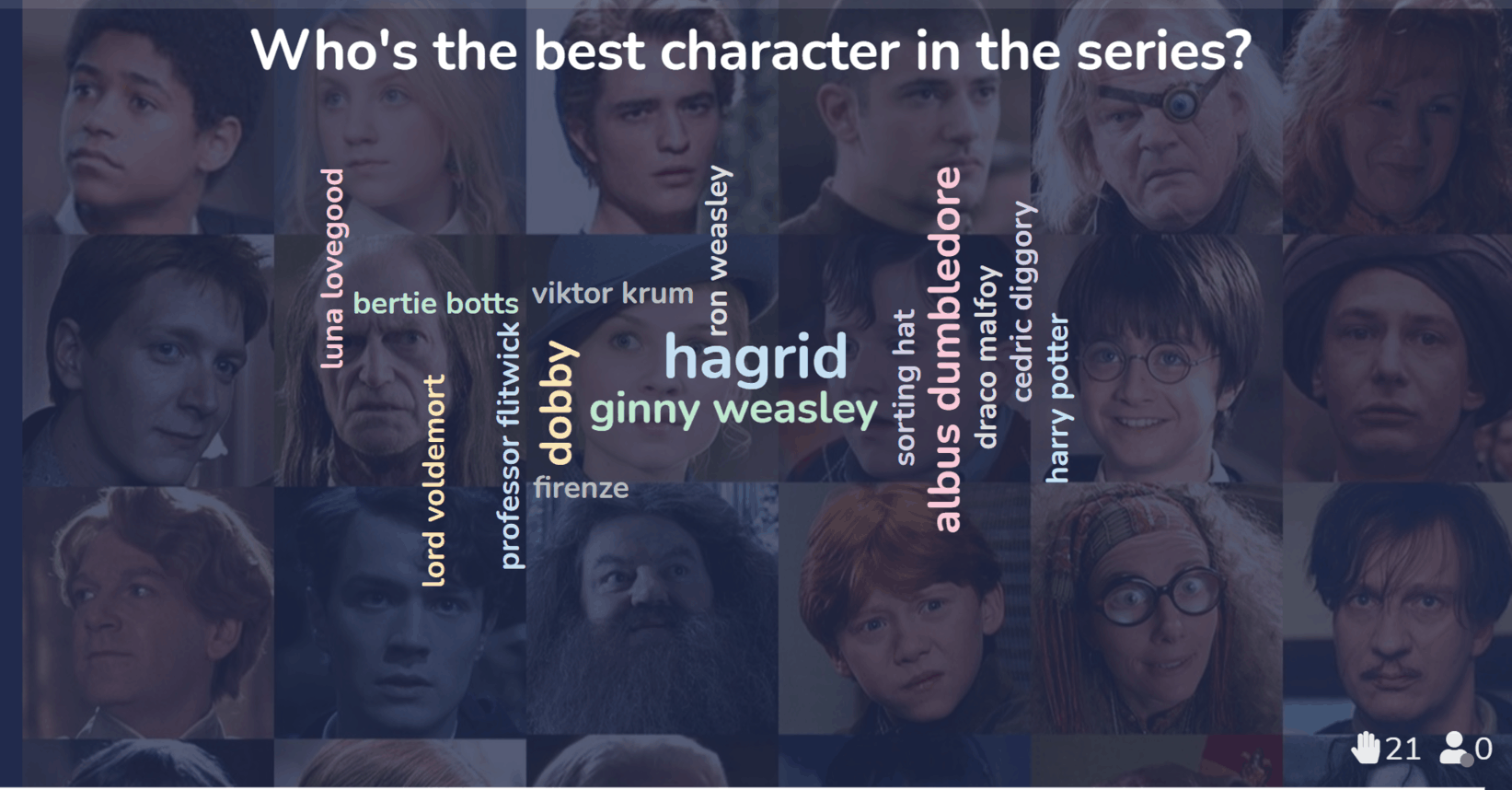 Movie characters
Hosting a gathering for film buffs or a group of people who share movie interests? Use the word cloud to recall the characters, plots or famous scripts together and bring back good memories.
Top 5...
More word cloud ideas for meetups, gatherings or team bondings. Ask for participants' preferences and let them share what they like. Maybe they'll find they've got more in common than they thought!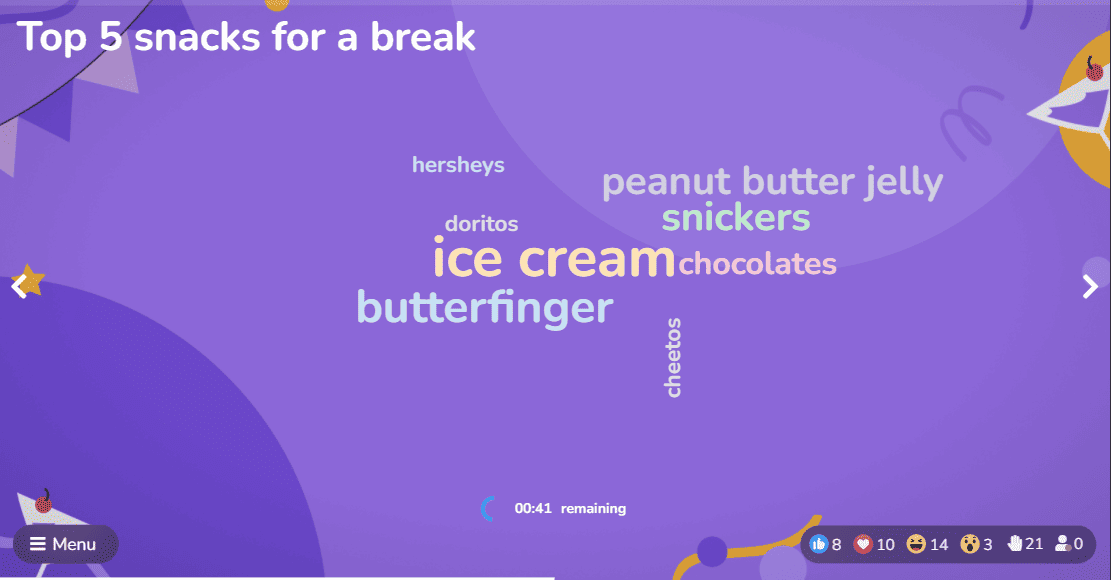 Frequently Asked Questions