Looking for websites like canva? Canva seems to have become a popular graphic design tool for freelancers, marketers, and social media managers due to its ease of use and variety of templates.
Canva Interactive Presentation is real, but their main focus is visual presentation, but their premium plan is quite expensive.
So, if you're looking for other options with features and prices that better suit your needs, the Top 20 Canva Alternatives might be valuable. Also, we will provide information about whether sites are free or charged, as well as rates for you to compare before making a decision!
| | |
| --- | --- |
| When was Canva created? | 2012 |
| What is the origin of Canva? | Australia |
| Who created Canva? | Melanie Perkins |
| Are there websites like Canva free? | AhaSlides |
| Is Canva word cloud available? | Yes, you can create one via free account. |
Overview of Canva Alternatives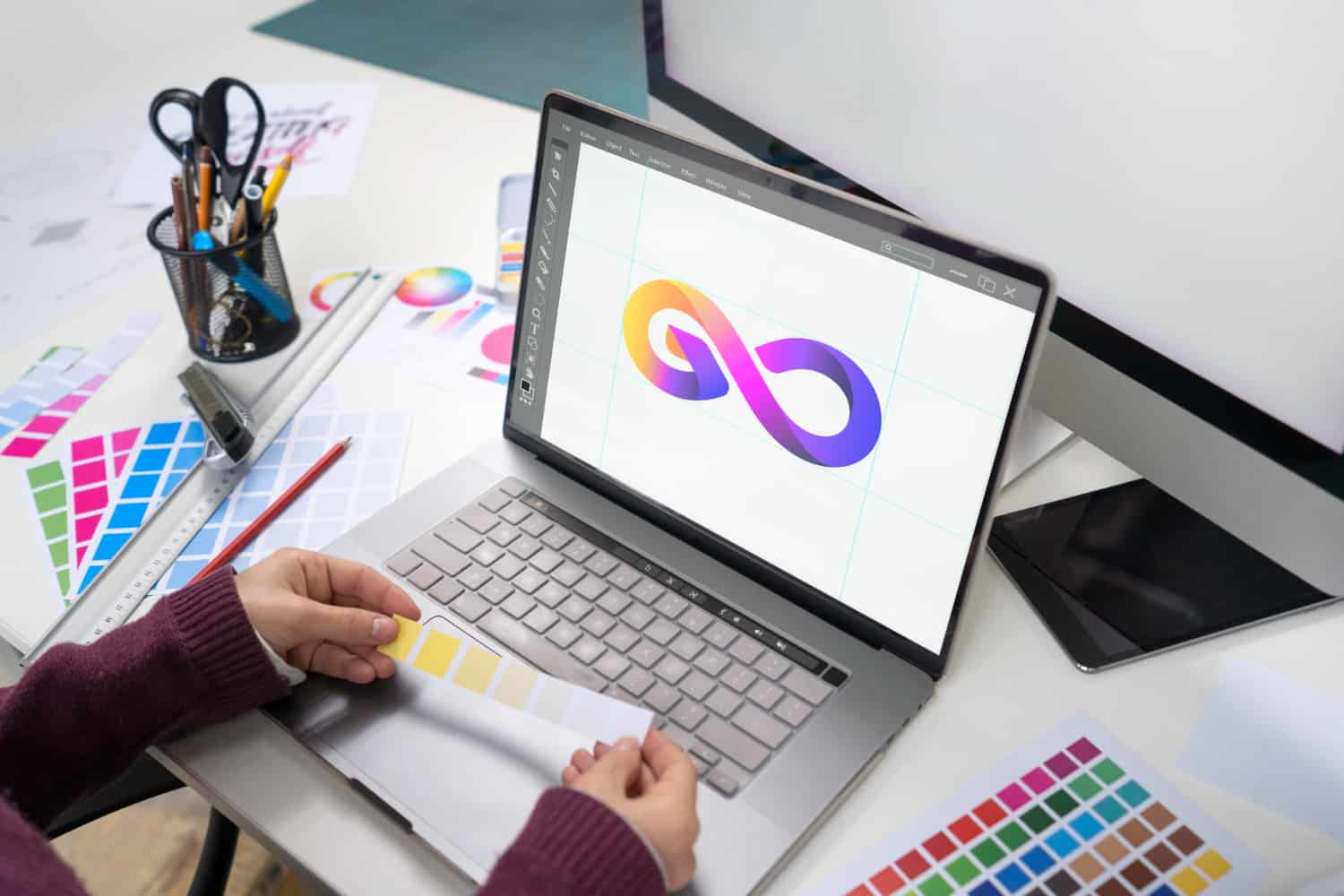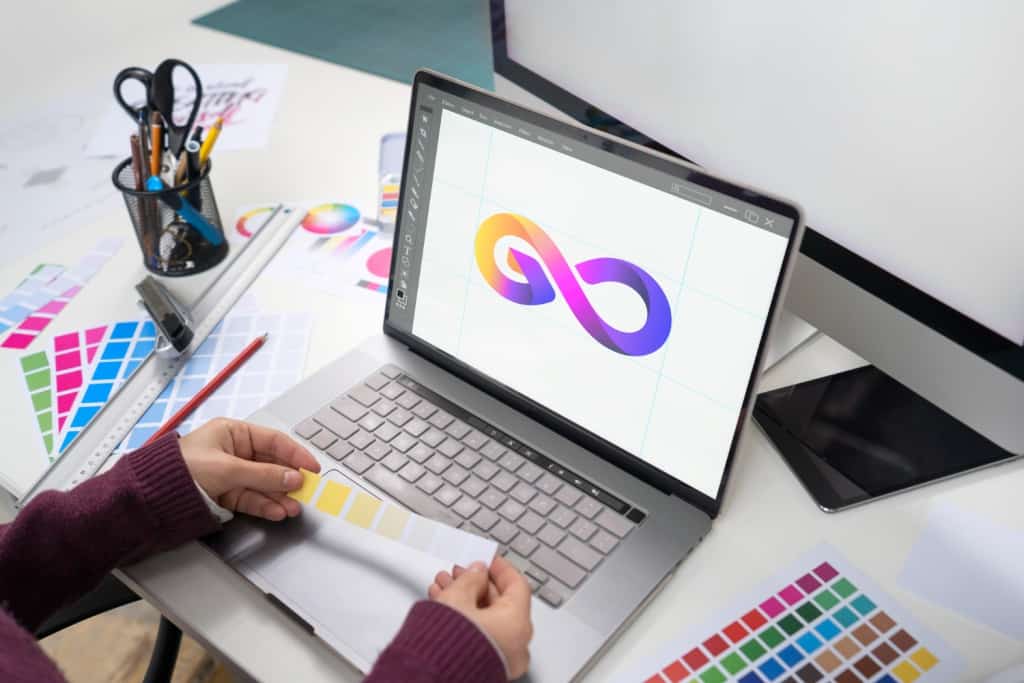 More Engagement Tips with AhaSlides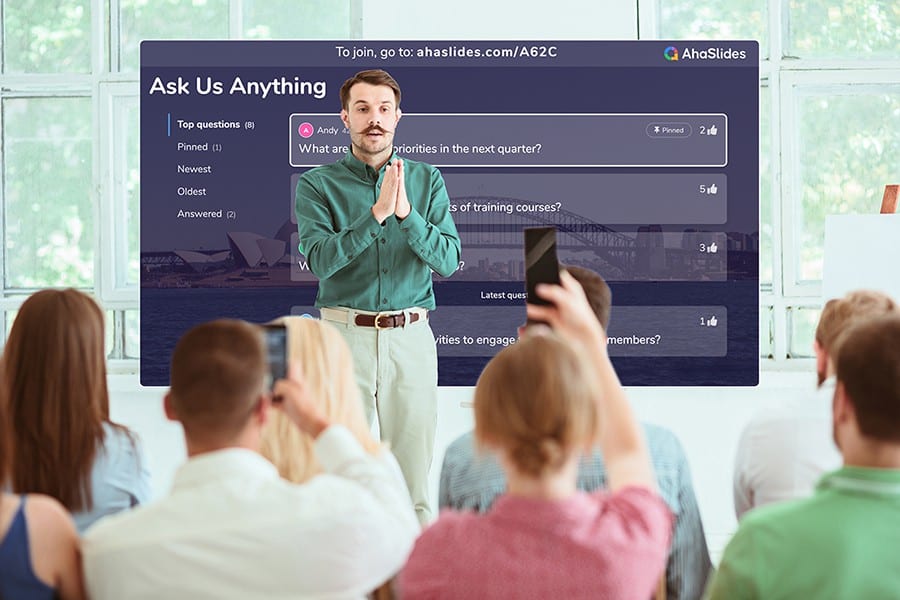 Looking for a better engagement tool?
Add more funs with best live poll, quizzes and games, all available on AhaSlides presentations, ready to share with your crowd!
🚀 Sign Up for Free☁️
Canva Alternatives For Presentations
#1 – AhaSlides
If your goal is to create presentations that not only look amazing but also interact well with your audience, then AhaSlides is probably the best option for you.
AhaSlides is an interactive presentation platform favoured for its user interface and straightforward, simplified design for creating eye-catching slides with interactive elements.
It provides templates suitable for multi-purpose from meetings, proposal plans, and training sessions to templates for learning such as brainstorming activities, debate, or entertainment activities such as icebreaker games or quizzes.
In addition, it also allows you to customize design such as choosing a theme, base colour, background, fonts, and languages, inserting audio, and a library of thousands of images and GIFs.
Besides helping you easily design presentations, AhaSlides also provides many features to help you connect with your audiences such as live quizzes, polls, Q&A, word cloud, and more. And it also integrates with PPT and Google Slides.
In terms of pricing, AhaSlides has the following pricing plans:
Free: will be limited to some custom design features and cannot export data after the presentation.
Paid annual plans: These plans will have different prices from $7.95/month, $10.95/month, and $15.95/month with different benefits.
#2 – Prezi
Also a presentation software, but what sets Prezi apart is that it uses a canvas-based approach that allows users to create a visual presentation of their ideas, rather than by the traditional slide-by-slide format.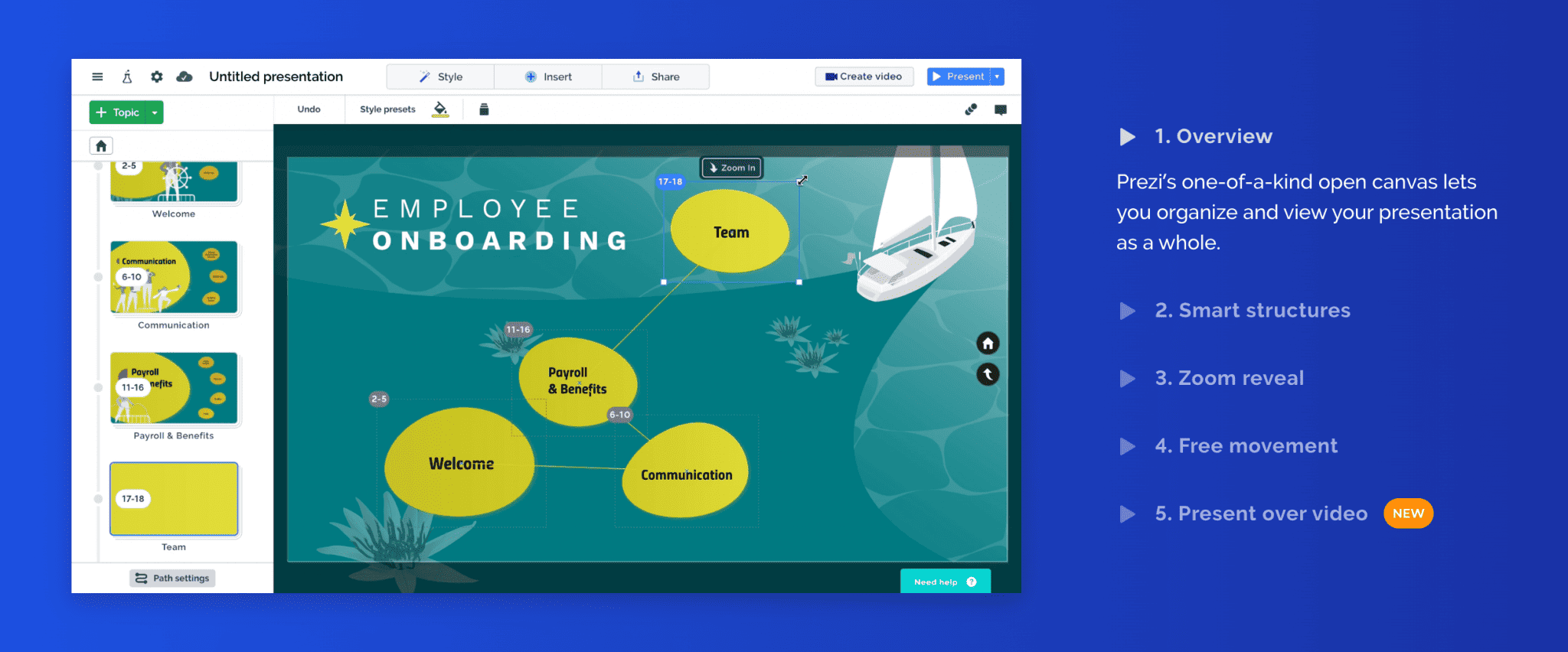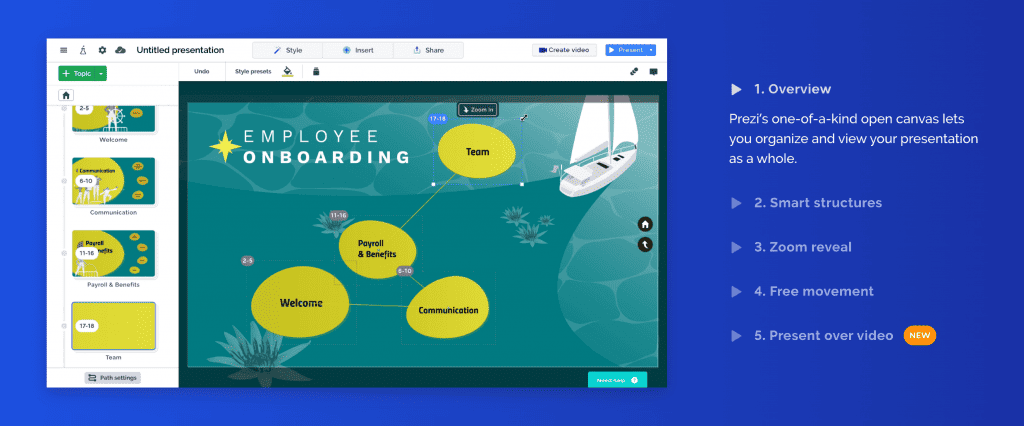 With Prezi, you can flexibly zoom in or out different parts of their presentation canvas to highlight and emphasize specific ideas.
You can also easily customize your presentation by choosing the templates, themes, fonts, and colours you want. And to make your presentation more dynamic, it allows you to use images, video, and additional audio.
Prezi is a flexible and user-friendly presentation tool that gives you a unique and engaging way to present ideas and information.
It offers several annual pricing plans, including
Free
Standard: $7/month
Plus: $12/month
Premium: $16/month
EDU: Starting at $3/month
Canva Alternatives For Social Media Designs
#3 – Vistacreate
Crello Alternative to Canva, now known as Vistacreate, is a popular online graphic design tool that helps you create visual content such as social media posts, advertisements, and other marketing materials, even if you are not a professional designer.
It is especially suitable for businesses, marketers, and social media managers who need to create beautiful, quick, and efficient designs.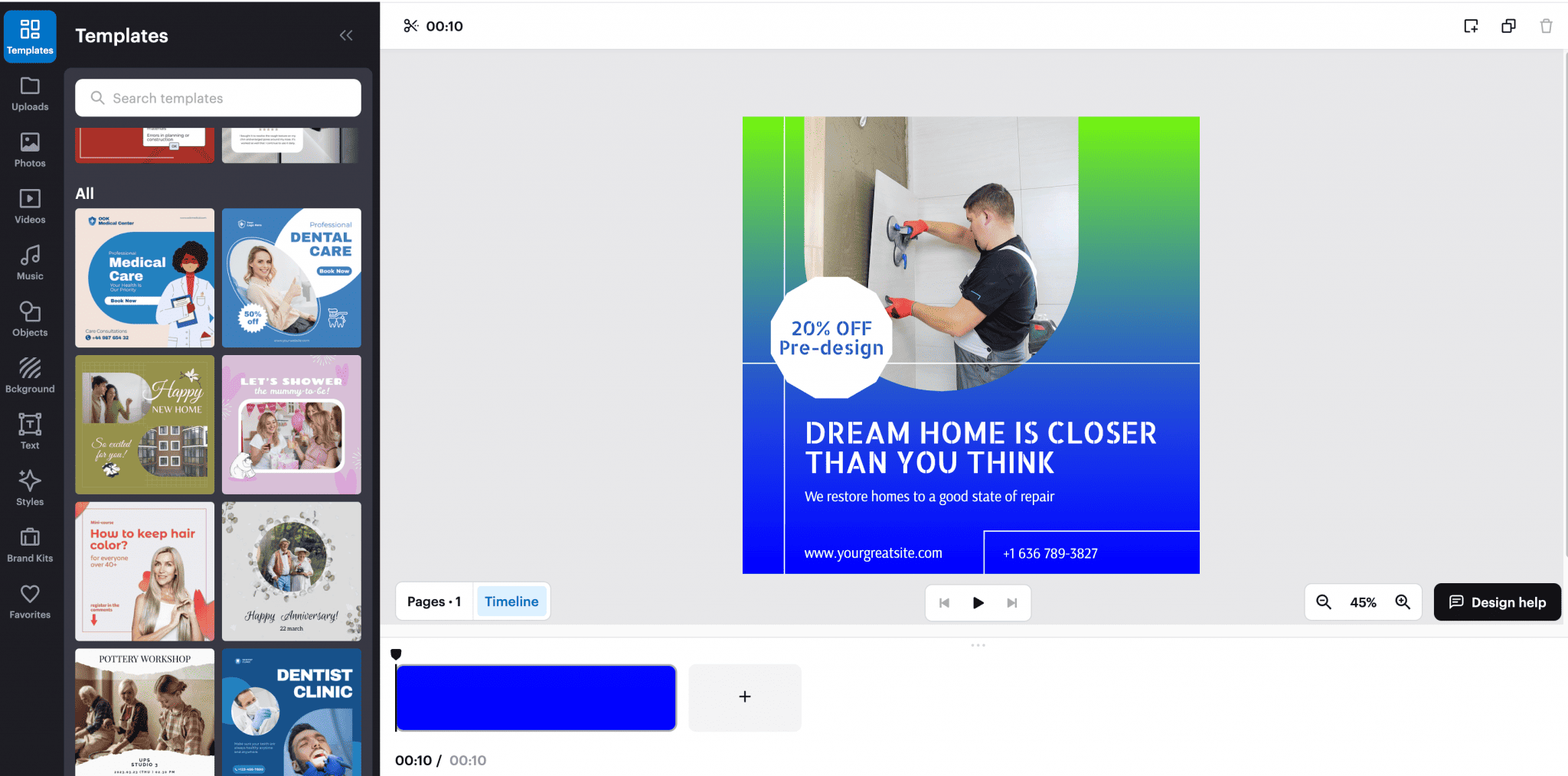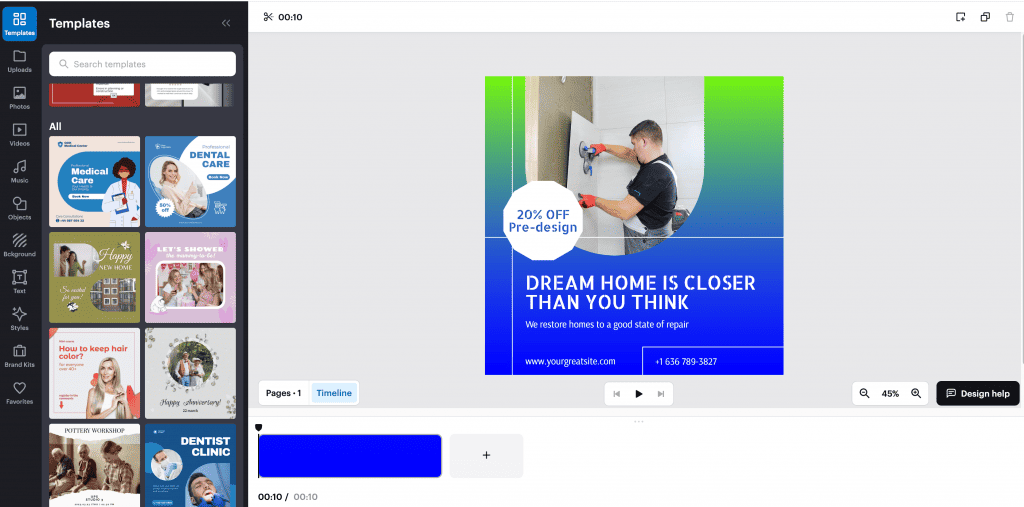 The strength of this tool is its rich library of different templates, design elements, and unique and eye-catching images, illustrations, and icons to choose from. You can also customize the design with text, images, and graphics as well as add animation, making your design more alive and attractive.
Plus, it provides editing, drags and drops, and resizing features suitable for different platforms.
It has a free and paid plan:
Free: Limited number of templates and design elements.
Pro – $10/month: Unlimited access and storage.
#4 – Adobe Express
Adobe Express (formerly Adobe Spark) is an online design and storytelling tool that help users create professional-looking designs quickly and easily.
Like Canva Alternatives, Adobe Express offers a variety of social media graphics templates that can be customized to fit your needs.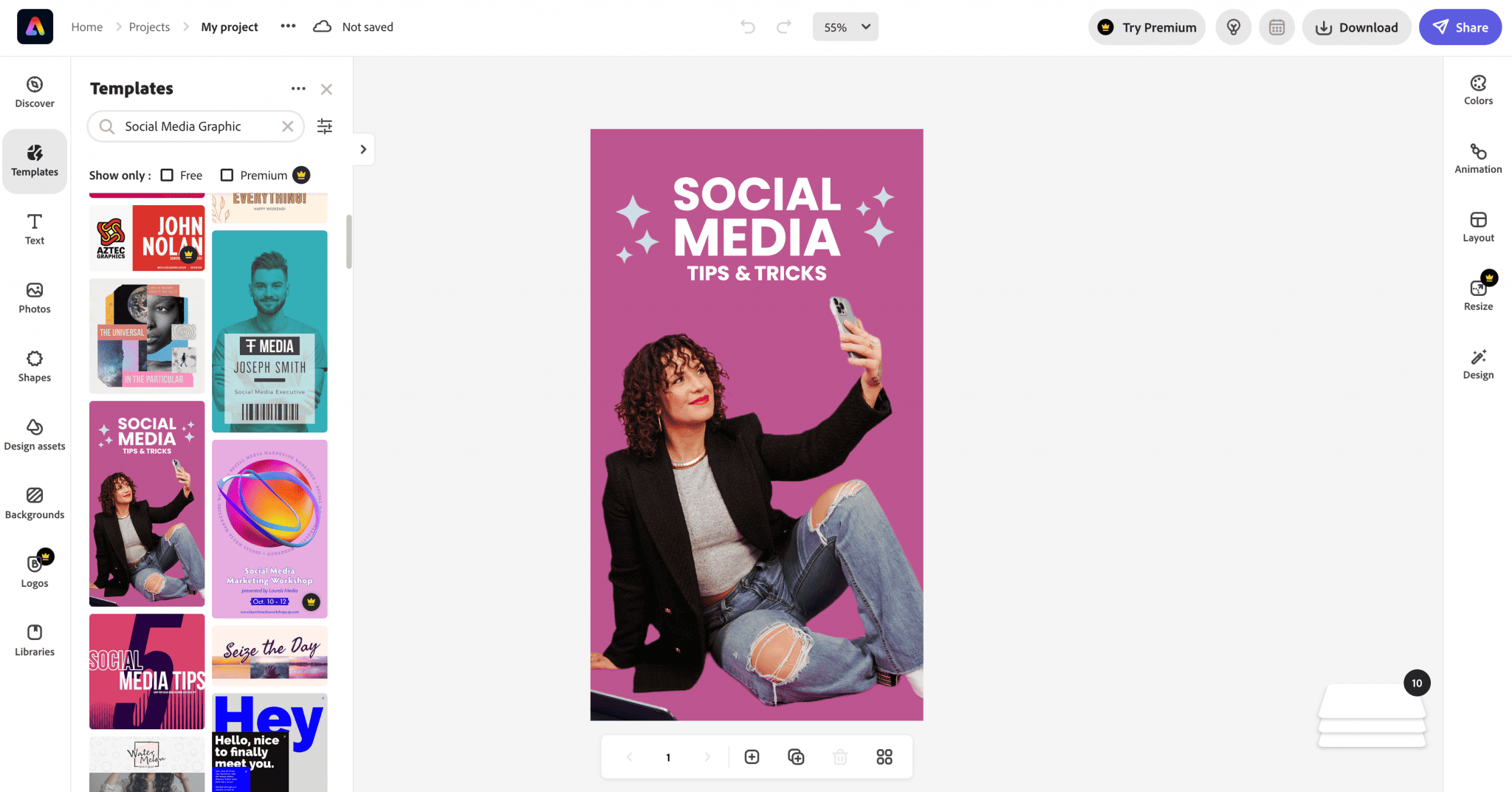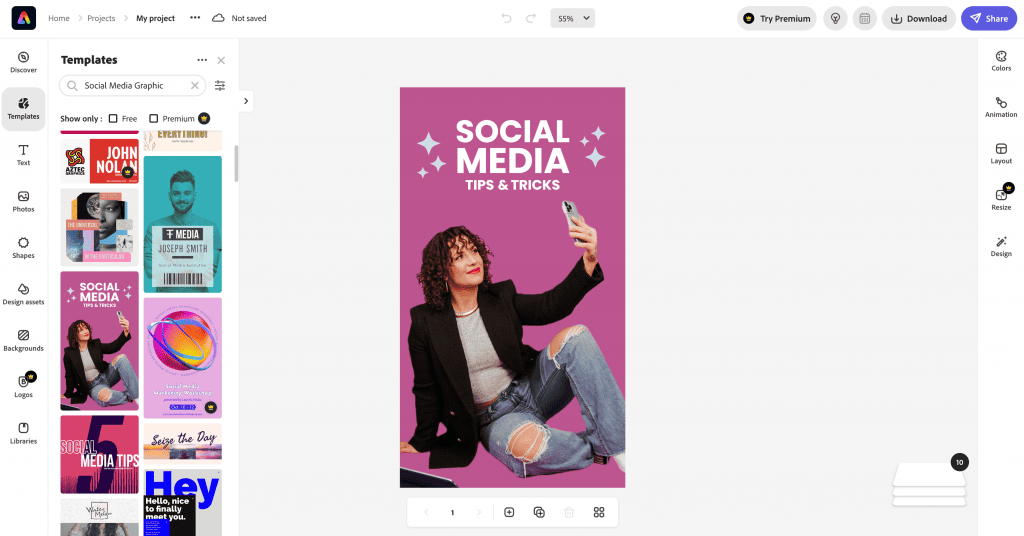 It also has a library of images, icons, and other design elements, which can be searched and filtered by category, colour, and style to find the perfect fit for your design.
At the same time, you can choose the text, including font selection, font size, and colour. You can also add text effects like shadows and borders to make your text stand out.
In addition, it offers video creation tools, including animated videos and tutorials, which can be personalized with your own branding elements.
Similar to design apps like Canva, Adobe Express offers a mobile app to design on the go, allowing for time-savings and flexibility to use anywhere, anytime.
It has two packages as follows:
Free
Premium – $9.99/month with the 30-day free trial and other benefits.
#5 – PicMonkey
If you want a simple, more "modest" design solution with fewer features, PicMonkey might be a good choice.
PicMonkey is an online photo editing and graphic design tool that allows users to edit photos, and create graphics.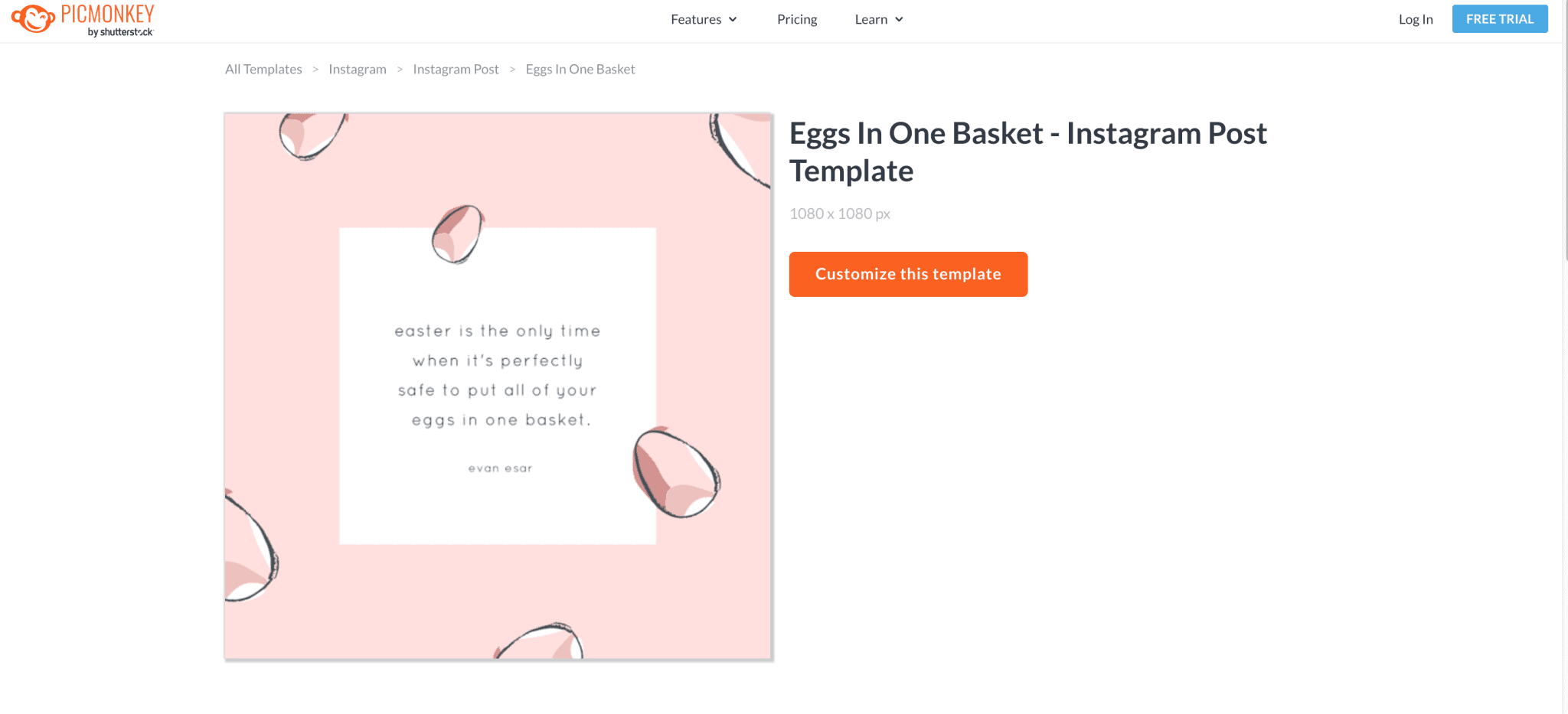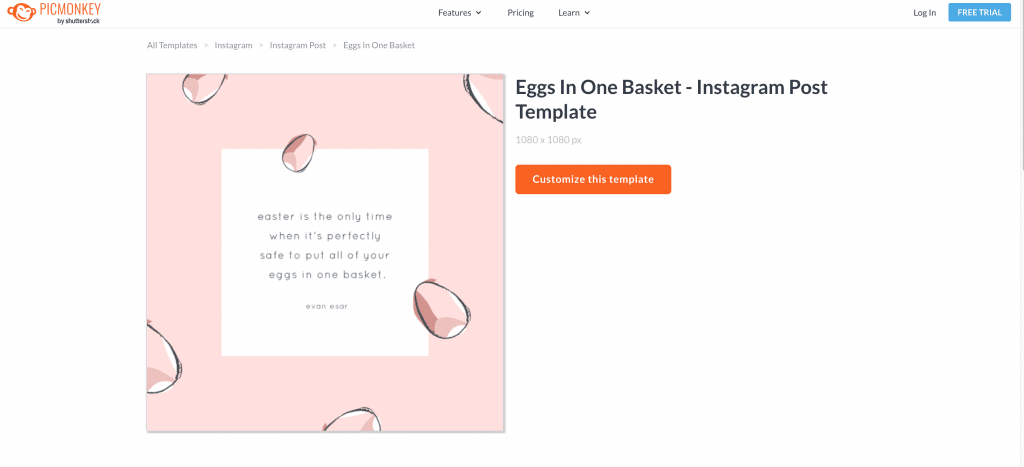 With this tool, you can use retouching tools to remove blemishes, whiten teeth, and smooth skin in your photos. And use design features, including templates, filters, text overlays, and design elements.
It also helps crop and resizes images, adds effects and frames, and adjusts colour and exposure.
Overall, PicMonkey is a better option for individuals who need basic photo editing and design tools.
Basic – $7.99/month
Pro – $12.99/month
Business – $23/month
Canva Alternatives For Infographics
#6 – Pikochart
Pikkochart is an online visualization tool. It focuses on data visualization, including charts and graphs, and its user interface is designed specifically for creating infographics.
This tool also has a library of customizable templates for infographics, along with icons, images, and other design elements that can be easily dragged and dropped into your design.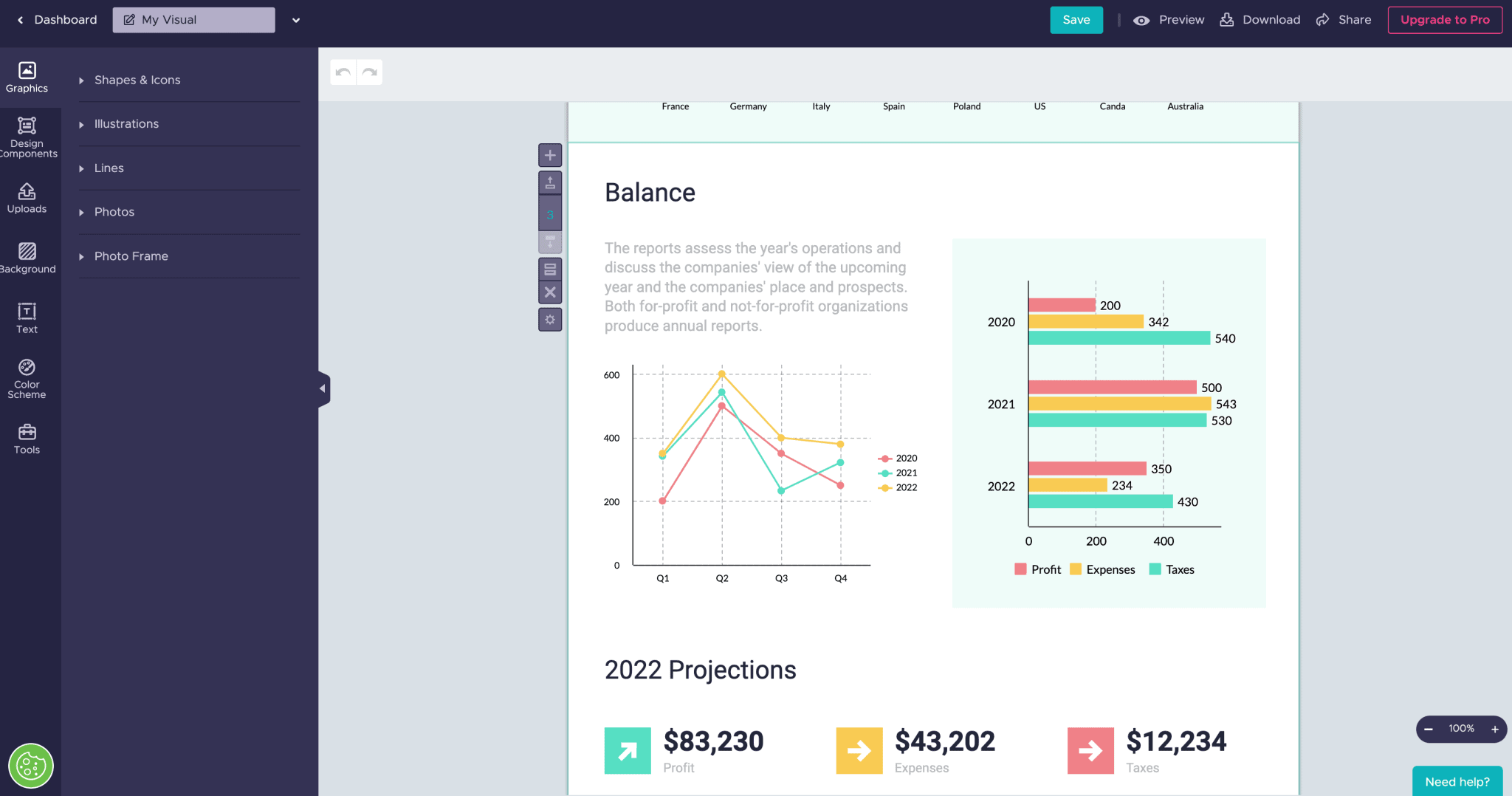 As stated above, it also helps you to create custom charts, graphs, and other data visualizations to help illustrate complex data sets.
In addition, it offers custom branding options, which allow users to upload their own logos and fonts to ensure their designs match their company's branding guidelines.
When your design is complete, you can easily share it on social media, embed it on a website, or save it as a high-quality image or PDF file.
Overall, Piktochart is targeted more towards research, market analysts, marketers, and educators.
It has the following prices:
Free
Pro – $14 per member/month
Education Pro – $39.99 per member/month
Non-profit Pro – $60 per member/month
Enterprise – Custom price
#7 – Infogram
Another visualization tool that can help you make complex data and numbers intuitive and easy to understand is Infogram.
The advantage of this tool is that it helps users easily import data from Excel, Google Sheets, Dropbox, and other sources and then create custom charts and graphs, infographics, etc from its library of customizable templates.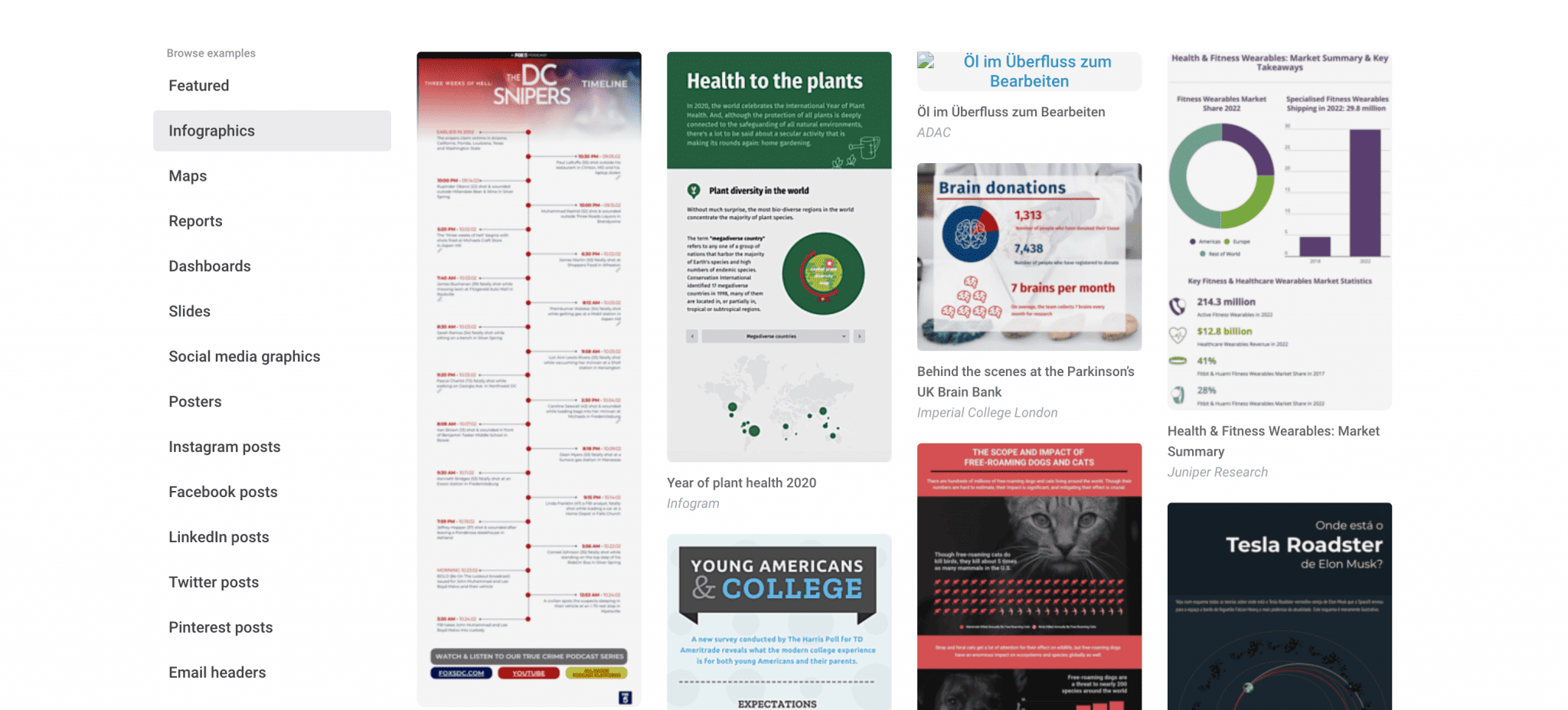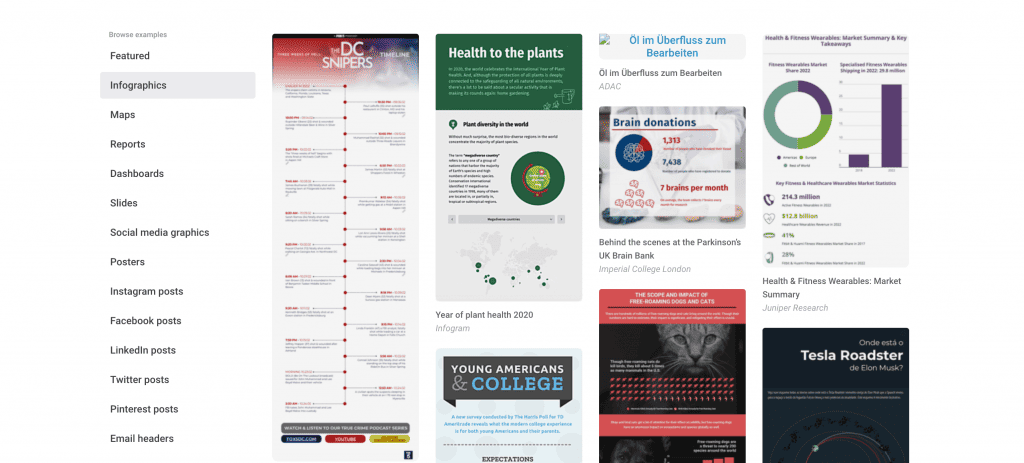 In addition, it also has design tools for you to customize your visualizations to your exact requirements, including changing colours, fonts, and styles. Or you can add tooltips, animations, and other interactive elements to your designs.
Just like the Canva alternatives, it allows you to share your designs, upload them to your website or download them in high quality.
Here are its annual billings:
Basic – Free
Pro – $19/month
Business – $67/month
Team – $149/month
Enterprise – Custom price
Canva Alternatives For Website Designs
#8 – Sketch
Sketch is a digital design app exclusively for macOS. It is favoured for its intuitive interface and extensive features by web and application designers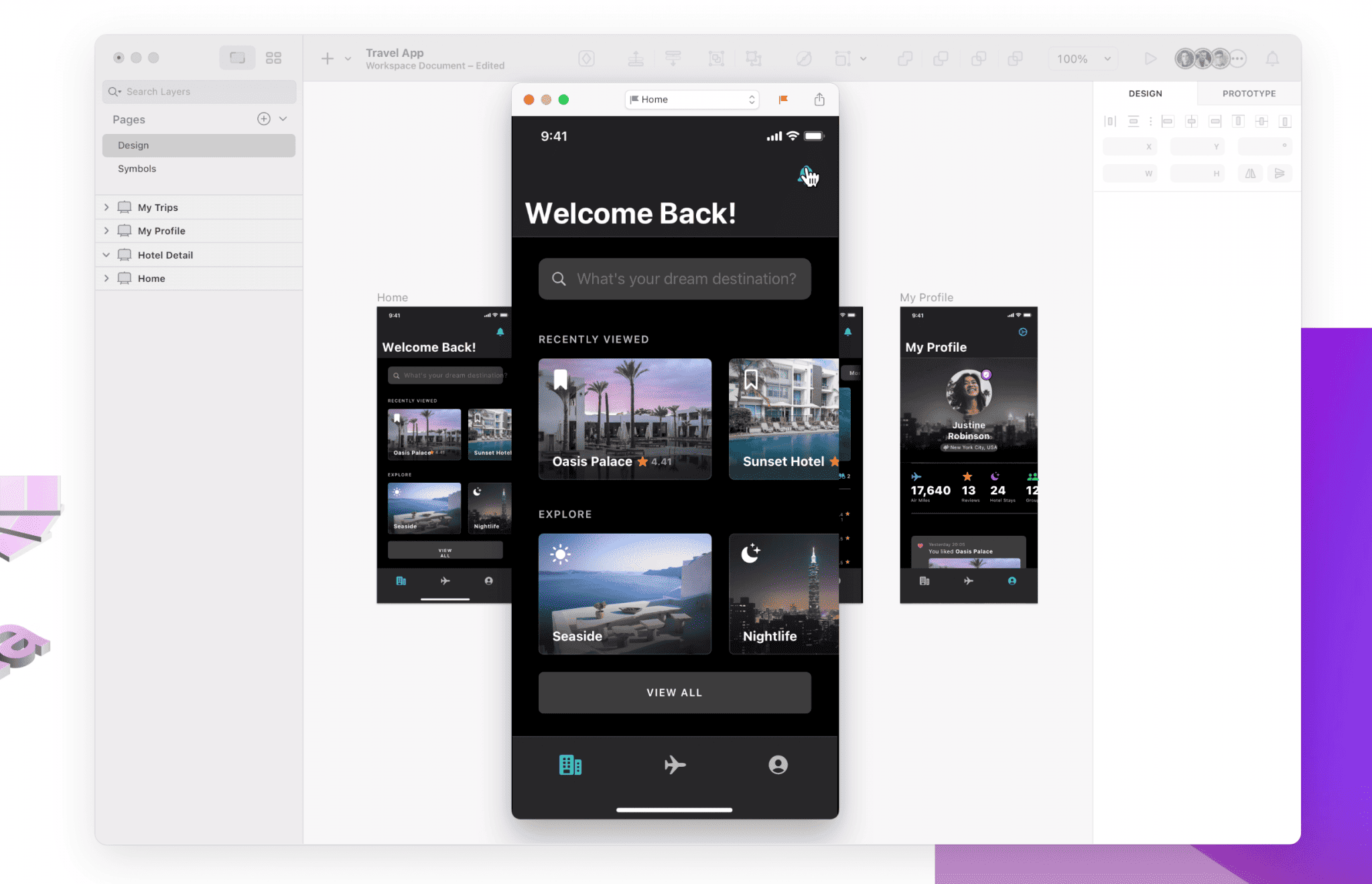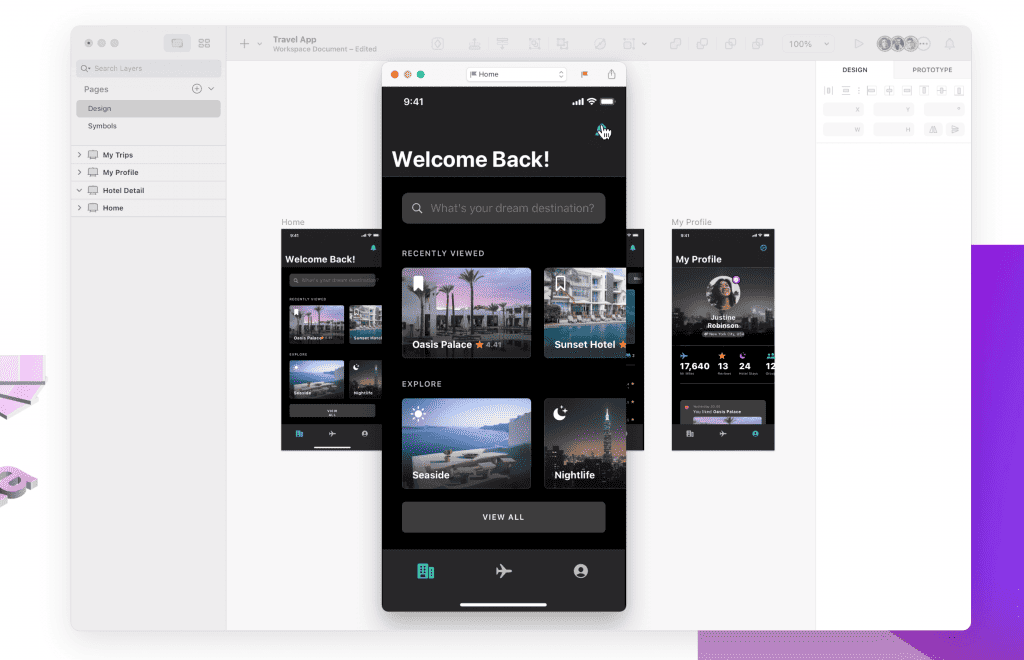 For example, because Sketch is a vector-based design tool, you can create scalable graphics and designs of any size without losing the quality.
In addition, it helps you design complex user interfaces with the artboard feature, which allows you to create multiple pages or screens in a single file. Along with creating your own icons and styles to maintain design consistency.
It allows you to export your designs in a variety of formats, even allowing you to export specific parts of your design in different sizes and resolutions.
Overall, Sketch is a powerful design tool that's especially popular among web and app designers. However, to use this tool effectively, you need some design expertise.
It only has a paid plan with the following prices:
Standard – $9 Monthly/per editor
Business – $20 Monthly/per editor
#9 – Figma
Figma is also a popular web-based design tool that helps create websites and applications.
It stands out for its collaboration features, allowing designers and developers to work together in real-time on the same design file, making it a great tool for remote teams.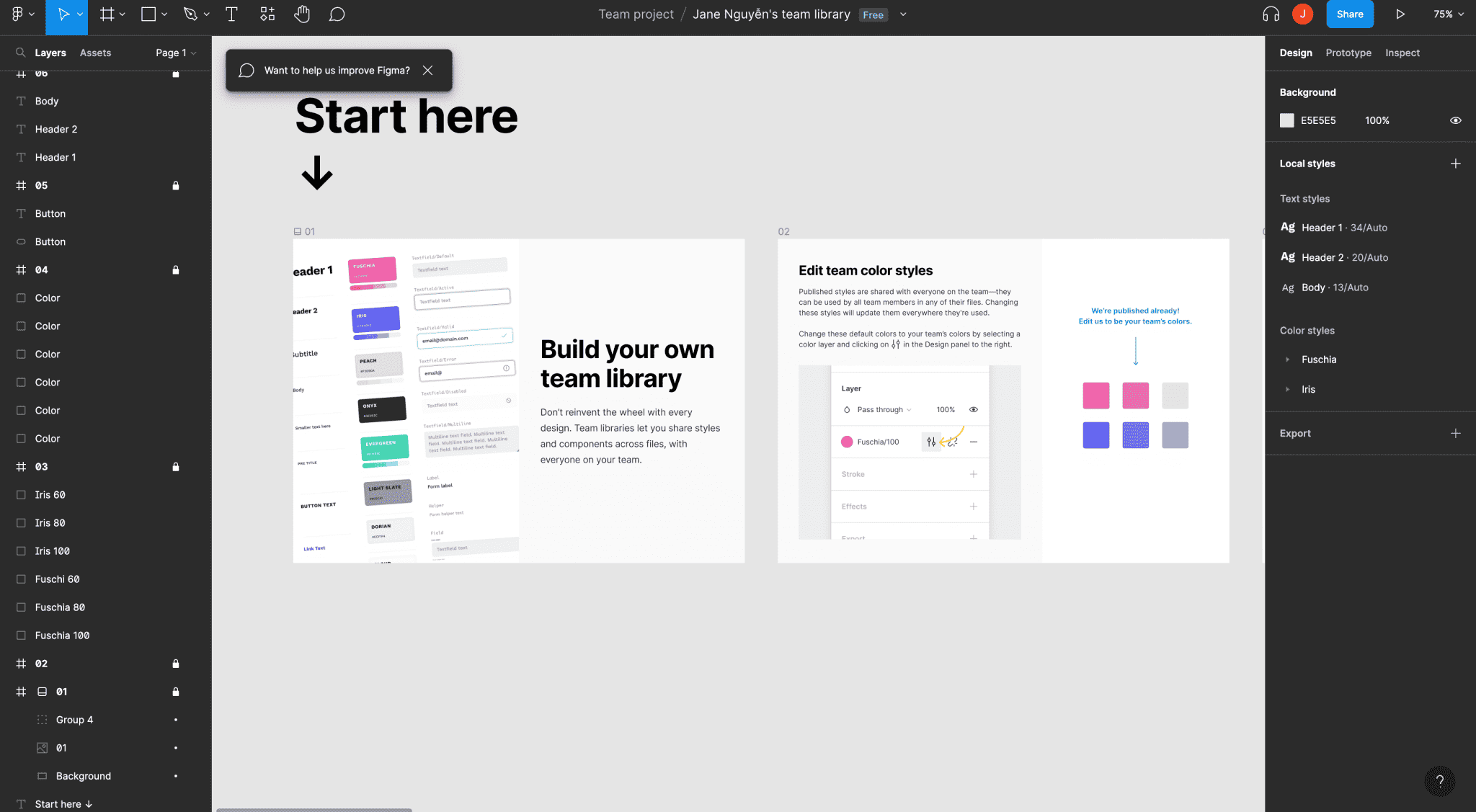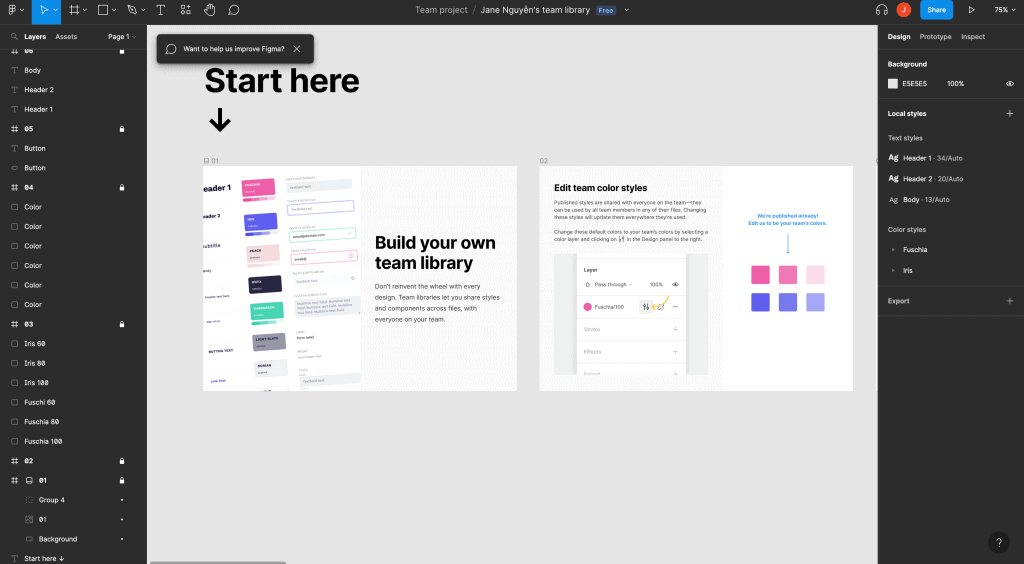 In addition, it also allows you to create interactive prototypes of your designs, which can be used for testing and user feedback.
Similar to Sketch, Figma has vector editing tools that help you create and edit shapes and vector graphics with great precision.
It also features a team library that allows you and your team members to share design assets and components across their entire team, ensuring design consistency and efficiency.
Another difference in this tool is that it automatically saves the version history of design files, so you can go back to previous versions of your design and undo changes if needed.
It has the following price plans:
Free for starters
Professional – $12 per editor/month
Organization – $45 per editor/month
#10 – Wix
So, which one if better? Wix vs Canva? If the above two tools require you to have the design knowledge to use them effectively, Wix is a much simpler solution.
Wix is a cloud-based website builder that helps you create and publish your website without knowing how to code. Anyone can use it without knowing web design.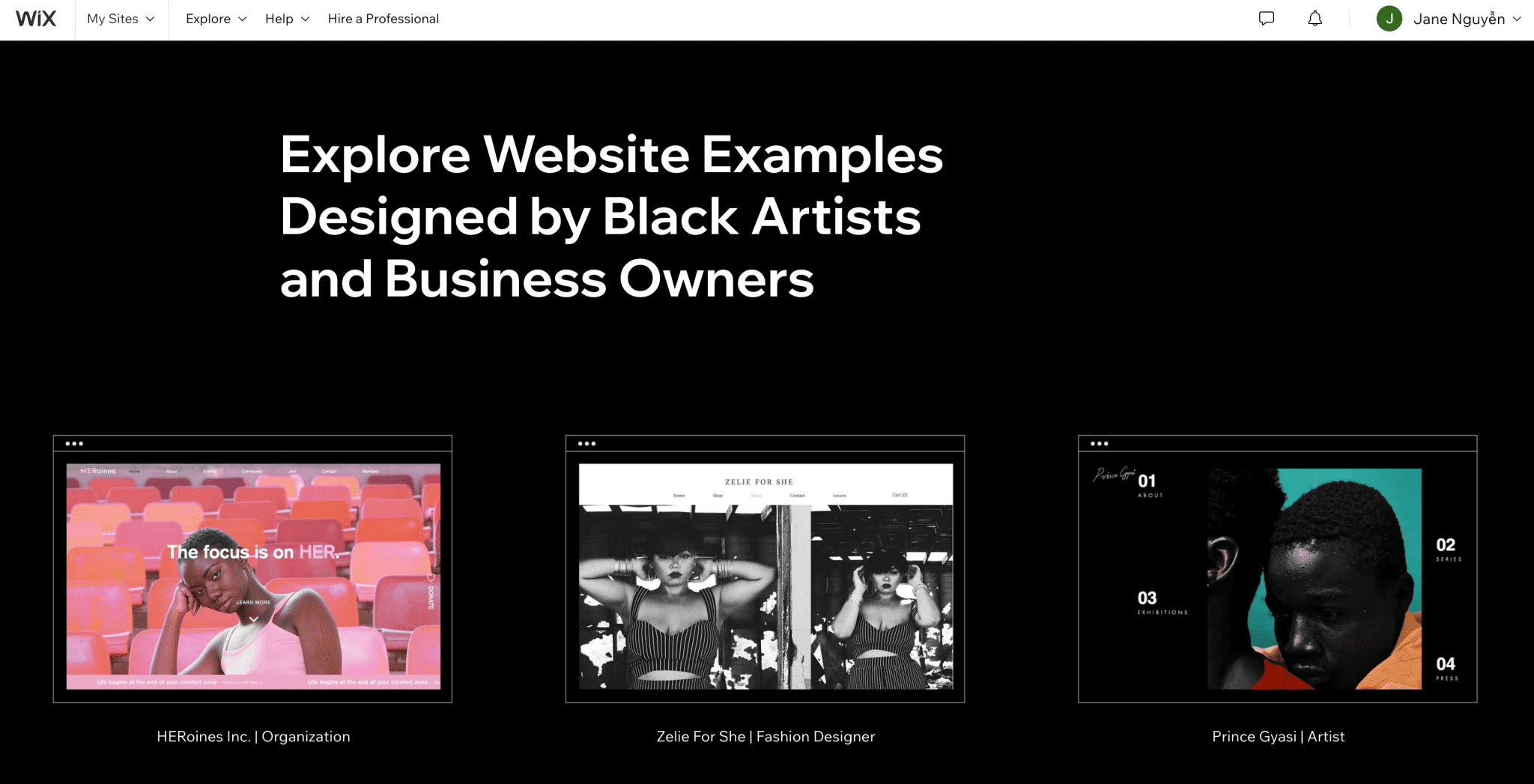 In addition to providing hundreds of professionally designed website templates for users, Wix's editor allows you to easily drag and drop elements onto your website, making it easy to customize and edit just the way you want.
In particular, it also automatically optimizes the design pages for all devices, ensuring that your website looks great on both computers and mobile phones.
It also has built-in e-commerce features, including payment processing, inventory management, shipping, and tax calculation. It even includes tools to help optimize websites for search engines, such as custom meta tags, page titles, and descriptions.
Overall, with its easy-to-use and diverse features, Wix is becoming a good choice for individuals and small businesses who want to create a professional website without hiring a developer.
It offers different pricing plans to suit different needs and budgets:
Free
Individual package: Starting at $4.50/month
Business and e-commerce package: Starting at $17/month
Enterprise: Private Quote
Canva Alternatives For Branding and Printable Products
#11 – Marq
If you need to design brand publications, Marq (also known as Lucidpress) is an online design and publishing tool that may meet your requirements.
It offers customizable templates and design tools for creating print layouts, such as brochures, flyers, newsletters, and reports.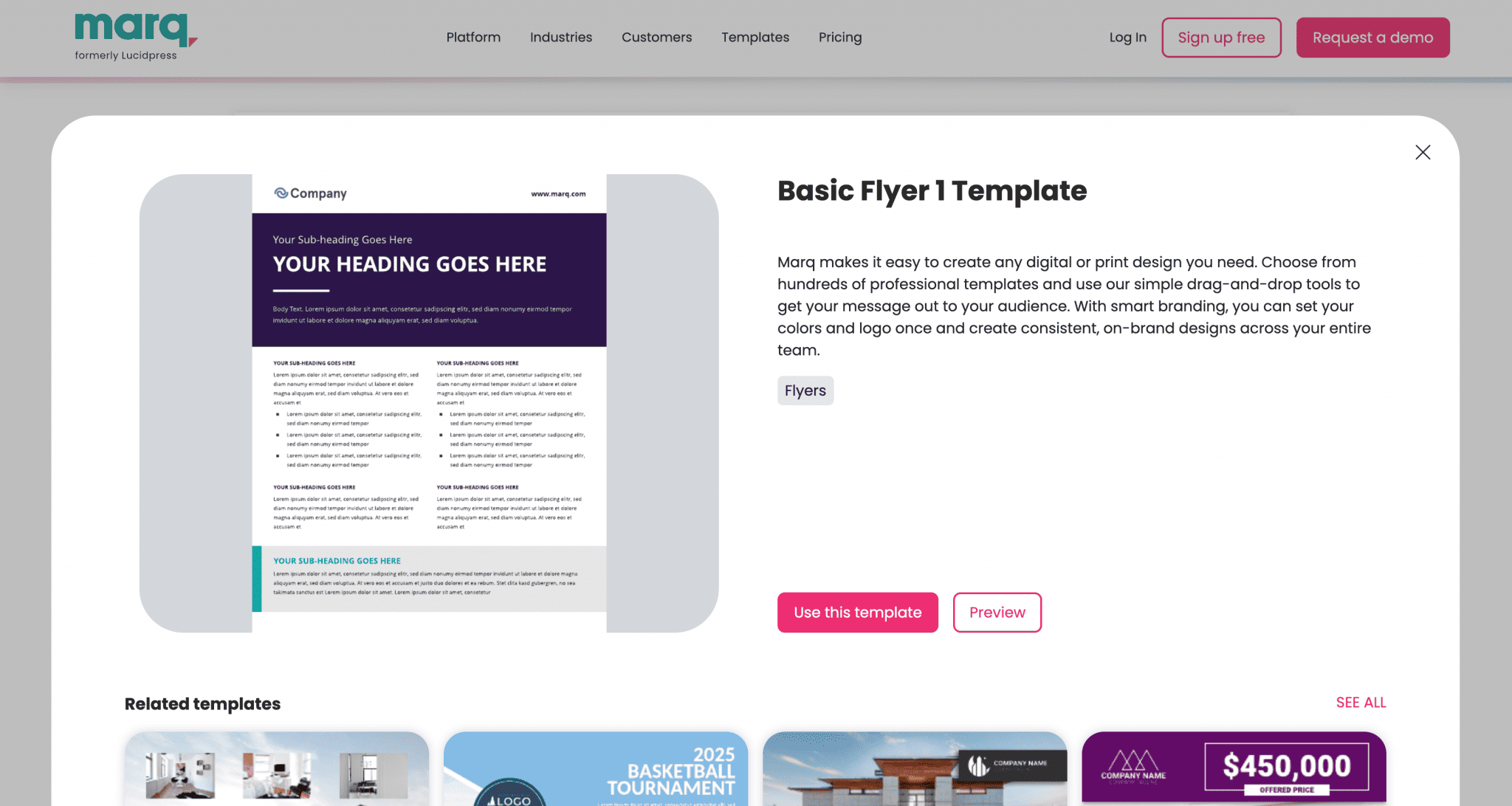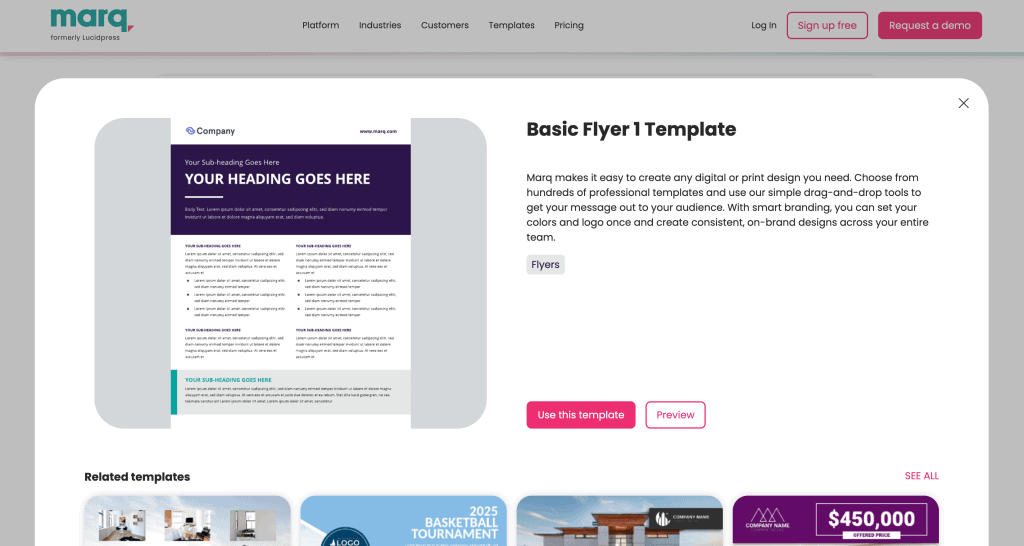 The platform also makes it easy to customize designs with drag-and-drop tools, image editing, font selection, text colour, etc.
Additionally, if your product already has a brand guideline, you can upload your brand assets, such as logos, fonts, and colours, to ensure that designs stay in line with the brand.
It also offers a variety of publishing options, including PDF download, print order, and high-quality online publishing.
Marq is a useful design and publishing tool that offers plenty of features for creating professional-quality designs. Businesses, educators as well as design professionals should consider using this tool to achieve efficiency without spending too much time or effort.
Similar to Canva Alternatives, It has free and paid plans as follows:
Free
Pro – $10 per user
Team – $12 per user
Business – Private quote
#12 – Wepik
One of the effective platforms that can help you create designs for your brand is Wepik.
Wepik offers a library of over 1.5 million designs for various projects, including media graphics, invitations, business cards, brochures, and more.
You can fully customize or change these templates like changing colours, fonts, images, and other design elements to fit your design and branding needs. It also provides a variety of design assets such as icons, illustrations, templates, and backgrounds to enhance the quality.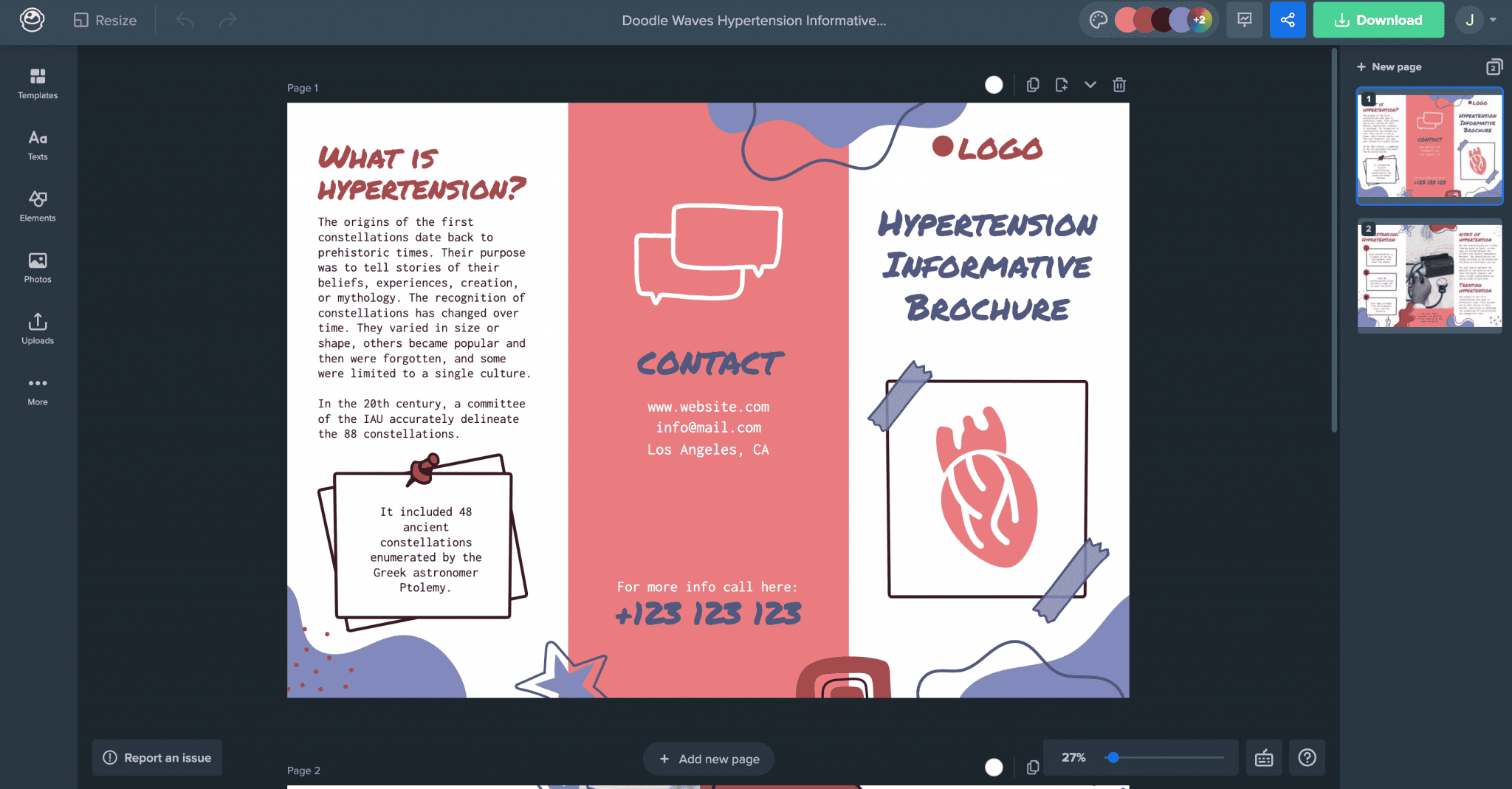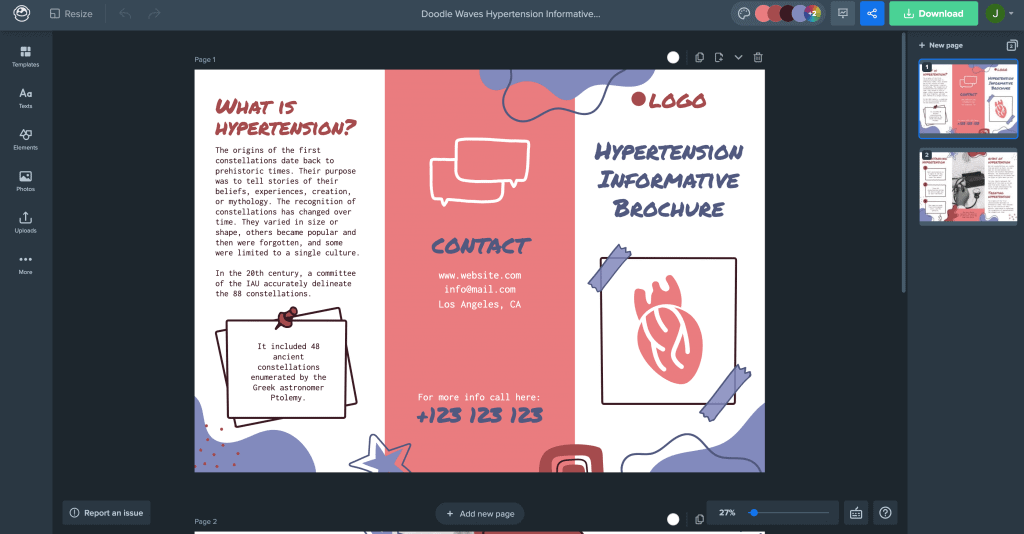 However, despite its ease of use, sometimes you still need more advanced design skills to get the most out of the platform.
Overall, Wepik is a convenient and efficient design platform for designing a variety of publications. It also has easy-to-use editing and collaboration features. Along with Canva alternatives, it is suitable for businesses, designers, and marketers who want to create professional-quality designs quickly.
As far as we find out, Wepik has a free plan. Therefore, if there is an update on the platform's paid plans, it will be updated as quickly as possible.
What Are The Best Canva Alternatives?
As you can see, each of the tools or platforms we mentioned above has different strengths and features, depending on your specific needs and requirements.
While Canva is a popular and widely used graphic design tool due to its high applicability to all types of design, the Canva alternatives serve specific purposes such as presentations, social media posts, web designs, etc.
Therefore, for websites like canva free, it's important to carefully evaluate the attributes, and price, and use reviews of each option before making a decision. You might want to choose the tool, or platform that offers the best balance of functionality and affordability for your specific use case.
frequently asked questions
Frequently Asked Questions
---
So, what's better than Canva? Or, still looking for Canva but free? Contact us to get further support...
Whether there's a "better" program than Canva depends on quite a few factors, including your personal preferences, specific design needs, and budget. However, there are certainly other graphic design programs that offer similar features to Canva.
For example, AhaSlides is a powerful design platform that offers many features for interactive presentations and is suitable even for non-designers.
It is essential that you know what you design for and should consult reviews before choosing.
Yes, there are many free programs similar to Canva that provide basic graphic design features and templates for users to create designs for presentations, social media, marketing materials, etc.
You can refer to the top 12 Canva Alternatives in this article, they are all platforms and tools that have both free and paid plans that are suitable for many budgets.
Yes, several platforms and tools are similar to Canva and offer similar or even better features and functionality, như 12 Canva Alternatives nêu trên. 
Each of these options has its own strengths and weaknesses, but they all offer similar attributes and can be used to create high-quality designs for different purposes.