Videoscribe is awesome don't get me wrong – being able to hand draw animations right in your browser is so cool.
But it's not always the perfect fit. Maybe you want more flexibility in your visuals, better collaboration features, or a free plan.
That's why today we're spilling the beans on some of the top Videoscribe alternatives that might be a better match for your needs.
Whether you need character video animation, whiteboarding functionality, or something in between, one of these apps is sure to level up your video storytelling.
Let's check 'em out so you can find your new go-to for crafting engaging explainers and tutorials👇
Table of Contents
More Alternatives with AhaSlides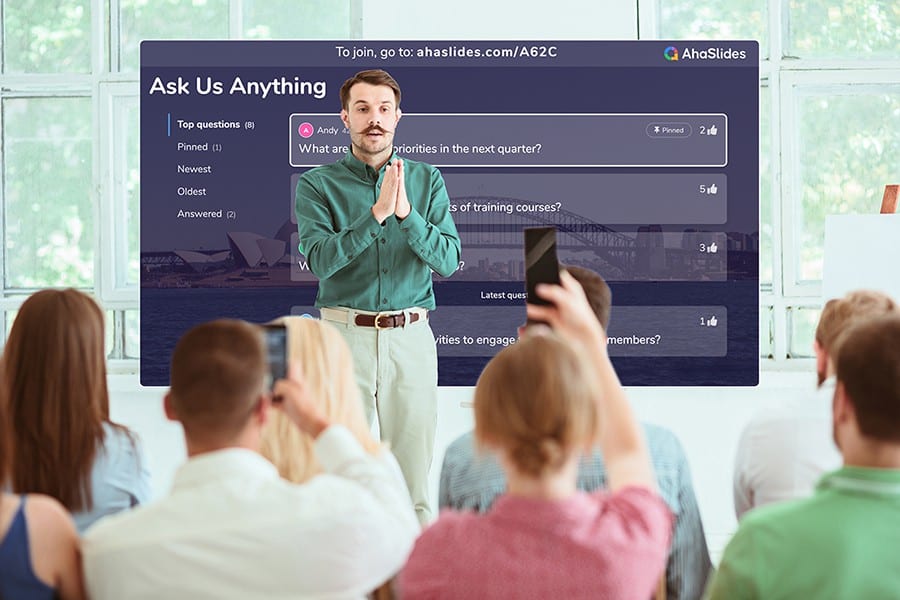 Looking for More Fun During Gatherings?
Gather your team members by a fun quiz on AhaSlides. Sign up to take free quiz from AhaSlides template library!
🚀 Grab Free Quiz☁️
VideoScribe's Pros and Cons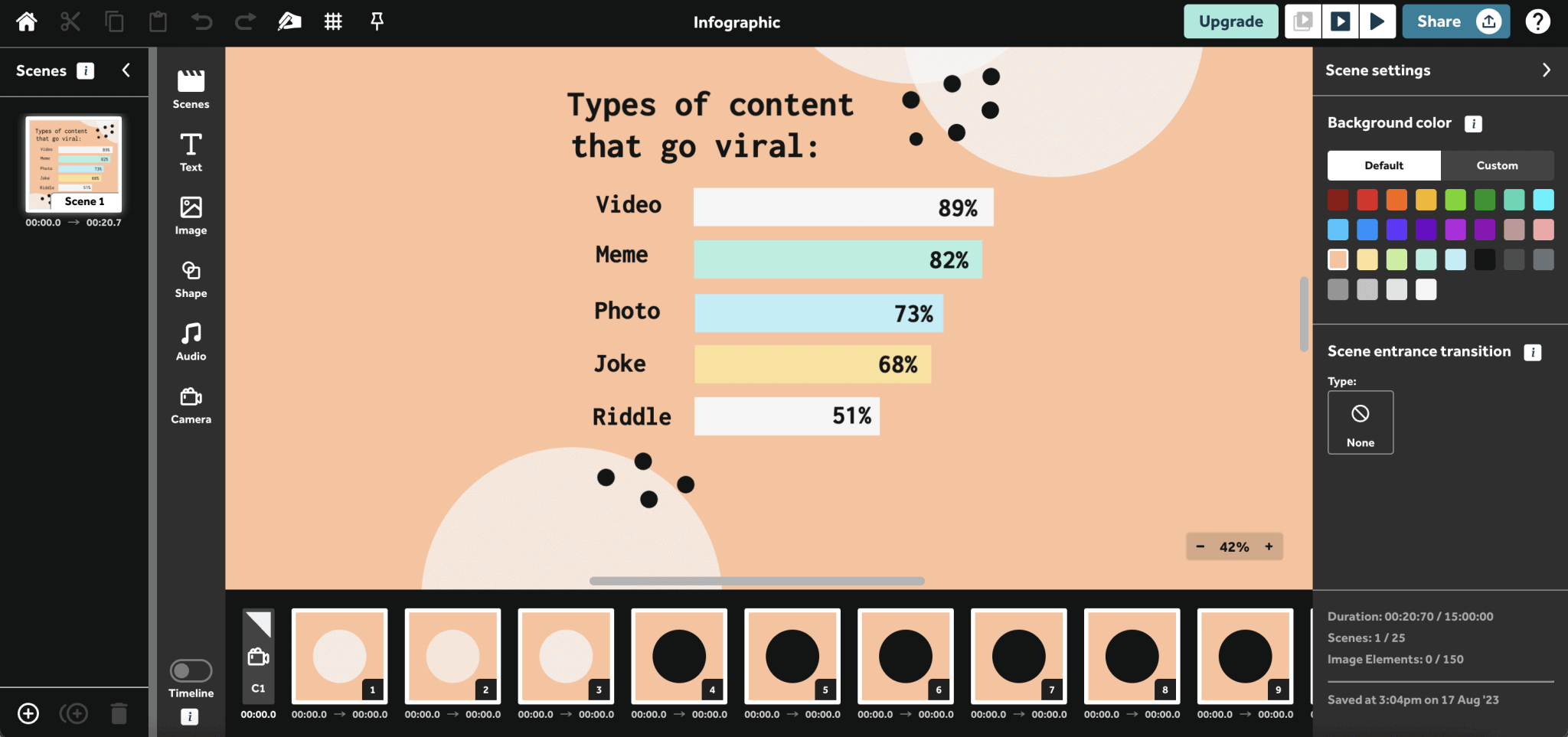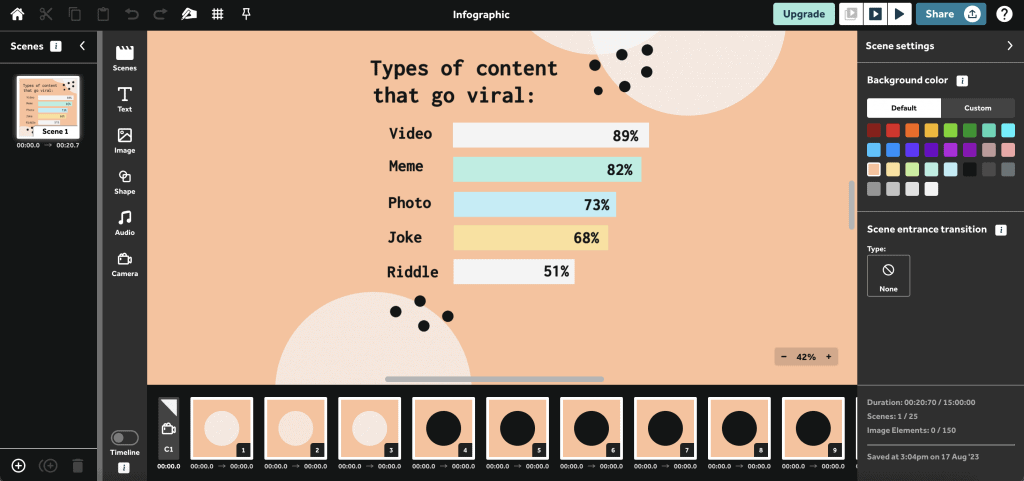 VideoScibe is undeniably a popular choice for people who want to create a professional-looking whiteboard animation video without prior knowledge of it. Before we dive into other alternatives, let's consider their advantages and limitations first:
• Easy-to-use interface makes it simple to create hand-drawn whiteboard animations. No coding or drawing skills needed.
• Large library of characters, props and effects to choose from for illustrations.
• Collaborative features allow sharing and co-editing projects with others.
• Produces high-quality output videos that are polished and professional-looking.
• Can publish videos to Vimeo, PowerPoint, and Youtube platforms.
• Premium images require extra cost and aren't included in subscriptions.
• Search functionality for stock images can be inaccurate/mislabeled at times.
• Importing own images has limitations on formats and animation options.
• Voiceover recording only allows a single take with no editing.
• Export/rendering times can be slow for longer or more complex videos.
• Pricing may not be ideal for hobbyists or occasional users.
• Interface has not been significantly updated in recent years.
• Regular software updates sometimes cause issues with old projects.
Best VideoScribe Alternatives
There are a variety of apps that offer many similar features to VideoScibe, but here are the best VideoScribe alternatives, tested by us below:
#1. Biteable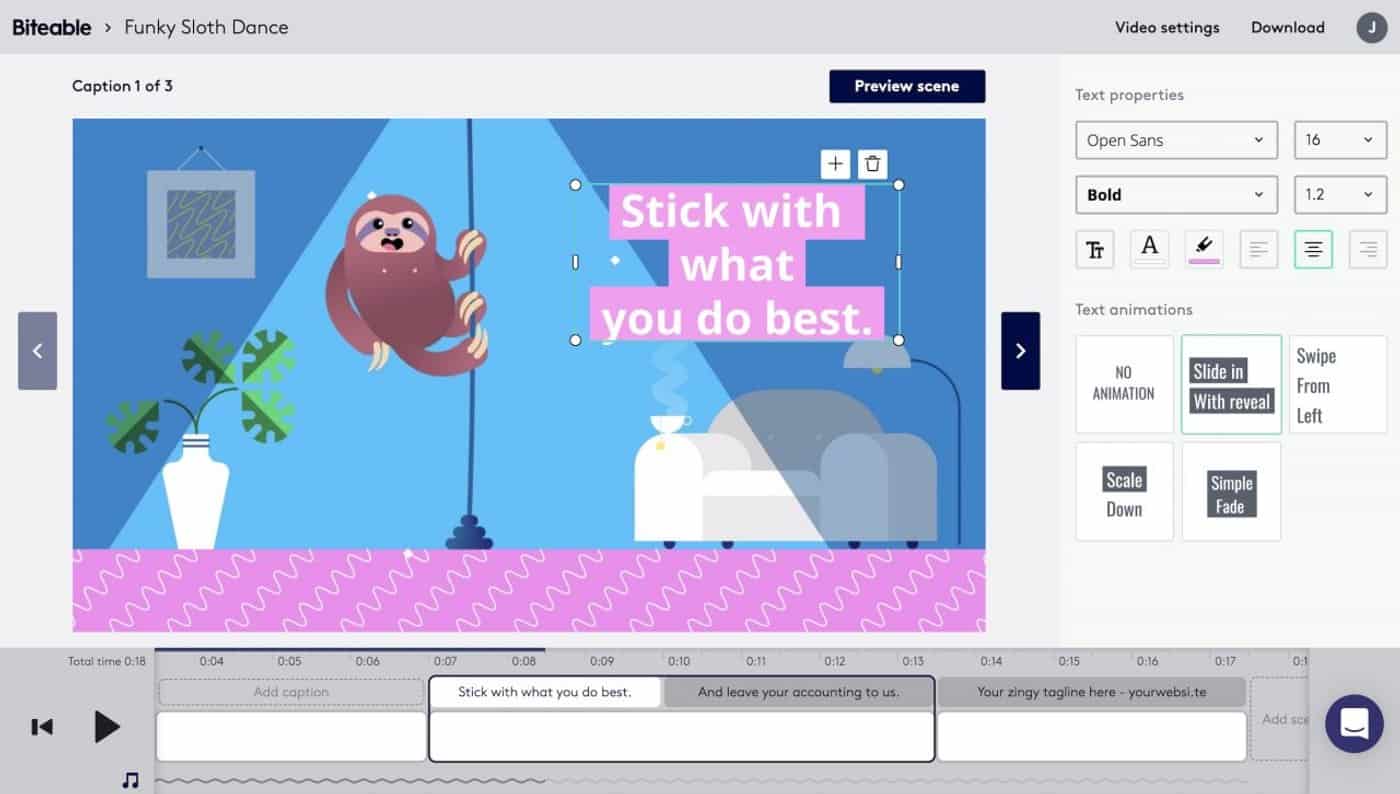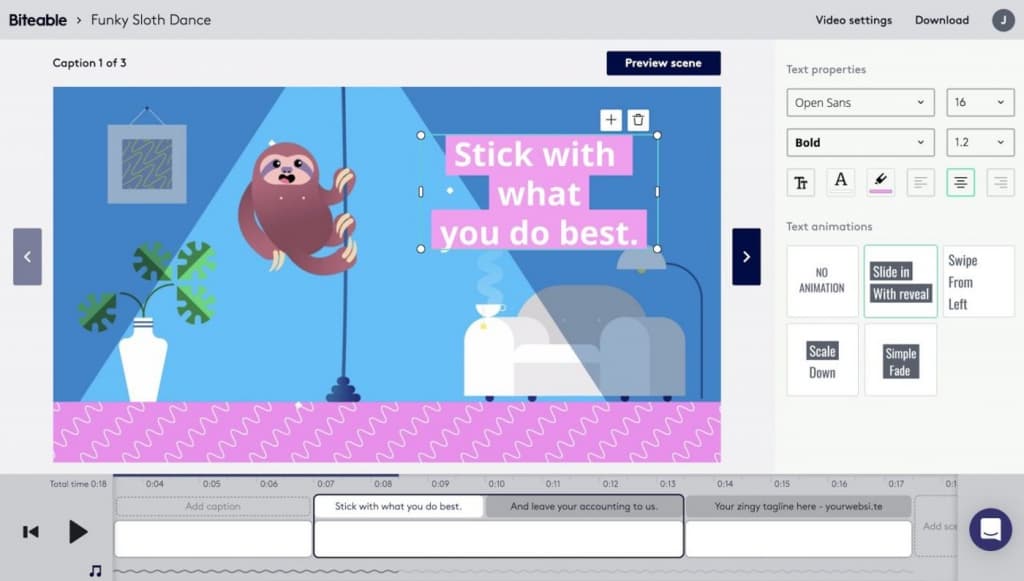 Are you lookin' to create some sweet videos but don't wanna spend hours learnin' some complex editor? Then Biteable might be the tool for you!
Biteable has tons of easy-to-use templates that are perfect whether you're a solopreneur just getting started, a marketing wiz, or running a whole agency.
They even have templates for wedding invites! If your vid needs some flair with animations or motion graphics, Biteable will be your BFF.
Some key features that make Biteable so rad:
Super simple drag-and-drop editor that even a noob can navigate.
Huge library of templates for personal or biz vids of all kinds.
Options to customize with your own branding swag.
Templates made specifically for killin' it on social media like TikTok, Facebook, Insta, and YouTube.
Slick royalty-free music selection to soundtrack your masterpiece – Bring in your own graphics to really make the vid your own.
Some other awesome perks are unlimited exports so you can share everywhere, tons of fonts to choose from, and tools to collaborate easily.
Prices aren't too crazy either compared to some other editors. Really the only cons are limited customisation in places, and you need the max plan for full team collaboration.
#2. Offeo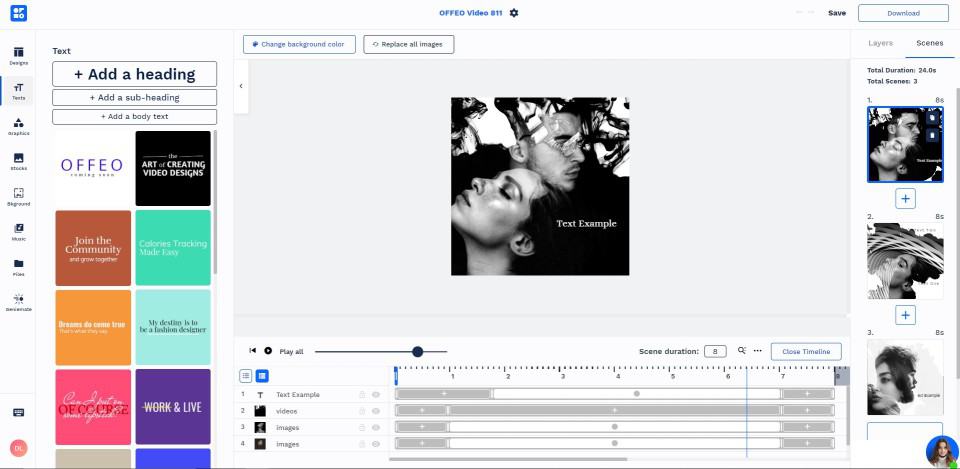 Offeo's bringing the heat with over 3000 drop-dead gorgeous video templates for any project you're working on. Need something for socials? They got you covered. Ads or websites? No problem.
Templates come formatted to absolutely POP on any platform so your vids will dominate Facebook, Instagram, LinkedIn – you name it.
The user-friendly timeline editor makes video creation simple without needing design skills.
Templates can also be fully customised with your own branding, logos, and colours to make videos uniquely yours.
Their extensive photo and royalty-free music library is a huge plus, making it a worthy VideoScribe alternative, but the animation and stickers from the design assets are sadly limited in contrary.
There are still a lot of prevalent bugs, such as delays when showing previews, slow rendering, or problems uploading your own picture.
You'll need to purchase Offeo as there's no free trial available.
Communicate Effectively with AhaSlides
Make your presentation genuinely fun. Avoid boring one-way interaction, we'll help you with everything you need.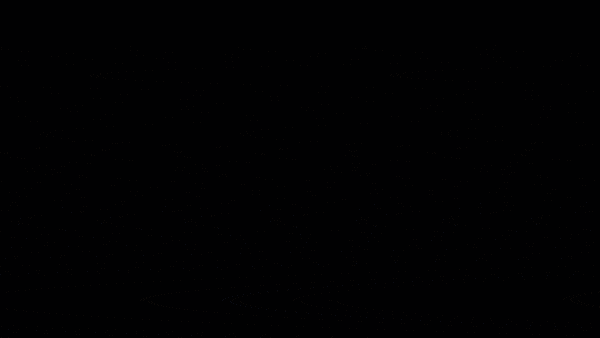 #3. Vyond
Vyond is the plug if you need vids stat to amp up engagement and captivate audiences! This animation software is the truth for marketing peeps, trainers, e-learners – basically anyone looking to level up their communication game.
We all know stories are the real deal when it comes to capturing people's attention. And Vyond as a VideoScribe alternative helps you spin some seriously great visual yarns through vids that reflect your brand and suit different departments on fleek.
It's also a straight-up steal as a free VideoScribe alternative if you're trying to save some dough.
Peep these killer features:
Huge customisable template selection to serve up vids fitted to your biz needs on a silver platter.
Stacked library of sounds, props and MORE to raise those important metrics like conversions.
Easy creation tools got you feeling like a master storyteller in no time flat.
As a cloud-based software, it can be slow or clunky at times. More character poses, motion paths, effects and props need to be added.
Timeline and scene management can get cumbersome for longer/more complex videos with multiple characters and actions.
#4. Filmora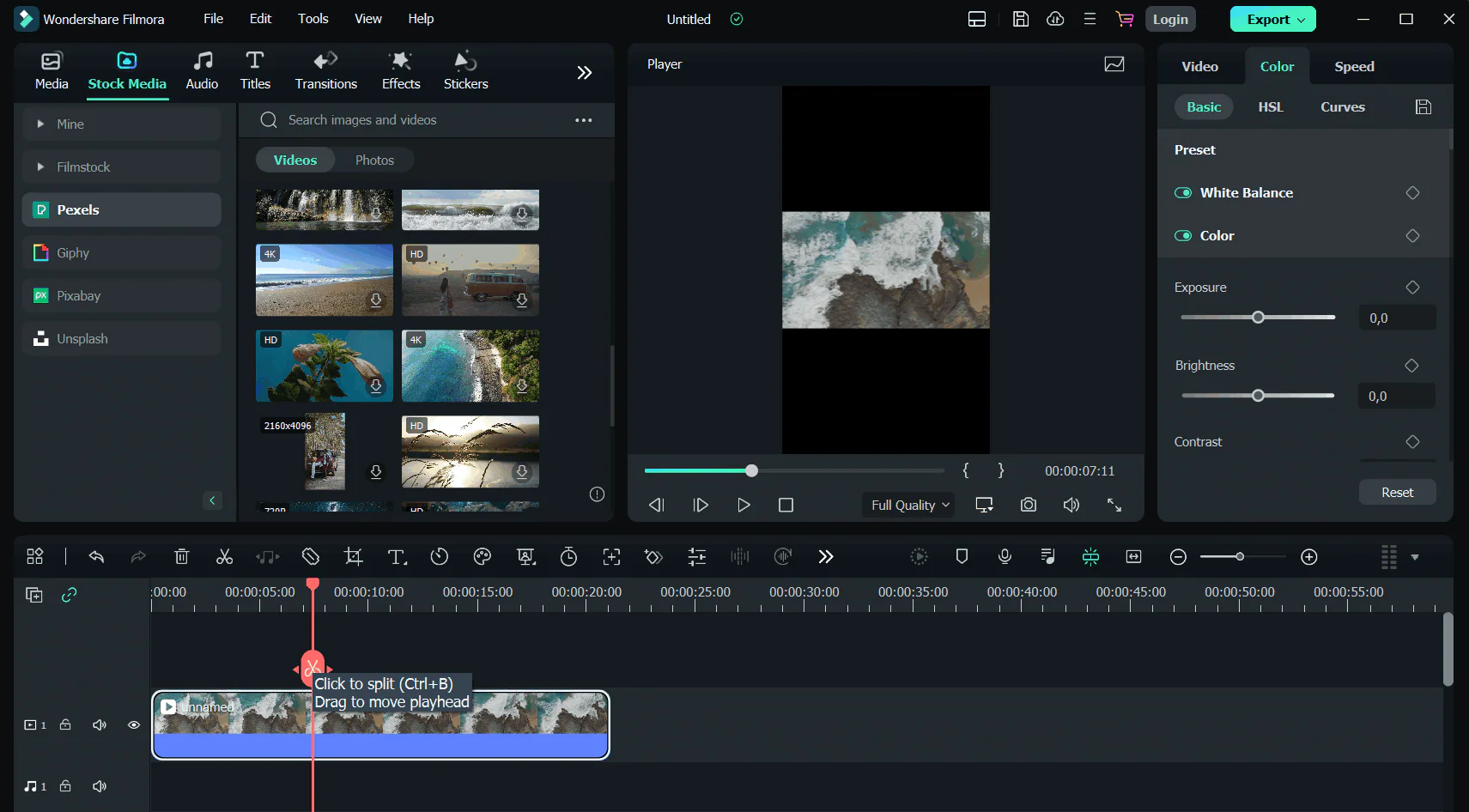 This isn't your basic baby editor – Filmora comes strapped with pro tools like audio mixing, effects, recording straight from your screen, noise deleting, and 3D magic to take your clips Hollywood.
Over 800 variety of styles for text, music, overlays, transitions – you name it. 4K action in crystal clear quality with speed control, motion tracking, and silence detecting on fleek.
Keyframing, ducking, tracking – the features are next level. Export tight vids in any format, edit on multiple tracks and split screens. Preview renders keep the magic flowing smoothly.
With Filmora as a VideoScribe alternative, your animations and transitions will stay ZOOMIN thanks to 2D/3D keying. Split screens make complex clips a breeze. Unique filters, effects and animations got you flexing on them.
It's budget-friendly for the specs – way cheaper than big studios but still serving that expert flavour with features like green screening and colour correcting.
Export tight to YouTube, Vimeo and Instagram plus multilingual – this editor speaks your language.
The only con is the 7-day trial doesn't last. Budgets on a dime gotta look elsewhere. There's a steep learning curve for newbies. Hardware requirements can be intense for some PCs, as clips get big, lag may occur.
#5. PowToon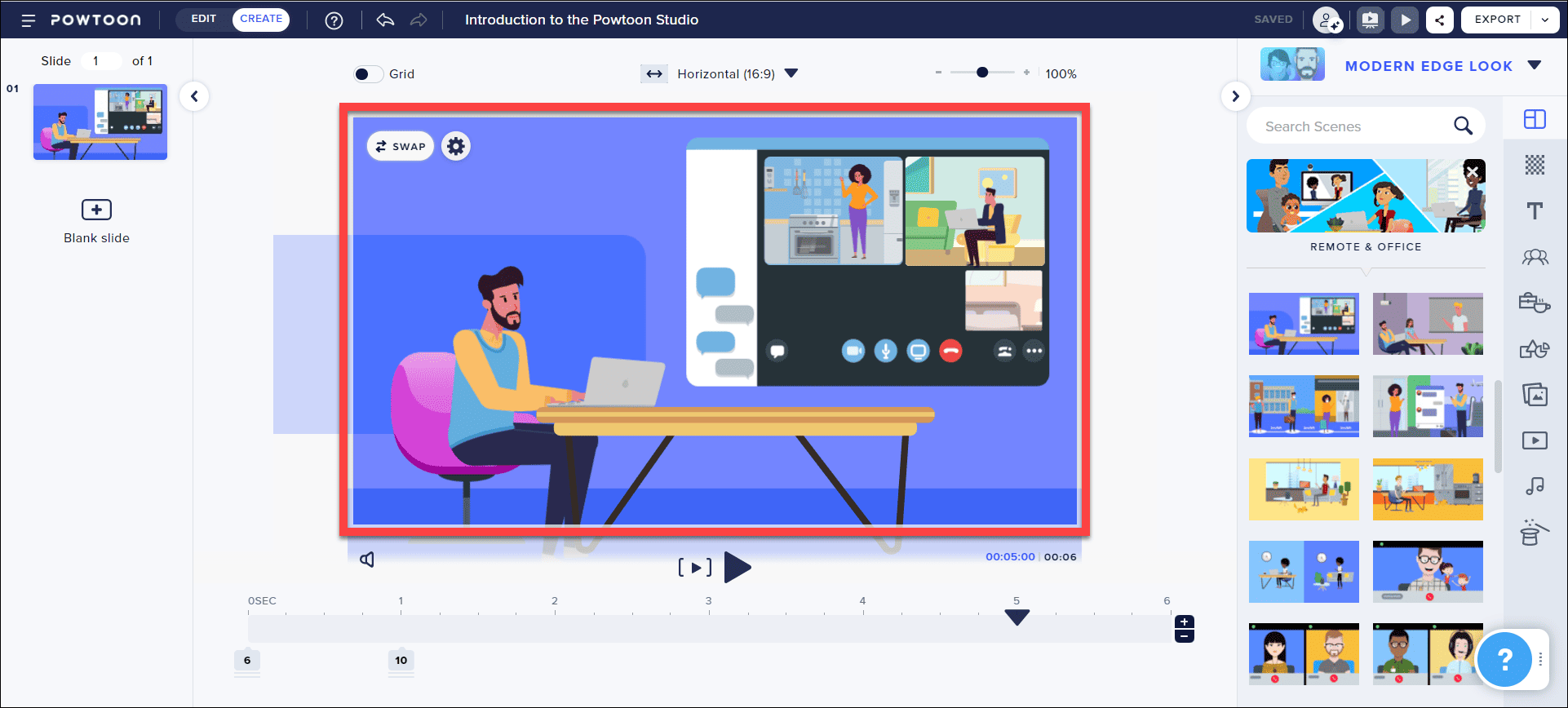 This VideoScribe alternative – PowToon is the plug for animated videos that captivate audiences on the spot.
With this drag n' drop editor, designing dope clips is a breeze. Just drop sounds, templates, characters and elements into place.
Whether you're solo hustling, running a small biz or a marketing machine, this tool has you covered. You can reach massive audiences across platforms like Facebook, Canva, PPT, Adobe and more.
PowToon gifts a treasure trove of ready-made templates, characters with expressions on fleek, royalty-free footage, and soundtracks. Over 100 styles at your fingertips.
Plus exclusive extras like screen recording and webcams so you can drop knowledge through walkthroughs on the spot.
Some potential drawbacks of Powtoon to consider:
Screen capture functionality is limited/rudimentary for some users' needs.
Templates and options could have more variety in some cases, like additional character options.
Animations are limited to half-second increments only, without more precise timing controls.
Hard to create fully custom character animations within the tool.
The free version includes a visible watermark that some may find annoying.
#6. Doodly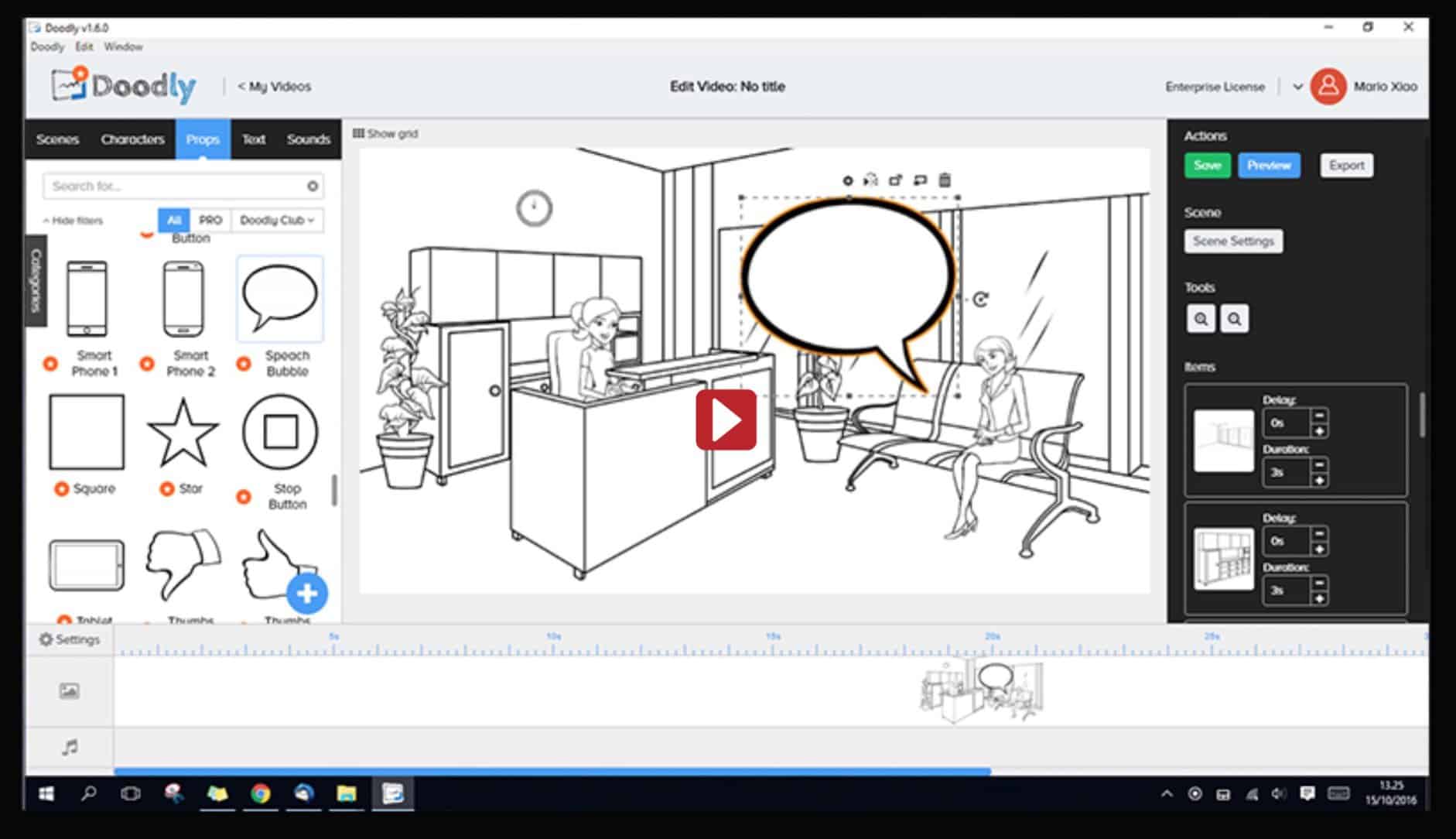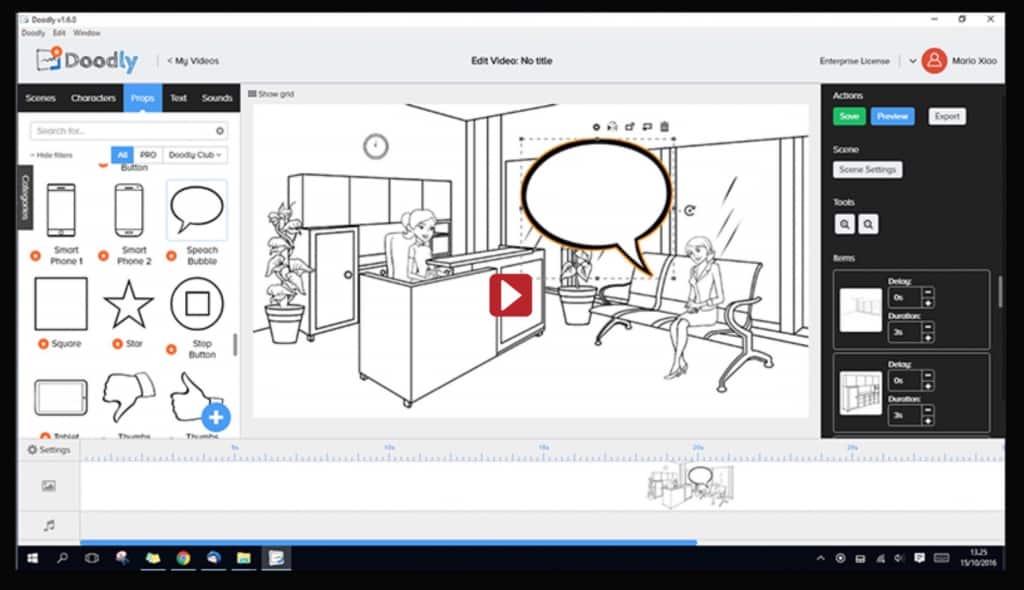 Doodly's got you covered as an intuitive VideoScribe alternative.
This cool doodling tool makes pro-level vids easy – just drop in sounds, pics, and your voiceover and let it work its magic.
Their Smart Draw mode adds next-level flow. Select hand styles, colours on fleek and custom characters that'll elevate your clip to viral status.
Crank those royalty-free tracks across any genre while Doodly animates like a pro. Whip up whiteboards, blackboards or glass boards – the options are bussing.
Still, Doodly also have some limitations, such as:
Long export process. It can take some time to export finished videos from Doodly even with a good PC.
No free trial. Users cannot try out Doodly before purchasing, which may put some people off.
Colour limitations in the standard/basic version. Only black and white doodles are available without paying extra for the rainbow add-on.
There's no prior training and slow customer service response makes the onboarding process harder for us.
#7. Animoto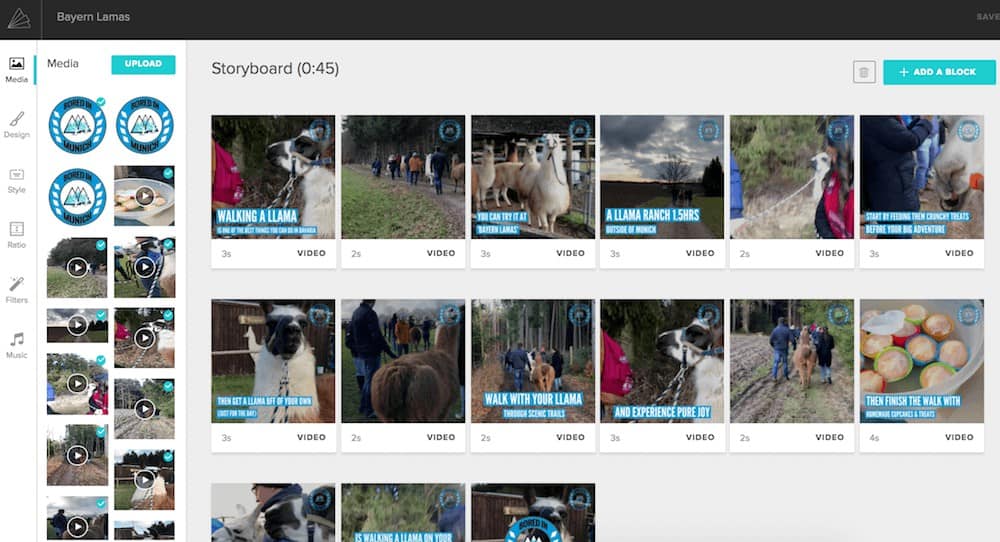 Animoto is a nice VideoScribe alternative used by major players like Facebook, YouTube and HubSpot.
The tool locks in on splicing pics into slideshows and vids. It's great for newbies and beginners who just want to create a simple fun video in a finger snap.
Being a player in the market for many years, Animoto comes equipped with smooth compilation and no glitches.
With an extensive template library ready for any occasion, the tool is quite affordable and has a free trial. You'd need to upgrade to use licensed music tracks.
Beware that the control of texts and images on video is quite limited, some of the templates also appear to be outdated and need to be updated regularly in order to be on par with other tools.
Key Takeaways
While VideoScribe remains a popular option, there are several excellent alternatives available that offer their own unique features and capabilities.
The best alternative truly depends on your specific needs and budget.
By choosing the software that suits your needs, you can create visually stunning videos that effectively convey your message.
And don't forget AhaSlides can also be a fire tool to captivate your audience in real-time. Head to our Template Library to grab a ready-made presentation right away!
Frequently Asked Questions
Can I get VideoScribe for free?
You can try VideoScribe for 7 days. After that, you'll need to upgrade to have access to all the features.
How to do whiteboard animation for free?
Try online free tools like Powtoon, Doodly, or Biteable. They offer limited templates and assets but are very beginner friendly. Or use a free plan on paid software like Animoto, Explaindio, or Vyond. They have basic features unlocked at no cost.
Can I use VideoScribe in Mobile?
You can use VideoScibe on mobile but it's not recommended since the functionality on mobile is very limited.
Is VideoScribe free for students?
VideoScibe offers a free trial for 7 days. You can use their student discount to unlock all features.