When it comes to a daunting presentation, people try to look for different support tools to customize PPT in a more efficient way and Beautiful AI is among these solutions. With the help of AI-assisted design, your slides will look more professional and attractive.
However, beautiful templates aren't enough to make your presentation engaging and captivating, adding interaction and collaboration elements is worth considering. Here are some extraordinary alternatives to Beautiful AI, almost free, which definitely help you to create a memorable and interesting presentation. Let's check it out.
Overview
| | |
| --- | --- |
| When was Beautiful AI created? | 2018 |
| What is the origin of Beautiful AI? | USA |
| Who created beautiful AI? | Mitch Grasso |
Overview of Beauitful AI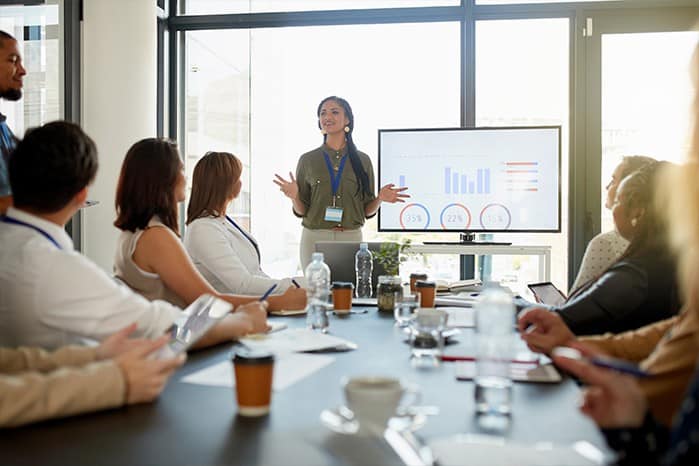 Table of Contents
Better Engagement Tips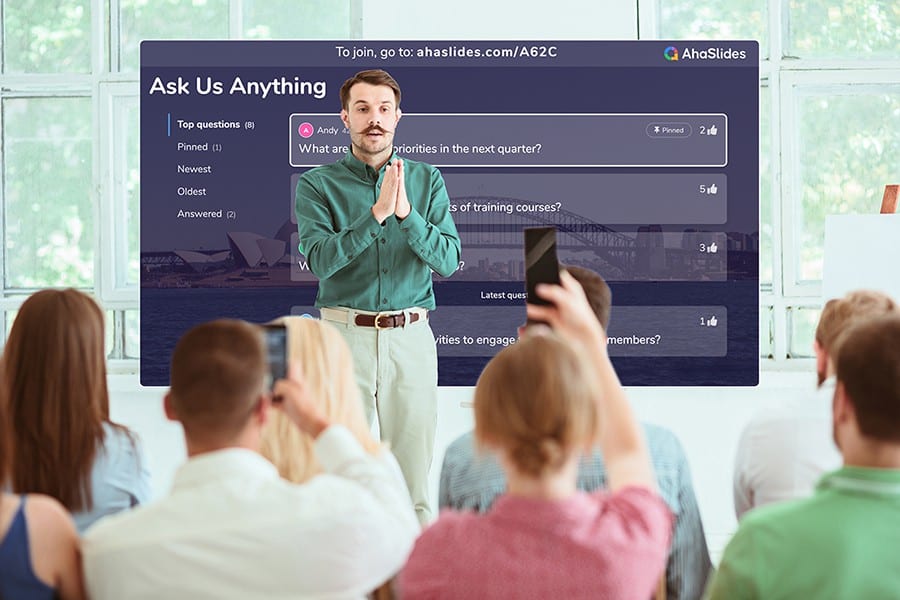 Looking for a better engagement tool?
Add more funs with best live poll, quizzes and games, all available on AhaSlides presentations, ready to share with your crowd!
🚀 Sign Up for Free☁️
#1. AhaSlides
If you need more interactive features, AhaSlides may be the better choice, while if you prioritize design and aesthetics, Beautiful AI may be a better fit. Beautiful AI also offers collaboration features, but they are not as handy as those offered by AhaSlides.
Unlike Beautiful AI, there are more advanced features from AhaSlides like Word Cloud, live Polls, Quizzes, Games, and Spinner Wheel,… can be added to your slide, making it easy to engage with audiences and get real-time feedback. They all can be used in a college presentation, a class activity, a team-building event, a meeting, or a party, and more.
It also offers analytics and tracking features that allow teams to measure the effectiveness of their presentations, including how long viewers spend on each slide, how many times the presentation has been viewed, and how many viewers have shared the presentation with others.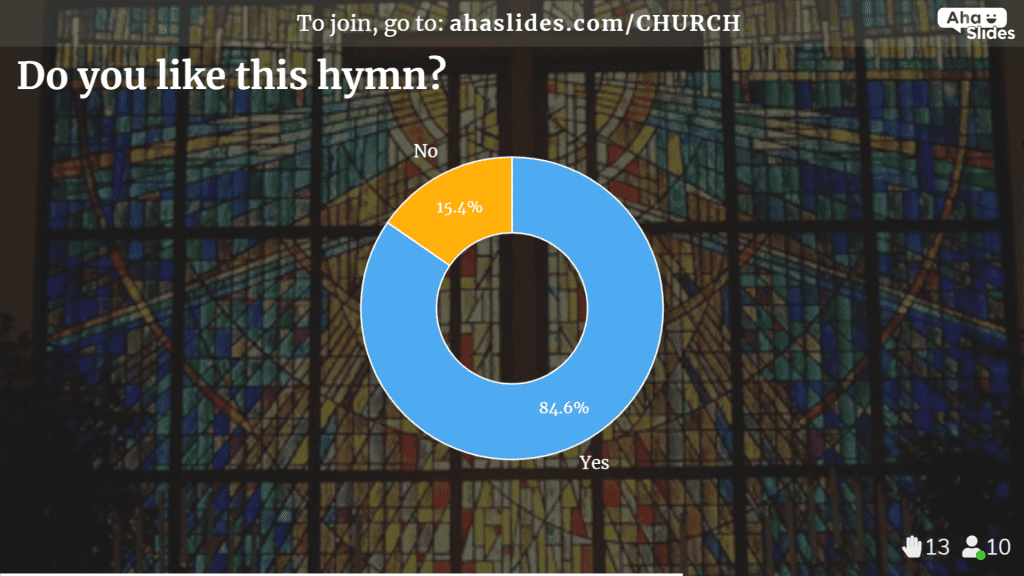 #2. Visme
Beautiful AI has a sleek and minimalist interface that focuses on simplicity and ease of use. On the other hand, Visme offers a diverse range of template collections, with over 1,000 templates across different categories such as presentations, infographics, social media graphics, and more.
Both Visme and Beautiful AI templates are customizable, but Visme's templates are generally more flexible and allow for more customization options. Visme also offers a drag-and-drop editor that makes it easy to customize the templates, while Beautiful AI uses a simpler interface that may be more limited in terms of customization options.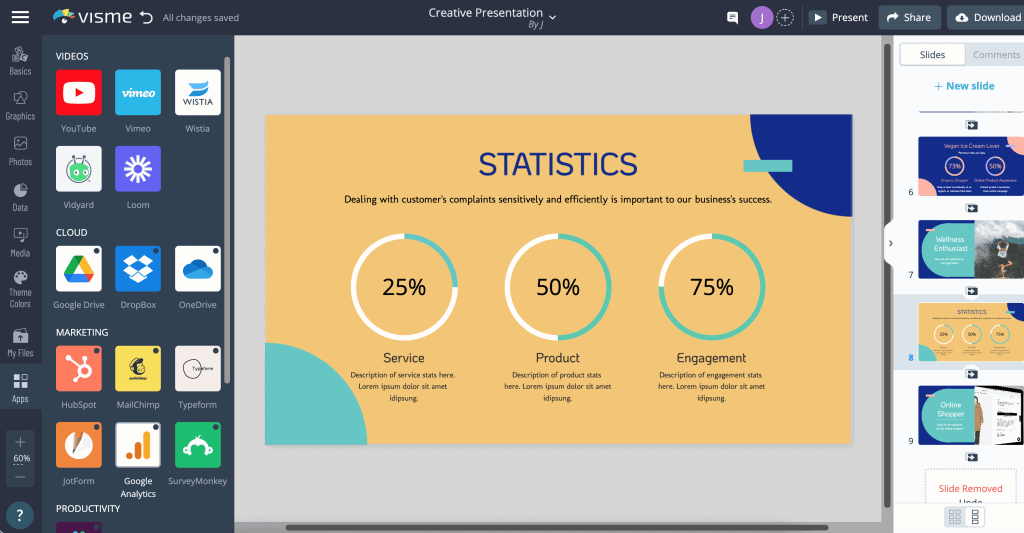 #3. Prezi
If you are looking for an animated presentation, you should go with Prezi rather than Beautiful AI. It is famous for a non-linear presentation style, where users can create a visual "canvas" and zoom in and out of different sections to present their ideas in a more dynamic way. This feature is not available in Beautiful AI.
Prezi also offers quick-editable and advanced animation features. Users can add content to their slides by using the drag-and-drop interface to add text boxes, images, and other elements. It also offers a range of built-in design tools and templates to help users create visually appealing presentations. It also offers robust collaboration features, allowing multiple users to work on the same presentation in real time.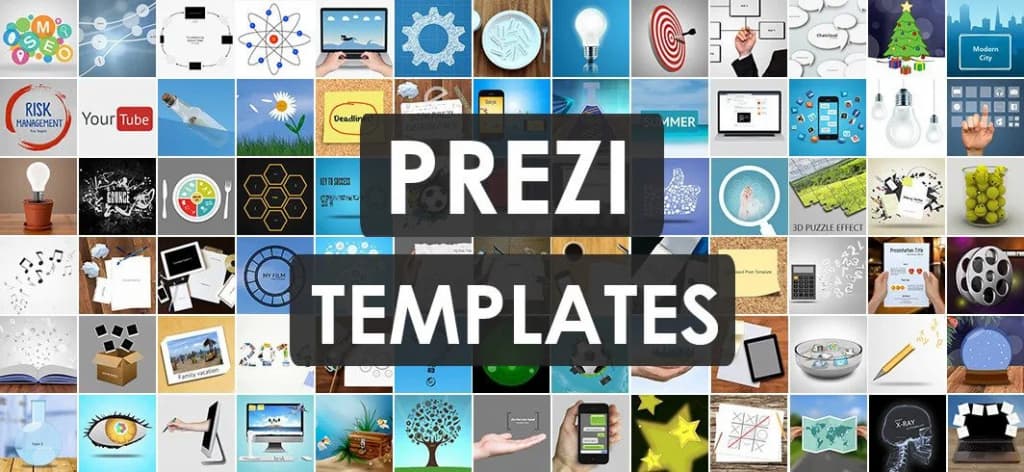 #4. Piktochart
Similar to Beautiful AI, Piktochart also can help to make your presentations better by allowing for easy template editing, integrating multimedia elements, and ensuring cross-platform compatibility, but exceeds Beautiful AI in terms of infographic customization.
It also supports a wide range of file formats and platforms, making it easy to create and manipulate presentations across different devices and operating systems. This can ensure that presentations are accessible to a wider audience.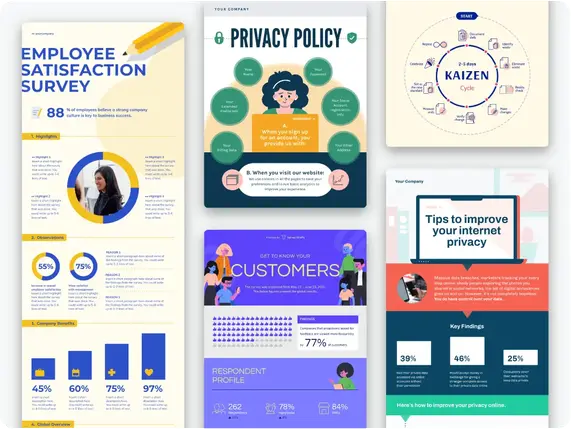 #5. Microsoft PowerPoint
Microsoft PowerPoint focuses more on the traditional slide-based presentation style, Beautiful AI, on the other hand, offers a more visual, canvas-based approach that allows users to create more dynamic and appealing presentations.
As a free software, besides basic editing functions and free simple templates, it also offers you add-in functions to integrate into other online presentation makers (for example, AhaSlides) to get better outcomes including quiz and survey creation, interactive simulations, audio recording, and more.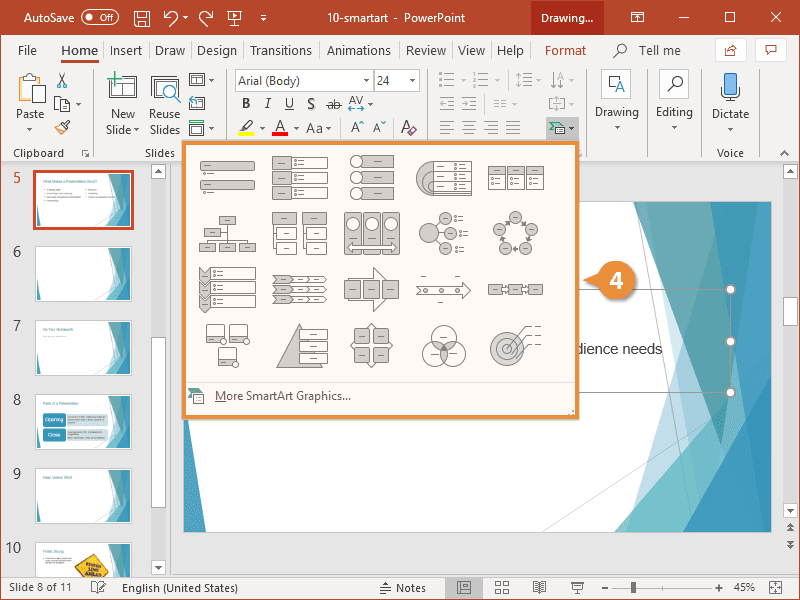 #6. Pitch
In comparison with Beautiful AI, Pitch offers not only well-designed templates but also works as a cloud-based presentation tool designed for teams to collaborate on and create engaging presentations.
It offers a range of features to help teams create visually appealing and interactive presentations, multimedia support, real-time collaboration, commenting and feedback, and analytics and tracking tools.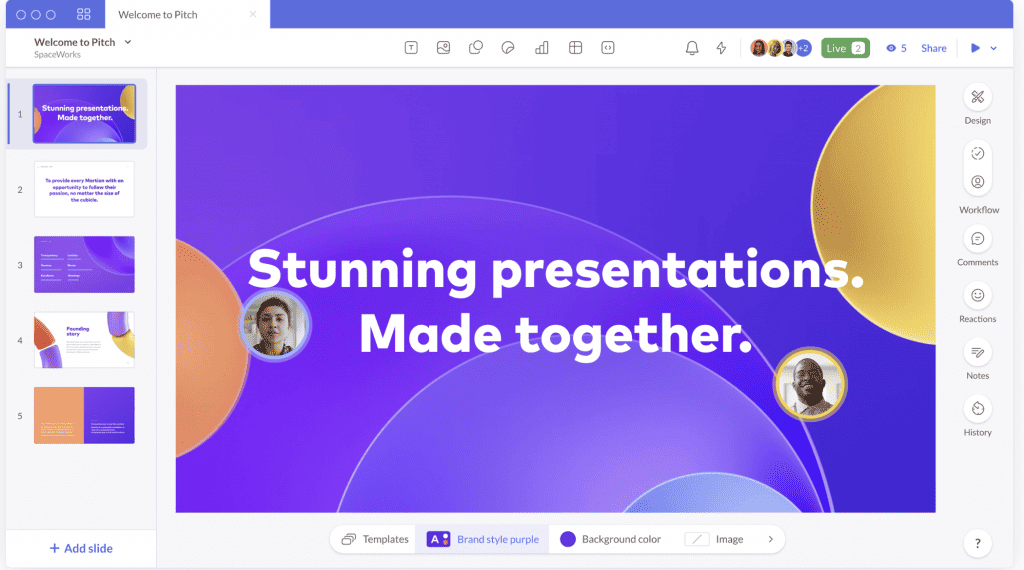 Key Takeaways
Each software was developed to address different customers' demands with both advantages and disadvantages. You can consider using different presentation makers to serve your specific needs at a time, concerning the type of presentation you are creating, your budget, time, and other design preferences.
If you are more interested in interactive presentations, e-learning, business meeting, and teamwork, some platforms like AhaSlides can be the best choice.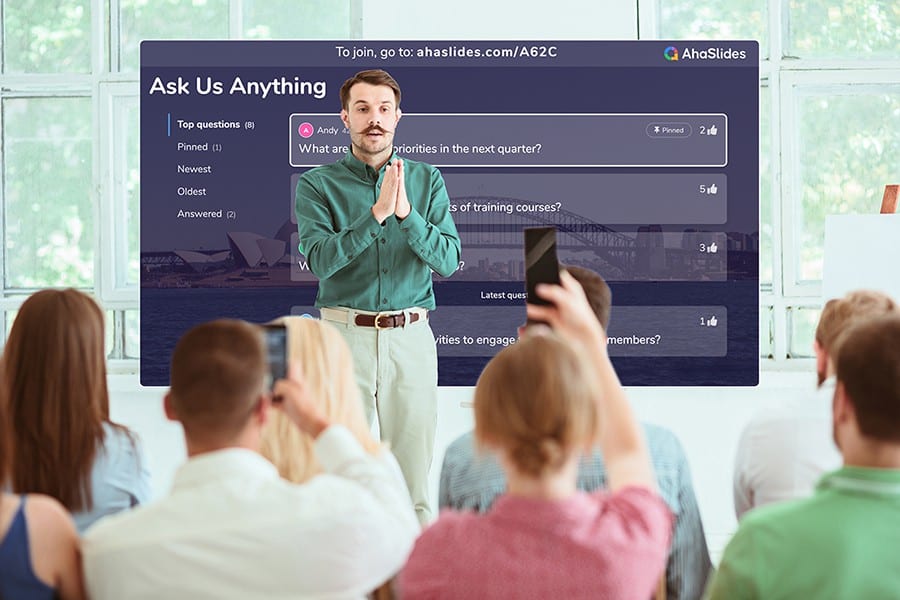 Looking for a better engagement tool?
Add more funs with best live poll, quizzes and games, all available on AhaSlides presentations, ready to share with your crowd!
🚀 Sign Up for Free☁️
Frequently Asked Questions
Main beautiful.ai competitors?
Pitch, Prezi, Visme, Slidebean, Microsoft PowerPoint, Slides, Keynote and Google Workspace.
Can I use beautiful AI for free?
They have both free and paid plan. Major advantage of Beautiful AI is that you can create unlimited presentations on a free account.
Does Beautiful AI automatically save?
Yes, Beautiful AI is cloud-based, so once you typed in the contents, it will be automatically saved.