How to debate for beginners? Arguing is a big, big topic. If you've never done one before, it can be overwhelming to think of what will happen and how you can avoid looking totally clueless in front of everyone.
There is much to learn before you can pluck up the courage to stand at the podium. But don't worry; this debate for beginners guide will give you the steps, tips and examples you need to slay your next debate. So, let's check out these lovely debate tips!
Table of Contents
More Tips with AhaSlides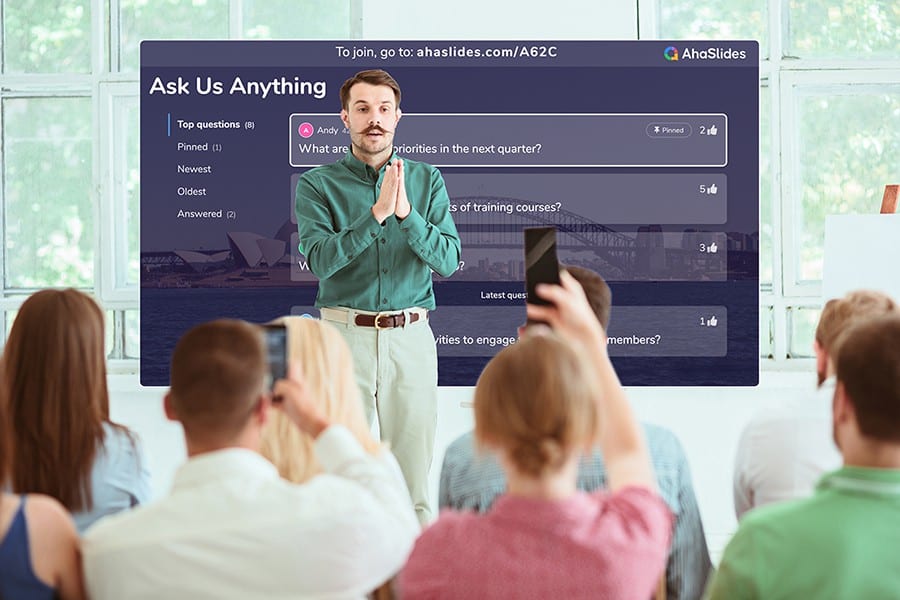 Start in seconds.
Get free student debates templates. Sign up for free and take what you want from the template library!
🚀 Get Free Templates ☁️
How a Debate for Beginners Works (in 7 Steps)
Before you get into how to phrase your arguments like a pro, you'll need to know about how a beginners' debate works. Check out these 7 steps to a debate for newbies and what you'll need to do along the way, then you'll completely understand how to be a better debater!
1. The Purpose is Decided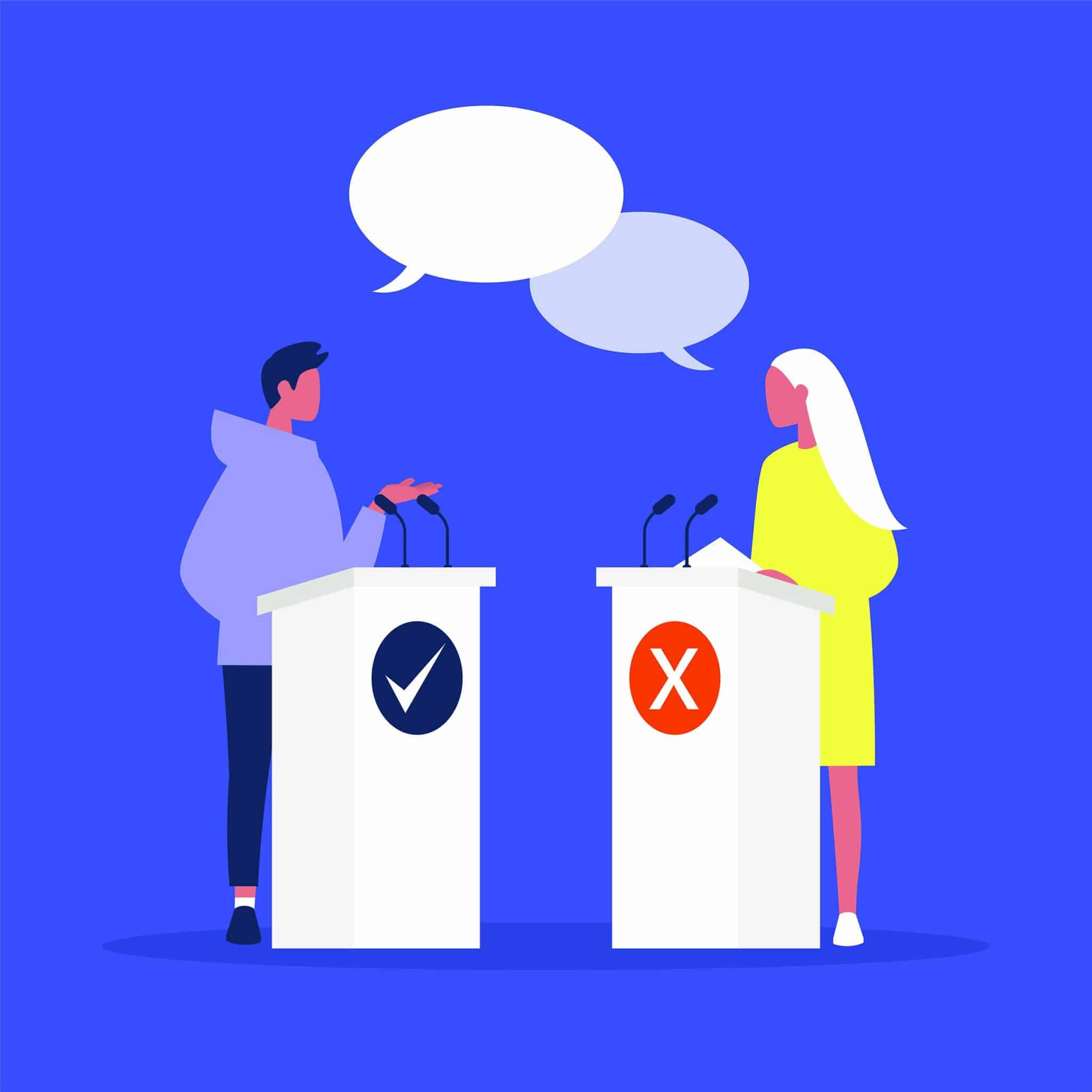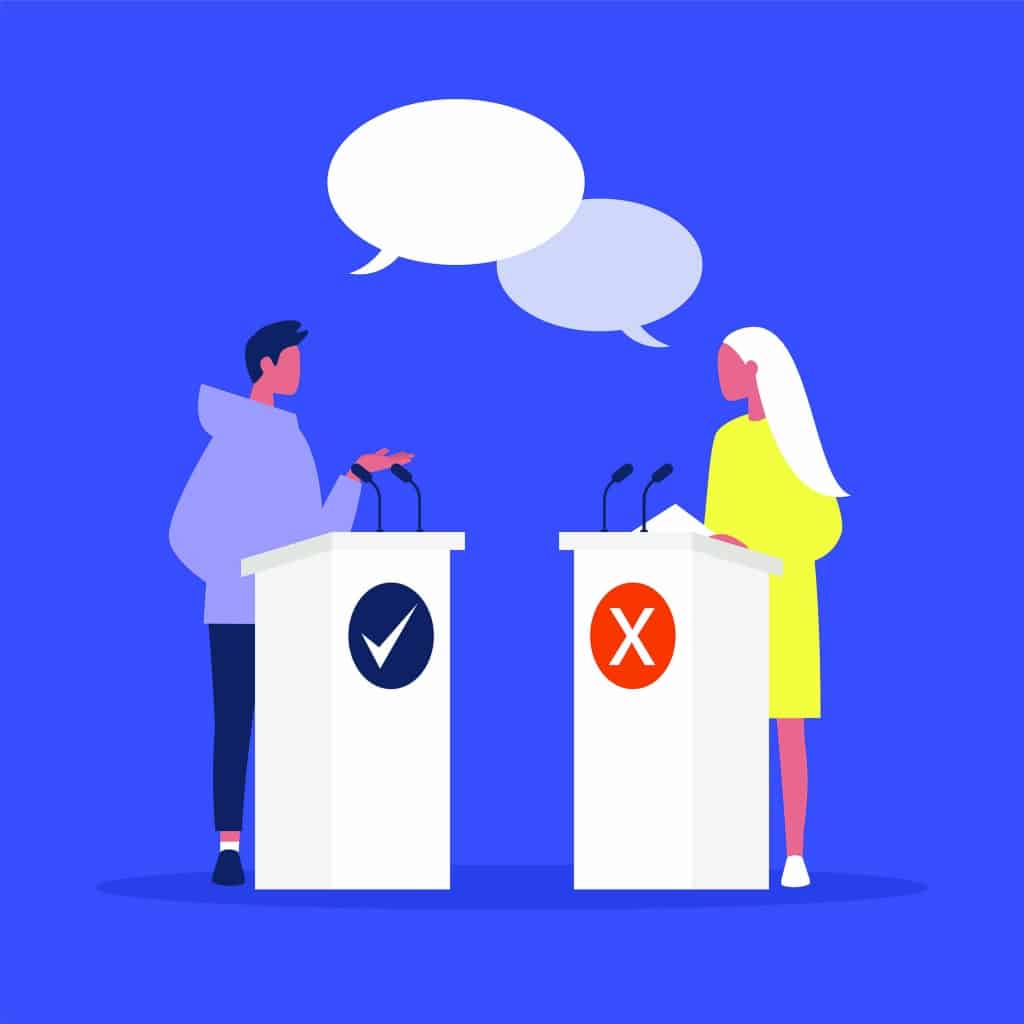 As we can use debates in many places and situations, such as in schools, company meetings, panel discussions or political bodies, it's crucial that the primary purposes of the debate is chosen first. This can give a clear view of plan and organise the debates because there are a lot of details to work on later, all of which need to be in alignment.
So, before anything, the facilitator will answer this – what are the goals of this debate?
For example, if you are in a student debate, the goals should be the same as your lesson, which can be to encourage students' critical thinking and public speaking skills. If it's at work, it can be to decide which of two ideas to go with.
2. The Structure is Chosen
Asking how to debate well, you need to have a structure. There are a lot of debate structure variations out there, and multiple formats within them. It's important for you to know some basic terms used in many common types of debates first before preparing for a debate…
Topic – Every debate has a topic, which is formally called a motion or resolution. The topic can be a statement, a policy or an idea, it's up to the setting and purpose of the debate.
Two teams – Affirmative (supporting the motion) and Negative (opposing the motion). In many cases, each team consists of three members.
Judges or Adjudicators: The people who judge the quality of the arguments in the evidence and performance of the debaters.
Timekeeper – The person who keeps track of time and stops the teams when time's up.
Observers – There can be observers (an audience) in the debate, but they are not allowed to chime in.
For a beginner debate, after receiving the motion, the teams will have time to prepare. The Affirmative team starts the debate with their first speaker, followed by the first speaker from the Negative team. Then it goes to the second speaker in the Affirmative team, back to the second speaker in the Negative team, and so on.
Each speaker will talk and present their points in the set time stated in the debate rules. Bear in mind that not all debates end with team Negative; sometimes, team Affirmative will be asked to finish.
As you're probably new to this, you can find the debate process for beginners below. It's easy to follow and can be used in lots of different types of debate.
3. The Debate Plan is Made
For the debate to run smoothly, the facilitator will have a plan that's as detailed as possible. They should let you know this plan, as it will help to visualise everything and keep you from going off track, which is super easy to do when you're taking part in a beginners' debate.
Here's a simple checklist of what a plan should contain:
The purpose of the debate
The structure
How the room will be set up
The timeline and timing for each period
Formal debating rules and instructions for the speakers and adjudicators
Notetaking templates for the roles
The summary to close the debate when it ends
4. The Room is Arranged
The environment is essential for a debate as it can affect speakers' performance to some degree.
Your debate should have as professional an atmosphere as possible. There are many ways to set up a debate room, but whichever setup is chosen, it will all centre around the 'speaker area' in the middle. This is where all the debating magic will happen.
Each speaker representing the two teams will stand in the speaker area during their turn, then return to their seat when they finish.
Below is a popular layout example for a beginner debate: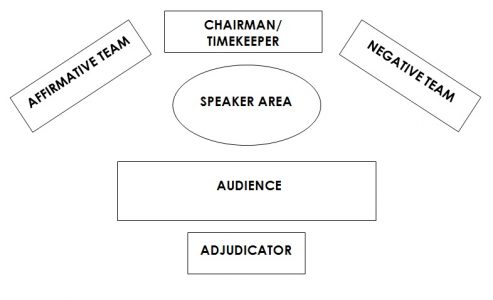 Of course, there's always the option to hold a debate online. You may struggle to feel the same atmosphere in an online beginners' debate, but there are some ways to spice it up:
Background customisation: Each role might have a different Zoom background: the host, timekeeper, adjudicators and each team. This can help to differentiate the roles of each participant and inspire some pride in the role given.
Supporting devices:

Timer: Timing is important in a debate, especially for newbies on their first time out. Your facilitator may decide to keep track of your pace with an on-screen timer (although in most debates, the timekeeper just signals when there is 1 minute or 30 seconds left).
Sound effects: Remember, this is only a debate for beginners. You can expect your faciltator to lighten the atmosphere with encouraging clapping sound effects when a speaker finishes their talk.
5. The Teams are Picked
The teams will be divided into Affirmative and Negative. Usually, the teams and the speaker positions within those teams are randomised, so your facilitator may use a spinner wheel to make the process more thrilling and engaging.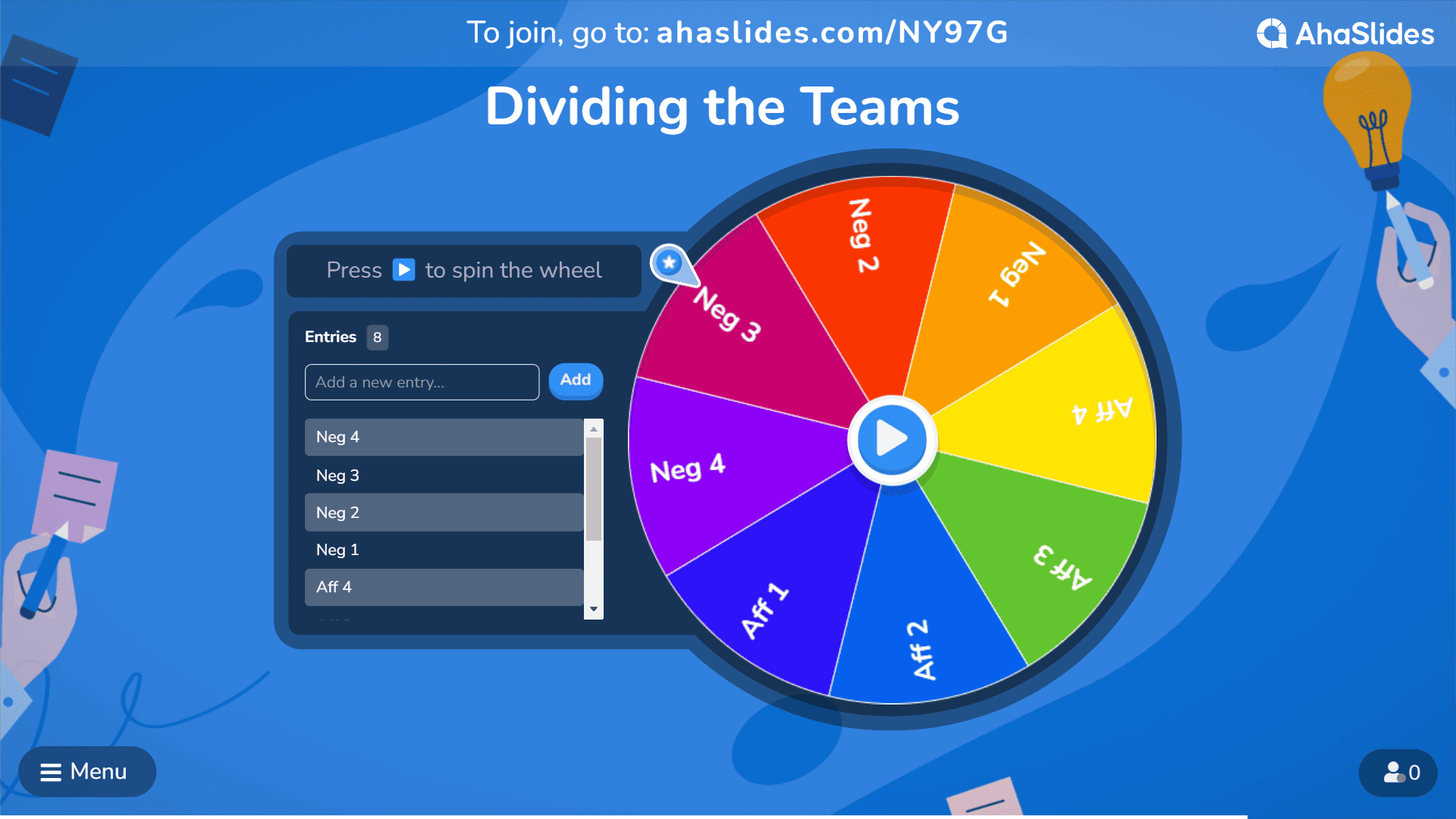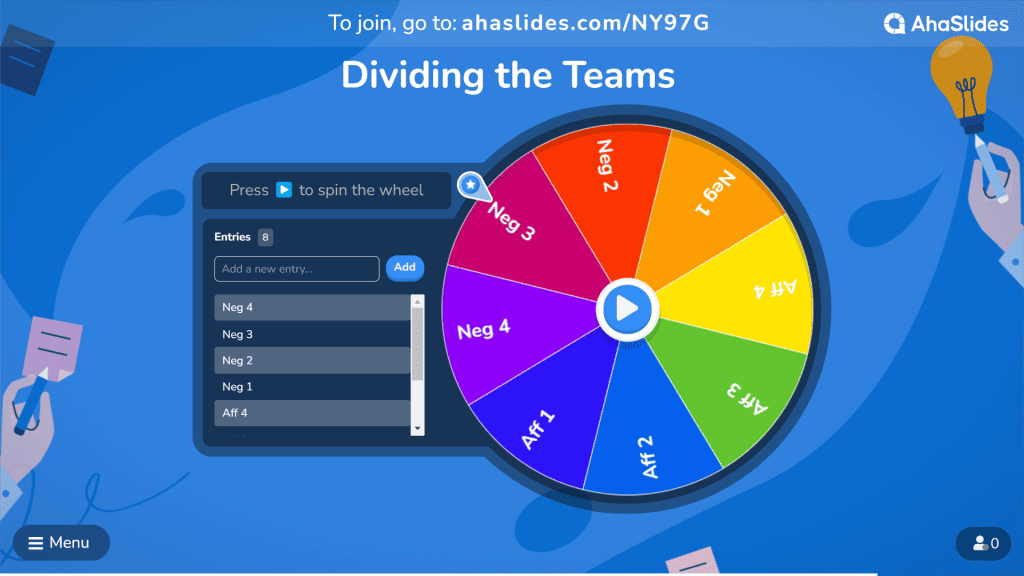 After the two teams have been chosen, the motion will be announced and you'll be given some time to prepare, ideally one hour.
In this time, the facilitator will point out lots of different resources so teams can understand the context and the problems to make stronger points. The more you know, the more vigorous the debate.
6. The Debate Starts
Each different type of debate requires another format, and there can be lots of variations. Below is a very popular version that can be used in any debate for beginners.
Each team has four turns to speak in this debate, so it's best to have 6 or 8 speakers. In the case of 6, two debaters will speak twice.
Speech
Time
Responsibilities of the Debaters
1st Affirmative Constructive
8 min
Introduce the motion and their viewpoint
Give their definitions of key terms
Present their arguments to support the motion
1st Negative Constructive
8 min
State their arguments to oppose the motion
2nd Affirmative Constructive
8 min
Layout further arguments in support of the motion and the team's opinions
Identify conflict areas
Answer questions from the negative speaker (if any)
2nd Negative Constructive
8 min
Layout further arguments against the motion and enhance the team's opinions
Identify conflict areas
Answer questions from the affirmative speaker (if any)
1st Negative Rebuttal
4 min
Defend the Negative team's arguments and defeat the supporting arguments without adding new arguments or information
1st Affirmative Rebuttal
4 min
Defend the Affirmative team's arguments and defeat the opposing arguments without adding new arguments or information
2nd Negative Rebuttal
(Closing Statement)
4 min
Have a second rebuttal and closing statements
2nd Affirmative Rebuttal
(Closing Statement)
4 min
Have a second rebuttal and closing statements
💡 There can be a short time to prepare before the rebuttals, depending on the rules.
You can see a video example of this format down here.
7. Judge the Debate
It's time for the adjudicators to work. They need to observe the debates and performance of each debater then assess. These are some of the things that they will be looking at in your performance…
Organization and clarity – The structure behind your speech – does it make sense to lay it out the way you did?
Content – This arguments, evidence, cross examination and rebuttals you produce.
Delivery and presentation style – How you deliver your points, including oral and body language, eye content, and tone used.
10 Tips for New Debaters
Nobody can master everything from the beginning and if you've never debated in your life, things are not easy to get started with. Below are 10 quick tips to discover how to debate effectively and can go along with the newbies in every debate.
#1 – Preparation is the key – Research the topic a lot beforehand to get not just background information, but also confidence. This can help novice debaters understand the issues better to be good rebuttal starters, then draft their arguments, find evidence, and avoid going down rabbit holes. Every debater should outline everything in points (ideally 3 points for 3 arguments) to better arrange ideas and see the 'big picture' of their speech.
#2 – Keep everything on topic – One of the sins of debating is going off track, as it wastes valuable speaking time and weakens the argument. Pay attention to the outlines and main points to make sure they follow the topic and address the right problems.
#3 – Make your points with examples – Having examples makes your debate sentences more convincing, and also, people see things more clearly, like this example below…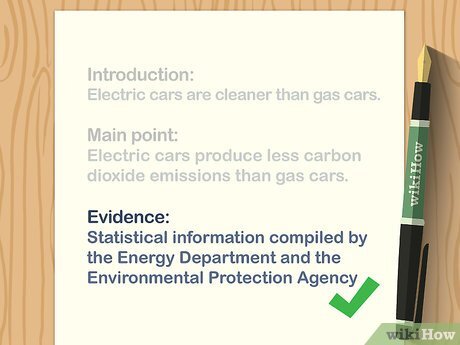 #4 – Try to think like the opponents – While revising ideas, think of points the opposition may pose. Identify a few and write down a mind map of rebuttals that you could offer if they do end up making those points.
#5 – Have a strong conclusion – End the debate with a few good sentences, which can at least sum up the main points. In many cases, debaters like to conclude with power, with one poetically crafted sentence to cause that mic drop moment (check out an example of this below).
#6 – Be confident (or fake it till you make it!) – One of the most important things about how to be better at debating is the vibe. Debaters need to be confident with what they're saying, as swagger has a great sway over judges and observers. Of course, the more you prepare, the more confident you are.
#7 – Speak slowly – A very common problem of novice debaters is their talking speed. More often than not on the first time round, it's way too fast, which causes both listeners and the speaker anxiety. Take a breath and speak slowly. You may get less out, but what you do produce will have gravitas.
#8 – Use your body and face – Body language can support your points and show confidence. Look the opponents in the eyes, have a nice standing posture and control the facial expressions (don't get too aggressive) to catch attention.
#9 – Listen carefully and take notes – Debaters must pay attention to every speech and idea to follow the pace, support their teammates and rebut the opponents better. Having notes can help a lot, as no one can remember every point to rebut or further expand. Remember to note down key points only.
#10 – Avoid cheap shots – Focus and rebut your opponents' arguments, not the opponents themselves. No debaters should be offensive towards others; it shows a lack of professionalism and you'll definitely be marked down for it.
6 Styles of Beginner Debates
There are many styles of debates with different formats and rules. Knowing some of them thoroughly can help beginner debaters see the process and what they need to do. Here are some common debating styles you might see in your first debate!
1. Policy debate – This is a common type that requires a lot of research. The debate revolves around whether or not to enact a particular policy, and usually in the form of two people more team. Policy debate is used in many schools because it's practical, and the rules are easier to follow than other types.
2. Parliamentary debate – This debate style is based on the British government model and the debates in the British Parliament. First adopted by British universities, now this is the official debate style of many big debating competitions like The World University Debating Championship and European Universities Debating Championship. Such debate is witty and shorter than the traditional policy debate, making it suitable for many cases, from middle schools to universities.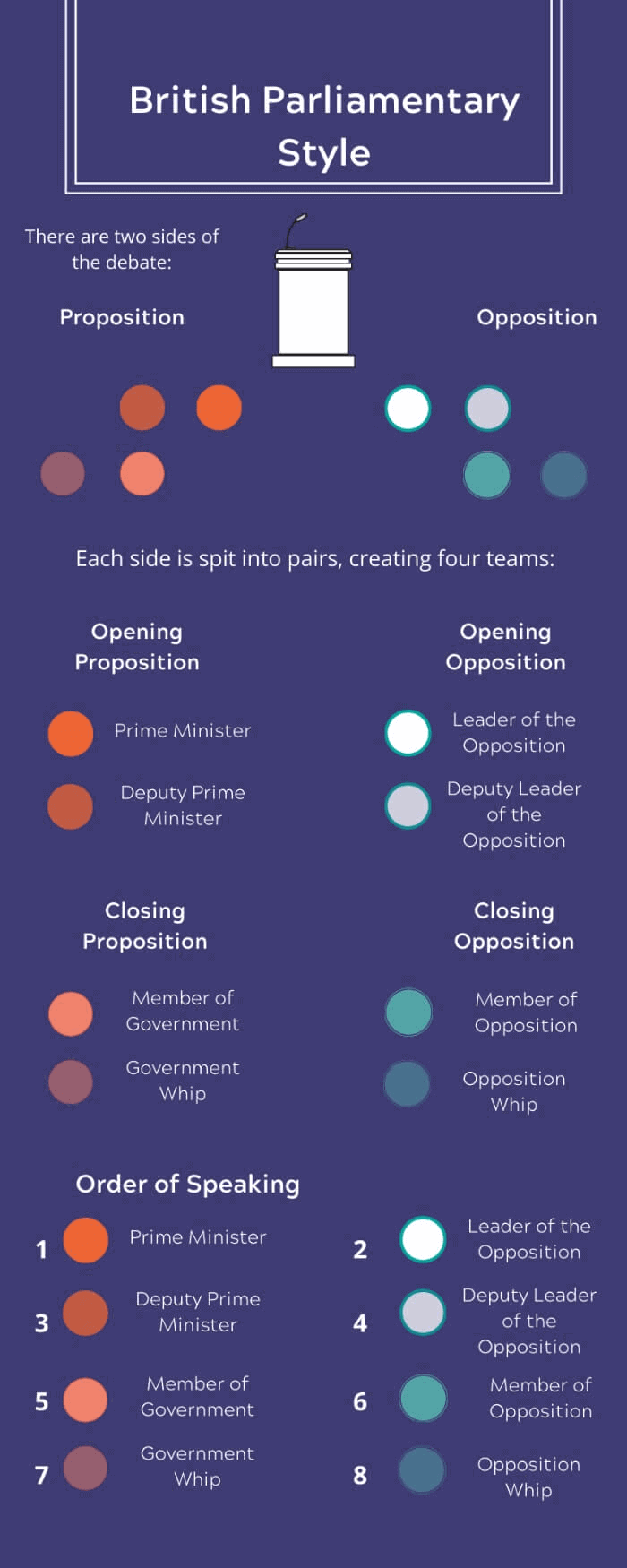 3. Public forum debate – In this style, two teams debate some 'hot' and controversial topics or current event issues. These topics are the ones you already probably have an opinion about, so this type of debate is more accessible than a policy debate.
4. Lincoln Douglas debate– This is an open, one-on-one debate style, named after a famous series of debates back in 1858 between the U.S. Senate candidates Abraham Lincoln and Stephen Douglas. In this style, debaters focus on more profound or more philosophical questions, mainly about significant issues.
5. Spontaneous argumentation – Two debaters argue on one particular topic; they need to frame their arguments in a very short time and quickly respond to their opponents' ideas without much preparation. It requires strong argumentative skills and can help boost confidence and conquer stage fright.
6. Congressional debate – This style is a simulation of the U.S. legislature, in which the debaters emulate Congress members. They debate pieces of legislation, including bills (proposed laws), resolutions (position statements). The mock Congress then vote to pass into law and continue to vote for or against the legislation.
2 Debate Examples
Here we have two examples of some debates for you to better see how they happen…
1. British Parliament Debate
This is a short clip of a debate between former British prime minister Theresa May and former leader of the Labour Party, Jeremy Corbyn. The debate's dynamic atmosphere and heated arguments are typical of this kind of rowdy debate. Also, May ended her speech with such a strong statement that she even went viral!
2. The Debaters
Student debates are becoming an increasingly popular phenomenon at school; some well performed debates can even be as engaging as debates from adults. This video is one episode from an English-language Vietnamese debate show – The Debaters. These high school students debated the motion 'We applaud Greta Thunberg' in a pretty common 3-on-3 format.