So, how to make a Ted Talks Presentation? When you want to find a talk on a topic you are interested in, TED Talks may be the first to pop up in your mind.
Their power comes from both original ideas, insightful, useful content and impressive presentation skills of the speakers. Over 90,000 presenting styles from over 90,000 speakers have been shown, and you probably have found yourself related to one of them.
Whatever the type is, there are some everyday things among TED Talks Presentations that you can keep in mind to improve your own performance!
Table of Contents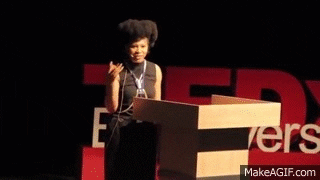 More Presentation Tips with AhaSlides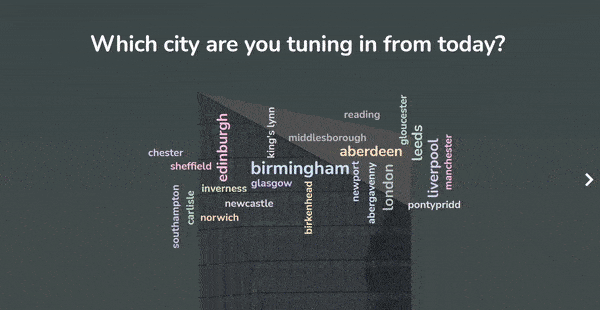 Start in seconds.
Get free templates for your next interactive presentation. Sign up for free and take what you want from the template library!
🚀 Get templates for free
1. Use Personal Stories to Make your Audience-Related
The fastest way to spur an emotional response from the audience in TED Talks Presentation is to tell a story of your own experience.
The essence of a story is its ability to invoke emotions and interaction from the listeners. Therefore by doing this, they can feel related by nature and immediately find your talk more "authentic", and therefore are willing to listen to more from you.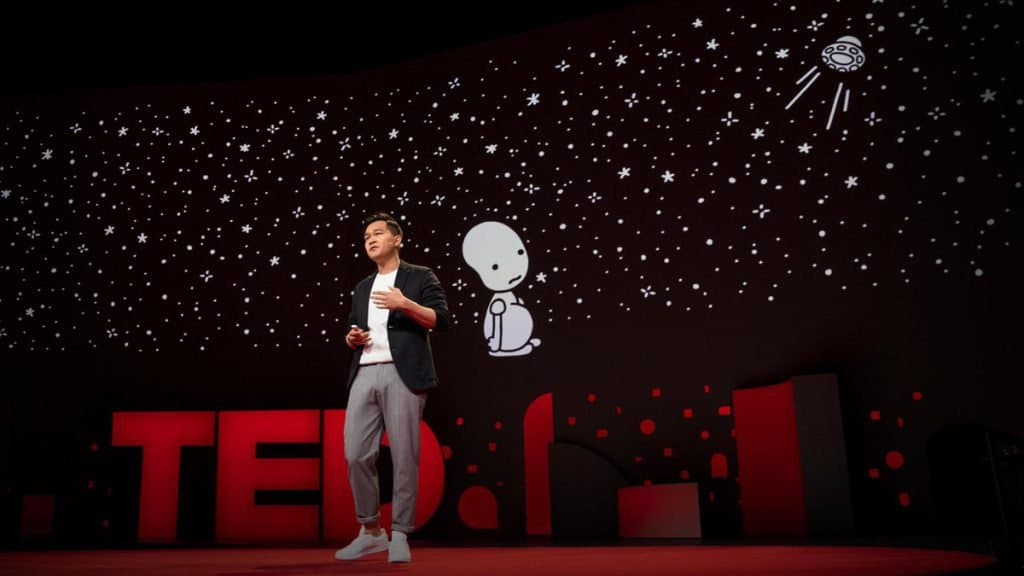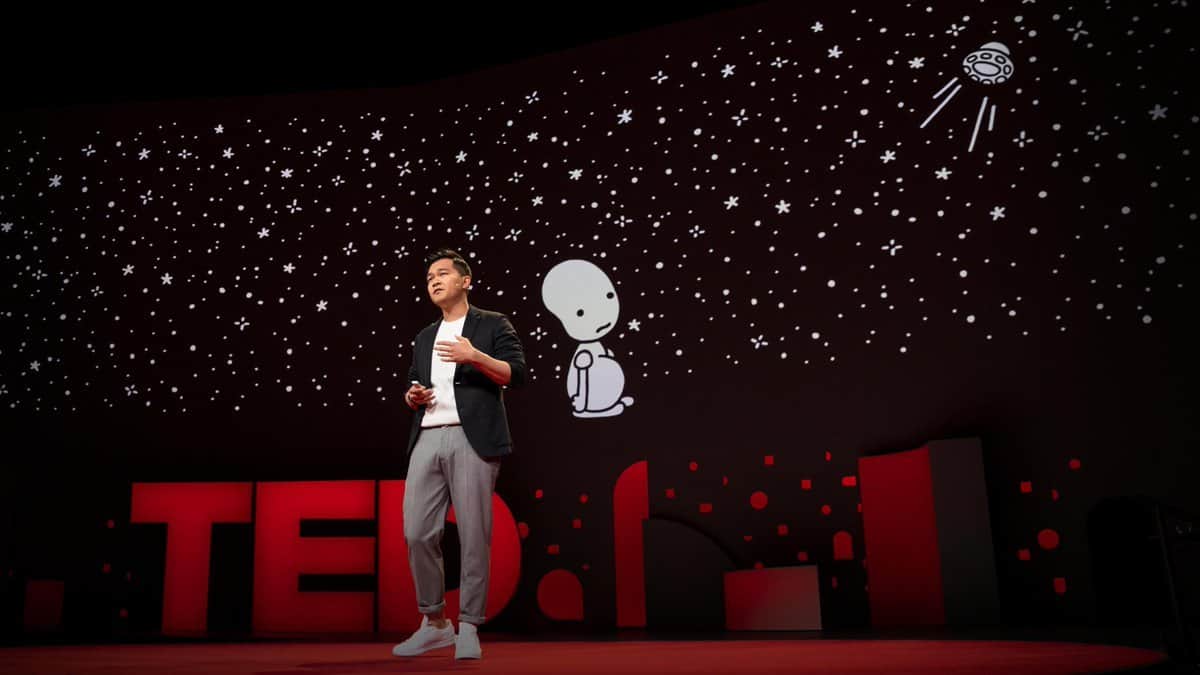 You can also intertwine your stories into your talk to build your opinion on the topic and present your argument persuasively. Apart from research-based evidence, you can use personal stories as a powerful tool to create a reliable, compelling presentation.
2. Make your Audience Work
However interesting your speech may be, there may be times when the audience drifts their attention away from your talk for a moment. That is why you must have some activities that win back their attention and get them engaged.
For example, a simple way to do this is to make good questions relevant to your topic, which gets them to think and find an answer. This is a common way that TED speakers use to engage their audience! The questions can be posed immediately or occasionally during the talk.
The idea is to get to know their perspectives by having them submit their answers to an online canvas like AhaSlides, where the results are updated live, and you can rely on them to discuss more in-depth.
You can also ask them to do small acts, like close their eyes and think about an idea or an example relevant to the idea you are talking about, just like what Bruce Aylward did in his talk on "How We'll Stop Polio for Good."
3. Slides are to aid, not to drown
Slides accompany most TED Talks Presentations, and you would rarely see a TED speaker use more-than-colourful slides full of text or numbers.
Instead, they are usually simplified in terms of decoration and content and tend to be in the form of graphs, images or videos.
This helps draw the audience's attention to the content that the speaker is referring to and flatter the idea they are trying to convey. You can make use of it too!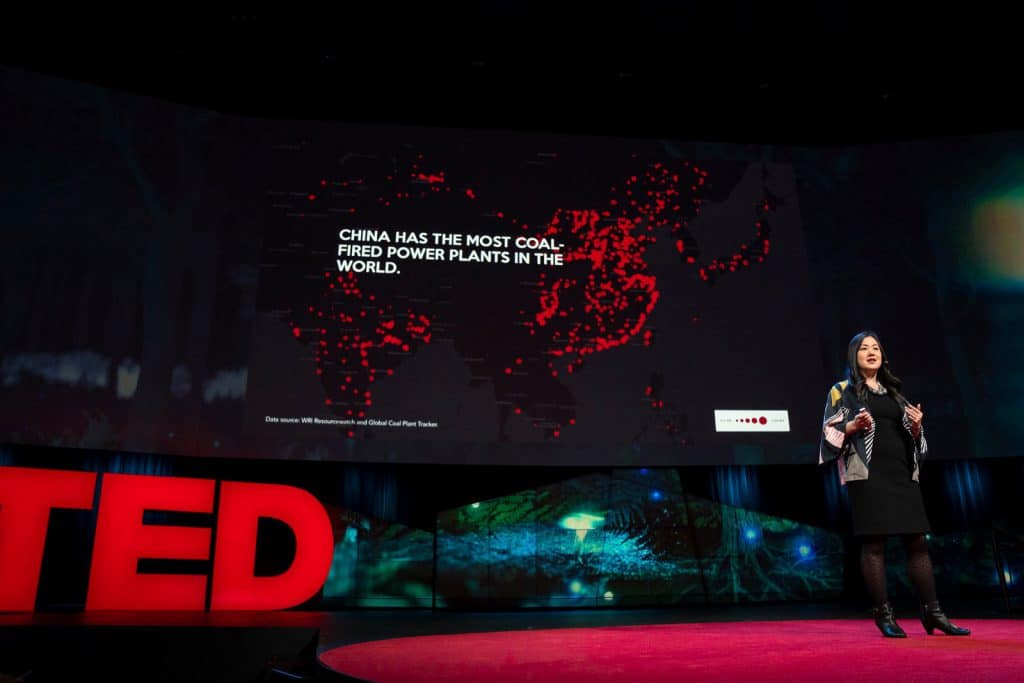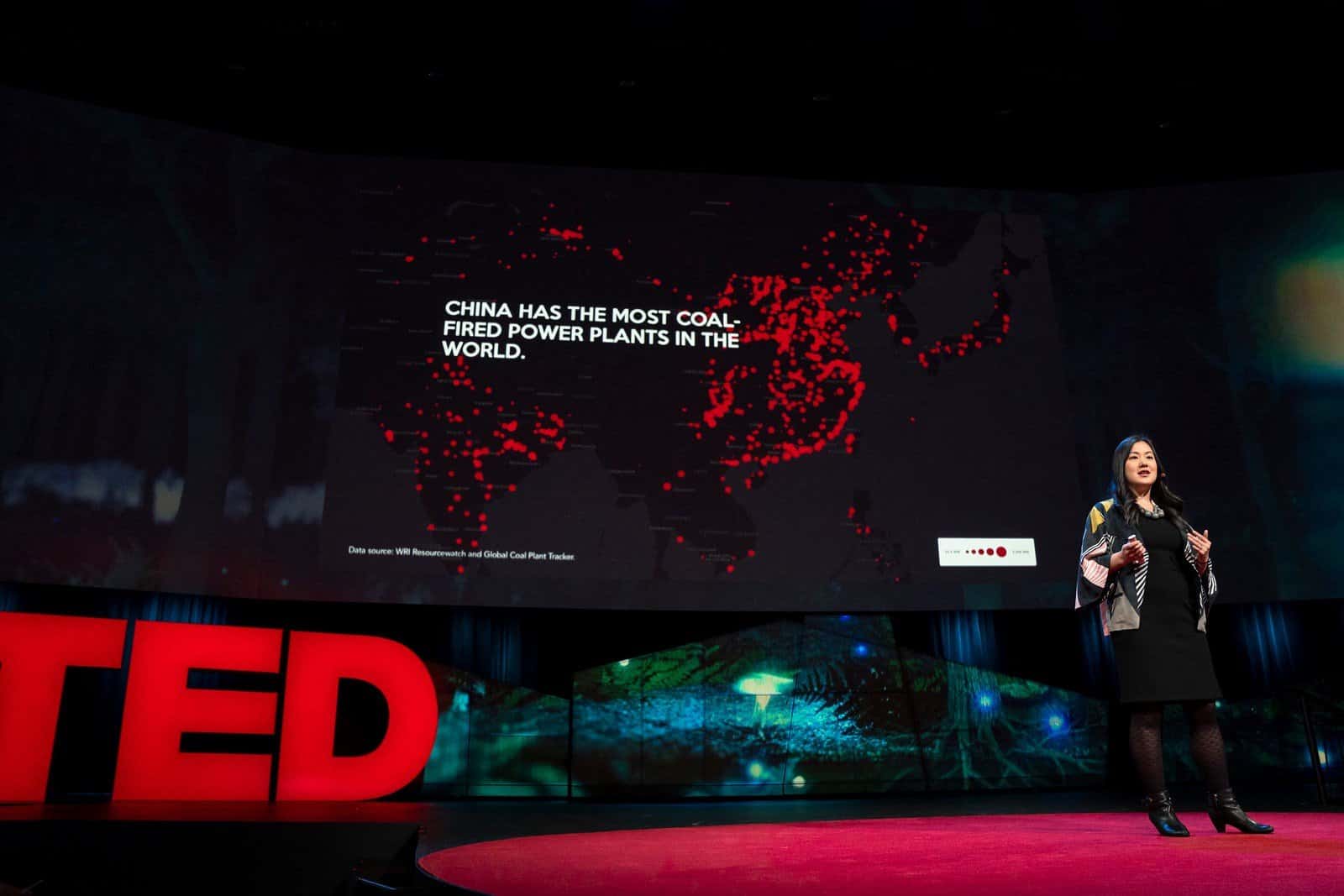 Visualisation is the point here. You can convert text and numbers into charts or graphs and utilise images, videos, and GIFs. Interactive slides can also help you connect with the audience.
One reason the audience is distracted is their having no clue about the structure of your talk and feel discouraged to follow until the end.
You can solve this with the "Audience Pacing" feature of AhaSlides, in which the audience can pave back and forth to know all the content of your slides and always be on track and get ready for your upcoming insights!

4. Be original, be you
This has to do with your presenting style, HOW you convey your ideas, and WHAT you deliver.
You can see this clearly in TED Talks Presentation, where one speaker's ideas could be similar to others, but what matters is how they view it from another perspective and develop it in their own way.
The audience will not want to listen to an old topic with an old approach that hundreds of others might have chosen.
Think about how you can make a difference and add your individuality to your speech to bring valuable content to the audience.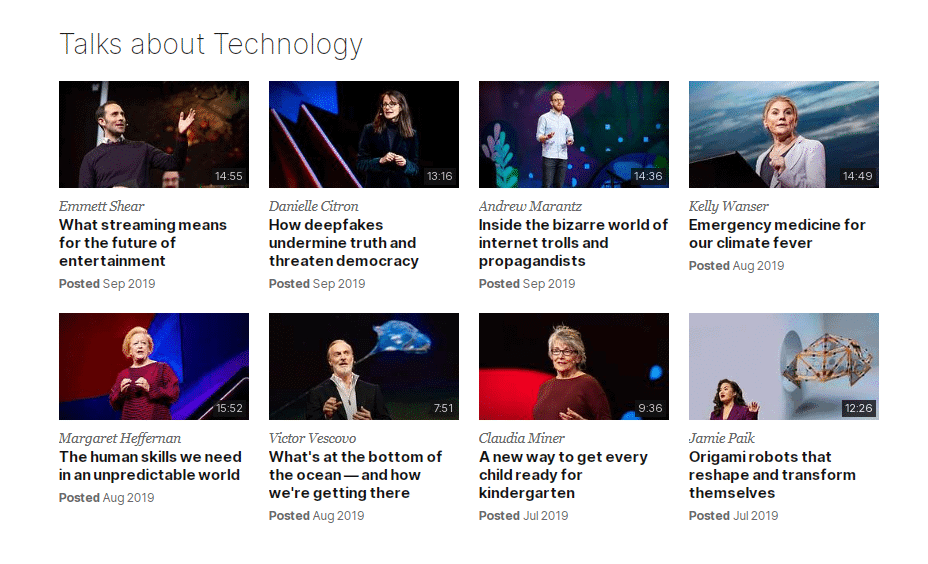 5. Speak with clarity
You don't have to possess a mesmerising voice that put the audience in a trance, but projecting it to be clear will be much appreciated.
By "clear", we mean that the audience can hear and figure out what you said for at least 90%.
Skilled communicators have reliable voices, despite any nervous or anxious emotions they may experience.
In TED Talks presentation, you can see there are barely any muffled sounds. All messages are communicated in a crystal clear tone.
The good thing is, you can train your voice to be better!
Vocal and speech coaches and even AI training apps could help, from how to breathe properly to how to place your tongue when enunciating, they greatly improve your tone, pace and volume in the long run.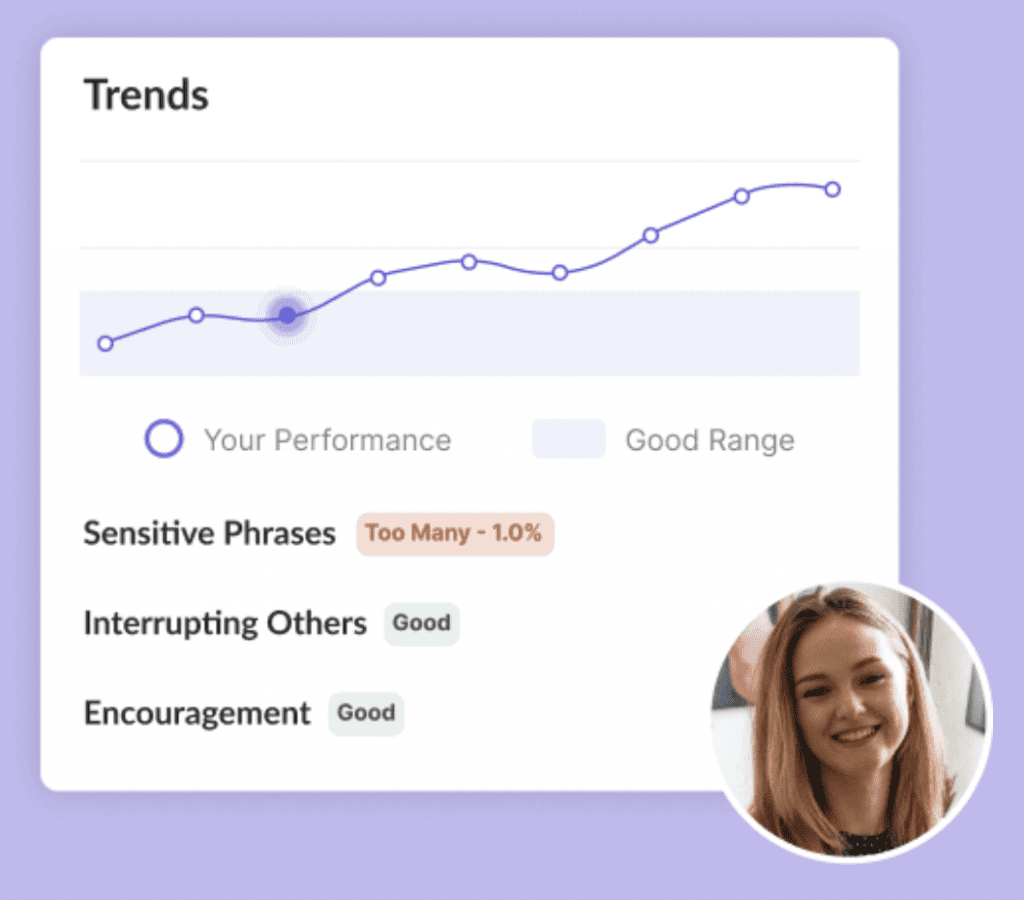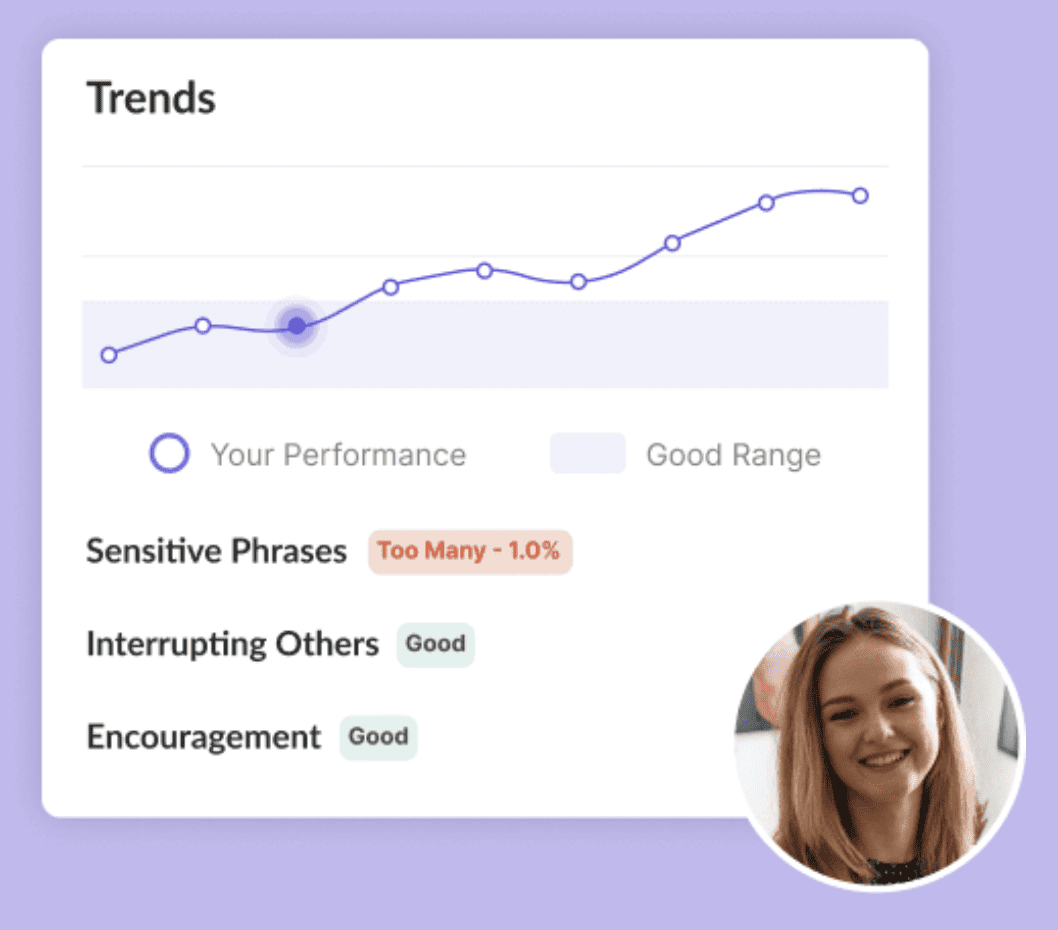 6. Shape your body language
Non-verbal expression has 65% to 93% more influence than actual text, so the way you carry out yourself really matters!
In your next TED Talks Presentation, remember to stand up straight with your shoulders back and head up. Avoid slouching or leaning against the podium. This projects confidence and engages the audience.
Use open, welcoming gestures with your hands like keeping them unclenched at your sides or palms facing up in a shrug.
Move around the stage purposefully as you speak to signal enthusiasm for your topic. Avoid fidgeting, pacing back and forth or touching your face excessively.
Speak from the heart with real passion and conviction that your big idea matters. When your own enthusiasm is genuine, it becomes contagious and pulls listeners in.
Pause for effect by going still and silent between key points. Motionless posture commands the audience's attention and allows them time to process your information, and also allows you time to think of the next point.
Take a big, noticeable breath before launching into a new section of your talk. The physical action helps signal a transition to the audience.
It's easy to say than to talk, but if you take into consideration that we are humans full of lively movements and expressions, which differentiate us from robots, we can allow our bodies to express freely in TED Talks Presentation.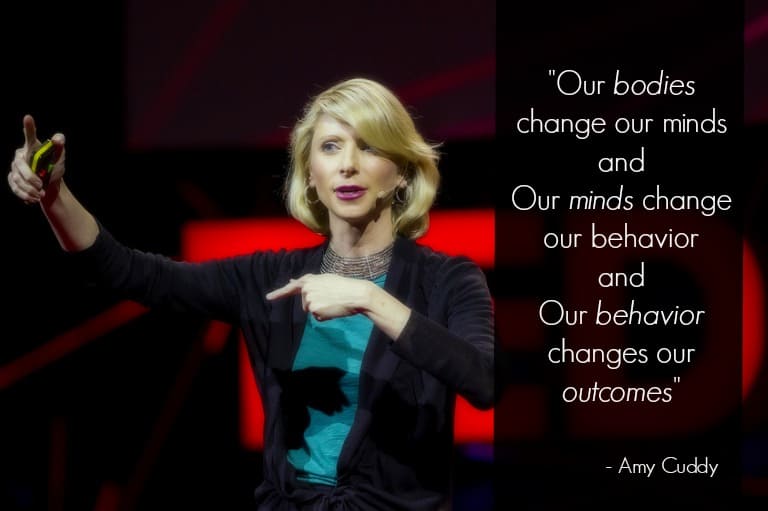 7. Keep it concise
We have the tendency to think our presentation points are inadequate and often elaborate more than we should.
Aim for around 18 minutes like in TED Talks Presentations, which is more than enough considering how distracting we are in this modern world.
Create an outline with main sections and time yourself to stay within the time limit as you practice and refine your talk. You can consider following this timeline format:
3 minutes – Tell a story with simple, concrete narratives and anecdotes.
3 minutes – Get to the main idea and key points.
9 minutes – Elaborate on these key points and relate a personal story that highlights your main idea.
3 minutes – Wrap up and spend time interacting with the audience, possibly with a Q&A.
Foster an environment of density and richness within the constraints of a brief time limit.
Pare down your content to only what's essential. Delete unnecessary details, tangents and filler words.
Focus on quality over quantity. A few well-crafted examples are more powerful than a laundry list of facts in TED Talks Presentations.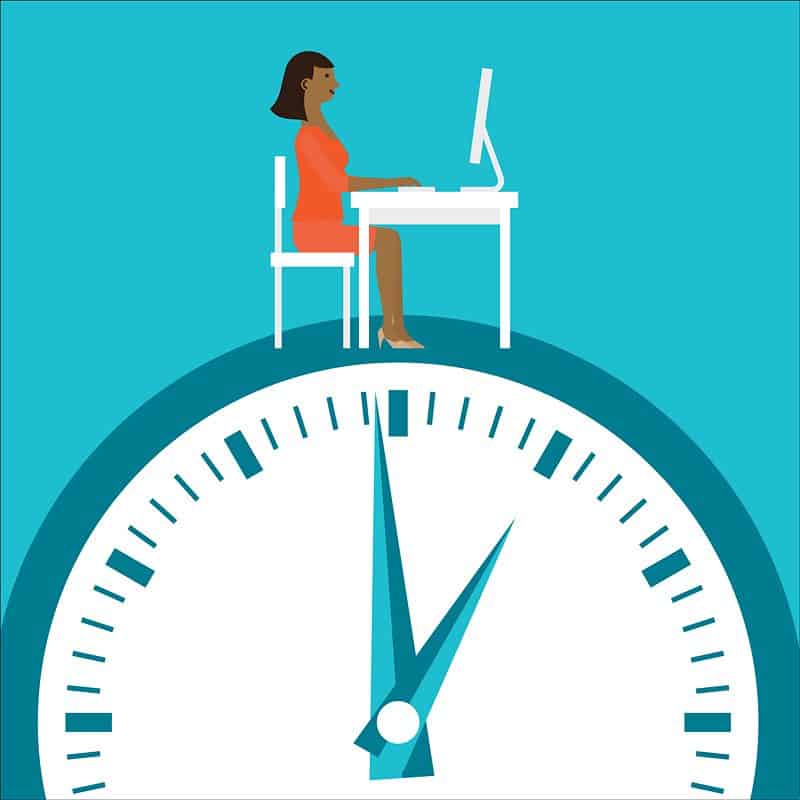 8. Close with a strong remark
Believe it or not, your goal for perfect TED Talks Presentations goes beyond just sharing interesting information. As you craft your talk, consider the transformation you want to ignite in your listeners.
What thoughts do you want to plant in their minds? What emotions do you wish to stir within them? What actions do you hope they will be inspired to take when they leave the auditorium?
Your call to action can be as simple as asking the audience to view your central topic in a new light.
The very premise of TED talks presentations is that ideas worth spreading are those worth acting upon.
Without a clear call to action, your talk may be intriguing but ultimately indifferent to your listeners. With a call to action, you trigger a mental reminder that change is needed.
Your firm and focused call to action is the exclamation point signalling that something must now be done – and your listeners are the ones who should take that step.
So don't just inform your audience, push them to see the world anew and move them to take action that aligns with your important idea!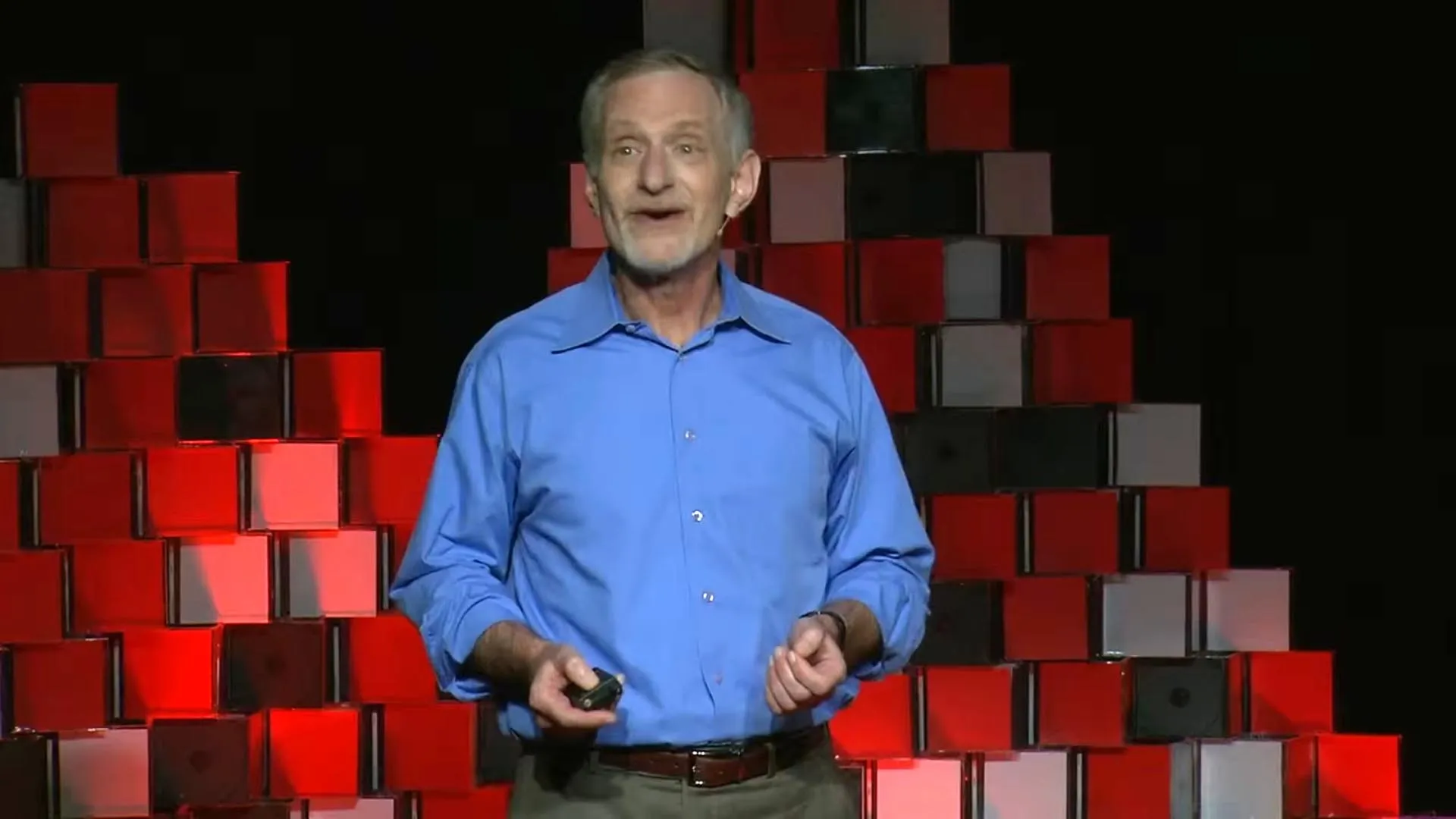 Key Takeaways
The key is to distil your big idea down to its essence, tell a story to illustrate it and speak extemporaneously with natural passion and enthusiasm. Practice, practice, practice.
It's not easy to be a master presenter, but practice these 8 tips so often that you can make big progress in your presentation skills! Let AhaSlides be with you on the way there!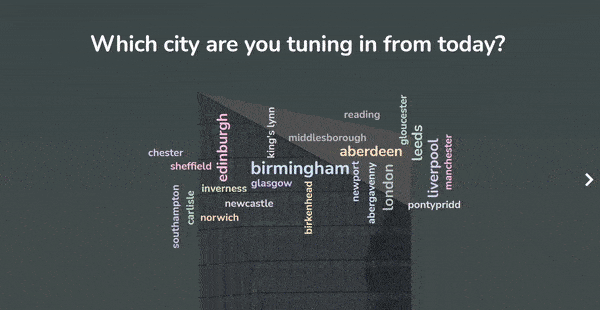 Start in seconds.
Get free templates for your next interactive presentation. Sign up for free and take what you want from the template library!
🚀 Get templates for free
Frequently Asked Questions
What is a TED talk presentation?
A TED talk is a short, powerful presentation given at TED conferences and related events. TED stands for Technology, Entertainment and Design.
How do you make a TED talk presentation?
By following these steps – focusing on your big idea, telling relevant stories, keeping it short, rehearsing thoroughly and speaking confidently – you'll be well on your way to delivering an effective, impactful TED talk presentation.
What is the difference between a TED talk and a standard presentation?
TED talks are designed to be: shorter, more concise and focused; told in a visually engaging and narrative-driven way; and delivered in an on-the-spot, inspiring manner that provokes thought and spreads important ideas.
Do TED Talks have presentations?
Yes, TED Talks are actually short presentations given at TED conferences and other TED-related events.