How to end a presentation successfully? First impression matters all the time, and the ending is no exception. Many presentations make mistakes in putting a lot of effort into designing a great opening but forget the closing.
With that in mind, the article aims to equip you with useful ways to have a complete presentation, especially on having an impressive and engaging ending. So let's dive in!
Table of Contents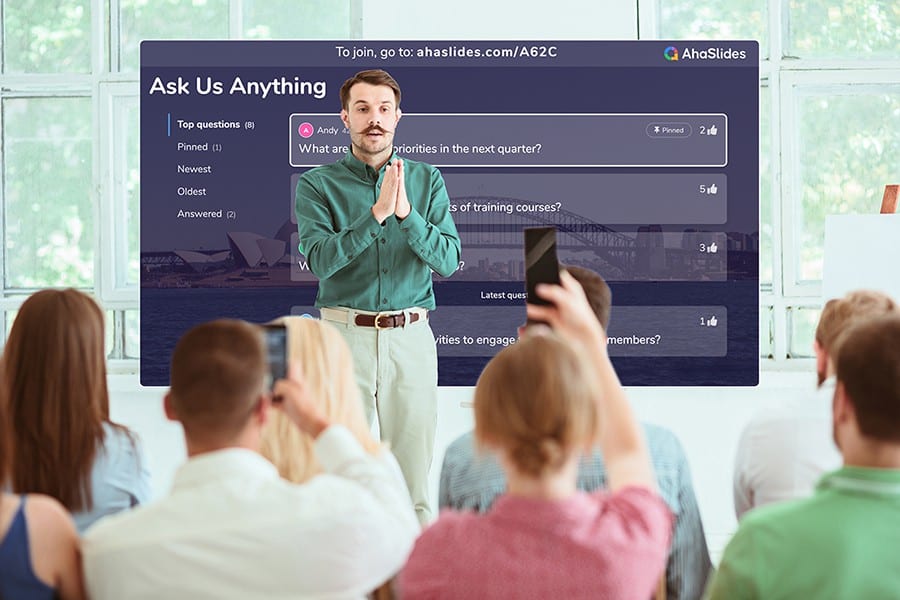 Get your Students Engaged
Start meaningful discussion, get useful feedback and educate your audience. Sign up to take free AhaSlides template
🚀 Grab Free Quiz☁️
The Importance of Presentation Ending?
Why care about your presentation's conclusion? It's not just a formality; it's critical. The conclusion is where you make a lasting impression, reinforce key points for better retention, motivate action, and ensure your audience remembers your message.
Plus, a strong conclusion reflects your professionalism and shows you've thoughtfully considered how to leave a lasting impact. In essence, it's your final opportunity to effectively engage, inform, and persuade, ensuring your presentation achieves its objectives and is remembered for the right reasons.
How to End A Presentation Successfully: A Complete Guide with Examples
Effectively ending a presentation is essential to leave a lasting impression on your audience and drive your message home. Here's a step-by-step guide on how to effectively end a presentation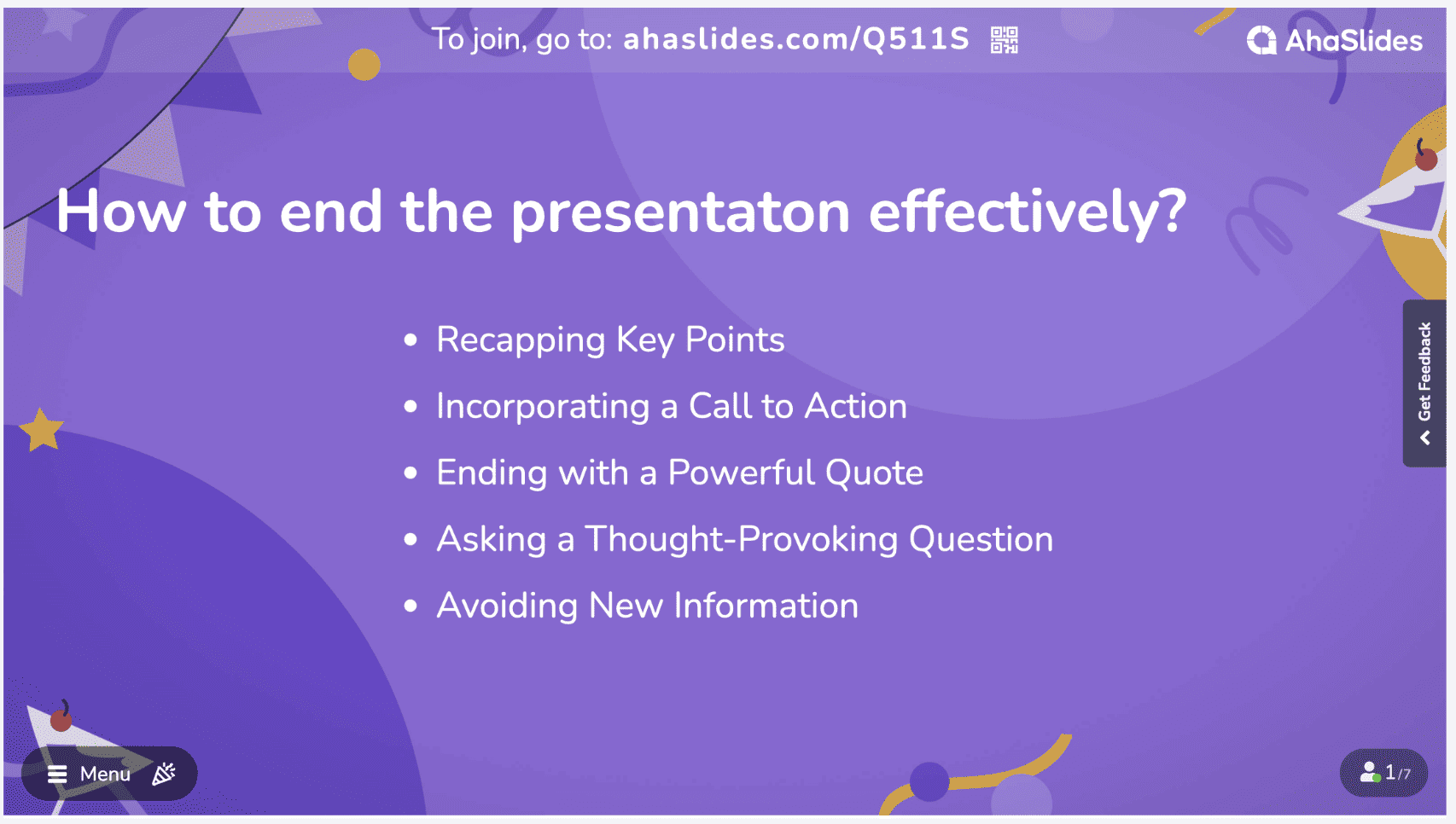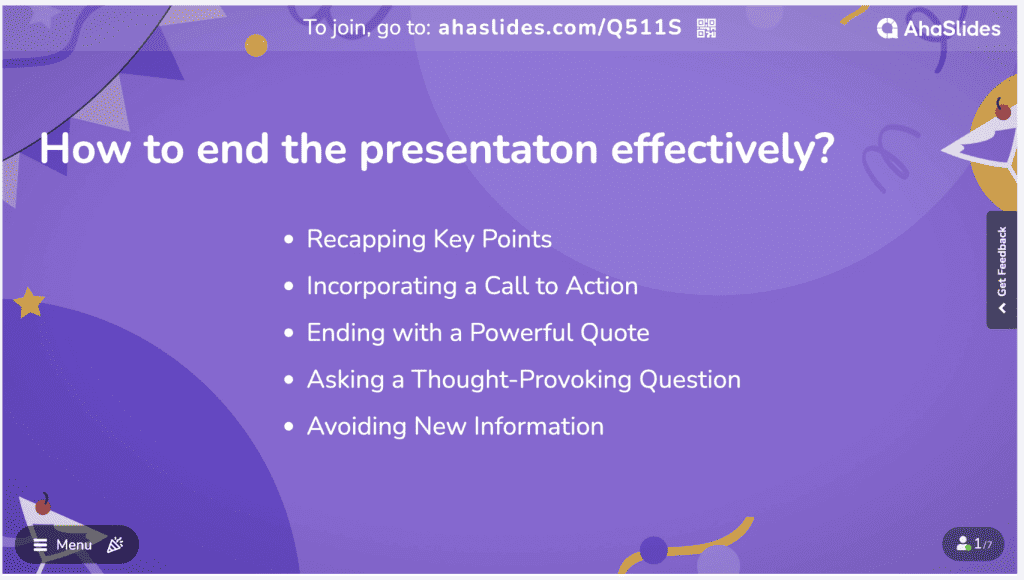 Recapping Key Points
One of the primary functions of a conclusion is to summarize the main points you've covered in your presentation. This recap serves as a memory aid, reinforcing the key takeaways for your audience. It's essential to do this succinctly and clearly, ensuring that the audience can easily recall the core ideas. For example:
"We've delved into the factors that drive motivation – setting meaningful goals, overcoming obstacles, and fostering a positive mindset. These are the building blocks of a motivated life."
"Before we conclude, let's come back to our core theme today – the incredible power of motivation. Our journey through the elements of inspiration and self-drive has been both enlightening and empowering."
* This step also is a great place for leaving a vision. A phrase that is commonly used is: "Visualize a world where people are empowered, pursuing their passions, and breaking barriers. It's a world where motivation fuels progress and dreams become reality. This vision is within reach for all of us."
Incorporating a Call to Action
How to write the end of the presentation? A powerful conclusion that motivates your audience to take action can be an excellent idea. Depending on the nature of your presentation, this could involve encouraging them to make a purchase, support a cause, or implement the ideas you've presented. Be specific in your call to action, and make it compelling and achievable. An example of a CTA ending can be:
"Now, it's time for action. I encourage each of you to identify your goals, create a plan, and take the first step toward realizing your dreams. Remember, motivation without action is just a daydream."
Ending with a Powerful Quote
How to end a presentation impressively? "As the great Maya Angelou once said, 'You may not control all the events that happen to you, but you can decide not to be reduced by them.' Let's remember that we have the power to rise above challenges." Conclude with a relevant and impactful quote that relates to your topic. A well-chosen quote can leave a lasting impression and inspire reflection. For example, Julius Caesar utilized this technique when he said, "I came, I saw, I conquered." Some best phrases to use on your ending are:
Feel free to reach out if you have any questions."
"For more information, head to the link on the screen."
"Thank you for your time/attention."
"I hope you found this presentation informative/useful/insightful."
Asking a Thought-Provoking Question
How to end a presentation without using the Thankyou slide? Pose a question that encourages your audience to think or reflect on the material you've presented. This can engage the audience and stimulate discussion.
For instance: You can start a statement like: "I'm here to address any questions or listen to your thoughts. Do you have any questions, stories, or ideas you'd like to share? Your voice is important, and your experiences can inspire us all."
💡Using live Q&A features from interactive presentation tools like AhaSlides to increase your audience engagement. This tool is integrated into PowerPoint and Google Slides so you can show it to your audience instantly and update the response in real time.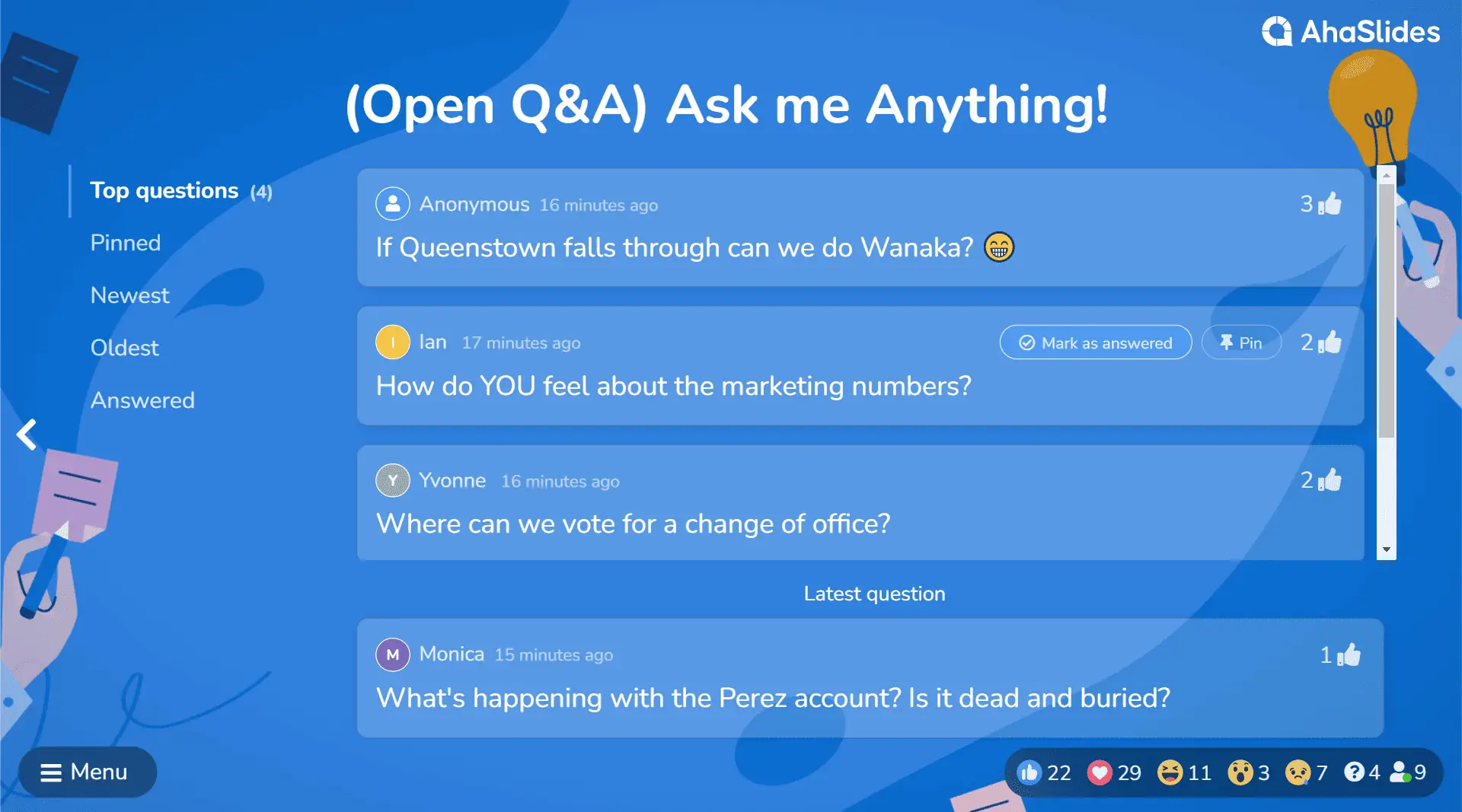 Avoiding New Information
The conclusion is not the place to introduce new information or ideas. Doing so can confuse your audience and dilute the impact of your core message. Stick to what you've already covered and use the conclusion to reinforce and emphasize the existing content.
In summary, an effective conclusion serves as a concise recap of your presentation, encourages your audience to take action, and refrains from introducing new information. By accomplishing these three objectives, you'll create a conclusion that reinforces your message and inspires your audience to respond positively.
When to End the Presentation Perfectly?
The timing for concluding a presentation depends on various factors, including the nature of your content, your audience, and any time constraints. Here are some general guidelines to help you determine when to conclude your presentation:
Avoid Rushing: Avoid rushing through your conclusion due to time constraints. Ensure that you have allocated sufficient time for the conclusion so that it doesn't feel abrupt or hurried.
Check Time Limits: If you have a specific time limit for your presentation, keep a close eye on the time as you approach the conclusion. Be prepared to adjust the pace of your presentation to ensure you have ample time for the conclusion.
Consider Audience Expectations: Consider the expectations of your audience. If they anticipate a specific duration for your presentation, try to align your conclusion with their expectations.
Wrap Up Naturally: Aim to conclude your presentation in a way that feels natural and not abrupt. Provide a clear signal that you're moving into the conclusion to prepare your audience for the end.
How to end a presentation? The key is to balance the need to convey your message effectively with the available time. Effective time management and a well-planned conclusion will help you wrap up your presentation smoothly and leave a positive impression on your audience.
Final Thoughts
How to end a presentation impressively in your opinion? As mentioned, there are many ways to engage your audience until the last minute, from a strong CTA, a captivating ending slide, thoughtful Q&A session. Don't force yourself to make an ending that you might not be comfortable with, act as naturally as possible.
💡Want more inspiration? Check out AhaSlides right away to explore more innovative methods to enhance audience engagement and collaboration!
Frequently Asked Questions
1. What do you say at the end of a presentation?
At the end of a presentation, you typically say a few key things:
Summarize your main points or key takeaways to reinforce the message.
Provide a clear call to action, motivating your audience to take specific steps.
Express gratitude and thank your audience for their time and attention.
Optionally, open the floor for questions or comments, inviting audience engagement.
2. How do you end a fun presentation?
To conclude a fun presentation, you can share a light-hearted, relevant joke or humorous anecdote, encourage the audience to share their own fun or memorable experiences related to the topic, end with a playful or uplifting quote, and express your excitement and appreciation for the enjoyable presentation experience.
3. Should you say thank you at the end of a presentation?
Yes, saying thank you at the end of a presentation is a courteous and appreciative gesture. It acknowledges your audience's time and attention and adds a personal touch to your conclusion. It can be especially important in thank-you presentations and is generally a polite way to wrap up any type of presentation.