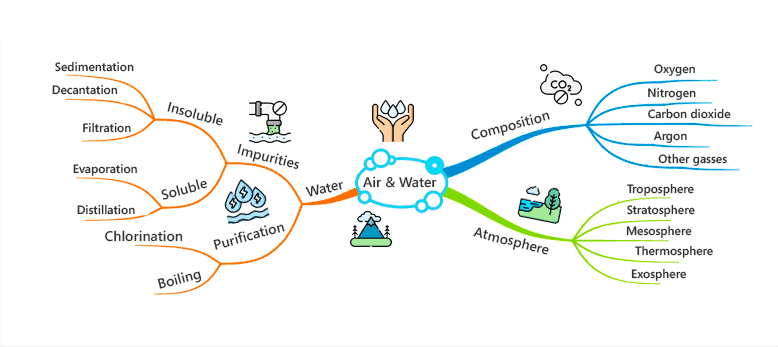 Mind mapping is a well-known and effective technique for organizing and synthesizing information. Its use of visual and spatial cues, flexibility, and customizability make it a valuable tool for anyone looking to improve their learning, productivity, or creativity.
There are many online mind map makers available to help produce mind maps. Using the right mind map makers, you can achieve better outcomes in brainstorming, project planning, information structuring, sales strategizing, and beyond.
Let's dig out the eight ultimate mind map makers of all time and find out which one is your best option.
Table of Contents
Engagement Tips with AhaSlides
How to Brainstorm: 10 Ways to Train Your Mind to Work Smarter in 2023
6 Steps to Create Mind Map With FAQs in 2023
Is Brainwriting Better than Brainstorming? Best Tips and Examples in 2023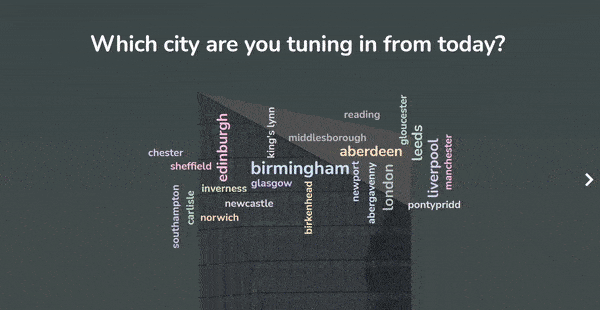 Need new ways to brainstorm?
Use fun quiz on AhaSlides to generate more ideas at work, in class or during gatherings with friends!
🚀 Sign Up For Free☁️
1. MindMeister
Among many famous mind map makers, MindMeister is a cloud-based mind mapping tool that allows users to create, share, and collaborate on mind maps in real-time. It offers various customization options, including text, images, and icons, and integrates with several third-party tools for enhanced productivity and collaboration.
Available on desktop and mobile devices, making it accessible on-the-go
Allows for real-time collaboration with others
Integrates with several third-party tools, including Google Drive, Dropbox, and Evernote
Provides a wide range of export options, including PDF, image, and Excel formats
Limited free version with some restrictions on features and storage space
Some users may find the interface to be overwhelming or cluttered
May experience occasional glitches or performance issues


2. MindMup
MindMup is a powerful and versatile mind map generator that offers a wide range of customization options, collaboration features, and export options, one of the most searched and used mind map makers in recent years.
Easy to use and lots of different controls (GetApp)
Support several map formats, including traditional mind maps, concept maps, and flowcharts
It can be used as a whiteboard in online sessions or meetings
Integrate with Google Drive, allowing users to save and access their maps from anywhere.
Limitations: a dedicated mobile app, making it less convenient for users who prefer to use mind mapping tools on their mobile devices
A dedicated mobile app is unavailable, making it less convenient for users using mind mapping tools on their mobile devices.
Some users may experience performance issues with larger, more complex maps. This can slow down the application and impact productivity.
The full range of features is only available in the paid version, which leads budgeted users to reconsider using alternatives.
There are 3 types of pricing plan for MindMup users:
Personal Gold: USD $2.99 per month, or USD $25 per year
Team Gold: USD 50/year for ten users, or USD 100/year for 100 users, or USD 150/year for 200 users (up to 200 accounts)
Organizational Gold: USD 100/year for a single authentication domain (all users included)
3. Mind Map Maker by Canva
Canva stands out among many famous mind map makers, as it offers beautiful mind map designs from professional templates that allow you to edit and customize quickly.
Offer a wide range of pre-designed templates for users, making it easy to quickly create professional-looking mind maps.
Canva's interface is intuitive and user-friendly, with a drag-and-drop editor that allows users to add and customize their mind map elements easily.
Allow users to collaborate on their mind maps with others in real-time, making it a great tool for remote teams.
It has limited customization options like other mind map tools, which may limit its usefulness for more complex projects.
Limited number of templates, smaller file sizes, and fewer design elements than the paid plans.
No advanced filtering or tagging of nodes.


4. Venngage Mind Map Maker
Among many new mind map makers, Venngage remains a popular choice for individuals and teams, with several powerful features and customization options for creating effective mind maps.
Offer a wide range of pre-designed templates, making it easy to quickly create a visually appealing mind map.
Users can tailor their mind maps with different node shapes, colors, and icons. Users can also add images, videos, and links to their maps.
Support several export options, including PNG, PDF, and interactive PDF formats.
Lack advanced features such as filtering or tagging
In free trial, users are not allowed to export the infographic work
Collaboration feature is unavailable in free plan


5. Mind Map maker by Zen Flowchart
If you are looking for free mind map makers with many excellent features, you can work with Zen Flowchart to create professional-looking diagrams and flowcharts.
Decrease noise, more substance with the most straightforward note-taking app.
Powered with live collaboration to keep your team in sync.
Provide minimal & intuitive interface by eliminating unnecessary features
Illustrate multiple problems in the most quickest and simplest way
Offer unlimited fun emojis to make your mind maps even more memorable
Data import from other sources is not allowed
Some users have reported bugs with the software


6. Visme Mind Map Maker
Visme is more suitable for your styles as it offers a range of professionally designed concept map templates, especially for those focusing on concept map maker.
Easy to use interface with a variety of customization options
Provides a wide range of templates, graphics, and animations for enhanced visual appeal
Integrates with other Visme features, including charts and infographics
Limited options for customizing the shape and layout of branches
Some users may find the interface to be less intuitive than other mind map makers
Free version includes watermark on exported maps
Starters plan: 12.25 USD per month/ annual billing
Pro plan: 24.75 USD per month/ annual billing
For teams: Contact with the Visme to get the beneficial deal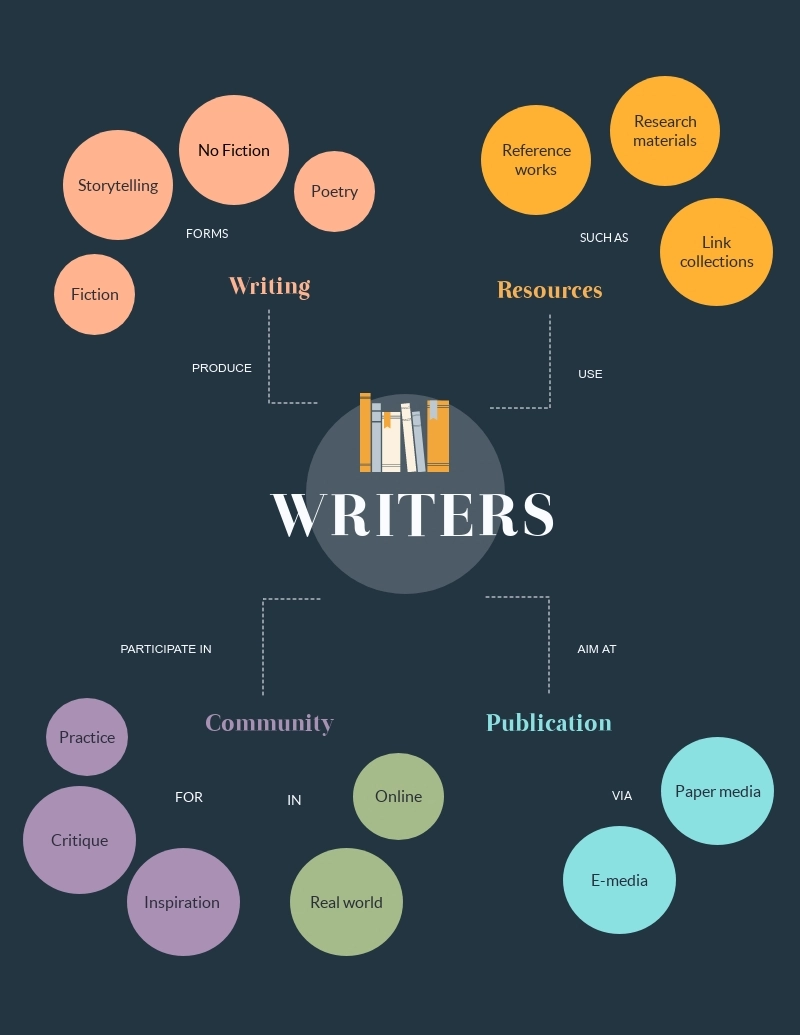 7. Mindmaps
Mindmaps works based on HTML5 technology so you can directly create your mind map in the fastest way both online and offline, with many handy functions: drag and drop, embedded fonts, web APIs, geolocation, and more.
It is free of charge, with out pop-up ads, and user friendly
Re-arranging branches and formatting more conveniently
You can work offline, no need for an internet connection, and save or export your work in seconds
No collaborative functions
No pre-designed templates
No advanced functions
8. Miro Mind Map
If you are seeking robust mind map makers, Miro is a web-based collaborative white-boarding platform allowing users to create and share various types of visual content, including mind maps.
Customizable interface and collaboration features make it a great tool for creatives who want to share and refine their ideas with others.
Offer different colors, icons, and images to make your mind map more visually appealing and engaging.
Integrate with other tools such as Slack, Jira, and Trello, making it easy to connect with your team and share your work at any time.
Limited export options for other formats, such as Microsoft Word or PowerPoint
Quite expensive for individual users or small teams


BONUS: Brainstorming with AhaSlides Word Cloud
It is good to use mind map makers to increase task performance in both learning and working. However, when it comes to Brainstorming, there are many outstanding ways to generate and stimulate your ideas and visualize texts in more innovative and inspiring ways like Word Cloud.
AhaSlides is a trustworthy presentation tool with millions of users around the world, thus, you can comfortably use AhaSlides for your multiple purposes in different occasions.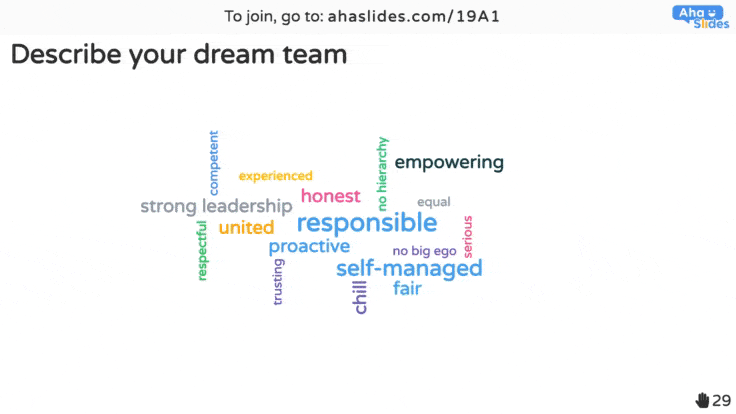 The Bottom Line
Mind Mapping is a great technique when it comes to organizing ideas, thoughts, or concepts and figuring out the interrelationship behind them. In the light of drawing mind maps in the traditional way with paper, pencils, color pens, using online mind map makers is more beneficial.
In order to boost learning and working efficacy, you can combine mind mapping with other techniques such as quizzes and games. AhaSlides is an interactive and collaborative app that can make your learning and working process never boring again.