You aren't wrong, this Latin America Map Quiz will blow your mind. Many people don't get it right when they define Latin American countries.
Overview
What is Latin America? Where are they on the world map? Are you ready to set foot in this beautiful place? You should take a quick tour with Latin America Map Quiz to check how well you know about these countries.
| | |
| --- | --- |
| What is another name of Latin America? | Ibero-America |
| What are the 3 regions of Latin America called? | Mexico and Central America, The Caribbean and South America |
| What is God in Latin name? | Deus |
| How many latin countries are there? | 21 |
Overview of Latin America Map Quiz
Latin America has a unique and vibrant culture that you couldn't find anywhere outside this place. It is a rich tapestry woven with diverse influences, including indigenous traditions, European colonial heritage, and African roots. From Mexico to Argentina, each country in Latin America has its own distinct cultural characteristics and traditions, offering a multitude of experiences for exploration.
So, your first mission is to realize all Latin American countries on the map test in this article. Don't be afraid, let's go!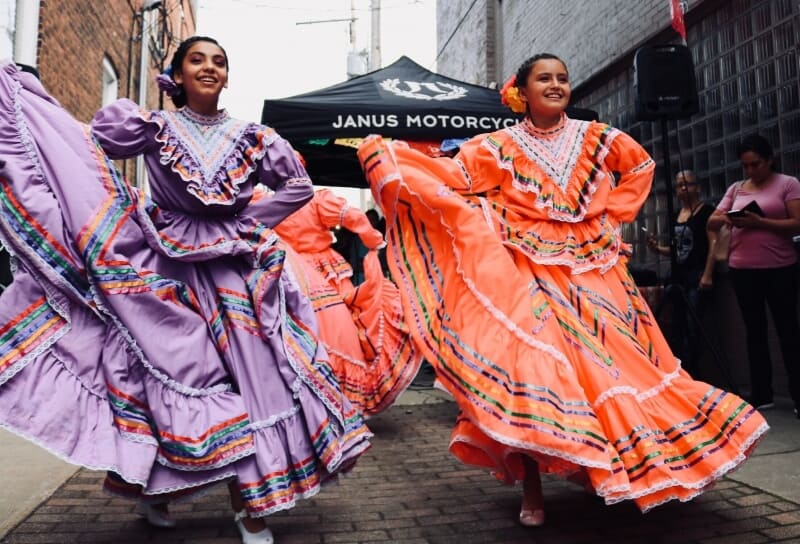 Table of Contents
Tips for Better Engagement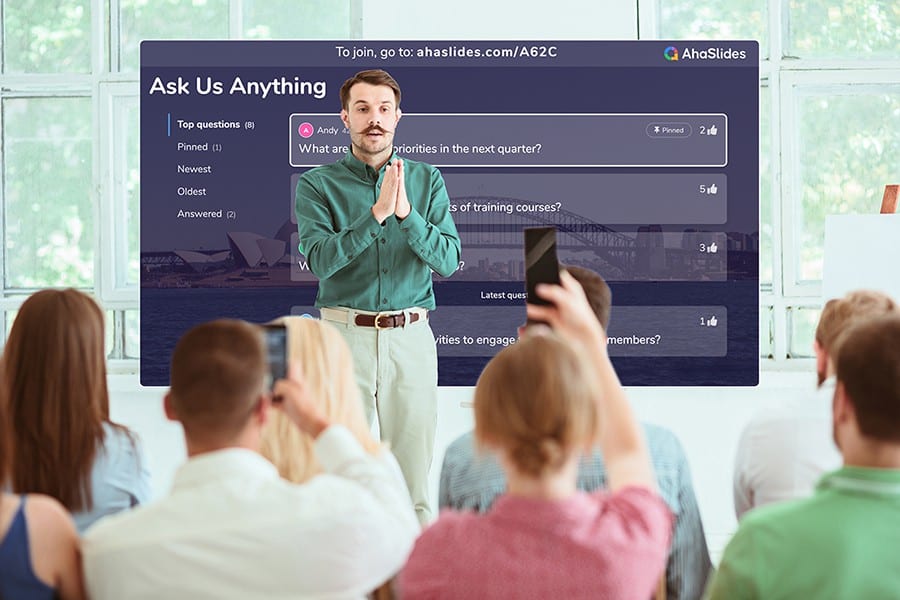 Looking for More Fun During Gatherings?
Gather your team members by a fun quiz on AhaSlides. Sign up to take free quiz from AhaSlides template library!
🚀 Grab Free Quiz☁️
Latin America Map Quiz
Do you know that not all countries from Mexico to Argentina belong to Latin America? There are 21 countries that are included in this definition. Accordingly, it includes one country in North America, four countries in Central America, 10 countries in South America, and four countries in the Caribbean, defined as Latin American countries.
In this Latin America map quiz, we already point out 21 countries and you have to find what it is. After you finish the quiz, check out the answers at the bottom line of this section.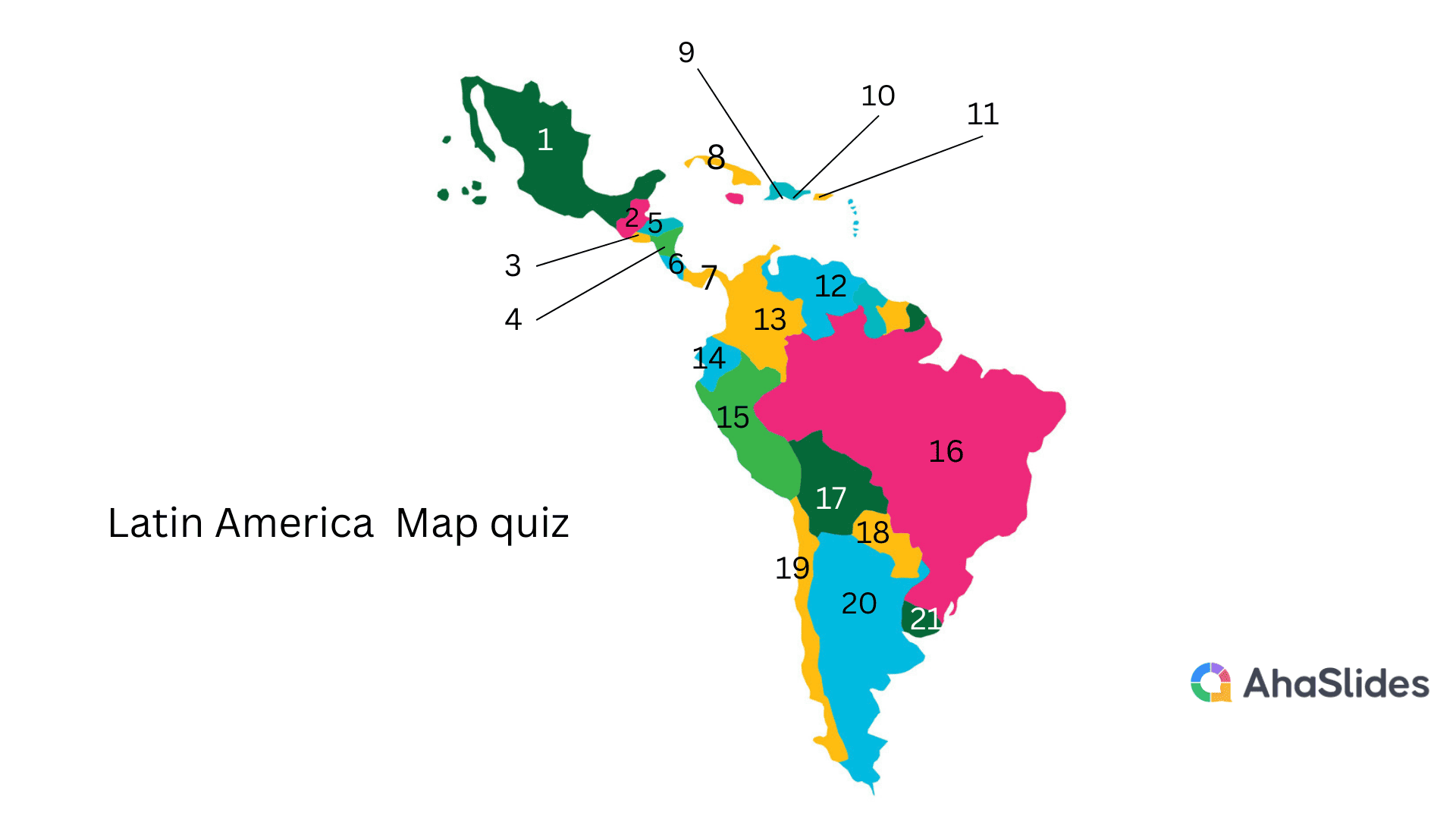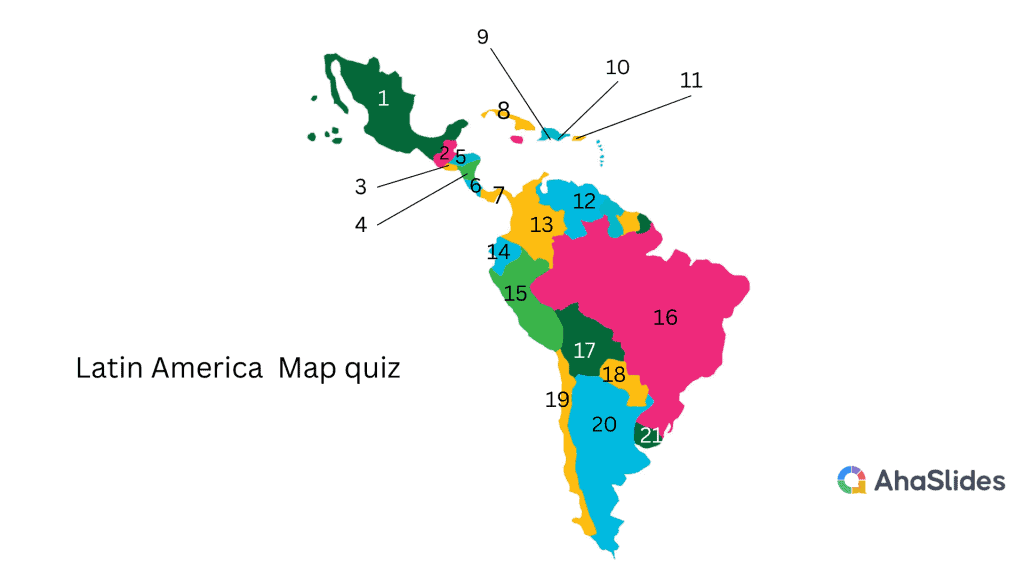 Latin America Map Quiz with Capitals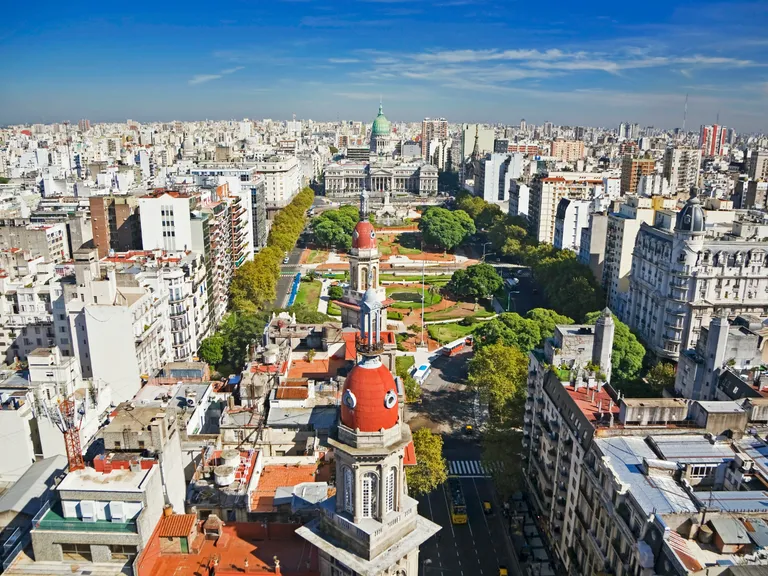 Here is the bonus game of the Latin America geography quiz, where you have to match the countries listed on the left column with their respective capitals on the right column. While there are some straightforward answers, be prepared for a few surprises along the way!
| | |
| --- | --- |
| Countries | Capitals |
| 1. Mexico (Mexico capitals quiz) | A. Bogotá |
| 2. Guatemala | B. Brasília |
| 3. Honduras | C. San José |
| 4. El Salvador | D. Buenos Aires |
| 5. Haiti | E. La Paz |
| 6. Panama | F. Guatemala City |
| 7. Puerto Rico | G. Quito |
| 8. Nicaragua | H. Port-au-Prince |
| 9. Dominican Republic | I. Havana |
| 10. Costa Rica | K. Tegucigalpa |
| 11. Cuba | L. Mexico City |
| 12. Argentina | M. Managua |
| 13. Brazil | N. Panama City |
| 14. Paraguay | O. Caracas |
| 15. Uruguay | P. San Juan |
| 16. Venezuela | Q. Montevideo |
| 17. Bolivia | R. Asunción |
| 18. Ecuador | S. Lima |
| 19. Peru | T. San Salvador |
| 20. Chile | U. Santo Domingo |
| 21. Colombia | V. Guatemala City |
Latin America Map Quiz with Capitals
Mexico – Mexico City
Guatemala – Guatemala City
Honduras – Tegucigalpa
El Salvador – San Salvador
Haiti – Port-au-Prince
Panama – Panama City
Puerto Rico – San Juan
Nicaragua – Managua
Dominican Republic – Santo Domingo
Costa Rica – San José
Cuba – Havana
Argentina – Buenos Aires
Brazil – Brasília
Paraguay – Asunción
Uruguay – Montevideo
Venezuela – Caracas
Bolivia – Sucre (constitutional capital), La Paz (seat of government)
Ecuador – Quito
Peru – Lima
Chile – Santiago
Colombia – Bogotá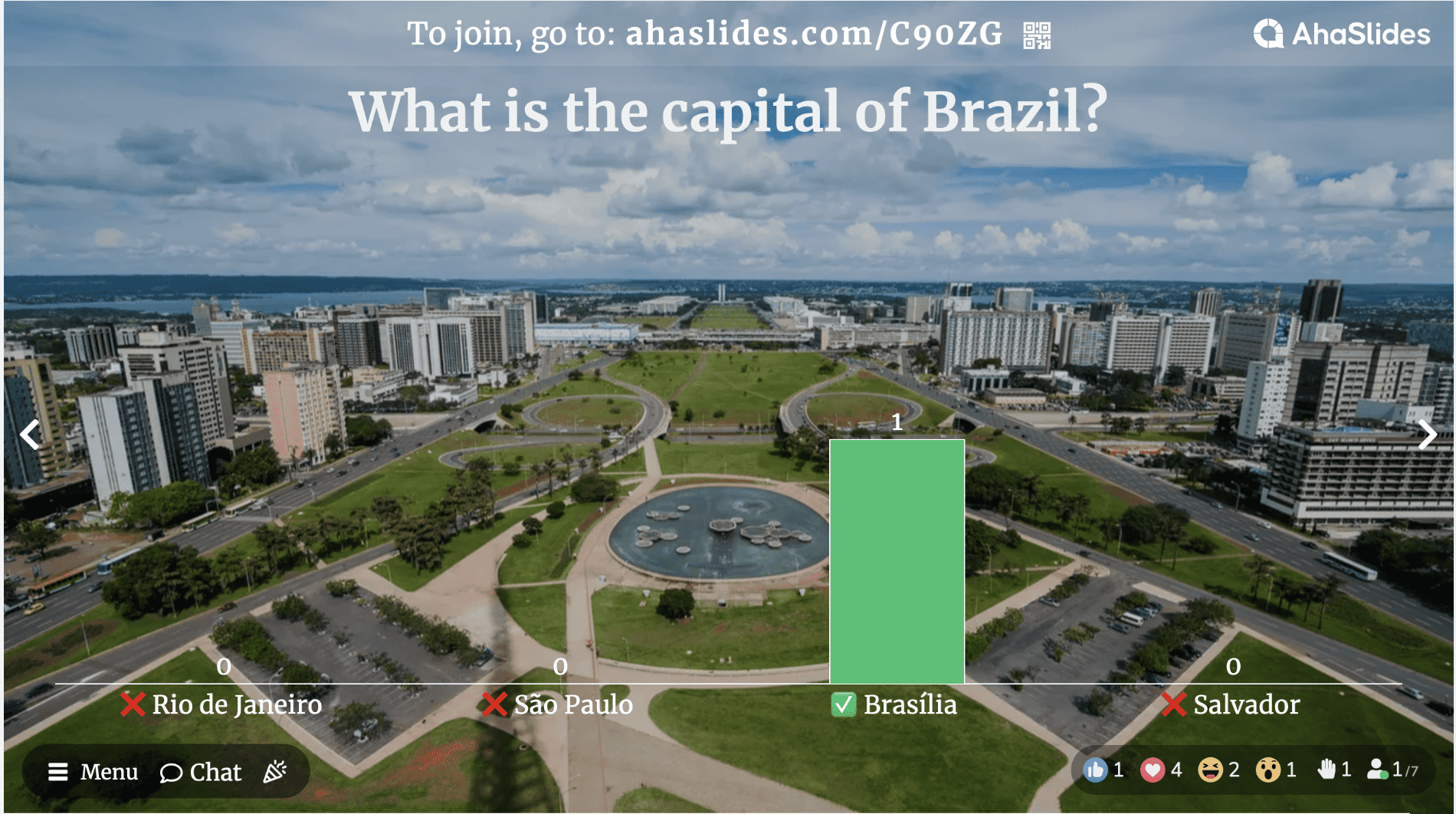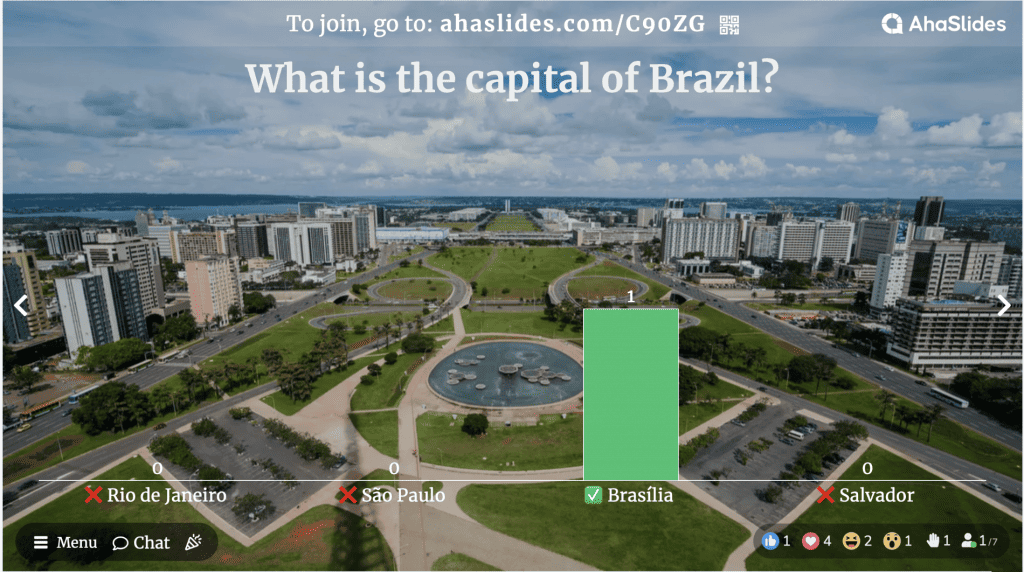 FAQ
Frequently Asked Questions
---
Got a question? We've got answers.
Key Takeaways
If you are planning your next trip, and seeking a distinctive cultural experience, Latin American destinations are perfect for you. Whether you're strolling through the colonial streets of Cartagena in Colombia or hiking through the breathtaking landscapes of Patagonia in Chile, you'll be immersed in a cultural mosaic that will leave a lasting impression.
And don't forget to find more information, learn some Spanish and take more Latin America quizzes before getting on your trip with AhaSlides. Share this quiz and have fun with your friends and examine whether they are also Latin lovers.