Are you interested in making sure your team is efficiently and effectively working together on your latest tech project? Planning Poker Online can be a great way to do just that!
It is a popular agile estimation technique for calculating the effort needed to complete work items that your team is working on. As it is available in online platforms for free and user-friendly, it certainly helps your estimates be well-informed and your hybrid team communicate effectively.
So if you're looking for an efficient solution for estimating tasks and ensuring effective team collaboration, let's take a deeper look at what planning poker online is, how to make use of it, and the best 5 apps to use.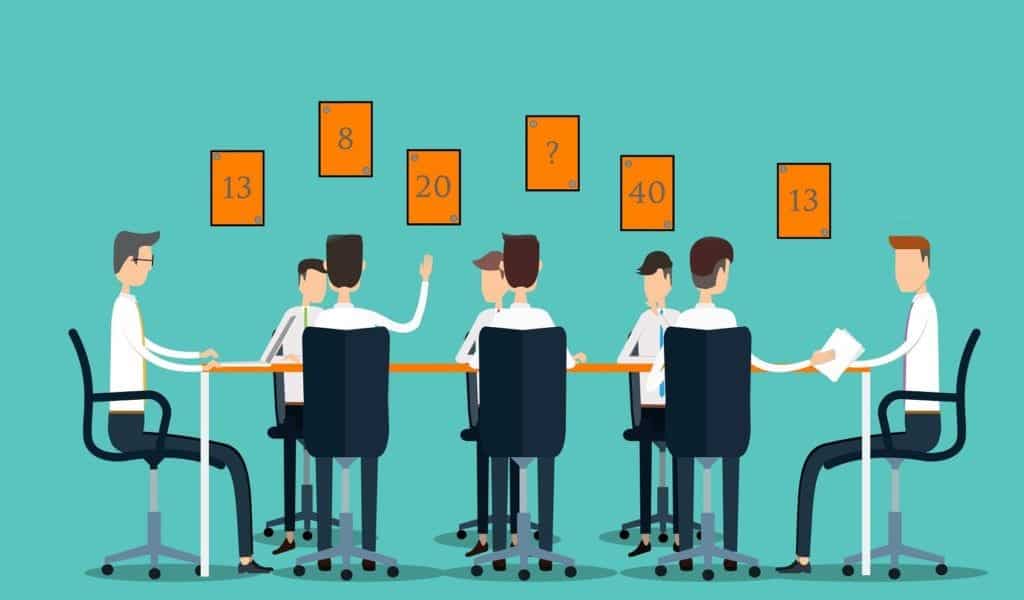 Table of Contents
Overview
| | |
| --- | --- |
| What is the purpose of Planning Poker ? | Agile estimation |
| What is the output of Planning Porker | Refined/prioritized product backlog |
| Who invented Planning Poker? | James Grenning |
| What Are the Top 5 Planning Poker Online Apps? | Jira – Scrumpy Poker – Pokrex – PivotalTracker – Mural. |
An overview of Planning Poker Online
What is Planning Poker Online?
Planning poker, Scrum poker, or Pointing poker is a gamified technique that is popularly utilized by development teams to help estimate story point value. Through story points, Scrum masters and project managers can identify the complexity, difficulty, scale, and overall efforts needed to implement a project's backlogs successfully.
In particular, outsourcing and remote work have made it necessary to move away from the traditional in-person planning poker sessions and towards online meetings. By using an online platform, teams can stay better organized and more on track with their project.
In planning poker online, each estimator has their own deck of cards marked with a number representing their estimation for the task at hand. All estimators pick a card from their deck at the same time and display it to the team. This allows the team to compare estimates quickly and accurately.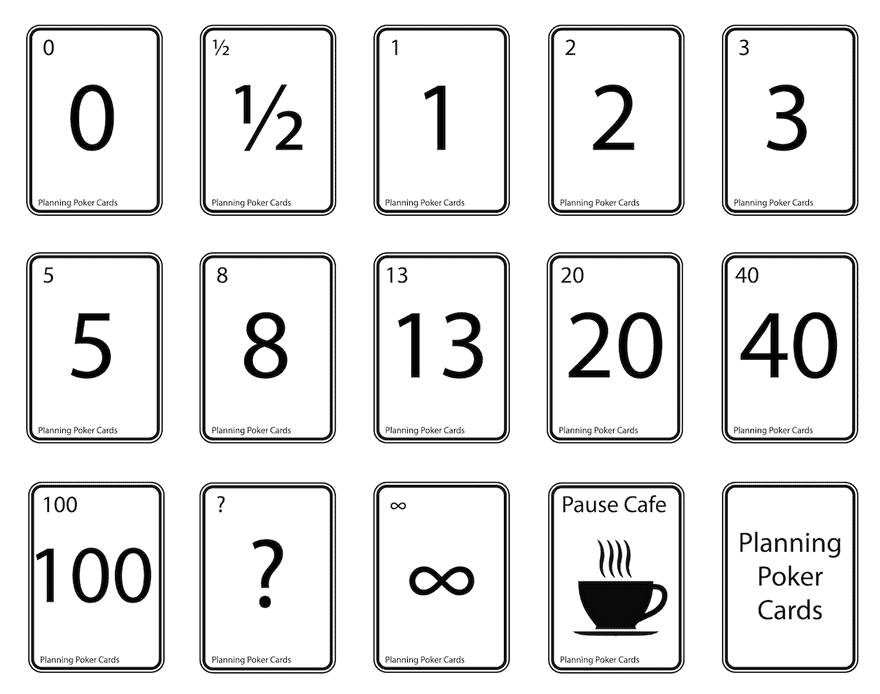 Where did planning poker come from?
It is worth mentioning the inventor of planning poker. It was introduced by James Grenning in 2002 and made popular by Mike Cohn. James Grenning, an Agile coach and consultant, is known for his contributions to Agile software development, including his work on Extreme Programming (XP) and Agile estimation techniques. Mike Cohn, a prominent figure in the Agile community, authored the book "Agile Estimating and Planning" and is recognized for his expertise in Agile project management and planning techniques.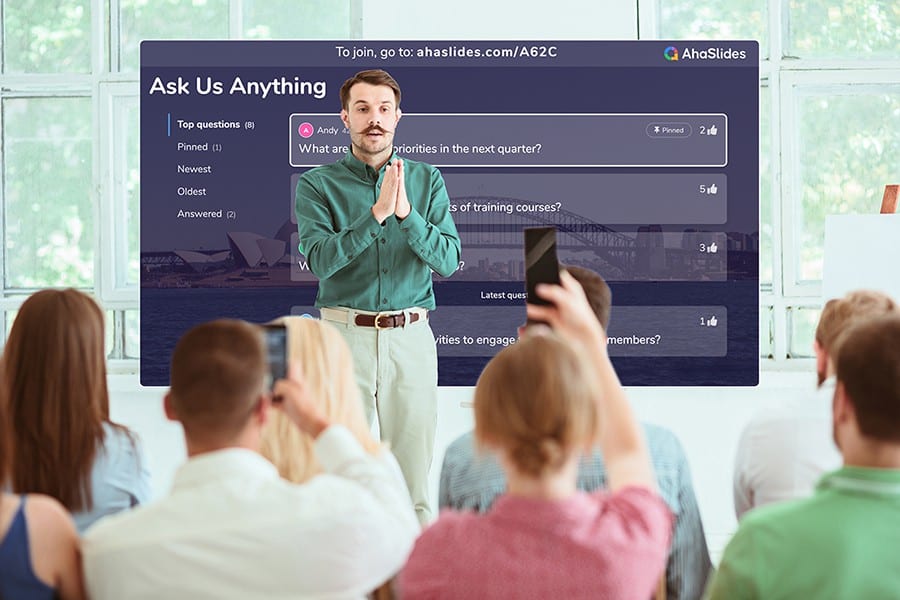 Looking for an interactive way to manage your project better?.
Get free templates and quizzes to play for your next meetings. Sign up for free and take what you want from AhaSlides!
🚀 Grab Free Account
How does planning poker online work?
Following these steps to ensure your planning poker online work best:
Before you begin your planning poker online session, it's important to assign a facilitator. They should be knowledgeable about the platform, be comfortable with the process, and be able to moderate the session.
#2. Select a Story Point Values System
The facilitator should also select a story point system that will be used to evaluate the task at hand. Some point value systems use Fibonacci numbers, others use a range of numbers from 1-10. It's important to get consensus from the team on the point values system prior to beginning the session.
Then it comes to gathering the team members for the session. Some way is using a video conferencing or chat platform, or in-person using a shared physical space. Remember to ensure that all team members have access to the platform and stay in a comfortable and conducive environment for estimation.
#5. Make Independent estimation
Next, distribute the planning poker cards to each team member. The facilitator can ask them to privately select a card that represents their estimate for the task. And, encourage them to think independently and avoid any influence from others.
Once everyone has chosen a card, ask the team members to reveal their estimates simultaneously. This ensures that no one is unduly influenced or swayed by others' choices.
#7. Discuss divergent estimates
If there is a significant difference in estimates, encourage team members to share their reasoning and discuss the factors that influenced their estimates. This collaborative discussion aims to reach a consensus and arrive at a more accurate estimate.
If a consensus is not reached, repeat the estimation process until a convergence of estimates is achieved. This may involve additional rounds of estimation and discussion.
What are The 5 Best Planning Poker Online Apps?
Agile estimation and holding Planning Poker Online can be a complex task, however, as a project leader, these free Planning Poker Online tools can save your day. Let's see what they are!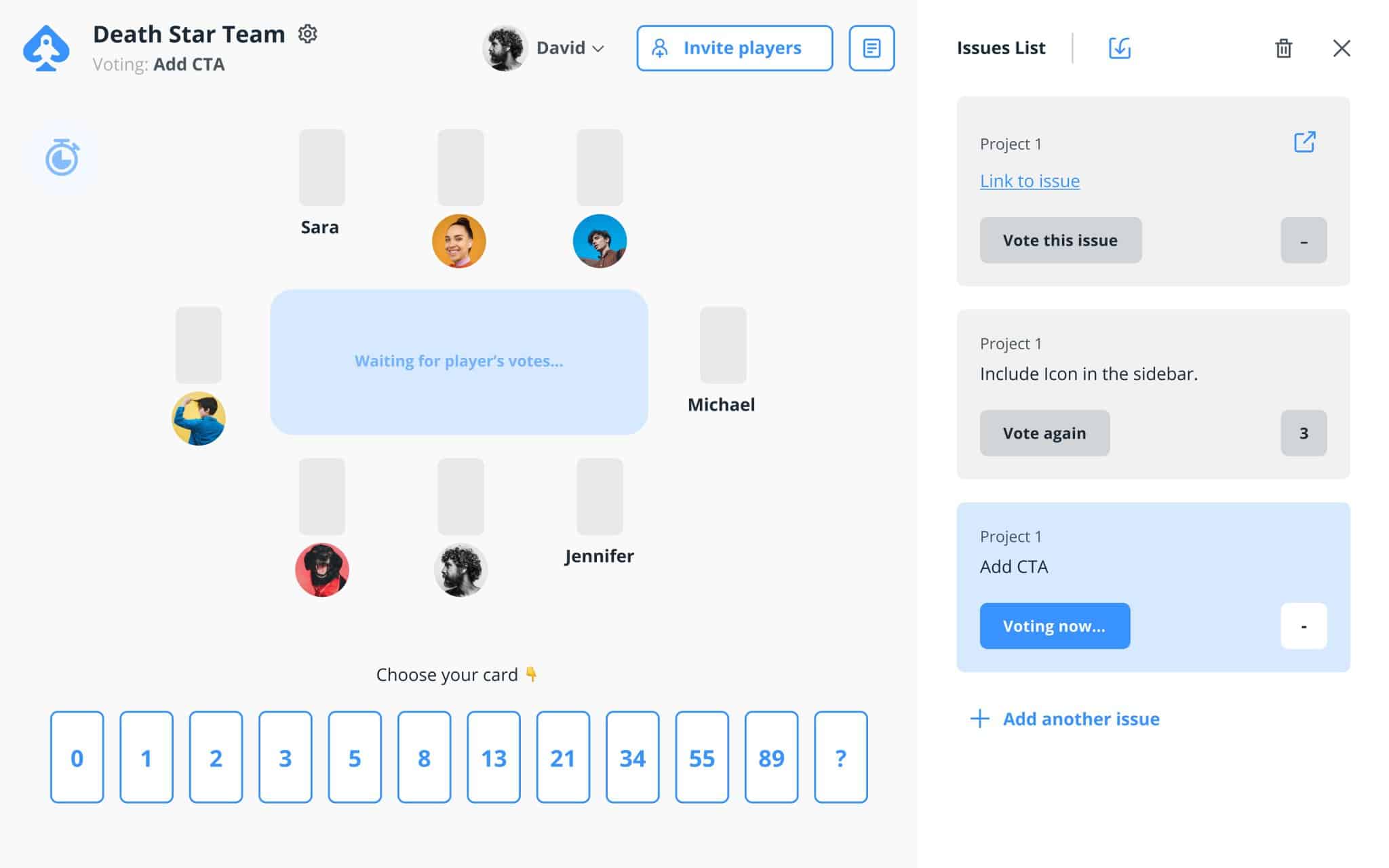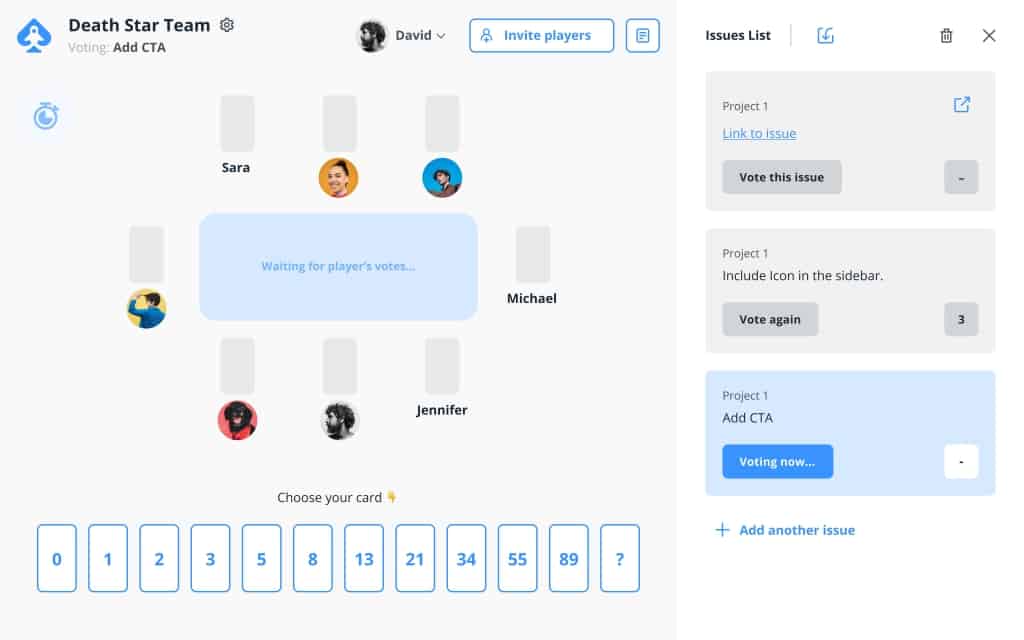 Jira Planning Poker Online
Agile Poker for Jira is a powerful and intuitive project management tool that allows teams to collaborate, plan, and manage projects. It allows teams to use a "commenting" system and include detailed descriptions and videos within each task. It also features a "board feature" that allows teams to easily organize information and assign tasks to team members.
Scrumpy Poker Planning Poker Online
Scrumpy Poker a planning poker online service and online agile estimation tool that is designed to accelerate effective project management. It features an intuitive interface that allows teams to quickly and easily collaborate.
Pokrex Planning Poker Online
Pokedex is a good option as well. With a user-friendly system, teams can select different story point schemes, enter stories directly, allow unlimited team members with paid plans, and access organized metrics.
PivotalTracker Planning Poker Online
Pivotal Tracker also offers planning poker online features where teams can plan and manage projects in a collaborative manner. It allows teams to set deadlines for stories, estimate story points, and track progress. Pivotal Tracker also has a built-in project management tool that helps teams stay on task and reach goals in a timely manner.
Mural Planning Poker Online
Another option is Mural which is designed to help plan teams and manage tasks and objectives. It offers a collaboration and planning tool that allows teams to build a visual plan with an easy-to-use interface. It also has "Breakout Rooms" which can be used to segment tasks and objectives into manageable pieces.
Tips to Organize Effective Planning Poker Online Sessions
In preparation for the session, it is crucial to create an agenda and share it with the team. The agenda should illustrate the sequence of events and tasks for the session. It should also include the point values system that will be used.
#2. Establish and enforce timing
Establishing and enforcing timing in the session is one of the most important steps. This will ensure that the session remains on task and within the allocated time frame. The facilitator should also allow for open discussion and debate, which can help create a more engaging session.
#3. Utilize visuals to keep the team focused
Adding visuals into the session can help keep the team focused and on task. Effective visuals can range from pictures or diagrams to video clips or images. Visuals can help break up long discussions and simplify complex topics.
Breakout rooms also can be used to encourage collaboration and stimulate creative thinking within the session. They can also be used to segment tasks and objectives into manageable pieces. 
FAQ
Frequently Asked Questions
---
Got a question? We've got answers.
A few advantages are allowing estimators to compare estimates objectively, facilitate fast and efficient ways of making decisions, and create a fun and engaging atmosphere. 
There are many planning poker apps free to use, such as the open source Planning Poker® web app, PointingPoker.com, and more that is free of charge for everyone for some basic features.
It is common to see teams organize a poker planning session closely after an initial product backlog is written.
Final Thoughts
Agile estimation is a vital skill for project teams looking to deliver high-quality results within the expected time frame. By mastering the art of Agile estimation and arranging playing poker online, remote teams can set realistic expectations, prioritize tasks effectively, and foster collaboration within the team.
Organizations can consider conducting training sessions and workshops on agile estimation techniques with planning poker online games to provide valuable insights and guidance on improving estimation skills. AhaSlides can be the best presentation tool for your team meetings when it comes to beautiful visuals and interaction and collaboration among team members.
Ready to take your agile estimation skills to the next level? Hold a planning poker online with AhaSlides right away!