What are your best rest day quotes? Taking time to rest is often misunderstood as laziness, but rest is as vital as our work.
When we're busy accomplishing tasks, it's easy to forget that our minds, bodies, and spirits need replenishment too.
Here are the best rest day quotes to remind you to put aside your daily hustle and bustle and give your mind a chance to decompress💆‍♀️💆
Table of Contents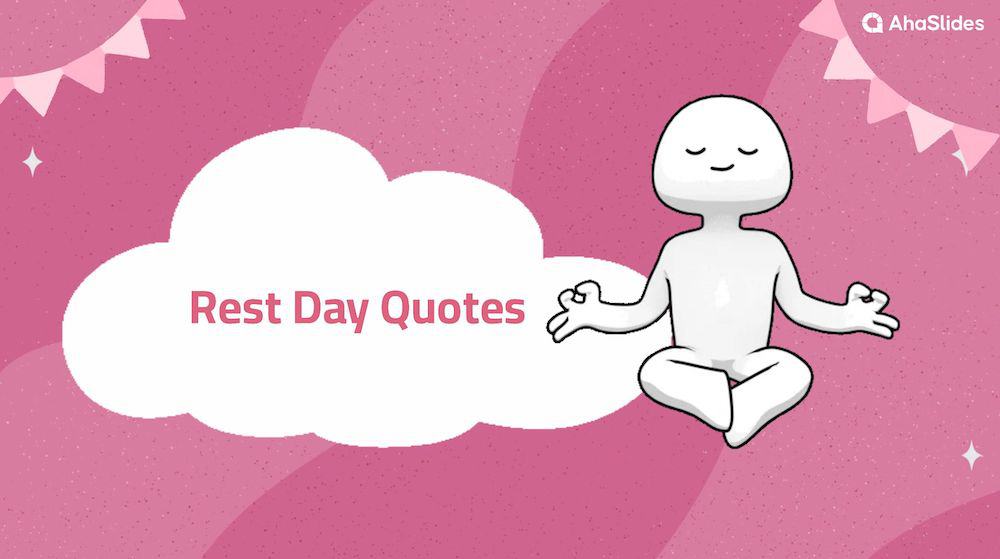 More Inspiration From AhaSlides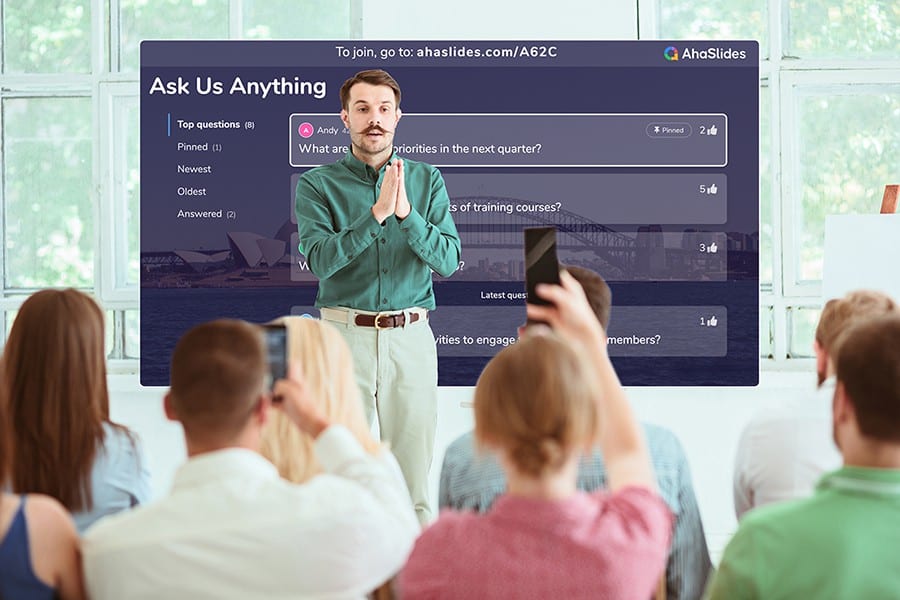 Looking for More Fun?
Play fun quizzes, trivia and games on AhaSlides. Sign up to take free quiz from AhaSlides template library!
🚀 Grab Free Quiz☁️
Rest Day Quotes
"Rest is not idleness, and to lie sometimes on the grass on a summer day listening to the murmur of water, or watching the clouds float across the sky is hardly a waste of time."
"If you get tired, learn to rest, not to quit."
Rest is not quitting
The busy career;
Rest is the fitting
Of self to one's sphere.
"Rest is the sweet sauce of labor."
"When you rest, you mend. When you rest, you grow. When you rest, you create space for wisdom to emerge."
"Stop for a while and take a deep breath. Remember who you are and why you are here."
"When I let go of what I am, I become what I might be."
"You gain strength, courage and confidence by every experience in which you really stop to look fear in the face. You must do the thing which you think you cannot do."
"Rest is not idleness, and to lie sometimes on the grass under the trees on a summer's day, listening to the murmur of water, or watching the clouds float across the sky, is by no means a waste of time."
"Rest is not quitting. Rest is the thing which gives you renewed strength and gets you ready for the next level."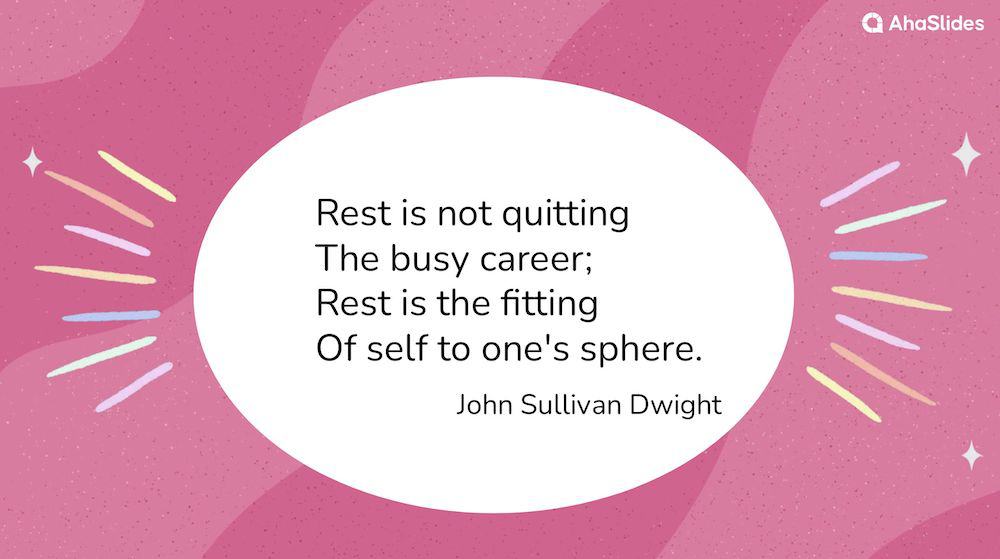 Positive Rest Quotes
"Rest is necessary to recharge your batteries so that you can jump higher and shine brighter later on."
"Rest is a way for your body and mind to pause from the busyness of daily life. It allows you to return refreshed and ready for what's next."
"I no longer believe rest should ever feel optional or indulgent. It is, simply put, an act of self-care that we must prioritize."
"Rest is the joy of focusing internally instead of externally. It's taking time to nourish your soul and find calm within life's storms."
"Taking regular time to rest reminds us that we're more than just workers; we're whole beings deserving of replenishment and peace."
"Rest reminds us that we have limits and helps us avoid burnout. It's listening to what our bodies and minds need to stay healthy."
"When you rest with purpose – whether it's meditating, journaling or simply being present – you gain clarity and perspective to take on whatever comes next."
"Relax and recharge."
"We must always change, renew, rejuvenate ourselves, otherwise we harden."
"A well-rested mind and body are better able to face challenges that come your way."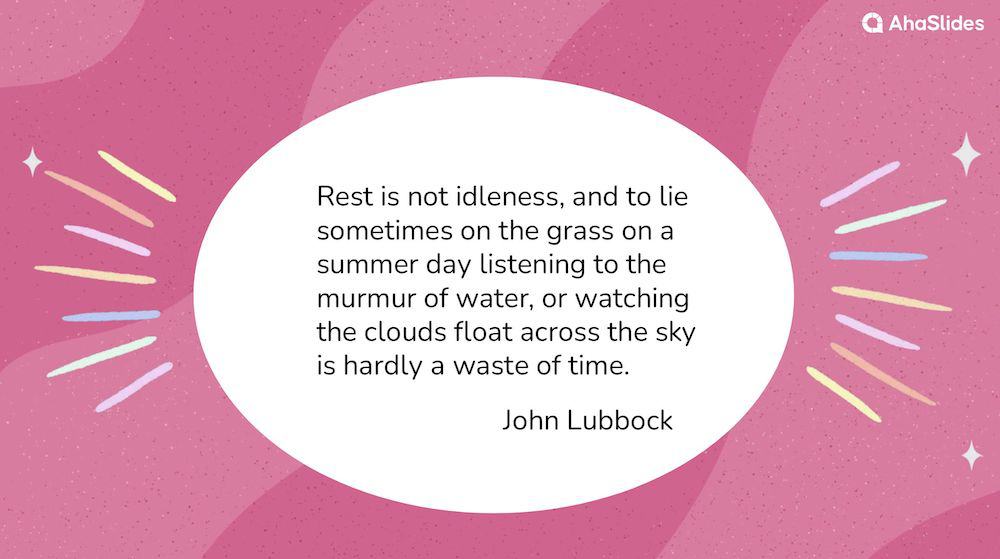 Taking a Break from Work Quotes
"Taking a break keeps you fresh and energized so you can keep being productive."
"Step away from your labors awhile and rest yourself; for labor continued without cessation makes the mind old."
"Sometimes the best thing to do is take a step back, breathe, rest your mind, and come at it with a fresh perspective."
"Short breaks keep you focused and productive. Your brain needs time to recharge so it can attack problems with renewed vigor."
"Nothing clears the mind like a walk. Silence and solitude inspire creative thoughts."
"No one can be productive 100% of the time. We all need breaks to rest our brains before diving back into intense focus."
"Stepping back allows you to view your work and challenges from a higher vantage point and often the solutions become clearer."
"Breaks are not a sign of weakness but a necessity for productivity. Your mind and body will thank you for allowing time to recharge."
"Taking time to unwind prevents burnout which ultimately allows you to bring your best effort to your work in a sustainable way."
"Rest when you're weary. Refresh and renew yourself, your body, your mind, your spirit. Then get back to work."
"Almost everything will work if you unplug it for a few minutes… including you."
"Eat when you are hungry, sleep when you're tired."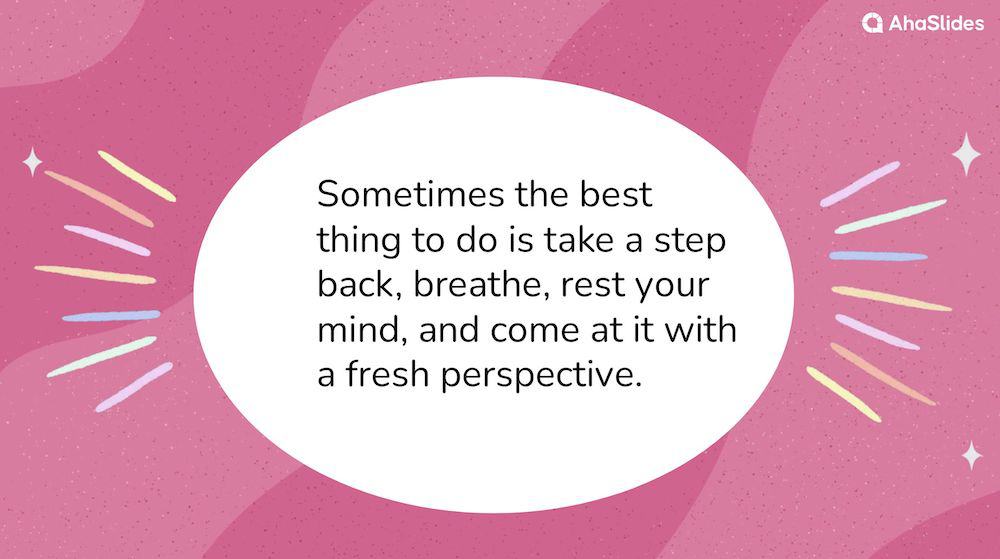 Rest Day Quotes for Social Media Caption
"Relax your mind and body because worrying is a misuse of the imagination."
"Taking time out to relax is not laziness – it's a strategy to recover the essential energies life requires."
"Imagine you're a plant. You'll ask yourself daily: 'Am I getting enough rest and relaxation to stay healthy?' Take care of yourself."
"Sunday Funday vibes. Resting mind and body so I can tackle this week with energy and focus."
"Weekend relaxation looks a lot like doing nothing, and that's exactly the point."
"Sunday reset. Making time to relax and unwind so I can restart my week feeling recharged."
"You can't pour from an empty cup. Taking time to refuel through rest and self-care."
"My kind of Sunday. Slow mornings relaxing with a good book/show are a must for recharging my batteries."
"Me time is never time wasted. Resting up for the challenges ahead."
"The most underrated self-care is doing absolutely nothing at all."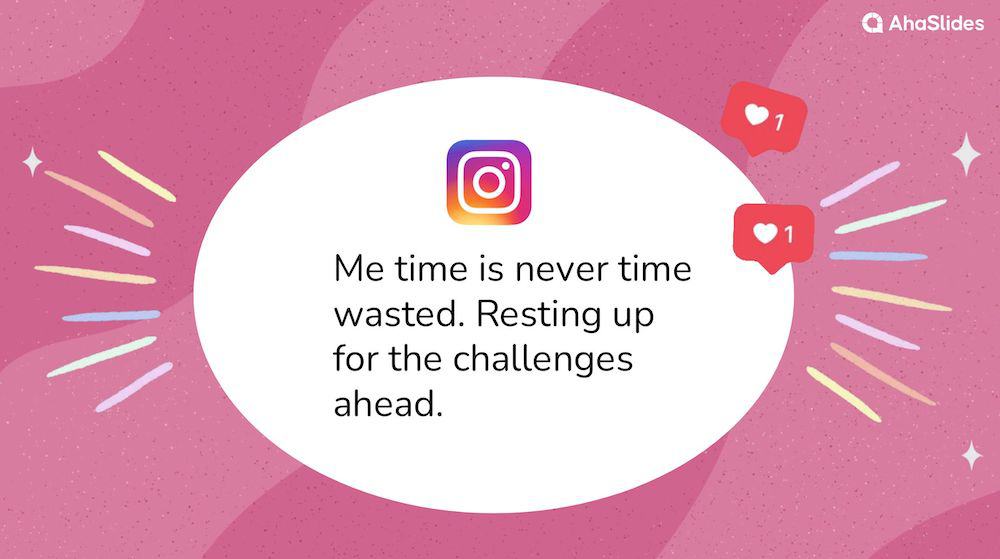 FAQ
Frequently Asked Questions
---
Got a question? We've got answers.
"People say nothing is impossible, but I do nothing every day." - A.A. Milne, Winnie-the-Pooh
"We humans have lost the wisdom of genuinely resting and relaxing. We worry too much. We don't allow our bodies to heal, and we don't allow our minds and hearts to heal." - Thich Nhat Hanh
"Come to me, all you who are weary and burdened, and I will give you rest." - Matthew 11:28