"The biggest risk is not taking any risk. In a world that's changing quickly, the only strategy guaranteed to fail is not taking risks," said Mark Zuckerberg.
Strategy is the core of business prosperity in the competitive market. Every chosen strategy for the next move is like taking a risk. Risk equals opportunities, and a well-defined strategy plays a significant role in transforming risk into opportunity.
So what are the best types of strategy that companies should pay attention to? Let's dive into this article to get more insight!
Table of Contents
What is Strategy?
A strategy is a well-thought-out plan or approach designed to achieve specific goals. It involves setting clear goals, analyzing the situation, making decisions, planning actions, and adjusting when necessary.
Strategies, from business to personal development, are used in various contexts to guide decision-making and effective resource allocation to achieve desired results.
More Tips from AhaSlides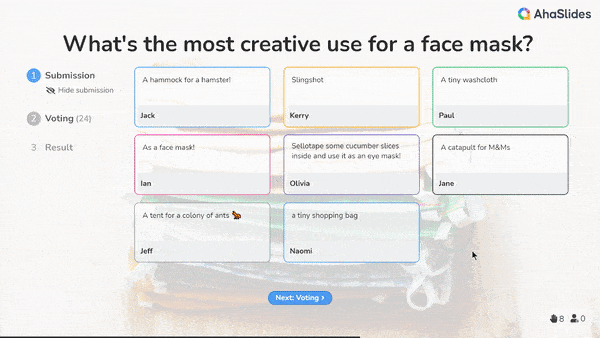 Host a Live Brainstorm Session for Free!
AhaSlides lets anyone contribute ideas from anywhere. Your audience can respond to your question on their phones and then vote for their favorite ideas! Follow these steps to facilitate a brainstorming session effectively.
Why Should a Company Consider Different Types of Strategy?
Understanding strategy types is as important as applying the right strategy. There are several reasons why an organization should have a good understanding of each type of strategy:
Different situations call for different approaches, and understanding the nuances of each strategy type ensures that the chosen strategy aligns with the overall vision and mission of the organization.
Market conditions can change from time to time. If one strategy isn't working, a company can pivot to another that better suits the current conditions.
Different strategies require different resource allocations.
Each strategy type comes with its own set of risks and potential rewards.
What are Common Types of Strategy in Strategic Management?
Here are some of the common types of strategies that can be applied to strategic management. It is obvious that almost all organizations nowadays often combine and adapt these strategies to align with their specific goals and market conditions.
"A company can outperform rivals only if it can establish a difference that it can preserve."

by Michael E. Porter, HBR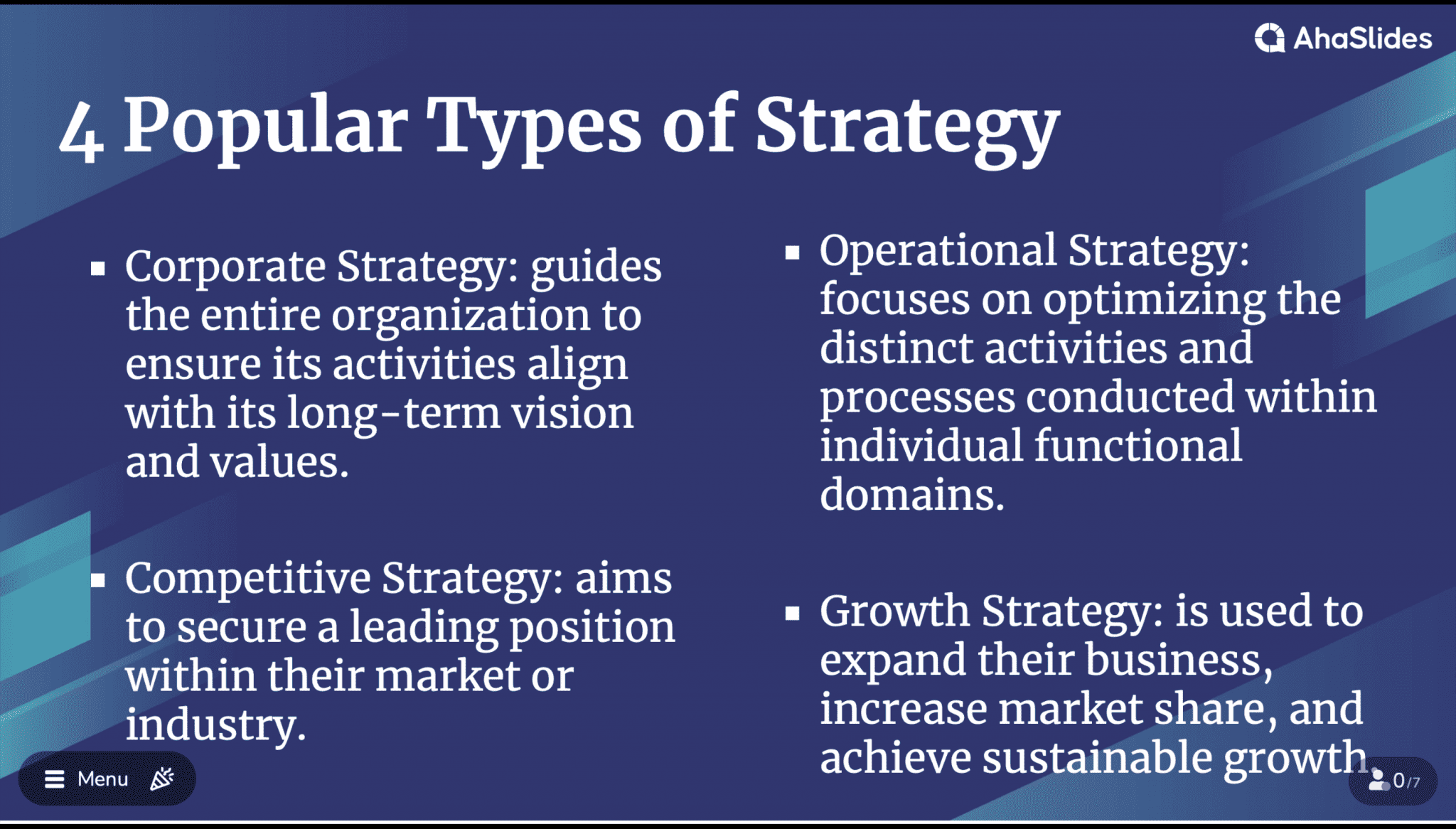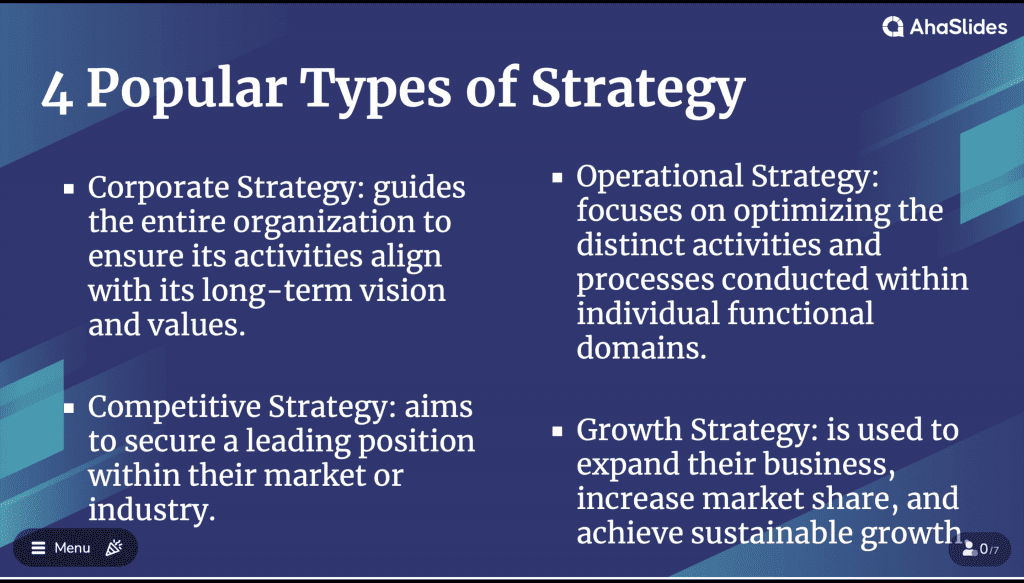 Corporate Strategy
Corporate Strategy is one of the most typical types of strategy that businesses use nowadays. The high-level blueprint that defines an organization's overarching direction and goals. It includes decisions on market presence, resource allocation, strategic positioning, opportunities for collaboration, risk reduction, sustainability, and growth objectives. This strategy guides the entire organization to ensure its activities align with its long-term vision and values, enabling it to attain its ultimate objectives.
Competitive Strategy
A carefully devised plan employed by organizations to secure a leading position within their market or industry. It entails pinpointing the target market, delivering distinctive value to customers, identifying competitive advantages (like cost leadership or differentiation), and making efficient resource allocations. Competitive strategies are vital for achieving sustained success and surpassing competitors by providing superior value to customers.
Michael Porter has specified four types of competitive strategies that can be applied in any business organization irrespective of the size and nature of products. Among them, the Differentiation strategy is one the most effective ones. In the market, there are thousands of sales selling similar products and services. When the cake is eaten by all the strong competitors, how can your business secure a larger slice? The answer lies in a well-executed differentiation strategy. It usually comes with Premium Pricing, where Customers are willing to pay a premium when they perceive added value in a product or service, leading to increased profit.
Operational Strategy
Types of strategy like Operational Strategy is a must-consider approach for both small and large organizations. A layer of planning within an organization that concentrates on optimizing the distinct activities and processes conducted within individual functional domains, such as marketing, finance, or production. Its primary objective is to guarantee that these functions harmonize with and bolster the overarching business goals of the organization. The operational strategy entails refining processes, judicious allocation of resources, establishment of performance benchmarks, and overseeing the various facets of daily operations to augment efficiency, quality, and competitive strength.
Growth Strategy
Growth Strategy, among the top types of strategy, describes a deliberate plan that organizations use to expand their business, increase market share, and achieve sustainable growth. It involves activities like entering new markets, developing new products or services, penetrating existing markets further, diversifying into unrelated areas, forming partnerships, and leveraging innovation. Effective execution of a growth strategy requires careful planning, resource allocation, and adaptability to changing market dynamics.
What are Examples of Strategy in Today's Business?
Apple is a well-known example of applying the right strategy at the right time, while there are fluctuations in the market and the downside of the economy.
Apple's Differentiation Strategy: Apple's competitive strategy is centered around product differentiation. The company consistently delivers innovative and aesthetically appealing products, such as the iPhone, iPad, and Mac, which command premium prices. Apple's brand loyalty and ecosystem integration further reinforce its differentiation strategy.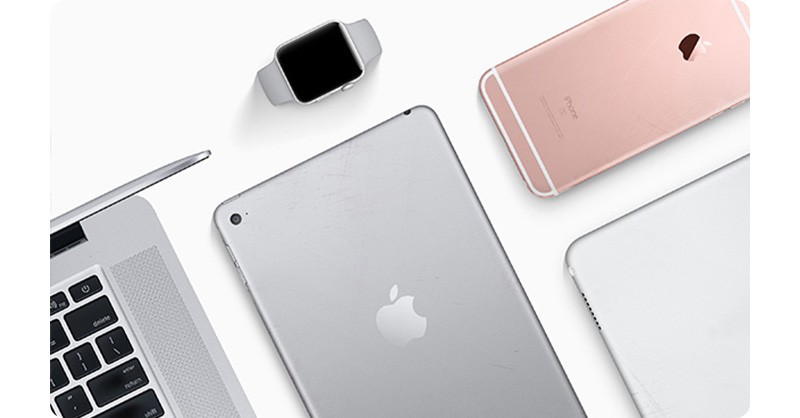 Google has made its name become the most used web-based search engine, thanks to its in-time transformation of Google's Alphabet in 2015.
Google's Alphabet Restructuring (2015): Google's parent company, Alphabet Inc., underwent a major corporate strategy shift by restructuring its various businesses into separate subsidiaries under the Alphabet umbrella. This restructuring allowed Google to focus on its core search and advertising business while enabling other Alphabet subsidiaries to pursue innovative ventures.
Tesla also comes with an excellent business strategy that many companies take as a valuable lesson. Rather than focus on immediate benefits, they play the long game, with the goal of becoming the biggest car company in the world.
Tesla's supply chain strategy: It is one of the most brilliant investments they've made. They took full control of their supply chain by placing a bet on battery manufacturers, allowing them to be more agile and responsive to changes in demand. As of July 2023, Tesla operates a network of 5,265 Supercharger stations with over 48,000 connectors. This is a key competitive advantage for Tesla, and it is likely to help the company continue to grow in the years to come.
How to Choose The Right Types of Strategy for an Organization?
In this part, we suggest five tips that might help an organization have a strong foundation to make informed and strategic decisions when choosing the strategy.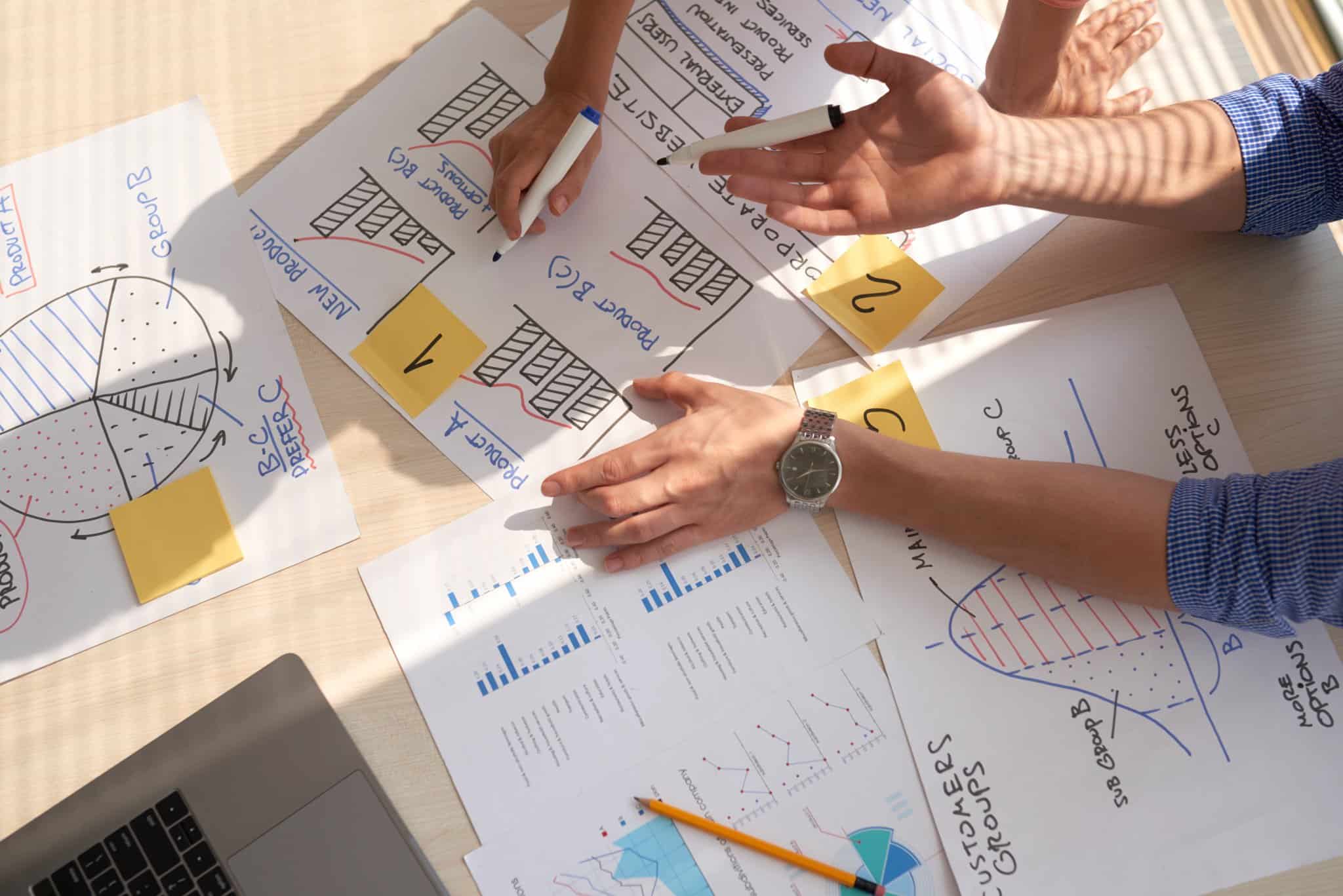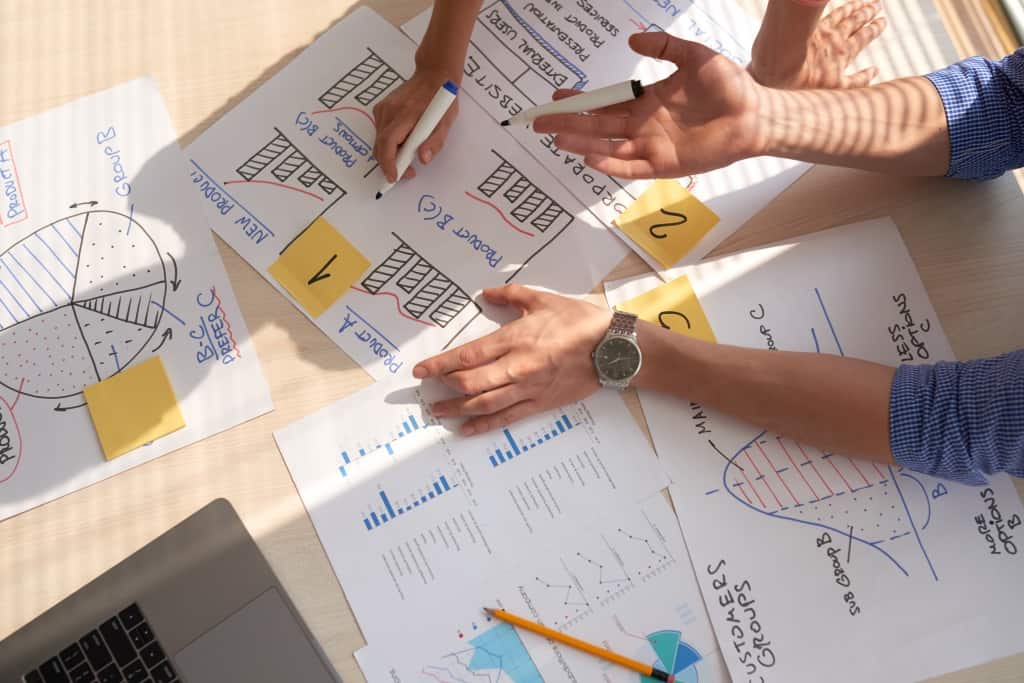 Understanding Organizational Objectives:
This is fundamental because aligning the chosen strategy with the organization's overarching mission and vision ensures that the strategy supports the organization's core purpose.
Industry and Competitive Analysis:
Conducting a thorough analysis of the industry and the competitive landscape is essential as it provides the foundation for informed decision-making and helps organizations understand their competitive position. Discuss the need for thorough analysis using tools like SWOT, PESTEL, and Porter's Five Forces to understand market conditions, threats, and opportunities.
Assessing Internal Capabilities:
Understanding the organization's internal strengths and weaknesses is critical. Without this assessment, it's challenging to determine whether the organization has the necessary resources and capabilities to execute the chosen strategy effectively. This includes evaluating financial resources, human capital, technological capabilities, and operational efficiency.
Ensuring that resource availability aligns with the requirements of the chosen strategy is vital. Without proper resource allocation, even the best strategy can falter.
Monitoring and Evaluation
Establishing performance metrics and KPIs for tracking progress and making adjustments is crucial for ongoing success. Without effective monitoring and evaluation, organizations can't ensure that the strategy is on track and delivering the desired results.
Key Takeaways
It is important to note that the effectiveness of each type of strategy is influenced by various factors. The strategy that is right for that company might not be applicable to your company. In the ever-evolving business landscape, staying up to date with the latest trends and being open to exploring different approaches is crucial for long-term success.
🌟 Want more inspiration? Check out AhaSlides to take your presentations and audience engagement to the next level.
Frequently Asked Questions
What are the 4 types of strategies under strategic analysis?
In terms of strategic analysis, there are four levels of strategy: (1) Corporate level strategy, (2) Business level strategy, (3) Functional level strategy, and (4) Operational level strategy.
What are the 11 types of strategy?
There are 11 types of strategy that are commonly used in modern-day business, including Structuralist, Differentiation, Price-skimming, Acquisition, Focus, Cross-selling, Sustainability, Diversification, Retention, Portfolio-constrained, and Growth Strategy.
What are the four types of competitive strategy?
According to Michael Porter, Competitive strategy is a broad approach that can be divided into four smaller categories:
Cost leadership strategy focuses on producing products or services at a lower cost than the competition.
Differentiation strategy involves creating products or services that are unique and offer something that customers value. 
Focus strategy targets a specific market segment and serves that segment's needs better than the competition. 
Integrated cost leadership/differentiation strategy is a combination of cost leadership and differentiation.