We have come a long way from using paper flip charts and slide projectors to getting Artificial Intelligent PowerPoint presentations in hardly 5 minutes!
With these innovative tools, you can sit back and relax as they write your script, design your slides, and even create a stunning visual experience that will leave your audience in awe.
Don't worry, we've got you covered. Keep reading to discover the top contenders that are revolutionising the way we present information.
| | |
| --- | --- |
| What is slides AI? | AI-powered tools that generate your slides in seconds |
| Is slides AI free? | Yes, some of the slides AI platforms are free such as AhaSlides |
| Does Google Slides have an AI? | You can use the "Help me visualize" prompt in Google Slides to create images using AI |
| How much does slides AI cost? | It can range from Free for basic plans to over $200 yearly |
Best Slides AI Platforms
Table of Contents
Practice for Better Interactive Presentation with AhaSlides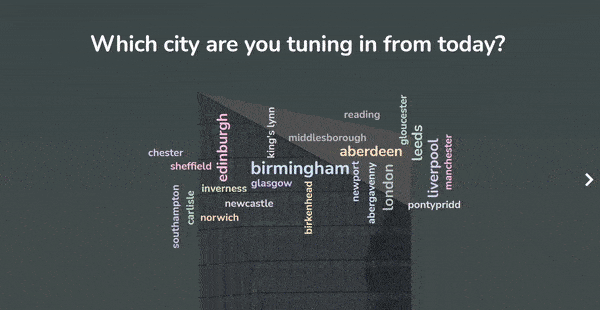 Start in seconds.
Get free templates for your next interactive presentation. Sign up for free and take what you want from the template library!
🚀 Get templates for free
#1. SlidesAI – Best Text to Slides AI Platforms
Attention Google Slides enthusiasts! You won't want to miss out on SlidesAI – the ultimate AI slide generator for transforming your presentation into a fully-designed Google Slides deck, all from within Google Workspace.
Why choose SlidesAI, you ask? For starters, it seamlessly integrates with Google, making it the perfect tool for businesses that rely on the Google ecosystem.
And let's not forget about the Magic Write tool, which allows you to edit your slides even further. With the Paraphrase Sentences command, you can easily re-write sections of your presentation to perfection.
Slides AI also offers Recommended Images, an ingenious feature that suggests free stock images based on the content of your slides.
And the best part? Slides AI is currently developing a new feature that works with PowerPoint presentations, providing a game-changing solution for businesses that use both platforms.
#2. AhaSlides – Best Interactive Quizzes
Want to amp up audience involvement and get instant feedback during your presentation?
AhaSlides can transform any routine speech into a jaw-dropping experience!
In addition to the template library with thousands of ready-to-use slides, AhaSlides packs a punch with interactive goodies like Word Clouds, real-time Polls, fun Quizzes, interactive Games and a Spinner wheel.
You can deploy these features to liven up everything from college lectures and team-building activities to live parties and important business meetings.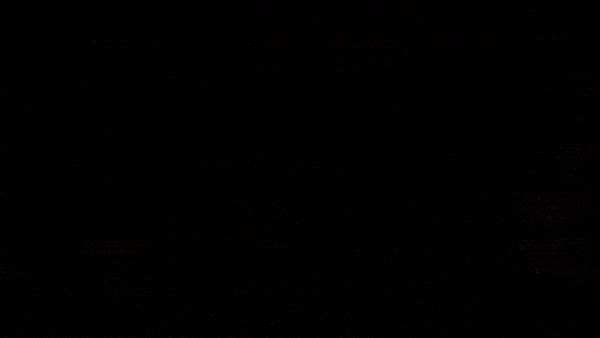 AhaSlides binge-worthy analytics offer behind-the-scenes intel on how audiences engage in your content. Find out exactly how long viewers linger on each slide, how many people have watched the presentation in total, and how many people have shared it with their contacts.
This attention-grabbing data gives you unprecedented insight into keeping butts in seats and eyeballs glued to the screen!
#3. SlidesGPT – Best AI-Generated PowerPoint Slides
Looking for an easy-to-use Artificial Intelligence slides tool that requires no technical skill? Count SlidesGPT on the list!
To get started, simply enter your request in the text box on the homepage and hit "Create deck". The AI will get to work preparing slides for presentation – showing progress via a loading bar as it fills.
Though there may be some delay time before receiving your slides for presentation, the end result makes the wait worth it!
Once completed, your slides will feature text and images for easy browsing in your web browser.
With short links, share icons, and download options at the bottom of each page, you can quickly share and distribute your AI-generated slides among classmates, individuals or devices for larger screen sharing – not to mention editing capabilities in both Google Slides and Microsoft PowerPoint!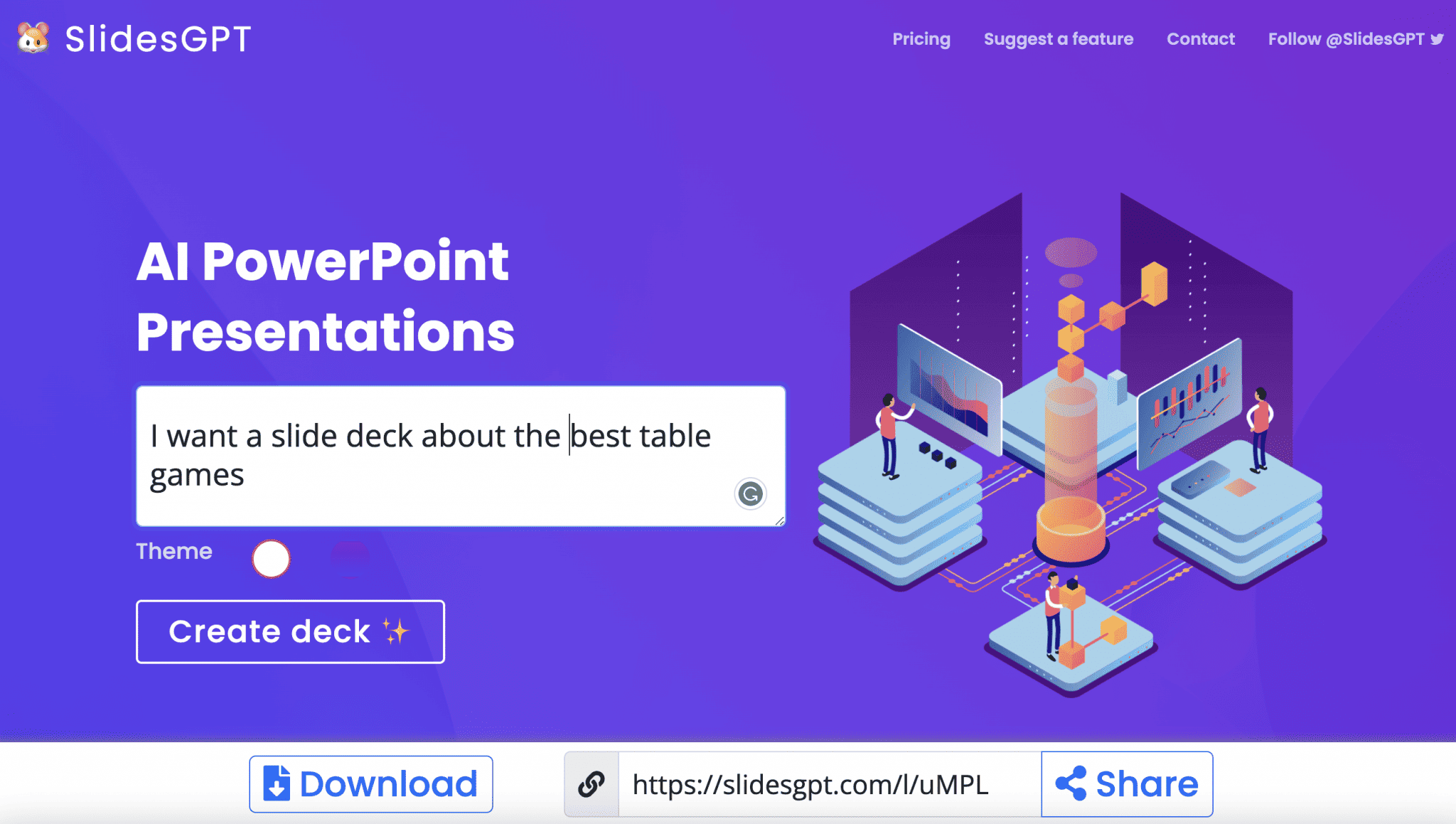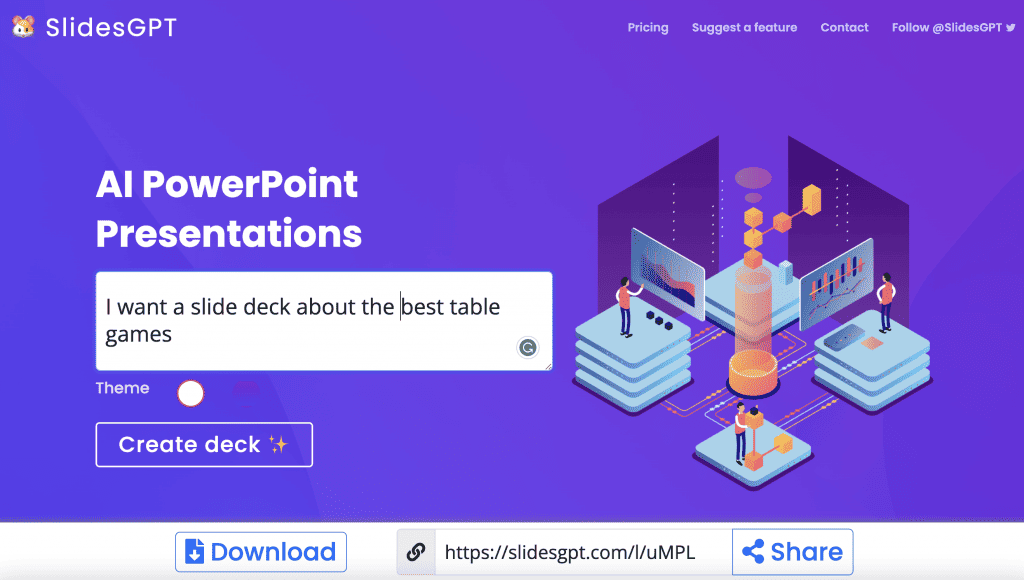 #4. SlidesGo – Best Slideshow AI Maker
This AI Presentation Maker from SlidesGo will grant you wishes for your specific request, from biz meetings, weather reports, to 5-minute presentations.
Just tell the AI and watch the magic happen🪄
Variety is the spice of life, so choose your style: doodle, simple, abstract, geometric or elegant. What tone conveys your message best – fun, creative, casual, professional or formal? Each unleashes a unique experience, so which wow factor will blow minds this time? Mix.And.Match!
Behold, slides appear! But wish they were a different colour? That text box would pop more on the right? No worries – the online editor grants every wish. Tools put the finishing touches on slides exactly your way. The AI Genie's work here is done – the rest is up to you, AI slide creator!
#5. Beautiful AI – Best Visual AI Maker
Beautiful AI packs serious visual punch!
At first, customising the AI's creations can be tricky – there's a learning curve, but the payoff is worth it.
This AI tool grants your design wishes in an instant – my request turned into a flawless presentation in just 60 seconds flat! Forget pasting graphs made elsewhere – import your data and this app works its magic to generate dynamite diagrams on the fly.
The pre-made layouts and themes although limited, are gorgeous too. You can also collaborate with your team to stay consistent on branding, and share with everyone easily. A creation worth taking a try!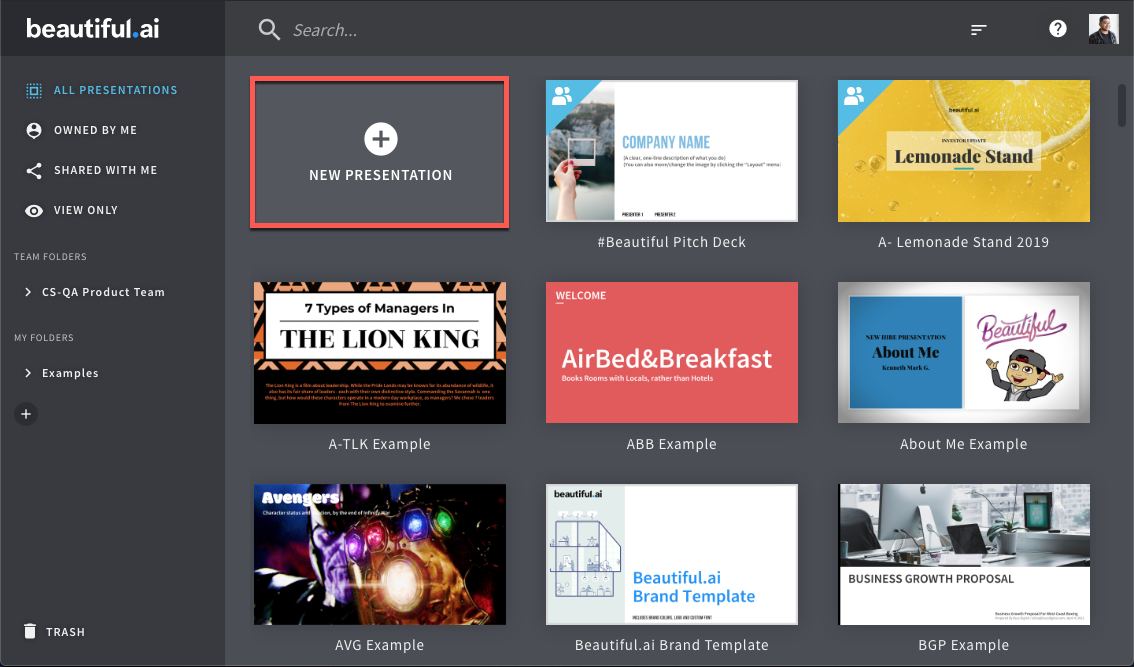 #6. Canva – Best Free AI Presentation
Canva's Magic Presentation tool is pure presentation gold!
Type just one line of inspiration and – abracadabra! – Canva conjures up a stunning custom slideshow just for you.
Because this magical tool lives inside Canva, you get the entire treasure trove of design goodies at your fingertips – stock photos, graphics, fonts, colour palettes, and editing abilities.
While many presentation genies ramble on and on, Canva does a solid job keeping text short, punchy and readable.
It also has a built-in recorder so you can capture yourself presenting the slides – with or without video! – and share the magic with others.
#7. Tome – Best Storytelling AI
Tome AI aims higher than good slideshows – it wants to help you spin cinematic brand stories. Instead of slides, it crafts gorgeous digital "tomes" that tell your business's tale in an immersive way.
The presentations Tome conjures are clean, classy and ultra-professional. With a whisper, you can create dazzling AI images with DALL-E the virtual assistant and insert them into your slide deck with a flick of the wrist.
The AI assistant is still a work in progress. At times it struggles to fully capture the nuances of your brand's story. But with Tome AI's next upgrade just around the corner, it won't be long before you have a storytelling sorcerer's apprentice at your beck and call.
FAQ
Frequently Asked Questions
---
Got a question? We've got answers.
Yes, there are lots of AI for slides that are free (AhaSlides, Canva, SlidesGPT) and available on the markets!
For AI slideshow generators, you can try Tome, SlidesAI, or Beautiful AI. They are the prominent AI for slides that let you create a presentation rapidly.
SlidesGPT lets you import AI-generated slides into PowerPoint (PPT) for a seamless experience.