It's that special time🎊 – the invites are going out, the venue is booked, wedding checklist is being ticked one by one.
With you being busy preparing for the wedding, and your family, relatives, and friends scattered around the country (or even the globe), it will be incredibly hard to reach them using a physical wedding invitation.
Thankfully there is a modern solution – the wedding e-invitation, or the elegant e invite for weddings, which can be as sleek as your traditional cards and is eco-friendly too!
Table of Contents
What is an E Invitation?
An e invitation, also known as an e invite or digital invitation, is an invitation that is sent via email or online rather than through traditional paper invitations. Some key points about e invitations:
They are sent via email as either a plain-text email or an HTML email with images, colours, and formatting.
They can also be hosted on a wedding website where guests can RSVP and access additional details and features.
Online invitations allow for more interactivity and personalisation with features like photos, videos, music, RSVPs, registry details, menu options, itineraries, and maps.
They reduce paper waste and are more cost-effective compared to printed invitations.
Online invitations make it easy to track RSVPs and manage guest lists in real-time. Changes can be updated instantly for all recipients.
They enable faster communication and can reach guests immediately, regardless of location.
They still allow for a personalised touch through features like customised designs, personal notes, and messages to individual guests.
So to sum up, e invitations are a modern and digital alternative to traditional paper invitations. They offer convenience, cost savings, and increased interactivity while still maintaining an element of formality and sentiment for special events like weddings.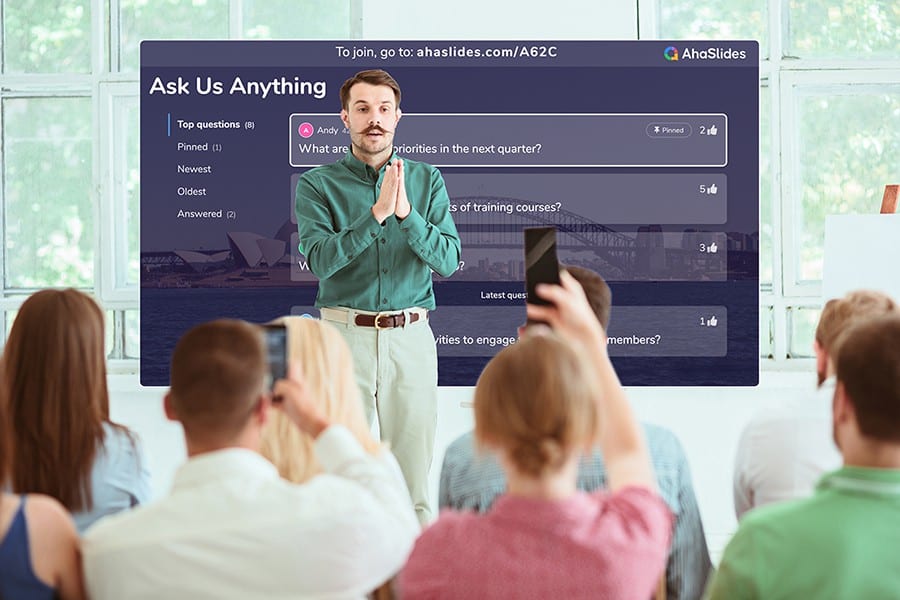 Make Your Wedding Interactive With AhaSlides
Add more fun with best live poll, trivia, quizzes and games, all available on AhaSlides presentations, ready to engage your crowd!
🚀 Sign Up for Free
Wedding E Invite Websites
If you are pondering what e wedding card design you should aim for, consider this list for some references.
#1. Greetings Island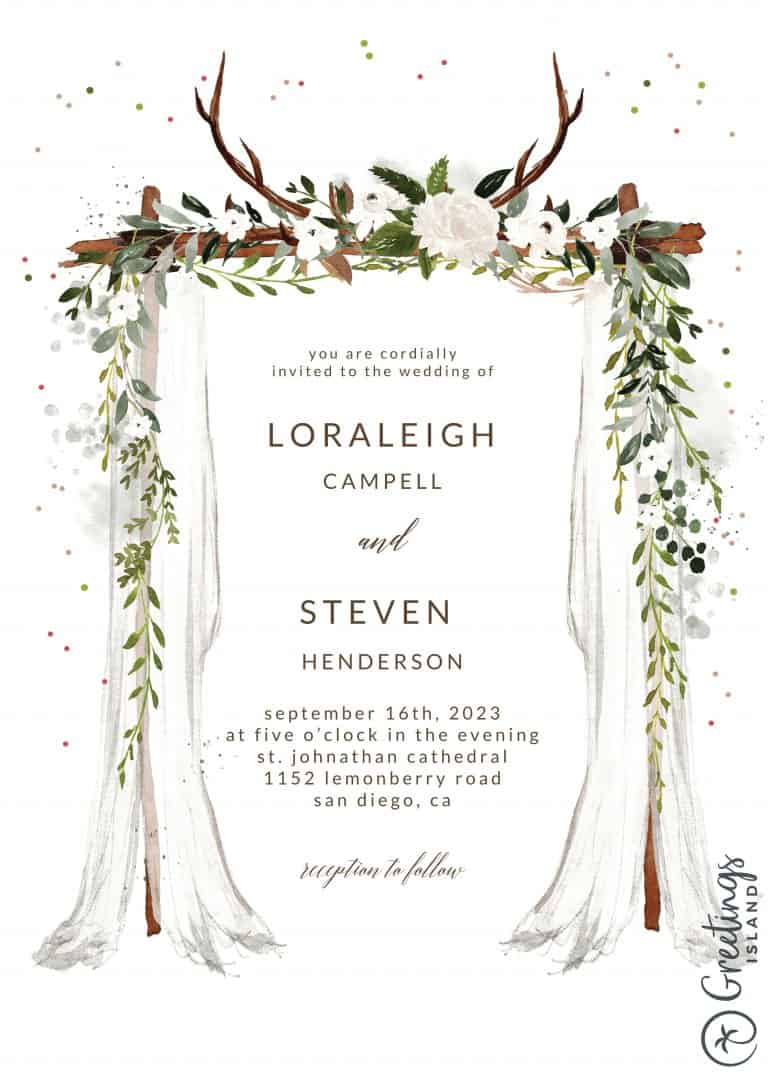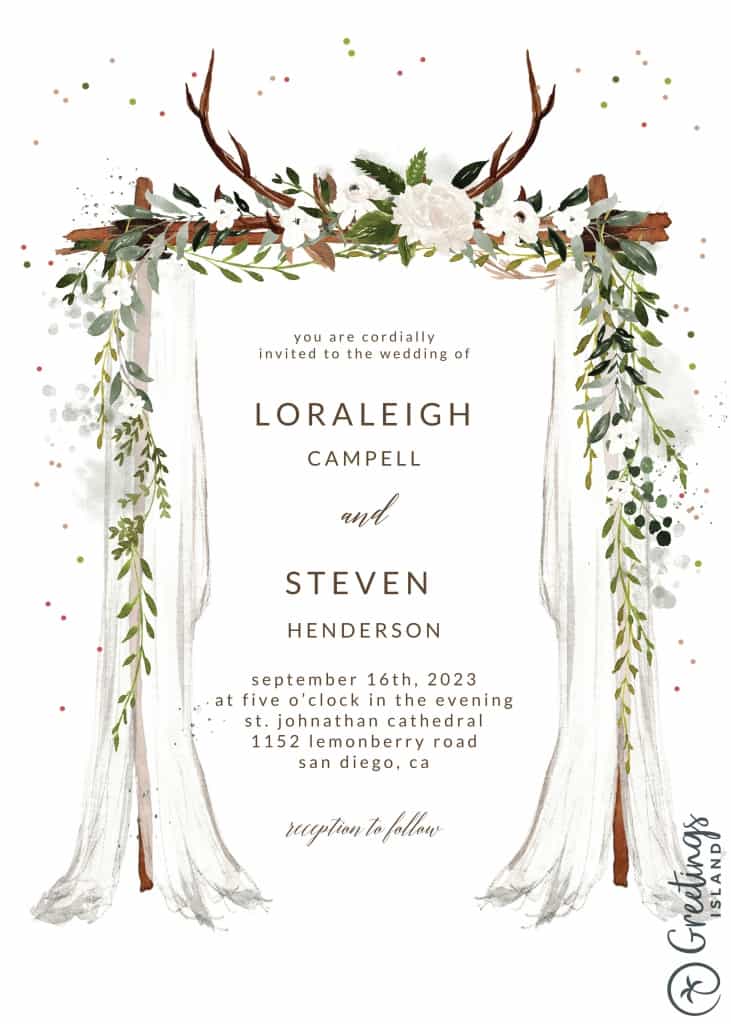 Greetings Island is a great place to start if you are on a budget and want to find a free e card for wedding. They have more than 600 templates for you to choose from, and the website is easy to navigate.
Click on a design, add extra personal details, and voila! You can either download it, have it professionally printed, or send it right away with a matching RSVP card.
#2. Greenvelope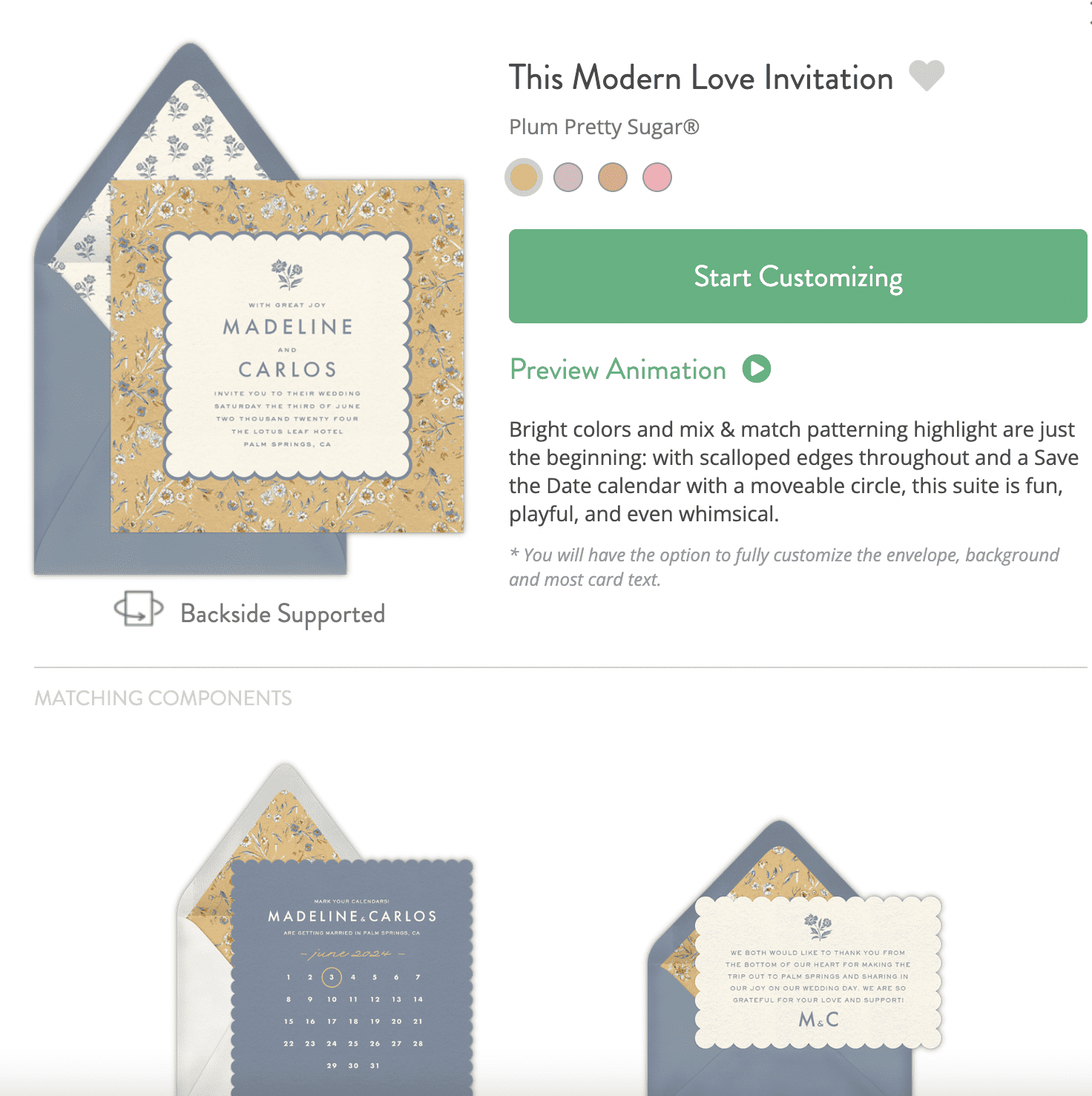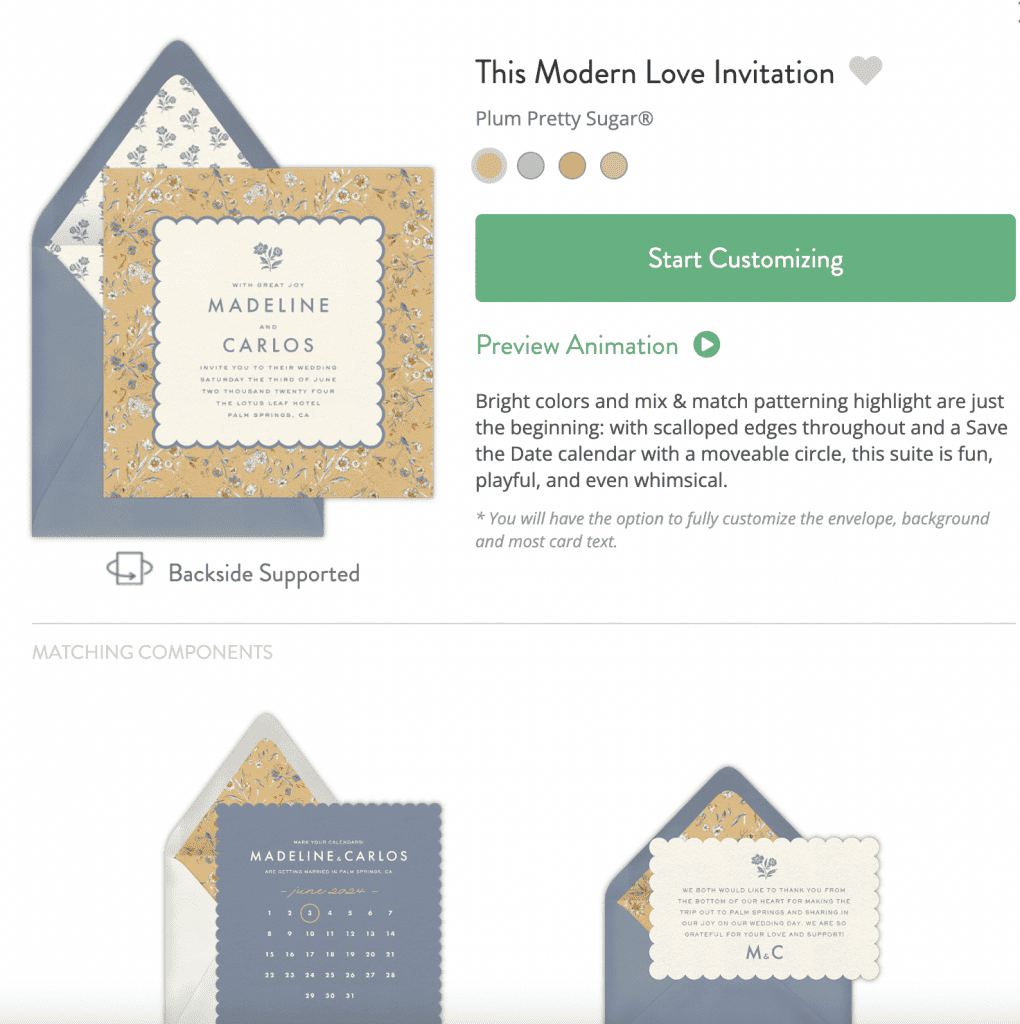 Creating your custom e invite for wedding on Greenvelope is super easy and fun. You can either upload your own design or choose from one of their premade styles – modern, rustic, vintage, you name it. They've got tons of options for wedding e-invitations!
Once you pick a template, you can totally make it your own. Change the background, edit all the text, switch up the colours – go wild! You can customise everything right down to the digital envelope. Add a glitter liner or go for a fancy gold one – the choice is yours.
Pricing starts at just $19 for up to 20 invites. That includes some really handy features like RSVP tracking where guests can respond right from the invite.
#3. Evite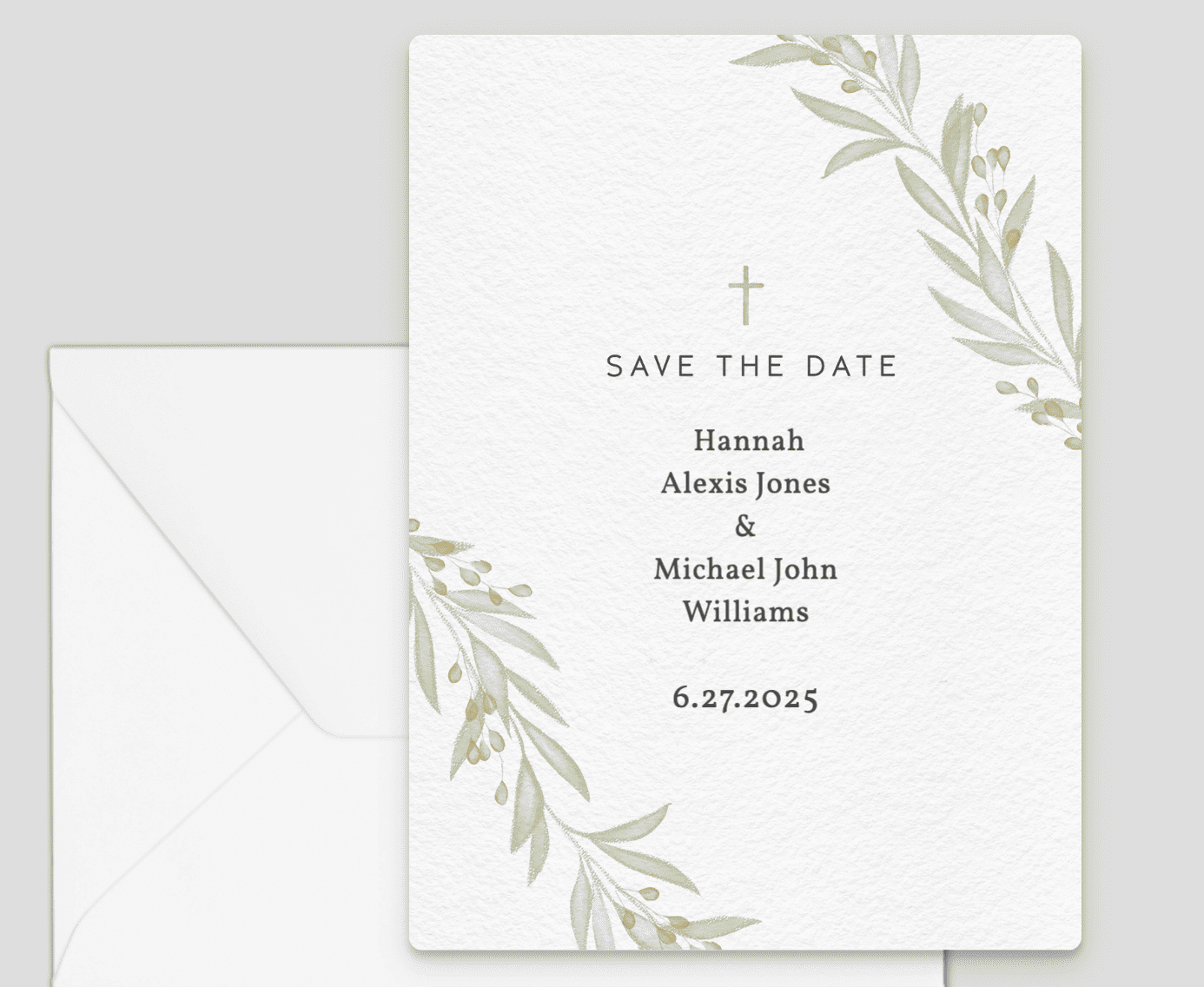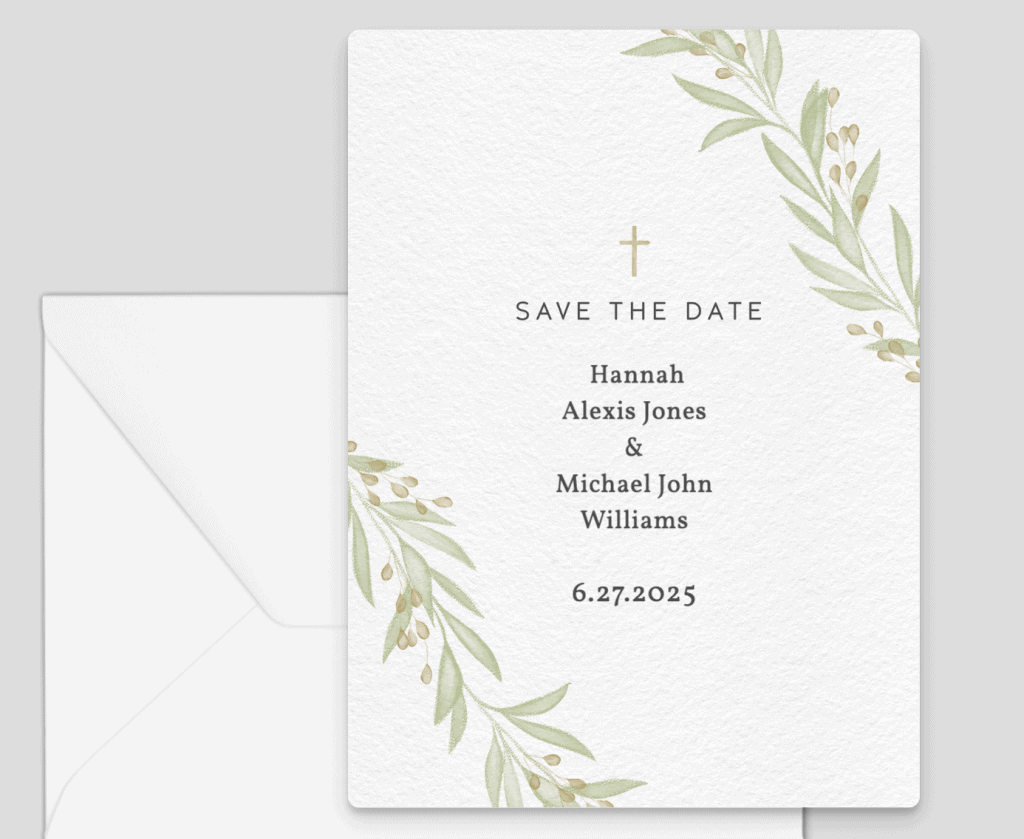 Evite is one of e invite websites that has some really nice designs that still feel fancy enough for your big day. They've got loads of free and paid templates to choose from.
Their premium designs have features like custom colours, backgrounds, fonts, and embellishments that make them feel extra special.
You can add things like glitter liners to your digital envelopes, photo slideshows, and personalised messages. And the designs are automatically optimised for both mobile and desktop so your guests can view them with no worry.
Single-event premium packages range from $15.99 to $89.99 depending on your guest list.
#4. Etsy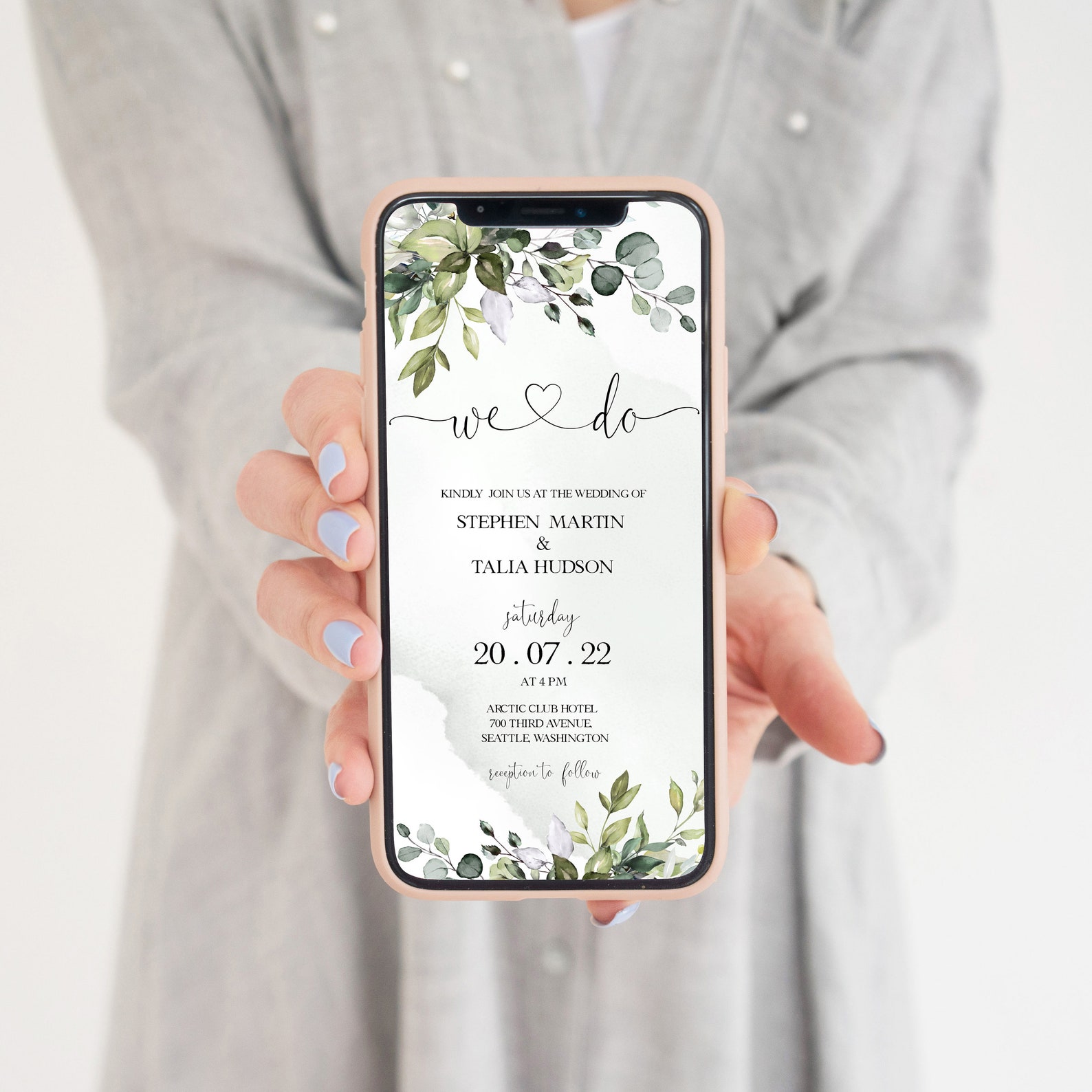 Instead of full-service invites like other sites, Etsy sellers mainly provide individual e-invite templates that you download and alter yourself.
So you've got to email the invites out, but it's worth it because the designs on Etsy are uniquely creative – handmade by independent artists and small businesses, like this e wedding card from LovePaperEvent.
Pricing on Etsy varies based on the seller, but e-invite templates are usually just a flat fee for the downloadable design file.
#5. Paperless Post
Any ideas for invites for wedding? Paperless Post's digital invites are super stylish – perfect if you want something beautiful but still practical for your wedding day.
They've got e-invite templates designed by some major fashion and design brands like Kate Spade, Rifle Paper Co., and Oscar de la Renta. So you know the styles are gorgeous!
Or if you've got your own vision in mind, you can upload a custom design and Paperless Post will help bring it to life.
The only "downside" – you've got to purchase "coins" to pay for the service. But coins are affordable, starting at just 12 bucks for 25 coins – enough for up to 20 invites.
Frequently Asked Questions
Can wedding invitations be digital?
Yes, wedding invitations can absolutely be digital! Digital or e-invites are a popular alternative to traditional paper invitations, especially for modern couples. They offer a number of the same features in a more convenient, affordable, and sustainable way.
Is it OK to send Evite to a wedding?
Sending e-vites for your wedding can be super convenient but you do have to think about your guests and what they'd prefer. Some folks, especially older relatives, still really value getting an old-fashioned paper invite in the mail. It just feels more official and special.
But if you're going for a more casual wedding or trying to save some cash and trees, e invites – wedding electronic invites can be a good option. They're way easier and cheaper to send out! You can add photos, RSVP options, and all that jazz right in the invite. So there are definitely some perks there.
The best thing to do is think about your specific guest list. If you've got a lot of older or more traditional guests, send them paper invites and maybe just do e-vites for all your younger friends and family. That way you're not leaving anyone out and you still get the benefits of e-invites where it makes the most sense.
At the end of the day, just do whatever feels right for your wedding style and your guests! The most important thing is that your invites, whether paper or digital, seem warm, personal and show how excited you are to share your big day.
What is the best invitation word for wedding?
Here are some of the best words to use in a wedding invitation:
Joyful – Conveys the happiness and excitement of the occasion. Example: "It brings us great joy to invite you…"
Honour – Emphasizes that your guests' presence would be an honour. Example: "We would be honoured if you would join us…"
Celebrate – Implies a festive and celebratory atmosphere. Example: "Please come celebrate our special day with us…"
Pleasure – Indicates that your guests' company would bring you pleasure. Example: "It would give us great pleasure if you could attend…"
Delight – Shows that your guests' presence would delight you. Example: "We would be delighted to have you share in our happiness…"
How do I invite someone to my marriage on WhatsApp?
You can modify and personalize the message to suit your own voice and relationship with that person. The key things to include are:
Date, time, and venue details
Expressing your desire for them to attend
Requesting an RSVP
Adding a personalised note reflecting your connection