✍️ Making a decision to leave your job is not easy.
Informing your boss about this news can be a nerve-wracking moment, and you'd want your words to be as professional and polite as possible to end everything on good terms.
To lift a heavy weight off your shoulder, we will guide you through the process of how to write an employee letter of registration plus examples that you can take and personalise to your own.
Table of Contents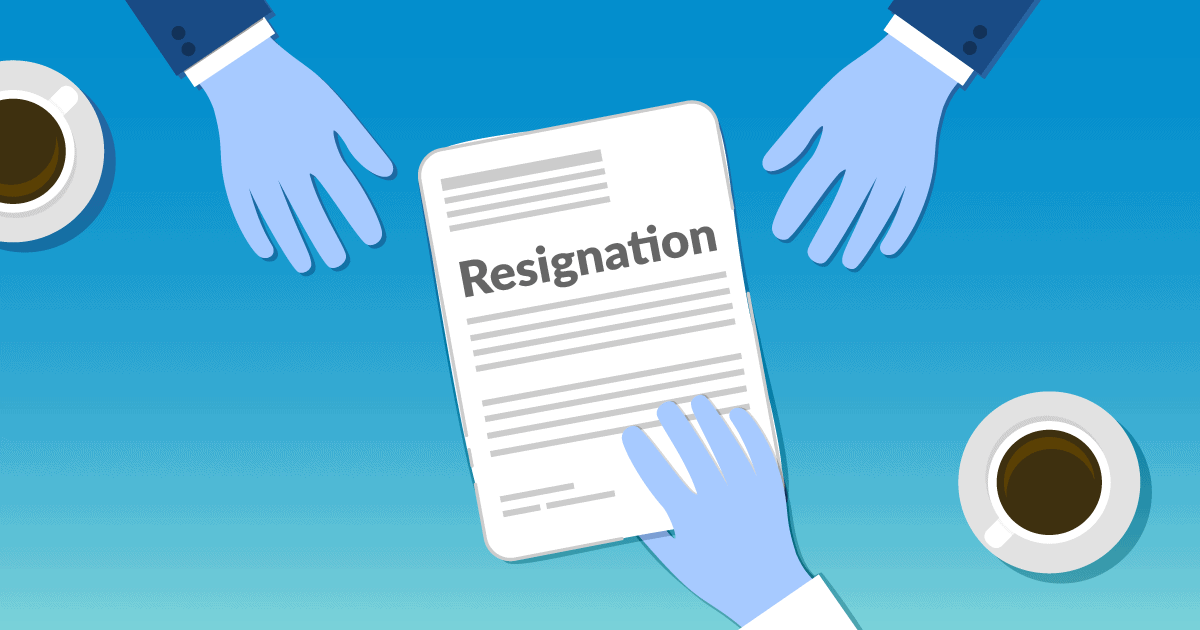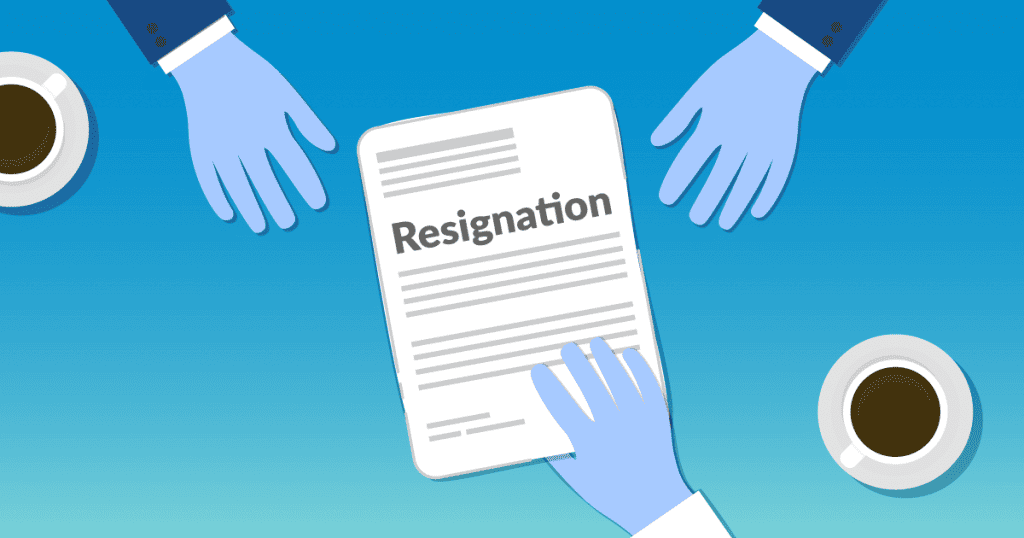 Tips for Audience Engagement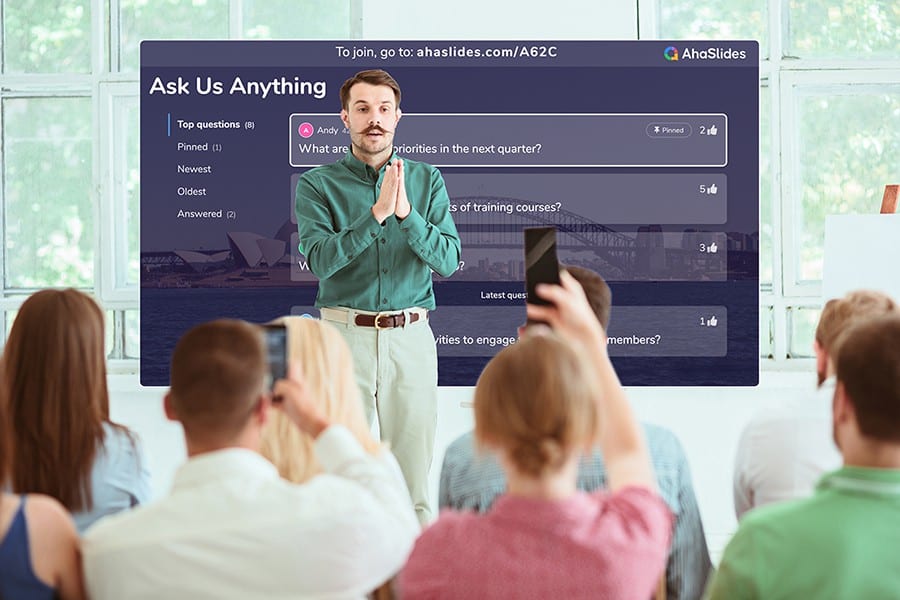 Start in seconds.
Get free templates for your next interactive presentation. Sign up for free and take what you want from the template library!
🚀 Grab Free Account
How Do You Write an Employee Resignation Letter?
A quality employment letter of resignation will keep the relationship between you and the former company on a high note. See what to include in your job resignation letter:
#1. The introduction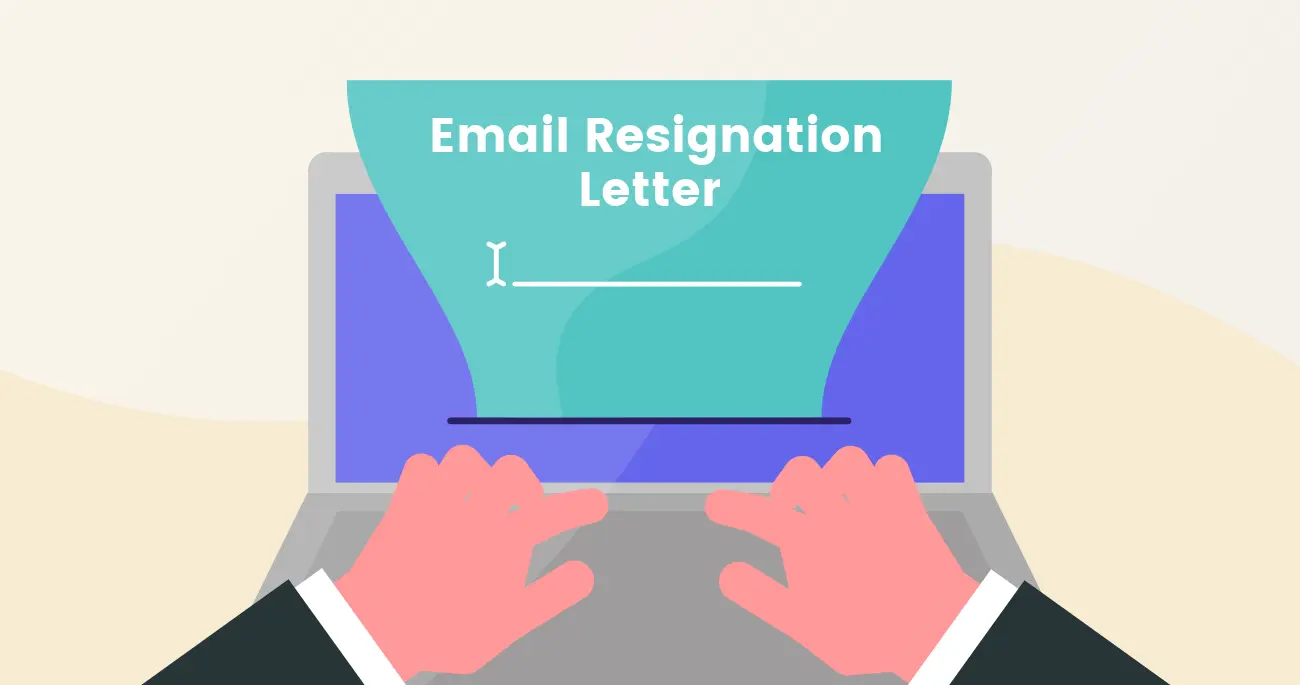 There's no need for a lengthy and complicated opening, start by addressing it to your direct manager or supervisor.
Go with a straightforward and to-the-point email subject: "Resignation Notice". Then begin with a salutation like "Dear [name]".
Include the current date at the top for reference.
#2. The body and conclusion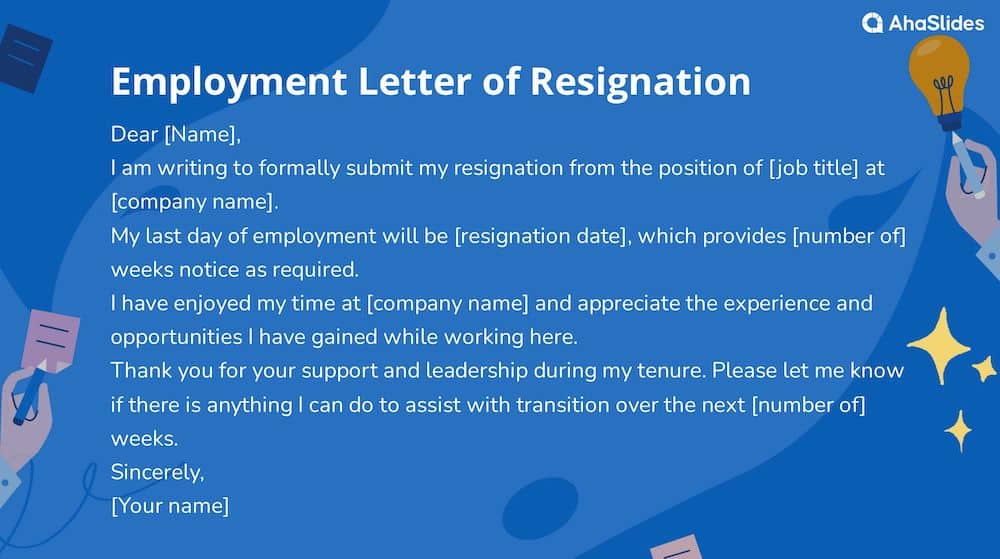 Here are some good things to include in the body of your employment letter of resignation:
State that you are writing to resign from your position at the company.
Specify the date that your employment will end (give at least 2 weeks' notice if possible).
For example: "I am writing to resign from my position as an Account Manager at ACME Corporation. My last day of employment will be October 30, 2023, which allows for a 4-week notice period".
Thank your direct manager/supervisor for the opportunity and experience.
Express what you enjoyed about your role and time at the company.
Briefly discuss why you are leaving – pursuing other career opportunities, going back to school, relocating, etc. Keep it positive.
For example: "I want to thank you for the opportunity to be part of the ACME team over the past two years. I have truly enjoyed working with such a talented group of people and contributing to the success of the company. However, I have decided to pursue a new role that aligns better with my long-term career goals."
Reiterate your last day and willingness to prepare for the handoff and help transition work.
Thank additional colleagues and restate gratitude.
For example: "My last day will be April 30th. I am happy to assist with knowledge transfer and transition of my responsibilities over the next weeks. Thank you again for everything. I appreciate the opportunities and experience I gained at ACME."
Close with your signature, willingness to collaborate in the future, and contact information. Keep the overall letter to 1 page or less in length.
#3. Mistakes to avoid in your notice letter to employer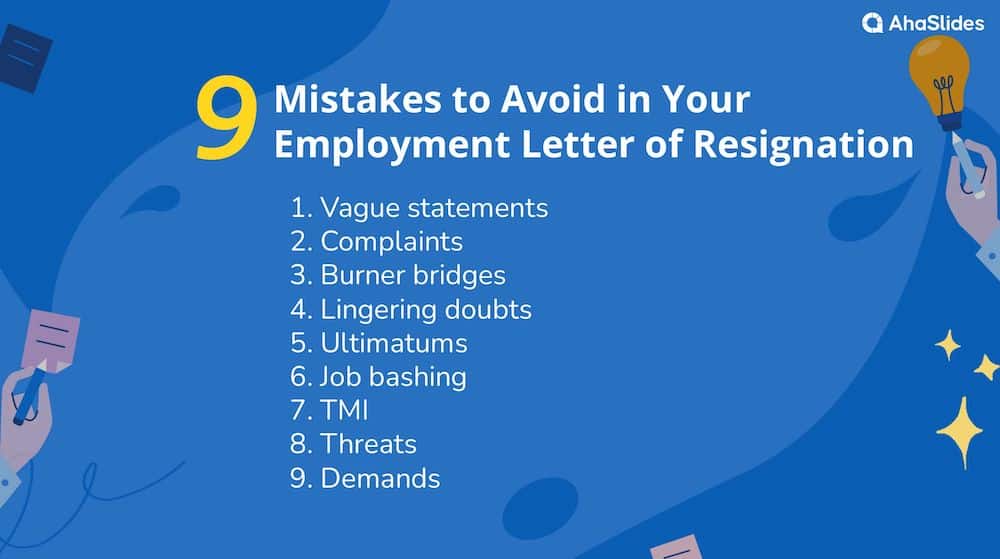 The employment letter of resignation is not the place for:
Vague statements – Saying things like "pursuing other opportunities" without context lacks substance.
Complaints – Do not cite issues with management, pay, workload etc. Keep it positive.
Burner bridges – Do not implicate or criticise others who are staying with the company.
Lingering doubts – Phrases like "I'm unsure of my future" make you seem uncommitted to your choice.
Ultimatums – Do not imply you resigned due to lack of some change (raise, promotion, and such).
Job bashing – Do not portray the company or role in a negative light in any way (leave this when you have a 1-on-1 meeting with your supervisor or HR manager).
TMI – Keep details need-to-know. No lengthy personal anecdotes or detailed instructions on your handover process.
Threats – Do not mention taking clients, accounts or IP with you as a "threat".
Demands – Do not make final pay or reference checks conditional on any demands.
Staying positive, honest yet diplomatic about your reasons for leaving helps you part on good terms even as you move forward.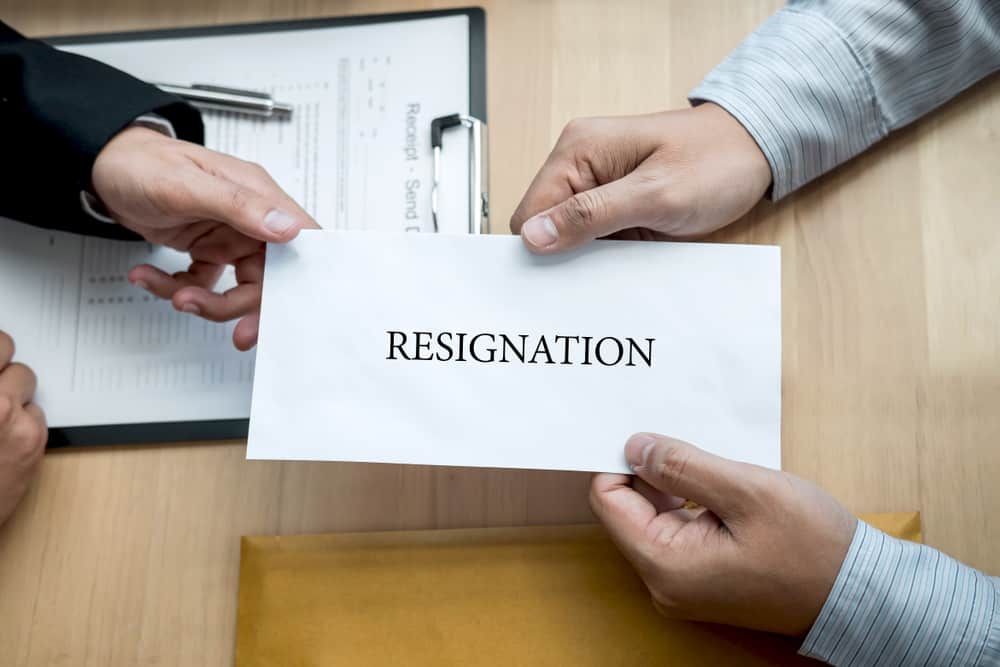 When Should You Send Employment Letter of Resignation?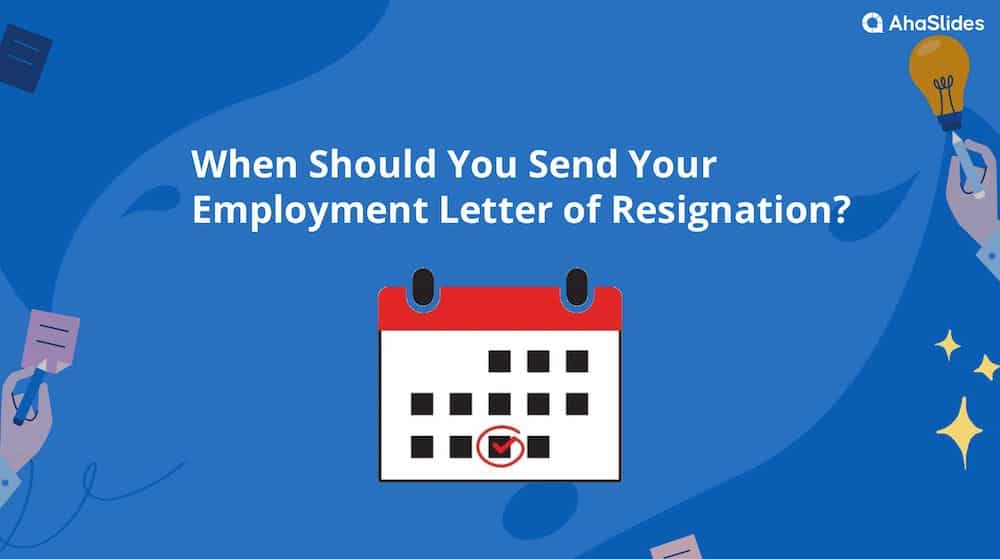 After finishing your notice to leave job, you should think about the next important part – when to send your employment letter of resignation. Here's the general guideline:
Provide at least 2 weeks' notice if possible. This is a standard courtesy to give your employer time to transition your work.
For non-management roles, 2 weeks is sufficient in most cases. For more senior positions, you may give a month's notice.
Do not submit your resignation letter before securing a new job, unless you have sufficient savings. Have a post-resignation plan in place.
Do not submit during a busy work period like quarter-end or holiday season when your presence is critical unless absolutely necessary.
Monday mornings tend to be a good time to submit as it allows the full week for discussions on transition planning.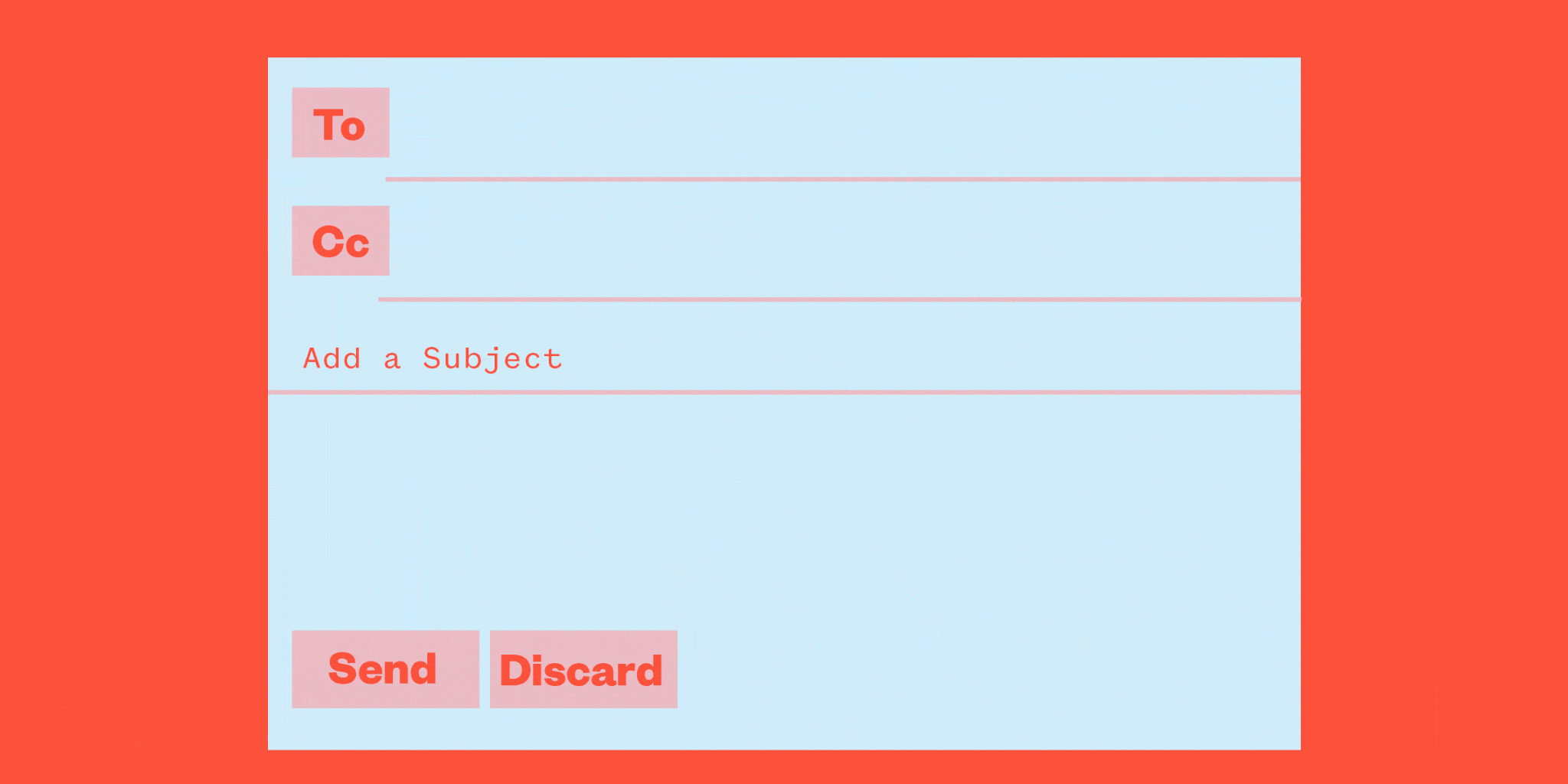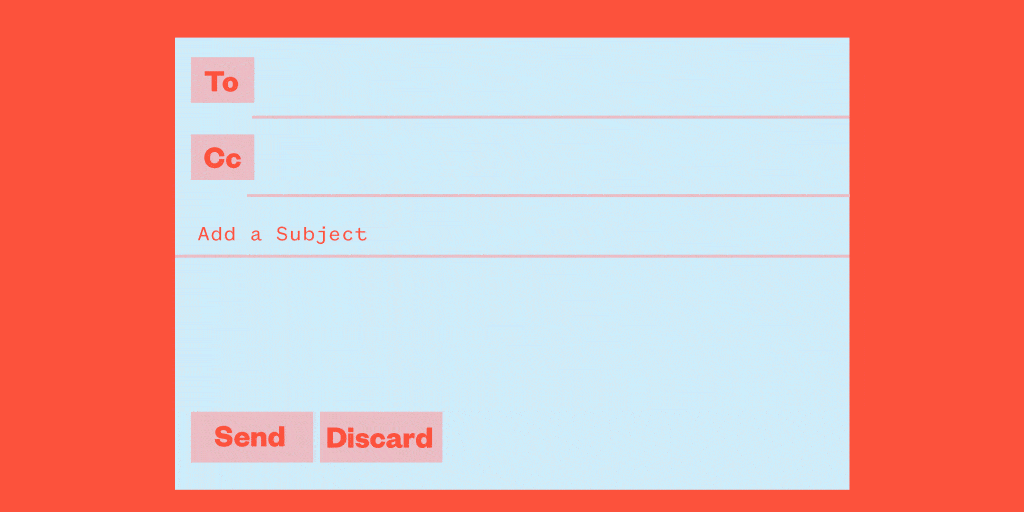 Send your resignation email to your boss after significant work milestones/projects are completed to avoid disruptions.
Not on a Friday so your manager doesn't have the whole weekend to stress about it.
Not before or after vacation/PTO periods as continuity is important during transitions.
Once you have a firm start date at your new company, provide a clear last working date.
If you plan to use current colleagues as references, give more than minimum notice out of consideration for their schedules.
What Are The Examples of Employment Resignation Letters?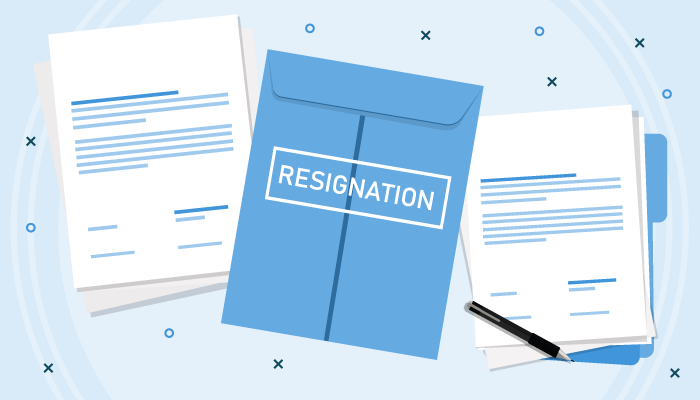 Simple employee resignation letter
I am writing to inform you of my resignation from my position as Account Manager with XX company.
I have truly enjoyed my time here and appreciate everything I have learned during my tenure. This is a great company with a talented team, and I feel lucky to have been a small part of its success over the past two years. [Manager's name] your mentorship and leadership have been invaluable to me as I took on increasing responsibilities. I am also grateful for the support of [other colleagues].
I want to reiterate my commitment to a smooth transition over the next two weeks. Please let me know how I can best help transfer my knowledge and active projects to ensure continuity. I am happy to be available beyond my final day if any questions arise.
Thank you again for the opportunities and support during my employment. I wish [company name] continued growth and prosperity in the future.
Personal reason employee resignation letter
• Pursuing further education:
I am writing to inform you of my resignation effective August 1st as I have been accepted to an MBA program starting this fall. Thank you for supporting my educational goals during my time here.
• Relocating for family reasons:
Regretfully, I must resign from my role as Software Engineer due to my wife's job relocation to Seattle. My last working day will be March 31st to allow time for knowledge transfer.
After much consideration, I have decided to pursue a different career path in marketing. Thank you for four great years in product development. My skills were greatly enhanced working at Acme Inc.
It has been my pleasure to serve this organisation for 35 years. My last day in retirement will be July 31st. Thank you for a wonderful career.
Regretfully, I must resign for health reasons effective immediately to focus on my treatment. Thank you for your understanding during this difficult time.
• Caring for Family Members:
Regretfully, I must resign as I will be caring for my mother full-time following her dementia diagnosis. Thank you for your flexibility throughout her illness. My last day is August 15th.
Bottom Line
While you might end your job in the company, it doesn't mean you can cut all ties with the people you've worked with. Maintaining an enthusiastic yet calm and solution-focused employment letter of resignation shows pride in the work you accomplished together while parting respectfully.
Frequently Asked Questions
How do you politely resign?
The key aspects of politely resigning are giving notice, expressing appreciation and gratitude, focusing on solutions, offering transition help, following procedures, and maintaining professionalism throughout the process.
How do I write a short resignation letter?
A short resignation letter covers the key essential details in less than 150 words and in a polite, professional manner. You can add more context if needed, but keeping it short and concise shows consideration of their time.