So, what is Meeting Agenda? The truth is, We have all been part of meetings where we feel meaningless, not even understanding why we have to meet to discuss information that can be resolved by email. Some people may even have to attend meetings that drag on for hours without resolving any issues.
However, not all meetings are unproductive, and if you want to work with your team effectively, a meeting with agenda will save you from these above disasters.
A well-crafted agenda sets clear goals and expectations for the meeting, ensuring everyone knows their purpose and what needs to happen before, during, and after.
Therefore, this article will guide you on the importance of having a meeting agenda, steps to create an effective one and provide examples (+templates) to use in your next meeting.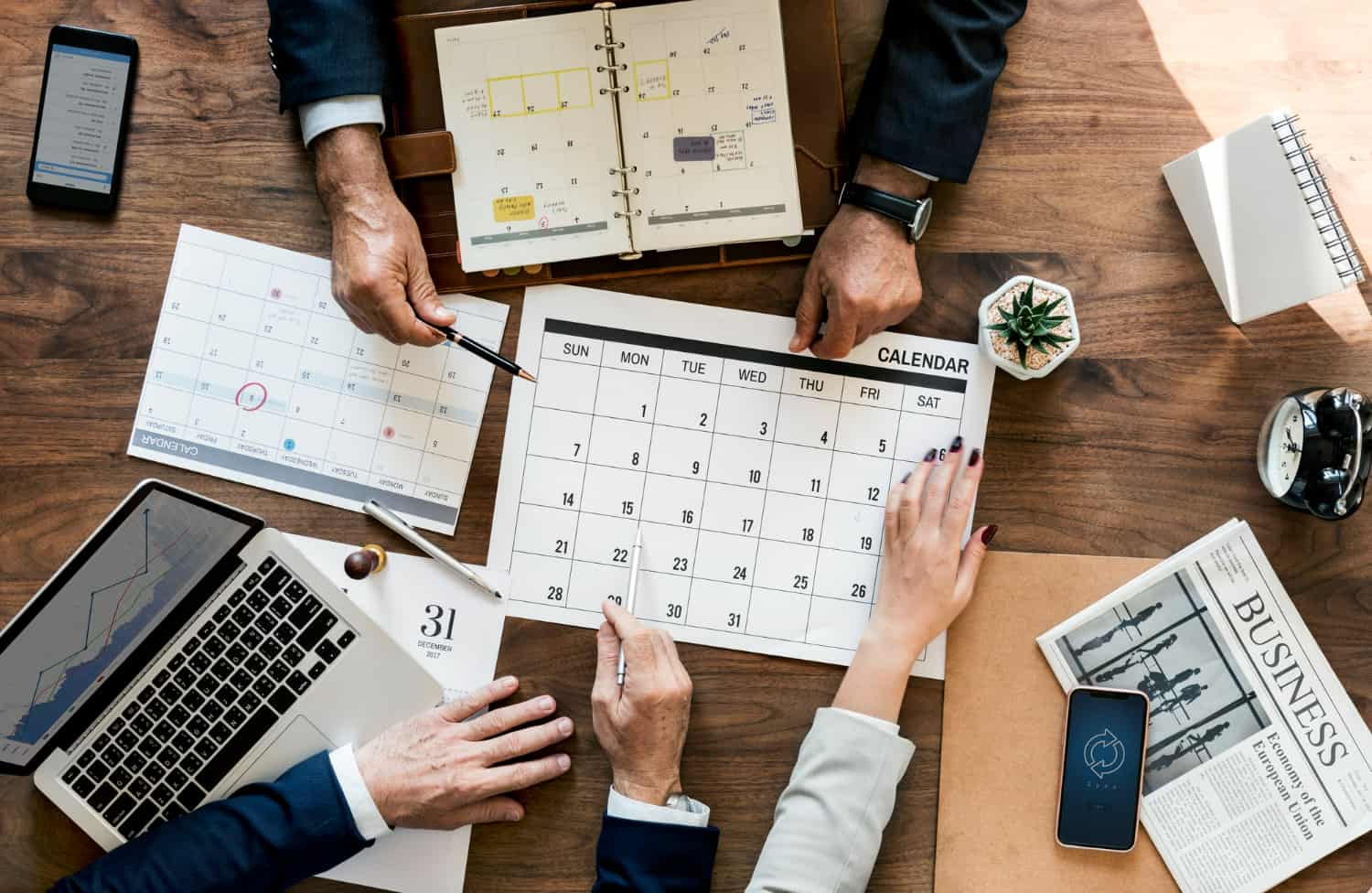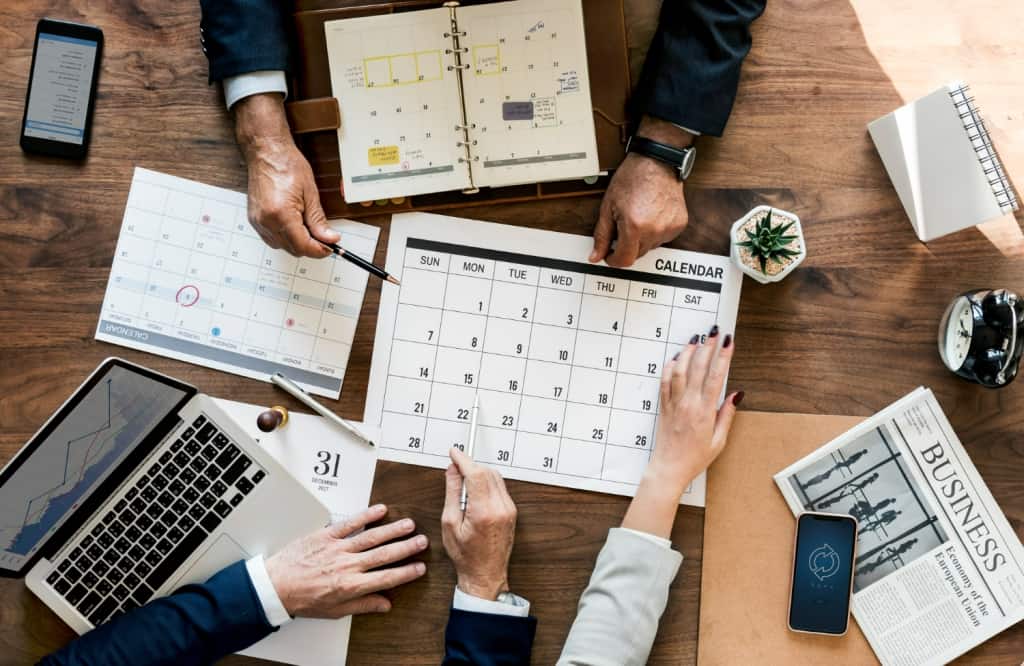 More Work Tips with AhaSlides
Why Every Meeting Needs Agenda
Every meeting needs an agenda to ensure it is productive and efficient. A meeting agenda will provide the following benefits:
Clarify the purpose and goals of the meeting, and helps to keep the discussion focused and on track.
Manage meeting time and pace, make sure there are no pointless arguments, and save as much time as possible.
Set expectations for participants, and ensure that all relevant information and action items are covered.
Promotes accountability and organization, leading to more effective and efficient meetings.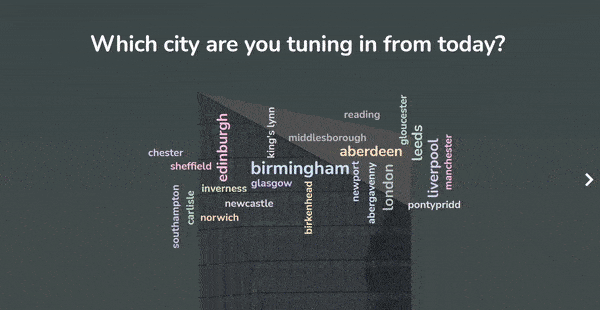 Start in seconds.
Get free work templates. Sign up for free and take what you want from the AhaSlides Free Template library!
🚀 Download for free ☁️
8 Key Steps To Write An Effective Meeting Agenda
1/ Determine the type of meeting
Because different types of meetings may involve different participants, formats, and objectives, it's important to choose the appropriate one for the situation.
Project kickoff meeting: A meeting that provides an overview of the project, its goals, timeline, budget, and expectations.
All-Hands Meeting: A type of company-wide meeting where all employees are invited to attend. To inform everyone about the company's performance, goals, and plans and to promote a sense of common purpose and direction within the organization.
Town Hall Meeting: A company town hall meeting where employees could ask questions, receive updates, and provide feedback to senior management and other leaders.
Strategic Management Meeting: A meeting in which senior leaders or executives come together to discuss and plan the long-term direction.
Virtual Team Meeting: The format of virtual team meetings may include presentations, discussions, and interactive activities and can be conducted using video conferencing software, instant messaging, or other digital communication tools.
Brainstorming Session: A creative and collaborative meeting in which participants generate and discuss new ideas.
One-on-one meeting: A private meeting between two people, often used for performance reviews, coaching, or personal development.
2/ Define the purpose and goals of the meeting
Clearly state why the meeting is being held and what you or your team hope to achieve.
3/ Identify the key topics
List the key topics that need to be covered, including any important decisions that need to be made.
Allocate an appropriate amount of time for each topic and the whole meeting to ensure the meeting stays on schedule.
5/ Identify the attendees and their roles
Make a list of who will participate in the meeting and specify their roles and responsibilities.
6/ Prepare materials and supporting documents
Gather any relevant information or materials that will be needed during the meeting.
7/ Distribute the agenda in advance
Send the meeting agenda to all attendees to ensure everyone is ready and prepared.
8/ Review and revise the agenda as needed
Review the agenda before the meeting to ensure it is complete and accurate, and make any necessary revisions.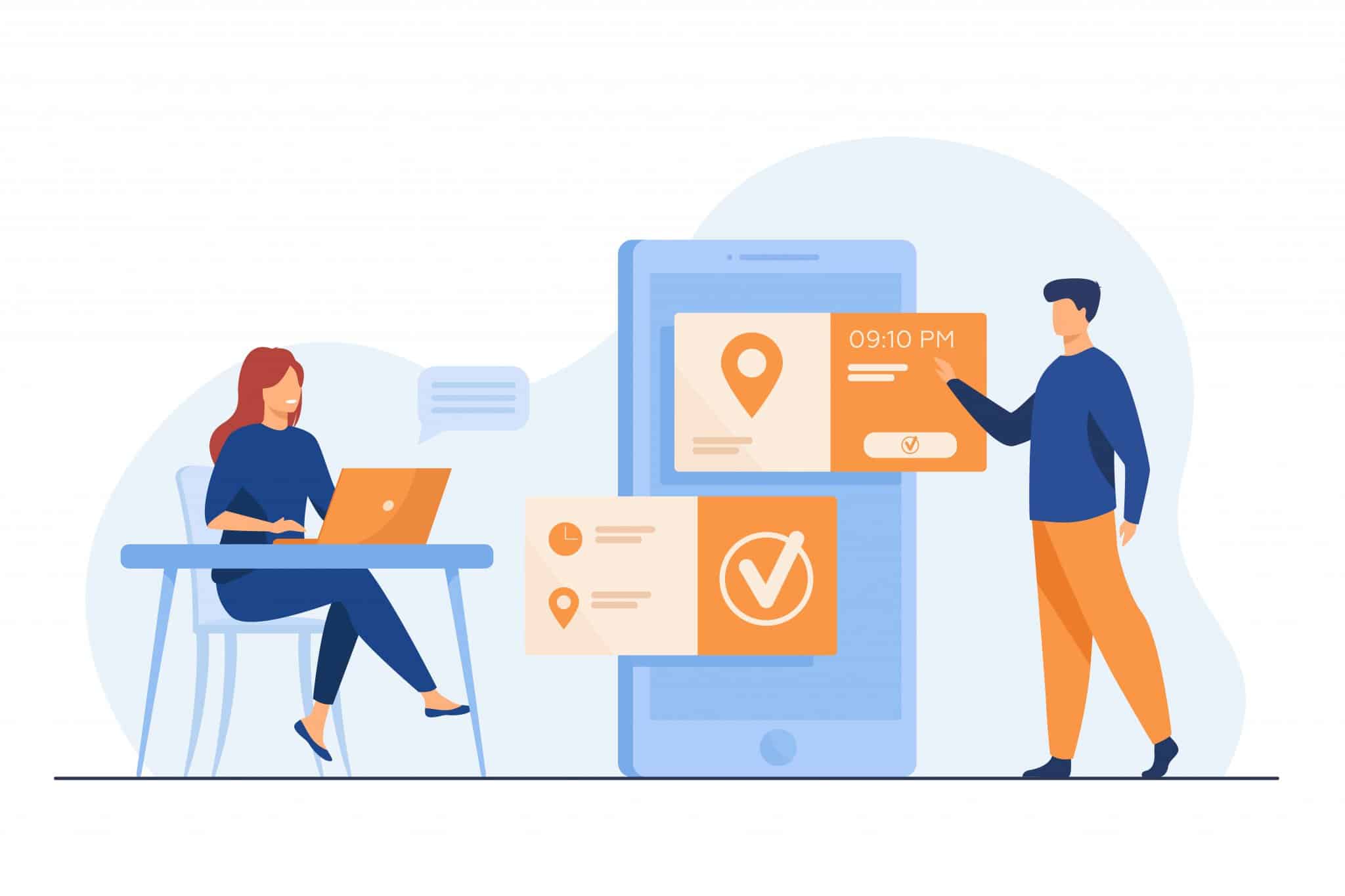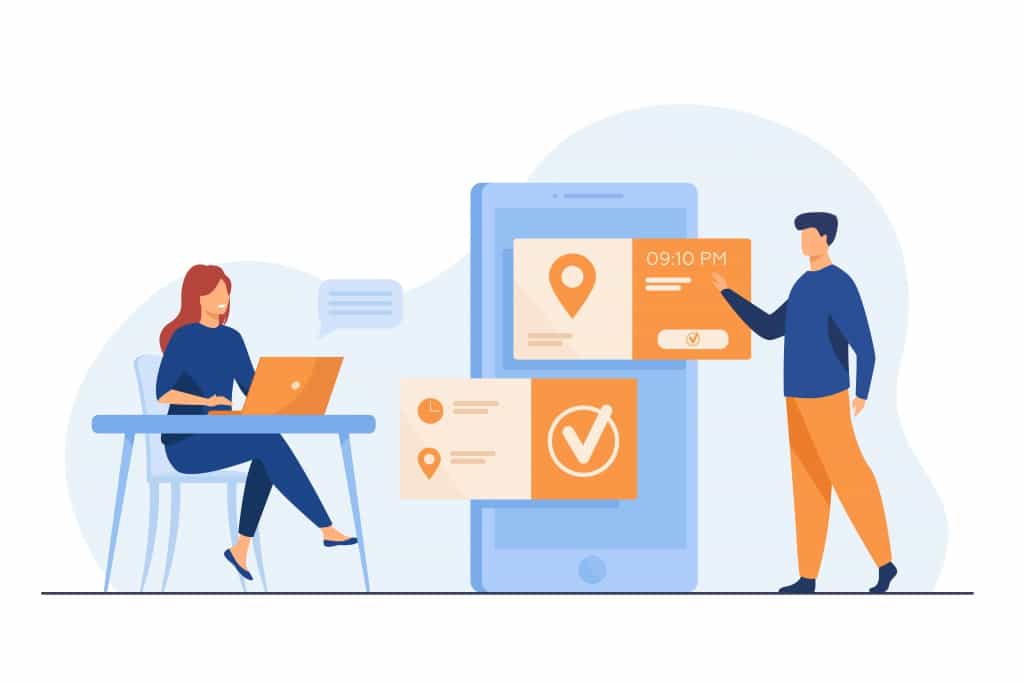 Meeting Agenda Examples and Free Templates
Here are a few examples of meeting agendas that can be used for different types of meetings:
1/ Team Meeting Agenda
To update the project implementation progress
To review current problems and solutions
Introduction and welcome (5 minutes) | @who
Review of previous meeting (10 minutes) | @who
Project updates and progress reports (20 minutes) | @who
Problem-solving and decision-making (20 minutes) | @who
Open discussion and feedback (20 minutes) | @who
Action and next steps (15 minutes) | @who
Closing and next meeting arrangements (5 minutes) | @who
Free Monthly Meeting Template With AhaSlides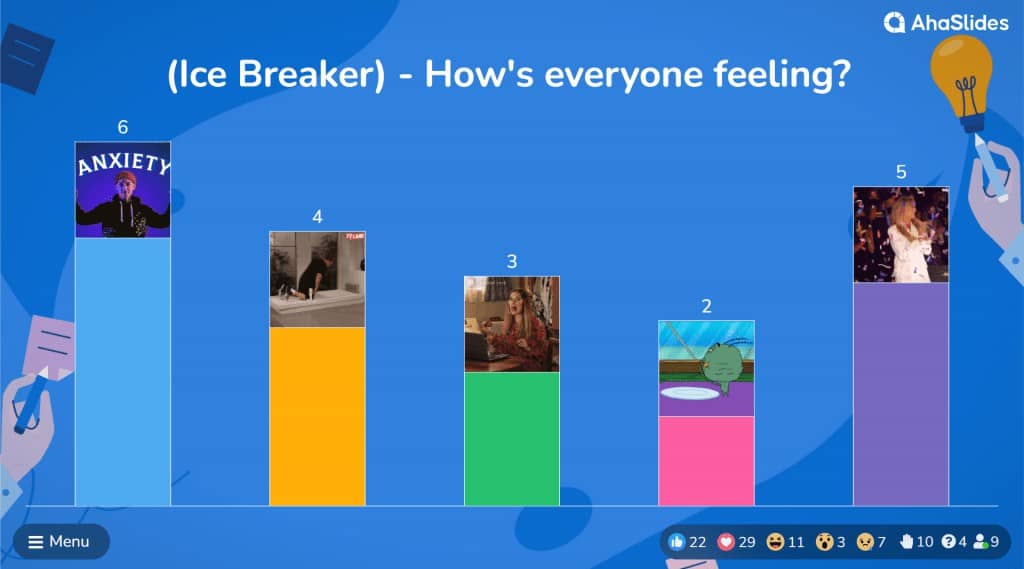 2/ All Hands Meeting Agenda
To update company performance and introduce new initiatives and plans for employees.
Welcome and introduction (5 minutes)
Company performance update (20 minutes)
Introduction of new initiatives and plans (20 minutes)
Q&A session (30 minutes)
Employee recognition and awards (15 minutes)
Closing and next meeting arrangements (5 minutes)
All Hands Meeting Template

3/ Project Kickoff Meeting Agenda:
To establish clear goals and expectations for the project
To introduce the project team
To discuss project challenges and risks
Welcome and introduction (5 minutes) | @who
Project overview and goals (15 minutes) | @who
Team member introductions (5 minutes) | @who
Role and responsibility assignments (20 minutes) | @who
Schedule and timeline overview (15 minutes) | @who
Discussion of project challenges and risks (20 minutes) | @who
Action items and next steps (15 minutes) | @who
Closing and next meeting arrangements (5 minutes) | @who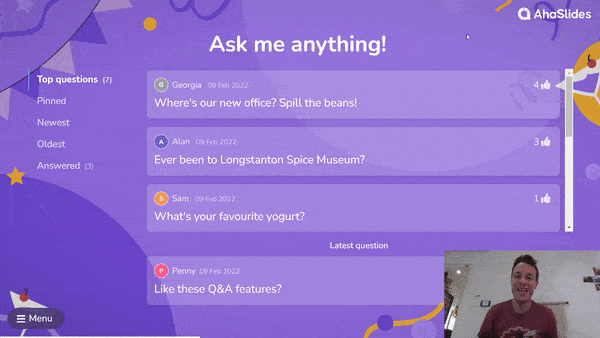 Note that these are just examples, and the agenda items and format can be adjusted based on the specific needs and goals of the meeting.
Set Up Your Meeting Agenda With AhaSlides
To set up a meeting agenda with AhaSlides, follow these steps:
Choose a meeting agenda template: We have a variety of meeting agenda templates that you can use as a starting point. Simply choose the one that best fits your needs and click "Get template".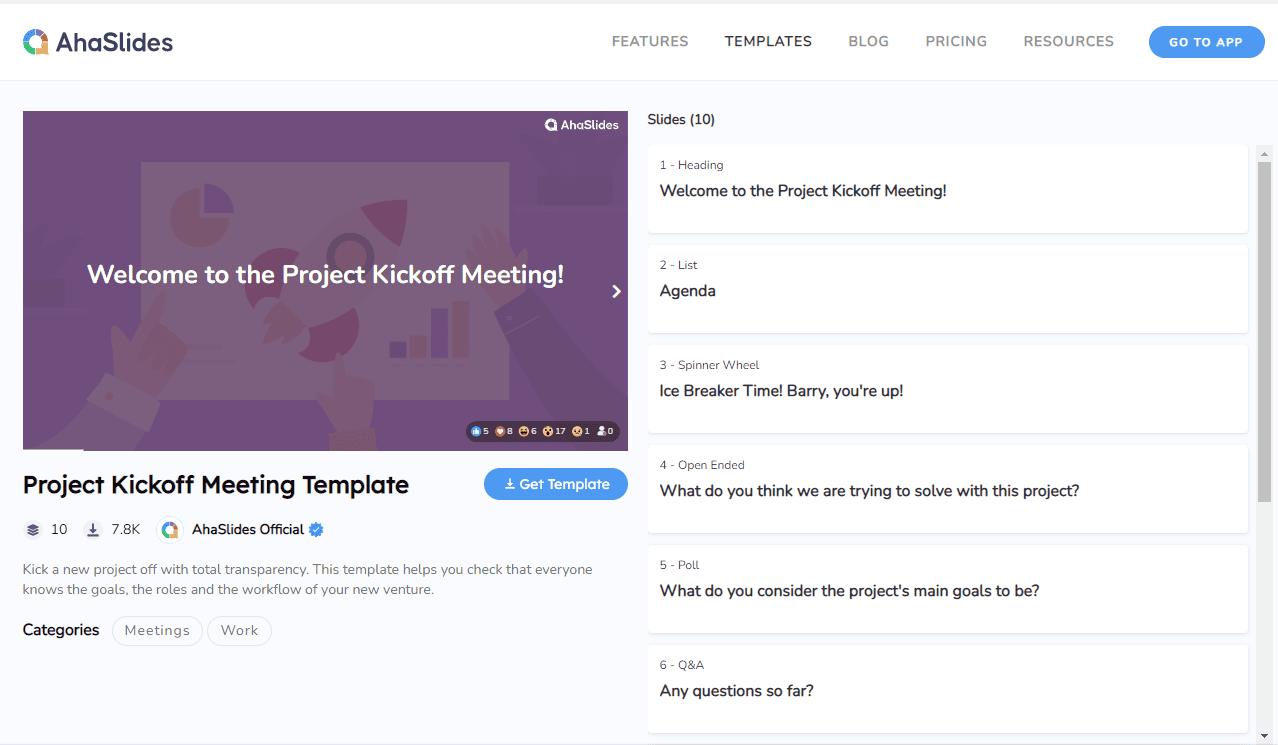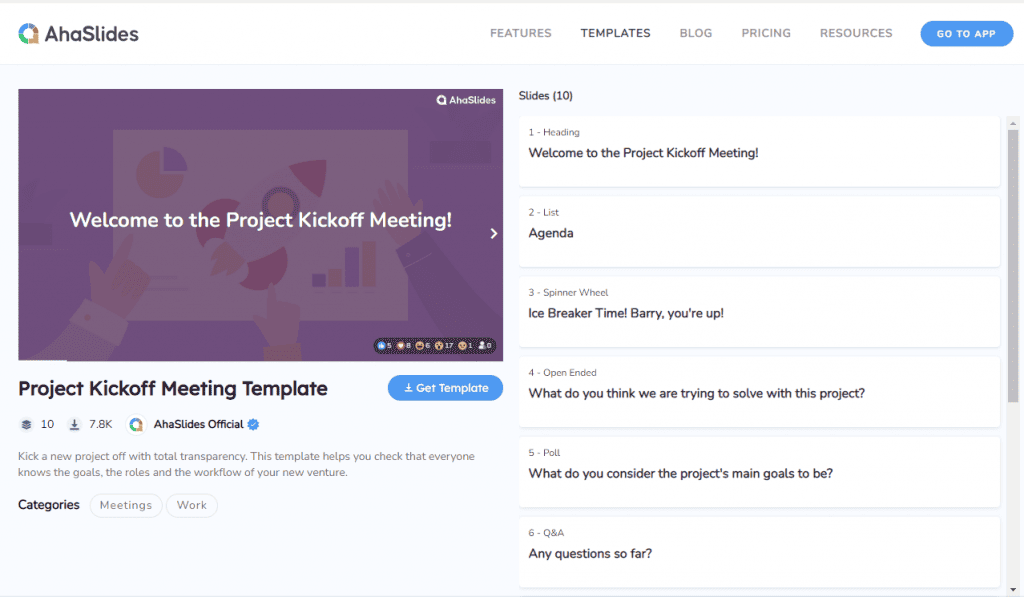 Customize the template: Once you have chosen a template, you can customize it by adding or removing items, adjusting the formatting, and changing the color scheme.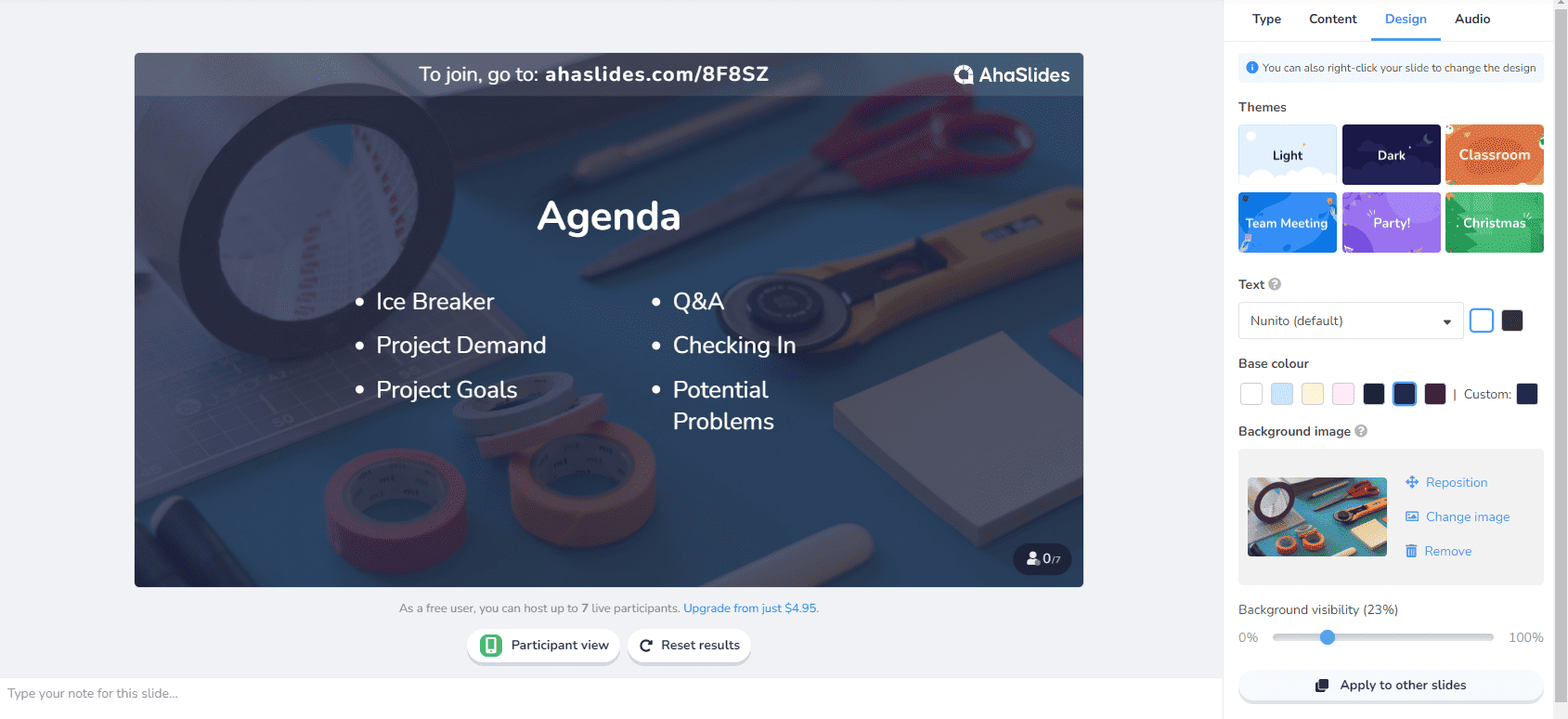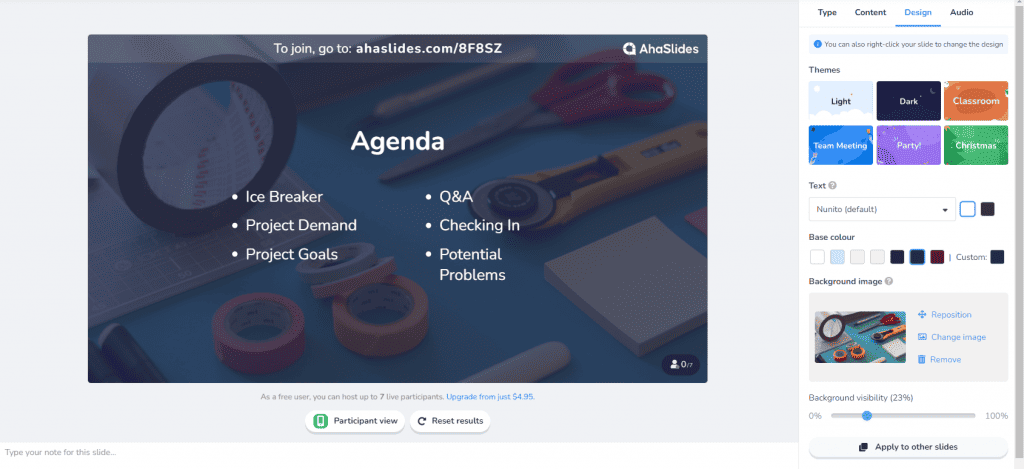 Add your agenda items: Use the slide editor to add your agenda items. You can add text, a spinner wheel, polls, images, tables, charts, and more.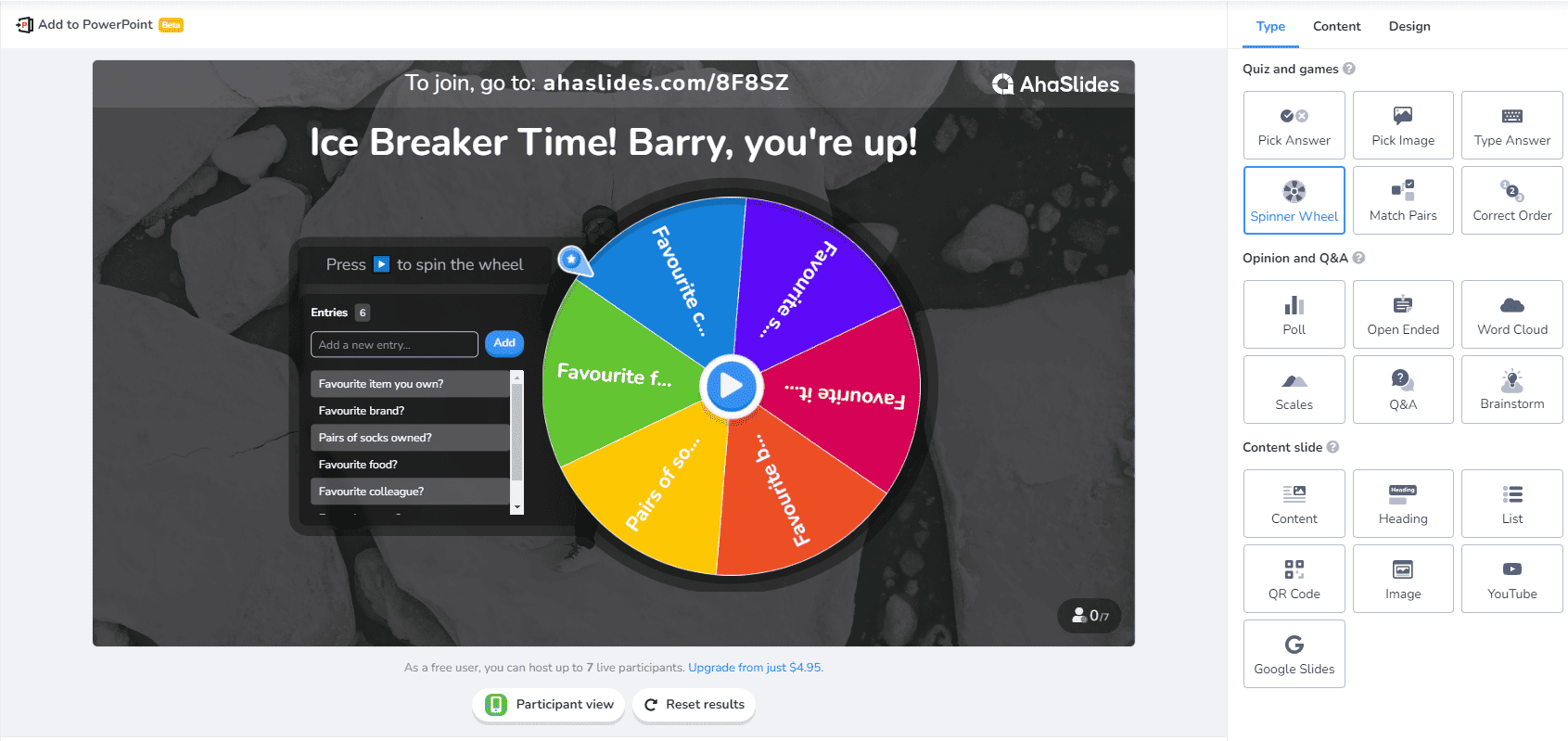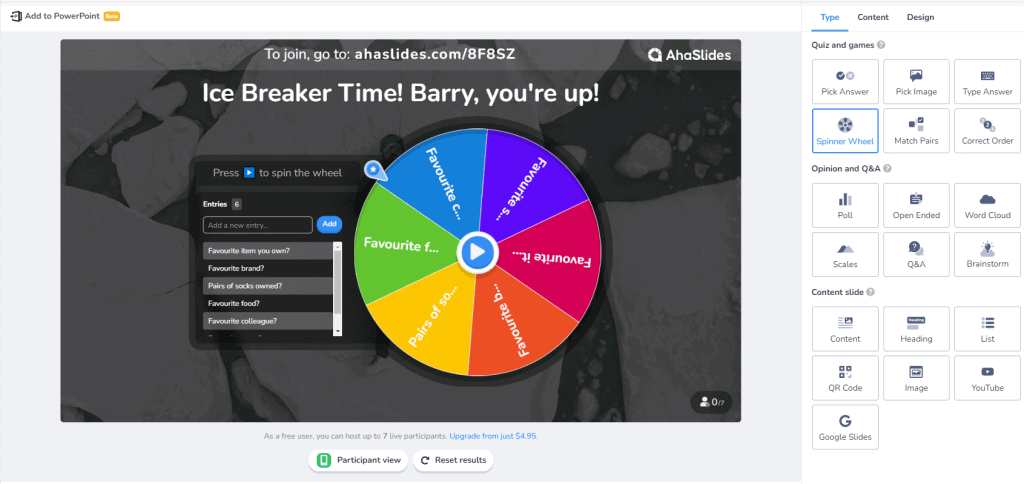 Collaborate with your team: If you're working with a team, you can collaborate on the agenda. Simply invite team members to edit the presentation, and they can make changes, add comments, and suggest edits.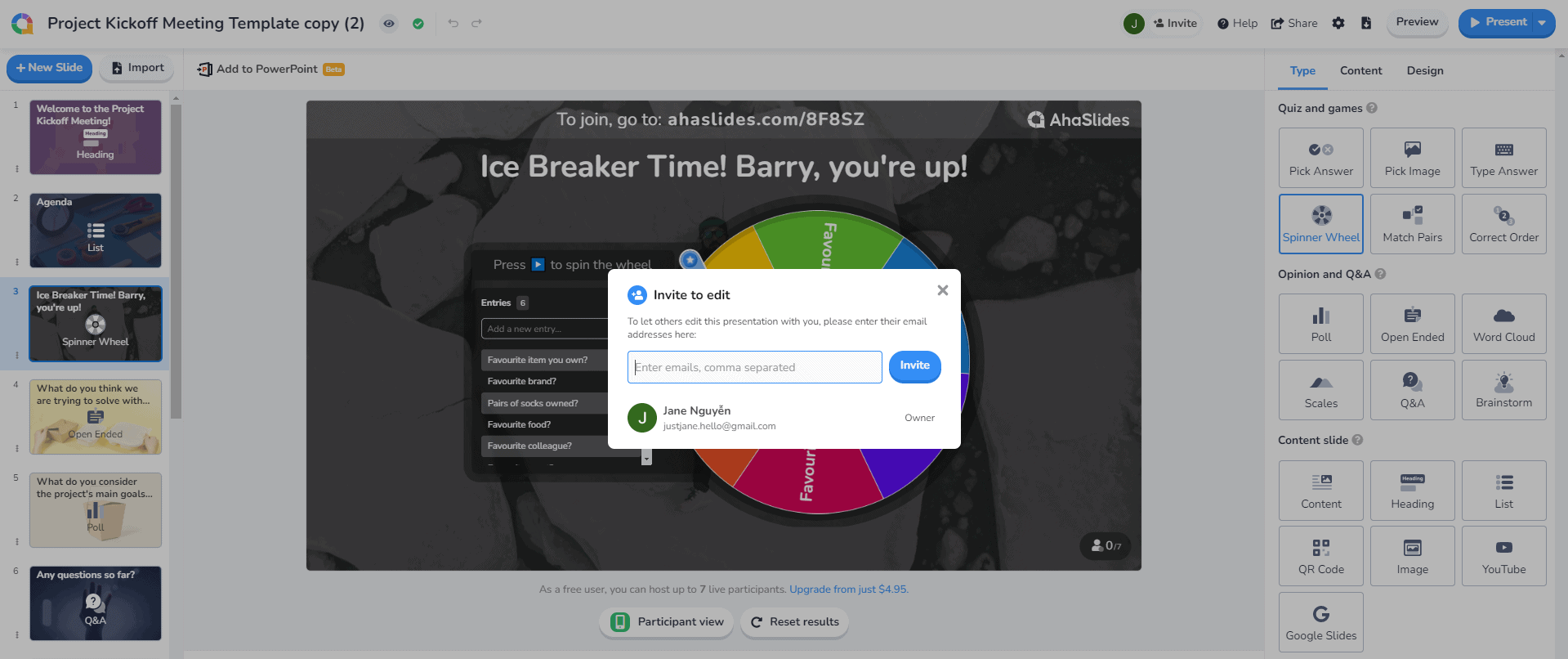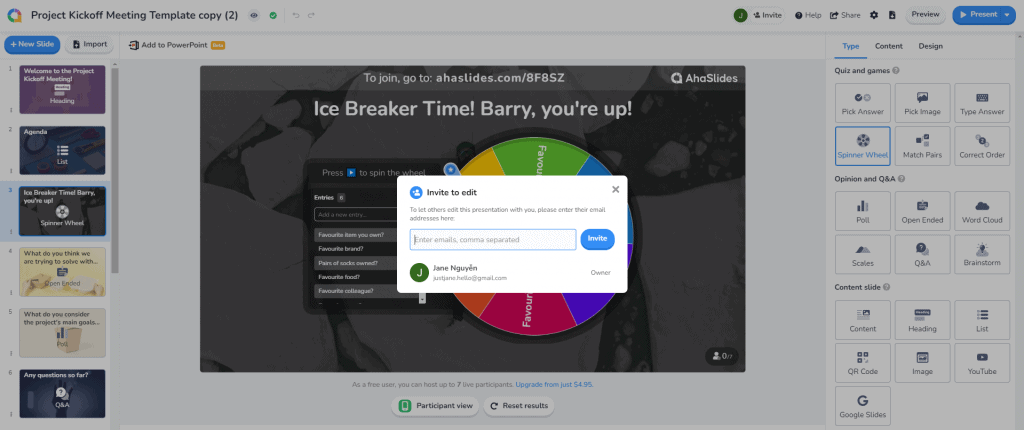 Share the agenda: When you're ready, you can share the agenda with your team or with attendees. You can share a link or via a QR code.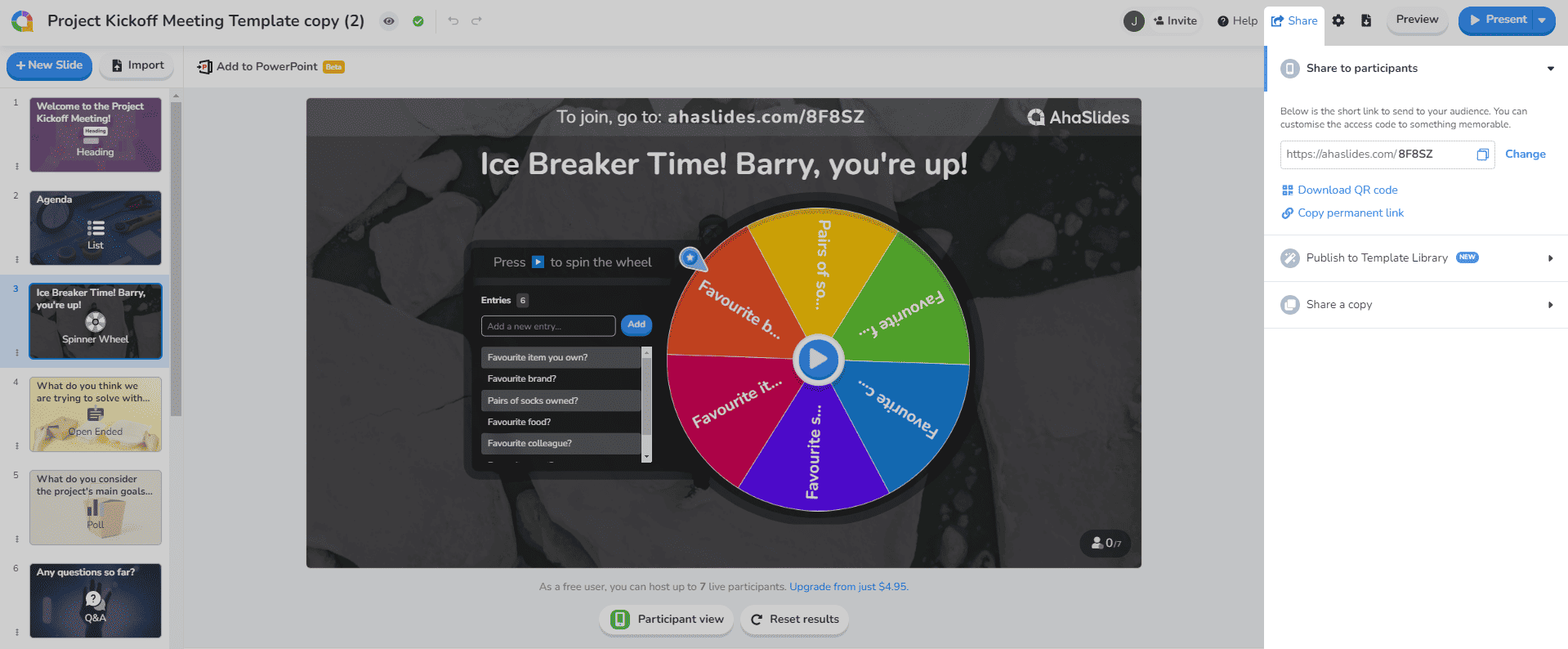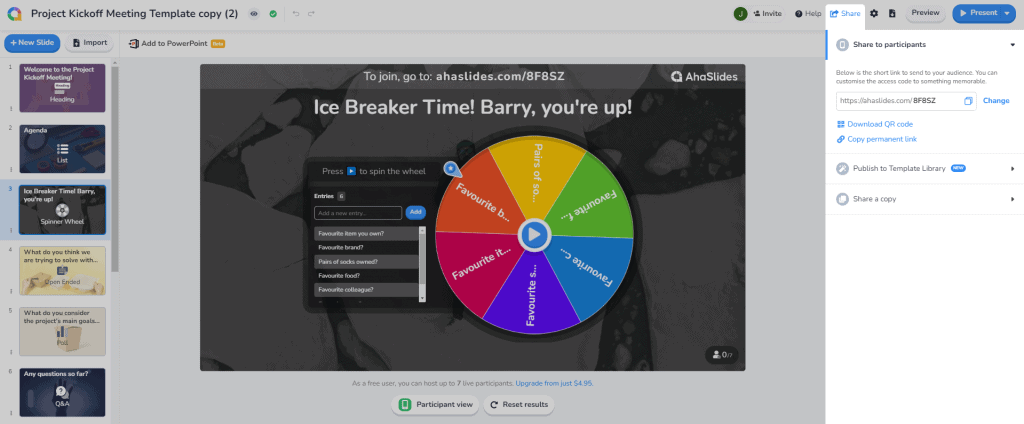 With AhaSlides, you can easily create a professional, well-structured meeting agenda that will help you stay on track and achieve your meeting objectives.
Key Takeaways
By following these key steps, examples as well as the help of AhaSlides templates, hope you can create a well-structured meeting agenda, and focused that helps you achieve your goals and objectives.