If you find yourself with some free time at work, in between appointments, or simply relaxing at home, solitaire is a great card game to play when boredom sets in.
For such a simple pleasure, spending a few bucks on its paid version would be unnecessary.
That's why we have compiled a list of free classic solitaire for both mobile and laptop devices. Feel free to explore the options below!
Table of Content
Tips For Better Engagement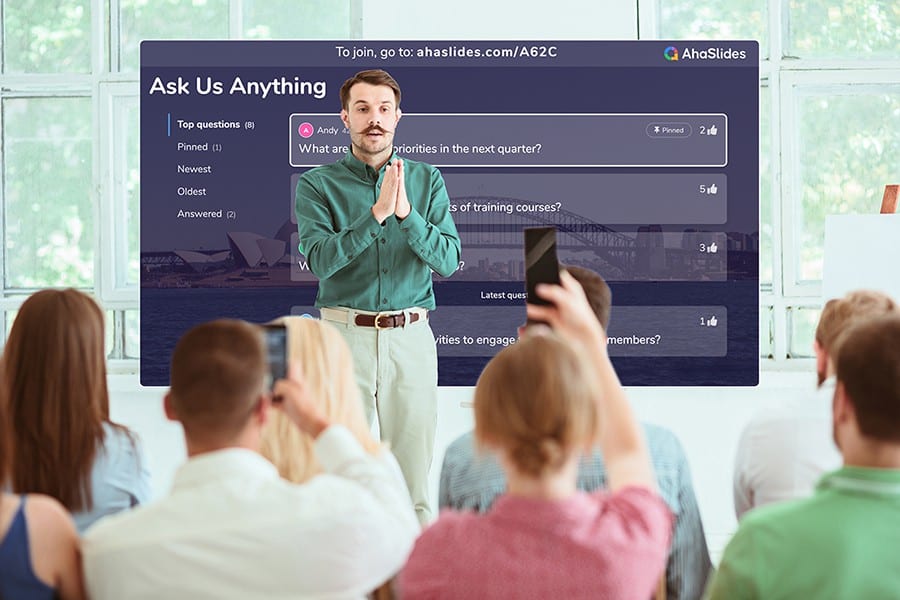 Interact Better In Your Presentation!
Instead of a boring session, be a creative funny host by mixing quizzes and games altogether! All they need is a phone to make any hangout, meeting or lesson more engaging!
🚀 Create Free Slides ☁️
What is Classic Solitaire?
Classic solitaire refers to the original and traditional version of the solitaire card game.
The cards are dealt into seven stacks and the aim is to arrange all 52 cards in order (Ace through King) by suit into four foundation piles.
Players turn over cards from the stacks and build them up by suit in the foundations from Ace to King, alternating colour between stacks.
The game is won when all 52 cards have been placed into the foundation piles and ends if at any point a player cannot make a further move.
The layout, objective and basic strategy of building up suits in order and alternating colours between stacks define what makes it "classic solitaire".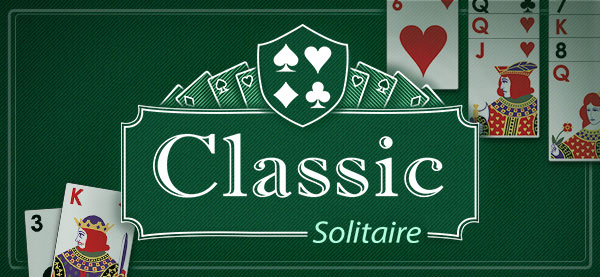 Best Free Classic Solitaire
After grasping the concept of how to play, now it's time to practice with these free classic solitaire. Ready to get into it?
#1. AARP Mahjongg Solitaire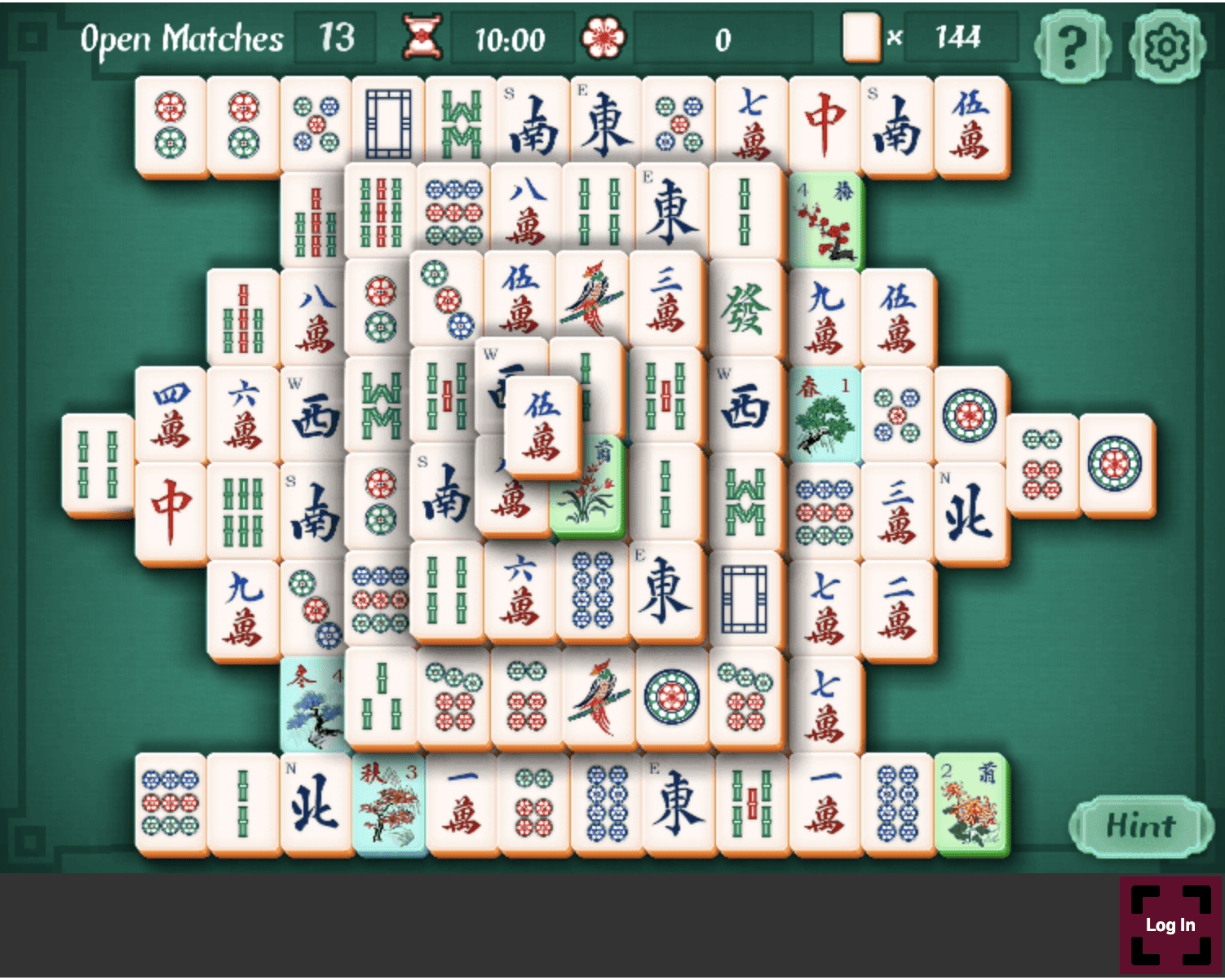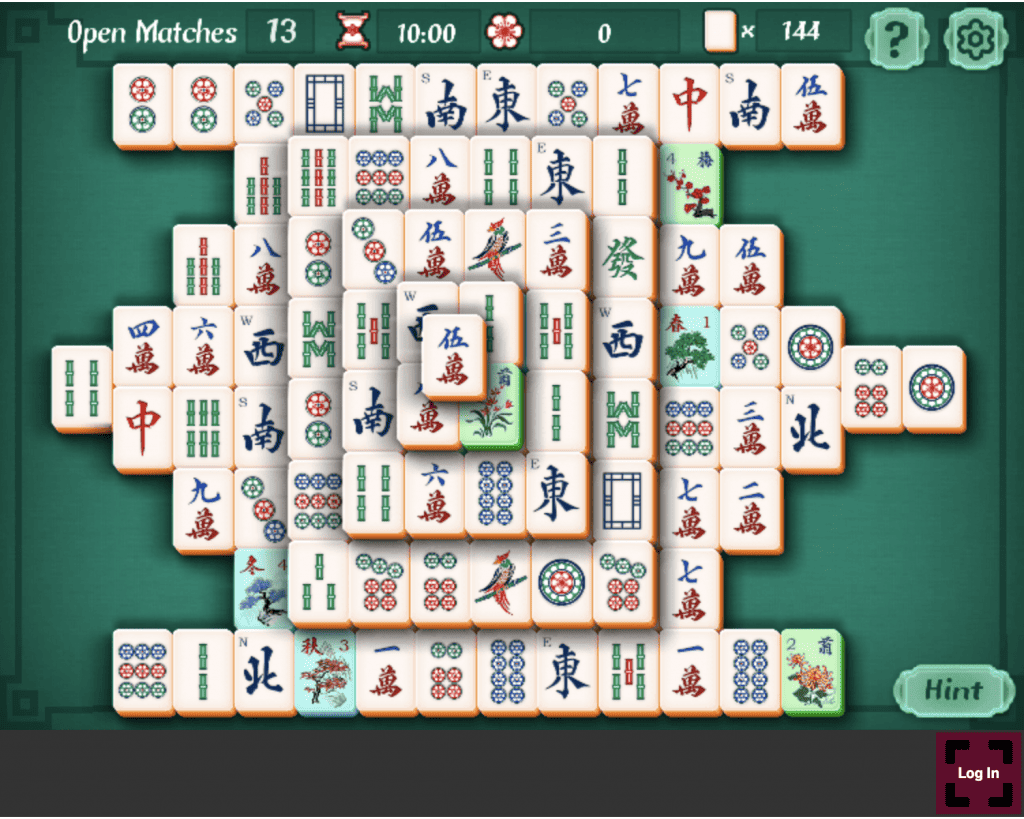 Mahjongg Solitaire is a variant of the solitaire card game based on the tile game Mahjong that you can play for free on the AARP site.
The cards are dealt out in 12 rows of 9 cards each.
The aim is to remove all 108 cards by matching pairs of the same rank or suit within each row.
The layout of 12 rows instead of 7 stacks, pairing cards by rank or suit instead of just suit, and aim of removing all cards by pairing differentiate it from classic solitaire, hence the name Mahjongg Solitaire.
#2. Solitaire Classic Card Games by Kidult Lovin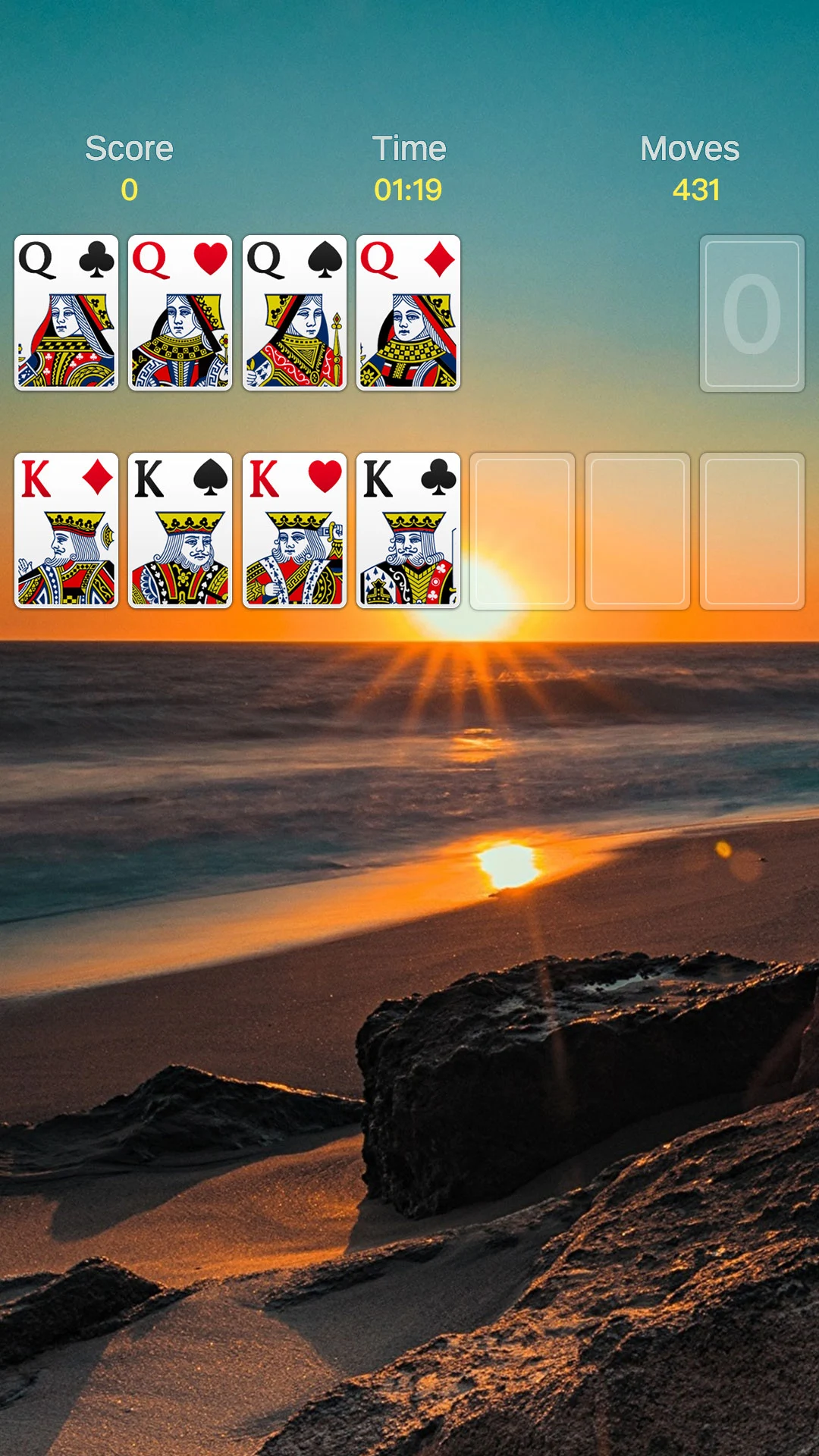 Bring back desktop nostalgia with this classic solitaire version on Google Play!
It provides all the variations that keep you entertained such as spider solitaire, and pyramid solitaire.
The game contains advertisements, so it's a bit of a bummer since sometimes the ads are longer than the gameplay.
#3. Freecell Classic by MobilityWare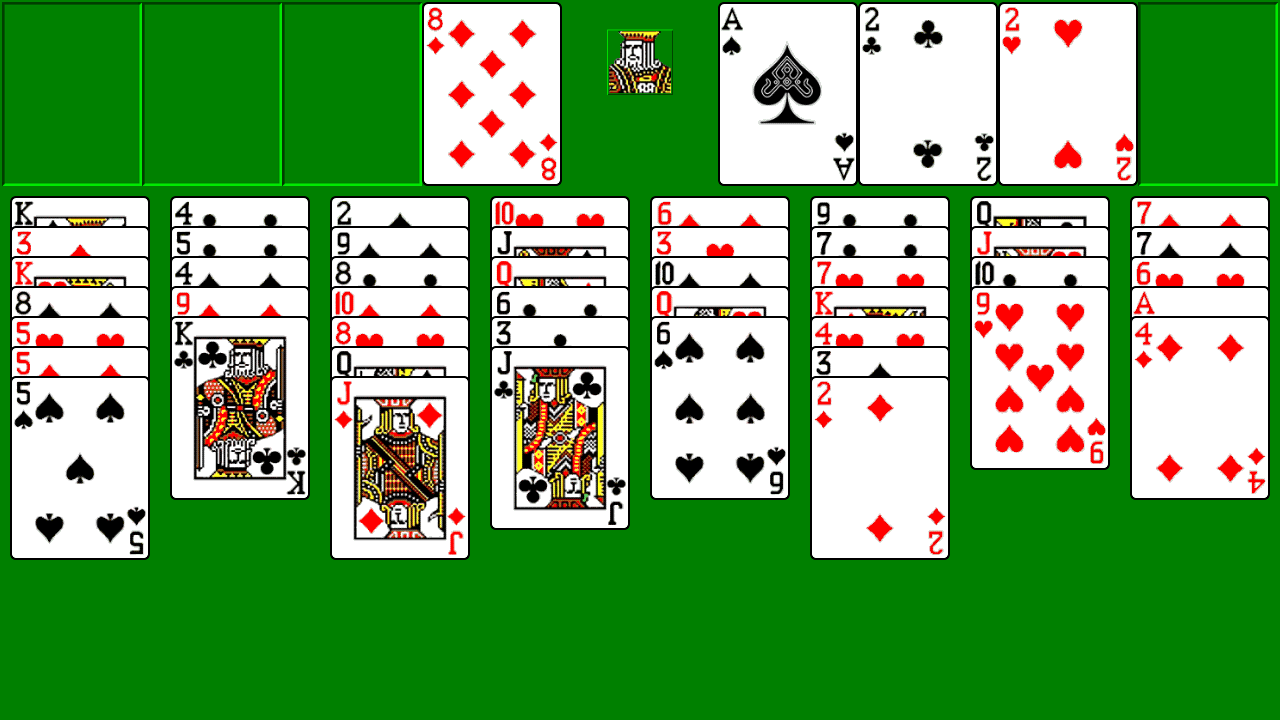 You can play Freecell classic solitaire online on the computer, and also download the app from the App Store for free.
FreeCell Classic is a variant of Klondike solitaire with 8 open columns, 4 FreeCell stacks and the ability to move multiple cards at once.
The addition of FreeCell stacks and the ability to move multiple cards differentiate it from classic solitaire, giving the variant its name: FreeCell Classic.
#4. Spider Solitaire by Solitaired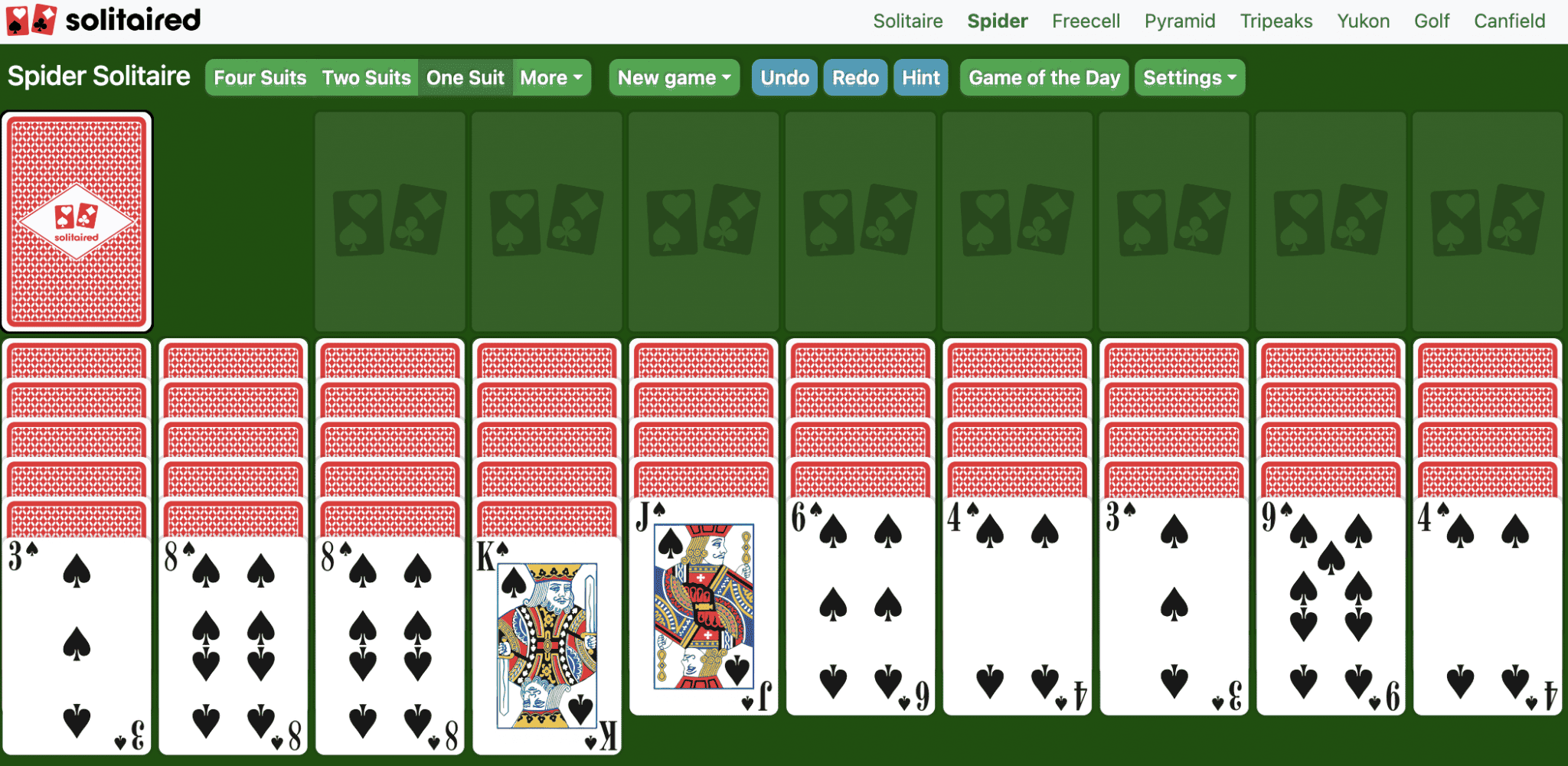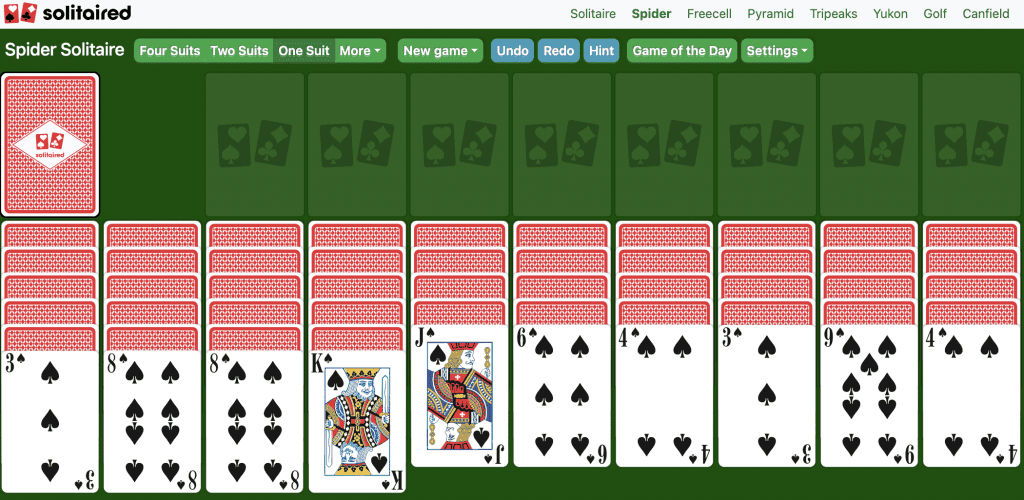 Also called Spiderwort or Spiderette, spider solitaire uses two 52-card decks to sort 104 cards into 4 suits of 13.
The cards are laid out in 8 stacks in a "spider" formation.
The spider layout, ability to move cards between stacks, and use of 2 decks differentiate it from classic solitaire, thus the name: Spider solitaire.
You can play it either on desktop or mobile on Solitaired.
#5. Pyramid Solitaire by CardGame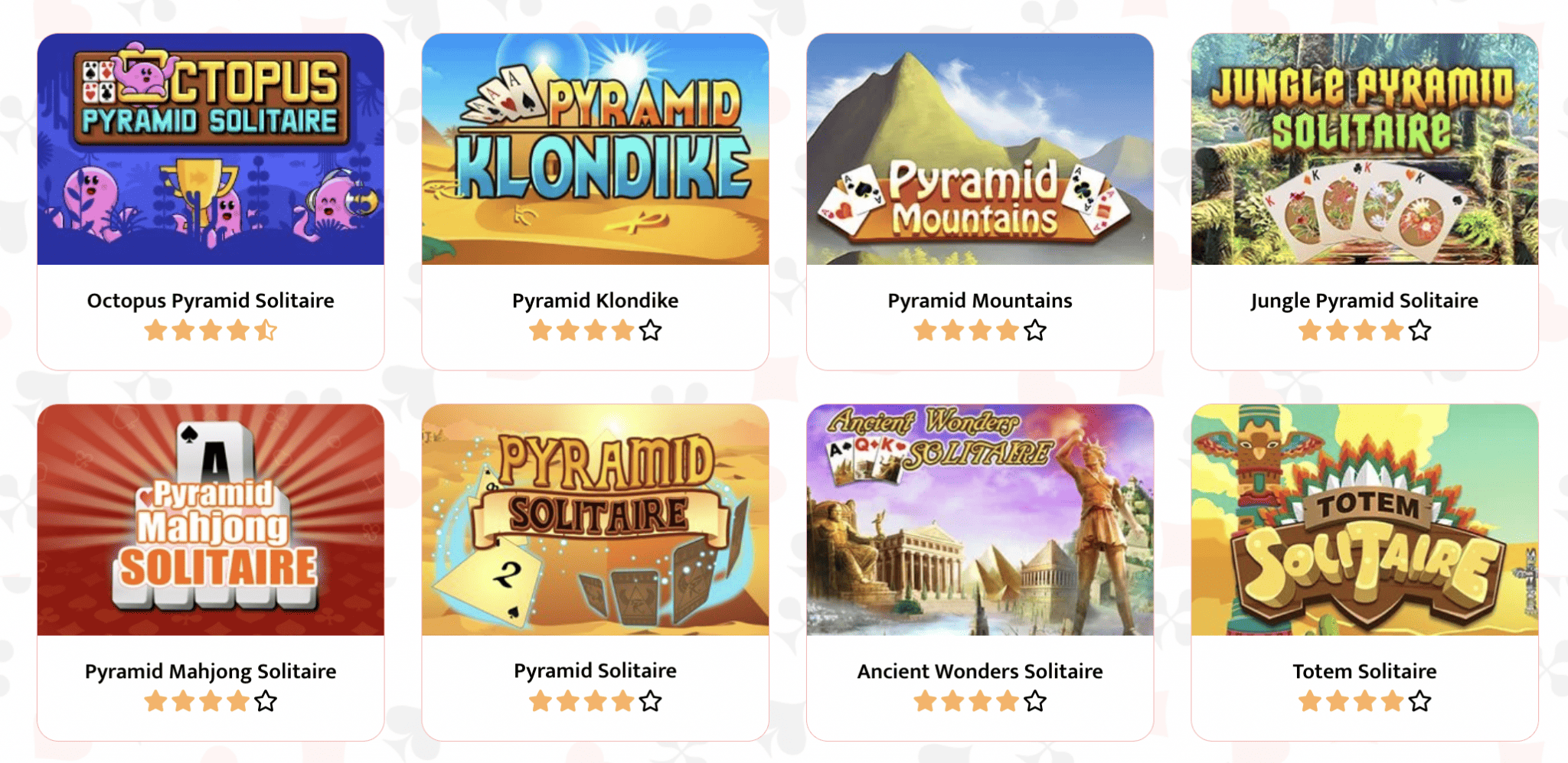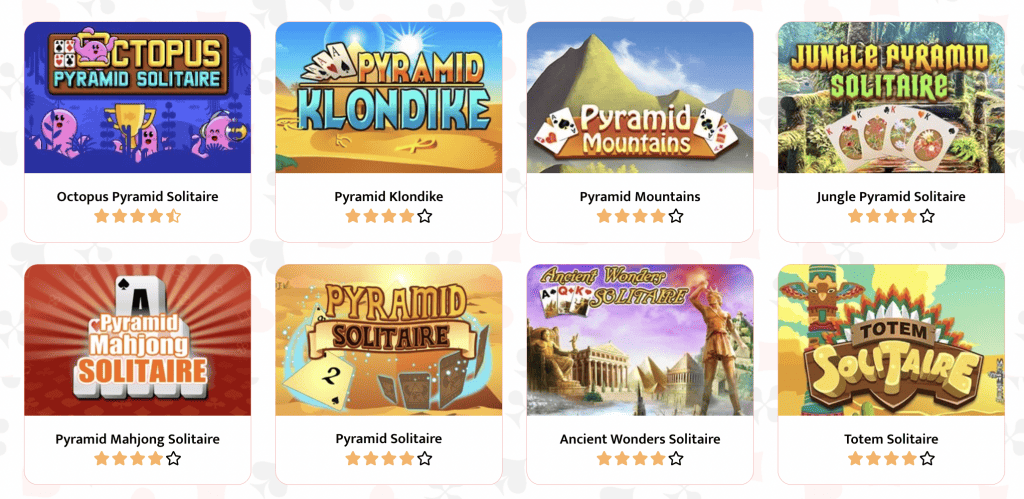 In pyramid solitaire, cards from 8 stacks are moved to sequences on a pyramid formation with 4 levels.
The game is won when all cards are on the pyramid and lost if no legal moves remain.
There are several variations that change the pyramid layout, number of cards used and structure of the stacks. Jump into CardGame to explore different game modes.
#6. Klondike Classic Solitaire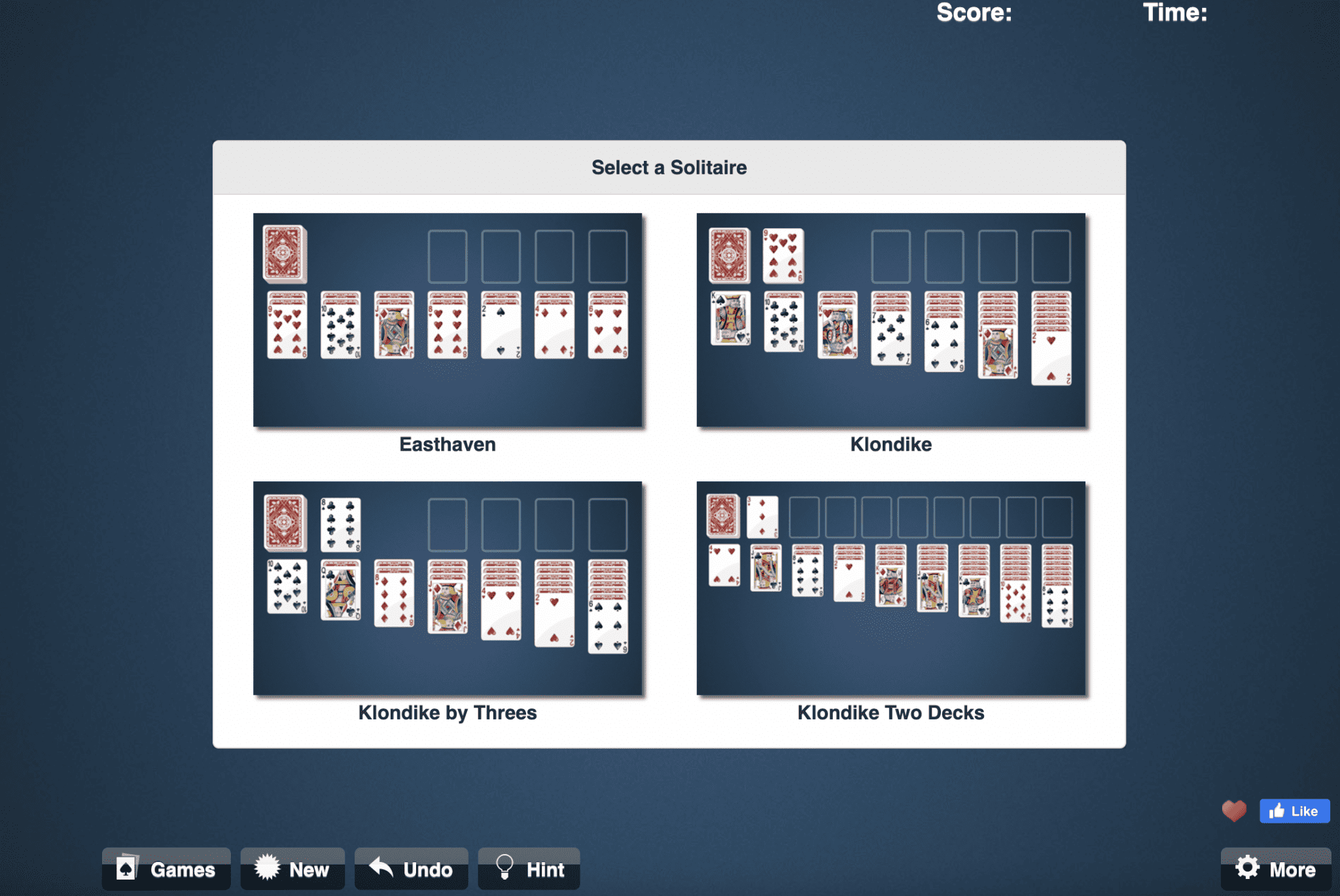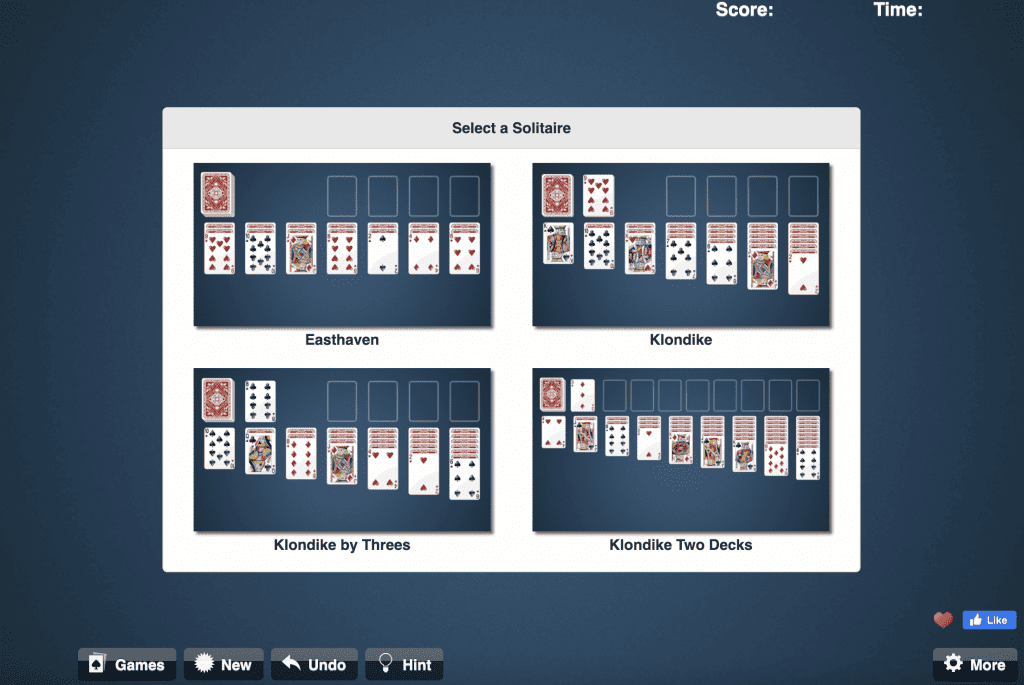 Klondike classic solitaire is the original solitaire game where the aim is to arrange all 52 cards in suit order from Ace to King across 4 foundation piles.
The layout, rules and objective define Klondike classic solitaire, named after its origins in Klondike, Alaska in the late 1800s.
You can play the game both on a desktop or browser without downloading anything.
#7. Tri Peaks Solitaire by Solitaire Bliss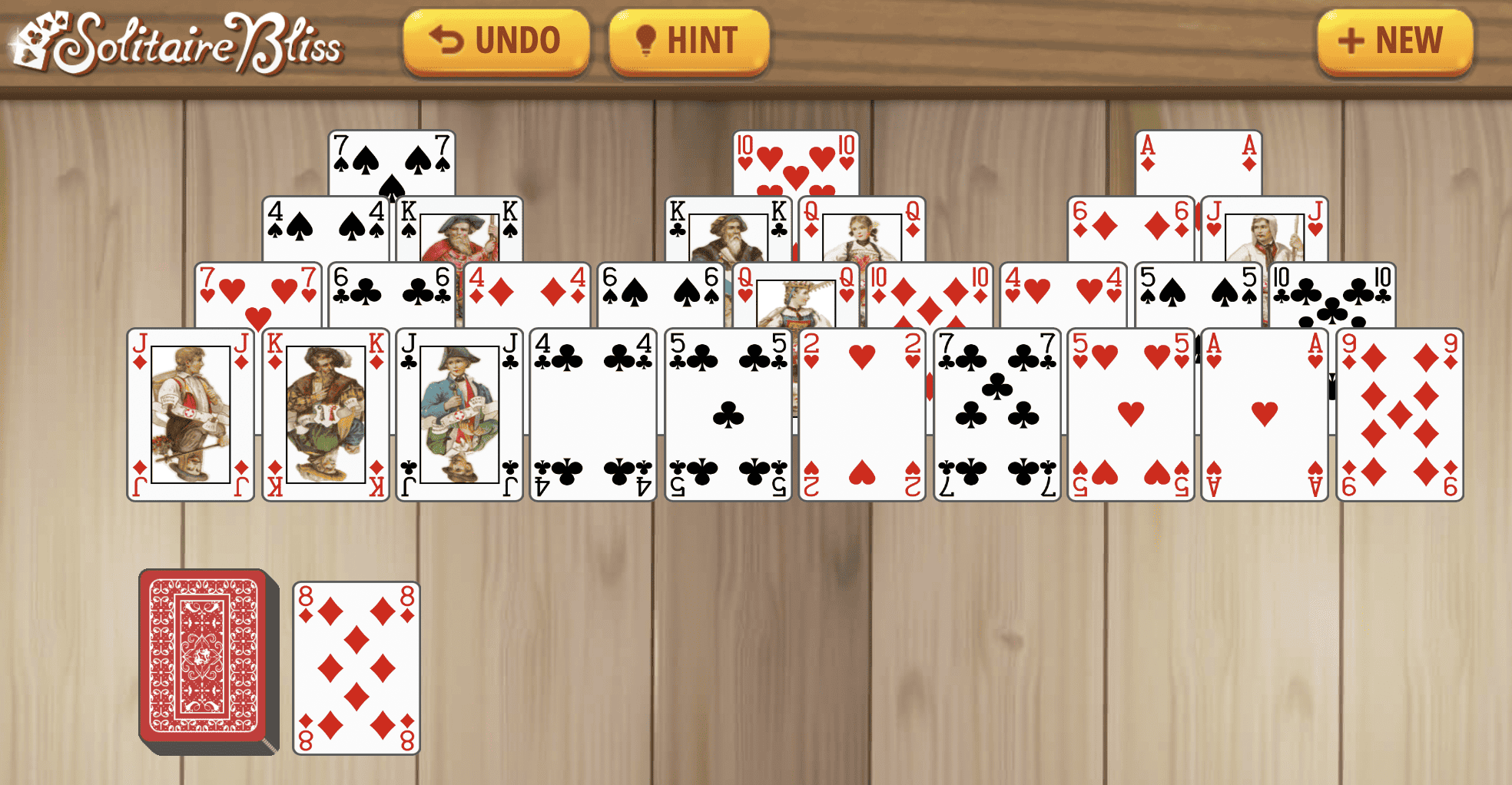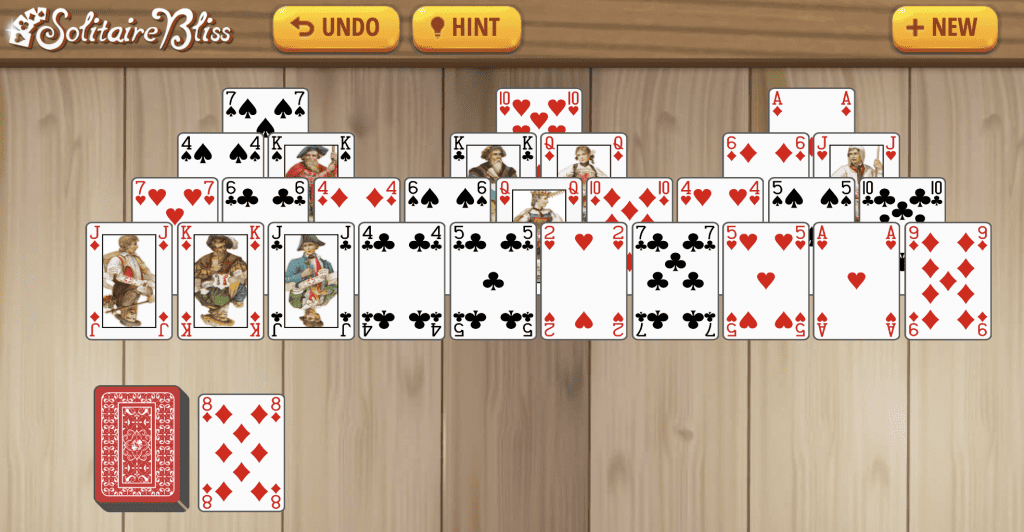 Tri Peaks Solitaire is a variation of solitaire with 3 foundation piles instead of 4.
The aim is to arrange all 52 cards in suit order from Ace to King across the 3 foundations.
To play this fun but challenging solitaire, head to Solitaire Bliss for the free version.
#8. Crescent Solitaire Classic by Arkadium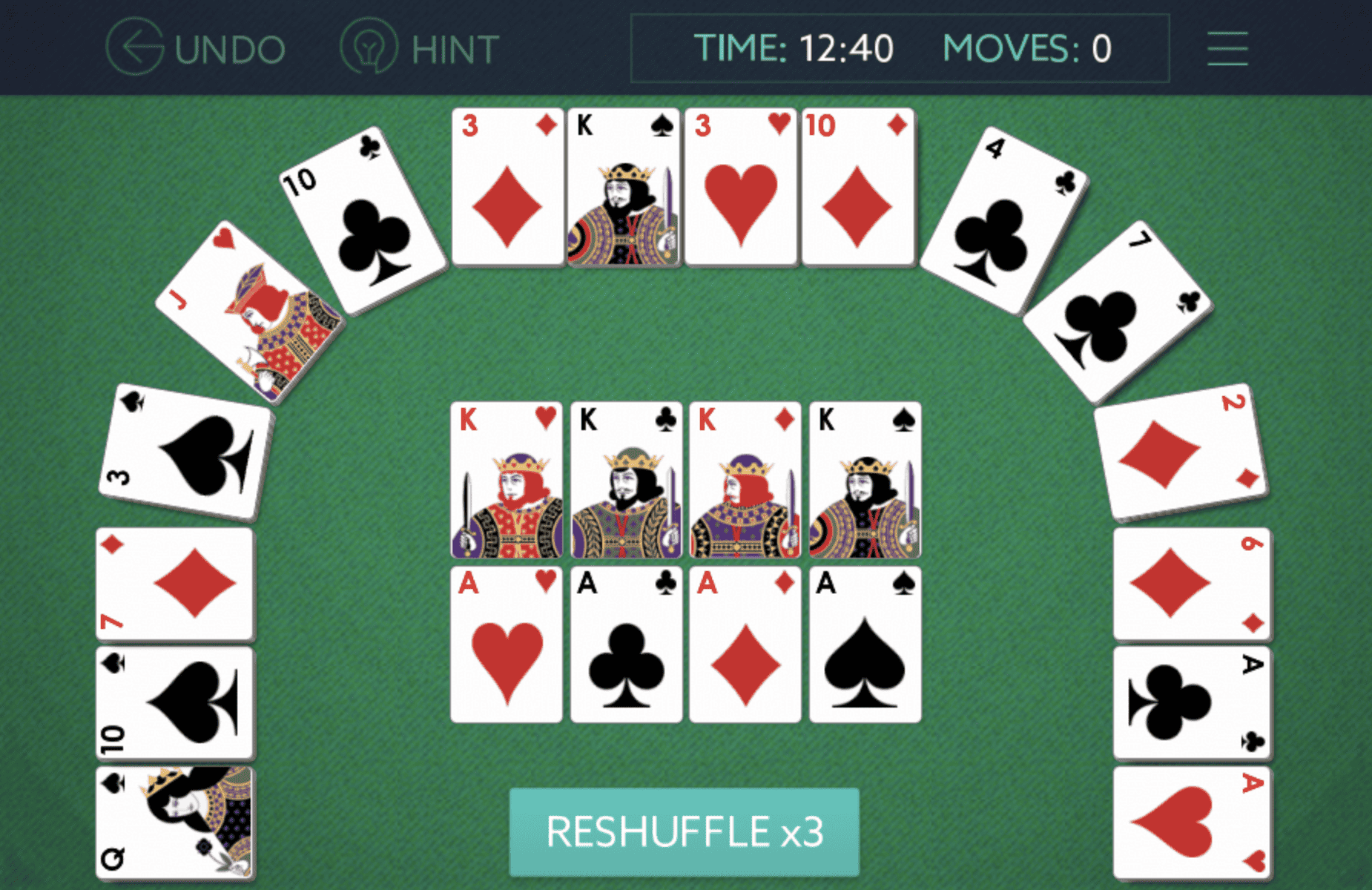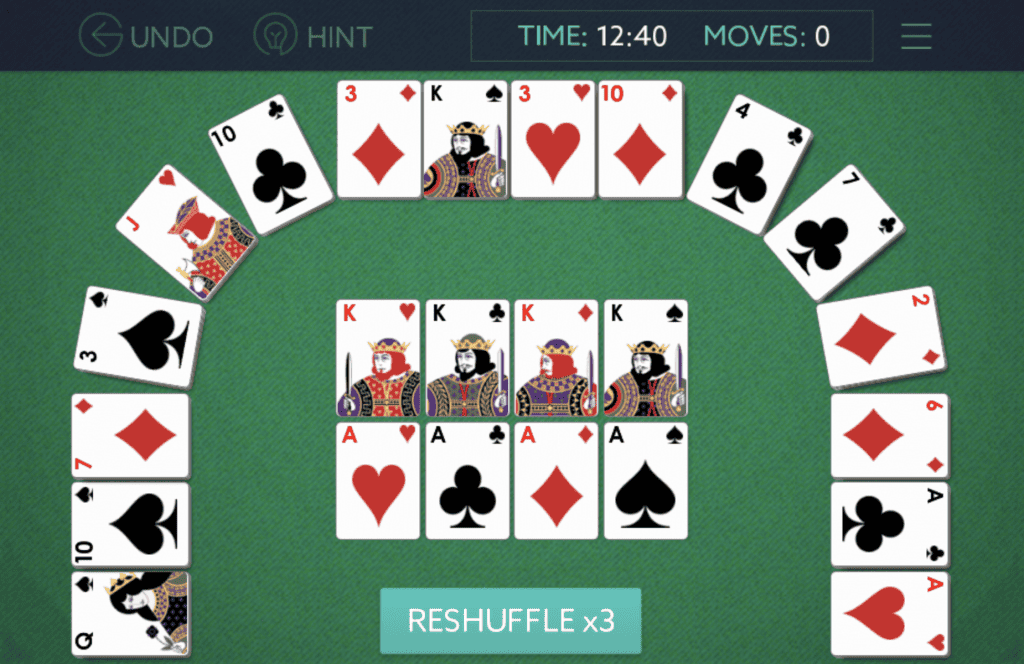 Crescent Solitaire Classic is a variant of solitaire where the 8 stacks are arranged in a crescent moon shape.
Cards can only be moved one at a time from stacks to foundations or between stacks. Gaps and spaces can be filled as normal.
You can play the game for free on Arkadium after watching an ad in the beginning.
#9. Golf Solitaire Classic by Forsbit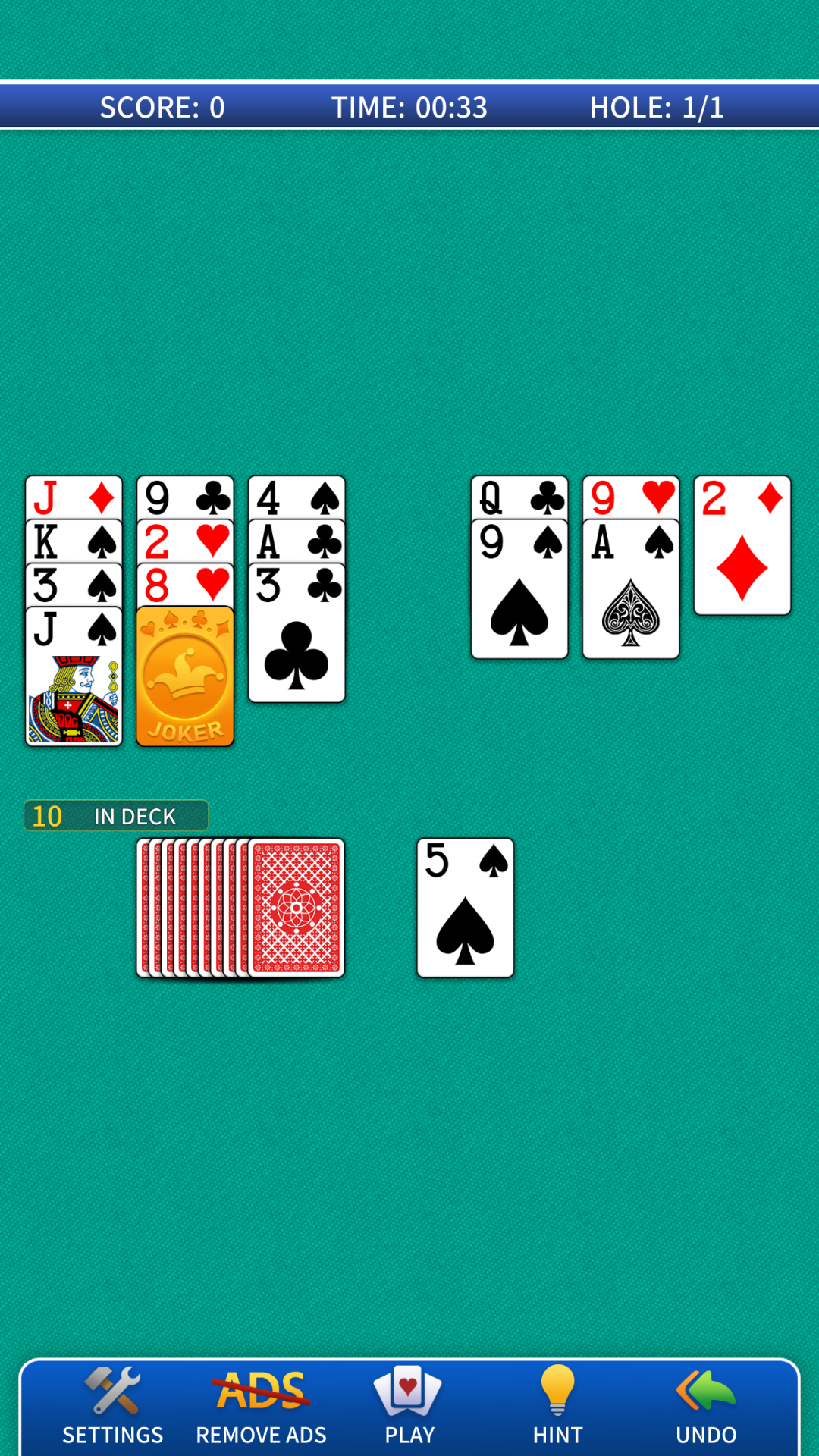 Golf Solitaire Classic lives up to its name with a 6×4 grid layout that resembles a golf course.
As in classic solitaire, stacks can be built down by alternating colour and gaps can be filled with any card.
The game is available on the Apple and Android app store.
#10. Solitaire Grand Harvest by Supertreat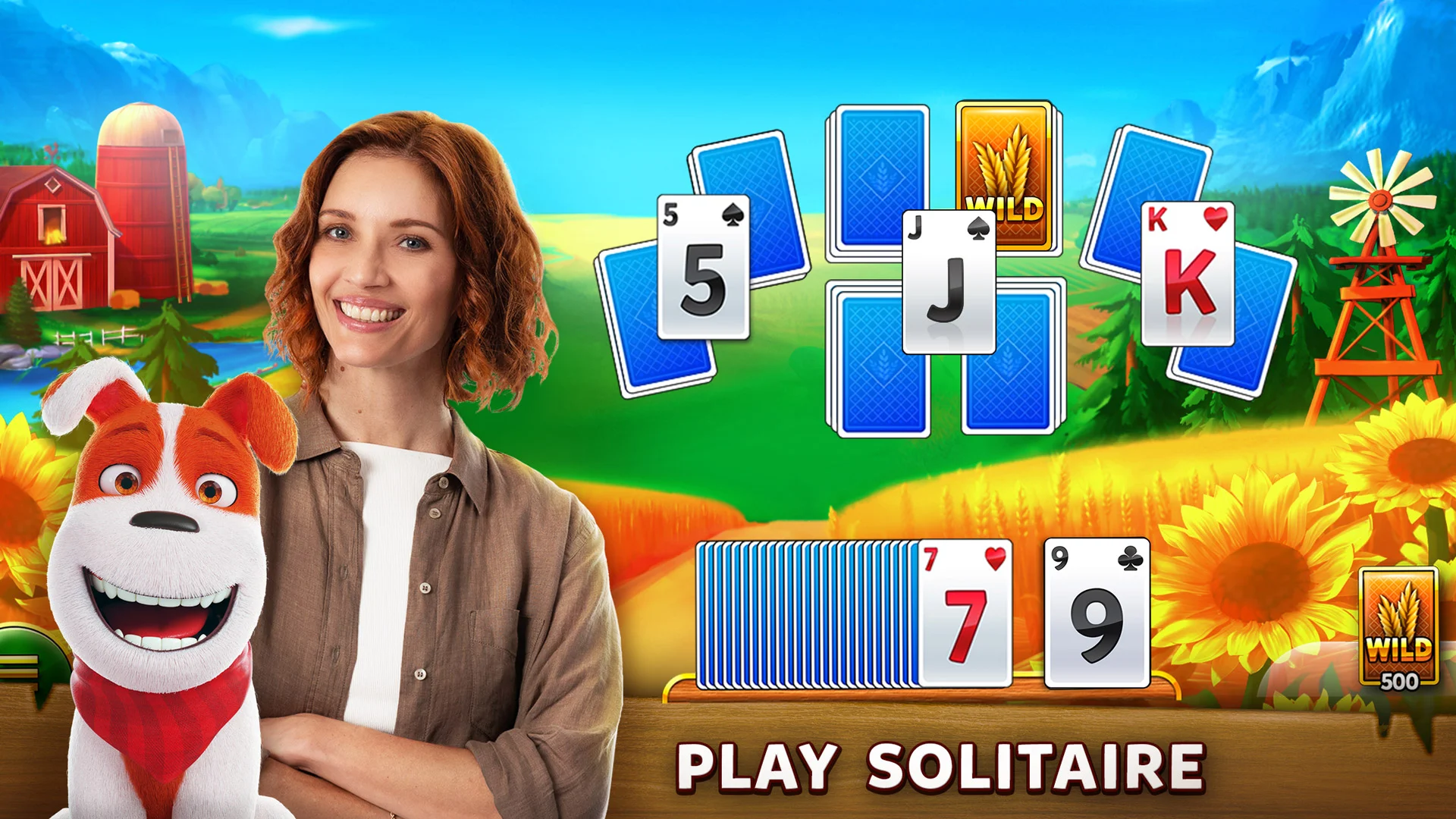 Solitaire Grand Harvest puts a farming theme on the classic solitaire concept.
Cards are moved from gardens, silos and barns onto foundations or empty garden spots. Only one card can be moved at a time.
The farm-themed board gives you a cute and relaxing atmosphere that goes beyond a normal solitaire card game.
Download it on the Apple/Android app store.
Play Other Fun and Educational Games at AhaSlides
From team meetings to family game nights, spice up the fun with AhaSlides. Access our ready-made template games fun of fun quizzes, polls and interactive activities such as 2 Truths 1 Lie, 100 Bad Ideas, or Fill in the Blanks👇
Final Thoughts
While newer variants have been created with additional mechanics and themes, classic solitaire remains popular due to its easy-to-learn rules, challenge to master and timeless appeal.
The simple joy of neatly ordering a set of shuffled cards still attracts solitaire fans to this day, ensuring free classic solitaire will continue to occupy people for years to come.
Some things, it seems, never go out of style.
Frequently Asked Questions
How can I get classic solitaire for free?
You can get classic solitaire for free via built-in browser games, online game sites, mobile app stores and some offline versions from Microsoft Windows.
What is the most winnable solitaire?
While certain variants tend to have somewhat higher win rates on average, there is no single "most winnable" solitaire due to the various factors that determine whether a player wins a given game.
Is solitaire a skill or luck?
While solitaire does involve elements of skill that can be improved through practice and experience, there is still a significant aspect of luck related to the cards themselves.
Is solitaire good for the brain?
Solitaire can benefit your brain in many ways by exercising functions like memory, focus, problem-solving, planning and decision-making.