What to notice if it is a job interview in the hospitality industry? These are top-picked Hospitality Questions Interview and answer samples for you! Let's check out to see whether you can answer them well!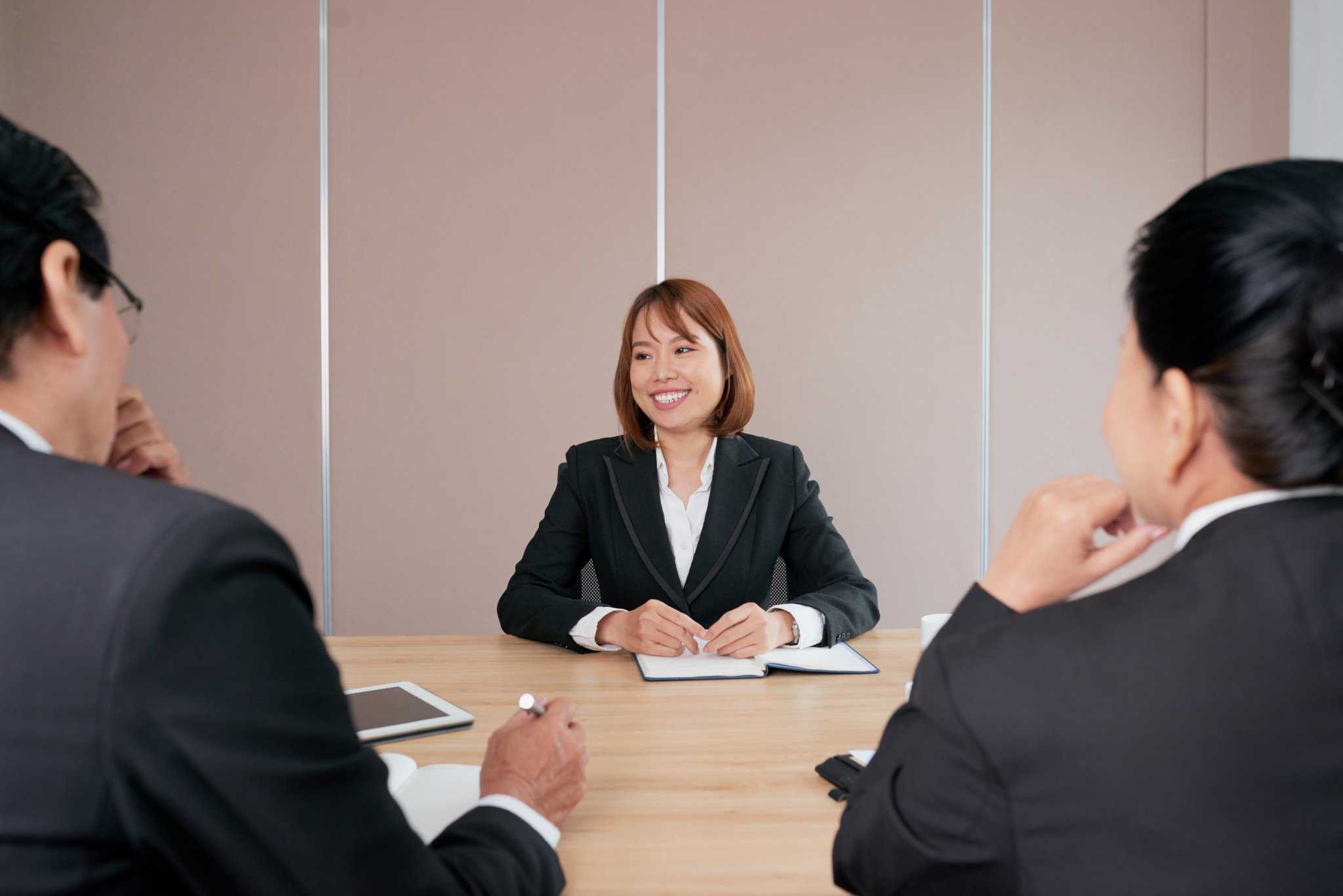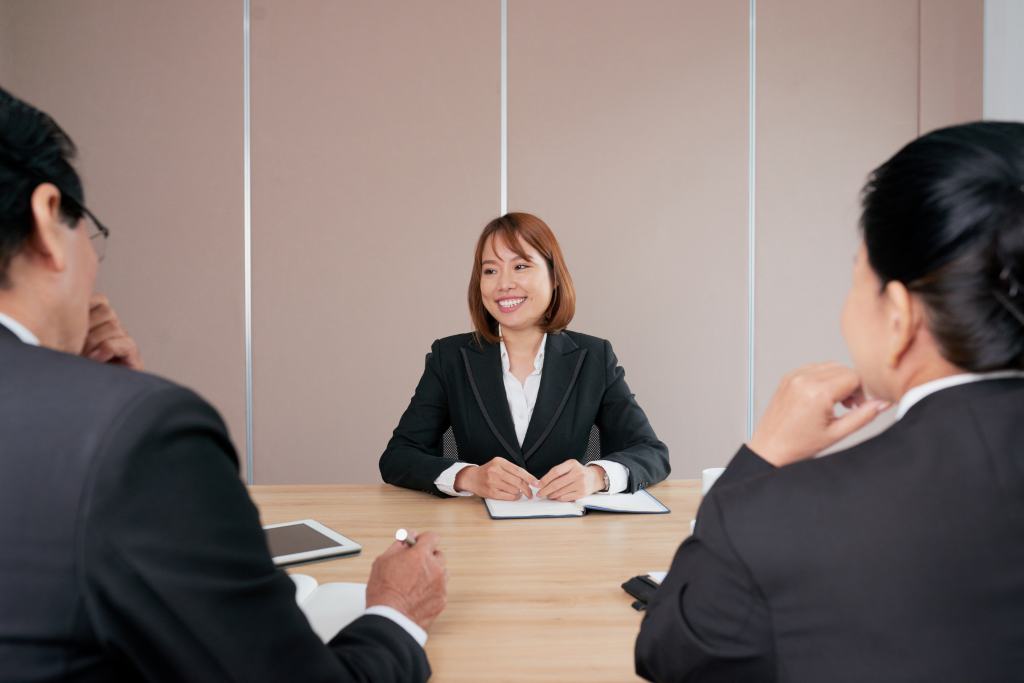 Table of Contents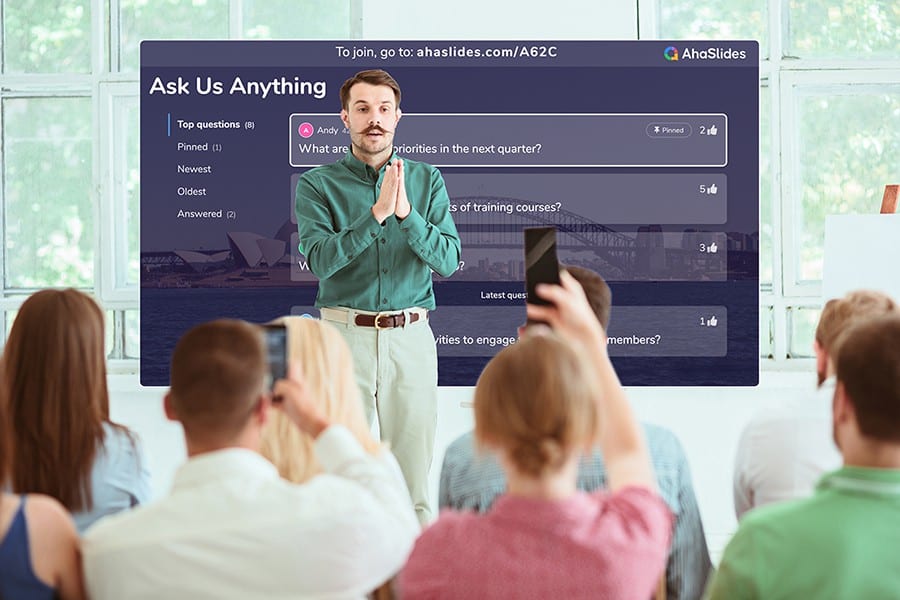 Get your holiday trivia questions here!
Sign up for free and build your interactive holiday trivia templates, to play with families and friends.
Get it for free☁️
Overview
| | |
| --- | --- |
| What are the 5 types of interviews? | In-person interviews, virtual interviews, phone interviews, panel interviews and informal interviews. |
| Why is an in-person interview better? | It facilitates more engagement. |
Overview of interview.
Hospitality Questions Interview and Answers — General
General interview questions are the most asked questions in almost all interviews for a job in the hospitality industry.
1. Please introduce yourself
This is the most common question interview for any job vacancy. Recruiters want to get to know you better, understand your background, and assess how well you fit the company and the role you're applying for.
"Hello, I'm [Your Name], and I appreciate the opportunity to introduce myself. I hold [mention your highest relevant degree or qualification], and my background primarily lies in [mention your field or industry]. Over the past [X years of experience], I've had the privilege of working in various roles that have equipped me with a diverse skill set and a deep understanding of [mention key aspects of your industry or expertise]."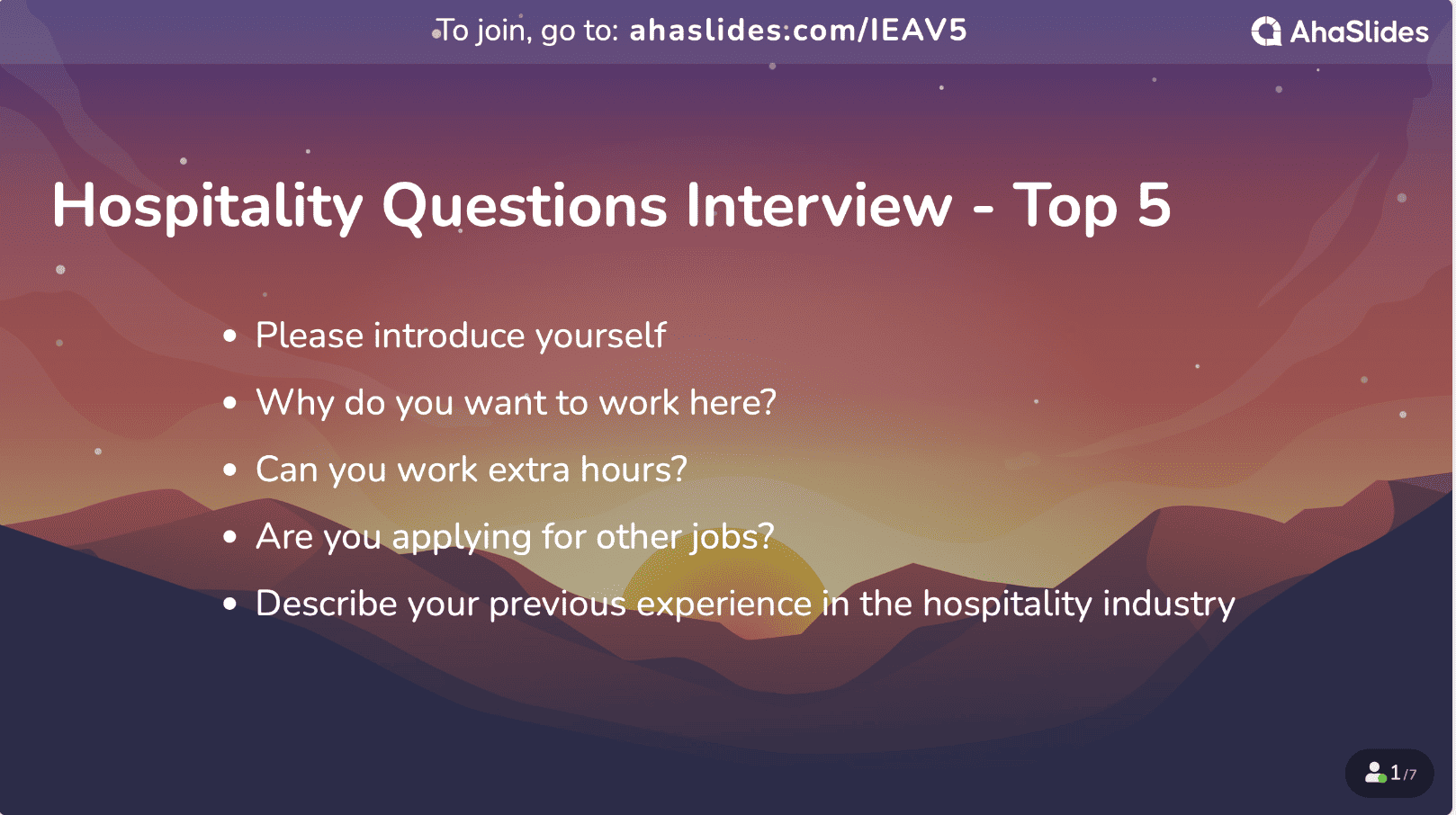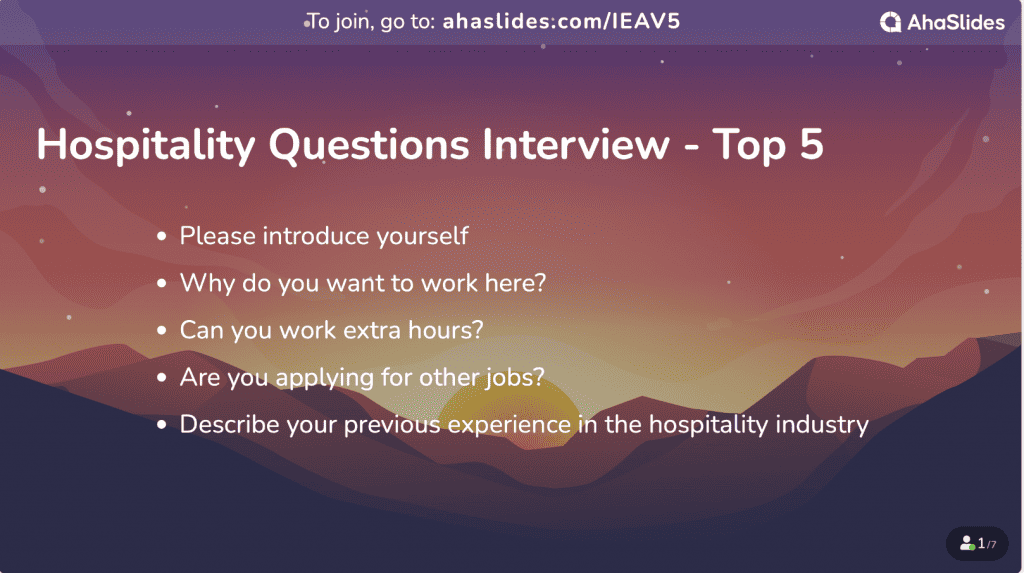 2. Why were you interested in this job role?
This question aims to understand how much passion you have for the job and see whether you are going to commit to the role and company in the long term.
"Since leaving school, I've been interested in working in hospitality so I was really interested when I saw this vacancy. As you've seen from my CV, I've held other types of front-of-house jobs and I believe I have the experience and skills to put myself forward for this job."
3. Why do you want to work here?
It is important to express your eagerness to learn and grow within the company as well as explain why you would enjoy the responsibilities of the role.
"For most of my adult life, I've strongly supported X because I believe that Y…"
"X is very important to me in both my professional and personal life because I strongly believe that…"
"I always enjoy helping other people — from my tutoring work in school to the sales experience I had at my last job — which is why I feel so fulfilled working in customer service."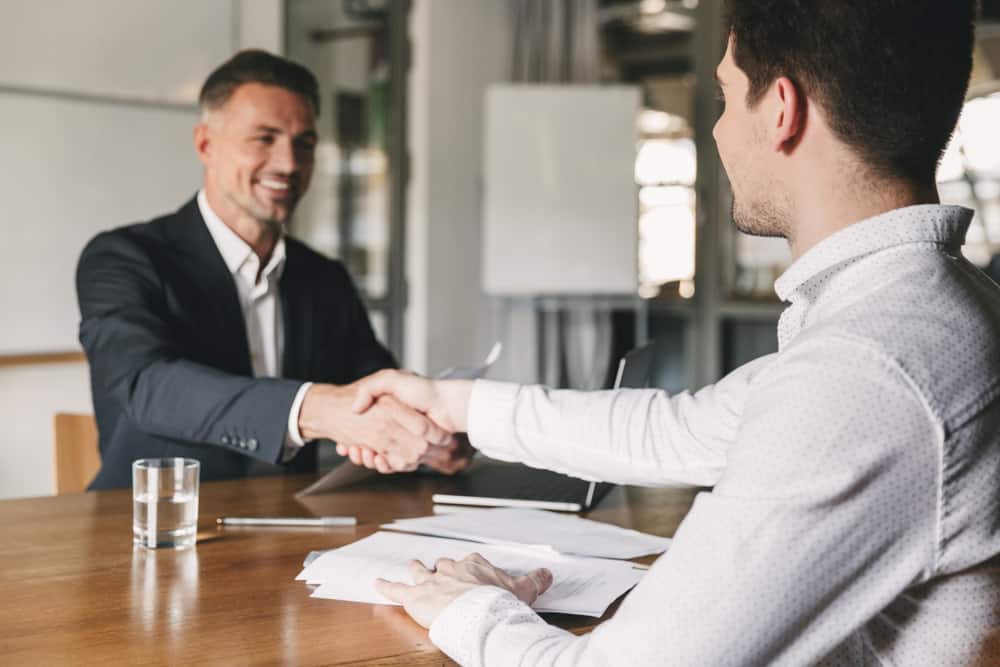 Hospitality Questions Interview and Answers — In-depth
In-depth question is a common way for the company to evaluate your overall skills and attitudes toward the jobs and relevances.
4. What areas would you like to improve in?
It isn't surprising to encounter these questions as managers want to see how the willingness of you to learn and grow, and your ability to recognize areas of self-improvement.
"I am always looking for ways to improve my customer service skills. I am currently reading a book on how to provide exceptional customer service. Your hotel is well-known for excellent customer service and I believe I will improve myself quickly when working here."
5. Can you describe your previous experience in the hospitality industry?
It is good to describe what you have done in your previous jobs that are related to the hospitality industry. And don't worry if you don't have any. Feel free to say what you achieved in your last jobs that fulfilled the customer's demand or the company's goal instead.
"Certainly. I have [X years] of experience in the hospitality industry, during which I've worked in various roles such as [mention specific roles, e.g., front desk, concierge, or server].
6. Can you work extra hours?
It is important to be honest and upfront in your answer to this question. If you are not willing to work extra hours, then it is best to say so.
"Yes, I am willing to work extra hours when needed. I understand that the hospitality industry can be busy and demanding, and I am committed to doing my part to ensure that our guests have a positive experience."
Host a Virtual Situational Hospitality Questions Interview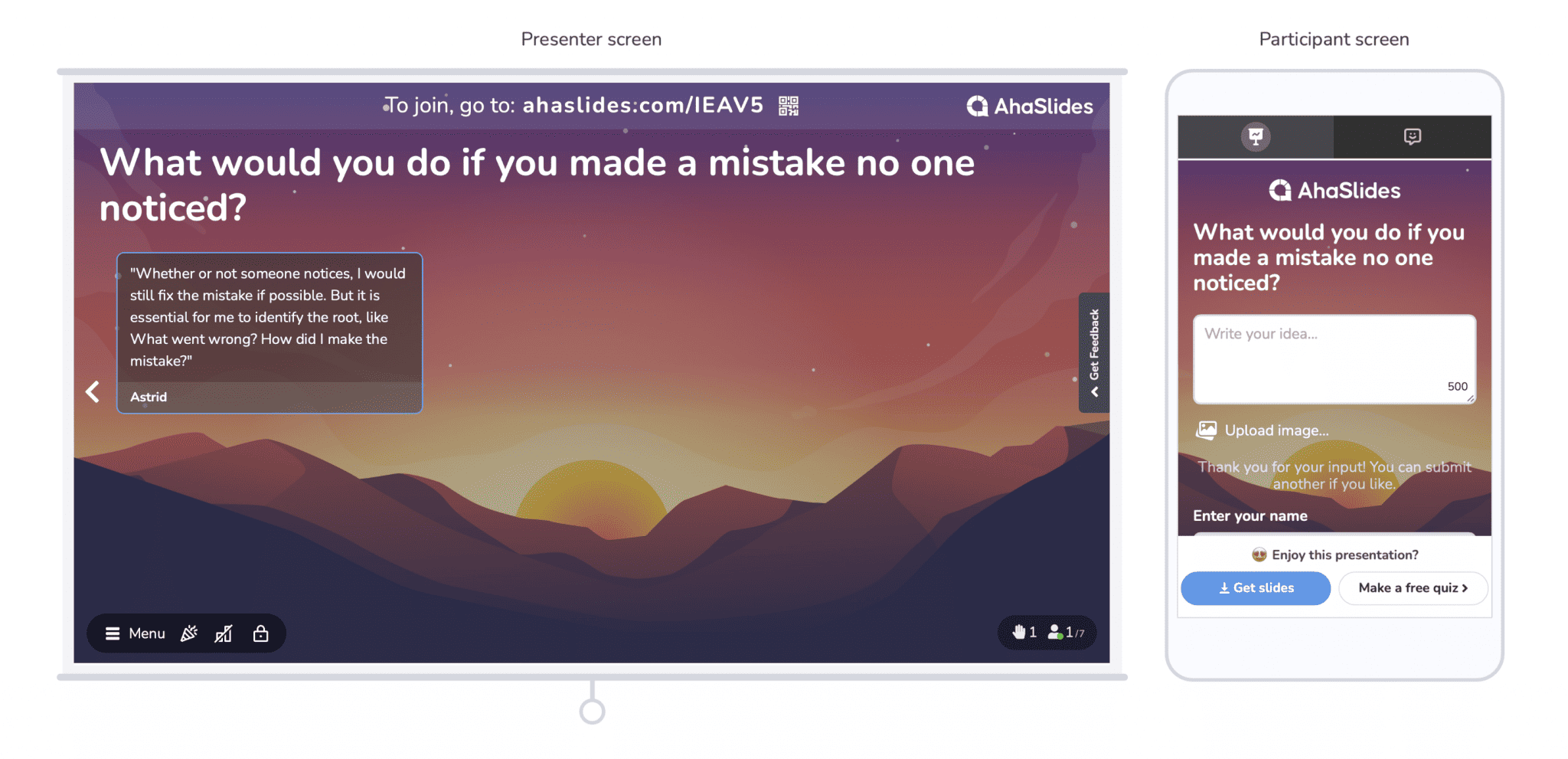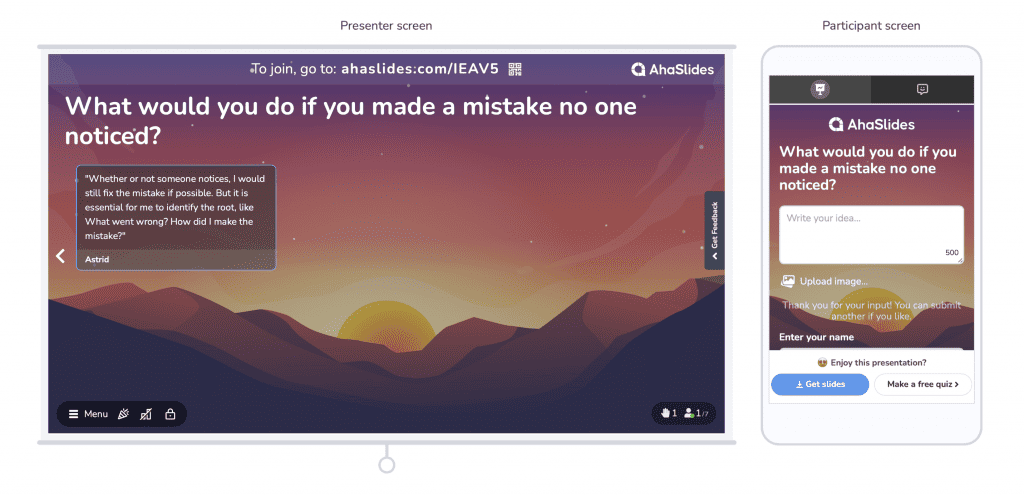 Hospitality Questions Interview and Answers— Situational
Here are some best situational interview questions and answers in the hospitality industry:
7. What would you do if you made a mistake no one noticed?
The question is quite simple and straightforward. And so does your answer.
"Whether or not someone notices, I would still fix the mistake if possible. But it is essential for me to identify the root, like What went wrong? How did I make the mistake?"
8. What would you do if an angry and dissatisfied customer confronted you?
Fulfilling customer demand is a priority in the service industry, especially hospitality. This question requires critical thinking and emotional intelligence.
Customer: "I am extremely disappointed with my experience here. The room was not clean when I checked in, and the service has been subpar!"
"I'm truly sorry to hear about your experience, and I understand your frustration. Thank you for bringing this to my attention. Let's address this issue promptly. Could you please provide me with more details about what happened with the room and your service?"
9. Are you applying for other jobs?
This question may seem tricky at first. And the primary reason is they want to know about your top choices and preferences. Never lie to the interviewer and don't disclose too much detail.
"Yes, I have applied to a few other companies as well and I have some interviews coming up, but this company is my first choice. I appreciate the company's goals and would love to be a part of it. I could learn so much from you and your company and that would help me grow as an event planner."
10. Tell me about a time at work when you felt under pressure. How did you handle it?
When asking you this question, recruiters want to know whether you can effectively manage and perform in high-pressure situations.
"When working under tension, I have discovered that staying organized and breaking down tasks into manageable steps helps me keep focus and meet deadlines effectively. For example, in my last position, we faced an urgent project with a tight timeline."
More Hospitality Questions Interview
11. What challenges do you expect to face in this role, and how might you handle them?
12. Where do you see yourself in five years?
13. How might you respond following a negative review of your personal service?
14. What do you do to ensure you and your team members communicate effectively during projects?
15. What salary are you seeking?
16. Do you work best independently or in a team?
17. What do you know about this organization?
18. How do you respond when a client changes their mind about something without discussing it with you first?
19. What would your previous co-workers say about you?
20. What are your hobbies?
21. Are you willing to travel or relocate if necessary?
22. You notice a colleague is acting inappropriately in the workplace, specifically toward a coworker. What action do you take?
23. How do you handle multiple tasks and prioritize in a fast-paced environment?
24. Can you provide an example of a time you had to think quickly to solve a workplace issue?
25. Tell me about a time when you went above and beyond to exceed a guest's expectations.
26. What do you think the roles and responsibilities of this job are?
27. Describe a time you had to deal with an unhappy customer.
28. How do you stay updated on industry trends and changes?
29. Do you have a preference for working day shifts or night shifts?
30. What is a service host?
Final Thoughts
🔥What's your next move? Learn some most delinquent technical skills that increase your chance of landing your dream job like using AhaSlides to speed up your job in event planning, or team training.
Frequently Asked Questions
What to do when facing situational interview questions?
When it comes to situational interview questions in the hospitality industry, there are several things to note down: (1) don't panic, (2) draw from relevant experiences, (3) highlight your teamwork skills, and (4) ask for clarification if needed.
What is the most common mistake in interviews?
Lack of transparency regarding salary, working hours, conditions, and benefits are important issues that hospitality recruiters should avoid.
Which questions the interviewee shouldn't ask in the interview?
Here are some examples that you should avoid asking recruiters during the interview:
Do you have any other positions apart from this one?
Will I have long hours?
How much holiday do you offer?