If you are among many employers and team leaders who have been concerned about creating active engagement in meetings both online and offline; Or, if you are worried about maintaining a real connection with followers and current and potential customers via social media, let's have a bash at quick poll maker, one of the most powerful tools to collect real-time feedback to leverage your meeting effectiveness and brand image.
More Poll Tips with AhaSlides
| | |
| --- | --- |
| Types of questions for a poll? | MCQs and Rating Scale Questions |
| What is another name of poll? | Survey |
Overview of 'Create a Poll'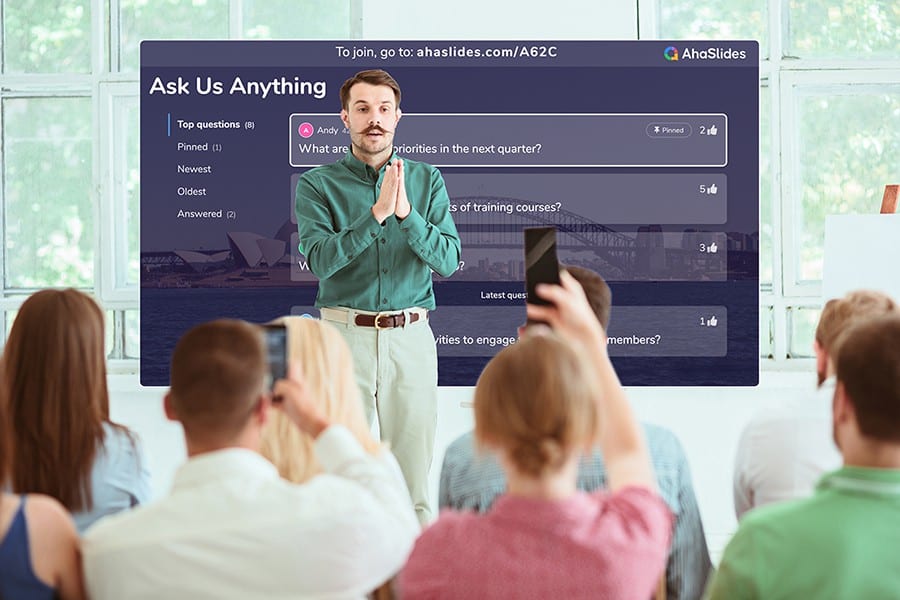 Get to know your mates better!
Use quiz and games on AhaSlides to create fun and interactive survey, to gather public opinions at work, in class or during small gathering
🚀 Create Free Survey☁️
What is the Purpose of Polling?
Survey vs Poll? Sometimes you may think an online survey is the best option for gathering feedback quickly and economically. That is true that surveys generate the results of a larger population with a significant source of data and insights information.
Even though some think of polls as a too simple method for collecting information, there are some specific cases, polls show their advantages. With AhaSlides, polling never looks boring again.
Polls are particularly beneficial when applied in fast-moving circumstances, where it's vital to keep your audience interested and involved while remaining on top of their fast-adapting sentiment.
Before going with a poll, there is something you should know about polls whether they are exactly for your purpose.
No detailed responses required
Typically requires only one answer
Feedback is usually immediate
No personal information is required to participate
Why Create a Poll is Super Important?
How long have you run out of ideas to captivate your social feed or do market research for new products? Here, we truly recommend you update your post with an interactive poll. It is quite an effective method for engaging the audience on social networks that you can attempt. By that, you can increase audience time spent on your walls or the number of viewers.
Furthermore, concerning market research, creating live polls that are not straightforward about products or services may lessen audience pressure, such as lighthearted questions which make them feel more like a natural conversation.
Especially, according to Forbes Agency Council, stated live polls were a great way to build consumer trust as they showed consumers that brands cared about their opinions and are constantly working toward improving service offerings.
In addition, you can host a live poll on other different platforms:
Video conferencing tools — like Zoom, Skype, and Microsoft Teams
Online messaging apps — like Slack, Facebook, WhatsApp
Virtual events and webinar tools — like Hubilo, Splash, and Demio
Since limitations in creating live polls on these online platforms, why not make it easier for a team member to use another app to do polling and embed a link quickly? There are some quick poll maker alternatives and AhaSlides has a well-designed poll feature to help you solve this problem. We also have a range of free suggestions and template examples for you to make a fresh start with a poll maker from zero.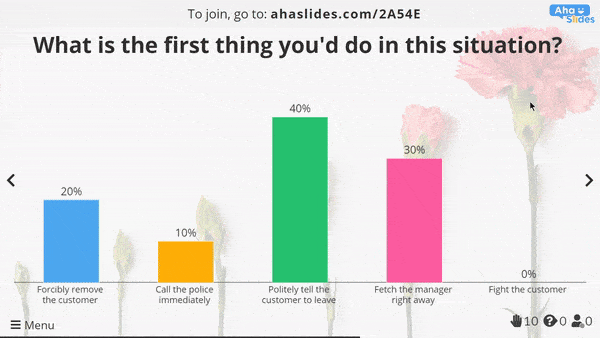 How to Create a Poll?
Polls are known for their single-question form, thus many people are struggling to create live polls to attract audiences. Here, we give you some tips to design an ideal poll for any target.
Focus on the big picture
Keep it short and stay relevant
Make your poll anonymous
Add images to your polls
Use open-text polls
Publish results immediately after the event
For further detailed guidance, you can take a look at our tutorials for creating polls. In this tutorial, you will learn how to locate and choose the slide type and add a question with options and view it live. You'll also see the audience's point of view and see how they interact with your presentation. Finally, you'll see how the presentation updates live as results are entered into your slide by your audience with their mobile phones.
Polls are a great tool to deliver instant feedback and real results that you can use to quickly drive change in your organization and business. Why not give it a go right now?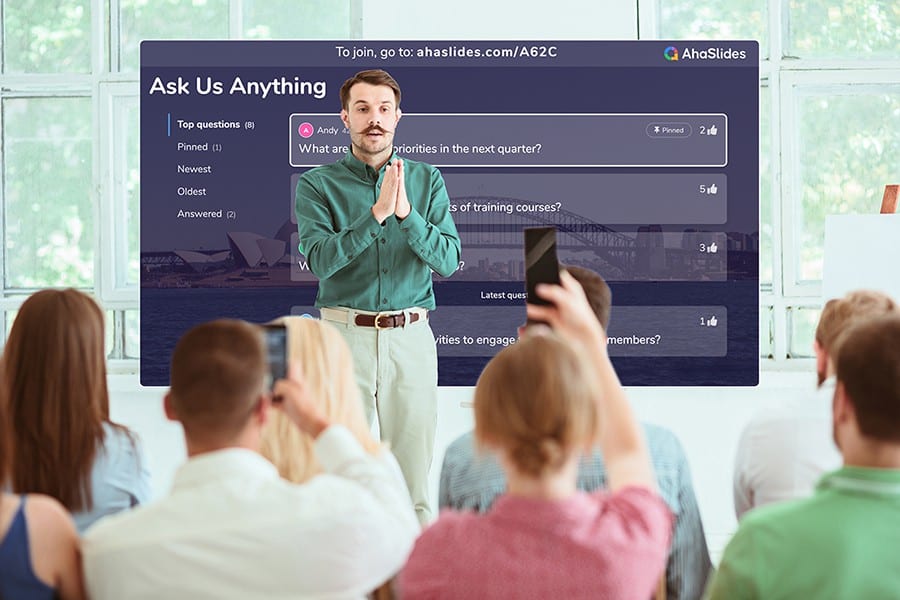 Get to know your mates better!
Use quiz and games on AhaSlides to create fun and interactive survey, to gather public opinions at work, in class or during small gathering
🚀 Create Free Survey☁️
Frequently Asked Questions
What is an anonymous poll?
An Anonymous Poll is a way to gather feedback from people anonymously, as it helps during research, to improve the workplace environment or to get feedback on a product or service.
Easiest way to create a poll?
The software should include AhaSlides, Google Poll and TypeForm…