A bored audience is one of our biggest fears as presenters. Whether it's live participants in front of you or virtual ones behind a screen, we're always looking for ways to entice, engage and excite the onlooking crowd.
Google Slides is a fantastic tool for this, but it also has its deficiencies. If you want to host a poll, quiz or an informative Q&A, you'll need to integrate your presentation with AhaSlides.
Here are 3 easy steps to making an interactive Google Slides presentation with AhaSlides' free software. Read on for how to make it happen and the 4 reasons you should.
What You'll Learn:
Creating an Interactive Google Slides Presentation on AhaSlides in 3 Simple Steps
Let's take a look at the 3 easy steps for bringing your interactive Google Slides presentation to AhaSlides. We'll talk you through how to import, how to personalise and how to up the interactivity of your presentation.
Step 1: Copying your Google Slides Presentation to AhaSlides
On your Google Slides presentation, click on 'File'.
Then, click on 'Publish to the web'.
Under the 'Link' tab, click on 'Publish (don't worry about the checkboxes as you can change your settings in AhaSlides later).
Copy the link.
Come to AhaSlides and create a Google Slides slide.
Paste the link into the box labelled 'Google Slides' Published link'.
Your presentation will be embedded into your slide. Now, you can set about making your Google Slides presentation interactive!
Step 2: Personalising the Display Settings
Many of the presentation display settings on Google Slides are possible on AhaSlides. Let's take a look at what you can do to show your presentation off in its best light.
Full Screen and Laser Pointer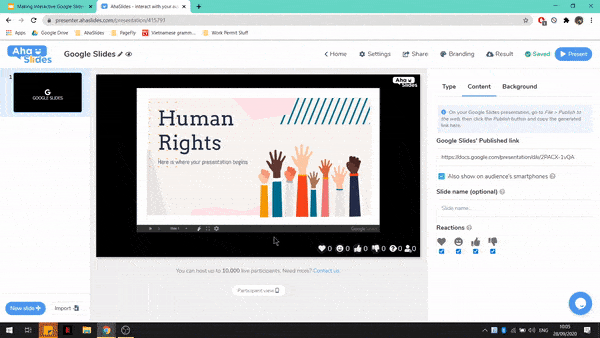 When presenting, choose the 'full screen' option on the toolbar at the bottom of the slide.
After that, select the laser pointer feature to give a more real-time feel to your presentation.
Auto-Advancing Slides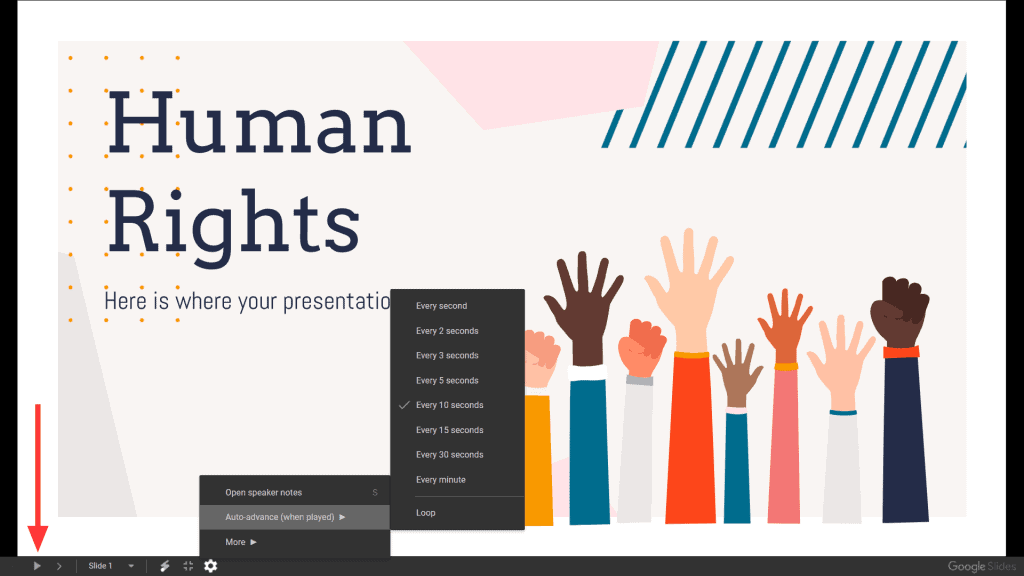 You can auto-advance your slides with the 'play' icon in the bottom left corner of your slide.
To change the speed at which the slides advance, click on the 'settings' icon, select 'Auto-advance (when played)' and choose the speed you want each slide to appear for.
Setting up Speaker Notes
If you want to set up speaker notes, be sure to do this before you publish your Google Slides presentation.
Write your speaker notes into the speaker note box of individual slides on Google Slides. Then, publish your presentation as laid out in step 1.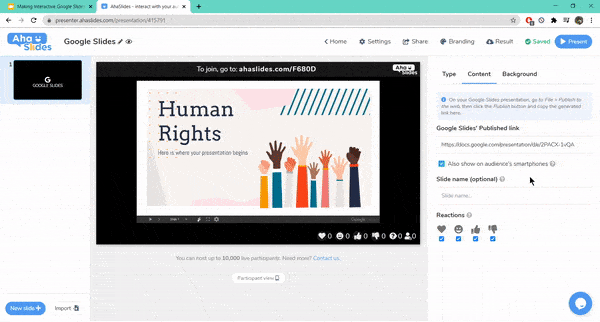 You can view your speaker notes on AhaSlides by coming to your Google Slides slide, clicking on the 'settings' icon and selecting 'Open speaker notes'.
If you want to keep these notes for you only, be sure to share only one window (the one containing your presentation) when presenting. Your speaker notes will come up in another window, meaning your audience won't be able to see them.
Step 3: Making it Interactive
There are a few ways to maximise the impact of an interactive Google Slides presentation. By adding in AhaSlides' two-way technology, you can create dialogue via quizzes, polls and Q&As around the subject matter of your presentation.
Option #1: Make a Quiz
Quizzes are a fantastic way to test your audience's understanding of the subject matter. Putting one at the end of your presentation can really help to consolidate new knowledge in a fun and memorable way.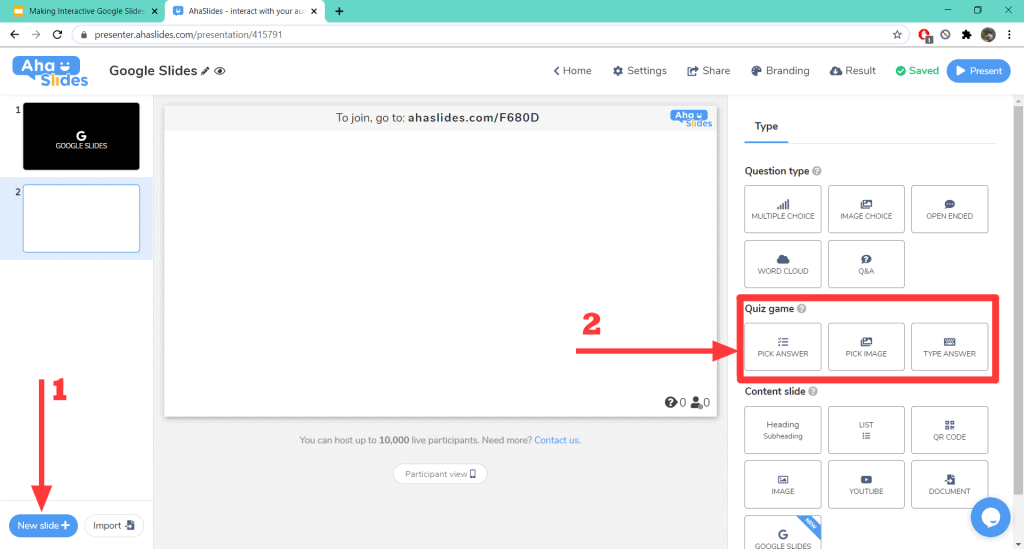 1. Create a new slide on AhaSlides after your Google Slides slide.
2. Select a type of quiz slide.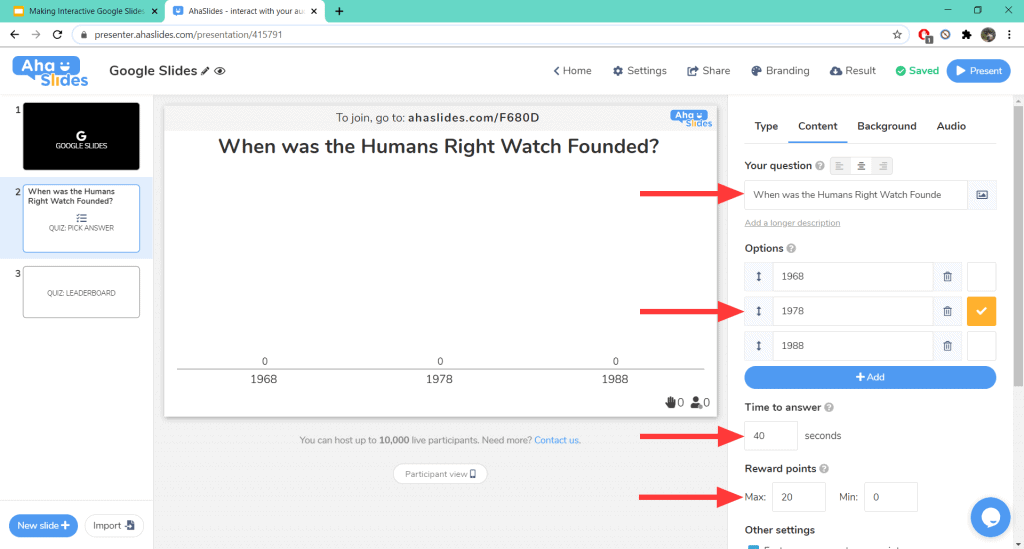 3. Fill out the content of the slide. This will be the question title, the options and right answer, the time to answer and the points system for answering.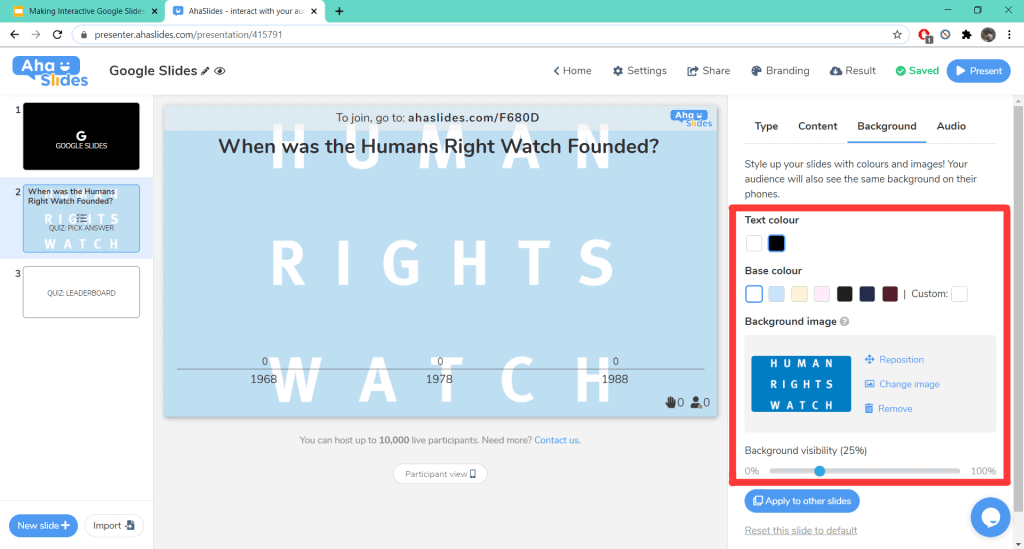 4. Change the elements of the background. This includes text colour, base colour, background image and its visibility on the slide.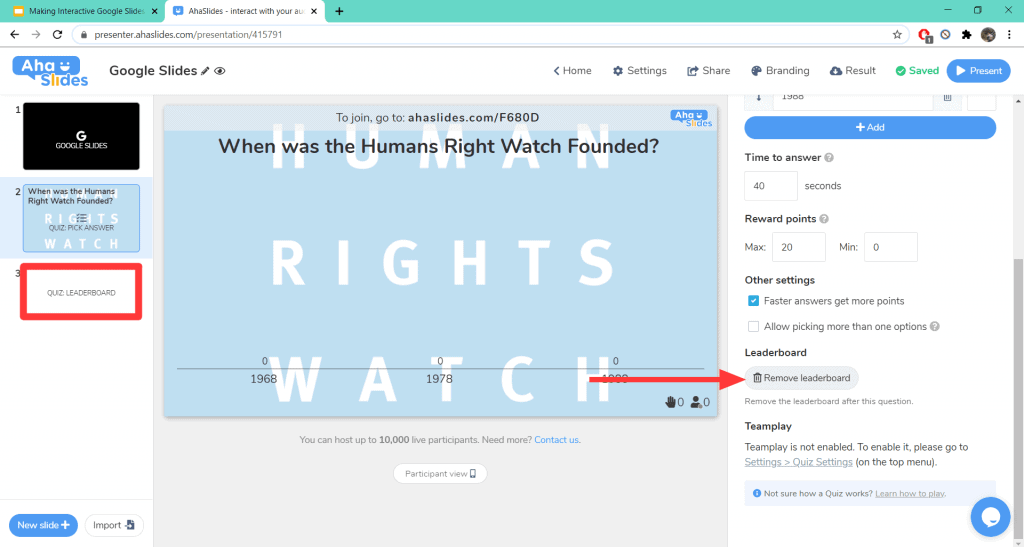 5. If you want to include more quiz slides before revealing the overall leaderboard, click on 'Remove leaderboard' in the 'Content' tab.
6. Create your other quiz slides and click 'Remove leaderboard' for all of them except for the final slide.
Option #2: Make a Poll
A poll in the middle of your interactive Google Slides presentation works wonders for creating a dialogue with your audience. It also helps to illustrate your point in a setting that directly involves your audience, leading to more engagement.
First, we'll show you how to create a poll: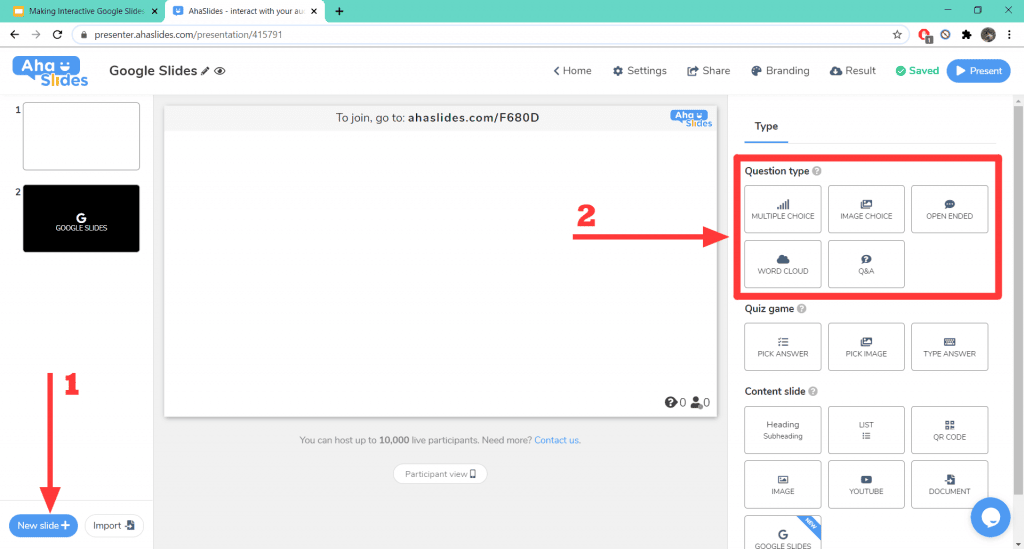 1. Create a new slide either before or after your Google Slides slide. (Scroll down to find out how to put a poll in the middle of your Google Slides presentation).
2. Select the question type. A multiple choice slide works well for a poll, as does an open-ended slide or a word cloud.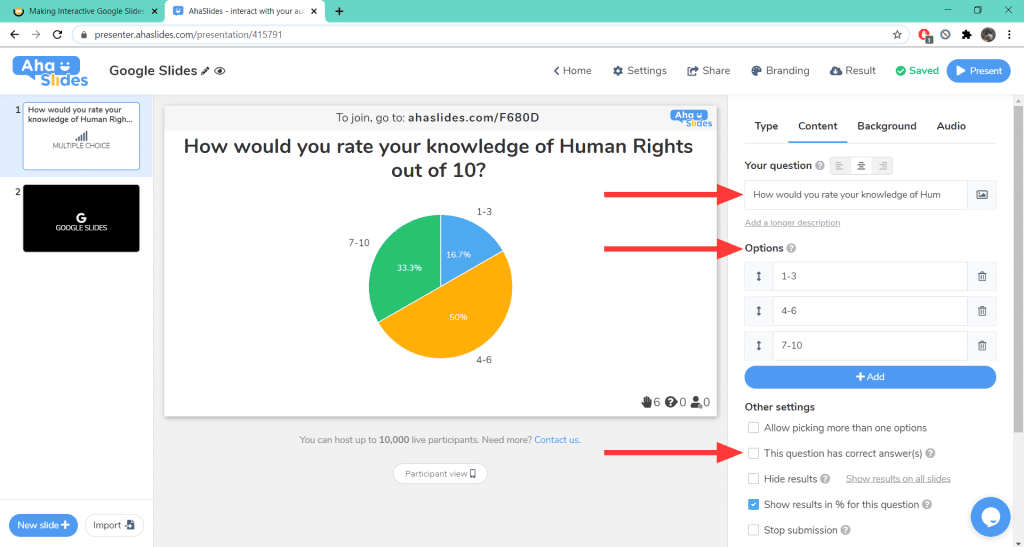 3. Pose your question, add the options and uncheck the box that states 'This question has correct answer(s)'
4. You can customise the background in the same way we explained in the 'make a quiz' option.
If you want to insert a quiz in the middle of your Google Slides presentation, you can do so in the following way:
1. Create a poll slide in the way we just mentioned and place it after your Google Slides slide.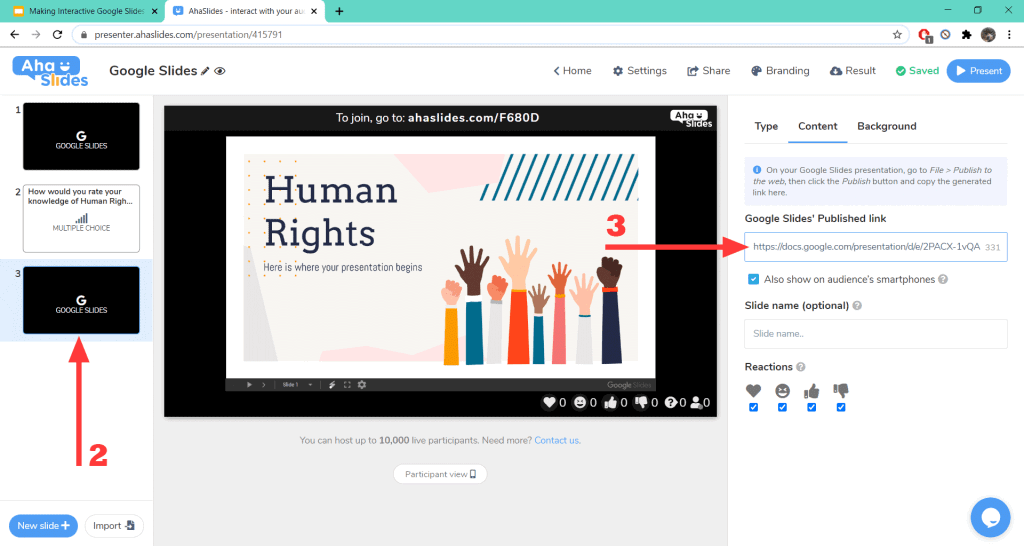 2. Create a new Google Slides slide after your poll.
3. Paste the same published link of your Google Slides presentation in the box of this new Google Slides slide.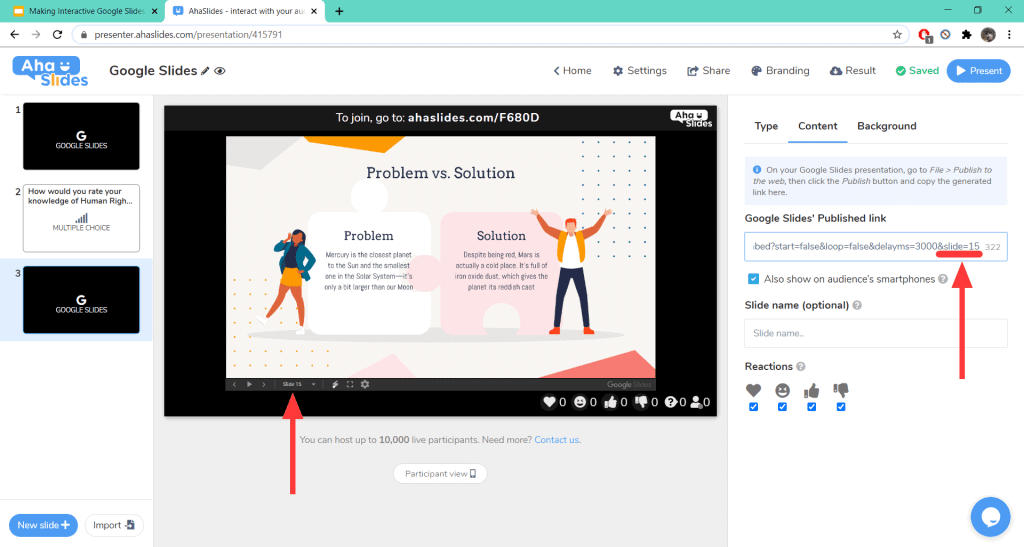 4. At the end of the published link, add the code: &slide= + the number of the slide you want to resume your presentation with. For example, if I want to resume my presentation on slide 15, I would write &slide=15 at the end of the published link.
This method is great for if you want to reach a certain slide in your Google Slides presentation, have a poll, then resume the rest of your presentation afterwards.
Option #3: Make a Q&A
A great feature of any interactive Google Slides presentation is the Q&A. This function allows your audience to pose questions and even answer ones that you've posed to them.
Once you import your Google Slides presentation to AhaSlides, you won't be able to use Google Slides' in-built Q&A function. However, you can use AhaSlides' function just as easily!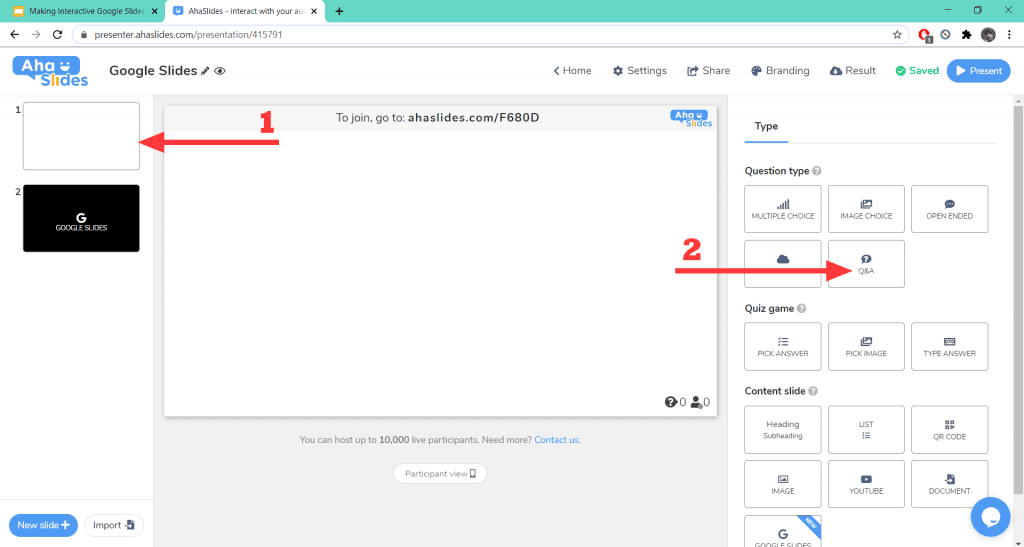 1. Create a new slide before your Google Slides slide.
2. Select Q&A in the question type.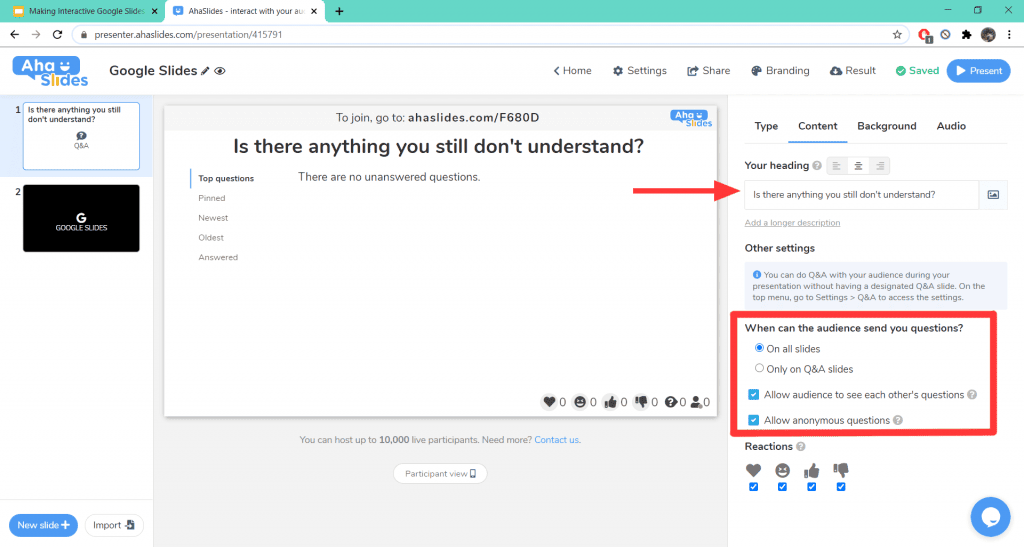 3. Choose whether or not to change the heading, whether to allow the audience to see each other's questions and whether to allow anonymous questions.
4. Make sure that the audience can send you questions on all slides.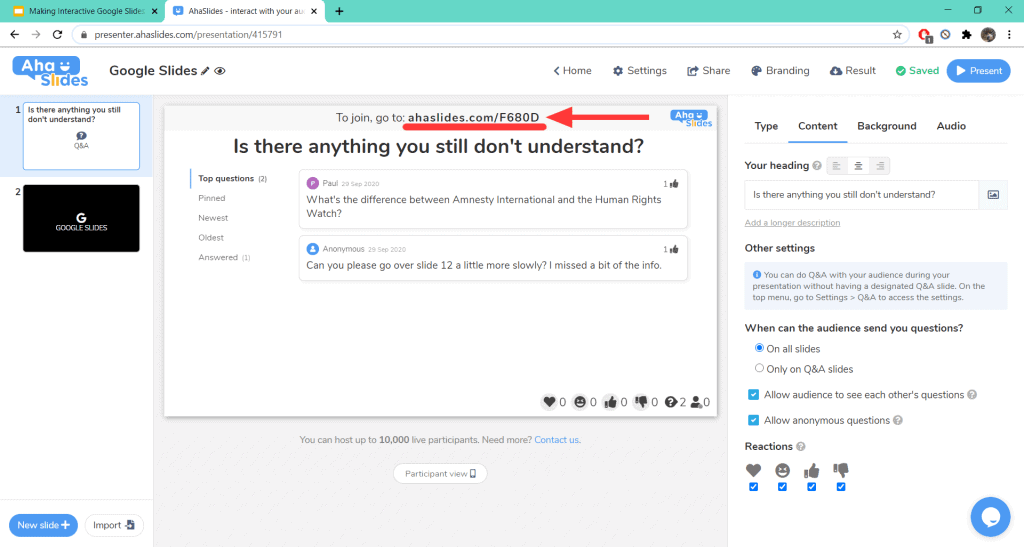 Using the presentation code, your audience can pose you questions throughout your presentation. You can come back to these questions at any time, whether it's in the middle of your presentation or after it.
Here are a few features of the Q&A function on AhaSlides:
Sort questions into categories in order to keep them organised. You can pin important questions to come back to later or you can mark questions as answered to keep track of what you've responded to.
Upvoting questions allows other audience members to make the presenter aware that they would also like another person's question answered.
Asking at any time means that the flow of the presentation is never interrupted by questions. Only the presenter is in control of where and when to answer questions.
Why Bring your Interactive Google Slides Presentation to AhaSlides?
If you're in any doubt about why you would want to embed a Google Slides presentation into AhaSlides, let us give you 4 reasons.
1. More Ways to Interact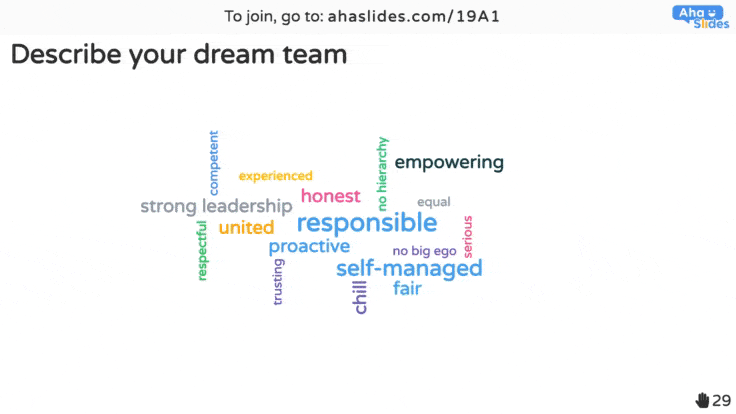 While Google Slides has a nice Q&A feature, it lacks a lot of other features that foster interaction between presenter and audience.
If a presenter wants to gather information via a poll, for example, they would have to poll their audience before the presentation began. Then, they would have to quickly arrange that information into a self-made bar chart, all while their audience sits silently on Zoom. Far from ideal, for sure.
Well, AhaSlides lets you do this on the fly.
Simply pose a question on a multiple choice slide and wait for your audience to answer. Their results appear attractively and instantaneously in a bar, donut or pie chart for all to see.
You can also use a word cloud slide to gather opinions about a certain topic either before, during or after you present it. The most common words will appear larger and more centrally, giving you and your audience a good idea of everyone's viewpoints.
2. Higher Engagement
One of the key ways that higher interaction benefits your presentation is in the rate of engagement.
Put simply, your audience pays much more attention when they're directly involved in the presentation. When they can voice their own opinions, ask their own questions and see their own data manifested in charts, they connect with your presentation on a more personal level.
Including audience data in your presentation is also a sublime way to help frame facts and figures in a more meaningful way. It helps the audience to see the bigger picture and gives them something to relate to.
3. More Fun and Memorable Presentations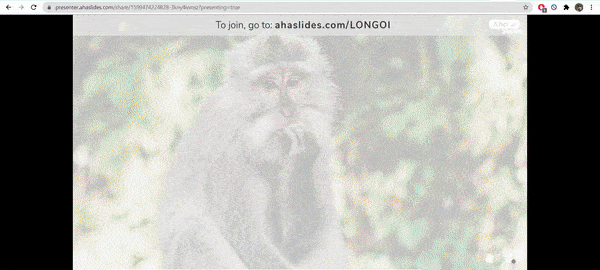 Fun plays a pivotal role in learning. We've known this for years, but it's not so easy to implement fun into lessons and presentations.
One study found that fun in the workplace is conducive to better and more daring ideas. Countless others have found a distinctive positive link between fun lessons and students' ability to remember facts within them.
AhaSlides' quiz function is so perfect for this. It's a simple tool that fosters fun and encourages competition within an audience, not to mention raising the engagement levels and providing an avenue for creativity.
4. More Design Features
There are many ways that users of AhaSlides can benefit from Google Slides' premium features. The main one being that it's possible to personalise your slides on Google Slides before integrating your presentation with AhaSlides.
The great depth of font, image, colour and layout options on Google Slides can help bring an AhaSlides presentation to life. These features let you build your presentation in a style that connects your audience with your topic.
Looking to Add a New Dimension to Your Interactive Google Slides Presentation?
Then try out AhaSlides for free.
Our free plan gives you full access to our interactive features, including the ability to import Google Slides presentations. Make them interactive with any of the methods we've discussed here and start enjoying a more positive response to your presentations.
Click on the button below to try us out!