While Visme is a popular tool for creating visual content, not everyone finds it easy to use or reasonably priced. If you are looking for Visme Alternatives for more specific purposes with similar features or for a platform that has better compatibility with other software and tools. Let's come to the top 4 Visme Alternatives below.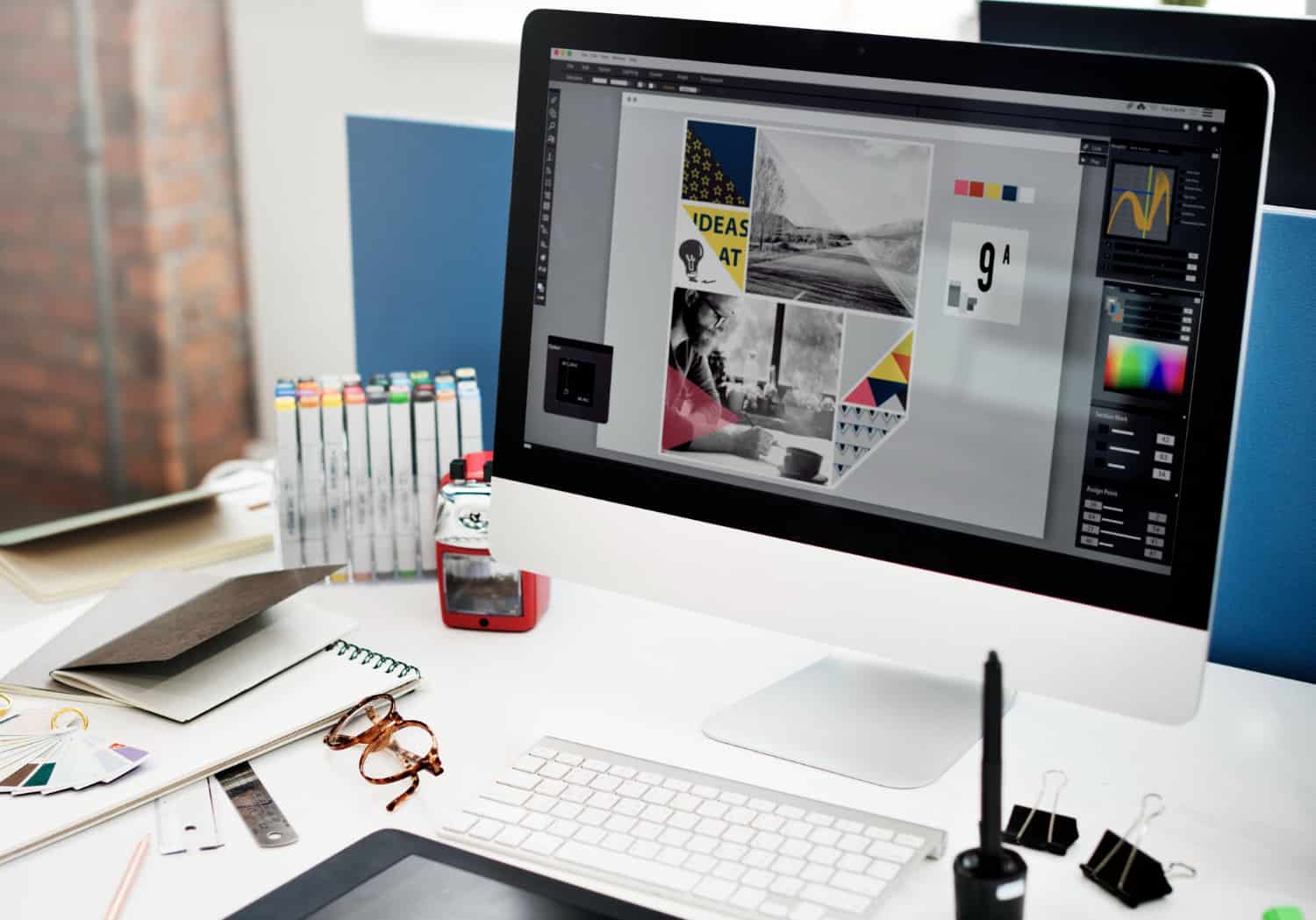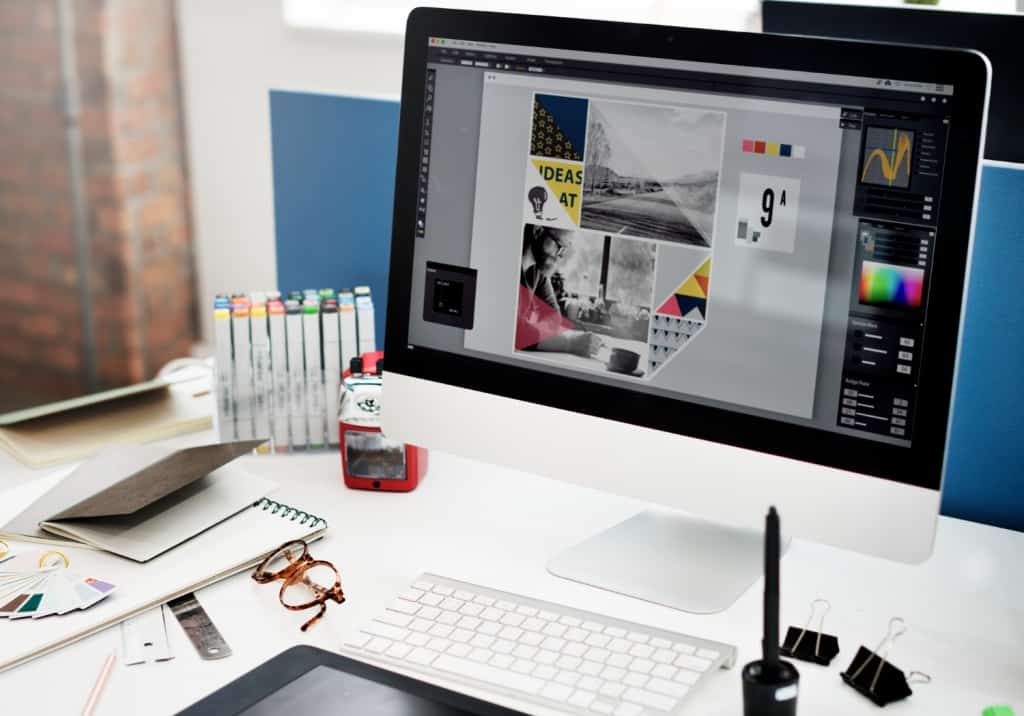 More Engagment Tips with AhaSlides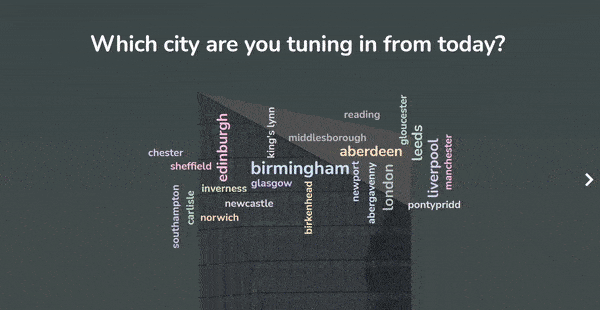 Looking for a better engagement tool?
Add more funs with best live poll, quizzes and games, all available on AhaSlides presentations, ready to share with your crowd!
🚀 Sign Up for Free☁️
#1. AhaSlides – Visme Alternatives For Presentations
AhaSlides is definitely a cloud-based platform dedicated to creating interactive presentations to suit all your requirements.
Not only does it help you design super engaging slides, but it also offers a lot of features, including live quizzes, Q&A sessions, and a word cloud that makes you connect and communicate with your audience more effectively than ever. AhaSlides is a good choice for educators, speakers, and event organizers.
Outstanding features of AhaSlides for creating interactive presentations include:
Public templates library: There are many different slide templates you can choose and customize from layout, colours, and background, as well as add multimedia elements to your presentations.
11 fonts with 15 display languages: You can choose from a variety of fonts and languages to match your brand or personal style.
Integration with other software: Easily integrate your presentations with PPT and Google Slides.
Interactive Features: AhaSlides offers interactive features like live polls, quizzes, and Q&A sessions, which can help you engage your audience and get real-time feedback.
Collaboration: You can collaborate with your team members to edit and share your presentation in real-time.
Price: AhaSlides offers both free and paid plans. The free version allows users to create unlimited presentations with basic features. However, it has limited options for customization and branding. Paid plans start at $7.95/month and offer more advanced features like custom branding, priority support, and data export.
#2. Canva – Visme Alternatives For Social Media Designs
Canva is a famous graphic design tool that will assist you in creating eye-catching designs for social media.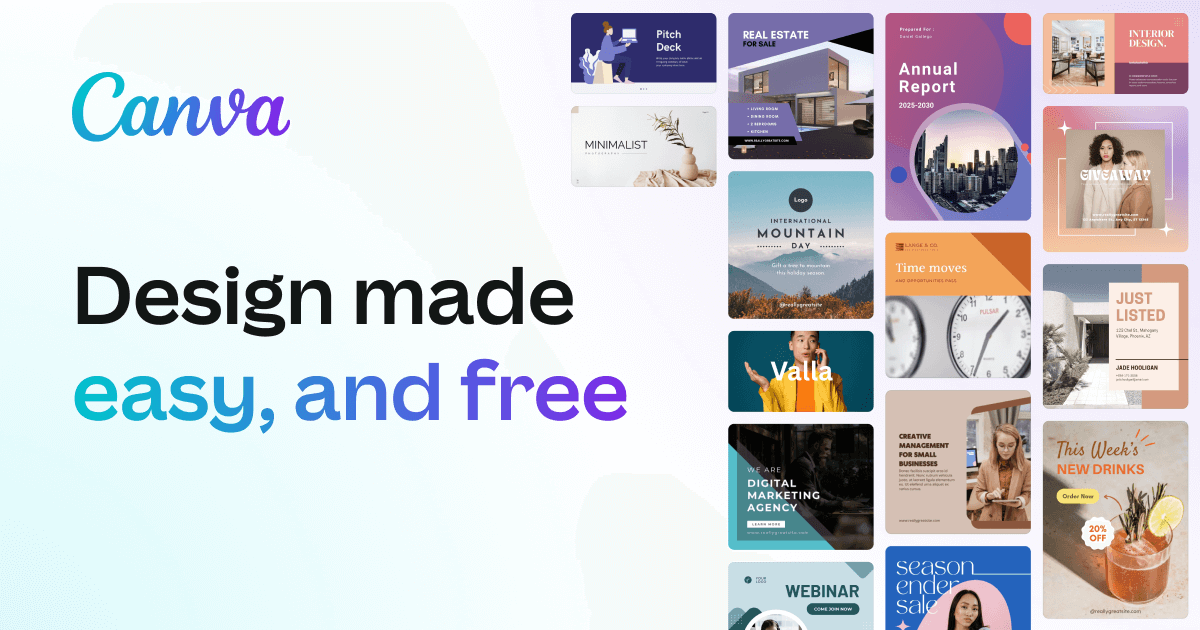 It offers plenty of pre-made templates, stock images, and design elements for creating social media graphics. It also has team collaboration features, which make it a great choice for social media managers and marketers.
Pre-designed templates: It has a vast collection of pre-designed templates for various design categories.
Design elements: Canva provides a library of design elements, including graphics, icons, illustrations, photos, and fonts.
Customization tools: It allows users to personalize their designs, including resizing, cropping, and adjusting the colour scheme, fonts, etc.
Branding: You can manage your brand identity, including the ability to create and store brand colours, logos, and fonts.
Social media integration: Canva offers social media integration with platforms such as Facebook, Instagram, and Twitter, allowing users to create and post social media graphics directly from these platforms.
Price: Canva has both free and paid plans. The free plan provides access to a limited set of design elements and templates, while the paid offers more advanced features and capabilities at $12.99/month.
#3. Lucidpress – Visme Alternatives For Branding and Printables
Lucidpress (Marq) is a cloud-based design and publishing platform that enables users to create a wide variety of professional-quality print and digital documents such as brochures, flyers, business cards, newsletters, and more.
It also includes features for team collaboration, such as real-time editing, commenting, and approval workflows. So it is quite suitable for groups and organizations.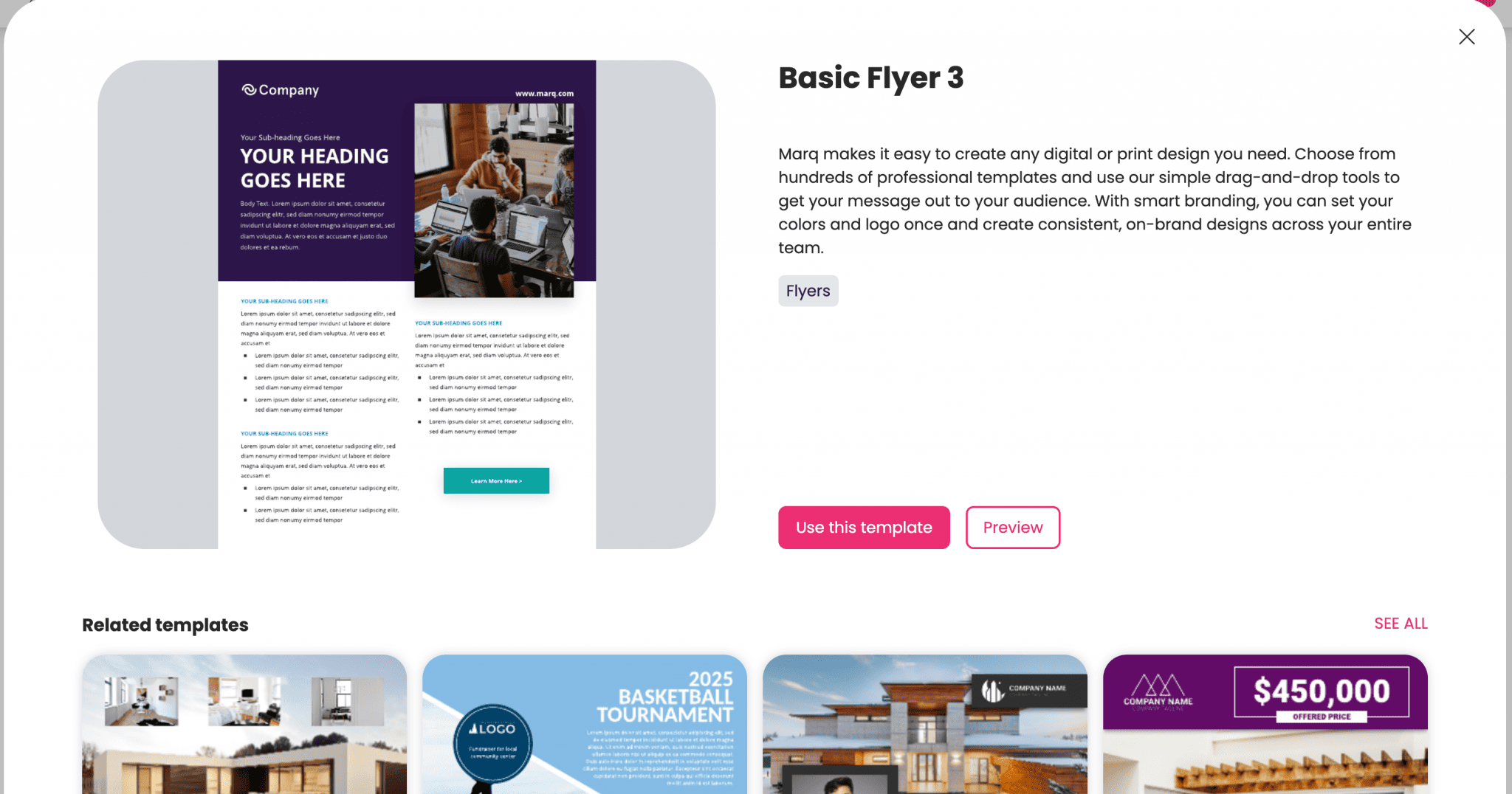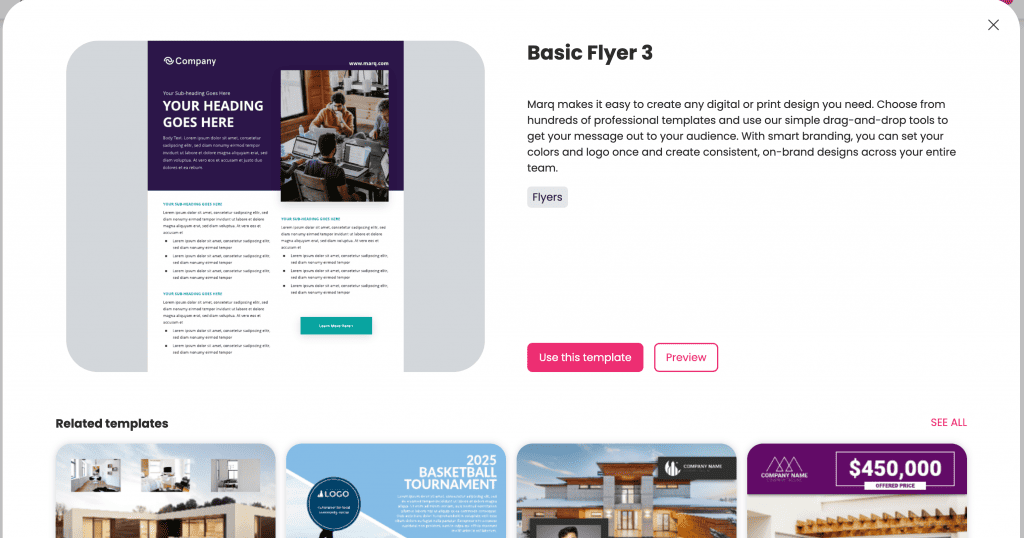 Some of the key features of Lucidpress include:
Pre-Designed Templates: It provides templates for different design categories, including printed and branding materials.
Design Elements: It has an extensive library of design elements, including graphics, icons, illustrations, photos, and fonts.
Collaboration: It allows multiple users to work on the same document simultaneously and track changes and feedback.
Brand Management: It provides tools for managing brand identity, including store brand colors, logos, and fonts.
Publish: Users can publish their designs directly from the platform in a variety of formats, including print and digital.
Price: Lucidpress offers a range of pricing plans for individuals, teams, and enterprises starting at $3/month and a free trial.
#4. Infogram – Visme Alternatives For Graphs & Charts
Infogram is a data visualization and infographic creation tool that allows users to create and share interactive charts, graphs, maps, and other visualizations.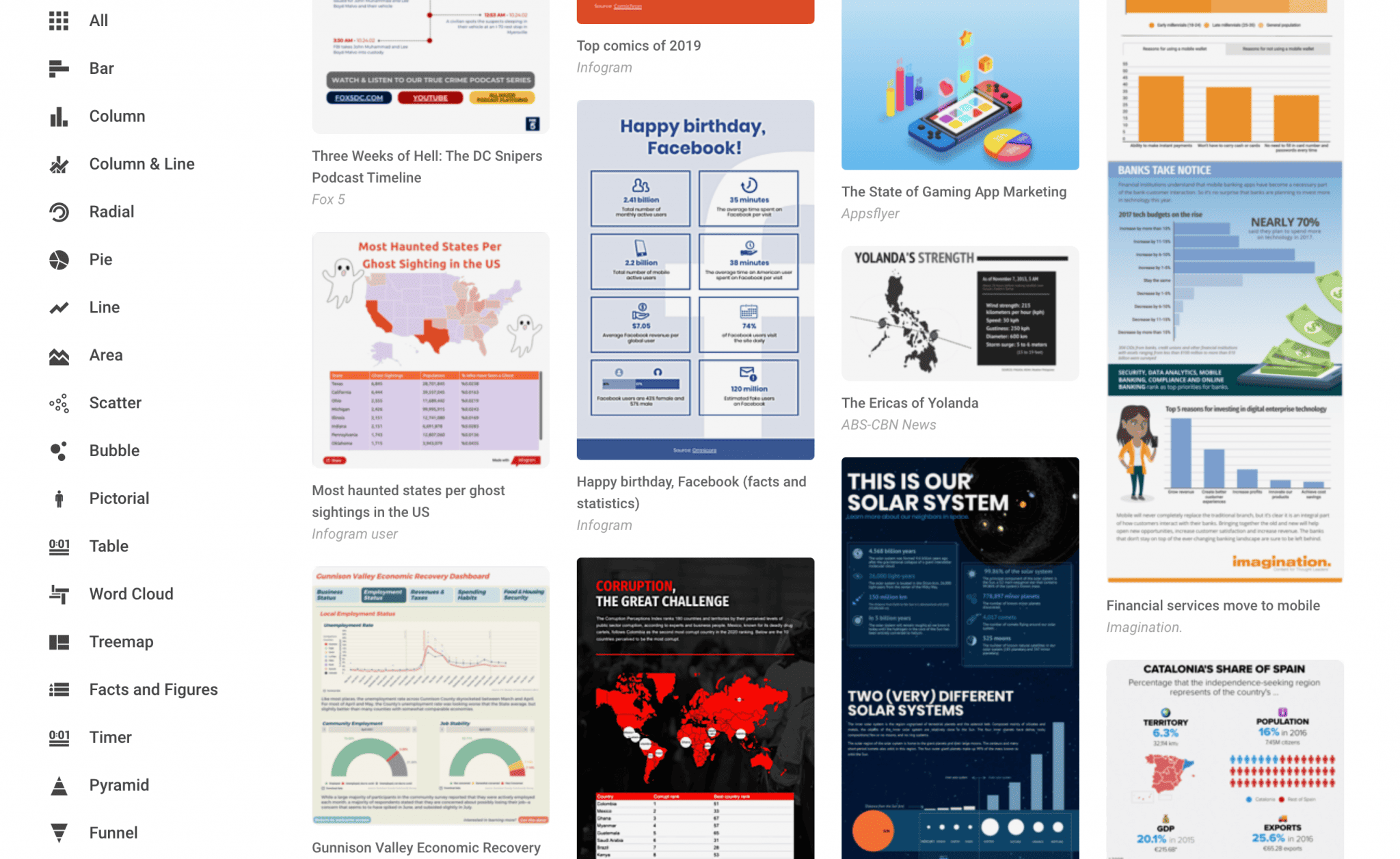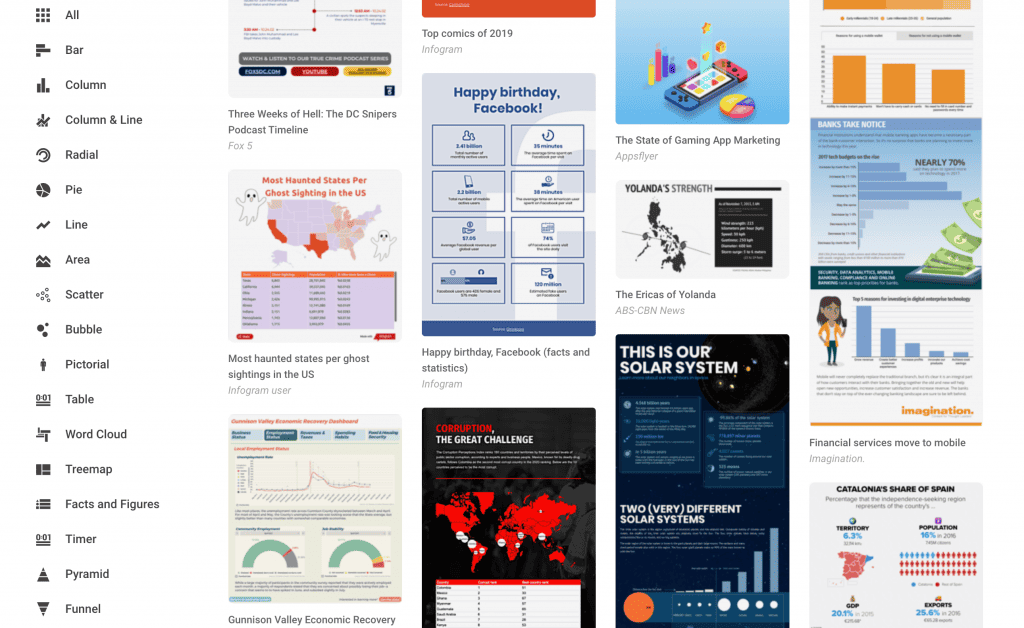 With Infogram, you can turn data into compelling visual stories with some key features:
Data Import: Infogram allows users to import data from a variety of sources, including Excel, Google Sheets, Dropbox, and more.
Chart and Graph Templates: It has templates for different chart and graph types, including bar graphs, line graphs, scatter plots, etc.
Customization Options: Infogram offers many customization options, including changing colours, fonts, and styles, adding images and icons, and adjusting the layout and sizing of visualizations.
Sharing and Embedding: It allows users to share and embed their visualizations across digital platforms.
Price: Infogram offers a free plan and different paid plans depending on the features and usage requirements of the user. The paid plans start at $19/month.
Conclusion
In conclusion, there are many Visme Alternatives available in the market that provide similar features and functionality. By considering factors such as price, ease of use, and your specific needs, you can choose the best Visme Alternatives that help you create visually appealing and engaging content for your audience.