Ever hear everyone discussing La Nina but don't really catch what the term is really about?
La Nina is a weather phenomenon that has captivated scientists who have tried deciphering this Earth's mesmerizing puzzle for centuries. La Nina wields a formidable power, leaving lasting impacts on the ecosystem and human societies in different parts of the globe.
Ready to unravel the secrets of La Nina, nature enthusiasts? Join us as we explore what is La Nina, how it occurs and its effects on human life.
Stay tuned to the end for a fun quiz to test your knowledge about this phenomenon.
Table of Contents
What is La Nina?
La Nina, which translates to "Little Girl" in Spanish, is also commonly known by other names such as El Viejo or anti-El Nino, or simply as "a cold event."
Contrary to El Nino, La Nina acts oppositely by strengthening trade winds further and pushing warmer water towards Asia, while at the same time intensifying upwelling off of the west coast of the Americas bringing cold, nutrient-rich waters closer to the surface.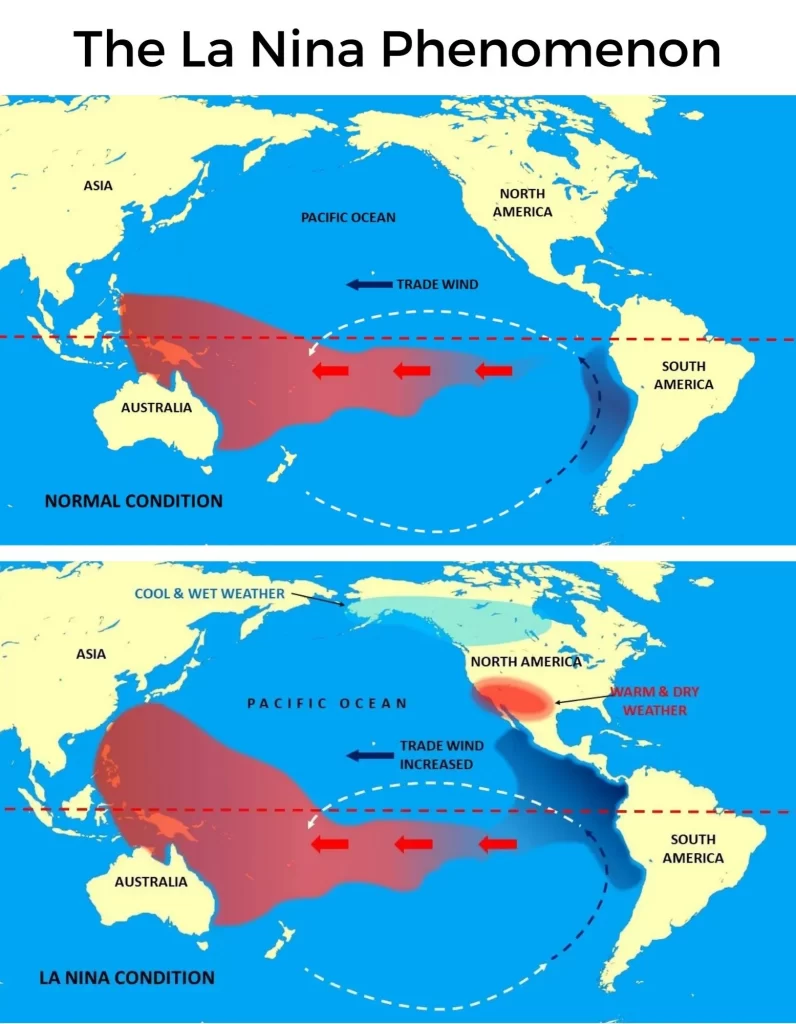 La Nina occurs when cold Pacific waters shift north, shifting the jet stream. As a result, southern United States areas experience drought while Pacific Northwest and Canada experience heavy rainfall and flooding.
Winter temperatures in southern regions tend to be warmer than usual while northern regions experience cooler winters; additionally, La Nina may contribute to an active hurricane season and colder Pacific waters with increased amounts of nutrients.
This can create a favourable environment for marine life, attracting cold-water species such as squid and salmon to the California coast.
Lessons memorised
in seconds
Interactive quizzes get your students to memorise difficult geographic terms – completely stress-free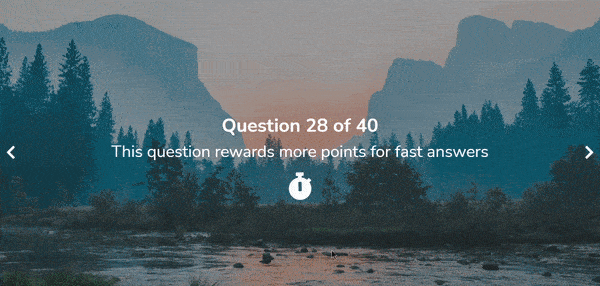 What are The Effects of La Nina?
Effects of La Nina include:
Chilly and wet winters in Southeast Africa, and increased rainfall in Eastern Australia.
Significant flooding in Australia.
Extremely cold winters in the northwest United States and western Canada.
Intense monsoon rains in India.
Severe monsoons in Southeast Asia and India.
Winter droughts in the Southern United States.
Elevated temperatures in the Western Pacific, Indian Ocean, and off the coast of Somalia.
Drought-like conditions in Peru and Ecuador.
What Causes La Nina to Occur?
There are three main factors that contribute to the La Nina climate pattern.
#1. Sea surface's lowered temperatures
As the sea surface temperatures across the eastern and central Pacific Ocean plummet during the La Nina period, they will drop 3-5 degrees Celsius below the norm.
During La Nina winters, the Pacific Northwest tends to be wetter than usual, and the Northeast experiences very cold weather, while the Southern Hemisphere typically experiences milder and drier conditions, which can lead to increased fire risk and drought in the Southeast.
#2. More powerful easterly trade winds
When the easterly trade winds become stronger, they push more warm water to the west, allowing cold water to rise from below the surface near the South American coast. This phenomenon contributes to the occurrence of La Nina, as cold water replaces warm water.
Conversely, El Niño occurs when the easterly trade winds weaken or even blow in the opposite direction, causing warm water to accumulate in the eastern Pacific and shifting weather patterns.
#3. The upwelling process
During La Nina events, the easterly trade winds and ocean currents become abnormally strong and move eastward, resulting in a process called upwelling.
Upwelling brings the cold water to the surface, causing a significant decrease in sea-surface temperature.
What's the Difference Between La Nina and El Nino?
Scientists remain uncertain of the exact trigger that initiates El Nino and La Nina, but air pressure changes over the equatorial Pacific occur sporadically and affect trade winds from east to west.
La Nina causes cold waters from deep regions in the eastern Pacific to rise up, replacing sun-warmed surface waters; conversely, during El Nino, trade winds weaken so less warm water moves westward resulting in the warming of central and eastern Pacific waters.
As warm, humid air rises from the ocean surface and generates thunderstorms through convection, large bodies of warm ocean water release an amount of heat into the atmosphere, which impacts circulation patterns east-west and north-south.
Convection plays a key role in differentiating El Nino from La Nina; during El Nino, it occurs predominantly in the eastern Pacific, where warm waters persist, while under La Nina conditions it has been pushed further west by cooler waters in that region.
How Often Does La Nina Occur?
La Nina and El Nino typically occur every 2-7 years, with El Nino happening slightly more often than La Nina.
They usually last for a significant portion of a year.
La Nina can also experience a "double dip" phenomenon, where it initially develops, temporarily stop when sea surface temperatures reach ENSO-neutral levels, and then develop again once water temperatures drop.
La Nina Quiz Questions (+Answers)
Now you have quite grasped the idea of what La Nina is, but do you remember well all those geographical terms? Test your knowledge by doing these simple questions below. No peeking!
What does La Nina mean? (Answer: Little girl)
How often does La Nina occur (Answer: Every two to seven years)
Between El Nino and La Nina, which one occurs slightly more often? (Answer: El Nino)
Does La Nina follow El Nino the following year? (Answer: It may but not always)
Which hemisphere typically experiences wetter conditions during a La Nina event? (Answer: The western Pacific Ocean region, including parts of Asia and Australia)
Which regions are prone to experiencing droughts during La Nina episodes? (Answer: Regions such as the southwestern United States, parts of South America, and Southeast Asia)
What's the opposite of La Nina? (Answer: El Nino)
True or False: La Nina produces negative impacts on agricultural yields worldwide. (Answer: False. La Nina can have both positive and negative effects on different crops and regions.)

Which seasons are most commonly affected by La Nina? (

Answer:

Winter and early spring)

How does La Nina influence temperature patterns across North America? (Answer: La Nina tends to bring colder-than-average temperatures to the northern and western parts of North America.)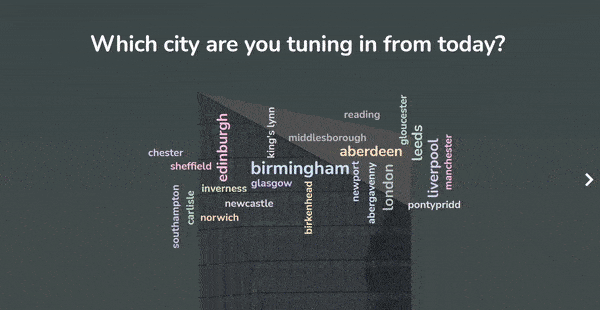 Start in seconds.
Get free student quizzes templates. Sign up for free and take what you want from the template library!
🚀 Get Free Templates ☁️
Frequently Asked Questions
What is the La Niña in simple terms?
La Nina is a weather pattern in the tropical Pacific Ocean characterized by cooler-than-normal sea surface temperatures in its eastern and central Pacific regions, often leading to changes in global weather patterns, including more rainfall or drought in certain areas.
La Nina stands in contrast to El Nino which involves warmer-than-normal sea surface temperatures in this same region.
What happens during La Niña?
La Nina years tend to produce higher winter temperatures in the Southern Hemisphere and lower ones in the Northern. Additionally, La Nina may contribute to an intensified hurricane season.
Which is warm El Niño or La Niña?
El Nino refers to an unusually warm ocean temperature in the Equatorial Pacific while La Nina refers to abnormally low ocean temperatures in this same region.