Are you looking for alternatives to Powerpoint, app like powerpoint? Some revolutions happen in an instant; others take their time. The PowerPoint revolution most definitely belongs to the latter!
Despite being the world's most-used presentation software (89% of presenters still use it!), the forum for dreary speeches, meetings, lessons and training seminars is dying a prolonged death.
In the modern day, its formula of one-way, static, inflexible and ultimately unengaging presentations is overshadowed by an expanding wealth of alternatives to PowerPoint. Death by PowerPoint is becoming the death of PowerPoint; audiences won't stand for it any longer.
Of course, there are presentation software other than Powerpoint. Here, we lay out 3 of the best alternatives to PowerPoint that money (and no money) can buy. These three are the best in 3 distinct fields of presentations: fun + interactive, visual + non-linear and simple + quick. So let's check out the main powerpoint side by side comparison as below!
Overview
| | |
| --- | --- |
| When was PowerPoint created? | 1987 |
| What was used before PPT? | Flip Charts |
| How much did Powerpoint make back in the 90s? | $100 million annually |
| The original name of Powerpoint? | Presenter |
| Main Powerpoint competitor? | None |
Overview of Alternatives to Powerpoint
Table of Contents
More Engagement Tips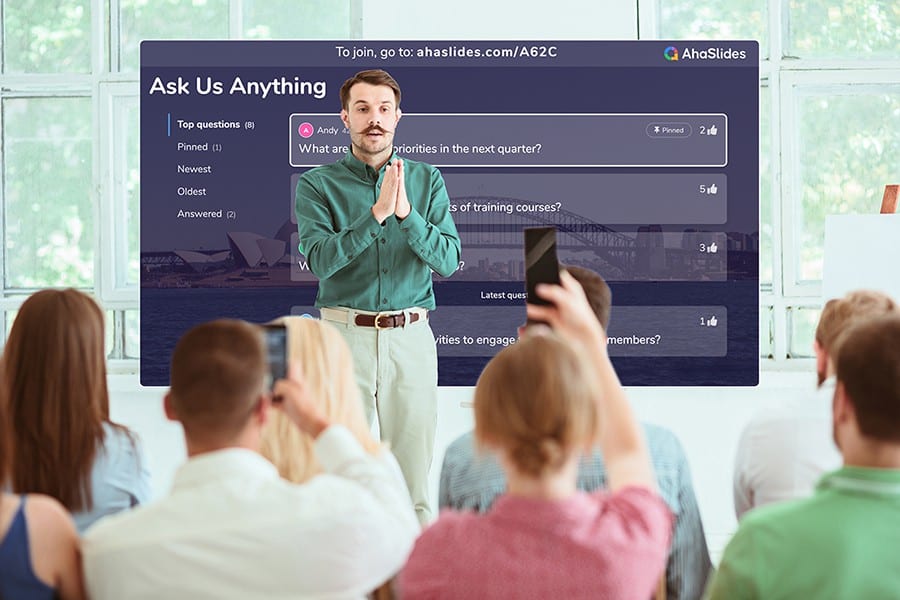 Looking for a better engagement tool?
Say bye to boring PowerPoints - Hello, AhaSlides - the best free programs like PowerPoint!
🚀 Sign Up for Free☁️
1. AhaSlides
👊 Best for: Fun + interactive presentations
| | AhaSlides | PowerPoint | AhaSlides vs PowerPoint |
| --- | --- | --- | --- |
| Features | ⭐⭐⭐⭐⭐ | ⭐⭐⭐⭐ | AhaSlides |
| Free Plan Features | ⭐⭐⭐⭐⭐ | ⭐⭐⭐ | AhaSlides |
| Interactivity | ⭐⭐⭐⭐⭐ | ⭐⭐ | AhaSlides |
| Visuals | ⭐⭐⭐ | ⭐⭐⭐⭐ | PowerPoint |
| Price | ⭐⭐⭐⭐⭐ | ⭐⭐ | AhaSlides |
| Ease of Use | ⭐⭐⭐⭐⭐ | ⭐⭐⭐⭐ | AhaSlides |
| Integrations | ⭐⭐⭐ | ⭐⭐⭐⭐ | PowerPoint |
| Templates | ⭐⭐⭐⭐ | ⭐⭐⭐⭐ | – |
| Support | ⭐⭐⭐⭐⭐ | ⭐⭐⭐ | AhaSlides |
| Overall | ⭐ 4.5 | ⭐ 3.3 | AhaSlides |
Comparison between AhaSlides and Powerpoint – Best alternatives to ppt!
If you've ever had a presentation fall on deaf ears, you'll know it's a complete confidence destroyer. Seeing rows of people clearly more engaged with their phone than they are with your presentation is a horrible feeling.
Engaged audiences are audiences who have something to do, which is where AhaSlides comes in.
AhaSlides is an alternative to PowerPoint that allows users to create interactive, immersive, presentations. It encourages your audience to respond to questions, contribute ideas and play super fun quiz games using nothing but their phones.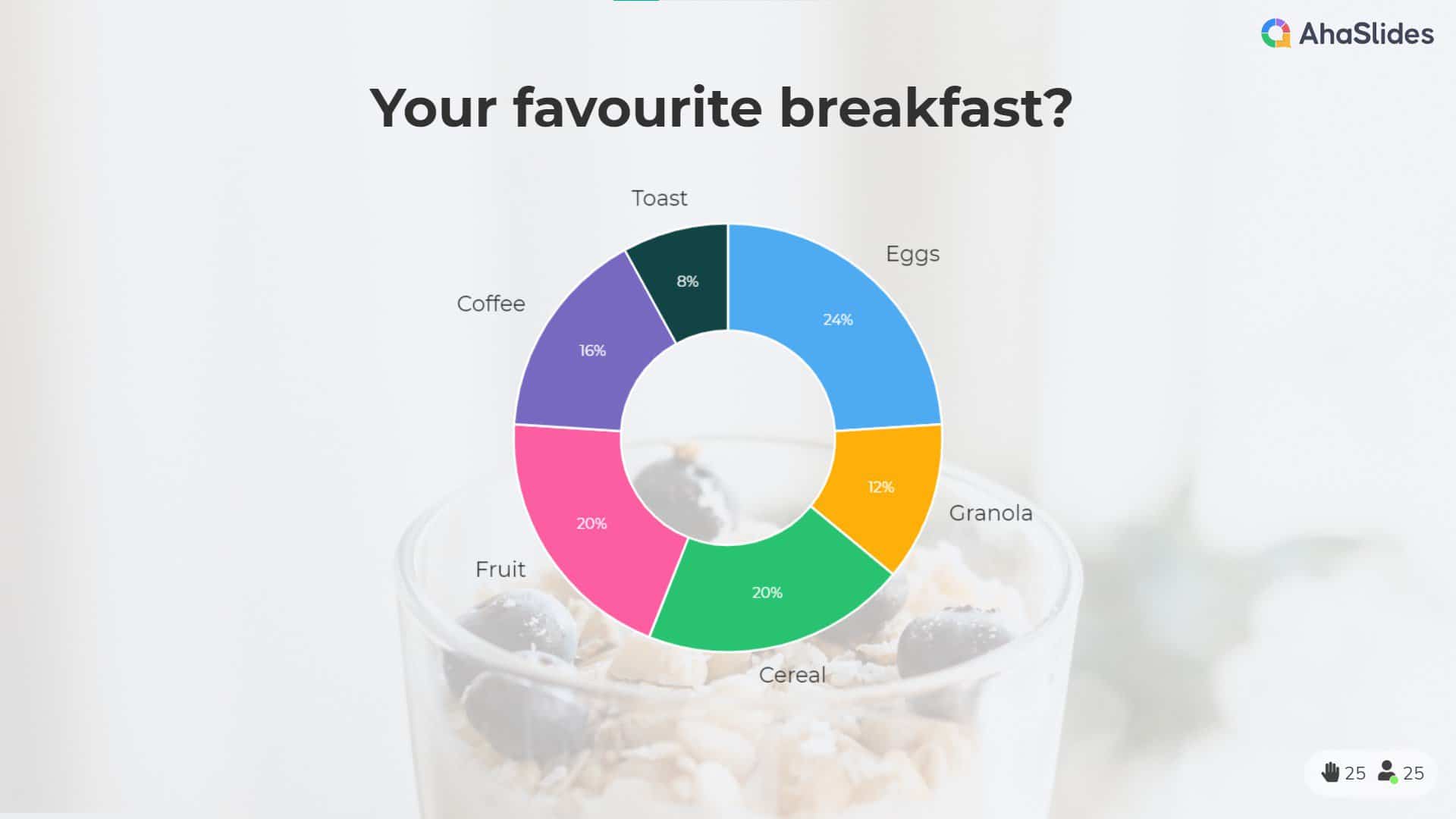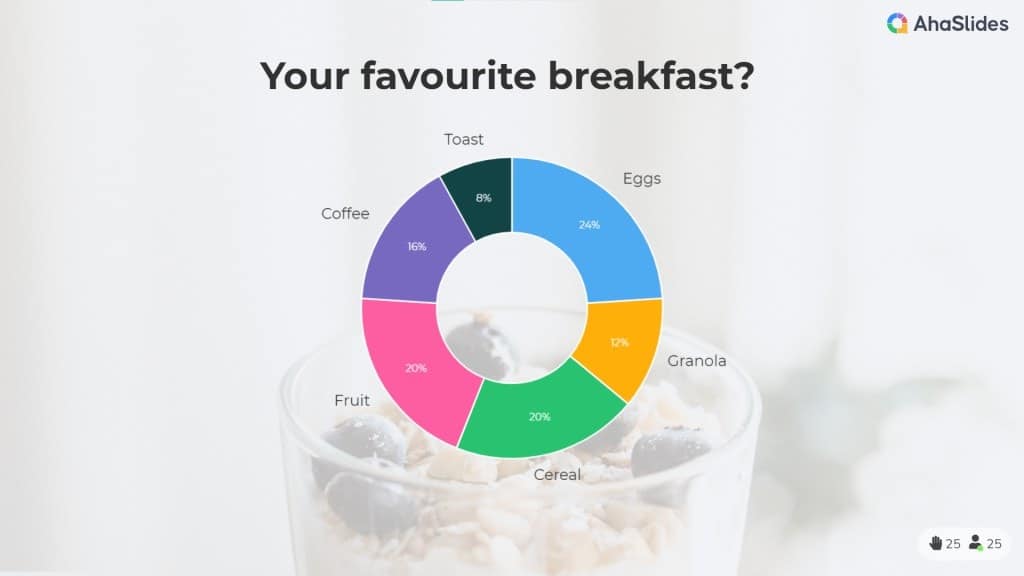 A PowerPoint presentation in a lesson, team meeting or training seminar might be met with a groan and visible distress on the younger faces, but an AhaSlides presentation is more like an event. Chuck a few polls, word clouds, scale ratings, brainstorm sessions, Q&As or quiz questions directly into your presentation and you'll be amazed at how much of your audience is completely tuned in.
Like most great alternatives to PowerPoint, AhaSlides works 100% offline, online or in a hybrid situation. Unlike most, however, AhaSlides has a super generous free plan and the market's most affordable paid plans for audiences of more than 7!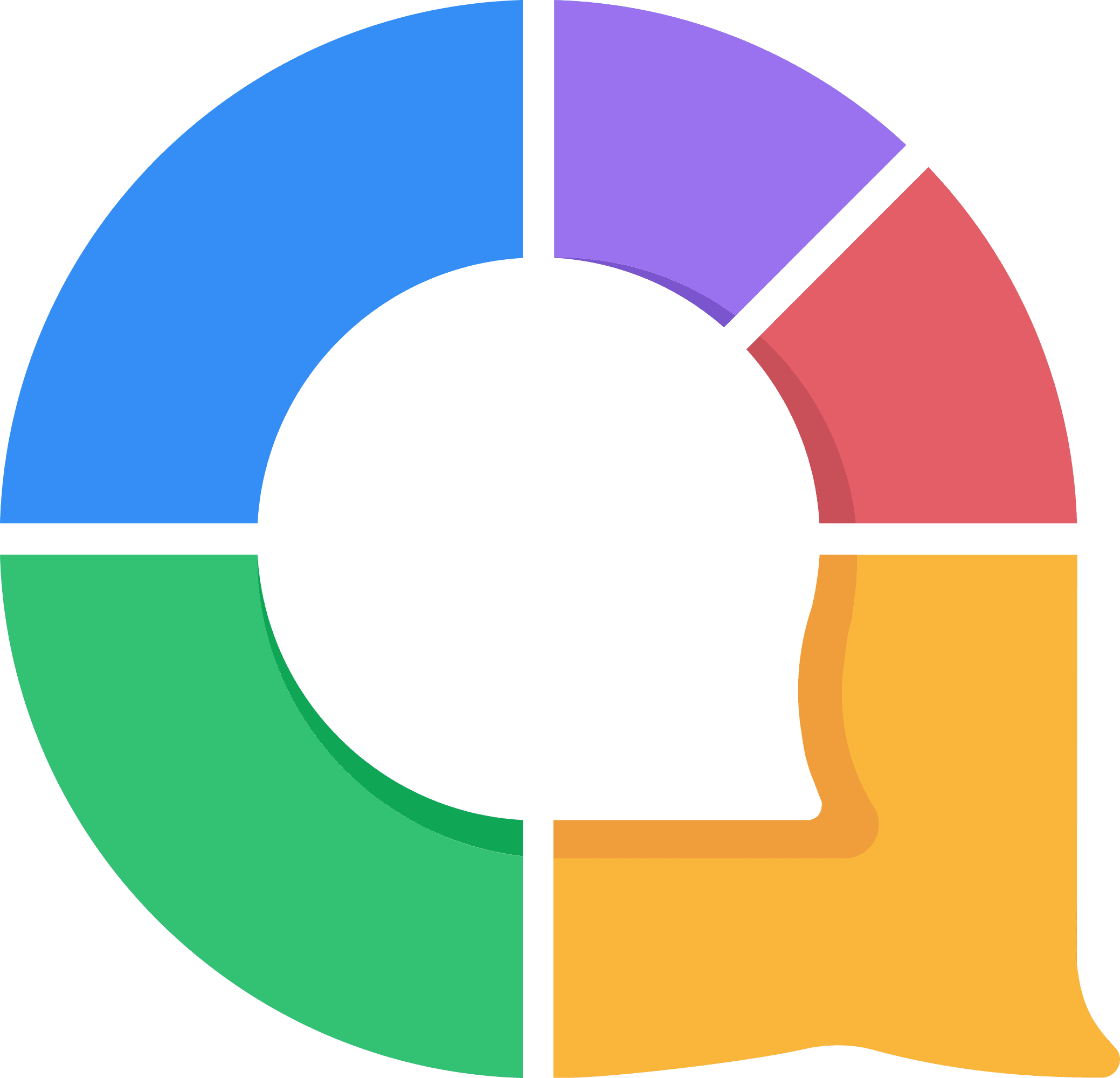 Click here to sign up for free to AhaSlides!
Best Feature
AhaSlides' top feature helps long-term PowerPoint users break ties with software like PowerPoint, in a seamless, harmless, "it's not me, it's definitely you" kind of way.
Users of AhaSlides, even on the free plan, can import their PowerPoint presentations directly. From here, they can trail some interactive slides throughout their presentation, so that when audiences stay engaged with the content by submitting responses to live polls, brainstorms, word clouds, full quiz games and beyond.
PowerPoint presentations of up to 100 slides can be imported for totally free, although honestly if you're making presentations anywhere near 100 slides then you're certainly in dire need of interactive presentation software.
Unlike other alternatives to PowerPoint, there's no limit on the number of interactive slides you can integrate into your presentation. So, if you want 4 interactive slides to every 1 PowerPoint slide you make, no one's going to stop you (not least your interaction-craving audience!)
💡 Want to make your PowerPoint interactive? Check out our guide on how to do that in under 5 minutes!
2. Prezi
👊 Best for: Visual + non-linear presentations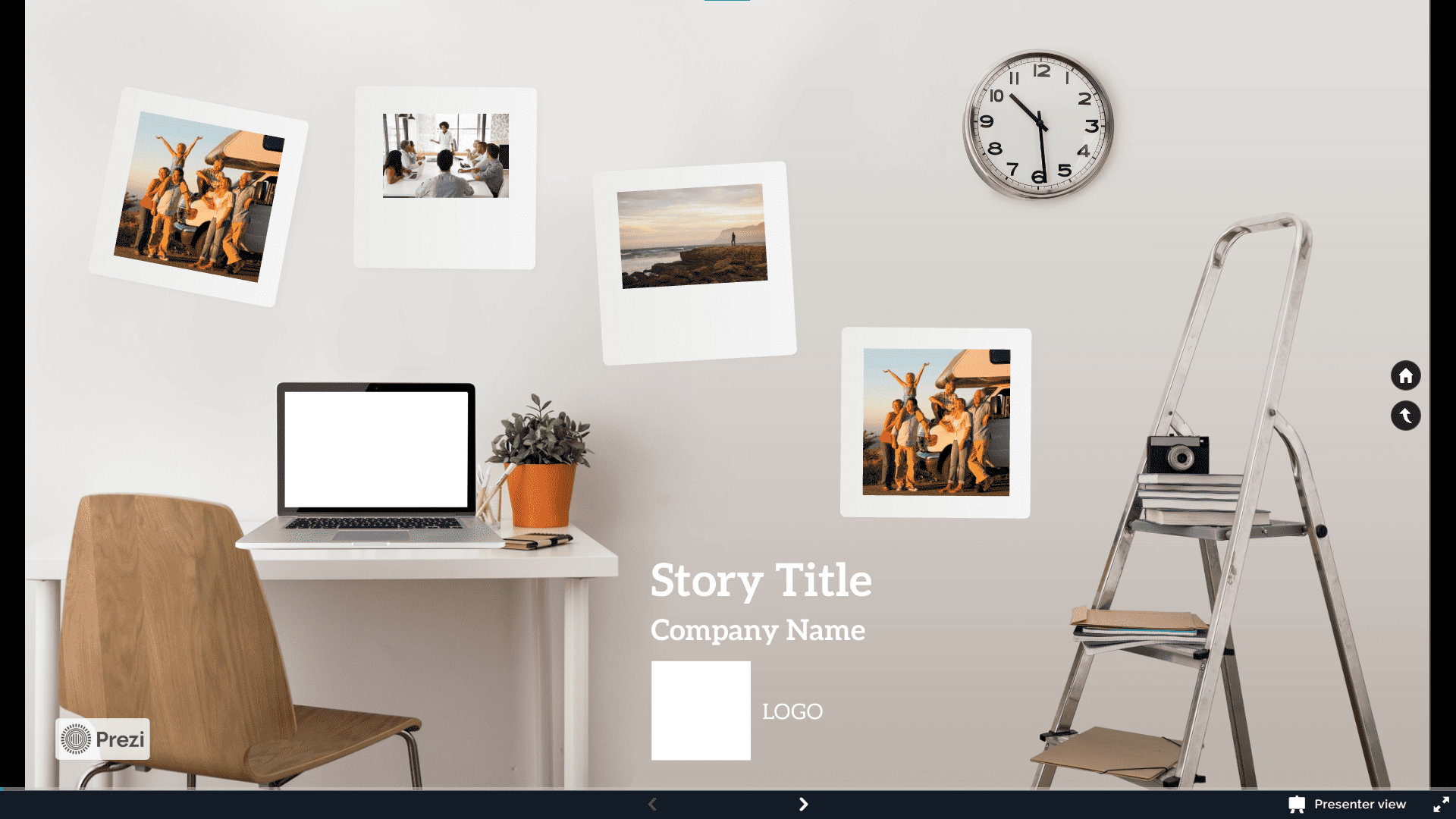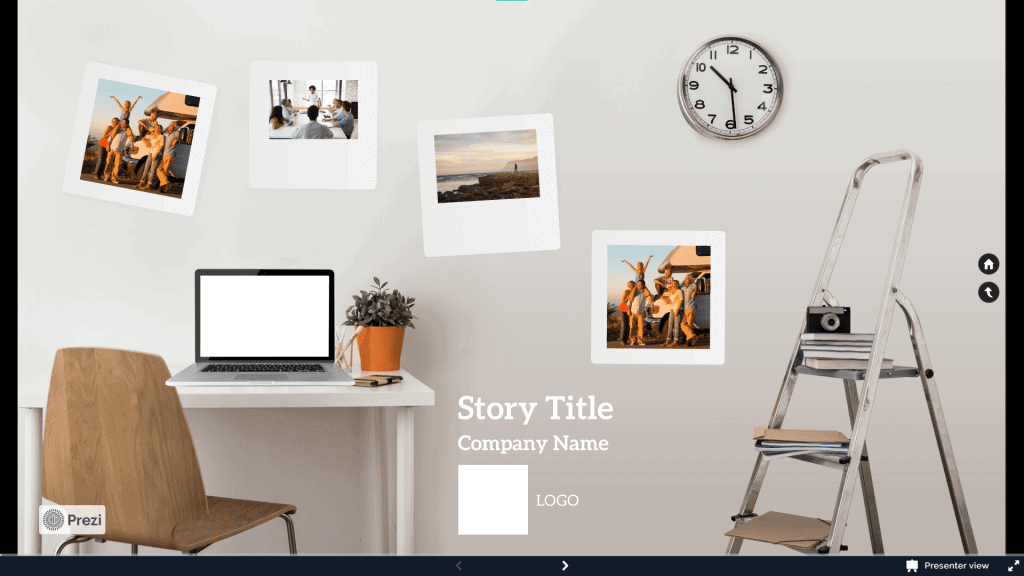 Is Prezi better than Powerpoint? Yes, visually! Pretty much, Prezi like Powerpoint! If you've never used Prezi before, you might be confused as to why the picture above seems to be a mockup image of a disorganised room. Be assured this is a screenshot of a presentation.
Much has been written about Prezi when it comes to alternatives to PowerPoint. In fact, Prezi is one of the longest-running advocates of the new way of presenting, which focuses on clear, attractive visuals rather than a tedious torrent of text.
And it's something that Prezi does very well. Prezi puts visuals at the very centre of its presentations and helps users shape their content around things that are nice to look at, which probably goes without saying, is a big step up from walls of words in 6-point font.
Prezi is an example of non-linear presenting, meaning that it does away with the traditional practice of moving from slide to slide in a predictable one-dimension fashion. Instead, it gives users a wide open canvas, helps them build topics and subtopics, then connects them so that every slide can be viewed by clicking from the central page: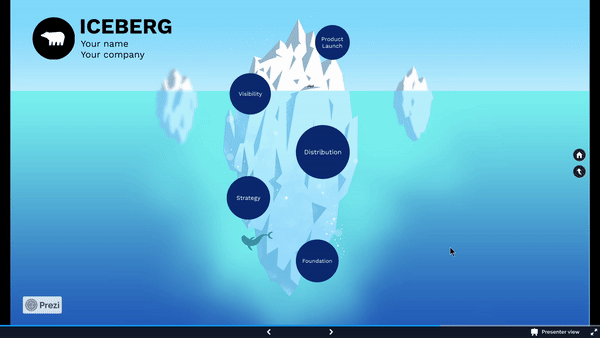 In terms of visuals and navigation, you can already see why presentation software like Prezi is one of the top PowerPoint alternatives. The fact that it looks and feels practically nothing like PowerPoint is one of its greatest strengths, which reinforces the fact that PowerPoint looks and feels like PowerPoint is one of its most significant weaknesses.
For intermittent presenters who need a good alternative to PowerPoint for a few presentations, the 5 allowed on Prezi's free plan is enough. However, those who are looking to engage audiences on the regular, with access to features like PowerPoint import, offline-friendly desktop app and privacy controls will have to shell out at least $14 per month ($3 per month for educators and students) – not a princely sum by any means, but higher than some other software similar to PowerPoint. Therefore, AhaSlides is the best free alternative to Prezi.
| | Prezi | PowerPoint | Prezi vs PowerPoint |
| --- | --- | --- | --- |
| Features | ⭐⭐⭐⭐⭐ | ⭐⭐⭐⭐ | Prezi |
| Free Plan Features | ⭐⭐⭐⭐ | ⭐⭐⭐ | Prezi |
| Interactivity | ⭐⭐⭐ | ⭐⭐ | Prezi |
| Visuals | ⭐⭐⭐⭐⭐ | ⭐⭐⭐⭐ | Prezi |
| Price | ⭐⭐⭐⭐ | ⭐⭐ | Prezi |
| Ease of Use | ⭐⭐⭐⭐⭐ | ⭐⭐⭐⭐ | Prezi |
| Integrations | ⭐⭐ | ⭐⭐⭐⭐ | PowerPoint |
| Templates | ⭐⭐⭐⭐⭐ | ⭐⭐⭐⭐ | Prezi |
| Support | ⭐⭐⭐ | ⭐⭐⭐ | – |
| Overall | ⭐ 4 | ⭐ 3.3 | Prezi |
Main difference between Prezi and Powerpoint
Best Feature
A big plus point for Prezi is that a subscription to its presentation services also gets you two more services – Prezi Video and Prezi Design. Both are good tools, but the star of the show is Prezi Video.
Prezi Video has a very keen eye on the future. Both virtual presentations and video media are on the rise, and Prezi Video matches both intents with a simple-to-use tool that helps you illustrate your spoken presentation with slick visual effects and images before you record it.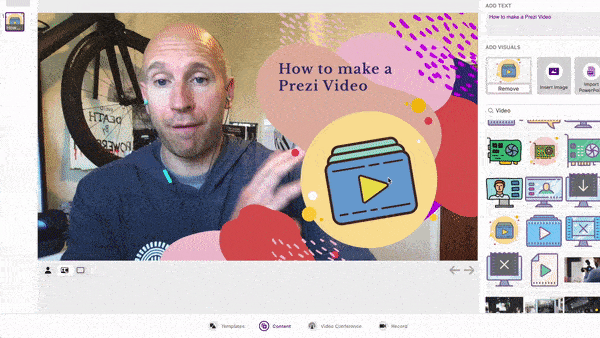 What it lacks is the ability to easily add graphs, infographics, or anything else that might help you visualise a point. Still, that particular slack is picked up by Prezi Design, which focuses on simple graphic design to create the kind of colourful data visualisation you might want to add to your presentation.
One con to all of this is that it's easy to spend so much time flitting between the 3 bits of software that at the end of 5 hours, you might have only created one very visually indulgent slide. The learning curve is steep, but it's fun if you've got time to invest.
3. Haiku Deck
👊 Best for: Simple + quick presentations
Sometimes, you don't need the Prezi-level complexity of 3 full suites to create one presentation. When you've got the confidence to present with your voice, all you need for support is a background and a bit of text.
That's Haiku Deck. It's a stripped-back alternative to PowerPoint that doesn't overbear its users with features. It works on as simple a principle as picking an image, picking a font and combining both into a slide.
The vast majority of presenters simply don't have time to spend creating a full deck of slides that look beautiful and transition more beautifully still. Haiku Deck fits the huge group of professionals who want nothing more than a library of templates, backgrounds and images, as well as the means to embed YouTube and audio clips and see analytics once a presentation is done.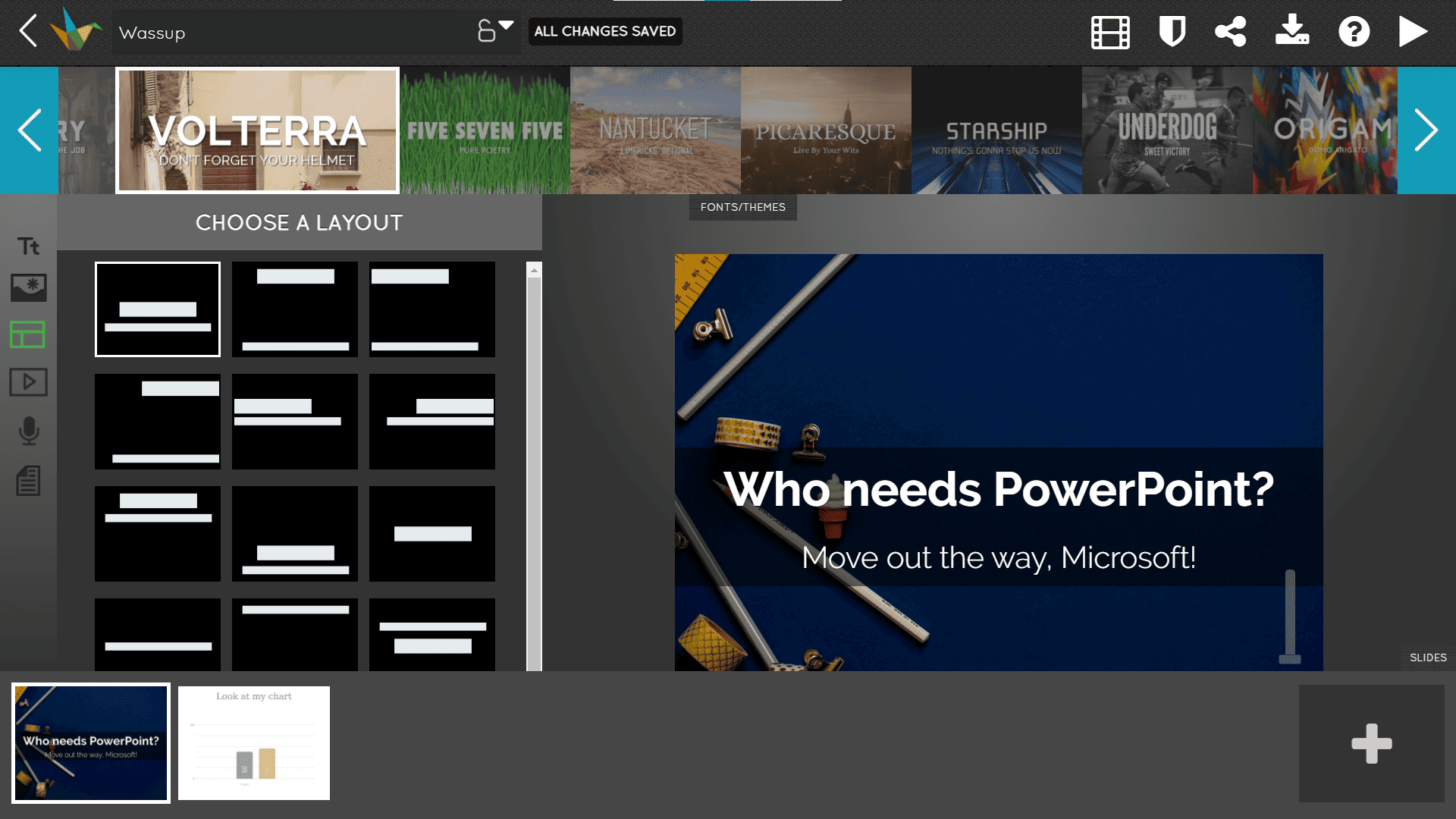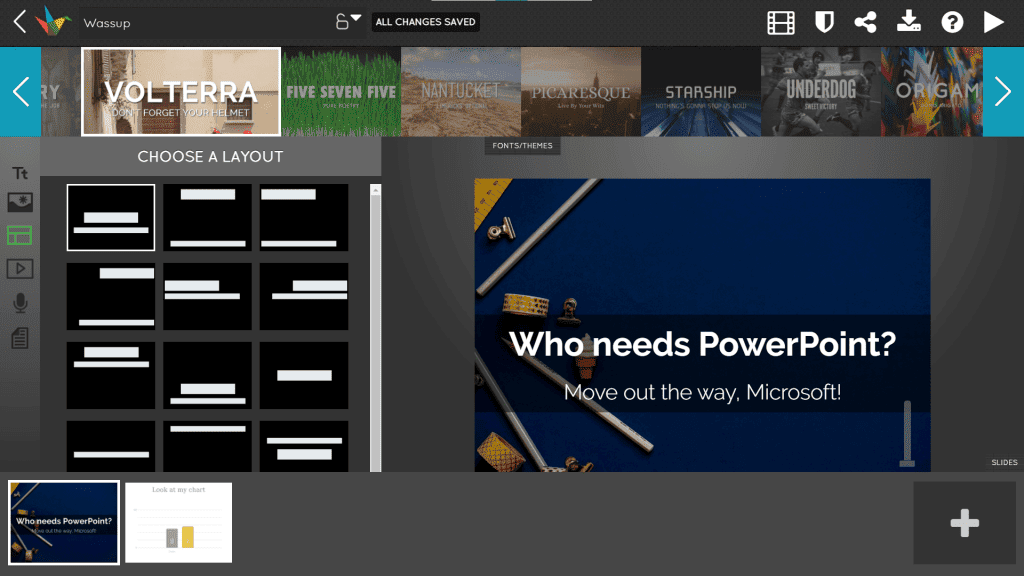 For such no-frills software, you'd be forgiven for expecting a no-frills price tag. Well, Haiku Deck might cost you more than that – it's a minimum of $9.99 a month. Not too bad in itself, but you'll also be locked into an annual plan and can't even register for the free trial without entering your card details.
Another downside to Haiku Deck is that you might also find the features to be as inflexible as the pricing structure. There's not a lot of room for customisation, meaning that if you don't like one element of a background (say, the shading or the opacity), you'll have to ditch the whole thing and go with another background entirely.
A final gripe we have is that Haiku Deck seems really intent on making you sign up to a paid account. The option to sign up for free is buried right down in the depths of the pricing page, and the free plan is limited to just a single presentation.
| | Haiku Deck | PowerPoint | Prezi vs PowerPoint |
| --- | --- | --- | --- |
| Features | ⭐⭐⭐⭐ | ⭐⭐⭐⭐ | – |
| Free Plan Features | ⭐⭐⭐ | ⭐⭐⭐ | Haiku Deck |
| Interactivity | ⭐ | ⭐⭐ | PowerPoint |
| Visuals | ⭐⭐⭐ | ⭐⭐⭐⭐ | PowerPoint |
| Price | ⭐⭐⭐ | ⭐⭐ | Haiku Deck |
| Ease of Use | ⭐⭐⭐⭐⭐ | ⭐⭐⭐⭐ | Haiku Deck |
| Integrations | ⭐ | ⭐⭐⭐⭐ | PowerPoint |
| Templates | ⭐⭐⭐⭐ | ⭐⭐⭐⭐ | – |
| Support | ⭐⭐⭐ | ⭐⭐⭐ | – |
| Overall | ⭐ 3.1 | ⭐ 3.3 | PowerPoint |
Haiku Deck – Alternatives to Powerpoint
Best Feature
Haiku Deck's "best feature" is actually a combination of 2 features that make up one great idea: takeaway presentations.
As the presenter, you can first use the audio feature to either record your presentation or to upload a prior recording of it. You can attach these to each individual slide to make a fully narrated presentation without the need for you to present it live.
After you've recorded it all, you can use the save video feature to export your narrated presentation as a video.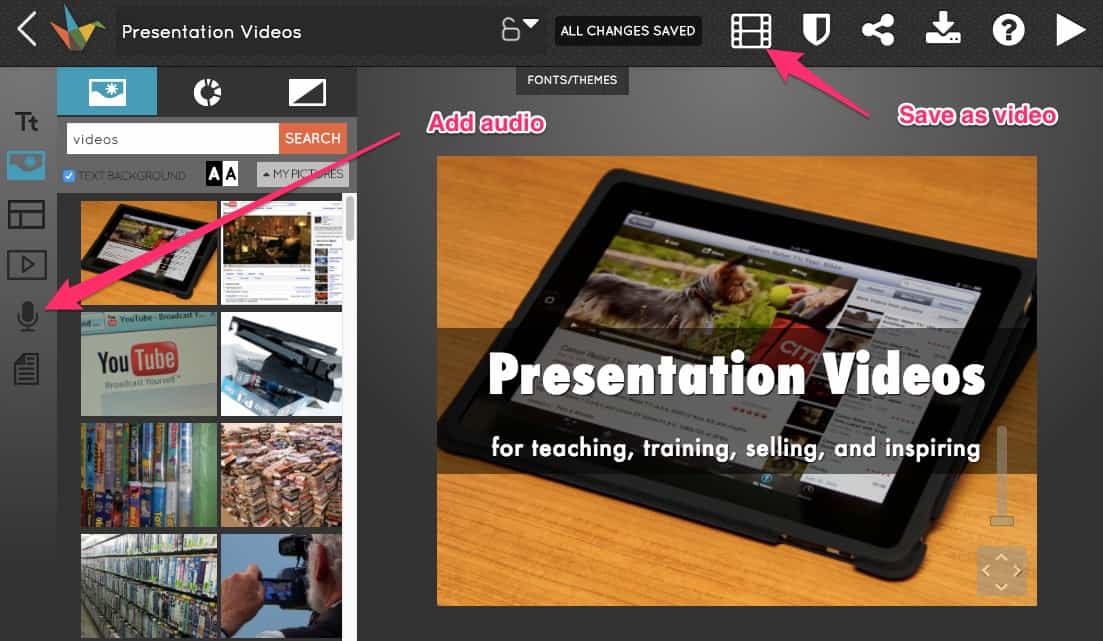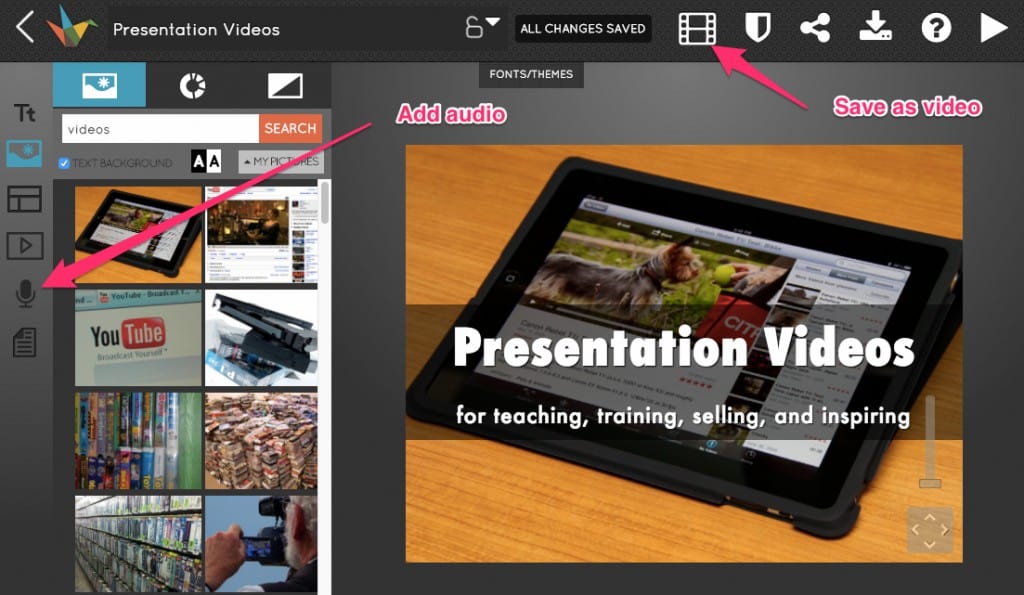 This may seem quite a bit less engaging for an audience, but it's highly convenient for simple webinars and explainer videos. The drawback is that this is only available on the pro account, which costs a minimum of $19.99 per month. For that money and the time you'll spend earning it, you're maybe better off using Prezi.
Why Try Alternatives to PowerPoint?
If you're here of your own accord, you're probably well-versed in the problems of PowerPoint.
Well, you're not alone. Actual researchers and academics have been working for years to prove that PowerPoint. We're not sure whether that's just because they're sick of sitting through 50 PowerPoints in every 3-day conference they attend.
According to a survey by Desktopus, one of the top 3 expectations from an audience in a presentation is for interaction. A well-meaning 'how are you guys doing?' at the start probably won't cut the mustard; it's best to have a regular stream of interactive slides embedded directly into your presentation, related directly to the content, so that audiences can feel more connected and more engaged. This is something that PowerPoint doesn't allow but something that AhaSlides does immensely well.
According to the University of Washington, after 10 minutes, an audience's attention to a PowerPoint presentation will 'plummet to near zero'. And those studies weren't conducted exclusively with presentations on unit-linked insurance planning; these were, as described by professor John Medina, 'moderately interesting' subject matter. This proves that attention spans are becoming ever-shorter, which demonstrates that PowerPoint users need a fresh approach and also that Guy Kawasaki's 10-20-30 rule might require an update.
Key Takeaways
Like we said at the start, the PowerPoint revolution will take a few years.
Amongst increasingly impressive alternatives to PowerPoint like AhaSlides, Prezi and Haiku Deck, each offers its own unique take on the ultimate presentation software. They each see the chink in the armour of PowerPoint and offer their users a simple, affordable way out.
So, let's check out few presentation alternatives, replacement to Powerpoint as below!
Frequently Asked Questions
Best Fun Presentation Alternative to Powerpoint?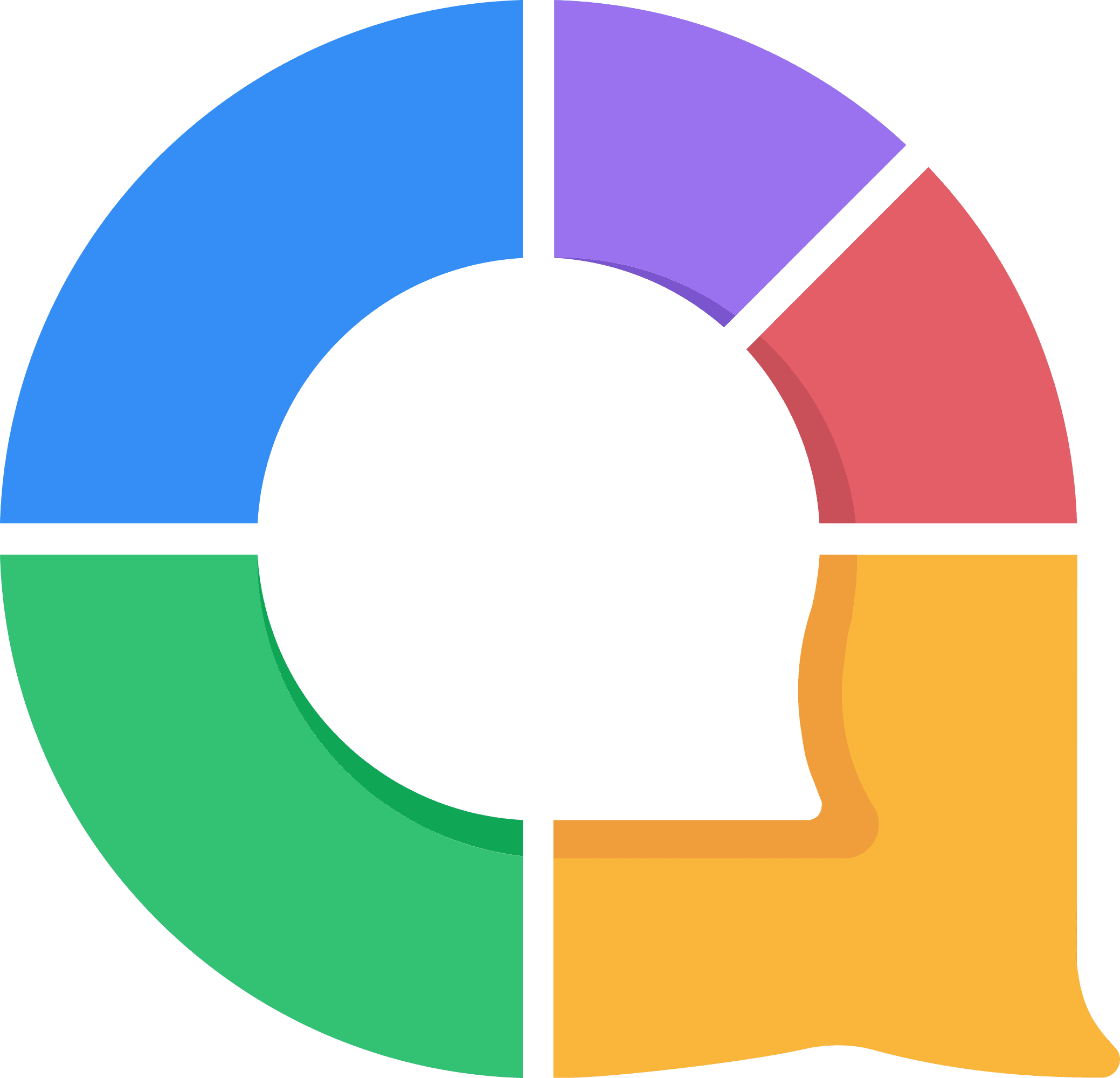 AhaSlides – Instead of Powerpoint, you can try AhaSlides, the best alternatives to Powerpoint and Prezi. It is great value for those looking at making their presentations more fun via the still largely unexplored power of interaction. Polls, word clouds, open-ended slides, ratings, Q&As and a wealth of quiz questions are super easy to set up and even more accessible for your audience to interact with. Almost all of its features are available on the free plan, with the others lying on the other side of a miniature $1.95 per month paywall (or $2.95 for a one-time event).
Best Visual Presentation Alternatives to Powerpoint?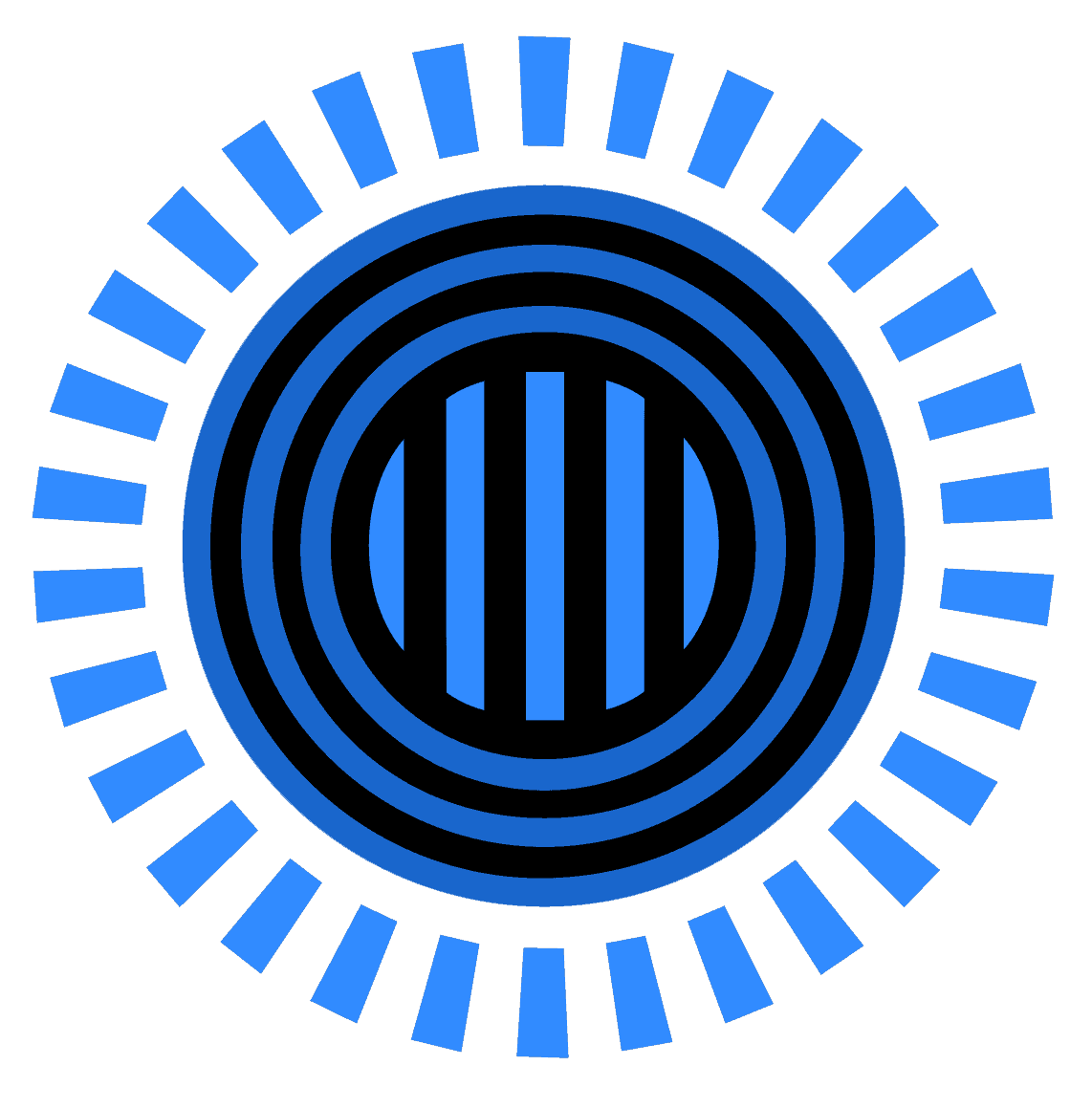 Prezi – If you're taking the visual route to presentations, then Prezi is the way to go. High levels of customisation, integrated image libraries and a unique presentation style that makes PowerPoint look practically Aztec. You can get it for cheaper than PowerPoint; when you do, you'll get access to two other tools to help you make the best-looking presentation possible.
Best General Platform – Rather than Powerpoint?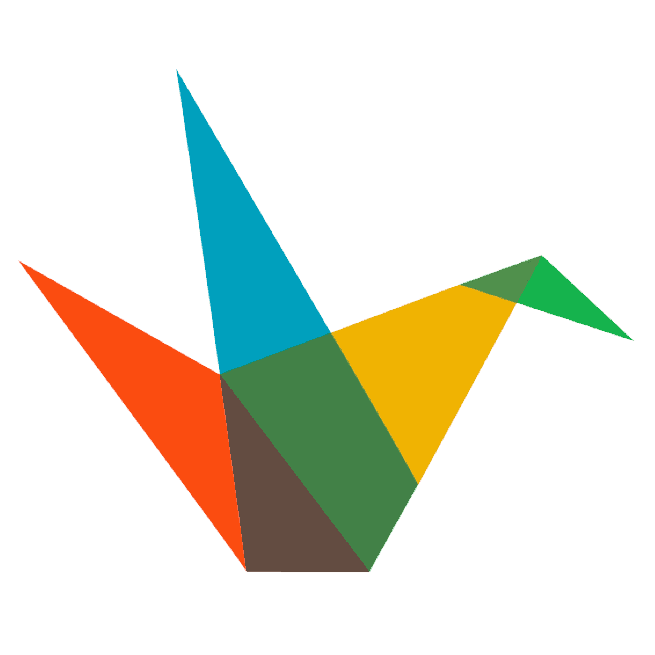 Haiku Deck – Not all alternatives to PowerPoint wear capes or fancy accessories. Some are simple, easy to use, and can help you make presentations much faster than similar PowerPoint software. Haiku Deck is all of that. And although it may cost a bit more and be a bit more restrictive than it should, it's still a worthwhile option for presenters in a hurry.