By the end of this article, these tips for your Q&A session will be yours:
If you are about to give a presentation, you may be considering hosting a Q&A session, as it no doubt gives the mic to audience so that they can raise their voice and tackle critical issues. However, sometimes it is really challenging to keep your Q&A session staying away from being dead-silent, filled with awkward sigh and gaze.
Yet fully understanding wonderful tricks to succeed in your Q&A session, you may still have confusion over what exactly you need to do when preparing and hosting a Q&A session, then here is the answer for you! Try following these steps and shine together with your audience.
Preparation Time
Have a moderator lead the session
It is essential to have a moderator during your Q&A (and your whole presentation, if possible! It is likely that when answering the questions, you lose track of the flow and allocate time improperly to each question. Therefore moderator is the one who keeps track of the questions submitted and maintains a natural flow during the session. They can also group related questions and pose the right question to you at the right time.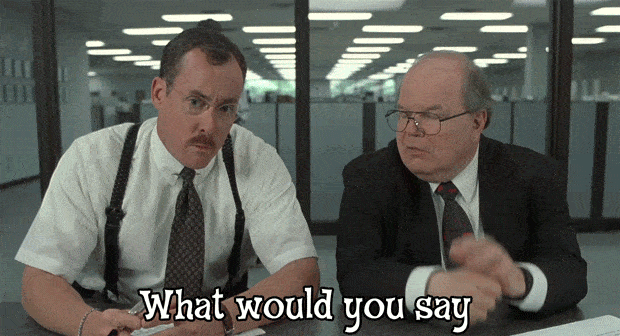 Collect and review questions beforehand
Although having a moderator, it's recommended that you prepare a few questions in advance, or invite the attendees to submit their queries in the registration form, then give a present to those with most interesting questions! Now write out the corresponding answers and rehearse them beforehand with the moderator, so that your Q&A would go on a smooth flow later.
D-Day
Q&A doesn't need to be at the end of the presentation
We often arrange our presentation as a one-way speech the whole time, then start a few minutes at the end with "Do you have any questions?". Stacked confusion from the previous part, with the lost interest after a long time listening definitely don't make it the best way to kick off a Q&A session.
Instead, it's better to dedicate at least 1/5 of the time range to this part, or even spend a few minutes after each section of your presentation asking the audience to join in a Q&A software such as AhaSlides, and submit their questions. Now all the confusion is cleared up!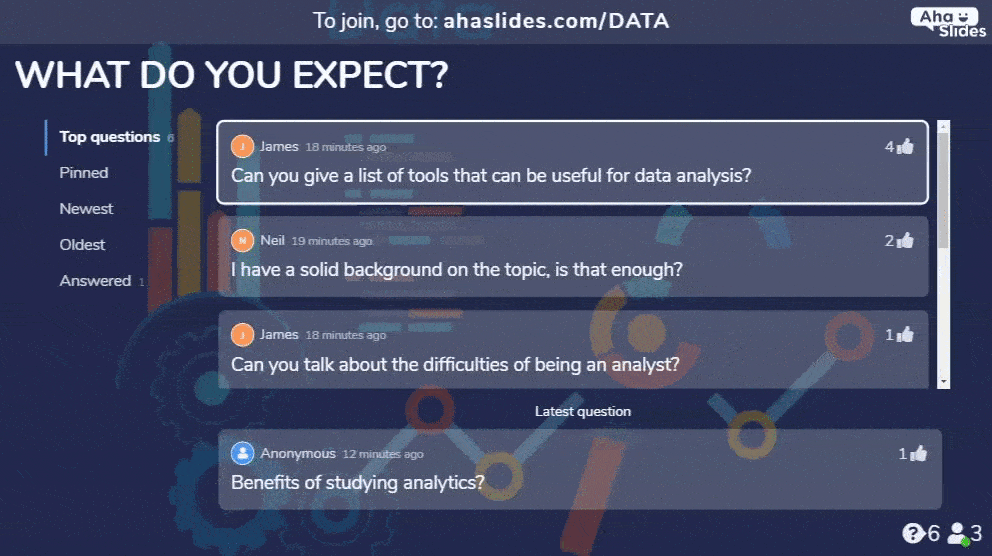 Suggest the topics and aspects your audience can ask about
As it's likely that you are presenting about a topic which you are fully familiar to while your audience are not, you should give out some aspects that your audience can ask about.
For example, I recently attended a presentation about environmental sustainability in cosmetics industry. Then, the CEO speaker invited us to give queries about what methods they used, or the benefits as well as the shortcomings they may have faced, and so on. Not surprisingly, the Q&A panel was on fire with tons of questions from the audience!
Crowdsource the questions
After getting lots of questions from the attendees, don't forget to take time for crowdsourcing. In this way you can cut down on time answering identical questions, and spend time for those which matter to your audience the most. However, it's a bit inconvenient to do this in a raise-hands-then-ask talkshow we usually do.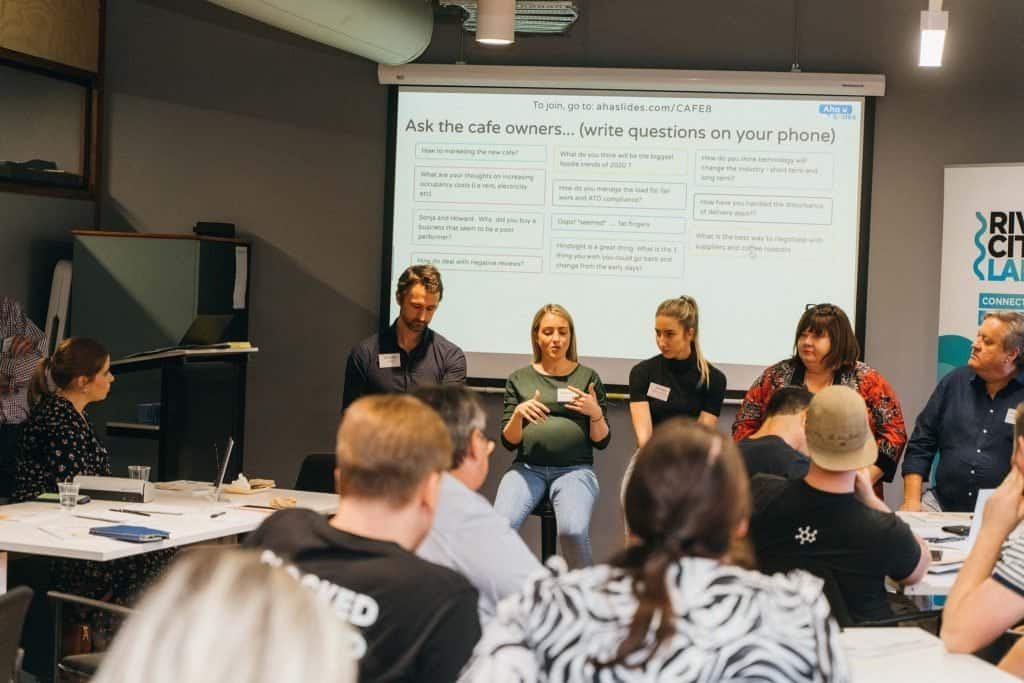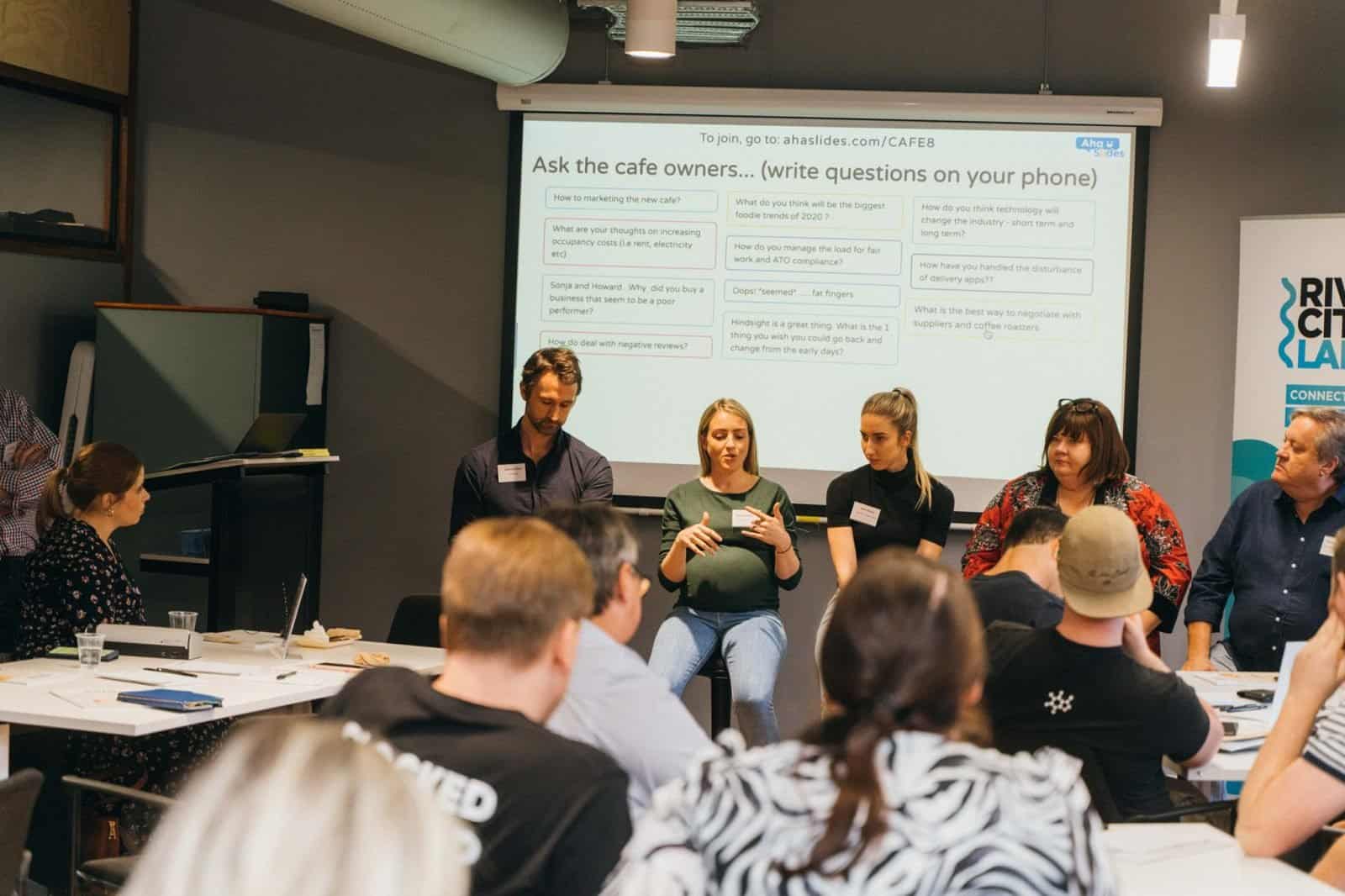 An effective way to do this is to let them submit questions to an online Q&A canvas like AhaSlides then invite them to upvote for the questions they find pertinent or in which they have the same interest. What a way to kill two birds with one stone!
After event
Share presentation online
If the time limit does not allow you to address all the questions, or if you simply would like to sum up the whole session for your attendees, you may consider giving them a handout later, summarising the submitted questions. However, you shall hesitate as it's a painstakingly time-consuming task to finish.
Why not share your presentation online and send them the link to review ALL the questions posed during the day? May not sound possible, but a smart use of an integrated tool like AhaSlides can do the trick. A few clicks and the Q&A slides are sent to those you want!
You can insert a Content Slide to brief the answers, without having to categorise the stack of questions in order of importance and remove the duplicated ones. Attendees would also have an organised overview of what have been fielded throughout the day and have a reliable source for reference afterwards
Step by step, hosting a fascinating Q&A session is no longer a dream with powerful tools like AhaSlides!
See it for yourself here.
External Links