Host Live Question and Answer Session (Live Q&A) in 2023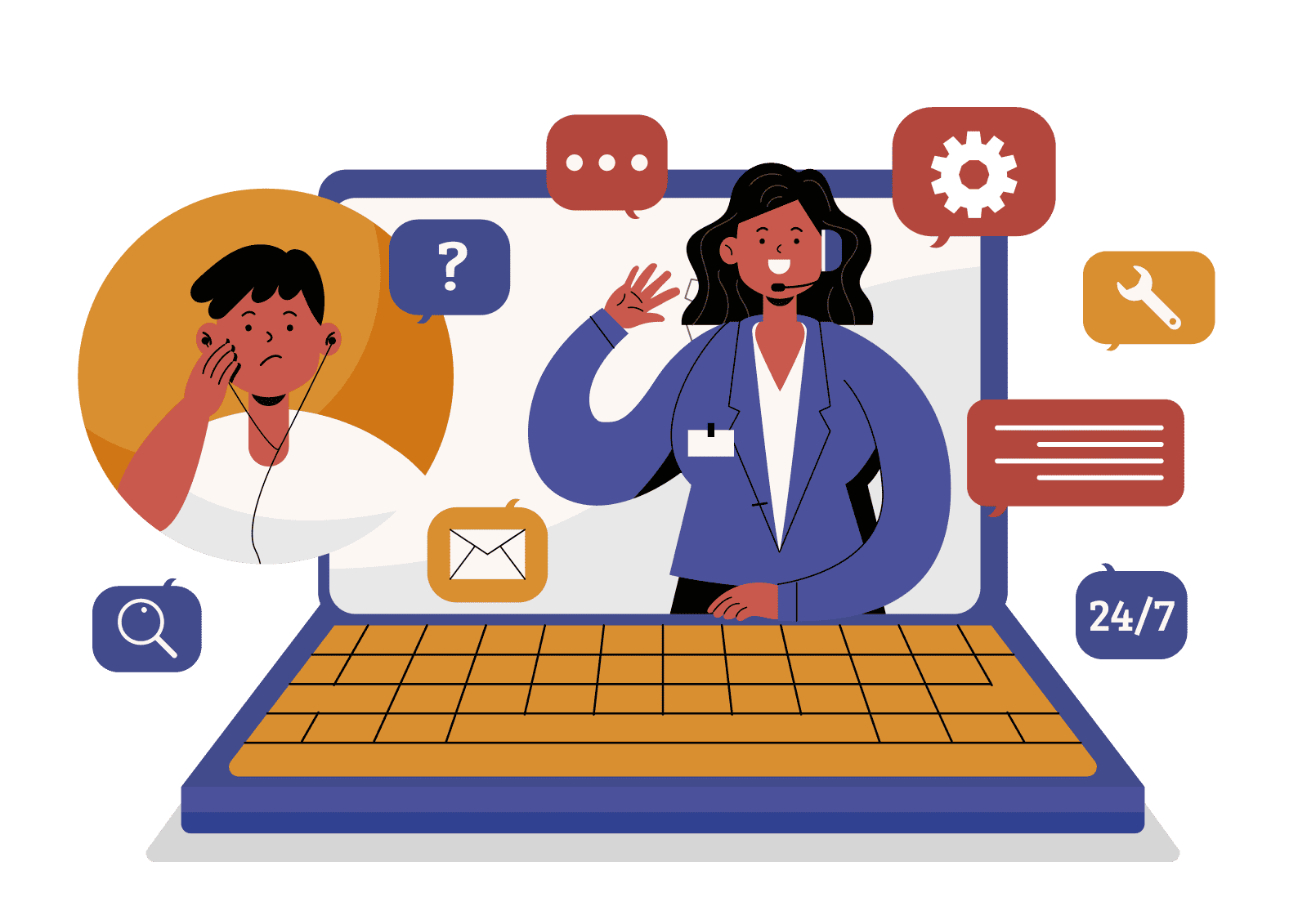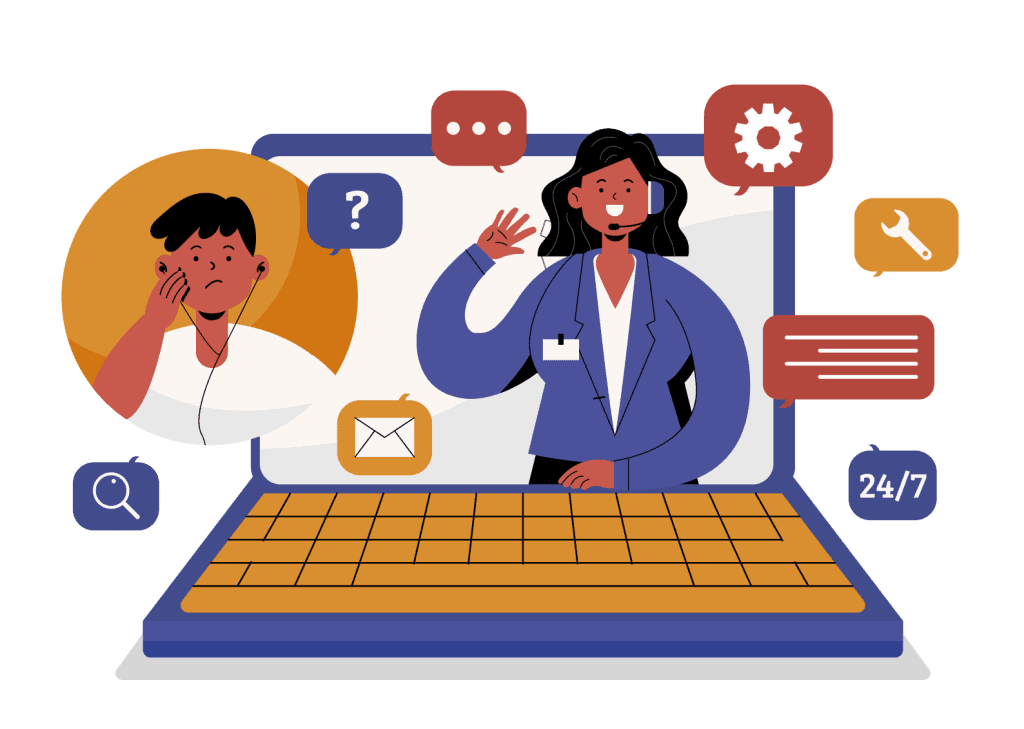 Open up the floor to instant, orderly questions.
Never wait in awkward silence again! Utilize AhaSlides Live Question and Answer tool to bring your next presentation to another level!
| | |
| --- | --- |
| Can I use AhaSlides Q&A to ask me anything q&a questions for Youtube? | Yes |
| Short Version of Live Questions and Answers | Live Q&A |
| When was the word feedback invented? | 1920 |
| Who invented the word 'Feedback' | Harold Stephen Black |
Overview of Live Q&A Presentation
How Does a Live Question and Answer Session Work?
Let's type question and get answer! A live question and answer is carried out in a very simple way!
With AhaSlides, you can create a Q&A slide with a single click. Your audience can join the live Q&A on their phones and type in their burning questions, all of which show up on your device and address them one-by-one.
More than that, you can embed the Q&A within your presentation. As you proceed, the audience can send you questions and you can answer them whenever the time is right!
Check out: What is ordinal scale examples and how to use it?
Fun Fact: Quora is the website that answers any question!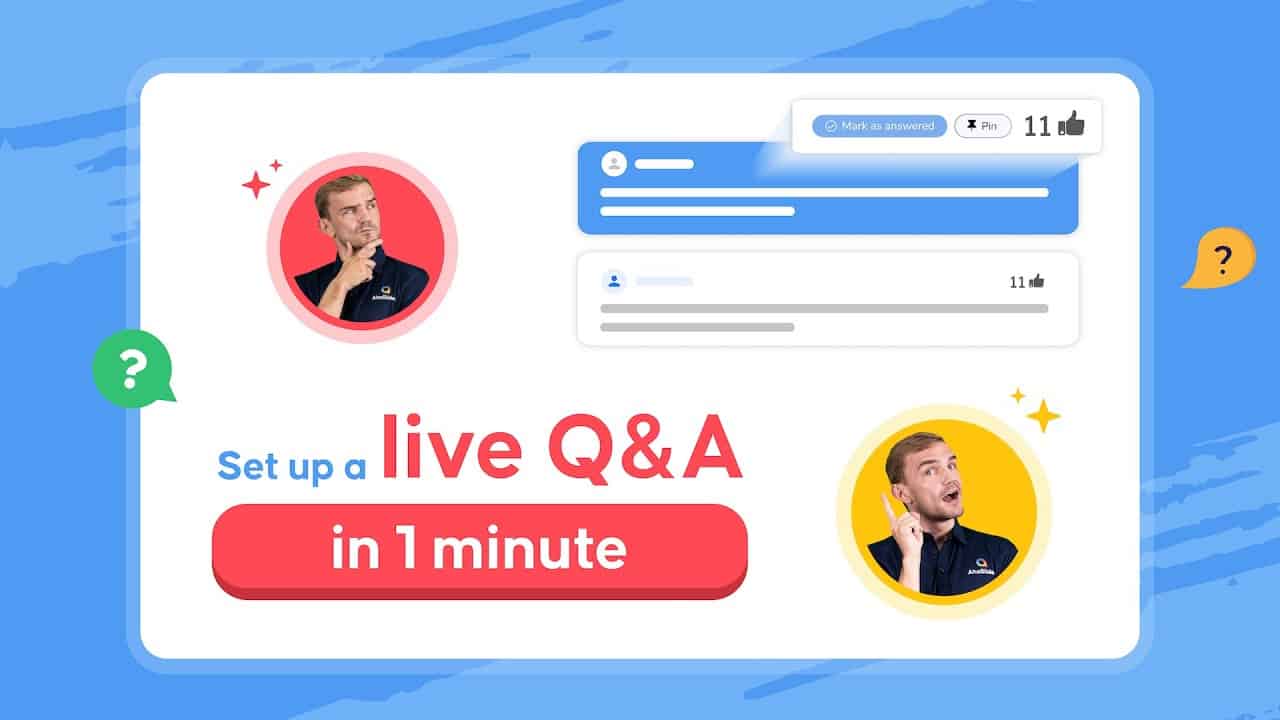 Create your Q&A Slide

Sign up for free, and with a new presentation, select a Q&A slide then hit 'Present'.

Invite your Audience

Click the top bar to reveal your unique join code and QR code for your audience. By typing or scanning the code with their phones, they can start submitting their questions.

Answer Away!

All questions are arranged according to the time it was sent or the audience's most upvoted question. Respond to the questions individually, mark them as answered, and pin the most relevant.
The Complete Q&A Package
Let's check out the 6 top features of AhaSlides' live Q&A tool. Any questions?
---
Ask Anywhere
To ask a question, the participants need nothing but their phones and an internet connection.
Moderation Mode
Someone can manage the questions using AhaSlides' moderation mode. Assign a person to approve or deny questions before they appear on the Q&A slide.
Allow Anonymity
Allowing audience members to submit anonymous questions will help to eliminate prejudices and the fear of expressing thoughts or concerns.
Customise
Make your Q&A slide stand out by adding colorful backdrops, eye-catching fonts, and audio while people are busy coming up with questions.
Profanity Filter
Automatically block words that might be disrespectful, damaging, or unsettling to you and your audience.
Take it home
Export all the questions you have received from your presentation to an Excel sheet.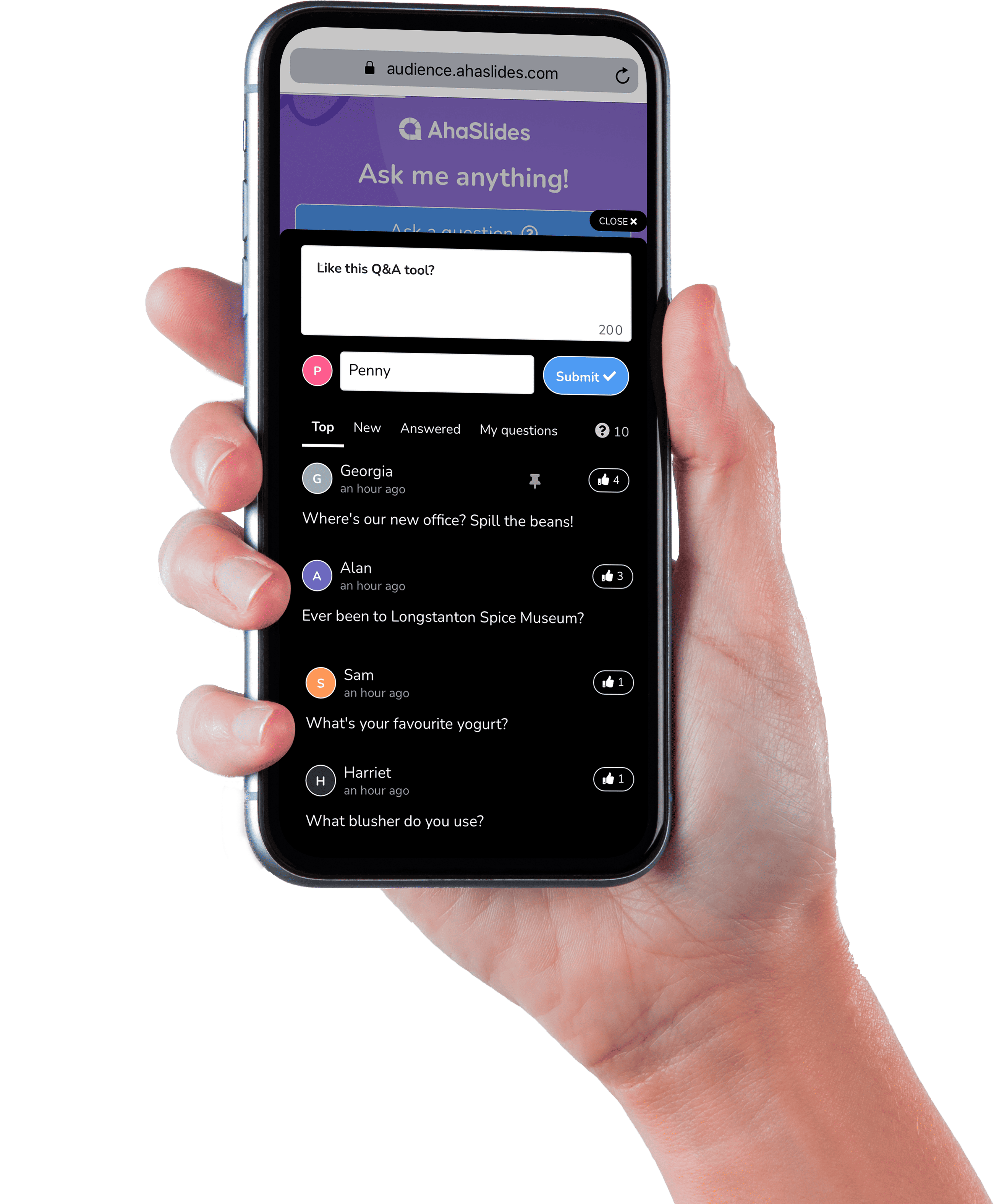 Uses for a Live Q&A
A live Q&A is an important component to establishing an open and inclusive engaging activity with others. Complete all the necessary tools for a successful meeting, webinar, lesson, or any event by including a live question and answer segment to provide further information and clarify any confusion.
Tips: How to ask Open-Ended Questions? or close ended questions examples
Team Meetings
A live Q&A is one of the best 'get to know you games'! You're not the only one to have felt lost in a team meeting. Everyone has to contribute an idea and plans are constantly revisioned and finalized while stats, quotes, and various graphs are pulled out in between! It's challenging to keep the entire team engaged and focused when all of these things are going on at once. To eliminate confusion and maintain a fresh perspective after each discussion, take some time to answer any questions from your team.
Townhall Meeting
Naturally, when you gather a whole company together for a townhall meeting (or all-hands meeting), it is expected that there will be plenty of questions coming your way. Any company with more than a handful of employees may struggle to keep on top of this, but a live Q&A tool can keep everything in a streamlined manner.
Teaching
There are lots of ways to assess the students' understanding of a topic. Tests, assignments and projects are all great in the long-run, but for a quick way to dispel any minconceptions before students leave the class, a short Q&A at the end of each lesson can definitely make a significant difference in their learning.
Check out: Fun Questions to Ask Students
Training and Development
It's no secret why the sound advice of most training sessions falls on deaf ears. If an audience is going to be in their chairs for hours on end, they're going to need some form of engagement to stay attentive and retain the information being presented. A live Q&A portion can identify common concerns that haven't been covered by the trainer.
Ask Me Anything (AMA)
You can find some fascinating people on Reddit – vloggers, celebrities, company CEOs inviting readers to ask them anything. It's a format that's taken off across not just on social media but in vlogs, podcasts, and even amongst best friends. An online Q&A platform can set a solid AMA from a sloppy one.
Check out: General Fun Questions to Ask or Weird Questions to Ask
Virtual Events
We live in a modern world where anything can be done remotely. We can work, learn, hang out, and gather in digital spaces anytime. You can host your events wherever you are and foster a connection with your distant participants with AhaSlides' online Q&A tool. Respond to queries at any time from anywhere in the world!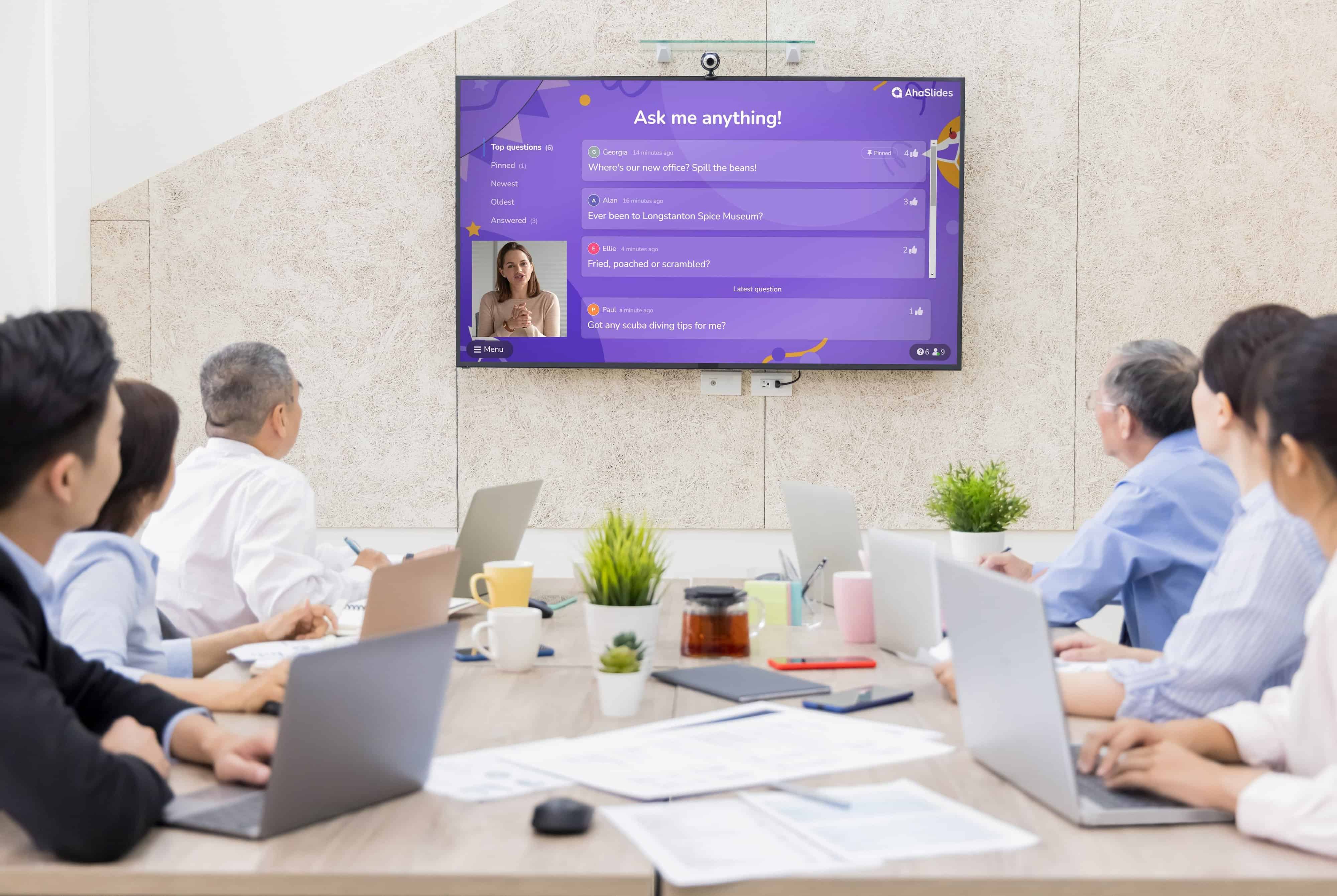 Answer Everyone.
Don't miss a beat, or a question, with AhaSlides' free live Q&A tool. Set up in seconds!
Why Should You Use Live Q&A
Keep it Engaging – You may be wondering why it is important to allow the audience to ask questions and during or after your presentation. Making them feel involved promotes interactivity. According to statistical studies, an interactive presentation increases audience participation and improves memory retention.
Total Clarity – You want your presentation to be as understandable as possible. If your audience missed some parts of your presentation, having a live question and answer assures them that they can seek clarification on any points they have missed. 
Be 100% Open – For those doing a townhall meeting or an ask me anything, a Q&A offers everyone a chance to get involved. Show your collegues that you are open to any questions even if you have little to no preparation.
More Digestible – When your message is delivered in bite-sized forms, such as a live Q&A, you'll be surprised at how people become more motivated to listen and engage with you. You cannot attract everyone with slides, visuals, and hours of discussion — some people like it simple and straightforward.
Highly Relatable – If you want to leave your audience with full understanding of your discussion, there's no better way than keeping the line of communication open by answering questions put forward by the crowd.
These days we are all doing more online and I've found AhaSlides to be especially helpful with making workshops engaging and interactive.



3 Key Tips to Hosting A Successful Q&A Online in 2023
Yuu may think that you have clearly explained your points but there's at least one question that will be thrown at you. Here are some quick tips to deal with queries properly:
By the end of this article, you'll be able to make use of these 3 facets of an online Q&A session:
If you're about to give a presentation nowadays, chances are that you'll be hosting it and your Q&A online.
As good as a virtual Q&A can be for clearing up a topic or even as an online icebreaker, any Q&A session has the potential for piercing silence and your audience's awkward glances at their shoes.
Question and answer sessions done online are quite different from in-person ones, so it's hard to know how to prepare and execute them. An interactive presentation software such as AhaSlides can help you organize a live Q&A online.
Following the 3 key tips below is your ticket to hosting a perfectly balanced and engaging Q&A session.
Tip #1: Prepare for It!
Live Q&A – Word clouds give you a great overview of what your audience needs discussing and clearing up.
Always a bountiful source of whimsical quotes, Abraham Lincoln once said "give me 6 hours to chop down a tree and I will spend the first 4 sharpening the axe".
You may not be chopping down any trees by hosting a Q&A online, but you'll have to topple the barriers between you and your audience. To do this, you'll need to prepare.
Of course, you'll never be able to predict exactly what your audience is going to ask, but you can get a pretty good idea by finding out what they want to take away from your Q&A session. A great way to do this is by using AhaSlides, a free interactive software.
A word cloud, represented by the image above, can give you a much better understanding of the topics that your audience wants to discuss in the Q&A. It prompts your audience to share topics they'd like to talk about and then lays out all of their answers in one grid.Words that are frequently used will appear at the center to draw attention and increase the chance of addressing those topics.
Doing this before the Q&A begins gives you time to prepare for the questions that your audience most want answered later.
Click here for more advice on how to set up the perfect word cloud.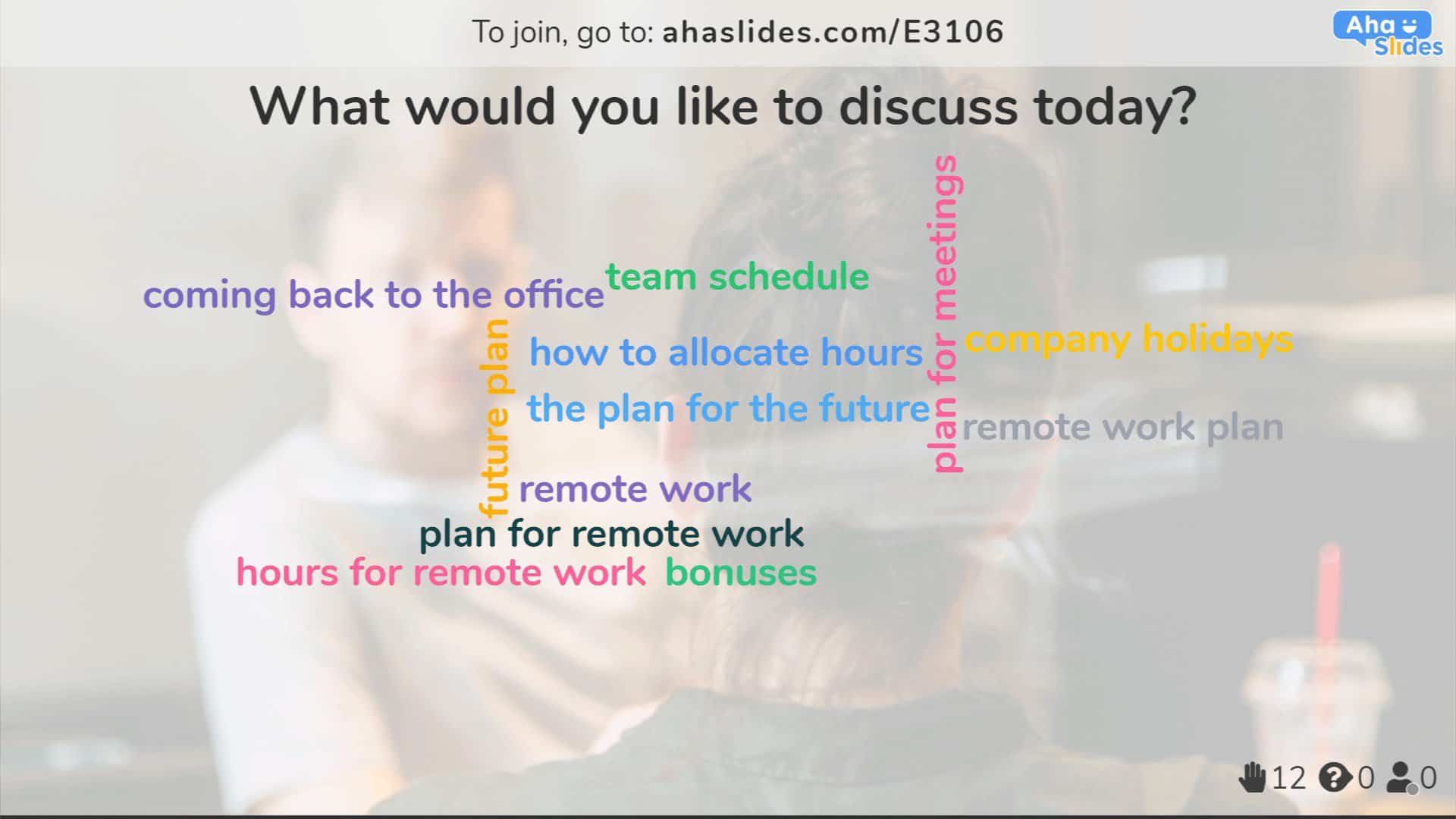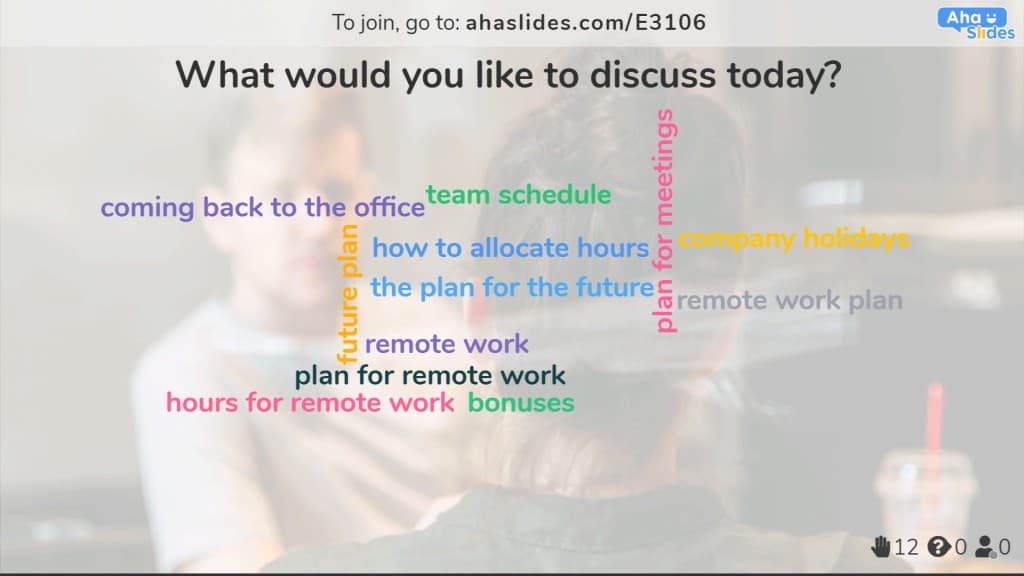 Tip #2 – Order and Display it Professionally
Live Q&A – A visual Q&A panel lets you and your audience stay on top of the questions.
Putting some time into the display and organisation of your Q&A online gives the audience a chance to see what's been asked and what's been answered.
Organizing a live Q&A is easy with AhaSlides. There's a dedicated Q&A slide (shown in the image above) that gives you full moderating power over your audience's questions.
Here are a few of the ways that a Q&A slide keeps everything neat, systematized, and most importantly, engaging:
Display and sorting – A Q&A slide is a great way to keep everyone on the same page. All the audience's questions are displayed for everyone to see and are automatically sorted into categories.
Pinning queries – When you're running out of time during your Q&A but the answers still keep flooding in, pinning some questions is an effective method to avoid question repetition and ensure that it won't get lost in the mix.
Audience upvoting – This feature lets the audience react with a 'thumbs up' to any of the queries to which they, too, would like an answer. The more popular a query, the higher it is placed on the 'top questions' table.
Anonymity – Much of your audience will be embarrassed to ask questions – that's just the reality of Q&A. Allowing your participants to ask anonymously is important to eliminate fear of speaking up and encourage honest and candid responses.
Tip #3 – Share it Online!
If you're restricted by time or simply want to leave your Q&A answers out there for your audience to come back to at any time, you have the option with AhaSlides to share your presentation and your Q&A online.
The trick to doing this is to audio-record your answers that pop up during the Q&A segment. Then, use AhaSlides' Q&A feature to make a slide for each answer, with the question as the title and your embedded audio response.
This way, you can manage the questions and remove the duplicates. Your audience will also have an organized overview of what's been fielded throughout the session and will have a reliable source for reference after it's done
Check out: Games to Play Over Text
FAQ
Frequently Asked Questions
---
Got a question? We've got answers.
What tool can I use to ask anonymous questions?
AhaSlides, MonkeySurvey, Slido, Mentimeter…
What is live question and answer?
Live question and answers (Or Live Q&A Session) is the way to gather all questions together, give every audience member the opportunity to ask and get responses immediately.
Why do you need to use AhaSlides Live Q&A Tool?
Make it Anonymous anytime, Give Plenty of Time for the audience to answer, help you to prepare some questions to heat up the crowd, collect data throughout the presentation without missing any point and to moderate all your questions and answers.
Why is it important to allow the audience to ask questions during or after your presentation?
Allowing feedbacks helps the audience to enhance their understanding, encourage engagement and interaction, tailor information, demonstrate expertise, build connection and relationships with the host, and to uncover value insights.