As mentioned in previous articles, the covid-19 pandemic has changed a lot to the way employees work, and the way businesses operate. In 2020, most people only talked about "work from home", how to manage work remotely, and how to work from home effectively. But in 2022, they turn their attention to the hybrid workplace model.
So what is the hybrid workplace model? How can business owners effectively manage and combine remote employees with traditional employees who work permanently at the office? Let's learn about the recently emerging hybrid workplace culture with AhaSlides.
How AhaSlides Can Help You Transition To Hybrid Workplace Model
The hybrid working model that reflects the reality of freedom, flexibility, and the trend of working without limitation of time and space can be new solutions to attract the professional working class and retain talent. Let AhaSlides help you with features: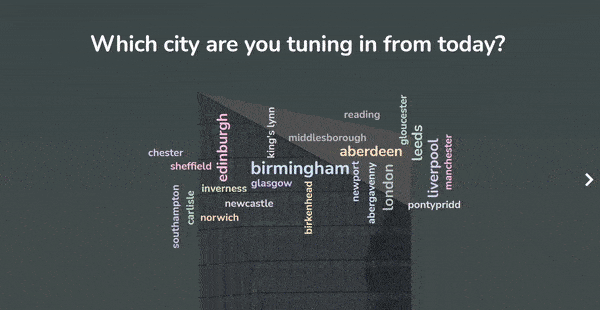 Engage with your employees.
Instead of a boring orientation, let's start a fun quiz to refresh new day. Sign up for free and take what you want from the template library!
🚀 To the clouds ☁️
What Is a Hybrid Workplace Model?
The hybrid workplace model is a combination model that is a flexible form of work, allowing employees to choose between working at the office and working remotely (employees can work anywhere they want, usually working from home).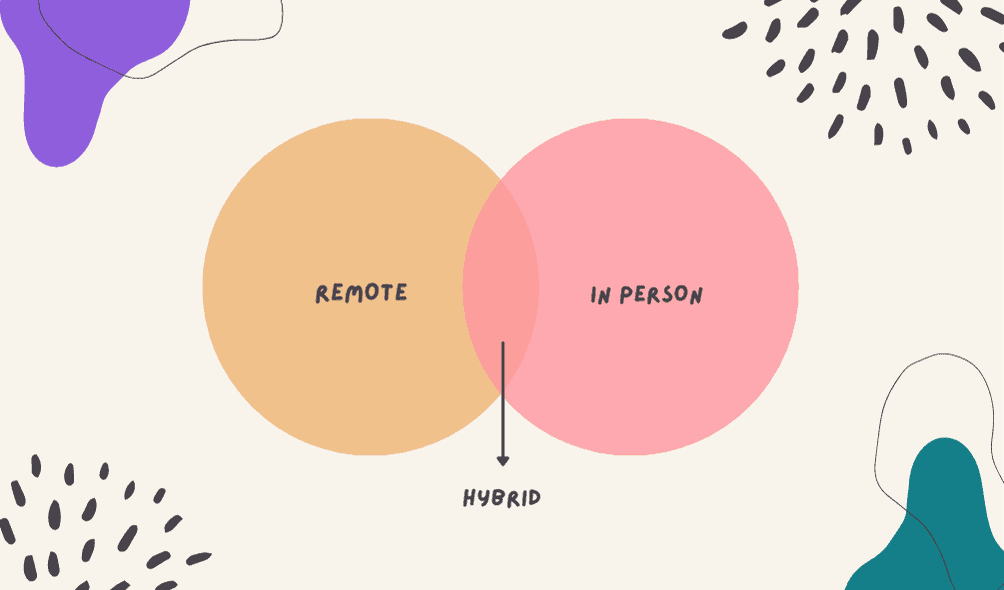 The time of working remotely and at the office will be agreed upon by both sides and then upon as a regulation of the business. However, this agreement may change from time to time depending on other factors.
What Are The Different Types Of Hybrid Workplace Models?
There is no fixed rule about the hybrid workplace model. Each business will have the option to use its model to achieve the highest work efficiency and best fit for employees.
Here are the most 4 common types that companies are applying when choosing hybrid work:
Fixed hybrid work model: The manager will decide on a set number of employees, days, and times between working remotely and in the office, which also makes scheduling easier.
For example, employees will be divided into two teams. One team will work Tuesday and Friday, and the other will work Monday and Thursday.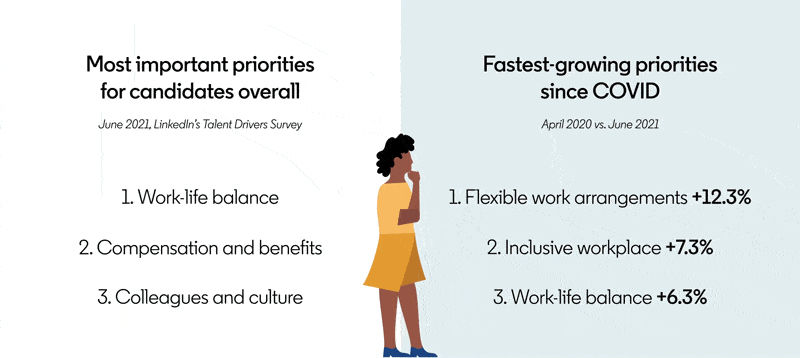 Flexible hybrid workplace model: Employees get to choose their location and work hours based on their priorities for the day.
For example, if they need to spend time focusing on a project, they might choose to work from home or at a coffee shop. When they need a sense of community, need to meet, brainstorm or have a meeting with the team or attend a training session, they can choose to go into the office.
Office-first hybrid workplace model: This is a model that prioritizes going to the office. Employees must be onsite but have the flexibility to choose a few days of the week to work remotely.
Remote-first hybrid workplace model: This model is suitable for companies with small or no offices. Employees will work remotely most of the time with occasional visits to the co-working space to socialize, collaborate, and have training sessions.
Benefits Of A Hybrid Workplace Environment
Microsoft recently published Work Trend Index 2022, a report detailing the expectations and realities around hybrid work. The report shows that The workforce is still in transition. 57% of hybrid employees are considering a switch to remote, while 51% of remote employees are considering a hybrid in the ahead.
LinkedIn's Talent Drivers survey asked members to pick the most important factors when considering a new job: In just 4 months, from January to May 2021, flexible work arrangements increased from the seventh most important factor to the fourth important factor.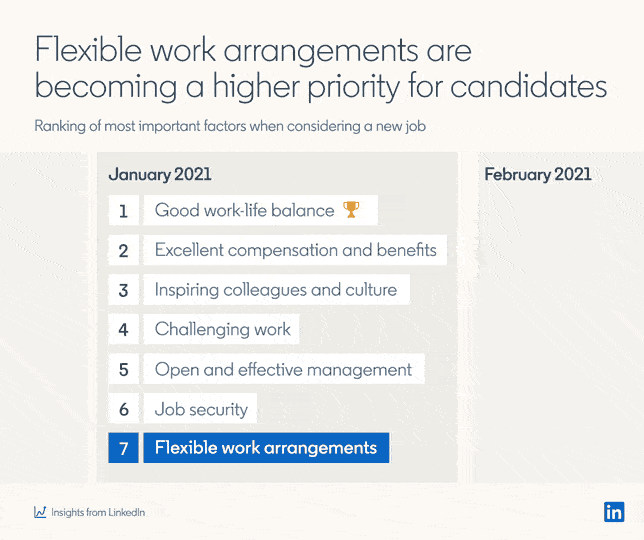 These reports show that building a hybrid workplace environment brings a lot of benefits not only to employees but also to the whole business.
1. Improve Work Efficiency
In the traditional 9 to 5 working model, all employees have to start their work at the office. While the hybrid work model, employees have more flexibility to adjust their working time for maximum efficiency.
People's ability to be most productive at different times of the day can vary widely. For example, some people will be most productive early in the morning while others do better in the evening. Not to mention, going to the office requires employees to spend a lot of time traveling and preparing.
2. Better Work-life Balance
Flexibility is the reason why employees are attracted to the hybrid workplace model. Flexibility allows employees to find balance more easily depending on the pace of each person's life. It is important that the employee himself feels proactive and has more control over his daily work schedule.
It will make employees more comfortable and feel their lives are more balanced when they have time to do other activities such as being close to family or taking care of children.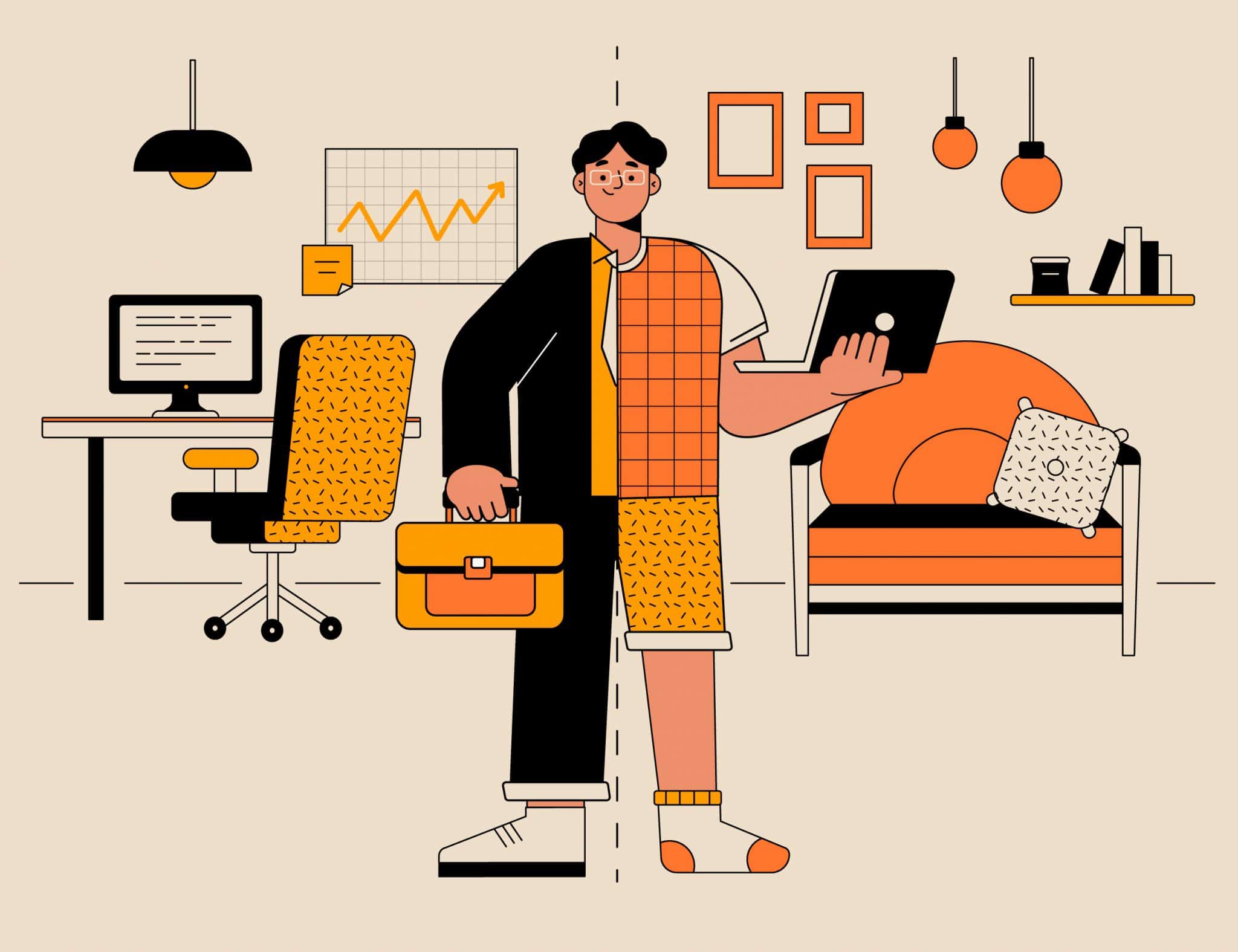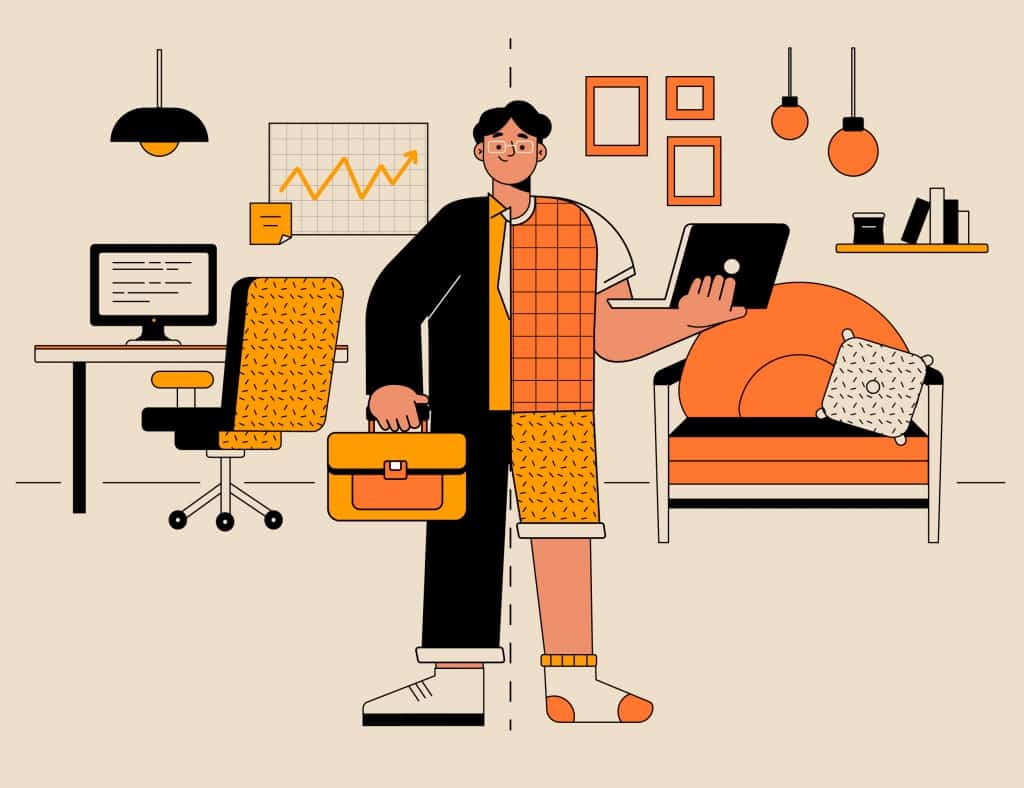 3. Limit Disease Infection
Most people are still worried about their health and safety when returning to work at the office after the distance is over. So having fewer people in the workplace reduces the risk of an infected employee infecting others. Hybrid workplace models allow a certain number of employees in the company to choose to work remotely. Anyone who is sick can work from home entirely.
In hybrid work models, few people are in the office at the same time, which means they can save on the cost of renting a large office to accommodate all employees in the company. Because of equipment and stationery, renting space is often one of the most expensive expenses.
By rethinking workplace strategy, companies can reduce costs significantly. Therefore, they can effectively reinvest in providing employee workspace options, such as satellite offices and more compact co-working spaces.
5. Recruiting Unlimited Talents
With hybrid workplace models, companies can recruit talent from all over the world with specialized skills suitable for any position without worrying about the limitation of domestic manpower. It can give companies a significant competitive advantage, helping them break into new markets and ensure round-the-clock productivity.
Challenges Of Managing Hybrid Teams
Despite the many benefits, organizations also face hybrid workplace challenges as follows:
1. Reduce Ability To Commit
For many businesses, the hybrid model does not need multiple apps to be able to work remotely. They need deeper connections and more meaningful ways of working instead of just using applications as communication tools.
The reduction of connection with the organization has a negative impact on the career development of employees as well as their mental health.
To be sustainable, hybrid work models need to address this sense of disconnection in practical ways, not just by enhancing online meetings.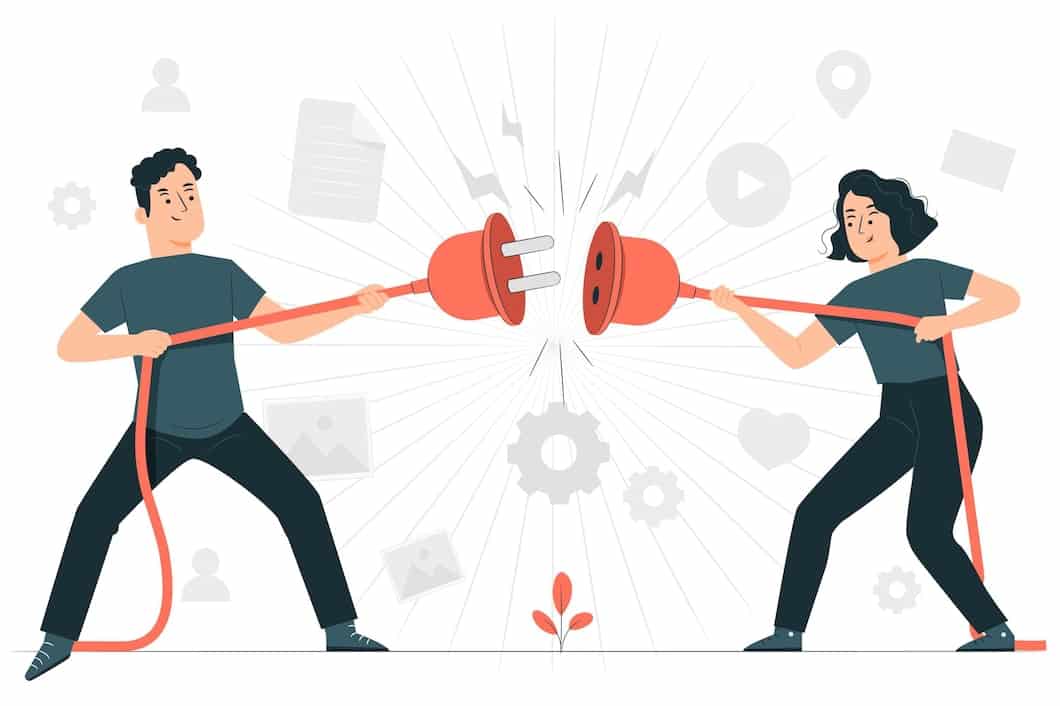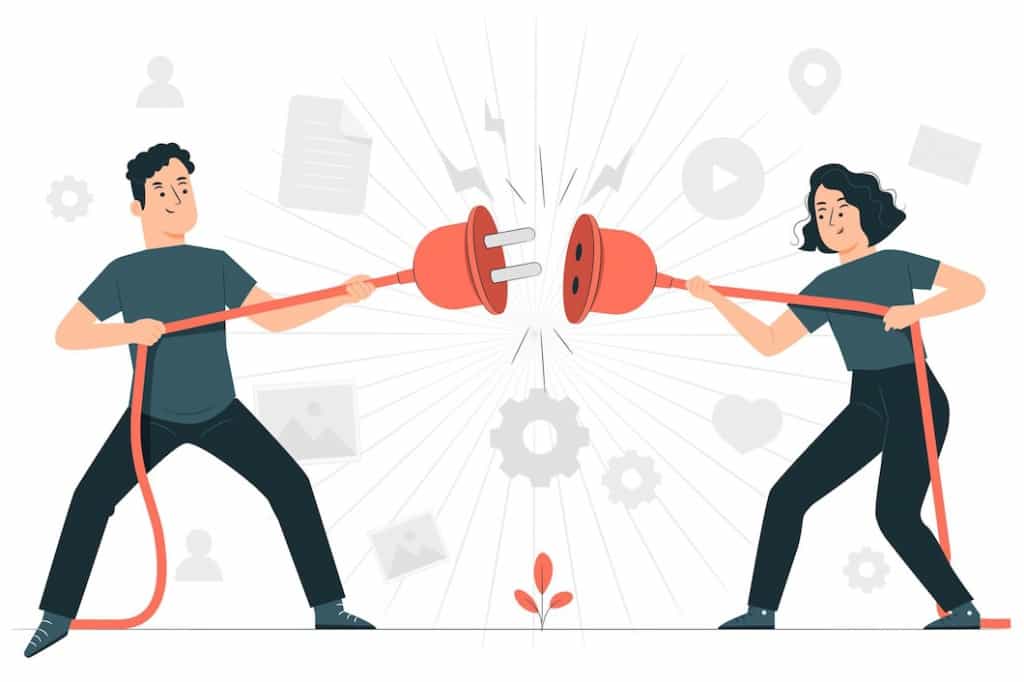 2. Management Issues & Corporate Culture
Weak organizational culture seems to lag and become an issue when businesses deploy hybrid working. The lack of direct supervision creates a sense of distrust between managers and employees. At the same time, both employees and managers will feel more stress when increased supervision comes with higher demands at work.
Training and management programs can solve some temporary problems, but will not be effective for hybrid employees.
Transitioning To A Hybrid Workplace Model
To apply the hybrid workplace model, it is necessary to have a sufficiently applicable process and technology. Here's what your company needs to do before transitioning
To build a Hybrid Work model that works for your company, talk to your workforce to learn their needs. Send a survey to get feedback on employees' desire for the hybrid workplace model. Here are a few general questions you can refer to:
What is your ideal balance between remote work and office-based work?
If you could work remotely (from home), how many days of the week would you choose?
If you could have another workspace closer to home, would you rather move there instead of the office?
Do you have all the digital tools to perform your job wherever you are?
What additional digital tools do you think you need?
What concerns you about hybrid working?
After analyzing the results of the survey, organizations will understand the need for a hybrid work model at your company and start customizing their model.
Divide Employees Into Groups
What if your organization doesn't have time to survey the entire staff in detail? The solution is to divide your entire staff into groups that share certain characteristics based on work needs, and work expertise (department, department, location). Then the hybrid workplace model of your company will be more effective with each specific group of employees!
Hybrid Workplace Technology
Companies will need to invest in technologies to meet the hybrid work model, such as communication tools, delegation tools, and equipment for effective meetings. Then establish company-wide best communication practices and encourage team leaders to set clear guidelines with their employees.
Create office schedules to manage the number of employees required in the workplace and give employees flexibility.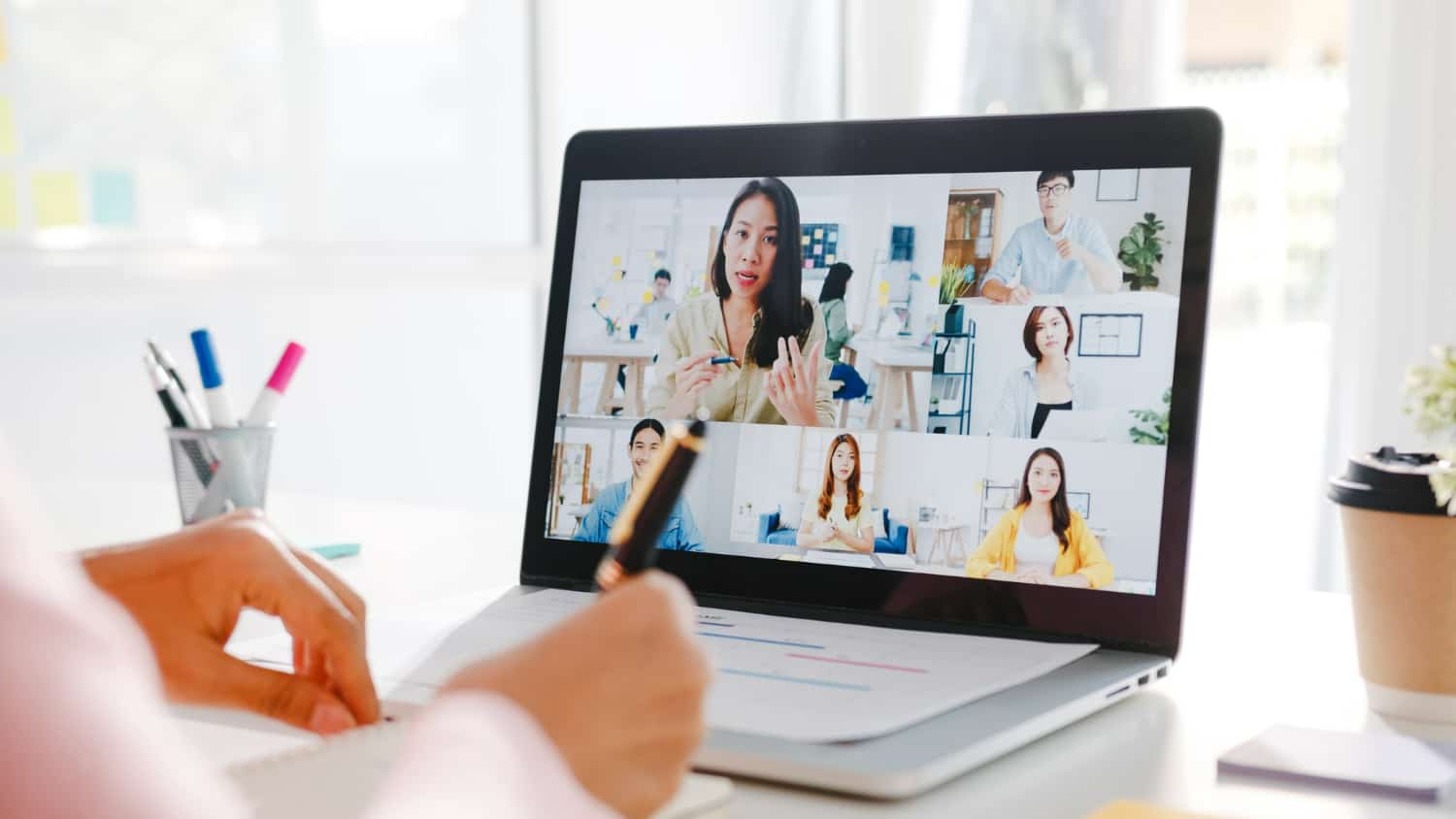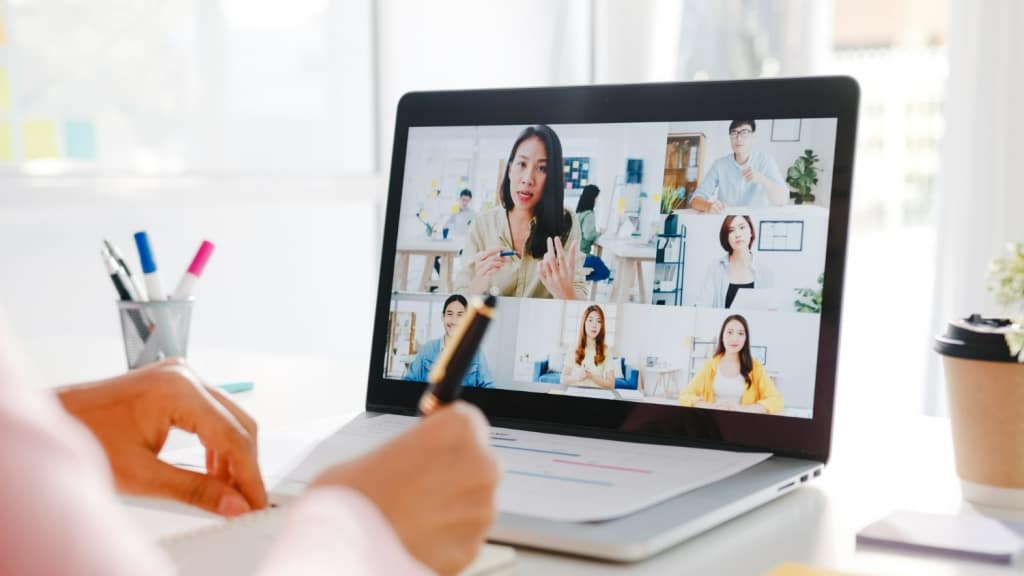 Invest in company culture
Strengthen your company culture. This is very important to the successful effectiveness of the hybrid work model when everyone is not working in the same fixed space, and it is not known what everyone is doing.
Besides listening to employees, do some online communication activities with each other periodically, and find a time of the week so that everyone in the company can be present at the same time online. Or you could arrange virtual teambuilding games and virtual brainstorming.
Collect feedback continuously
Remember to collect employee feedback when building an ideal hybrid work model for your company. Make sure to provide multiple ways for employees to share their thoughts.