Are you aiming to captivate a broader student audience? Perhaps you find your lectures lacking vibrancy and desire to enrich your teaching. Or maybe you're on a mission to inspire and incentivize your workforce. Look no further; we're here to assist you in selecting the ideal gamified learning platform, tailored to suit both you and your team's needs.
Let us present our expert recommendations for the top 15 gamification learning platforms that deliver exceptional results.
Table of Contents
What

Gamification Learning Platforms

Are Used For?
The process of adapting game design components and principles to non-game environments (like classroom learning, training, and marketing campaigns) is known as gamification. Game components can include everything from challenges, quizzes, badges to points, leaderboards, progress bars, and other digital rewards.
The main purpose of gamification learning platforms is providing quiz-based games, educational games, and more, which promote interactive and effective learning. By incorporating game elements and principles into the learning process, these platforms aim to prove that education doesn't have to be dull or uninspiring. Instead, it can be dynamic, interactive, and even fun.
Best Gamification Learning Platforms for both Individual and Business
Learning starts with individual uses. Don't worry if your budget is low, there are many excellent gamification learning platforms offering free plans with many advantaged features for you to use instantly. The following platforms also offer customized plans for business scale.
1. AhaSlides
Free for up to 7 live participants
Start at $4.95 per month for the Essential plan
Simple and easy to use
Work both offline and online
Create interactive and immersive quiz-based game presentations just in minutes
All-in-one software: Numerous interactive features such as live quizzes, polls, Q&A, scale ratings, word clouds, and spinner wheels.
Lower pricing for educational purpose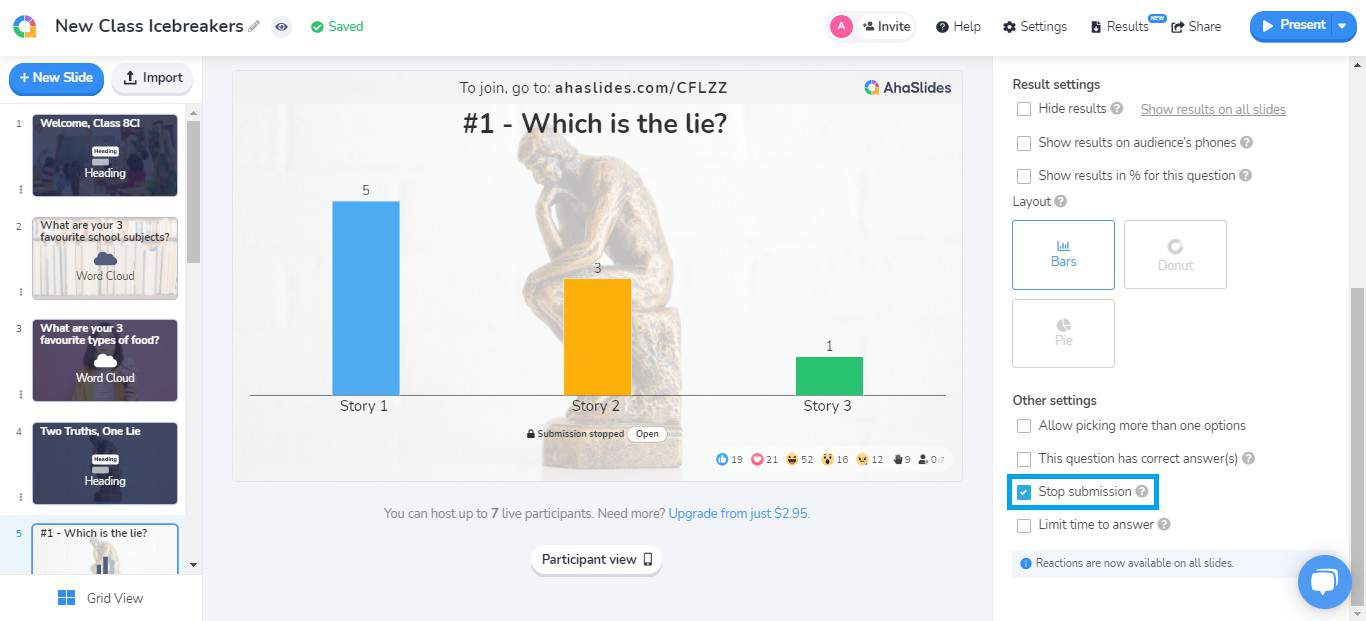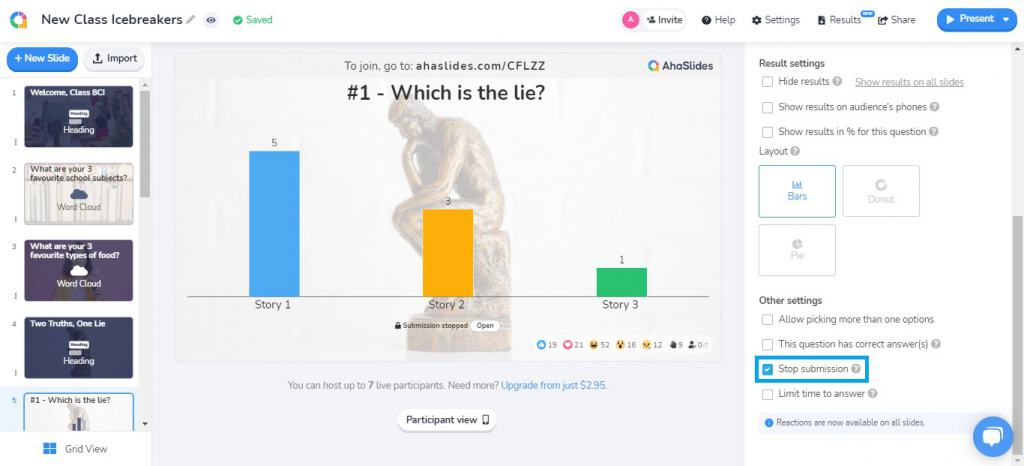 2. Quizlet
Free some basic features
Pay up to $48 a year to access Quizlet Plus
Concentrating in enhance Vocabulary memorization
Customize Flashcards of Vocabulary
Available in more than 20 languages such as: English, Vietnamese, French,…
3. Memorize
Free for limited option
Charge $14.99 a month up to $199.99 for a lifetime subscription for Memorize Pro
Covers over 20 languages
Creating enjoyable, immersive experiences that offer a mix of challenge and reward
User-generated quizzes
Particularly for beginners learning new characters and basic vocabulary
4. Duolingo
14-day free trial
$6.99 USD/mo for Duolingo Plus
Unique and amazing graphic design for mobile users
Learning variety languages
Feature leaderboard that lets users compare their progress with other
Interesting and unique method of reminding learners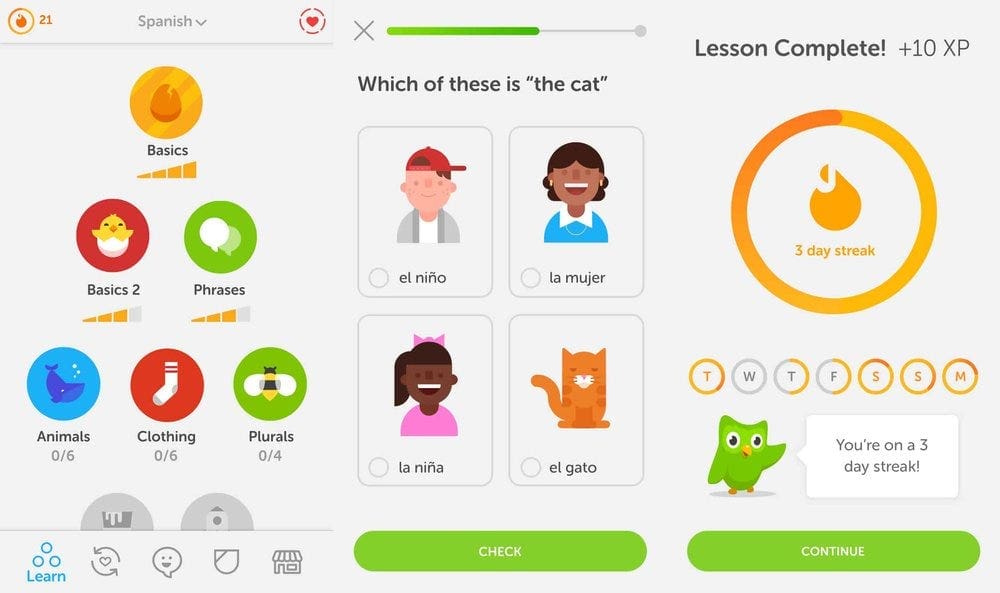 5. Code Combat
Free for all it's basic or core levels
Plan for $9.99 per month for more levels
Website platform, especially for students ages 9–16
Turns coding lessons into a fun role-playing game (RPG)
Supports multiple programming languages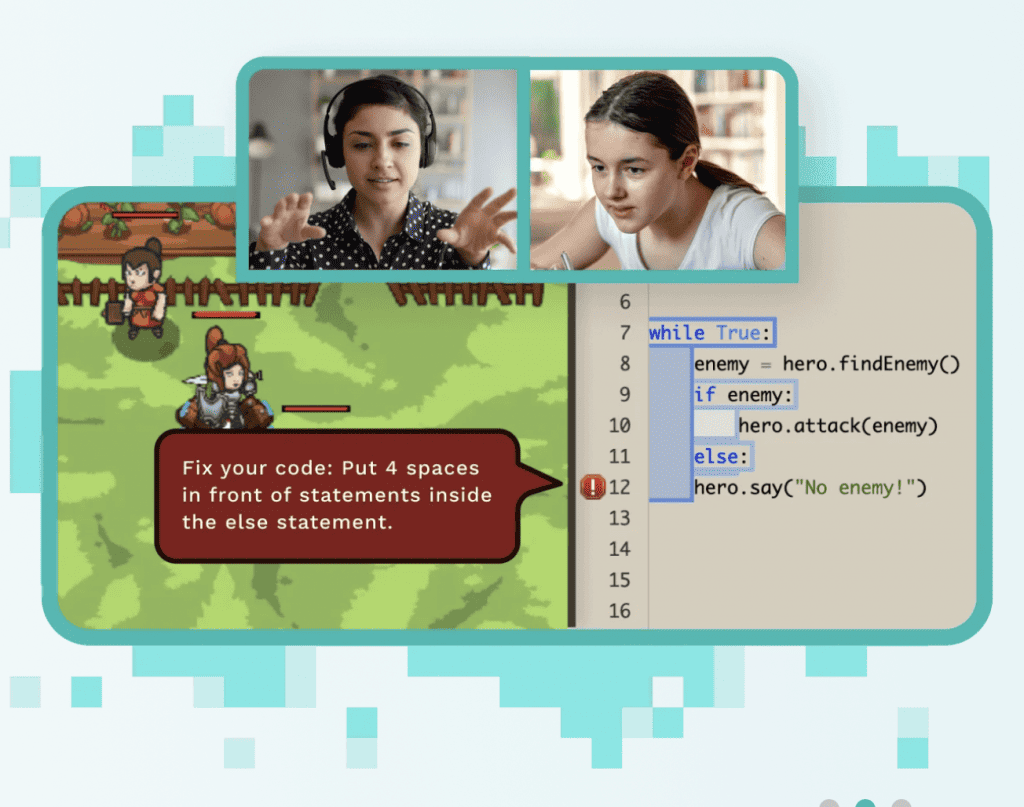 6. Khan Academy
Free for all content, less diverse courses compared to other platforms
Offers courses in a wide range of subjects, from math and science to history and art
Accessible to all levels of understanding and expertise and all ages
Great for beginners, homeschooling parents
7. Kahoot
Free trial, Paid plans start at $7 per month
Game-based quizzes, discussions, surveysand jumble
Simply join using the shared PIN code.
Include media materials such as videos and images, and many more
available on website, also in IOS and android apps
8. EdApp
Free, starting at US $2.95/month for group learners
9. Class Dojo
Free for teachers, families, and students, Plus plan start at $4.99 per month
Sharing photos, videos, and announcements or by privately messaging with any parent
Students can display the work they are most proud of to their parents in their personal portfolios in ClassDojo
10. ClassCraft
The basic package is free for students and teachers, and offers unlimited number of student enrolments and classes.
Commercial packages offer more features in exchange for monthly subscription of $12 per lecturer ($8 for annual subscription)
Concept based role-play games (RPG), freedom choice character
Encouraging students to take control of their learning process
Feature reflexive learning space and to encourage students' collaboration.
Teachers keep track of student behavior, both positive and negative, in real time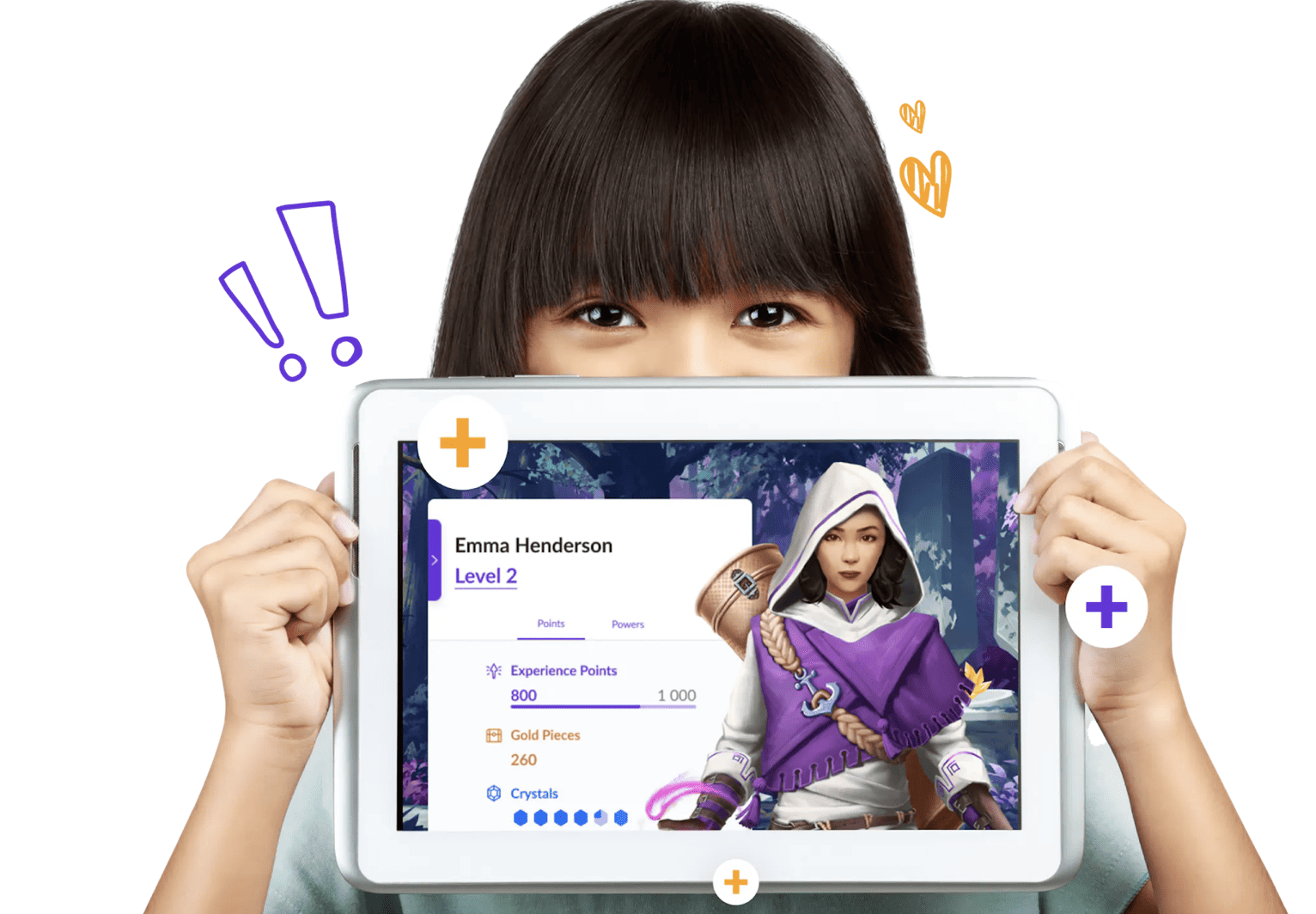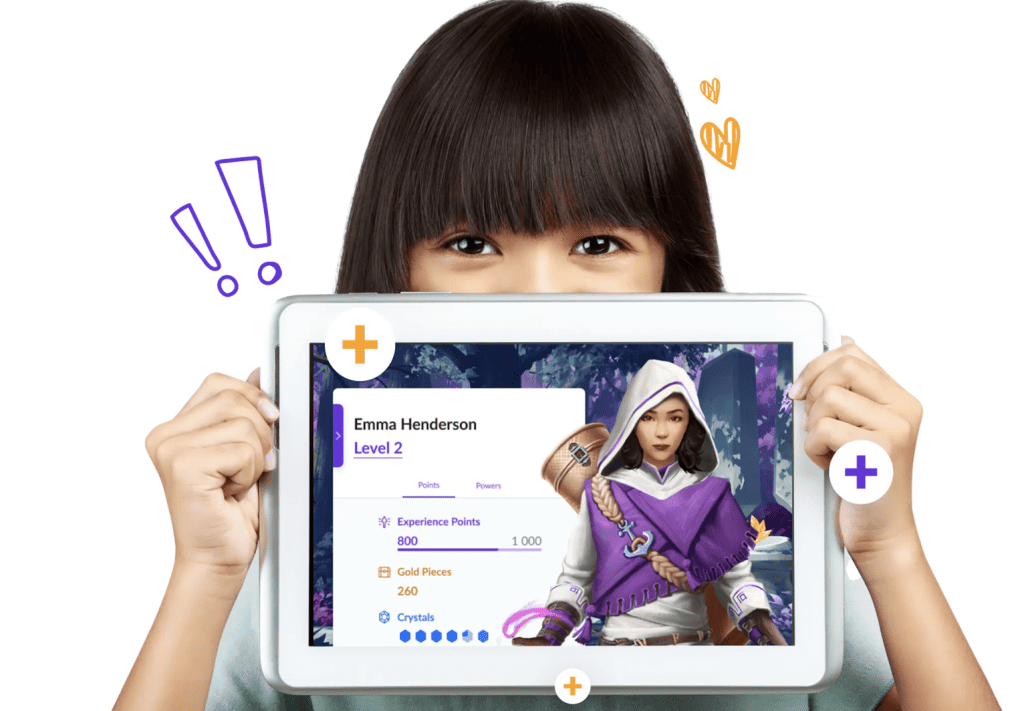 Best Gamification Learning Platforms – Business Only
Not all gamification learning platforms are designed for individuals. Here are some examples that focus on business scope only.
11. Seepo.io
Free trial Plans
Subscription costs $99 annually per teacher license or $40 for institutional access (25 licenses)
Web-based gamification platform, applicable to all educational levels from pre-school to university
Encourages collaborative learning where teams of students are competing to win the game.
Location-based learning ( student move outside to solve problem and teacher via mobile devices' GPS sensors to track their students)
12. TalentLMS
Start with a forever-free plan
Go up to pricing plans (4 including premade courses)
Make learning a process of discovery where hiding courses across progressive levels and required hard-working to unlock lesson
A thousand fun, addictive games.
Personalize gamification experience
13. Code of Talent
€ 7.99 /per user for a starting plan + € 199 / month (up to 3 trainers)
Personalized elearning content
Built-in messaging and peer-to-peer feedback
Conveniently access and complete micro lessons through their mobile devices, anytime and anywhere.
14. Mambo.IO
Design interactive solutions based on your organizations' training challenges.
Improve the overall learning outcomes of your employees .
Notable features such as activity streams, reusable templates, rich insights and analytics, and social sharing.
15. Docebo
Free trial
Starting from: $25000 per year
AI-based Learning Suite To Deliver Training And Measure The Business Impact
A catalog for managing and allocating tangible or intangible rewards
Multiple Branches
Key Takeaways
There are numerous ways to gamify learning, and it does not have to be difficult to master. It might be as simple as incorporating some friendly competition into your lesson ideas.
💡Want more inspiration? ẠhaSlides is the best bridge that connects your desire for engaging, effective learning to the latest learning trends and innovations. Start to create a seamless learning experience with AhaSlides from now!
Frequently Asked Questions
What is a gamified learning platform?
Gamified learning platform is an app, website,… which uses the use of adding game design elements in non-game learning activities to engage and motivate students to smash through their learning outcomes.
What is an example of a gamified learning app?
AhaSlides, Duolingo, Memorize, Quizlet,… are examples of gamified learning apps. The purpose of the gamified learning app offers fun, bite-sized lessons that make learners want to keep learning, engage with lessons.
What is an example of gamification in online learning?
Some of the popular games used in gamified training include memory games, word searches, crossword puzzles, jumble, flashcard. Recently, some games use concepts based RPG, or real time strategy. Since they are already familiar with these games, your students would naturally understand how to do these tasks.