'Bond, James Bond' remains an iconic line that transcends generations.
This James Bond Quiz contains several types of trivia questions like spinner wheels, True or False, and polls that you can play anywhere for James Bond fans of all ages.
How much do you know about the James Bond franchise? Can you answer these tricky and hard quiz questions? Let's see how much you remember and which movies you should watch again. Especially for superfans, here are some James Bond questions and answers.
It's time to prove your 007 knowledge!!
| | |
| --- | --- |
| When was James Bond created? | 1953 |
| Main Film Genre of James Bond? | Crime |
| Who played the most James Bond? | Roger Moore (7 times) |
| How many women are in James Bond? | 58 women |
Overview of James Bond Movies
Table of Contents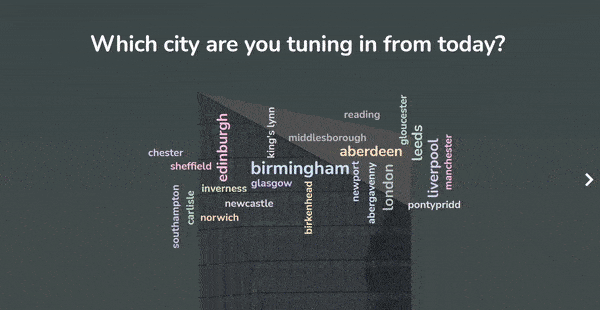 Start in seconds.
Add more funs with the best free spinner wheel available on all AhaSlides presentations, ready to share with your crowd!
🚀 Grab Free Quiz☁️
More Funs with AhaSlides
10 'James Bond Quiz' Easy Questions
Let's start with a fun, simple quiz: Try these ultimate James Bond quiz questions and answers.
1. List all actors who have played James Bond.
Sean Connery, David Niven, George Lazenby, Roger Moore,
Timothy Dalton, Pierce Brosnan, and Daniel Craig
2. Who created James Bond?
3. What is the code name for James Bond?
4. Who does Bond work for?
5. What is James Bond's nationality?
6. What was the first James Bond novel's title?
8. Who sang the song "Skyfall"?
9. Which actor has played James Bond the most times?
10. Which actor played James Bond only once?
10 Spinner Wheel Quiz Questions
Nothing beats spinning wheel-type trivia questions among quizzes. Check out some of the multiple-type questions you can use for your James Bond quiz.
1. Who was the first actor to play James Bond in a film?
Sean Connery
Barry Nelson
Roger Moor
2. Which of the following Bond films has the highest worldwide gross?
3. Which one of the following actresses was not a "Bond Girl"?
Halle Berry
Charlize Theron
Michelle Yeoh
4. James Bond is most often associated with which car brand?
Jaguar
The Rolls-Royce
The Aston Martin
5. Daniel Craig has appeared in how many Bond films?
6. Which of Bond's enemies owned a white cat?
Ernst Stavro Blofeld
Auric Goldfinger
Jaws
7. What is the British Secret Service agent number for James Bond?
8. How many Bond actors have received a British knighthood till 2021?
9. Who performs the new Bond theme in No Time to Die?
Adele
Billie Eilish
Alicia Keys
10. As _____, James Bond enjoys his martini.
Dirty
Shaken, not stirred
With a twist
10 'James Bond Quiz' True or False
Sometimes remembering the minor details of a James Bond movie can be tricky. Let's see if you can figure out if the following statements are true or false!
1. Lady Gaga performed the Bond song from 2008's Quantum of Solace.
2. Casino Royale was the first Bond Novel to be published.
3. From Russia with Love was the first Bond movie released in the theatres.
4. Golden Eye was the basis for the viral Nintendo 64 first-person player game.
5. The name of Bond's business card in Quantum of Solace is R Sterling.
6. 'M'in the bond franchise s for Bond's partner.
7. Maud Adams played the Bond girl in 'Never Say Never Again'.
8. Golden Eye was the last James Bond movie to win an Academy Award.
9. Casino Royale was Daniel Craig's first Bond film.
10. Mr. Bond works with two associates known as M and T.
10 'James Bond Quiz' Poll Questions
Polls are one of the best methods of quizzes for children of all ages. Are you looking for some fresh questions for your Sunday James Bond quiz?
1. In which book was James Bond 'killed'?
From Russia With Love
Golden Eye
2. James Bond married whom?
Countess Teresa di Vicenzo
Kimberly Jones
3. How did James Bond's parents die?
Climbing accident
Assassination
4. Which book did the original James Bond write?
Field Guide to Birds of the West Indies
1st to Die
5. How old was Ian Fleming when he died?
6. Which Bond film has won the most Academy Awards?
Casino Royale
The spy who loved me
7. What was the first title for Licence to Kill (1989)?
License revoked
License to murder
8. The shortest James Bond film?
Quantum of Solace
Octopussy
9. Who helmed the most James Bond films?
10. What does the acronym "SPECTRE" stand for?
Special Executive for Counterintelligence, Terrorism, Revenge, and Extortion
Secret Executive for Counterintelligence, Terrorism, Revenge, and Extortion
No Time to Stop – The Fun Has Only Begun
We've got heaps of fun quizzes to offer, from educational pieces to pop culture moments. Sign up for an AhaSlides account for free!
Frequently Asked Questions
What is James Bond's most iconic line?
James Bond's most iconic line is "The name's Bond… James Bond." This introduction has become synonymous with the suave and cool spy persona that Bond portrays.
Who is the longest Bond?
Daniel Craig might have been James Bond for the longest time. However, Roger Moore has played the character in most films.
What is the saddest James Bond moment?
Some say the saddest moment in the James Bond film series is when Bond dies in No Time to Die. This was Daniel Craig's final film as 007.
Which James Bond is the most accurate?
There is no definitive answer as to which James Bond actor portrayed the character most accurately, as each Bond actor brought their own interpretations that captured aspects of Fleming's character during different eras. Overall, most agree Connery blended swagger and sophistication in a way that felt quintessentially Bond based on the source material.