Get ready to show off your pop culture prowess and prove that you're the ultimate celebrity expert with "Guess the Celebrity Games". In this article, we have everything you need to keep the fun going all night, with different types of Celebrity Guessing Games, a brief of how to play and some examples.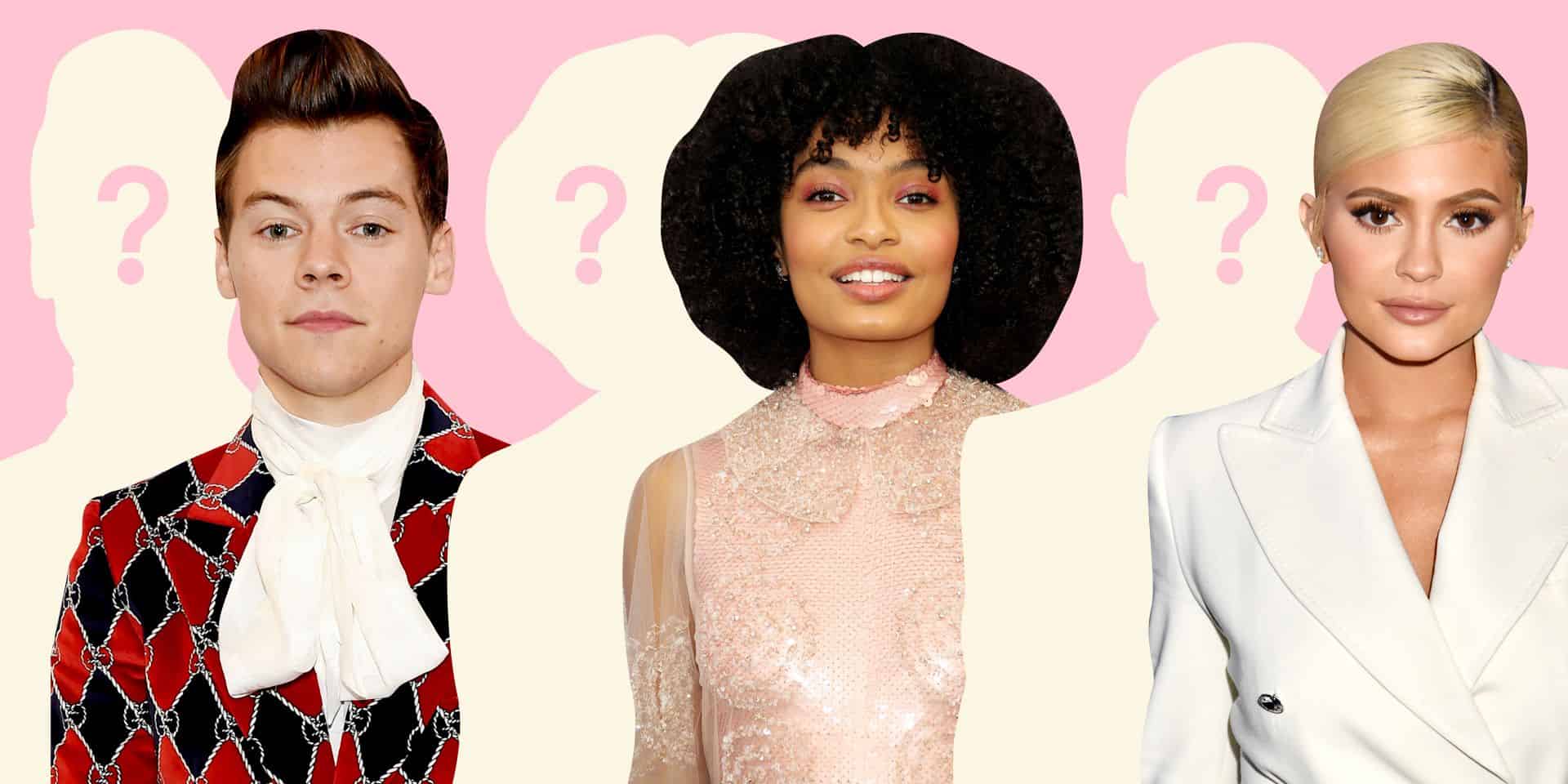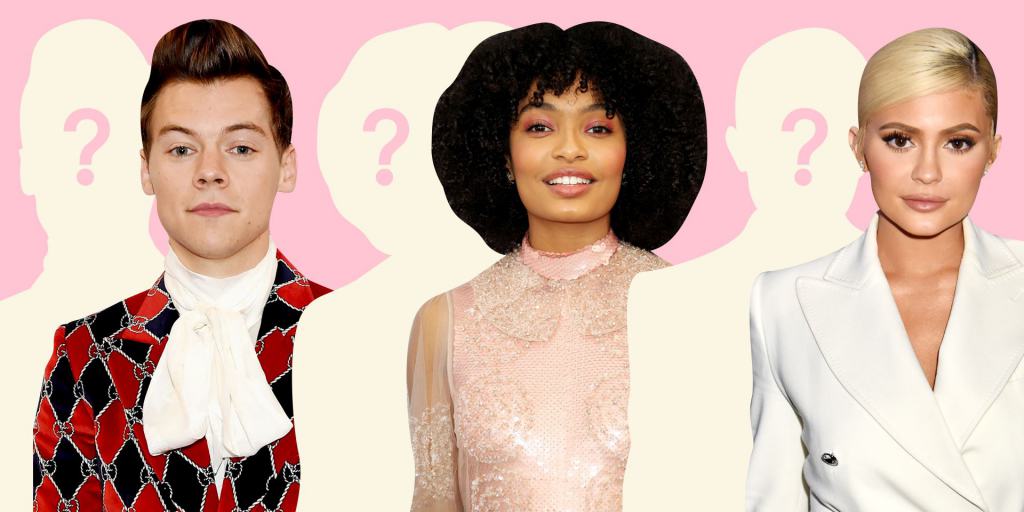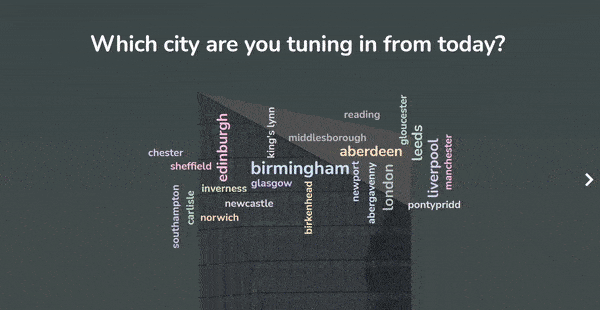 Looking for More Fun During Gatherings?
Gather your team members by a fun quiz on AhaSlides. Sign up to take free quiz from AhaSlides template library!
🚀 Grab Free Quiz☁️
Table of Contents
Guess the Celebrity Games – Multiple Choice Quizzes
People love trivia quizzes, so having quizzes like multiple choice editions at your party, events or gatherings can be a great idea to entertain with your friends while testing your knowledge of famous people. If you need some samples to have better pictures of customizing your quizzes, check out the below questions and answers:
1. What is Taylor Swift's full name?
a) Taylor Marie Swift b) Taylor Alison Swift c) Taylor Elizabeth Swift d) Taylor Olivia Swift
2. What is the name of the documentary about Taylor Swift's life and career, released in 2020?
a) Miss Americana b) All Too Well c) The Man d) Folklore: the long pond studio sessions
3. What is the real name of the rapper and actor known as 50 Cent?
a) Curtis Jackson b) Sean Combs c) Shawn Carter d) Andre Young
4. Which Hollywood actor played the lead role in the movie "Forrest Gump"?
a) Tom Cruise b) Leonardo DiCaprio c) Brad Pitt d) Tom Hanks
5. Who is known as the "King of Pop"?
a) Madonna b) Prince c) Michael Jackson d) Elvis Presley
Answers: 1-b, 2-a, 3-a, 4-d, 5-c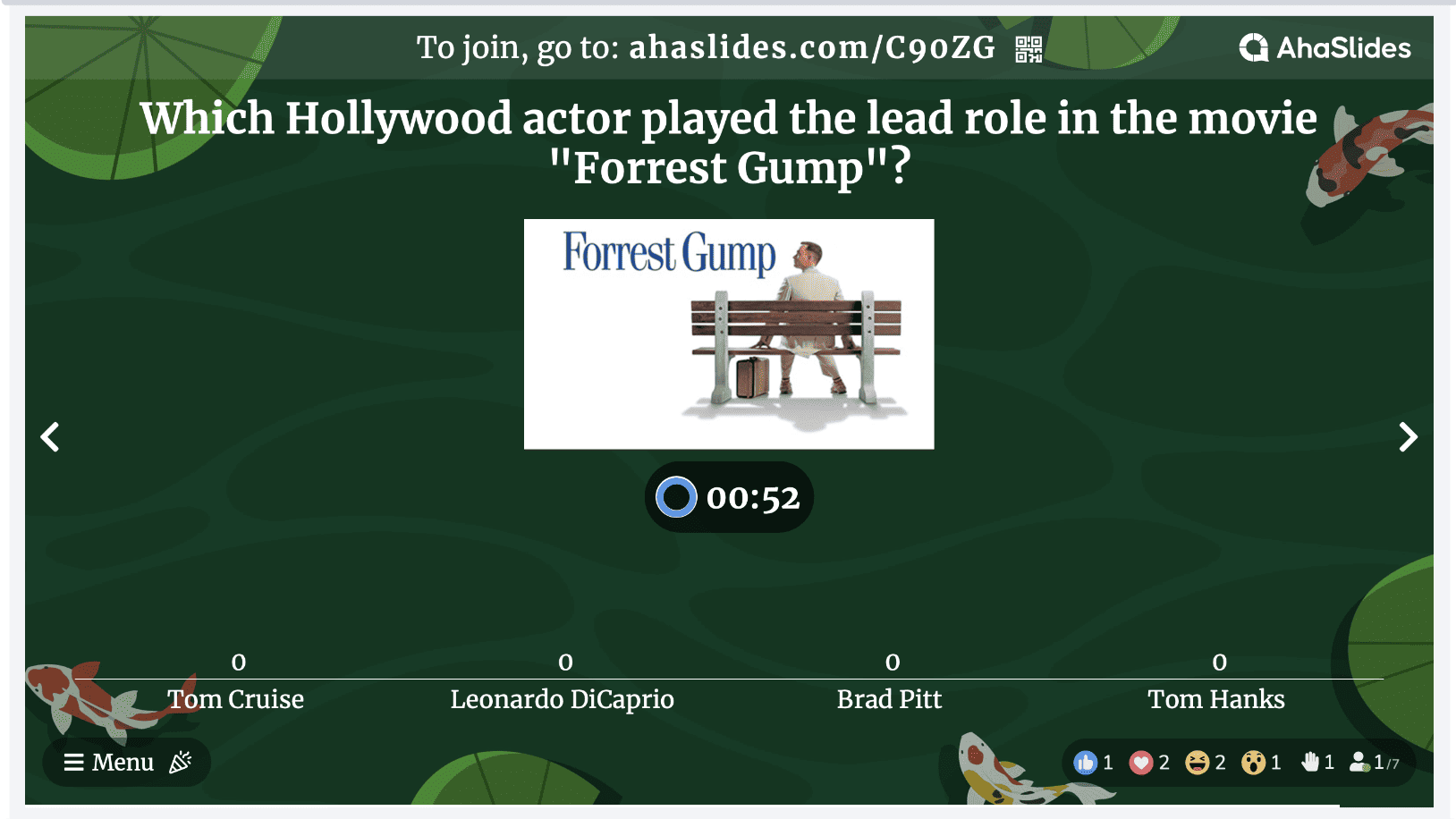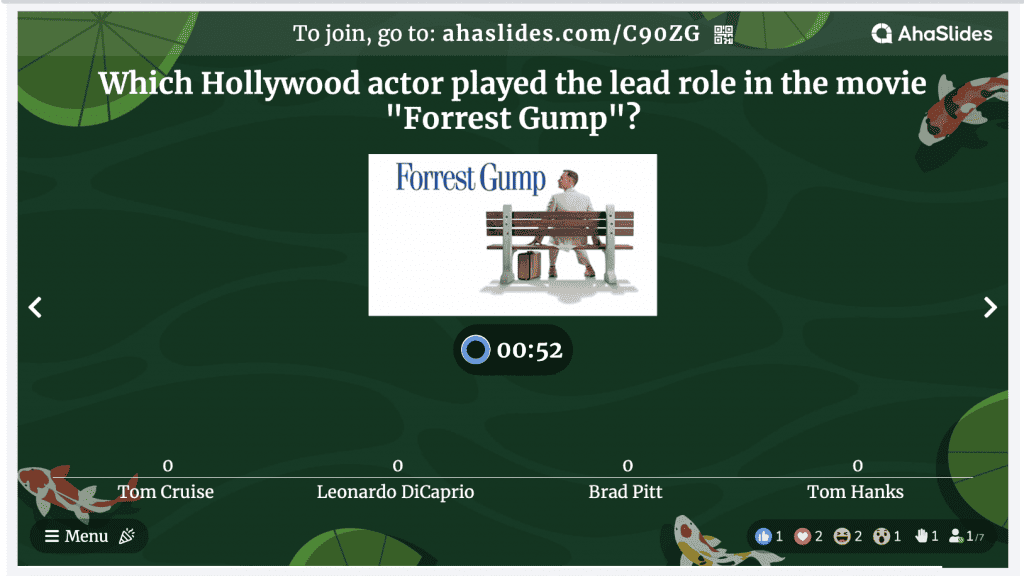 Guess the Celebrity Games – Picture Quizzes
The easiest way to play Guess the Celebrity games is the celebrity face guessing game. But you can level it up with Guess the Celebrity by their eyes. 
Here are a few examples to add to the party game to guess a famous person with your friends.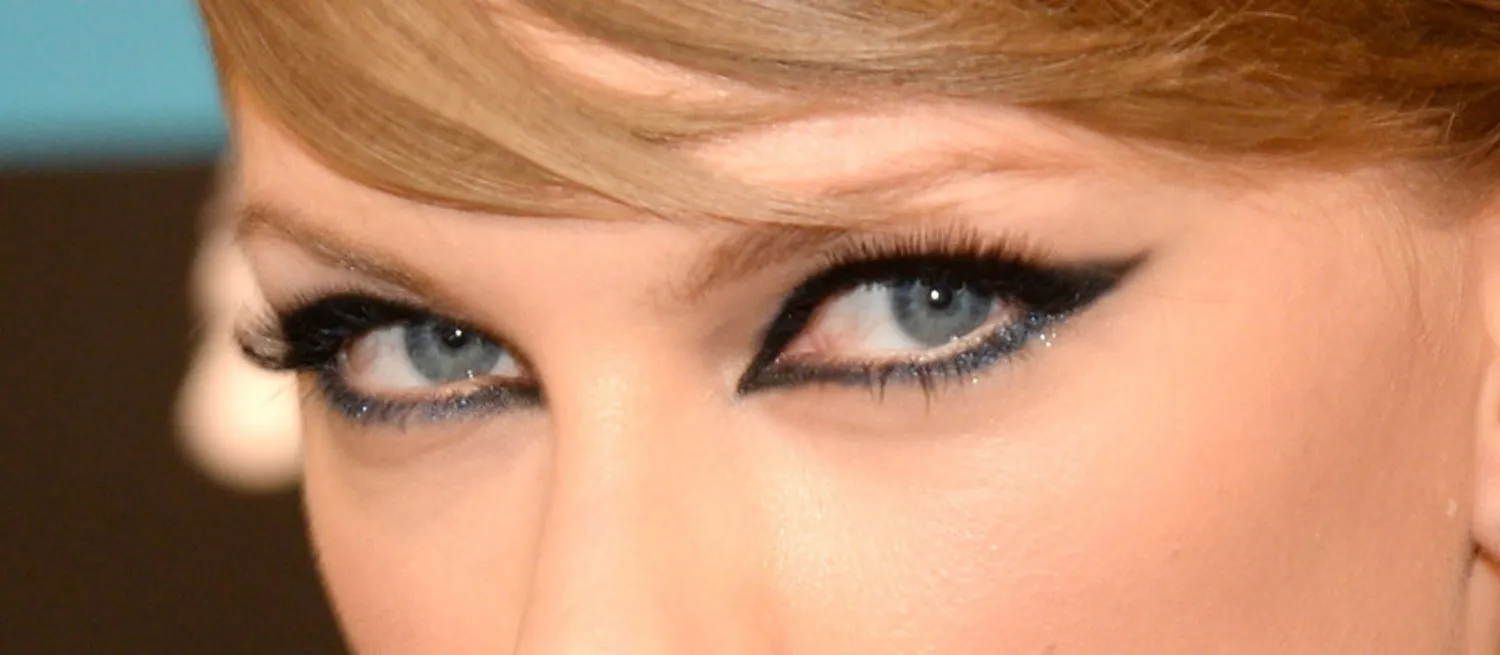 Answers: A- Taylor Swift, B- Selena Gomez, C- Emma Waston, D- Daniel Craig, E- The Rock
Guess the Celebrity Games – Fill-in-the-blank challenge.
Need more ideas for your Celebrity guessing games? You can think of using Fill-in-the blank quizzes. To create a Fill-in-the-blank quiz, you can start by writing a statement about a celebrity, but leave out a keyword or phrase. You can choose to either provide a list of possible answers or completely open-ended, based on the level of difficulty you want to achieve.
11. ____ is a Canadian singer known for his hit songs "Sorry" and "What Do You Mean?"
12. ____ is a former First Lady of the United States and an advocate for girls' education.
13. ____ is an American business magnate, inventor, and founder of Tesla and SpaceX.
14. ____ is a British actress known for her roles in "The Devil Wears Prada," "The Young Victoria," and "Mary Poppins Returns."
15. In 2020, ____ became the youngest person ever to win all four major categories at the Grammy Awards.
Answers: 11- Justin Bieber, 12- Michelle Obama, 13- Elon Musk, 14- Emily Blunt, 15- Billie Eilish.
Guess the Celebrity Games – True or False
If you want to make your games more thrilling, try True or False games. By setting a time limit for answers, you can also add a sense of urgency and increase the game's difficulty. Make sure you mix both so the game is not too easy or difficult.
16. Dwayne "The Rock" Johnson was a professional wrestler before becoming an actor.
17. Lady Gaga's real name is Stefani Joanne Angelina Germanotta.
18. Rihanna is a Rock'n' Roll singer and songwriter.
19. The song "Uptown Funk" was performed by Mark Ronson, featuring Bruno Mars.
20. BlackPink collaborated with American singer Selina Gomez on the song "Sour Candy" in 2020.
Answers: 16- T, 17- T, 18- F, 19- T, 20- F
Guess the Celebrity Games – Matching Games
A matching game for Guess the Celebrity Games is a game where players are presented with a list of celebrities and their associated attributes or accomplishments (such as movie titles, songs, or awards), and they must match the correct point to the corresponding celebrity.
| | |
| --- | --- |
| 21. Billie Eillis | A. Training Day |
| 22. Beyoncé | B. Black Swan |
| 23. Lady Gaga | C. Bad Guy |
| 24. Natalie Portman | D. Poker Face |
| 25. Denzel Washington | E. Halo |
Guess the Celebrity Games – Matching games
Answers: 21-C, 22-E, 23-D, 24-B, 25-A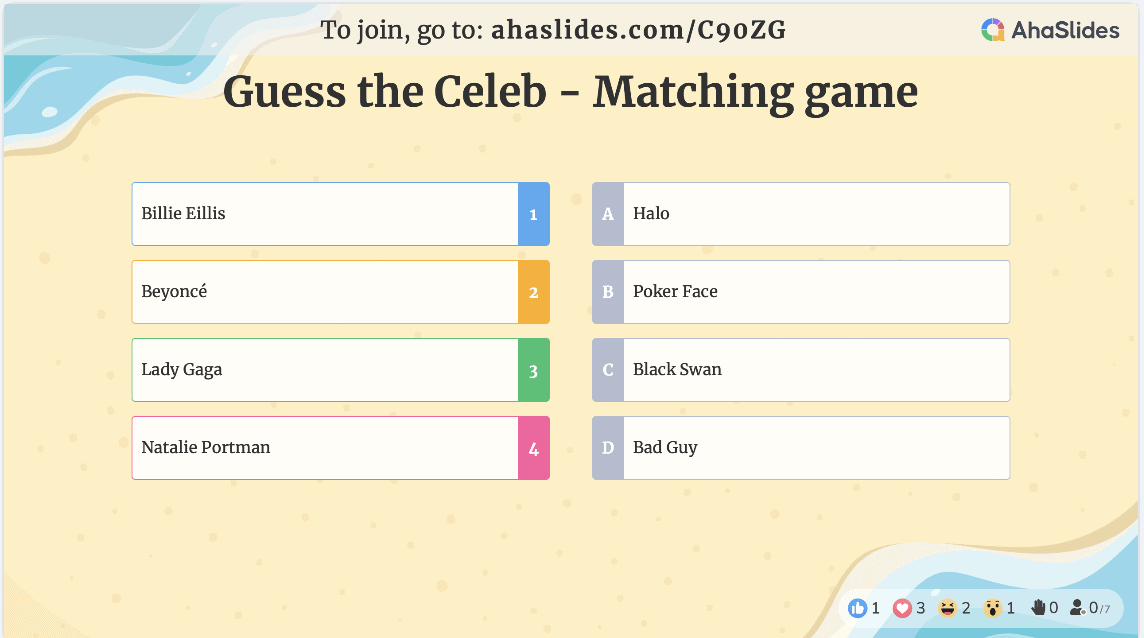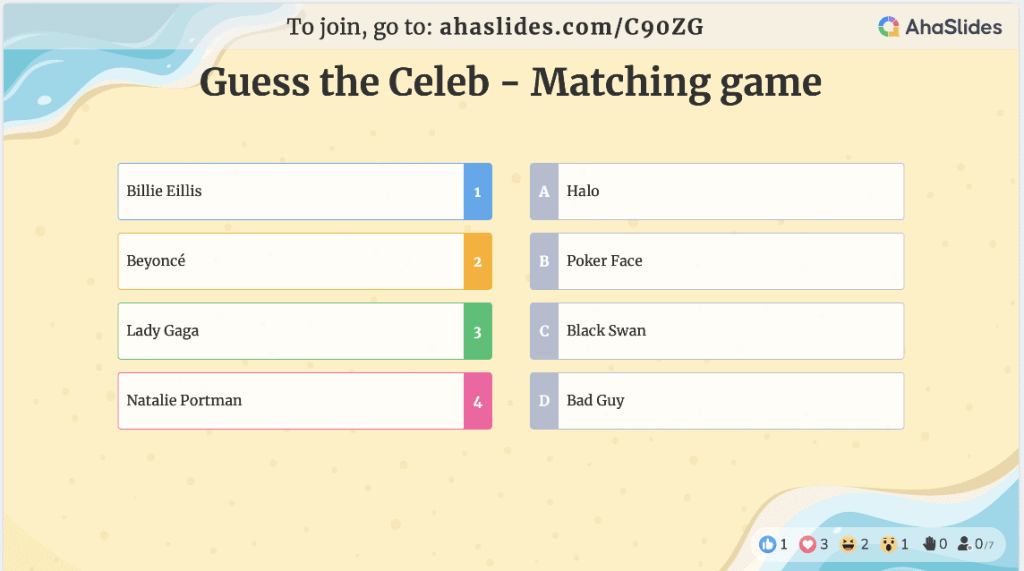 Guess the Celebrity Games – Forehead Games
The Forehead Game is a popular guessing game where players take turns wearing a card with the name of a celebrity or famous person on their forehead without looking at it. The other players then give clues or ask yes-or-no questions to help the person guess who they are. The game aims to imagine your assigned celebrity before the time runs out.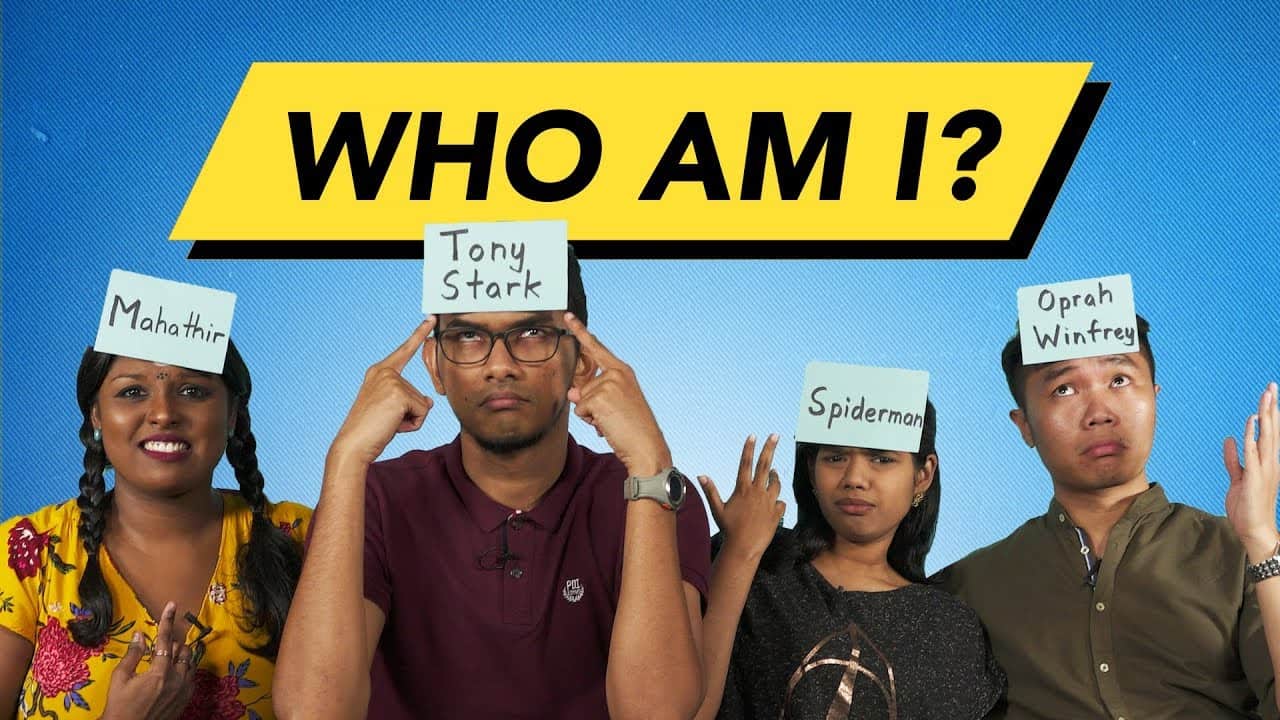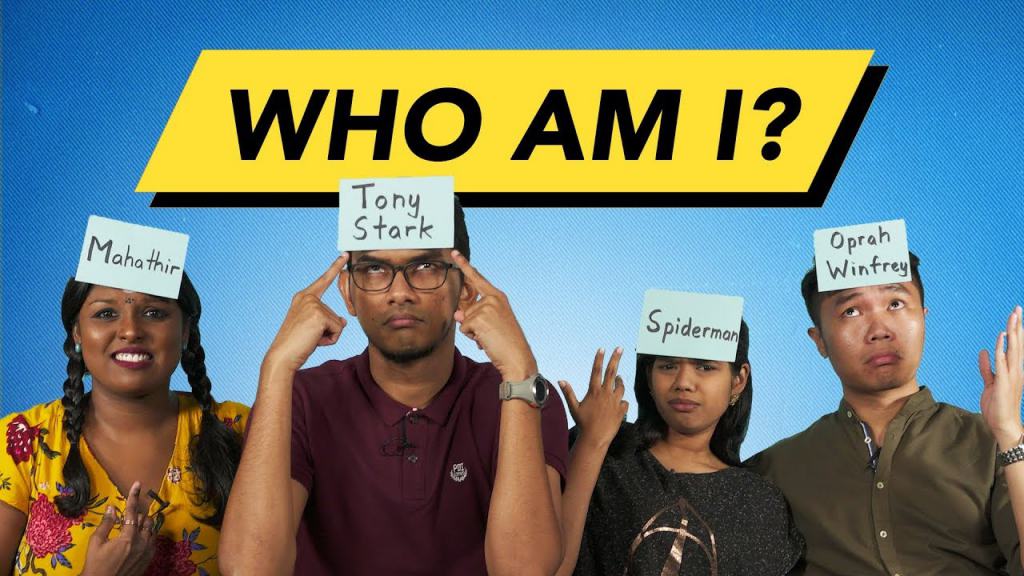 26. Clues: "Grammy-winning singer," "married to Jay-Z," or "starred in the movie Dreamgirls."
27. Clues: "a UNHCR Goodwill Ambassador", "Maleficent", or "has six children with her former husband"
28. Clues: "the 44th President of the United States", "Nobel Peace Prize in 2009", or "author of the book: Dreams from My Father"
29. Clues: "a South Korean boy band that debuted in 2013", "ARMY fandom", or "have collaborated with several American artists, including Halsey, Steve Aoki, and Nicki Minaj"
30. Clues: "Captain Jack Sparrow in the "Pirates of the Caribbean", "has played guitar on several albums for artists such as Oasis, Marilyn Manson, and Alice Cooper", or "Amber Heard"
Answers: 26- Beyonce, 27- Angelina Jolie, 28- Barack Obama, 29- BTS, 30- Johnny Depp
Key Takeaways
And for an even more rewarding experience, use AhaSlides to customize your quizzes and keep track of the scores. AhaSlides has all features that you need to get your "Guess the Celebrity Games" ready in minutes. So gather your friends, put your thinking caps on, and let the games begin!"