Did you know that a big part of the reason Bill Clinton won his 1992 presidential campaign was the success of his town hall meetings?
He practised delivering these meetings incessantly, using his staff as pretend viewers and doubles for his opponents. Eventually, he got so comfortable with the format that he became pretty much known for it, and his success in answering questions successfully led him all the way to the Oval Office.
Now, we're not saying that you'll be winning any presidential elections with a town hall meeting, but you'll be winning your employees' hearts. This kind of meeting helps keep the entire company up to speed by addressing specific questions from your team in a live Q&A.
Here's your ultimate guide to throwing a town hall meeting in 2024.
What is a Town Hall Meeting?
So, what happens at town hall meetings for companies? A town hall meeting is simply a planned company-wide meeting in which the focus is on management answering questions from employees.
Because of that, a town hall centres largely around the Q&A session, making it a more open, less formulaic version of an all-hands meeting.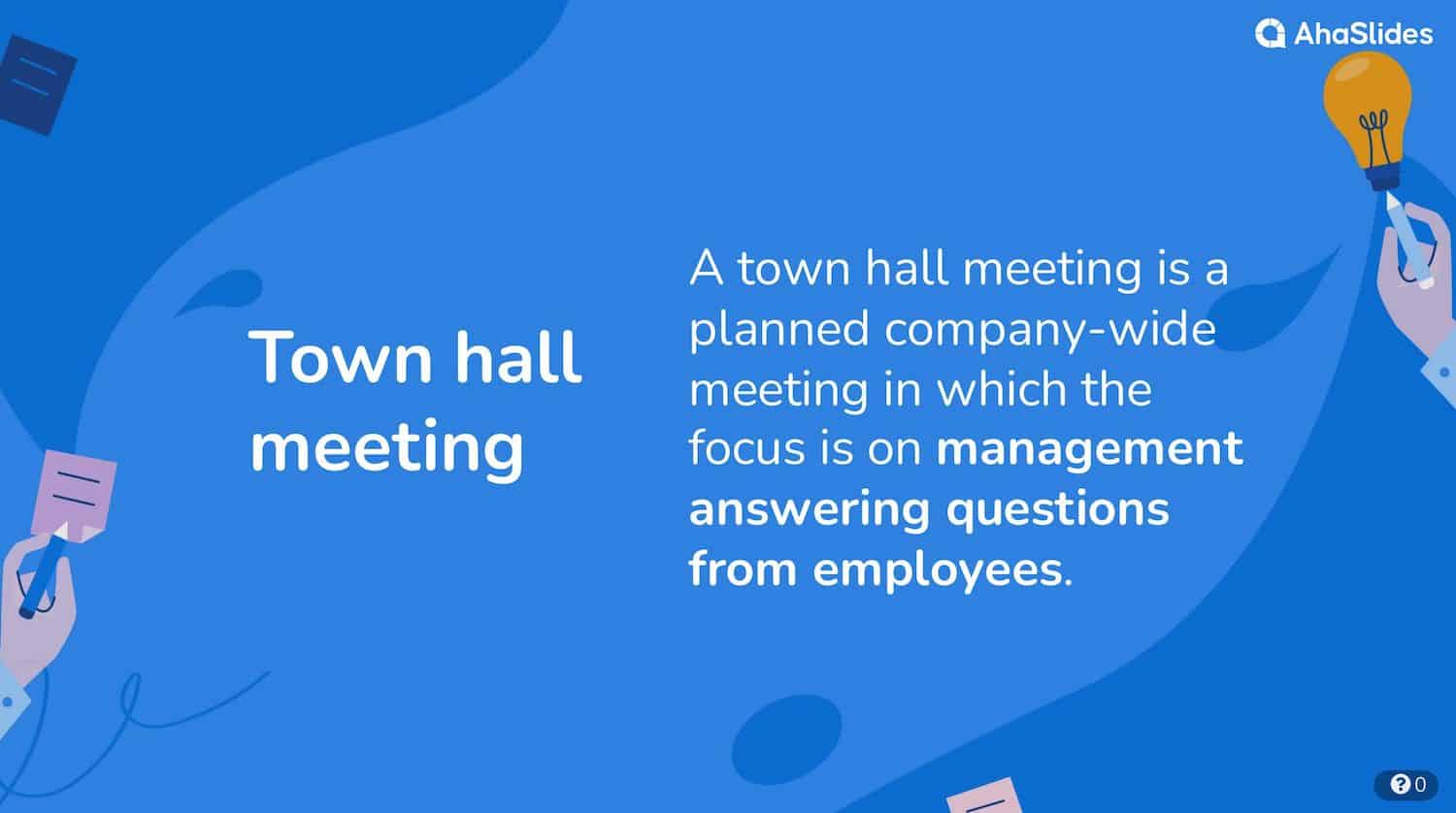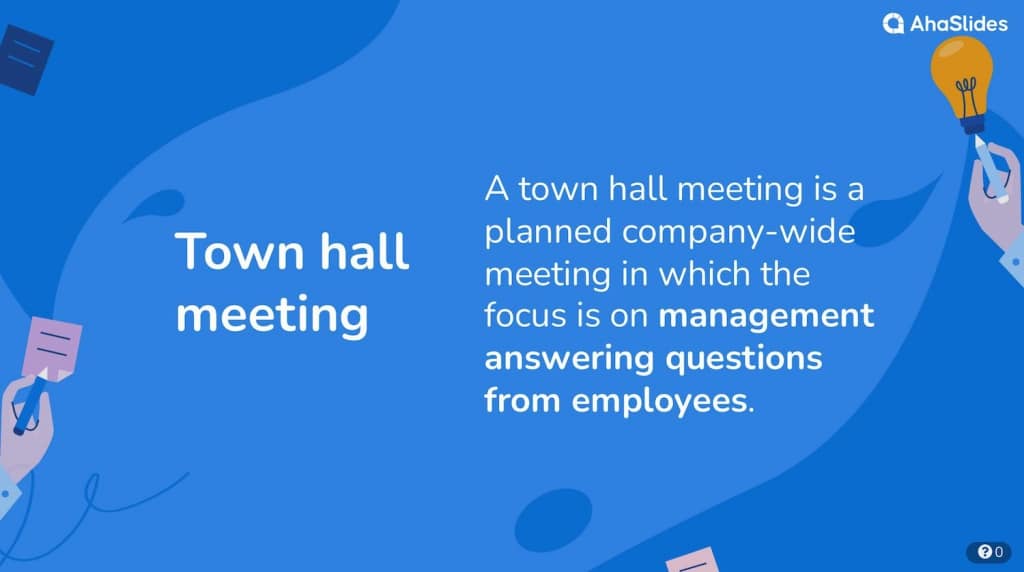 More Work Tips on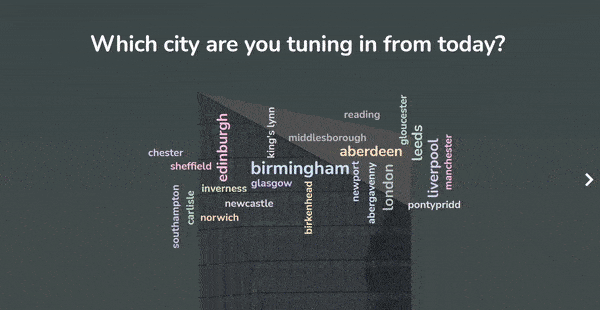 Prepare your meetings with AhaSlides.
Get any of the below examples as templates. Sign up for free and take what you want from the template library!
🚀 Free Templates☁️
A Brief History of Town Hall Meetings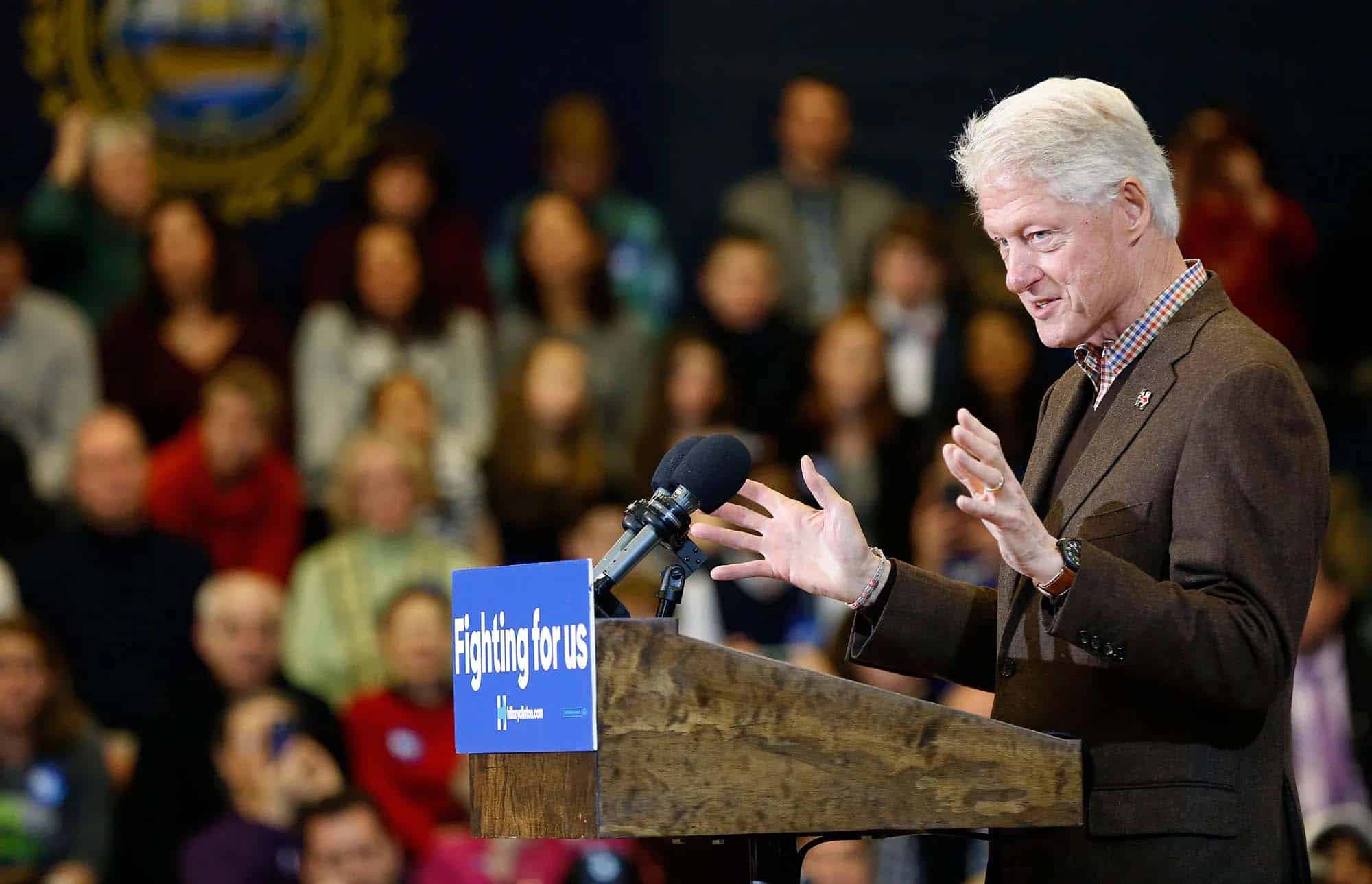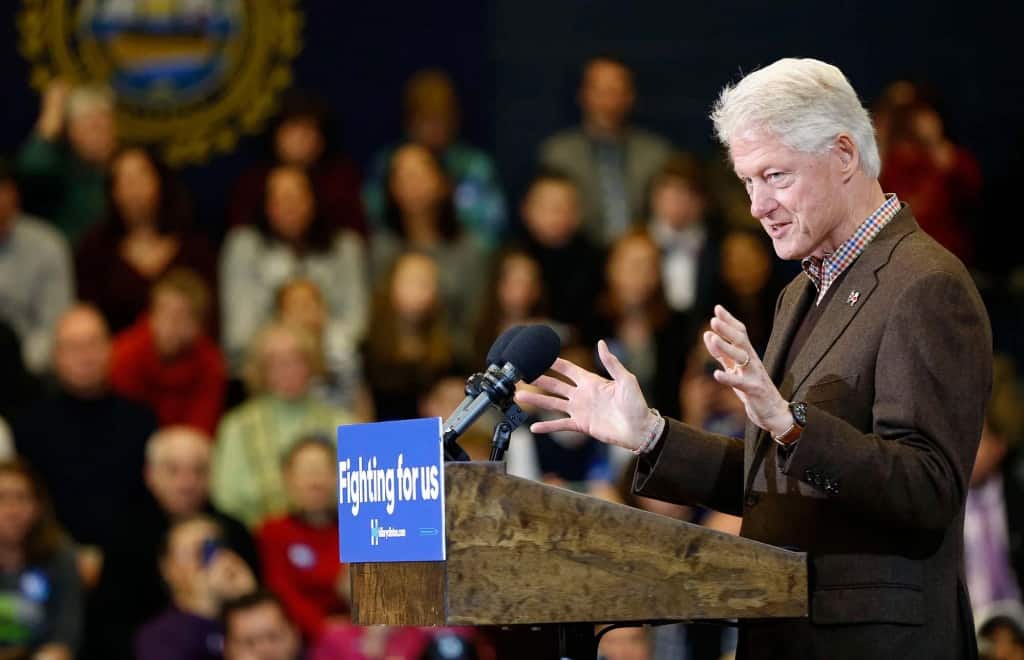 The first town hall meeting was held in 1633 in Dorchester, Massachusetts strictly to settle townspeople's concerns. Given its success, the practice quickly spread throughout New England and became the foundation for American Democracy.
Since then, traditional town hall meetings have become popular in many democracies as a way for politicians to meet with constituents and discuss legislation or regulations. And since then, despite the name, they've moved far from any town hall to meeting rooms, schools, digital platforms and beyond.
Town hall meetings have also played a key role in presidential campaigns. Jimmy Carter was famous for holding "meet the people" tours in small towns with strong local government. Bill Clinton held televised town hall meetings to answer questions and Obama also held some online town halls from 2011.
5 Benefits of Town Hall Meetings
As open as it gets: Since the soul of a business town hall meeting is the Q&A session, participants can raise the questions they want and get instant feedback from leaders. It proves that leaders are not just faceless decision-makers, but human and compassionate.
Everything is first-hand: Stop the rumour mill at the office by providing first-hand information from management. Being as transparent as possible is the best way to ensure no one hears any false information from elsewhere.
Employee engagement: A 2018 study found that 70% of U.S. employees were not fully engaged at work, including 19% who were actively disengaged. The primary reasons cited are senior management mistrust, poor relationships with the direct manager, and a lack of pride in working for the company. Town Hall meetings allow disengaged staff to feel active and consequential in how the company operates, which does wonders for their motivation.
Strengthening relations: A town hall meeting is a chance for everyone to gather and catch up, not just in regards to work, but also personal lives. Different departments also become more familiar with the work and roles of each other and can potentially reach out for collaboration.
Reinforcing values: Underline the values and cultures of your organisation. Set up common goals and reinstate what those goals are actually trying to achieve.
3 Great Town Hall Meeting Examples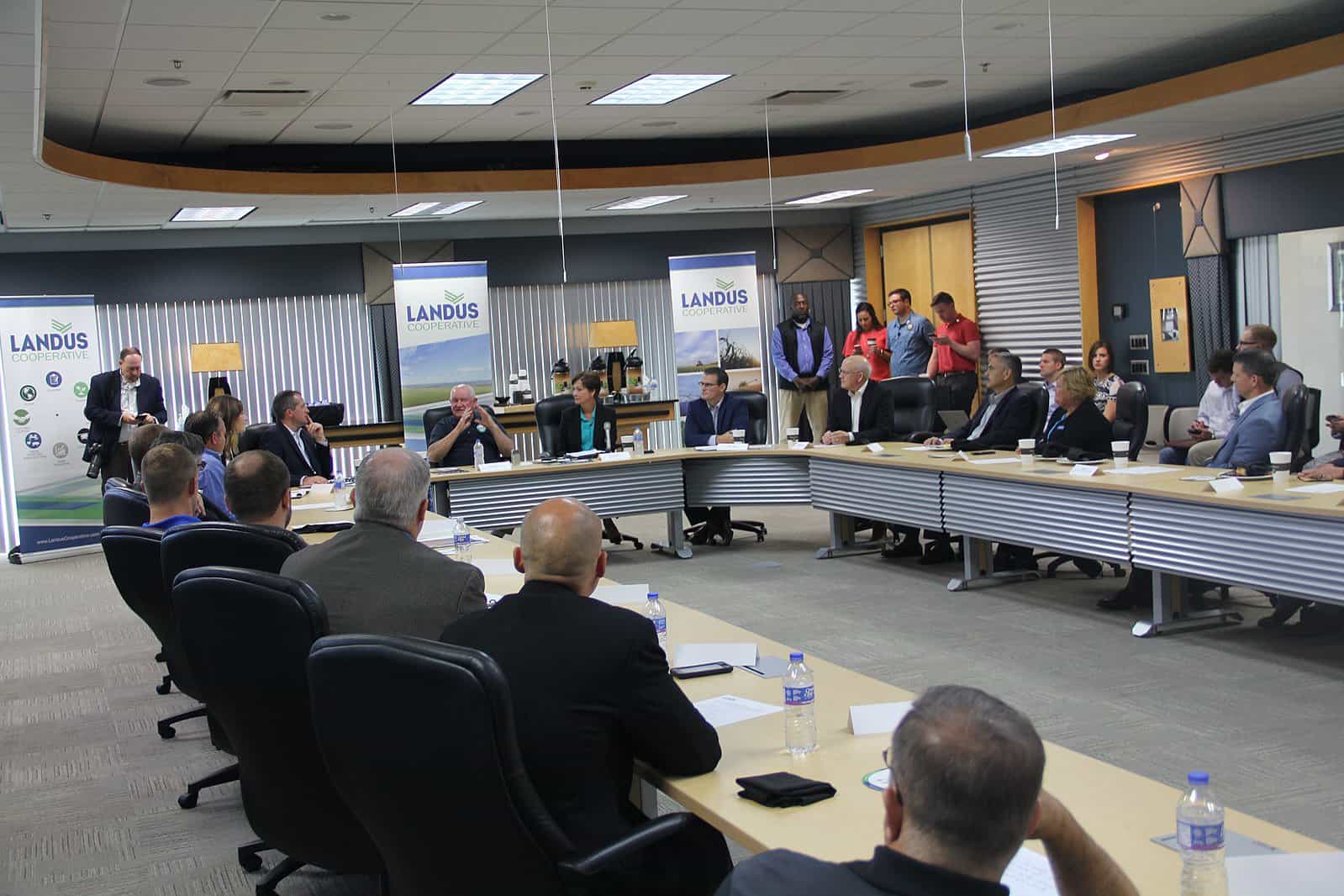 Besides political meetings, town hall meetings have found their way across every organization of different sectors.
At Victor Central School District in New York, town hall meetings are currently held online to discuss strategic planning rollout and the upcoming budget. The three pillars of culture, learning & instruction, and student support & opportunities are discussed.
At Home Depot, a group of associates meet with a member of management and discuss things that are going well inside the store and things that need improvement. It is a chance to be honest about issues that are happening in the store that management may not notice.
At Vietnam Technique Development Co., a Vietnamese company where I personally have worked, town hall meetings are held quarterly and annually to discuss revenues and sales goals as well as celebrate holidays. I found that employees are more grounded and focused after every meeting.
11 Tips for your Town Hall Meeting
Firstly, you need a few town hall questions to ask! Nailing a town hall meeting is no easy task. It's hard to find the right balance of giving information and answering questions, all while trying to keep your crew as engaged as possible.
These 11 tips will help you hold the best town hall meeting possible, whether it's live or online…
General Town Hall Meeting Tips
Tip #1 – Develop an agenda
Getting the agenda right is super important for clarity.
Always start with a short welcome and icebreaker. We've got a few ideas for that here.
Have a section in which you mention company updates to the team and reaffirm specific goals.
Leave time for the Q&A. A lot of time. About 40 minutes in an hour-long meeting is good.
Send the agenda at least one day before the meeting so everyone can prepare mentally and note down questions they want to ask.
Tip #2 – Make it interactive
A boring, static presentation can turn people off your meeting quickly, leaving you with a sea of blank faces when it comes to the Q&A section. To prevent this at all costs, you can embed your presentation with multiple choice polls, word clouds and even quizzes with a free account on AhaSlides!
Tip #3 – Use technology
If you're flooded with questions, which you probably will be, you'll benefit from an online tool to keep everything organised. Many live Q&A tools let you categorise questions, mark them as answered and pin them for later, while they let your team upvote each other's questions and ask anonymously without fear of judgment.
Answer all the important questions
Don't miss a beat with AhaSlides' free Q&A tool. Be organised, transparent and a great leader.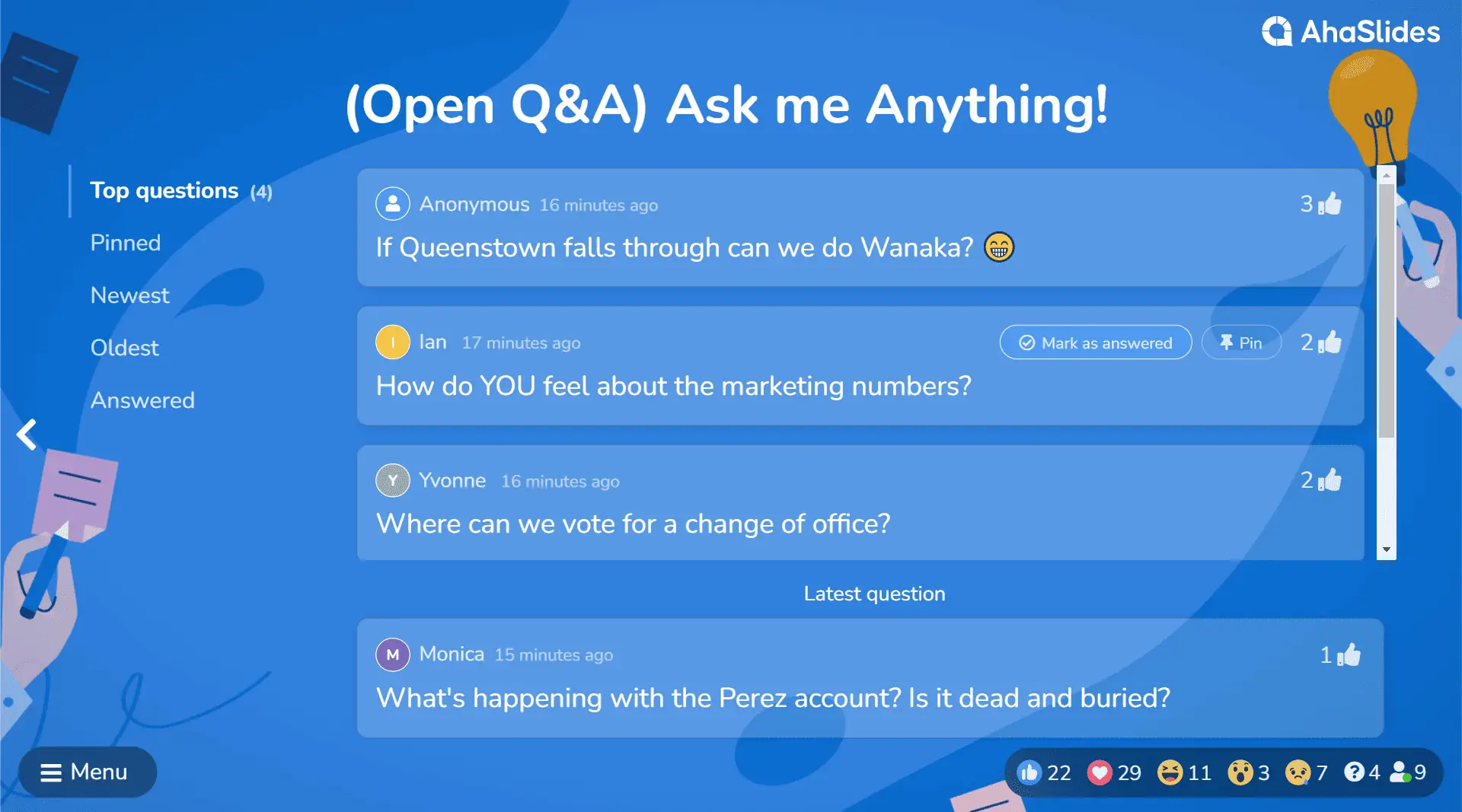 Tip #4 – Promote inclusivity
Make sure that the information in your town hall meeting is relevant to every participant to some degree. They are not there to hear information you can discuss privately with individual departments.
Tip #5 – Write a follow-up
After the meeting, send an email with a recap of all the questions you answered, as well as any other questions you didn't have time to address live.
Live Town Hall Meeting Tips
Consider your seating arrangements – U-shape, Boardroom or Circled – which is the best arrangement for your town hall meeting? You can check out the pros and cons of each in this article.
Bring snacks: To increase active engagement in the meeting, you can also bring non-messy snacks and age-appropriate drinks to the meeting. This courtesy is helpful, especially during long meetings, when people might get dehydrated, hungry, and need an energy boost to feel fully engaged.
Test the technology: If you're using technology of any description, test it out first. Preferably have a backup for each piece of software you're using as well.
Virtual Town Hall Meeting Tips
Ensure a good connection – You don't want your speech to be interrupted by a bad network connection. It frustrates your stakeholders and you lose points when it comes to professionalism.
Choose a reliable calling platform – This one is a no-brainer. Google Hangout? Zoom? Microsoft Teams? Your choice. Just make sure it is something that most people can access and download without a premium fee.
Record the meeting – Some participants may not be able to attend at the scheduled time, so going virtual is a plus. Make sure to record your screen during the meeting so people can watch it later.
Frequently Asked Questions
What does town hall meeting mean at work?
A town hall meeting at work refers to a gathering where employees can directly engage with and ask questions of senior leadership within their particular location, division or department.
What is the difference between town hall and meeting?
A town hall is a more open dialogue-driven public forum led by elected leaders, while a meeting is a targeted internal discussion among certain group members following a structured procedural agenda. Town halls aim to inform and listen to community, meetings intend progress on organisational tasks.