---
Debates activities are not students' best candy flavours. They're like black licorice, tasteless, boring and hard to chew on (which they want to avoid at all cost), and often in the midst of a debate, you can hear the noise of crickets instead of that enthusiastic back-and-forth you've always dreamed about.
It's not easy to break the patterns when organising debate activities, but with these 13 highly interactive online debate games (that also work perfectly offline), teachers can help cultivate a fun and engaging learning environment while teaching the students the art of persuasion.
Check out how to debate online as below!
Table of Contents
Overview
| | |
| --- | --- |
| What is the debate game? | A debate game is an interactive activity that requires at least 2 opposing teams to argue, each from a different perspective on a topic. |
| Who is the debate game for? | Everyone who likes to argue. |
| What is the most significant benefit of online debate? | As everyone can participate, there are diverse perspectives. |
More Tips with AhaSlides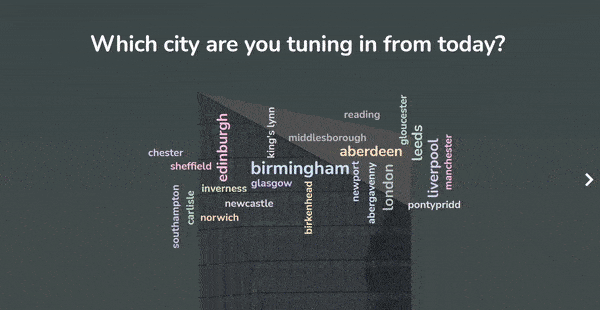 Start in seconds.
Get free student debates templates. Sign up for free and take what you want from the template library!
🚀 Get Free Templates ☁️
How to Have an Effective Online Debate
How to hold a student debate that is not dry as dust, engages even the least opinionated person, and easily goes with the flow – is a question many teachers contemplate. So buckle up because we've got a few secret tricks for your classroom debates:
– Set a concrete objective. The purpose of a classroom debate is to make progress together and explore different ideas. Make sure to write your objective on the whiteboard so everyone can remember.
– Have a small round of icebreaker game. It's vital that the students feel comfortable with their peers to open the door for discussion.
– Sometimes, anonymity is what you need to facilitate a smooth debate. Let students submit opinions anonymously, so they don't feel the fear of judgement from their classmates.
– Establish a set of ground rules:
+ Remind your students that everyone is on the same board, and there's no right or wrong, nor special treatment.
+ No personal attacks or making things personal.
+ Arguments based on non-factual evidence will be dismissed.
+ Prepare to listen and respect every viewpoint, and admit when you realise you're wrong.
– Have some juicy games up your sleeves. Turning heated debates into light-hearted and fun games is the best way to guarantee the students will have the ride of their lives and keep the debate process running smoothly and fluently.
13 Amazing Online Debate Games for Students
#1 – Argument Wars
Has "become a lawyer" ever been on your bucket list? Because Argument Wars is all about defending and becoming the right hand of justice. This game uses a card game motif to introduce students to the constitutional arguments behind some important historical U.S. Supreme Court cases. The students can choose the side of each case and will have to piece each part of evidence to form a coherent debate and win the judge's heart.
There are nine cases to explore, so teachers can divide the class into nine different groups or pairs. Each will choose one specific case and go through the activity together.
– The gameplay mechanism is simple and great for developing a basic understanding of cases and arguments.
– Argument Wars work on multiple platforms: website, iOS, and Android.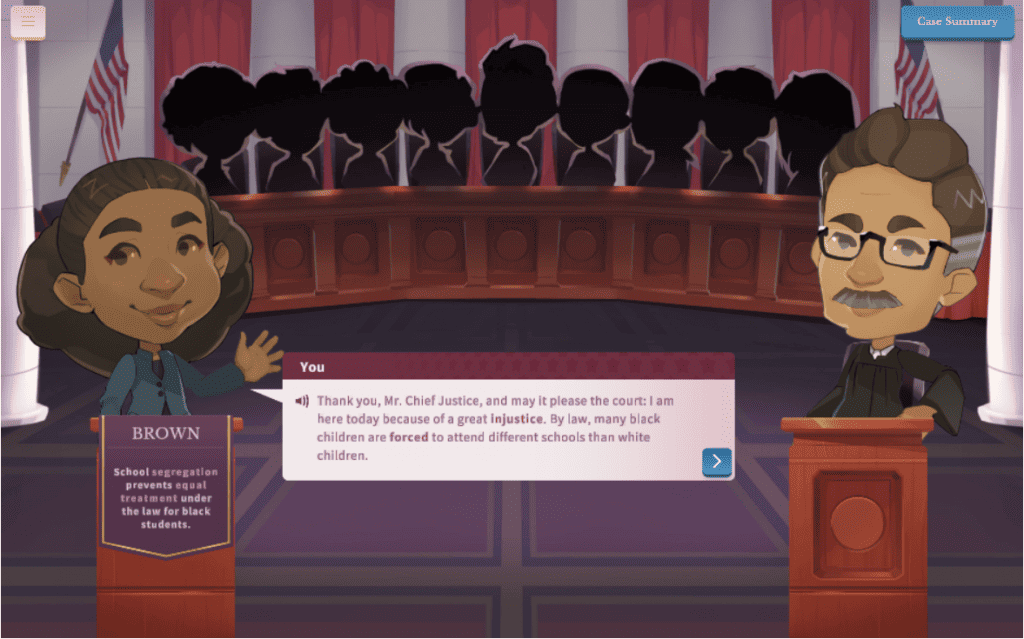 #2 – The Republia Times
The Republia Times is a free-to-play web game that takes place in a fictional dystopia. The students play the role of an editor who has to balance between publishing pro-government stories and giving juicy gossip stories to increase readership.
It doesn't stress the debating element heavily, but rather shows students the art of persuasion and the political nature of each system. Let your students play at their own pace, or play in class to enliven the discussion.
– It's completely free and adds extra spice to the class's 10 minutes break time.
– The students can learn about challenging issues like censorship and use their critical thinking to evaluate their choices to develop the best solution.
#3 – Debatestorming
A minute has passed and no one has said anything. And of course it's not rocket science to figure out if you just state the question and expect a blazing chit and chat circulating around the class, it often ends with the eerie silence. During these times you can break the cycle with some competitive elements in Debatestorming?
In this game, you will divide the class into small groups, and give all a debate question to work on. Each group will have to write down their opinion and justify that opinion within 60 seconds. Which group can convince the audience and gain the most votes will be the winner.
For this activity, you can use AhaSlides' interactive Brainstorm slide to collect the gang's opinion in a flash and let students vote for the best team.
Teamwork makes
the dream work
Let the students brainstorm their opinion in groups and compete to win the heart of the audience with this useful pocket feature, 100% ready to use🎉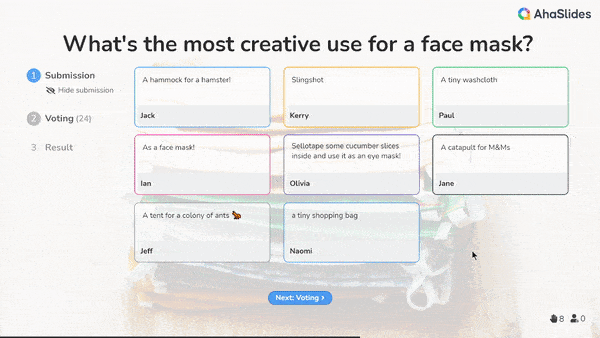 #4 – Five good reasons
How to respond calmly under pressure? In Five good reasons, you will give out a list of prompts such as "Give me five good reasons why students should wear uniforms" or "Give me five good reasons why people love red pandas". The students, in turn, will have to brainstorm five reasonable ideas in 2 minutes.
– The idea is not to come up with the most correct answers but to let the students practice flowing in a stressful situation.
– The game is easily adapted in various settings as an ESL debate game, debate game for adults and so much more.
#5 – Model United Nations
We've heard about the United Nations everywhere, but do we really know its functions? Model United Nations (MUN) is an educational simulation in which students role-play as delegates from around the world, gathered together to solve a persistent global problem such as climate change, wildlife conservation, human rights, etc.
They will have to prepare, present their proposed resolutions, and debate with other delegates to gain the majority of votes.
However, don't let those heavy matters get in your way of breeding a fun, engaging experience. You can let them discuss a sillier topic such as should we have an international secret handshake day?, or should we dedicate our research budget to developing unicorns?
– MUN is a great opportunity to let the students gain a deeper understanding of current world issues.
– Your students get to role-play as important figures discussing important topics.
#6 – Where do you stand?
In this simple online debate game, you will divide the argument sides into two opinions: strongly agree and strongly disagree. You then make a statement, and the students will have to take a stand between two sides. Pair them with another student who has contradicting view and ask them to justify their choice to the other.
– The game pushes students to form their critical opinion and brainstorm the reasoning behind it, rather than being in the "grey" area.
#7 – Desert island
Given the scenario that all the students are stranded on a deserted island, what are the three items they would bring on and why? In this activity, let the students submit their choices and reasoning then vote for the statements which make the most sense. This is a great, remote-friendly game for teams to play together and share their opinions.
– You can get to know your students' unique characteristics through their choices.
– The game develops students' ability to come up with creative solutions in specific situations.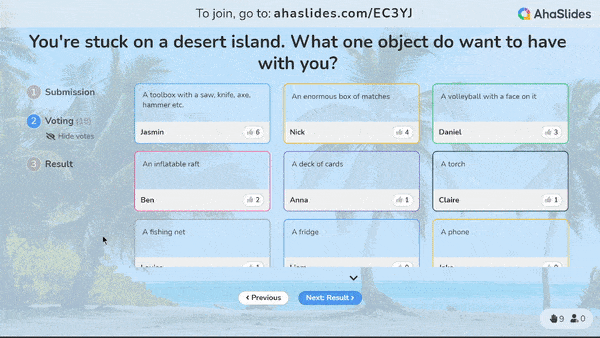 #8 – Quandary
As the captain of the colony, Quandary lets students take the role of a leading figure: settling disputes, solving problems for the residents and shaping the future of a new civilisation on a different planet.
You can let your students play alone or in pairs, and facilitate group discussion after they've finished the game. Ask them thought-provoking questions such as "why did you choose the solution you did?", or "what could have been done better for the colony?".
– Attractive comic art style.
– There's no right or wrong. The students are in complete control of the decision-making in their colony.
– Supporting materials such as a game guide and help forum are available on the Quandary website.
#9 – Real or Fake
Helping students develop the ability to identify fake news is a dream every teacher has, and this game will teach them not to believe in everything. You can organise the activity in these simple steps:
– Step 1: Print out a picture of an object, for example, a dog.
– Step 2: Cut it into small pieces. Make sure with each piece, no one can identify what it is.
– Step 3: Split the class into teams of 3. One will be the judge/the guesser, one will be the "truth" debater and one will be the "lie" debater.
– Step 4: Tell the two debaters what the full picture is, then give them a piece of the image you've prepared. The "truth" debater will have to make proper claims to the guesser so that he/she can guess the right object, while the "lie" debater will try to claim it is a different thing.
– The students can practice the art of persuasion and how to judge the evidence based on the information they have collected.
#10 – Goose Goose Duck
Goose Goose Duck is an online social deduction game where you get to play as silly geese. You will have to work with other fellow geese to complete the mission and most importantly, exile the duck who has blended into the pack with malicious intent. Your students will have to outwit each other and prove their innocence to become the last ones standing.
Aside from all the blaze and chase, you and your students can explore various maps and do side missions together. Goose Goose Duck does not have room for boredom so start downloading it either on a computer or phone, create a room and invite everyone to play right away.
– Available on both PC and mobile devices, and is completely free.
– Funny character designs that you instantly love, and can customise too.
– A more PG-friendly version of the infamous online game Among Us.
– Your students get to learn how to reason and counterpoint during a debate.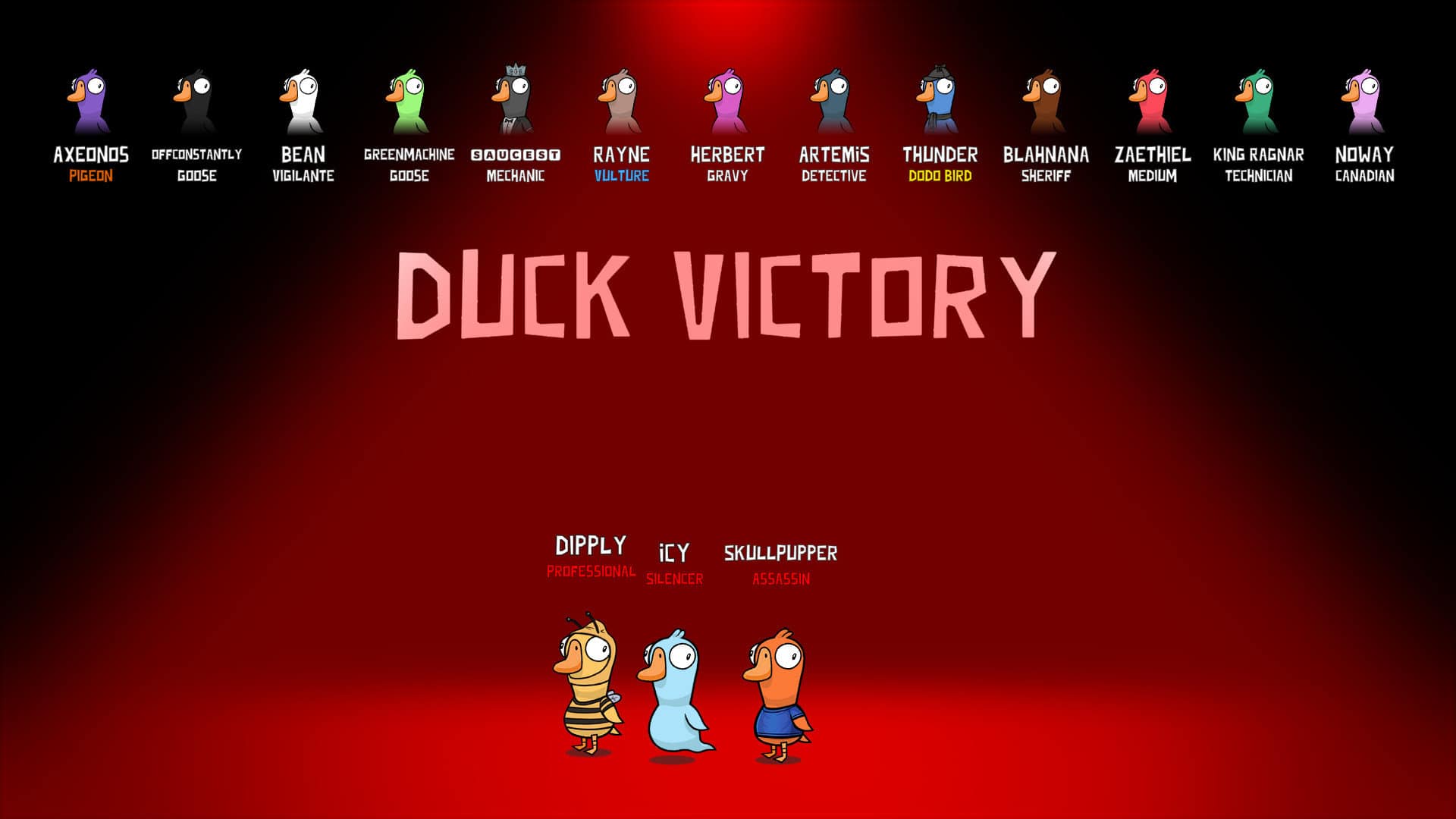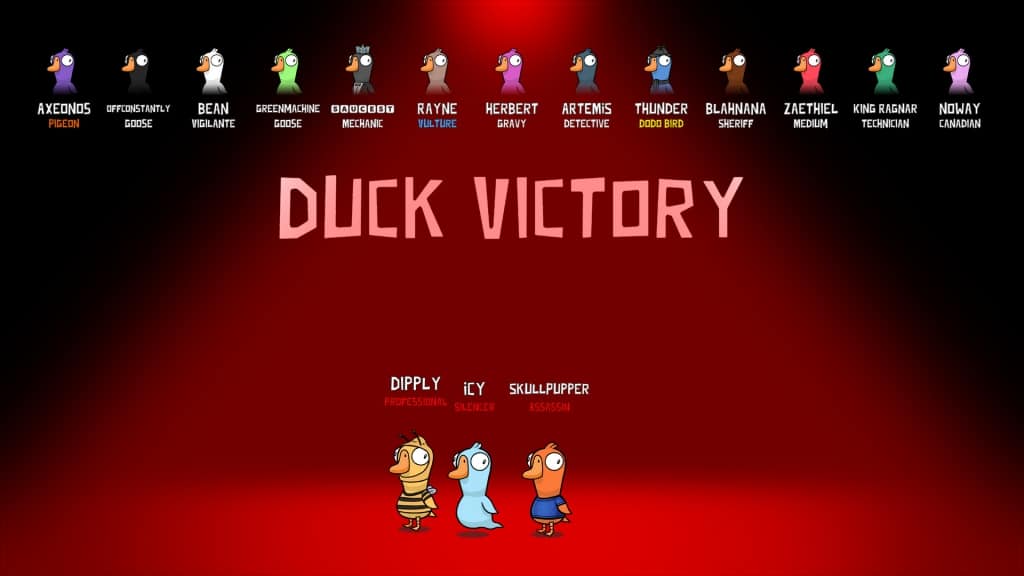 #11 – Werewolf
The night is dark and full of terror. Can you kill the werewolves amongst the villagers, or will you become a werewolf that secretly hunts each night? Werewolf is another social deduction game in which players will have to use their persuasion ability to win the game.
The game has two roles: the villagers and the werewolves. Each night, the villagers will have to identify who is the werewolf disguised as one of them, and the werewolves will need to kill a villager without getting caught. The game ends when the villagers have successfully exiled all the werewolves and vice versa.
– The game requires students to practice diverse skills: social skills, teamwork, critical thinking, strategic thought, etc. in order to win.
– You can add more roles and rules to make the game more exciting.
#12 – Zombie Apocalypse
In this scenario, the students all have positions in a community which is the last stand before the zombie apocalypse. There's a shortage of food and one person will be exiled to balance out the resources. Each student within the group will have to prove the importance of their position in order to stay.
With this activity, you can divide the class into large or medium groups based on how many roles you fill in. For example, teacher, chef, musician, politician, journalist, etc. Each one will in turn present why they are much needed to secure their place.
– Another great online debate game filled with creativity.
– The game fosters students' quick thinking and rebuttal skill.
#13 – Devil's advocate
Playing Devil's advocate is to take the opposite view to a claim just for the sake of argument. Your students don't have to believe in what they are saying, but rather generate a debate and clarify the issue with an argument. You can let your class practice in pairs or in groups and one student will be assigned as the devil who asks thought-provoking questions.
– Worrying your students might be too similar to raise their opinions? This game will help you spark debates naturally.
– It helps students understand that initiating a debate is useful to dig deeper into a topic.
What Are Some Good Debate Topics?
Good debate topics should be 'debatable' – and by that we mean they should ignite a desire to voice out, and bring different ideas to the front (if the whole class all agree on something it's not much of a debate!).
Here are the 30 debate ideas and topics to start a lively discussion, suitable for both high school debate and middle school debate. You can use those topics with the best digital classroom tools, recommended by AhaSlides.
Social and political issues debate topics
– Plastic bags should be banned.
– We should all be vegetarians.
– We shouldn't have gender-specific bathrooms.
– Countries shouldn't have borders.
– The world should only have one leader.
– The government should enforce vaccine mandates for all citizens.
– TV should be banned for children under age 6.
– Everyone should ride electric cars.
– People who smoke should pay more taxes.
Education debate topics
– Everyone should wear uniforms to school.
– The grading system needs to be omitted.
– Students in juvenile detention don't deserve a second chance.
– More budget should be allocated to food quality improvement.
– Students can use mobile phones during classes.
– If the students take online classes, the parents shouldn't pay any fee.
– Students need to go to university if they want to be successful.
– No one needs to learn advanced math since it is impractical.
– Everyone should learn what they'd like in school.
– Every school should have a park and a playground to be qualified as a school.
Fun debate topics
– Tom cat is better than Jerry mouse.
– Hot dogs are sandwiches.
– Having siblings is better than being the only child.
– Every social media platform should add a "dislike" button.
– Kong is better than Godzilla.
– Anime is better than cartoons.
– Students should be rewarded with ice cream for good behaviour.
– Chocolate flavour is better than vanilla flavour.
– Pizza slices should be square.
– Blink is the plural of wink.
Frequently Asked Questions
Who should be the first speaker in a debate?
The first speaker for the affirmative side should speak first.
Who controls a debate?
A discussion moderator is responsible for keeping a neutral perspective, holding participants to time limits, and trying to keep them from straying off the topic.
Why is debating so scary?
Debating requires public speaking skills, which is terrifying for many people.
How does debating help students?
Debates allow students to develop critical thinking skills, raise their confidence, and learn to respect their peers.