What do seniors need the most on their birthdays? Birthday Wishes for Senior! A simple wish can hold the power to brighten their day and warm their hearts. 
While tangible gifts are appreciated, something uniquely touching can be delivered by the warmth of a heartfelt message and the joy of spending quality time together.
So, how to say birthday wishes to seniors? Let's check out the top 70+ Birthday wishes for seniors to celebrate!
Table of Contents
Tips for Better Engagement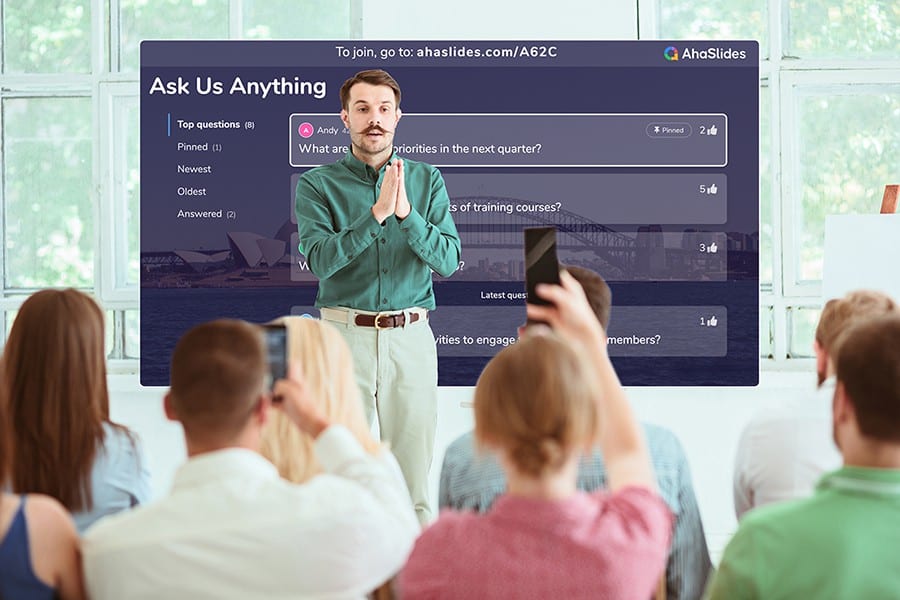 Lack of ideas for a Work Farewell Party?
Brainstorming retirement party ideas? Sign up for free and take what you need from the template library!
🚀 To the clouds ☁️
Short Birthday Wishes for Seniors
There are hundreds of ways to say happy birthday to a wonderful person. The following quotes are the best birthday wishes for seniors that everyone loves.
1. Happy birthday, [name]! I hope you have your cake and eat it too!
2. Hoping all your birthday wishes come true! Happy birthday, [name]!
3. You're a star! Sending you all my love on your special day!
4. May this next trip around the sun be your best one yet!
5. I'm wishing the very happiest of birthdays to you today, mam.
6. Happy birthday, old man!
7. Happy birthday to you, my dear. I have a good feeling for you that this is going to be your year.
8. Here's to many more great years of you. Cheers!
9. Happy birthday, my dear! I hope you have an amazing day today and enjoy the many years to come!
10. Have a very happy birthday! Laugh a lot and celebrate this special day with the people you love the most.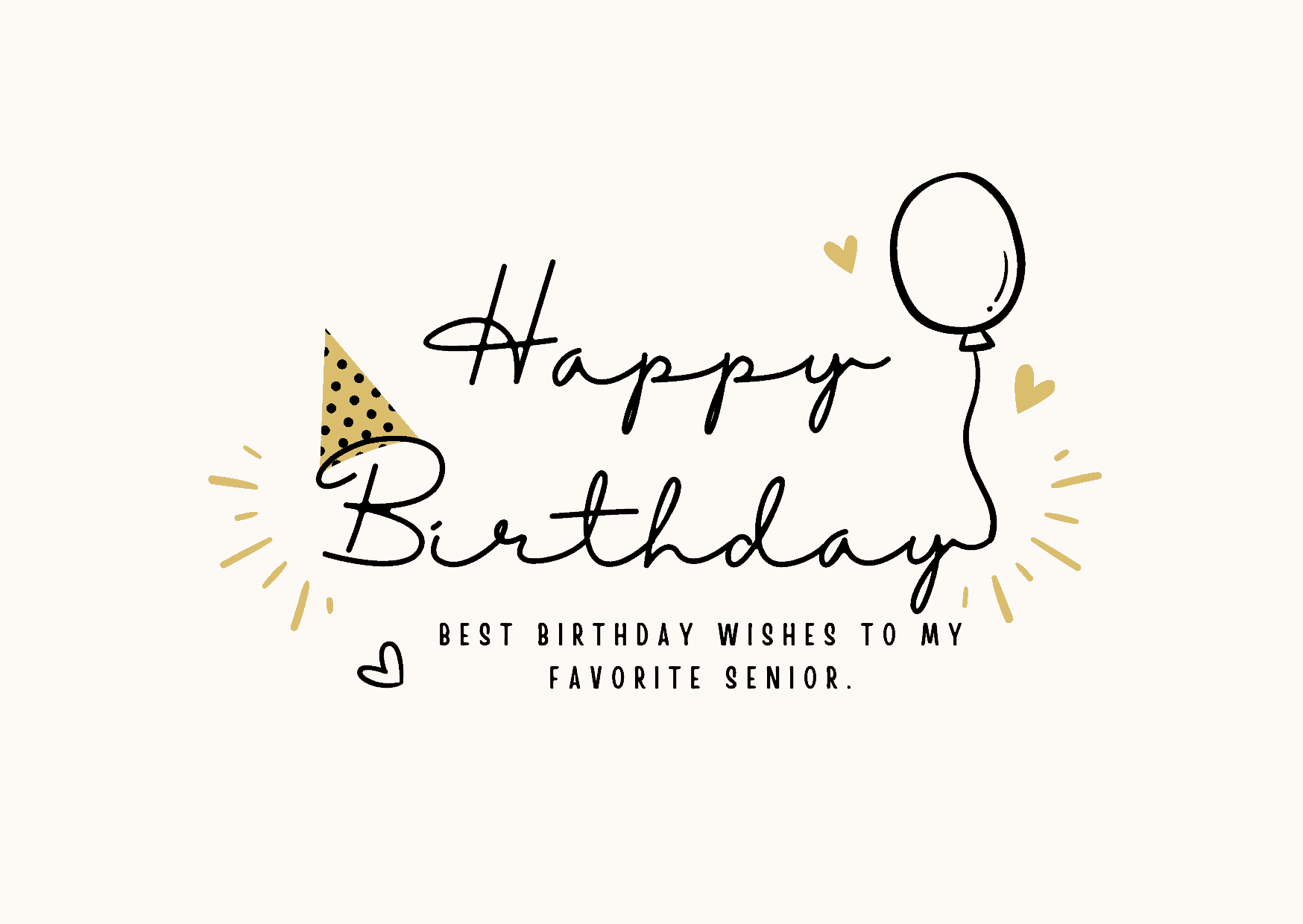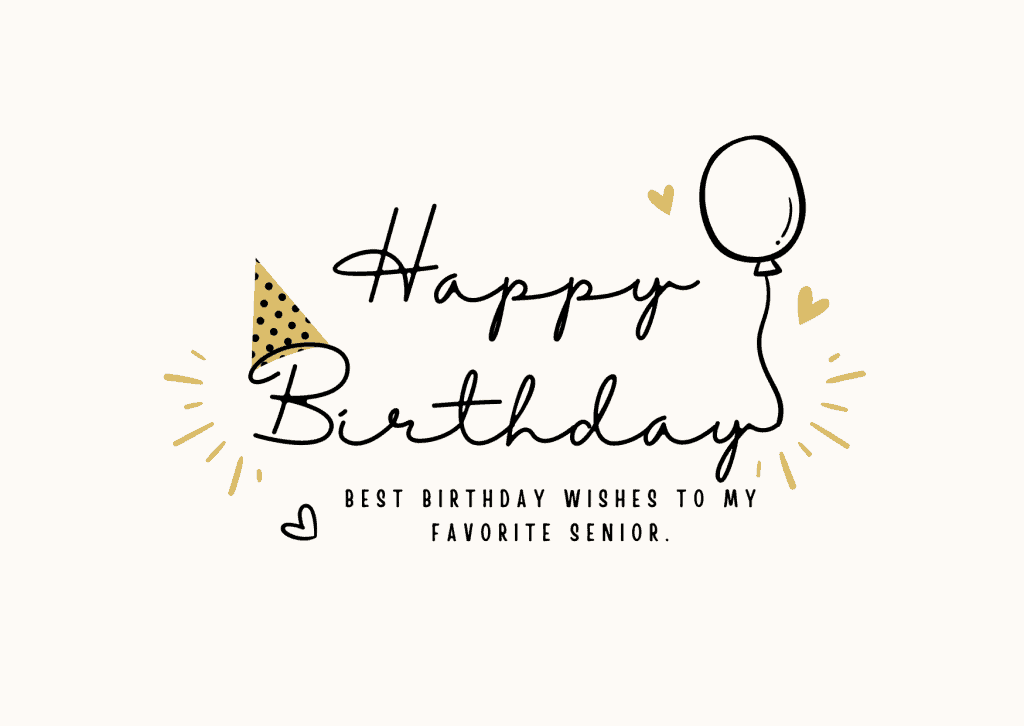 11. Best birthday wishes to my favorite senior.
12. Today is no ordinary birthday, as the birthday boy is turning 16!
13. Happy birthday to you and many congratulations!
14. I'm wishing you a happy and healthy birthday, and a fantastic year ahead!
15. Happy birthday and many congratulations on another fabulous year, mam!
16. Lots of love, hugs, and best wishes to you!
17. On the birthday of one of the most special people in my life, I wish you the world.
18. I came for the free cake. Hanging out with such an awesome person is just a bonus. Happy birthday!
19. Wishing you the happiest of birthdays followed by the happiest of years, my dear!
20. I hope all the good things in life come your way this year!
Best Birthday Wishes for Senior in College
You are looking best ways to say birthday wishes for senior co-workers and boss? Here are some best birthday wishes that make your seniors feel valued and respected.
21. May you achieve everything you ever desire, Happy Birthday!
22. You have become a true inspiration for anyone who follows them, Happy Birthday to your dear friend!
23. You are my favorite senior, I wish you all the best for your finals and I am sure you will smash those. Many happy returns of the day to you!
24. Even millions of attractive birthdays are not enough to do justice to your personality. We wish you a happy birthday as always, and happy birthday to you!
25. Days of being a freshman are way behind you, you are now a senior! I am very sure that you will ace this also and make all of us proud of you. Wishing you a very, very happy birthday!
26. I'm sending lots of good wishes your way today to help you celebrate your special day! Happy birthday, my friend!
27. Happy Birthday to a great [name]! I think you don't need my words about enjoying your life.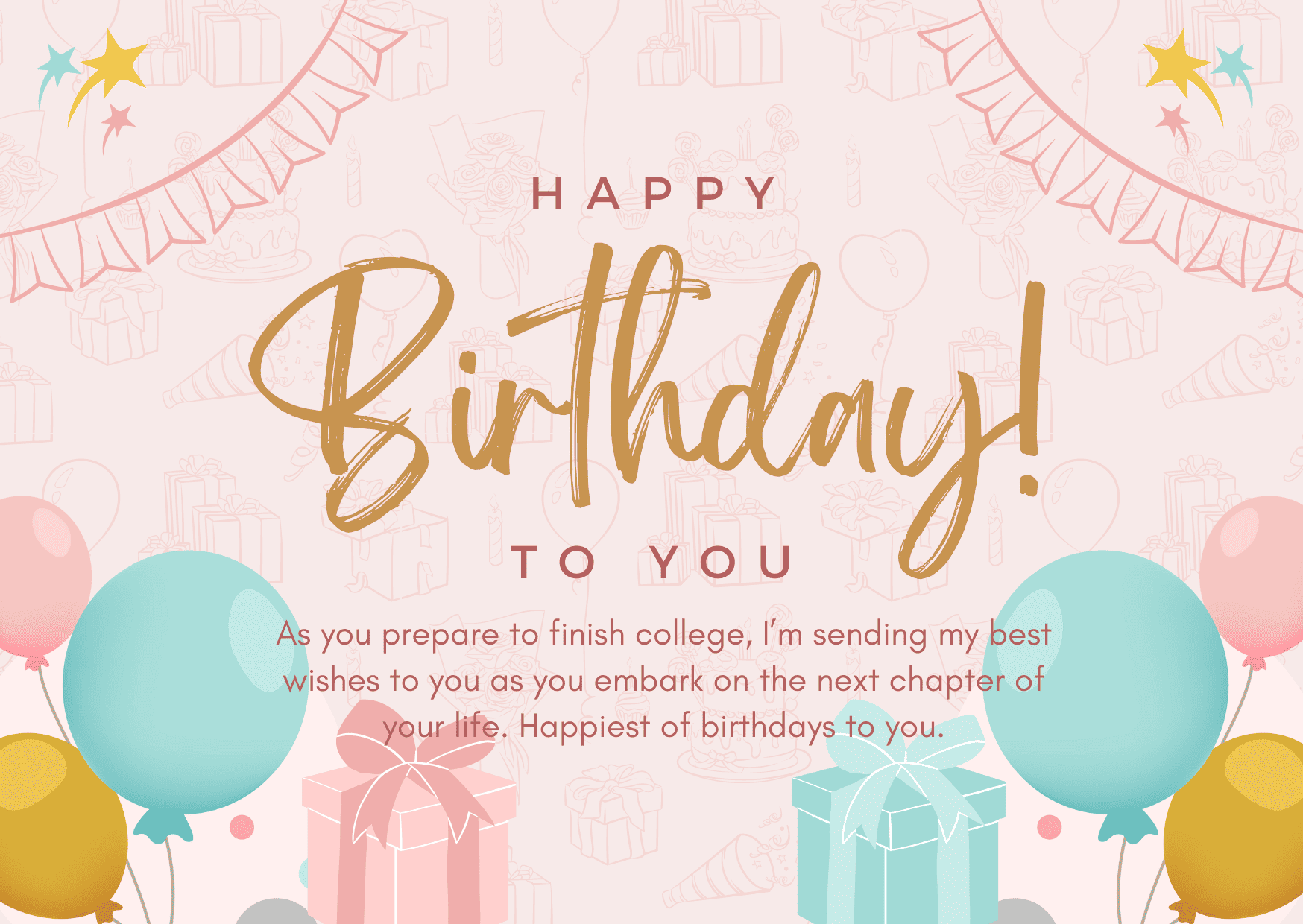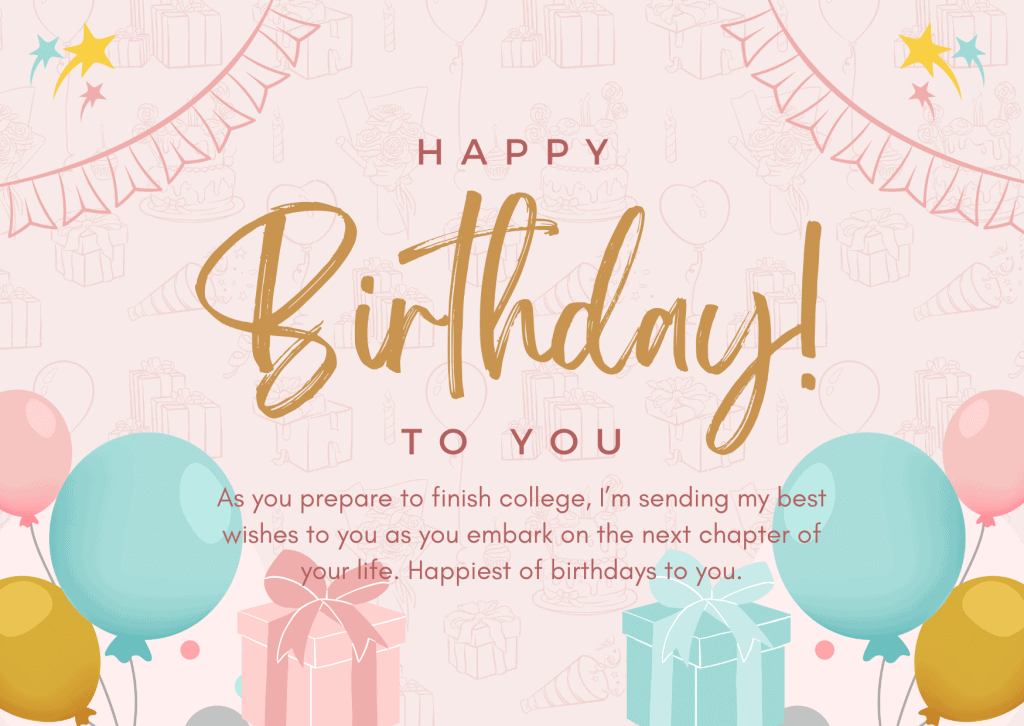 28. I have no doubt that you're going to do many remarkable things in the future. Many happy returns to you and I hope you have a great one today!
29. Happy birthday to the kindest and most supportive college senior! May your special day be as special as you are!
30. Numero UNO, it's just the planet that best suits your magnetic and inscrutable nature. I wish you all the best in your life and keep inviting me to your lovely birthday party. Happy birthday Senior!
31. As you prepare to finish college, I'm sending my best wishes to you as you embark on the next chapter of your life. Happiest of birthdays to you.
32. I wish that from today this year starts with many more memories to celebrate. Enjoy your special day, Happy birthday dear!
33. May your special day be just as awesome as you are and I'm wishing you all the very best for your final year of college.
34. On this special day of yours, I am hoping that you achieve all of your dreams and get everything your heart desires. Happy birthday to you.
35. You've been working so hard on your studies that you deserve a break from it all today on your special day.
Thoughtful Birthday Wishes for Senior Colleagues
Here are the most recommended birthday wishes for seniors in your university.
36. Happy birthday to the master of the pitch!
37. Wishing you a carefree, fun, and happy birthday. Go out there and get your much-needed break. You deserve it, boss. You are simply the best.
38. Happy Birthday to my senior who breaks any dull moment at work; you're a perfect partner.
39. Happy Birthday, my wonderful senior! I hope we can together share the delight of working at the same place.
40. Happy birthday, boss. This is a special day for us because it is also special for you. We want you to know that you are a great leader and deserve the best in life. In addition to being a great leader, you are also a great friend. You deserve the best.
41. Dear Sir, May this year bring a lot of wonderful moments in your life, God bless you, and happy birthday!
42. It is a delightful experience working with you. You are a great mentor, I extend my warm wishes on your birthday, Wish you a wonderful happy birthday, God bless you!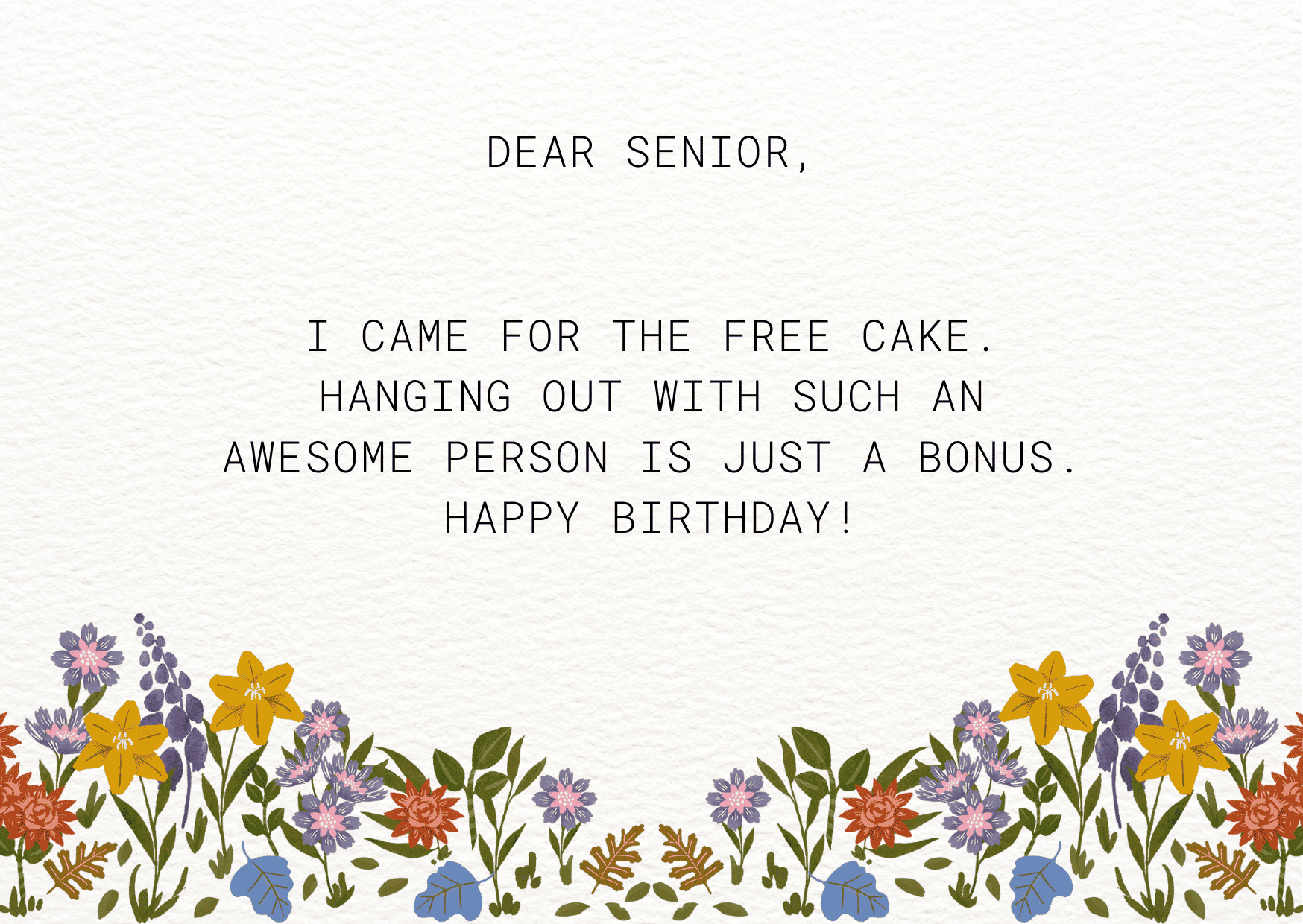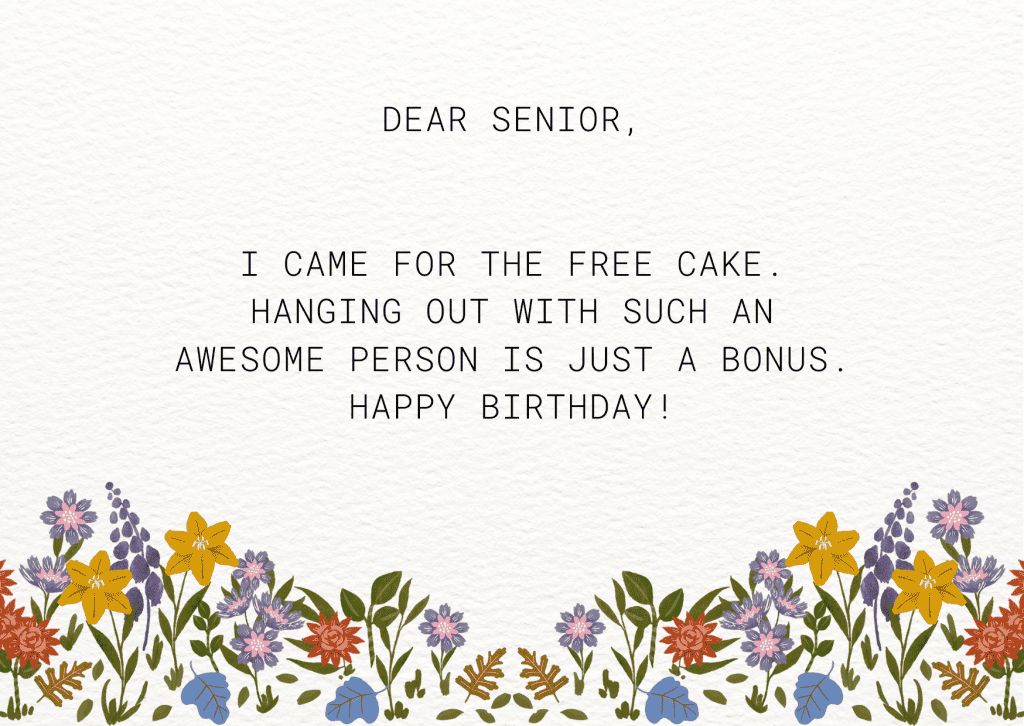 43. Happy Birthday, Sir, I wish you a long life, filled with success, love, and a lot of happiness.
44. Wishing you an exciting year and a birthday filled with gifts and joy, Happy Birthday!
45. I hope this birthday brings you joy to see your family members raise a glass in your honor. Happy Birthday, Wonderful Senior!
46. As you always do the whole work in no time, I'm sure you will also blow out your birthday candles the same way. Enjoy!
47. Happy birthday to you, my dear. I have a good feeling for you that this is going to be your year.
48. Many happy returns from you, Dear Sir! I am wishing you all the success in the world for this year and all the exciting years ahead!
49. Sending warm wishes to a great member of our team! Wish you a happy birthday!
50. Anyone who knows you will realize what it needs to grow old. Happy Birthday to you!
Inspirational Birthday Wishes for Seniors and Elders
More Birthday wishes for Seniors and Elders? We got your covers with 20 more inspirational birthday wishes for seniors and elders as follows:
51. You deserve every good thing that you are enjoying now because you have lived your life as a hardworking [name]. Happy Birthday to you!
52. At my workplace, there is a great collection of seniors and you are one of them. I really love your company and enjoy working with you. My deepest wishes.
53. Wishing you a very happy birthday and sincere thanks for your hard work! God bless you.
54. May you accomplish all the goals you have set for yourself, this year! God bless you, enjoy your birthday!
55. No gift could ever express just how much you mean to me, and how incredibly much I appreciate having you in my life.
56. I'm wishing you the best birthday possible today as I hold only the greatest respect for you, mam. You're a strong woman who strives for the best in everything you do. May you enjoy your special day and many more glorious years to come.
57. Hoping that you thoroughly enjoy your celebrations, surrounded by all of your wonderful friends and family!
58. There's no one I'd rather argue with about the most meaningless things, and I can't imagine my life without you. Hoping you have the best day!
59. Keep smiling, Grandpa. I love you and I want to wish you a very happy birthday. May the coming year bring you every happiness.
60. Thank you, Grandpa, for the many sweet memories you have given me. May the year ahead be filled with many more sweet memories we can cherish forever. Happy birthday.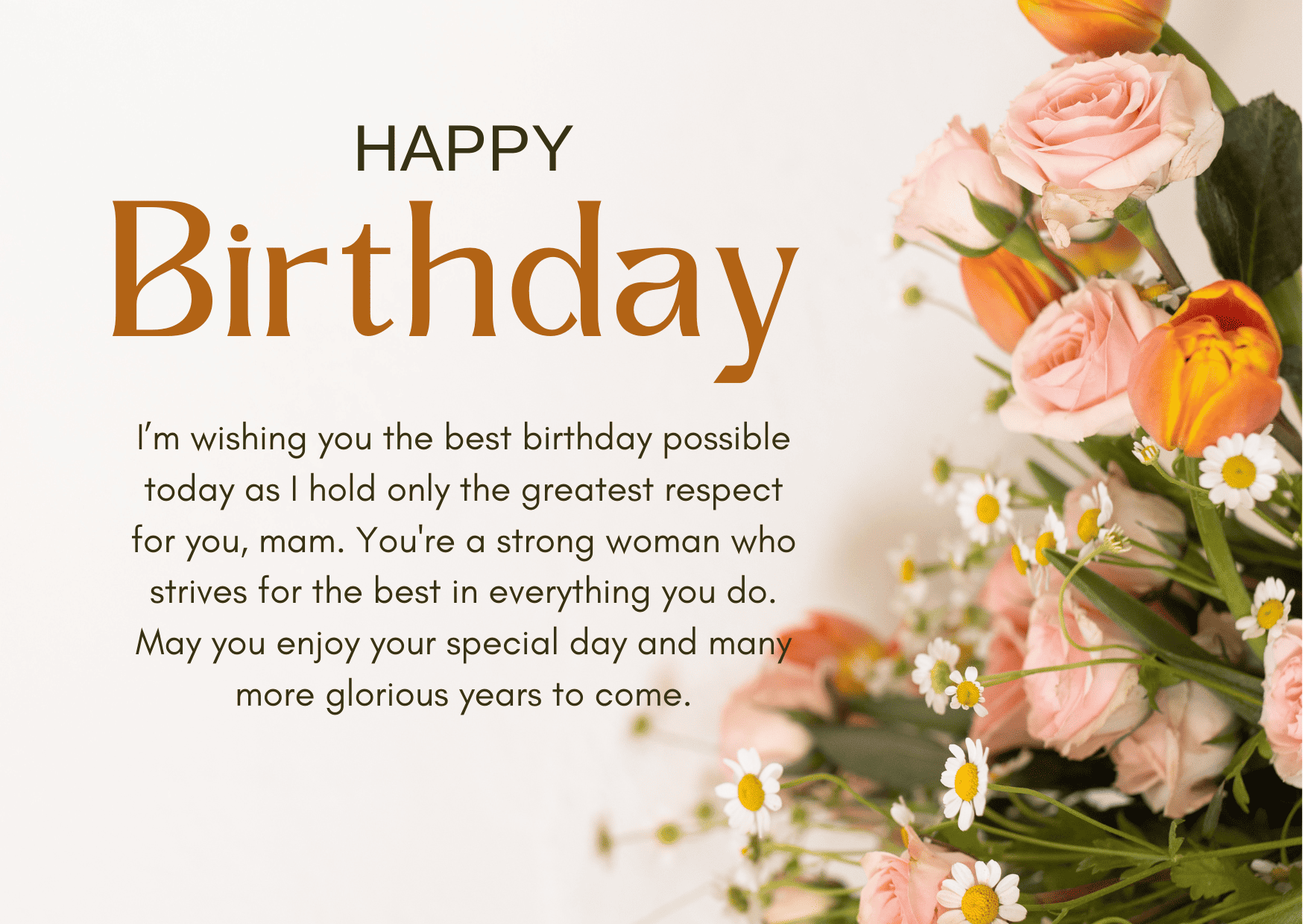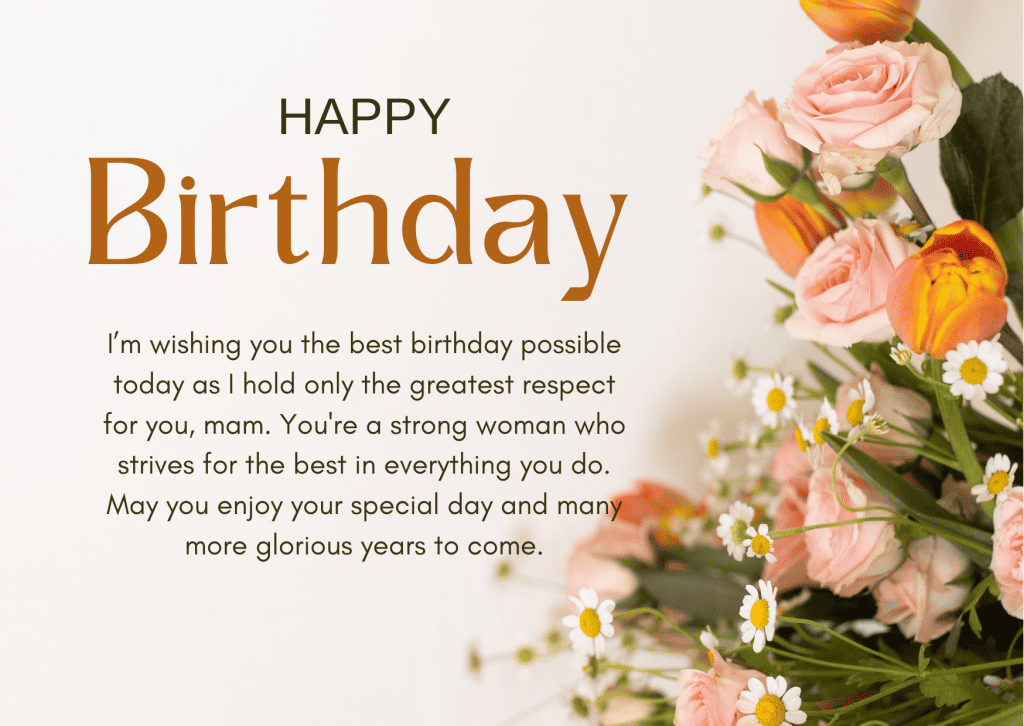 61. It really is a pleasure to be wishing such a remarkable and lovely lady a happy birthday today. You truly are a gem of your generation. I hope this year to come proves to be one of the best of your life.
62. We all know that age is just a number but in your case, it is so much more than that. It represents all the years before you that have accumulated to create the wonderful woman that you are today.
63. There are so many important things that I've learned from you. Happy birthday, and every blessing for next year.
64. Getting older is not a big deal, but keeping your heart young and lively is the biggest deal. Happy Birthday to the most active [man/lady] of our family!
65. I'm wishing you a very happy birthday today, my old man. Wherever life takes you following your final year of studies, I hope that you will always be happy.
66. Happy Birthday, [Grandma/Grandpa]! My world is better with you around.
67. Your wise words and the many life lessons you've taught me will stay with me forever. I am truly grateful to have such a wise woman like yourself in my life. May you have a tremendous day today. Happy birthday.
68. Half a century on this planet is no small feat. You've built such a beautiful life, and I can't wait to see what you do with the next 50! Cheers!
69. It's wonderful that you are still strong and get excited about many things at this age. May God grant you many more years in good health! Happy Birthday!
70. Happy birthday Grandpa, thank you for the way you take the time to care for us. Thank you for your wit and wisdom, which brightens every day. Enjoy this special occasion.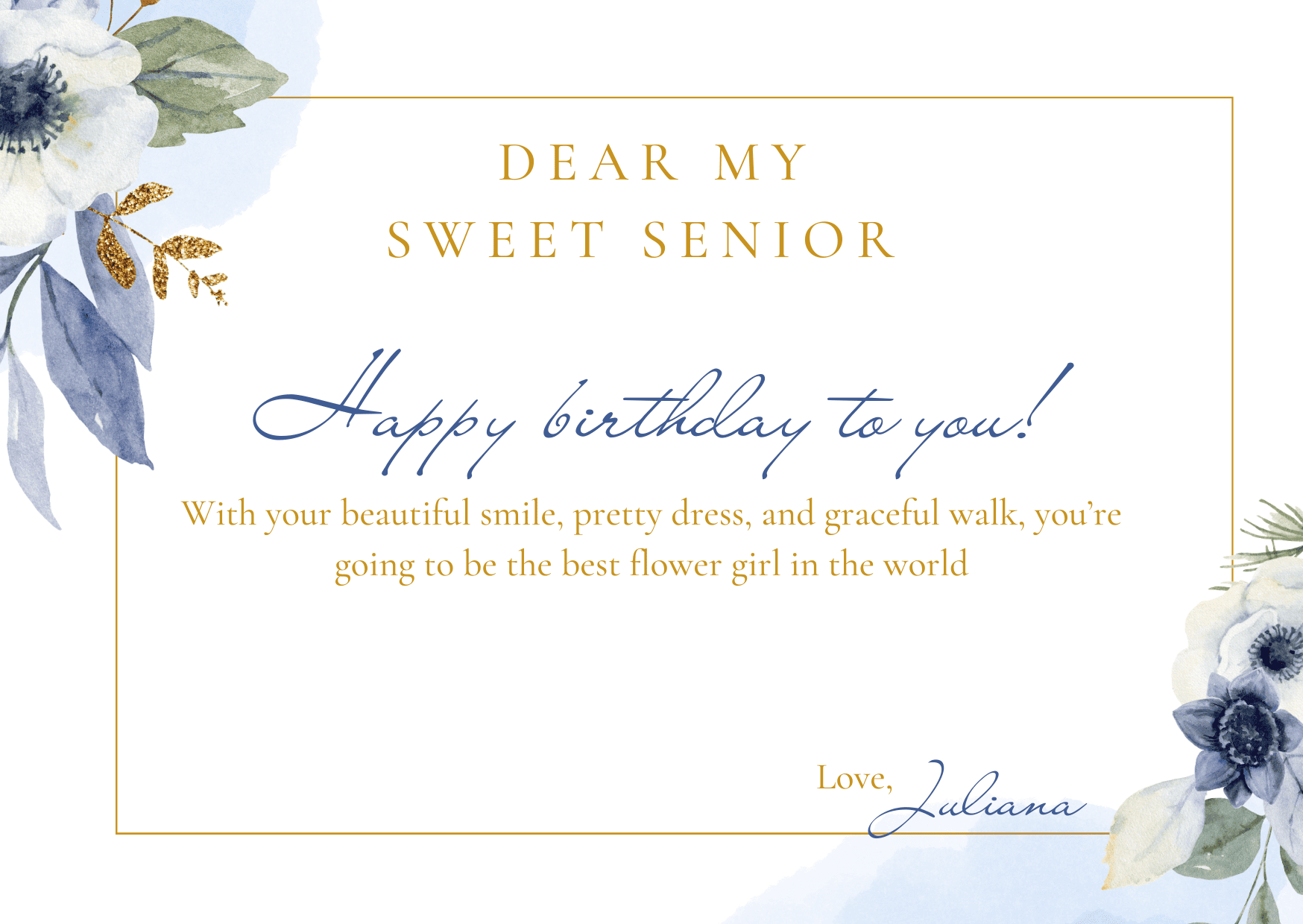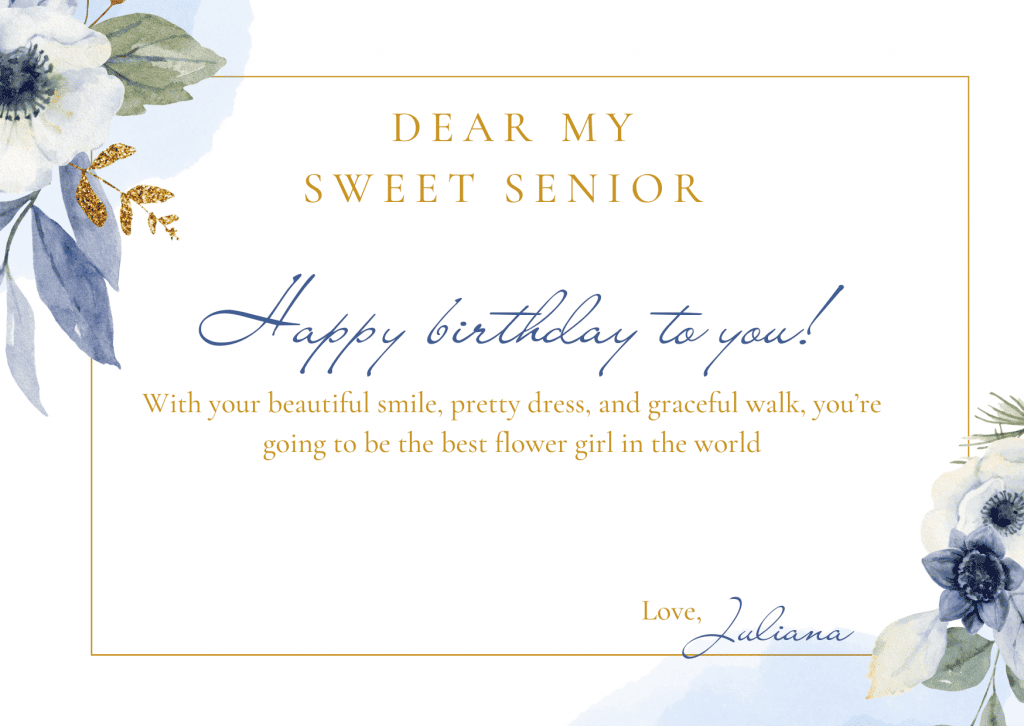 Want more Inspiration?
⭐ Check out AhaSlides right away to explore the better ways to engage everyone at the party! Look no further than birthday trivia quizzes and games to spark fun and laughter!
FAQ
Frequently Asked Questions
---
Got a question? We've got answers.
The most significant part of wishing a senior a happy birthday is conveying sincere appreciation for their life's journey. Use phrases like "May your day be filled with joy and cherished moments", or "Celebrating another year of your incredible journey.''
Wishing Senior a happy birthday couldn't be so clinché. Using some unique and fun words can make their celebration more memorable. Use phrases like "Count your life by smiles, not tears." Or, "Your birthday is the first day of another 365-day journey."
You can use idiomatic expressions to send your birthday greetings to your beloved ones. Some phrases like "Have a slice of birthday cake on me", or "Make a wish and blow the candles out".