Welcome to the world of the Easter fun easter trivia festival. In addition to delicious colored easter eggs, and buttery hot cross buns, it is time to hold a virtual Easter ceremony with quizzes to see how deep you and your beloved know about Easter.
True Meaning of Easter is a spring festival, the traditional Christian Day, as it's a perfect time for families and friends.
We're here to help you have a really fun and engaging Easter quiz, we give you a list of 70++ Easter trivia questions and answers and available designed Easter templates that you can use right away.
Below you'll find Easter Quiz. We're talking bunnies, eggs, religion and the Australian Easter Bilby.
This live spring trivia is available for immediate free download on AhaSlides. Check out how it works below!
More Funs with AhaSlides
20 Easter Quiz Questions and Answers
If you're looking to quiz old school, we've laid out below the questions and answers for the Easter quiz. Please bear in mind that some of the questions are image questions and therefore only work on the Easter quiz template above.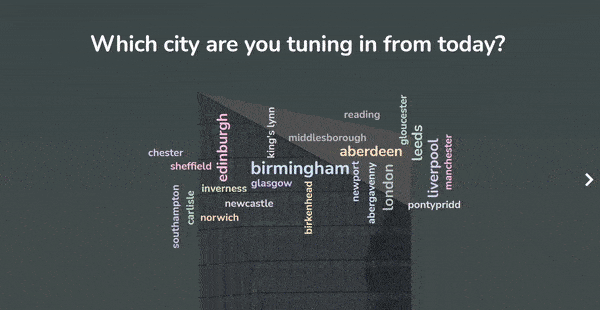 Get Free Easter Quiz.
Get any of the above examples as templates. Sign up for free and take what you want from the template library!
🚀 Get Free Template ☁️
Round 1: General Easter Knowledge
How long is Lent, the period of fasting before Easter? – 20 days // 30 days // 40 days // 50 days
Select the 5 real days that relate to Easter and Lent – Palm Monday // Shrove Tuesday // Ash Wednesday // Grand Thursday // Good Friday // Holy Saturday // Easter Sunday
Easter is associated with which Jewish holiday? – Passover // Hanukkah // Yom Kippur // Sukkot
Which of these is the official flower of Easter? – White lily // Red rose // Pink hyacinth // Yellow tulip
Which iconic British chocolatier made the first chocolate egg for Easter in 1873? – Cadbury's // Whittaker's // Duffy's // Fry's
Round 2: Zooming into Easter
This round is a picture round, and therefore it only works on our Easter quiz template. ! Try them for your upcoming gatherings!
Round 3: Easter Around the World
The traditional 'Easter egg roll' happens at which iconic U.S site? – The Washington Monument // The Greenbrier // Laguna Beach // The White House
In which city, where it is believed Jesus was crucified, do people carry a cross through the streets at Easter? – Damascus (Syria) // Jerusalem (Israel) // Beirut (Lebanon) // Istanbul (Turkey)
'Virvonta' is a tradition where children dress as Easter witches in which country? – Italy // Finland // Russia // New Zealand
In the Easter tradition of 'Scoppio del Carro', an ornate cart with fireworks explodes outside which landmark in Florence? – The Basilica of Santo Spirito // The Boboli Gardens // The Duomo // The Uffizi Gallery
Which of these is a picture of the Polish Easter festival 'Śmigus Dyngus'? – (This question only works on our Easter quiz template)
Dancing is banned in which country on Good Friday? – Germany // Indonesia // South Africa // Trinidad and Tobago
To save awareness of an endangered native species, Australia offered which chocolate alternative to the Easter bunny? – Easter Wombat // Easter Cassowary // Easter Kangaroo // Easter Bilby
Easter Island, discovered on Easter Sunday in 1722, is now part of which country? – Chile // Singapore // Colombia // Bahrain
'Rouketopolemos' is an event in which country where two rival church congregations fire homemade rockets at each other? – Peru // Greece // Turkey // Serbia
During Easter In Papua New Guinea, trees outside of churches are decorated with what? – Tinsel // Bread // Tobacco // Eggs
This Quiz, but on
Free Trivia Software

!
Host this Easter quiz on AhaSlides; easy as Easter pie (that's a thing, right?)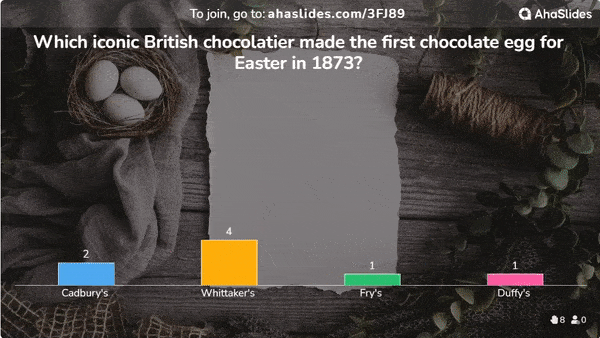 25 Multiple-Choice Easter Trivia Questions and Answers
21. When was the first Easter egg roll at the White House?
a. 1878 // b. 1879 // c. 1880
22. Which bread-based snack is associated with Easter?
a. Cheese garlic // b. Pretzels // c. Veg mayo sandwich
23. In Eastern Christianity, the end of Lent is called what?
a. Palm Sunday // b. Holy Thursday // c. Lazarus Saturday
24. In the Bible, what did Jesus and his apostles eat at the Last Supper?
a. Bread and wine // b. Cheesecake and water // c. Bread and juice
25. What state held the largest Easter egg hunt ever in the United States?
a. New Orleans // b. Florida // c. New York
26. Who painted the Last Supper painting?
a. Michelangelo // b. Leonardo da Vinci // c. Raphael
27. Which country did Leonardo da Vinci come from?
a. Italian // b. Greece // c. France
28. In which state did the Easter Bunny first appear?
a. Maryland // b. California // c. Pennsylvania
29. Where is Easter Island situated?
a. Chile // b. Papua New Gile // c. Greece
30. What is the name of the statues in Easter Island?
a. Moai // b. Tiki // c. Rapa Nui
31. In what season does the Easter Bunny appear?
a. Spring // b. Summer // c. Autumn
32. What does the Easter Bunny traditionally carry eggs in?
a. Briefcase // b. Sack // c. Wicker Basket
33. Which country uses the bilby as the Easter Bunny?
a. Germany // b. Australia // c. Chile
34. Which country uses the cuckoo to deliver eggs to children?
a. Switzerland // b. Denmark // c. Finland
35. Who made the most famous and precious Easter eggs?
a. Royal Doulton // b. Peter Carl Faberge // c. Meissen
36. Where is the Faberge Museum?
a. Moscow // b. Paris // c. St. Petersburg
37. What color is the Scandinavian egg egg made by Michael Perchine under the supervision of Peter Carl Faberge
a. Red // b. Yellow // c. Purple
38. What color is the Teletubby Tinky Tinky?
a. Purple // b. Sapphire // c. Green
39. On what street in New York does the city's traditional Easter parade take place?
a. Broadway // b. Fifth Avenue // c. Washington Street
40. What do people call the first day of the 40 days of Lent
a. Palm Sunday // b. Ash Wednesday // c. Maundy Thursday
41. What does Holy Wednesday mean in the Holy Week?
a. Into the darkness // b. Entrance into Jerusalem // c. The Last Supper
42. In which country celebrates Fasika, which is 55 days leading up to Easter?
a. Ethiopia // b. New Zealand // c. Canda
43. Which is a traditional name for Monday in Holy week?
a. Good Monday // b. Maundy Monday // c. Fig Monday
44. According to Easter tradition, which number is considered an unlucky number?
45. Good Friday kites are an Easter tradition in which country?
a. Canada // b. Chile // c. Bermuda
20 True/False Easter Facts Trivia Questions and Answers
46. About 90 million chocolate bunnies are produced each year.
47. New Orleans is the most popular Easter parade held each year.
48. Tosca, Italy is the world-record largest chocolate Easter egg was made
49. Hot cross bun is a baked good that is a Good Friday tradition in England.
49. About 20 million jelly beans do Americans consume each Easter?
FALSE, it is about 16 million
50. A fox delivers the goods in Westphalia, Germany, which is similar to the Easter Bunny bringing children eggs in the U.S.
51. 11 marzipan balls are traditionally on a simnel cake
52. England is the country did the tradition of the Easter bunny originate.
53. Poland is the largest Easter egg museum in the world.
54. More than 1,500 are in the Easter Egg Museum.
55. Cadbury was founded in 1820
56. Cadbury Creme Eggs was introduced in 1968
57. 10 States consider Good Friday a holiday.
58. Irving Berlin is the author of the "Easter Parade".
59. Ukraine is the first country that has a tradition of dyeing Easter eggs.
60. Easter's date is determined by the moon.
61. Ostara is the pagan goddess associated with Easter.
62. Daisy is considered an Easter flower symbol.
63. In addition to bunnies, lamb is also considered an Easter symbol
64. Holy Friday is to honor the Last Supper in Holy Week.
FALSE, it is Holy Thursday
65. Easter egg hunts and Easter egg rolls are two traditional games played with Easter eggs,
10 images Easter movies trivia questions and answers
66. What is the name of the movie? Answer: Peter Rabbit
67. What is the name of the place in the movie? Answer: King's Cross station
68. What is the movie of this character?Answer: Alice in the wonderland
69. What is the name of the movie? Answer: Charlie and the chocolate Factory
70. What is the name of the movie? Answer: Zootopia
71. What is the name of the character? Answer: The Red Queen
72. Who fell asleep at the Tea Party? Answer: Dormouse
73. What is the name of this movie? Answer: Hop
74. What is the name of the bunny in the movie? Answer: Easter Bunny
75. What is the main character name in the movie? Answer: Max
Can't wait to throw a party with games and quizzes at the Easter festival? Wherever you come from, all of our Easter trivia questions and answers cover most Easter traditions, rituals and famous events and movies around the world.
Get started to prepare your Easter quiz from now on step by step with AhaSlides
Host Free Quizzes
---
Make your hangouts fun with 100s of great interactive quizzes!
How to Use this Easter Quiz
Ahaslides' Easter quiz is super simple to use. Here's all that's needed…
Quizmaster (you!): A laptop and AhaSlides account.
Players: A smartphone.
You can also play this quiz virtually. You'll just need video conferencing software as well as a laptop or computer for each player so that they can see what's happening on your screen.
Option #1: Change the Questions
Think the questions in the Easter quiz may be too easy or too hard for your players? There are several ways to change them (and even add your own)!
You can simply select the question slide and then change what you like in the right-side menu of the editor.
Change the type of question.
Change the wording of a question.
Add or remove answer options.
Change the time and points system of a question.
Change backgrounds, images and text colours.
Or you can add Easter-related quizzes from our question bank in 3 easy steps.
Create a new slide.
Insert your topic (Easter) into the search bar.
Add the quiz question of your choice from the options.
Option #2: Make it a Team Quiz
Don't put all your contegg-stants in one basket 😏
You can turn this Easter quiz into a team affair by setting up team sizes, team names and team scoring rules before you host.
Option #3: Customize Your Unique Join Code
Players join your quiz by entering a unique URL into their phone browser. This code can be found at the top of any question slide. In the 'Share' menu on the top bar, you can change the unique code to anything with a maximum of 10 characters: