Looking to resurrect the fun times this Easter? We've got the perfect Easter quiz for you and your friends!
Below you'll find 20 questions about everything Easter. We're talking bunnies, eggs, religion and the Australian Easter Bilby.
This live quiz is available for immediate free download on AhaSlides. Check out how it works below!
20 Easter Quiz Questions and Answers
If you're looking to quiz old school, we've laid out below the questions and answers for the Easter quiz. Please bear in mind that some of the questions are image questions and therefore only work on the Easter quiz template above.
Round 1: General Easter Knowledge
How long is Lent, the period of fasting before Easter? – 20 days // 30 days // 40 days // 50 days
Select the 5 real days that relate to Easter and Lent – Palm Monday // Shrove Tuesday // Ash Wednesday // Grand Thursday // Good Friday // Holy Saturday // Easter Sunday
Easter is associated with which Jewish holiday? – Passover // Hanukkah // Yom Kippur // Sukkot
Which of these is the official flower of Easter? – White lily // Red rose // Pink hyacinth // Yellow tulip
Which iconic British chocolatier made the first chocolate egg for Easter in 1873? – Cadbury's // Whittaker's // Duffy's // Fry's
Round 2: Zooming into Easter
Round 3: Easter Around the World
The traditional 'Easter egg roll' happens at which iconic U.S site? – The Washington Monument // The Greenbrier // Laguna Beach // The White House
In which city, where it is believed Jesus was crucified, do people carry a cross through the streets at Easter? – Damascus (Syria) // Jerusalem (Israel) // Beirut (Lebanon) // Istanbul (Turkey)
'Virvonta' is a tradition where children dress as Easter witches in which country? – Italy // Finland // Russia // New Zealand
In the Easter tradition of 'Scoppio del Carro', an ornate cart with fireworks explodes outside which landmark in Florence? – The Basilica of Santo Spirito // The Boboli Gardens // The Duomo // The Uffizi Gallery
Which of these is a picture of the Polish Easter festival 'Śmigus Dyngus'? – (This question only works on our Easter quiz template)
Dancing is banned in which country on Good Friday? – Germany // Indonesia // South Africa // Trinidad and Tobago
To save awareness of an endangered native species, Australia offered which chocolate alternative to the Easter bunny? – Easter Wombat // Easter Cassowary // Easter Kangaroo // Easter Bilby
Easter Island, discovered on Easter Sunday in 1722, is now part of which country? – Chile // Singapore // Colombia // Bahrain
'Rouketopolemos' is an event in which country where two rival church congregations fire homemade rockets at each other? – Peru // Greece // Turkey // Serbia
During Easter In Papua New Guinea, trees outside of churches are decorated with what? – Tinsel // Bread // Tobacco // Eggs
This Quiz, but on
Free Trivia Software

!
Host this Easter quiz on AhaSlides; easy as Easter pie (that's a thing, right?)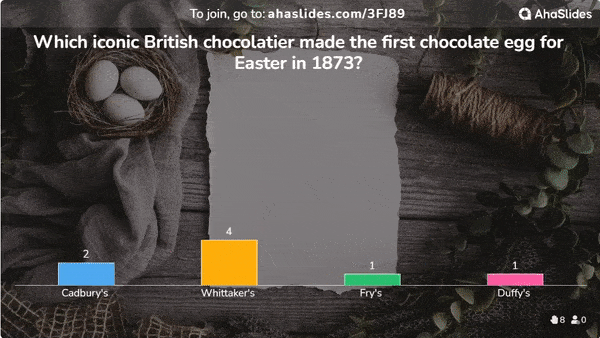 How to Use this Easter Quiz
Ahaslides' Easter quiz is super simple to use. Here's all that's needed…
Quizmaster (you!): A laptop and AhaSlides account.
Players: A smartphone.
You can also play this quiz virtually. You'll just need video conferencing software as well as a laptop or computer for each player so that they can see what's happening on your screen.
Option #1: Change the Questions
Think the questions in the Easter quiz may be too easy or too hard for your players? There are several ways to change them (and even add your own)!
You can simply select the question slide and then change what you like in the right-side menu of the editor.
Change the type of question.
Change the wording of a question.
Add or remove answer options.
Change the time and points system of a question.
Change backgrounds, images and text colours.
Or you can add Easter-related quizzes from our question bank in 3 easy steps.
Create a new slide.
Insert your topic (Easter) into the search bar.
Add the quiz question of your choice from the options.
Option #2: Make it a Team Quiz
Don't put all your contegg-stants in one basket 😏
You can turn this Easter quiz into a team affair by setting up team sizes, team names and team scoring rules before you host.
Option #3: Customize Your Unique Join Code
Players join your quiz by entering a unique URL into their phone browser. This code can be found at the top of any question slide. In the 'Share' menu on the top bar, you can change the unique code to anything with a maximum of 10 characters:
Host Free Quizzes
---
Make your hangouts fun with 100s of great interactive quizzes!