It is known for fact that when giving presentations, the audience's attention is the biggest factor that keeps the speaker motivated and poised.
In this digital age, there are various presentation tools available that can enhance audience engagement. These tools include interactive slides, polling features, and real-time feedback options.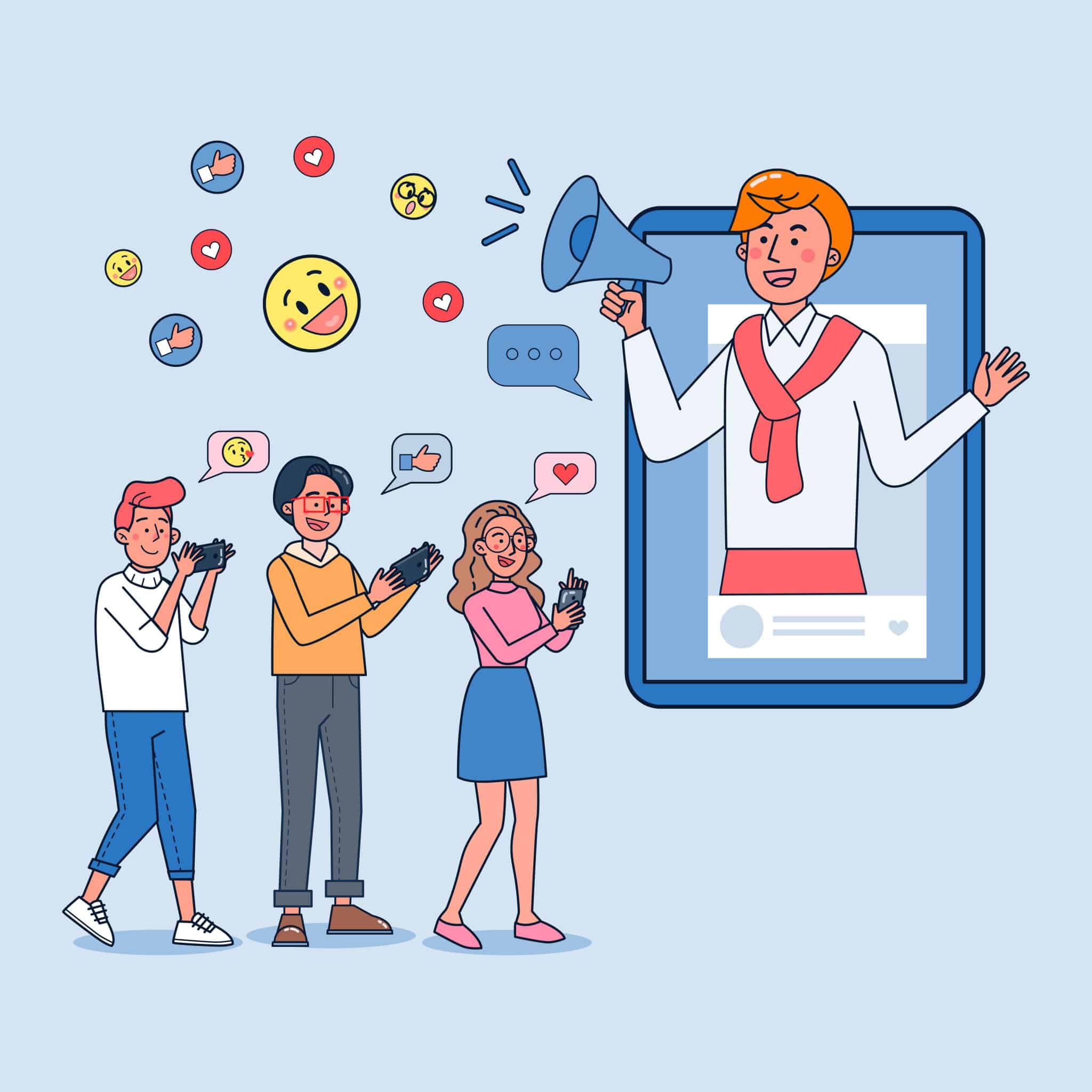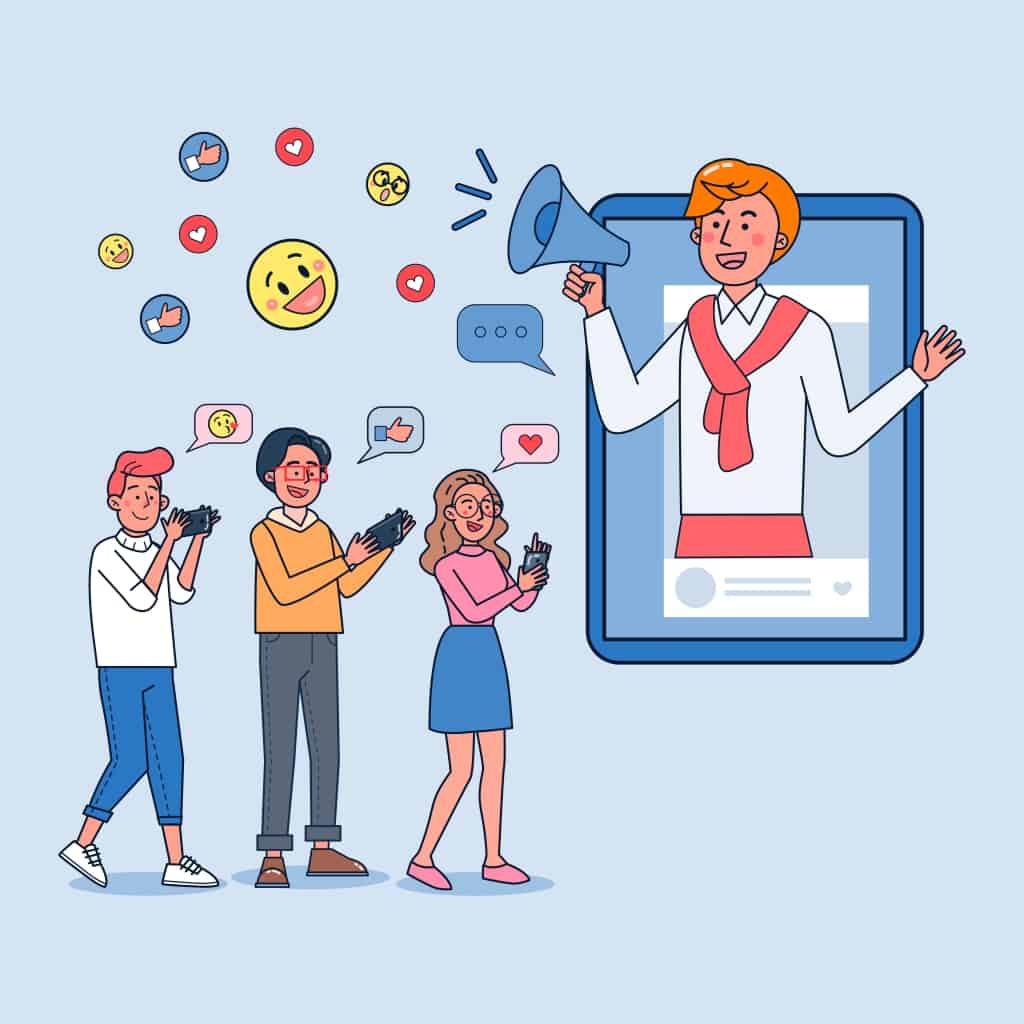 Finding the best presentation software among a plethora of options might be overwhelming and time-consuming. However, it is important that you explore your options to ensure that you'll deliver a presentation that will leave a lasting impact on your audience.
Narrow down your choices by searching for the best qualities of a presentation software that not only offers innovative features but also prioritizes audience interaction.
Table of Contents
More Tips with AhaSlides
What is Interactive Presentation Software?
In the simplest terms, interactive presentation software provides tools to build content that your audience can interact with.
Before, giving a presentation was a one-way process: the speaker would talk and the audience would listen.
Now, with the advancement of technology, presentations have become a two-way conversation between the audience and the speaker. Interactive presentation software has helped presenters to gauge audience understanding and adjust their content accordingly.
For instance, during a business conference, the speaker can use live polls or an audience response feature to gather real-time feedback on certain topics. Aside from getting the participants involved in the discussion, this also allows the presenter to address any concerns or questions.
What are some highlights in using interactive features in presentations?
Suitable for all group sizes, from small groups to a large hall of people
Suitable for both live and virtual events
The participants are given the opportunity to share their thoughts through polls, live Q&A, etc.
Information, data, and content are displayed with multimedia elements, such as images, animations, videos, charts, etc.
There's no limit to how creative speakers can be — they can customize the presentation to make it more appealing and attention-grabbing!
6 Key Features a Presentation Software Must Have
The current interactive presentation software on the market will all have basic features: customizable, shareable, equipped with a built-in library of template slides, and cloud-based.
AhaSlides has all of that and more! Discover how you can make your presentations impactful with its 6 key features:
#1 – Creating & Customizing – Features Of Presentation Software
How you design your presentation is a reflection of your personality and creativity. Show them who you are with visually stunning and well-organized slides that capture the essence of your ideas. Incorporate captivating visuals, such as images, graphs, and charts that not only enhance the overall aesthetic but also effectively convey your message. Additionally, consider adding interactive elements or a bit of storytelling that will keep your listeners interested to know more.
If you have prepared your presentations using Google Slides or Microsoft PowerPoint, you can easily import them on AhaSlides! Edit multiple slides at once or invite others to collaborate on customizing the presentation.
AhaSlides has outstanding features, including 17 built-in slides library, grid view, participant view, sharing and downloading presentations, customizing viewers, and more!
Don't hesitate to make your presentation unique! Create your own slide deck or personalize a slide template.
Interactive presentation software, such as AhaSlides, lets you change the background to anything you like, from colors to images, even GIFs if you want.
You can then customize the URL access token to make the invitation to your presentation more personal.
And why not make your presentations more vibrant with the wide range of image options in the built-in library, along with the choice to embed audio and add more fonts (aside from the multiple fonts available)?
#2 – Quizzes & Games – Features Of Presentation Software
What better way to start a presentation than with a game? Presentations never sounded entertaining; in fact, it connotes a boring and monotonous experience for many.
Kick-start the session with an interactive activity to instantly grab your audience's attention and create a sense of excitement. This not only sets a positive tone for the rest of your presentation but also helps to break the ice and establish a connection with your audience.
AhaSlides has free audience engagement features that will up your game! Build audience rapport with AhaSlides' live quiz games.
AhaSlides champions interactivity through its various quiz types. It also allows team play, where a group of participants can compete against each other. They can choose their group or the speaker can use AhaSlides' spinner wheel to randomly assign participants to teams, adding an element of excitement and unpredictability to the game.
Add a countdown timer or time limit according to each question to make the game more thrilling.
There is real-time scoring and after the game, a leaderboard appears to give details of each person or team's scores.
In addition, you can moderate the full list of answers provided by the participants and manually select the ones you want to accept.
#3 – Polling – Features Of Presentation Software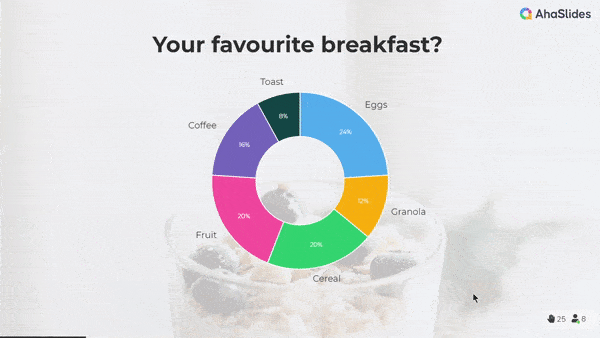 Knowing the audience's expectations and preferences will enable the presenter to effectively adjust the content and delivery of the presentation. This can be done through live polls, scales, word clouds, and idea-sharing slides.
Moreover, the opinions and ideas obtained through polling are also:
Super intuitive. Plus, you can display the poll results with a bar chart, donut chart, pie chart, or multiple comments in the form of sliding scales.
Great in stimulating creativity and increasing the audience response rate. Through AhaSlides' Word Cloud and other engaging tools, your audience will brainstorm together and bring you unexpected, valuable insights.
Convenient for the audience. They can get tracking results right on their phone.
Alternatively, you can choose to show or hide the results. It's okay to keep a little secret for the audience to suspense until the last minute, isn't it?
#4 – Q&A – Features Of Presentation Software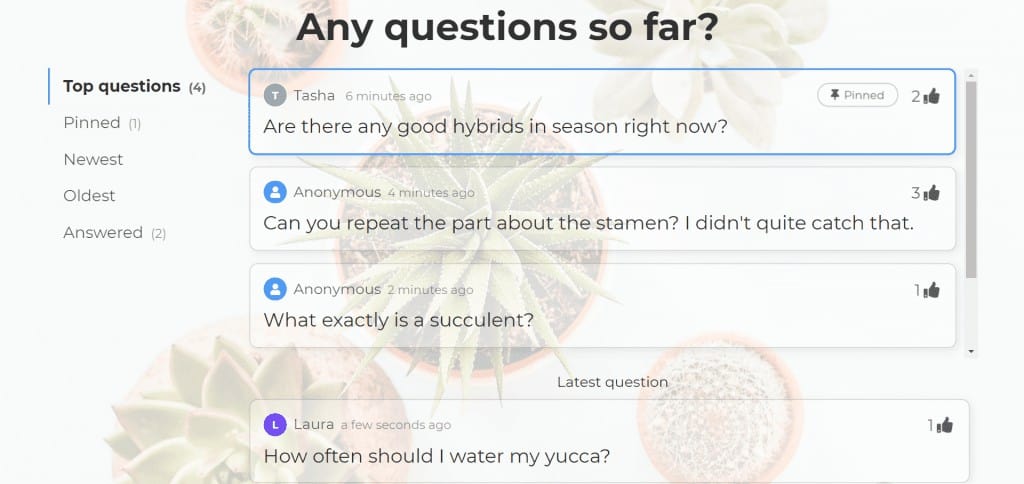 Since modern presentations focus on getting the audience involved, a Question & Answer portion is a smart way to keep them on track.
AhaSlides offers a built-in Q&A feature that allows participants to ask questions directly from their devices, eliminating the need for hand-raising or interruptions. This ensures a smooth flow of communication and encourages active participation from the audience.
What does AhaSlides' live Q&A do?
Saves time by viewing questions in an orderly table. Speakers will know which questions to address first (like the most recent or popular queries). Users can save the questions as answered or pin them for later use.
Participants can vote for the inquiries they feel need to be answered right away while the Q&A is ongoing.
Users have full control in approving which questions will be shown or neglected. Inappropriate questions and profanity are automatically filtered as well.
#5 – Spinner Wheel – Features Of Presentation Software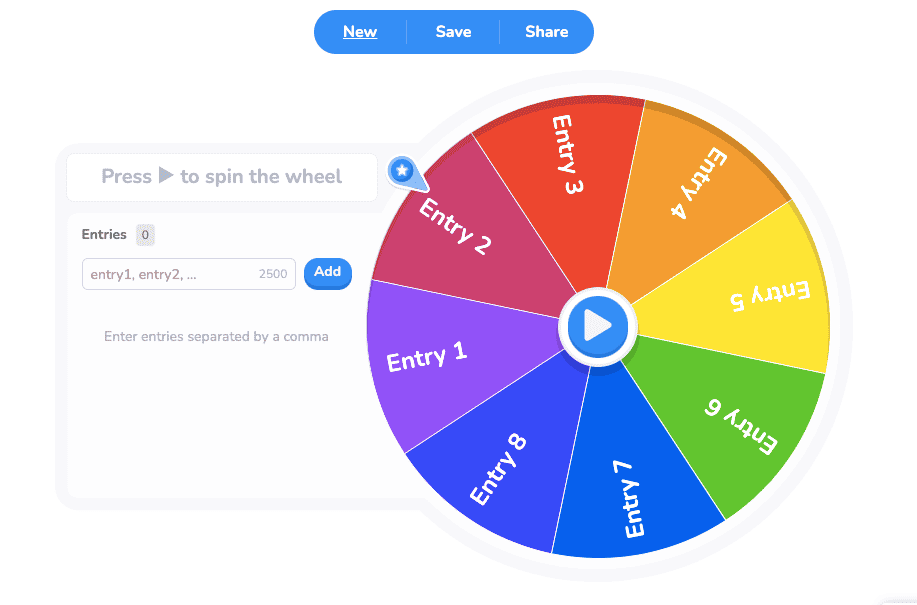 Spinner Wheel is a versatile tool that can be used in a variety of settings, such as classrooms, corporate training sessions, or even social events. With its customizable options, you can tailor the Spinner Wheel to fit the specific needs and goals of your audience. Whether you want to use it for icebreakers, decision-making exercises, or simply as a fun way to choose a random winner, it is sure to bring energy and thrill to your event.
Alternatively, you can save this best random picker wheel for the end of your presentation, to see which lucky participant will receive a small gift. Or perhaps, during office meetings, the spinner wheel can be used to decide who the next presenter will be.
#6 – Audience Experience – Features Of Presentation Software
The real essence of an interactive presentation is to make the audience feel like active participants rather than passive observers. As a result, the listeners feel more connected to the presentation and are more likely to retain the information shared. Ultimately, this interactive approach transforms a traditional presentation into a collaborative and enriching experience for everyone involved.
Your audience is your most important asset when delivering a presentation. Let AhaSlides help you give a successful presentation that will resonate with them long after it's over.
The more, the merrier. AhaSlides allows up to 10,000 people to join your presentation at once. Don't worry! It will not be difficult to access, because each participant can only scan a unique QR code to join your presentation.
There are 15 languages available — a huge step in breaking language barriers!
The interface is mobile-friendly, so you do not have to worry about your presentation showing errors or quirks on any mobile device.
The audience can see all the question slides, quizzes, and content appear on their mobile devices without constantly looking up at the presenter's screen.
Participants can share their quiz scores with a simple tap, or react to all of your slides with 5 colorful emojis. Just like Facebook!
#7 – Bonus: After the Event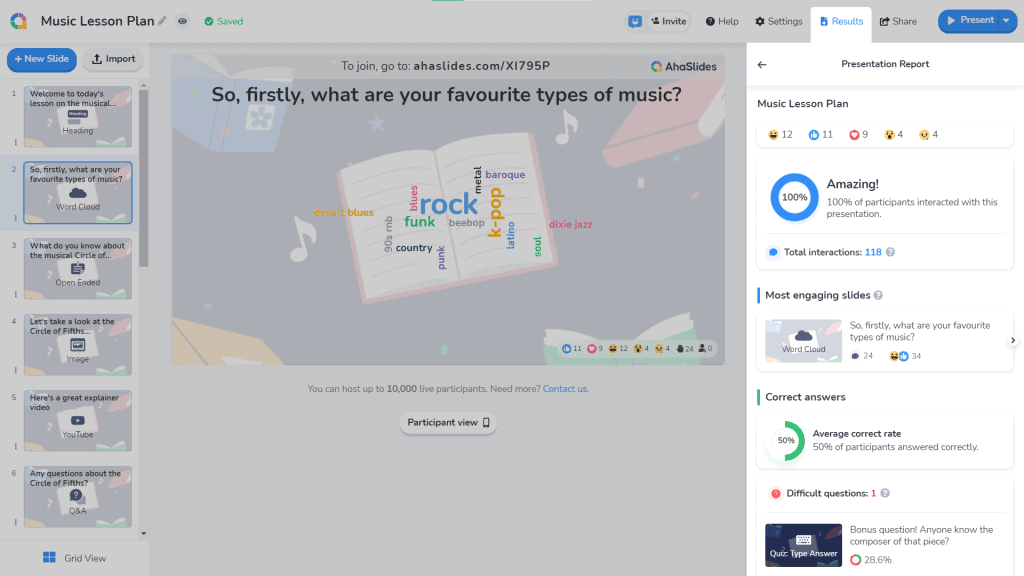 The best way to be a good speaker or presenter is to learn a lesson or paint yourself an overview of each presentation.
Does your audience like the presentation because of what? How do they react to each question? Are they paying attention to the presentation? You need to put those questions together to come up with the final result.
It's not possible to accurately tell if a presentation is going well or resonating with the crowd. But with AhaSlides, you can collect feedback and analyze how you did.
After the presentation, AhaSlides provides you with the following:
A report to see your engagement rate, top responsive slides, quiz results, and your audience behavior.
A shareable link of the presentation that already has all the participants' responses. So, you can always come back to it to know your strengths, weaknesses, and what your audience needs in a presentation. Additionally, you can export the necessary data to an excel or PDF file. But this is only on the paid plan.
Better Presentations with AhaSlides
Undoubtedly, choosing a comprehensive and easy-to-use interactive presentation software will transform your presentations.
AhaSlides revolutionizes traditional presentations by offering interactive features that encourage audience participation and collaboration. Through live polls, quizzes, and Q&A sessions, the audience can actively engage with the content and express their opinions.
With AhaSlides, you are no longer limited by old molds and can freely create your own presentation by registering and creating an account today (100% free)!