Is there any better way to get 2024 off to a flyer than with the perfect New Year quiz?
No matter where you're from, the end of the year is always a time for celebration, laughter, and heated trivia that threatens to derail the peace of the holidays.
Keep the order and heighten the drama with the right software. Here, we'll show you how you can use AhaSlides' free interactive quizzing software can help you host a new year's quiz that lives long in the memory!
New Year Quiz 2024 – Your Checklist
Drinks 🍹 – Let's get this nailed down right off the bat: gather some of your favourite beverages and tell your guests to do the same.
Interactive quiz software – There are plenty of options for easy-to-use quiz software that handle all the admin of your new year quiz. Free platforms like AhaSlides are great for keeping quizzes organised, animated, diverse and bucket loads of fun.
Zoom (for an online quiz) – If you're looking to host a quiz over Zoom, you'll need access to the video call software (like Teams, Meet, or whatever else). If you're taking this route, interactive quiz software is pretty much essential.
Templates (optional) – Clock ticking down fast? If you're in a rush to create a new year quiz, you can take hundreds of questions from AhaSlides' free quiz templates….
Free Templates for your New Year Quiz
Ring in the new year with the joy of trivia. Choose questions and host your quiz!
---
get started for free
💡 Want to make your own new year trivia? Not a problem. Read on to learn how to create your own new year quiz for free on AhaSlides.
Believe it or not, to host a blockbuster new year's quiz, you'll need a quiz to host.
Usually, the content for this kind of quiz revolves around events that happened in the previous year, but that's not always the case. You may want to make a general knowledge quiz, or a best friend quiz to round off the year, but that's up to you.
If you want to create your own quiz, let's start, as is traditional, with the first question….
1. Select your question type
You can choose to make a quiz entirely of multiple choice and/or open-ended questions, or you can choose to end the year with a bit of variety. The best quiz masters go for the latter.
In addition to multiple choice and open-ended, AhaSlides lets you make a memorable quiz with a bunch of multimedia questions…
Image questions – No fiddly materials and no admin. Just write the question on AhaSlides, provide 4 image options and let your players guess the right one.
Audio questions – Embed an audio clip into your question, which plays on your computer and your players' phones. Great for music rounds.
Matching questions – Give your players a column of prompts and a column of answers. They must match the right prompt to the right answer.
Order questions – Give your players a set of statements in a random order. They must place them in the correct order as fast as possible.
💡 Bonus: The 'spinner wheel' slide is not a scored quiz slide, but it can be used for a bit of extra fun and drama in between rounds.
2. Write your Question
With your question slide created, you can now go ahead and write your super engaging quiz question. You also need to provide the answer (or answers) that your players have to get to earn their points.
3. Select your Settings
Once you choose your settings on the first slide, those settings will take affect on every slide you create aftwards. So, it's a good idea to nail down your ideal settings right from the off, so that you can stay consistent throughout your quiz.
On AhaSlides, these are some of the settings that you can change…
Time limit
Points system
Faster answer rewards
Multiple right answers
Profanity filter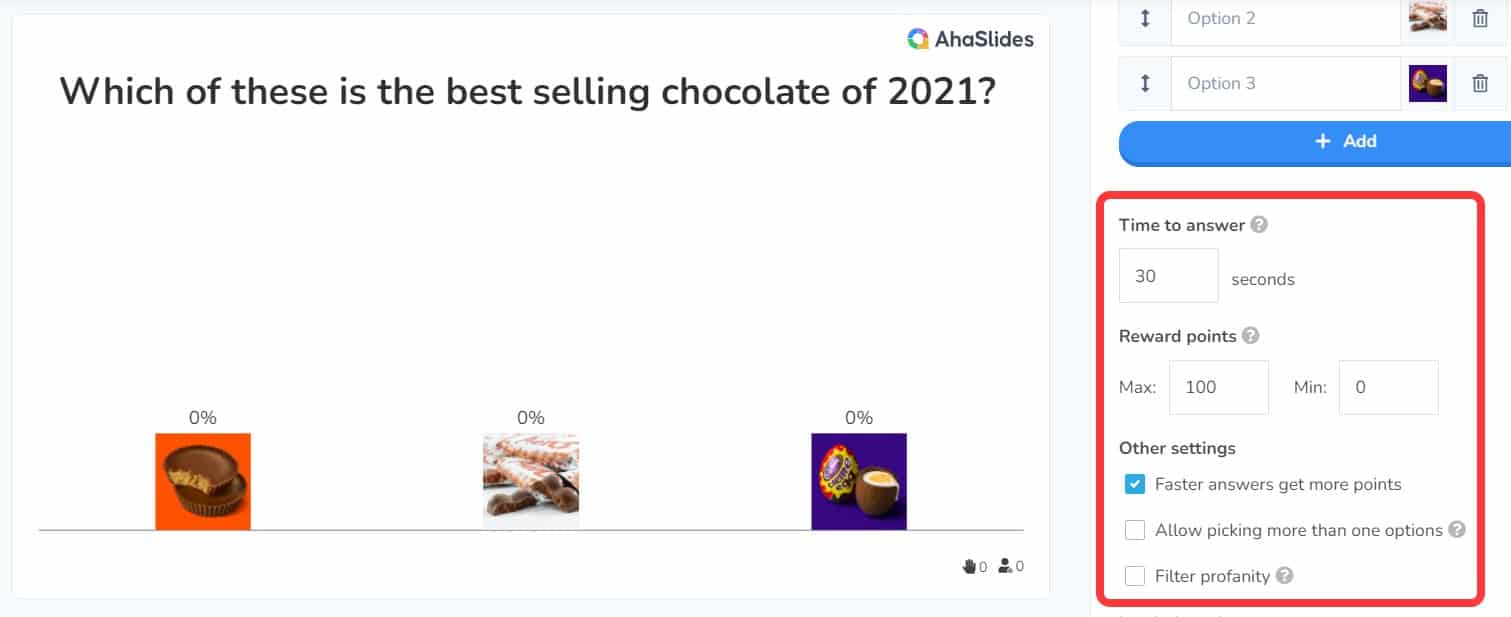 4. Change the Look
A big part of the success of your new year quiz comes from how it looks on your screen and players' phones. Keep things lively with some dramatic and topical background imagery, GIFs, text, colours and themes.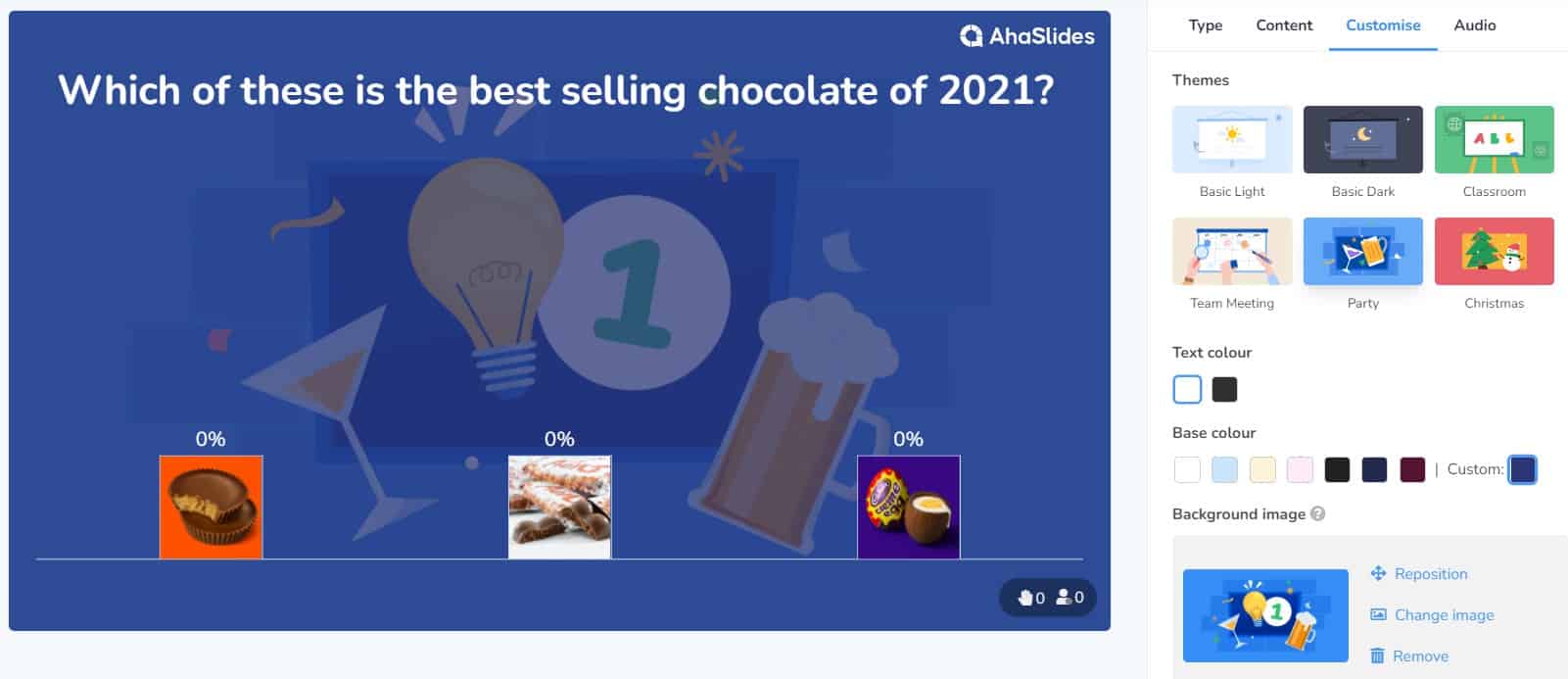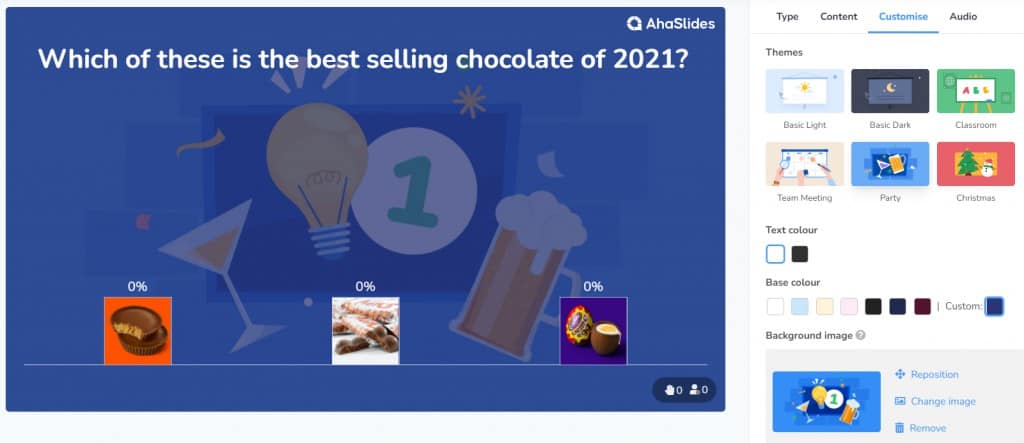 👉 Tips for Creating a New Year's Quiz
Creating the perfect quiz to round off the year is no easy task, but here are some golden guidelines to follow during the creation process…
Add variety – The standard quiz format is a cascade of open-ended questions or multiple choice questions. The best quizzes have more than that – image questions, audio questions, matching questions, correct order questions and more. Use as many different types as you can!
Reward faster answers – In a great new year quiz, it's not just about getting it right or wrong, it's also about how fast you do so. AhaSlides gives you the option to reward faster answers with more points, which adds a real kick to the drama.
Make it a team quiz – In almost all situations, team quizzes trump solo quizzes. The stakes are higher, the vibe is better and the laughter is louder.
Keep it topical – The main theme of your new year's quiz should be a roundup of the year. That means notable events, news stories, music and film releases, etc., NOT a quiz about the (fairly sparse) traditions of new year.
Get a headstart – Like we mentioned, templates really are the best way to get started on a quiz. They'll save you so much time and set a tone for the quiz that you can follow consistently.
Take the 20-question 2024 quiz and host it on Ahaslides' live, interactive quiz software.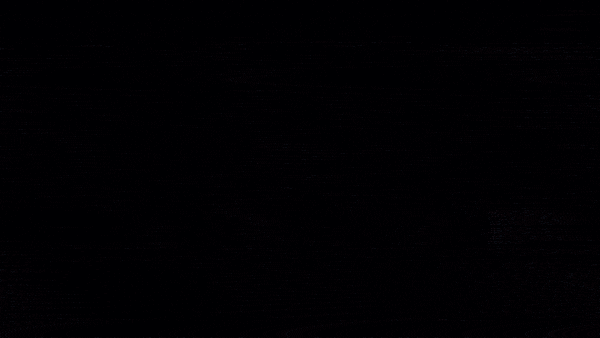 Step 2: Test it Out
After you've made a bunch of new year quiz questions, it's ready to go! But before you host it for your players, you'll want to test your quiz to make sure it works as planned.
Click the 'Present' button in the top-right corner.
Enter the URL at the top of the screen into your phone.
Enter your name and choose an avatar.
Answer a quiz question and see what happens!
If everything goes to plan, you'll be able to answer a question correctly and see your own points tally on the following leaderboard slide.
Once you've done this, come to the 'Results' tab in the top menu and press the 'Clear data' button to erase the responses you've just entered. Now you'll have a fresh quiz that's ready for some real players!
Step 3: Invite your Players
This one's easy. There are two ways to invite players to play your new year quiz with their phones…
Join code – Give your players the unique URL link at the top any slide. A player can enter this into their phone browser to join your quiz.
QR code – Click the top bar of any slide in your quiz to reveal the QR code. A player can scan this with their phone camera to join your quiz.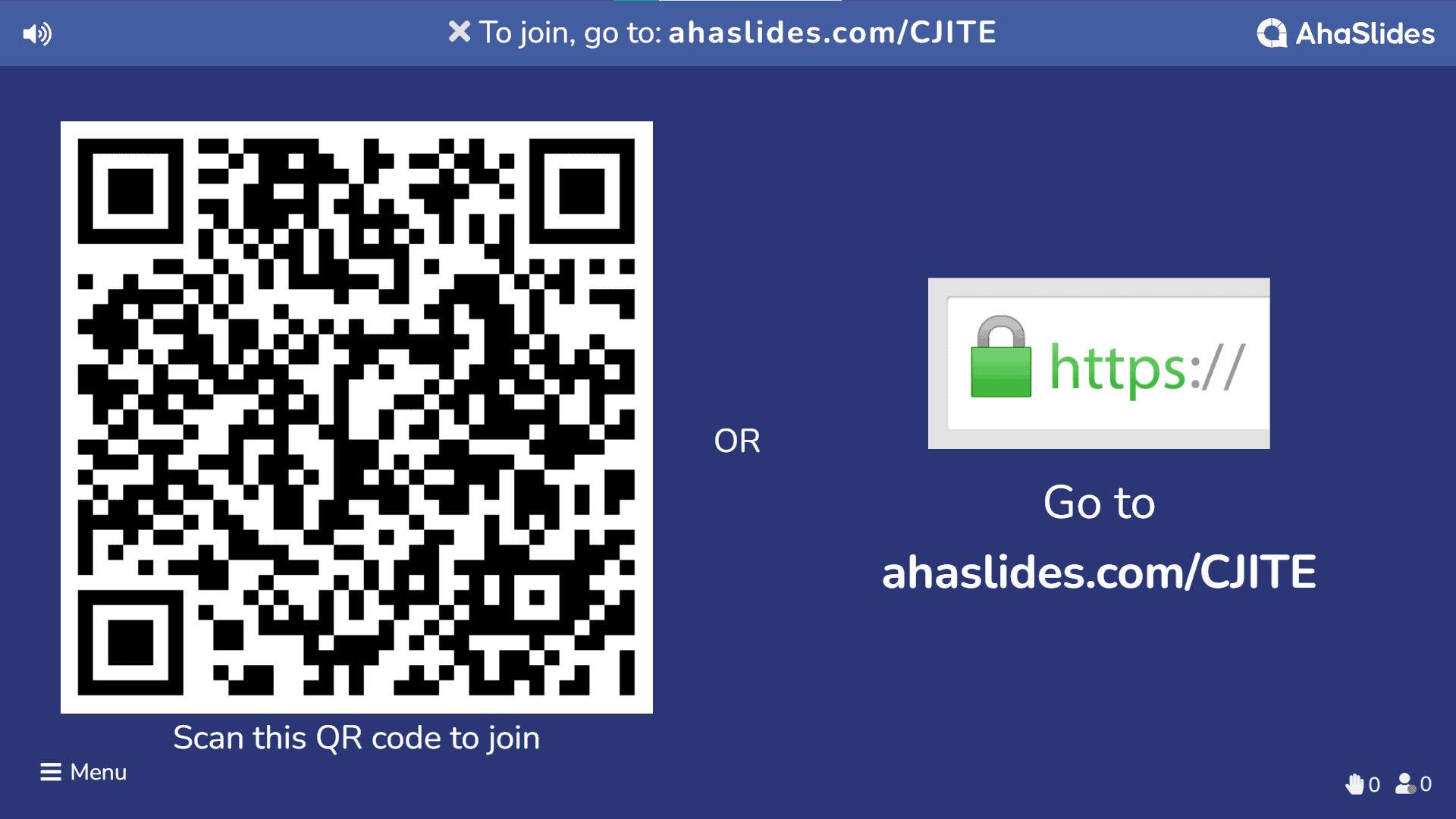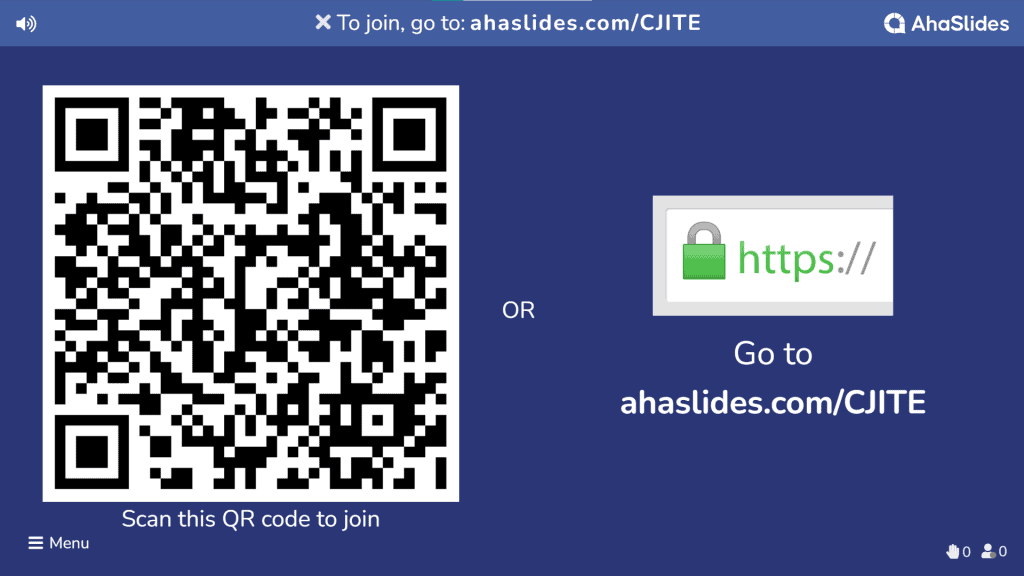 Once they're in, they'll need to enter their name, choose an avatar, and if you've opted to run a team quiz, select the team that they want to be a part of.
They'll take a seat in the lobby, where they'll have some quiz background music and can chat using the live chat feature while they await the other players.
Step 4: Host your New Year Quiz!
Now it's time to throw down! The competition starts here, so when you've got all your players waiting in the lobby, press 'Start the quiz'.
Head through each of your questions one-by-one. Players will have the time limit you gave them to answer your questions, and will build their points throughout the quiz.
On the quiz leaderboard, they can see how they're performing against all the other players. The final leaderboard will herald the winner of the quiz in dramatic fashion!
Tips for Hosting a New Year Quiz
Don't stop talking – Quizzes are never meant to be a silent. Read each question aloud twice and have some interesting facts ready to mention while players are waiting for others to answer.
Take breaks – After a round or two, give players a quick break to go to the toilet, bar or snack cupboard. Don't overdo the breaks as they can be disruptive to the flow and annoying for players.
Keep it relaxed – Remember, this is all a bit of fun! Don't worry about players not answering questions or answering in a non-serious manner. Take a step back and keep it ticking along in as light-hearted a manner as you can.
You're done! 🎉 You've just hosted a super fun new year quiz that's put everyone in the mood to celebrate. Next stop – 2022!
Video 📺 Create a Free New Year Quiz
Looking for more advice on running a memorable new year quiz? Check out this quick video to learn how following the steps above will give you a new year's quiz that lingers long in the memory.
Frequently Asked Questions
What are some trivia questions for new year?
Trivia questions to play with friends and families:
– Which is older – Christmas or New Year's celebrations? (New Year)
– What traditional New Year's food is eaten in Spain? (12 grapes at midnight)
– Where is the first place in the world to celebrate New Year? (Pacific islands like Samoa)
What are some fun facts about New Years?
Fun facts about New Years:
– In ancient Babylon, the new year began with the first new moon after the vernal equinox (around March 21).
– The baby New Year imagery we've come to associate with the start of January dates back to the late 19th century.
– Auld Lang Syne, the song most associated with New Year's, is actually Scottish and means "days gone by."