Persuasion is power, and within a mere three minutes, you can move mountains – or at least change some minds.
But with brevity comes pressure to pack a maximum punch.
So how do you deliver impact concisely and command attention from the get-go? Let us show you some short persuasive speech examples that convince the audience in less than the time to microwave a pizza.
Table of Contents
Tips for Audience Engagement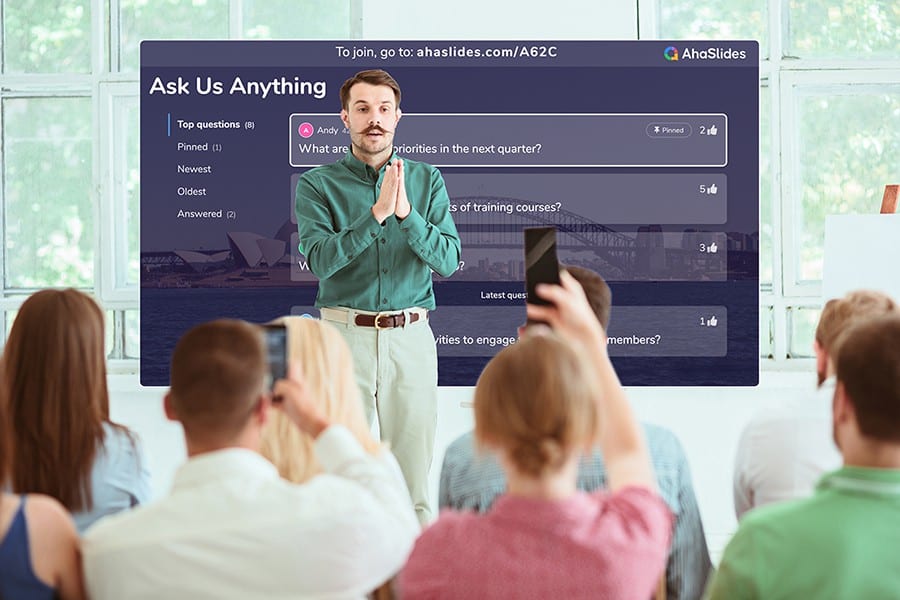 Start in seconds.
Get free templates for your next interactive presentation. Sign up for free and take what you want from the template library!
🚀 Grab Free Account
1-Minute Short Persuasive Speech Examples
The 1-minute persuasive speeches are similar to a 30-second elevator pitch which constrain what you can do due to their limited time. Here are some examples that stick to a single, compelling call to action for a 1-minute window.
#1. Title: Go Meatless on Mondays
Good afternoon everyone. I'm asking you to join me in adopting a simple change that can positively impact both our health and the planet – going meatless one day a week. On Mondays, commit to leaving meat off your plate and choosing vegetarian options instead. Research shows cutting back on red meat just a bit provides significant benefits. You'll reduce your risk of chronic diseases while lessening your environmental footprint. Meatless Mondays are easy to incorporate into any lifestyle. So starting next week, I hope you'll help raise awareness around sustainable eating by participating. Every small choice matters – will you make this one with me?
#2. Title: Volunteer at the Library
Hello, my name is X and I'm here today to tell you about an exciting opportunity to give back to the community. Our public library is seeking more volunteers to assist patrons and help keep its services running strong. As little as two hours per month of your time would be hugely appreciated. Tasks can include shelving books, reading to children, and assisting seniors with technology. Volunteering is a great way to build skills while feeling fulfilled through serving others. Please consider signing up at the front desk. Our library brings people together – help keep it open for all by offering your time and talents. Thank you for listening!
#3. "Invest in Your Career with Continued Education"
Friends, to stay competitive in today's world we must commit to lifelong learning. A degree alone won't cut it anymore. That's why I'm encouraging you all to consider pursuing additional certifications or classes part-time. It's a great way to boost your skills and open new doors. Just a few hours a week can make a big difference. Companies also love seeing employees who take the initiative to grow. So let's support each other along the way. Who wants to further their career together starting this fall?
3-Minute Short Persuasive Speech Examples
These persuasive speech examples clearly state the position and main information within 3 minutes. You can have a tad bit more freedom to express your points compared to the 1-minute speeches.
#1. "Spring Clean Your Social Media"
Hey everyone, social media can be fun but it also eats up a lot of our time if we're not careful. I know from experience – I was constantly scrolling instead of doing things I enjoy. But I had an epiphany last week – it's time for a digital detox! So I did some spring cleaning and unfollowed accounts that didn't spark joy. Now my feed is full of inspiring folks instead of distractions. I feel less pulled to mindlessly browse and more present. Who's with me in lightening your online load so you can spend more high-quality time in real life? It takes just a few minutes to unsubscribe and you won't miss the stuff that doesn't serve you.
#2. "Visit Your Local Farmers Market"
Guys, have you been to the downtown farmers market on Saturdays? It's one of my favourite ways to spend the morning. The fresh veggies and local goods are amazing, and you get to chat with friendly farmers growing their own stuff. I always walk away with breakfast and lunch sorted for days. Even better, shopping directly from farmers means more money goes back into our community. It's a fun outing too – I see lots of neighbours there every weekend. So this Saturday, let's go check it out. Who wants to join me on a trip to support locals? I promise you'll leave full and happy.
#3. "Reduce Food Waste through Composting"
How can we help the planet while saving money? By composting our food scraps, that's how. Did you know food rotting in landfills is a major source of methane gas? But if we compost it naturally, those scraps turn into nutrient-rich soil instead. It's easy to get started with a backyard bin too. Just 30 minutes a week breaks down apple cores, banana peels, coffee grounds – you name it. I promise your garden or community garden will thank you. Who wants to do their part and compost with me from now on?
5-Minute Short Persuasive Speech Examples
Let's look at this 5-minute example on life:
We've all heard the saying "You only live once". But how many of us truly understand this motto and appreciate each day to its maximum? I'm here to persuade you that carpe diem should be our mantra. Life is too precious to take for granted.
Too often we get caught up in daily routines and trivial worries, neglecting to fully experience each moment. We scroll mindlessly through phones instead of engaging with real people and surroundings. Or we work excessive hours without dedicating quality time to relationships and hobbies that feed our souls. What's the point of any of this if not to genuinely live and find joy each day?
The truth is, we really don't know how much time we have. An unforeseen accident or illness could end even the healthiest life in an instant. Yet we trudge through life on autopilot instead of embracing opportunities as they arise. Why not commit to living consciously in the present rather than the hypothetical future? We must make a habit of saying yes to new adventures, meaningful connections, and simple pleasures that spark life within us.
To wrap it up, let this be the era where we stop waiting to truly live. Each sunrise is a gift, so let's open our eyes to experience this wonderful ride called life to its absolute fullest. You never know when it might end, so make each moment count from today forward.
Bottom Line
We hope these exemplary short speech examples have inspired and equipped you to craft impactful persuasive openers of your own.
Remember, in just a minute or two, you have the potential to spark real change. So keep messages concise yet vivid, paint compelling pictures through well-chosen words, and above all, leave audiences eager to hear more.
Frequently Asked Questions
Which is an example of a persuasive speech?
Persuasive speeches present a clear position and utilise arguments, facts and reasoning to convince an audience to accept that particular viewpoint. For example, a speech which is written to convince voters to approve local funding for park upgrades and maintenance.
How do you write a 5-minute persuasive speech?
Choose a specific topic that you are passionate and knowledgeable about. Write an attention-grabbing introduction and develop 2 to 3 main arguments or points to support your thesis/position. Time your practice runs and cut content to fit within 5 minutes, accounting for natural speech pacing