The struggle is real, guys. The five-minute presentation, though intriguing to your audience (no one likes to sit through a one-hour-feels-like-a-decade kind of talk), is a nuisance when you have to decide what to cut and what to put in. It may seem like everything happens in a blink of an eye.
The clock is ticking, but you can keep your panic attack at bay with our step-by-step guide with free topics and examples. Get the full lowdown on how make 5-minute presentation for a team meeting, college class, sales pitch, or wherever else you need it! So, let's check out 5-minute presentation samples!
Table of Contents
| | |
| --- | --- |
| How many slides should a 5 minute presentation be? | 10-20 visual slides |
| Famous Human Beings with a 5-minute presenting skill | Steve Jobs, Sheryl Sandberg, Brené Brown |
| What software can be used for presentation? | AhaSlides, Powerpoint, Key Note … |
Overview of 5-minute presentation!
Present Better with AhaSlides
5 Minute Presentation Topics (30 ideas)
How to make a 5-Minute Presentation? What are the best topics for a 5-minute oral presentation? Ignite the sparkle in the eyes of the audience with this 5-minute presentation topics list.
The danger of cyberbullying
Freelancing under the gig economy
Fast fashion and its environmental impacts
How podcast has evolved
Dystopian society in George Orwell's literature
Common health disorders you might have
What is aphasia?
Caffeine myths – are they real?
The perks of having a personality test
The rise and fall of Genghis Khan
What happens to the brain when you're in long-distance relationships?
Is it too late to care about the environment?
The consequences of relying on Artificial Intelligence (AI)
The ways anxiety disorders disrupt our life
6 economic terms you need to know
Gods in Greek mythology versus Roman mythology
Origins of Kungfu
Ethics of genetic modification
The supernatural strength of cockroaches
Is social media detox necessary?
The history of the Silk Road
What is the world's most dangerous disease in the 21st century?
Reasons to do self-journaling everyday
New trends in careers
Five reasons to get some quality time for yourself
The best food to cook when you're in a hurry
How to order the best Starbucks drink ever
Ideas and practices that you follow and would like others to know about
5 ways to make a pancake
Introduction to blockchain
---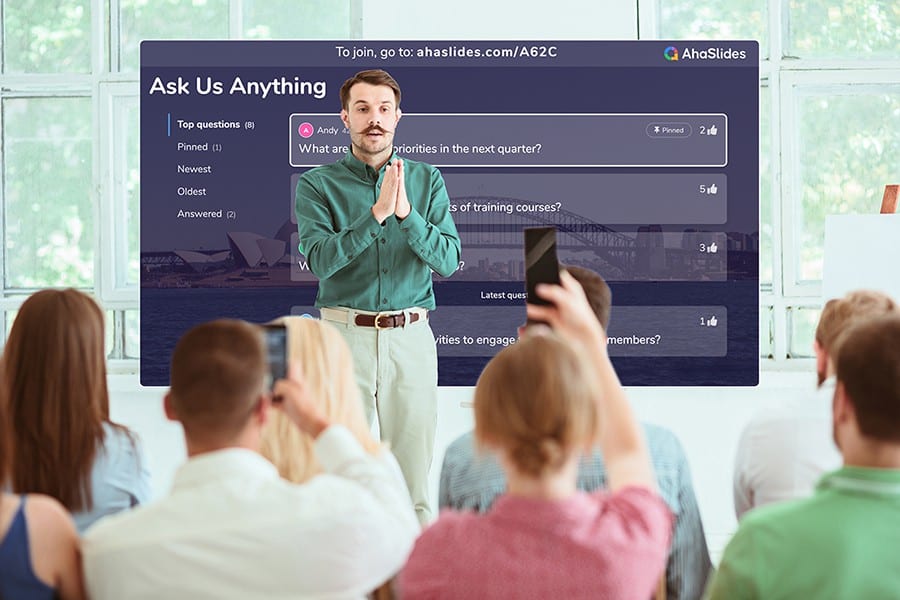 Start in seconds.
Get any of the above examples as templates. Sign up for free and take what you want from the template library!
Create free presentation
Before going way to deep of how to make a 5-minute presentation, together, let's walk through tips for 10-minutes presentation one! With the clock starts running down, every single second counts, and you begin to sweat then how can you pull out a great 10 minutes presentation under that pressure?
In this video, we want to share with you how we overcome the challenge to create 10 minutes presentation structure. Hope you enjoy this video! Let us know what you feel.
Bonus Video ▶ Going for 10 Minutes?
If you feel like a 5-minute presentation would be too stifling, stretch it to 10! Here's how to do that…
How to Make a 5-Minute Presentation?
Remember, less is more, except when it comes to ice cream.
That's why amid hundreds of methods to use, we've boiled it down into these four simple steps to make a killer 5-minute presentation.
#1 – Choose your topic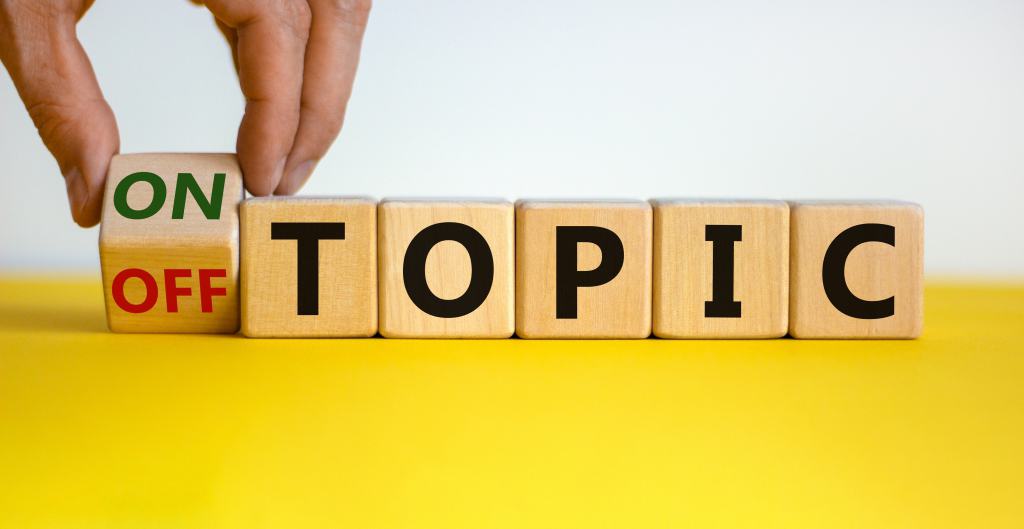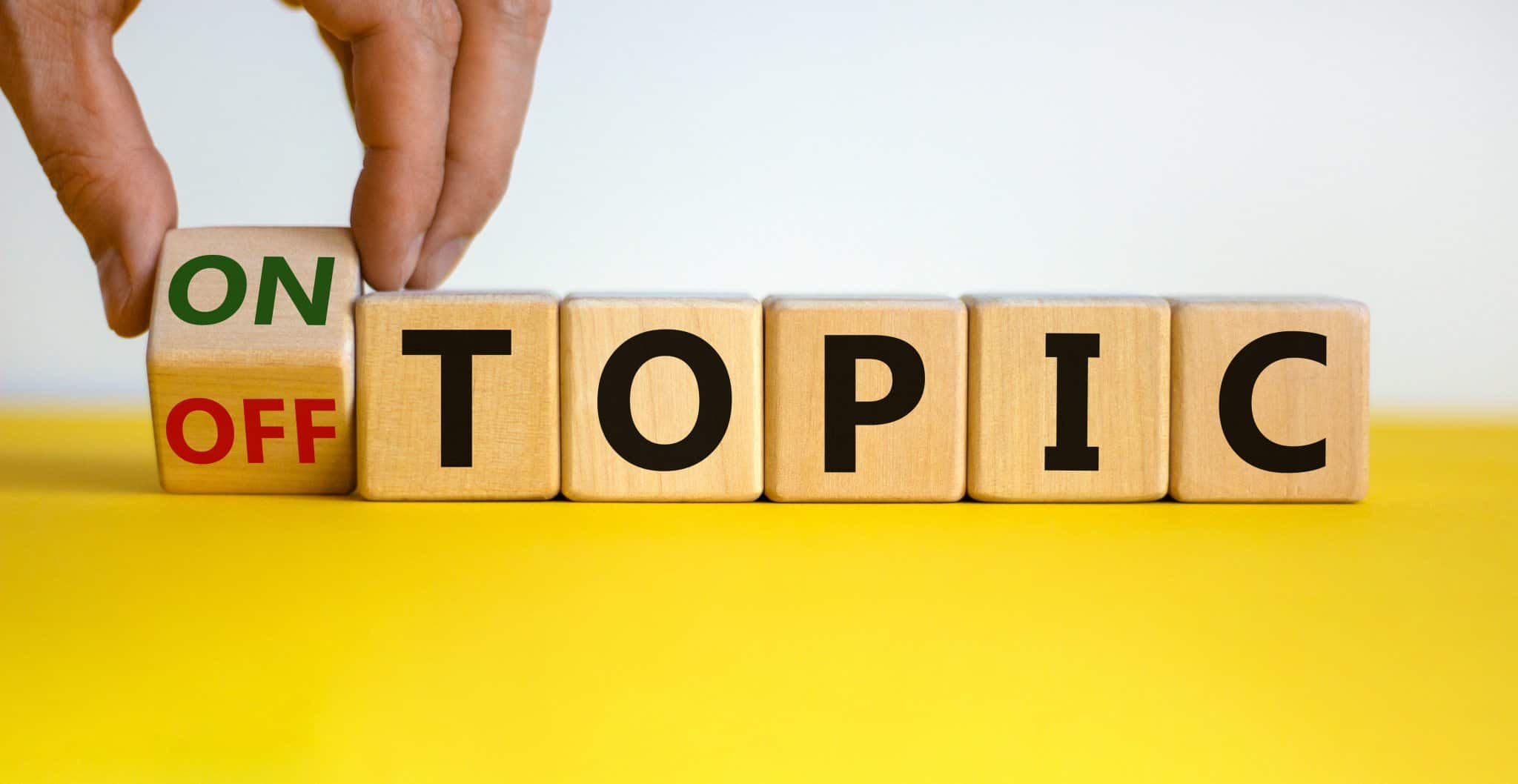 How do you know if that topic is "the one" for you? For us, the right topic ticks everything on this checklist:
✅ Stick to one key point. It's unlikely you'll have time to address more than one topic, so limit yourself to one and don't go over it!
✅ Know your audience. You don't want to waste time covering information they already know. Everyone knows 2 plus 2 is 4, so move on and never look back.
✅ Go with a simple topic. Again, explaining something that requires time should be off the checklist since you can't cover it all.
✅ Don't dwell on unfamiliar topics to minimise the time and effort you spend preparing the presentation. It should be something you already have on your mind.
#2 – Create your slides
Unlike the long presentation format in which you can have as many slides as you want, a five-minute presentation typically has significantly fewer slides. Because imagine each slide would take you roughly 40 seconds to 1 minute to go through, that's already five slides in total. Not much to think about, eh?
However, your slide count doesn't matter more than the essence each slide contains. We know that it's tempting to pack it full of text, but keep in mind that you should be the subject your audience focuses on, not a wall of text.
Check these examples below.
Make the text bold to highlight important parts and use italics primarily to denote titles and the names of particular works or objects in order to allow that title or name to stand out from the surrounding sentence. The underlining text also helps draw attention to it, but it is most commonly used to represent a hyperlink on a webpage.
You obviously saw the second example and thought there's no way you're gonna read through this on the big screen.
The point is this: keep slides straight, concise, and short. 99% of the info should come from your mouth.
When you're keeping text minimal, don't forget to befriend visuals, as they can be your best sidekicks. Startling statistics, infographics, short animations, pictures of whales, etc., all are great attention grabbers and help you sprinkle your unique trademark and personality on each slide.
Secret tip: Go the extra length by making your presentation interactive. You can add a live poll, Q&A section, or quiz that illustrates your points and leaves a lasting impression on the audience.
Get Interactive, Fast 🏃‍♀️
Make the most of your 5 minutes with a free interactive presentation tool!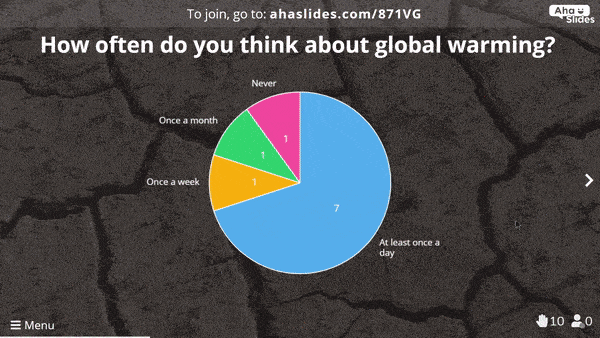 #3 – Get the timing right
When you're looking at this, we only have one thing to say: STOP PROCRASTINATING! For such a short presentation, there's virtually no time for "ah", "uh" or short pauses, because every moment counts. So, plan the timing of each section with military precision.
How should it look? Check out the example below:
30 seconds on the introduction. And no more. If you spend too much time on the intro, your main part will have to be sacrificed, which is a no-no.
1 minute on stating the problem. Tell the audience the problem you are trying to solve for them, i.e, what they are here for.
3 minutes on the solution. This is where you deliver the most essential info to the audience. Tell them what they need to know, not what is "nice to have". For example, if you're presenting how to make a cake, list each item's ingredients or measurement, as that's all essential information. However, additional information like icing and presentation is not essential and can be cut.
30 seconds on the conclusion. This is where you reinforce your main points, wrap up and have a call to action.
You can end with a small Q&A. Since it isn't technically a part of the 5-minute presentation, you can take as much time as you want to answer the questions.
To nail these timings down, make sure you practice religiously. A 5-minute presentation requires more practice than a regular one, as you won't have as much wiggle room or chance for improvisation.
Also, don't forget to check your equipment to ensure everything runs smoothly. When you've only got 5 minutes, you don't want to waste any time fixing the mic, presentation, or other equipment.
#4 – Deliver your presentation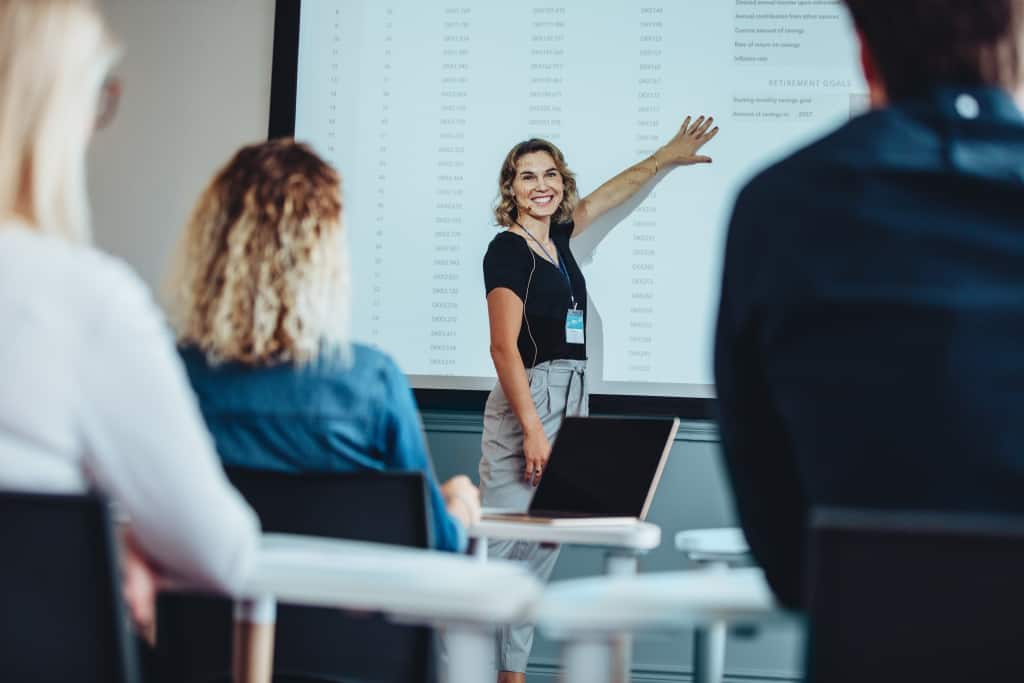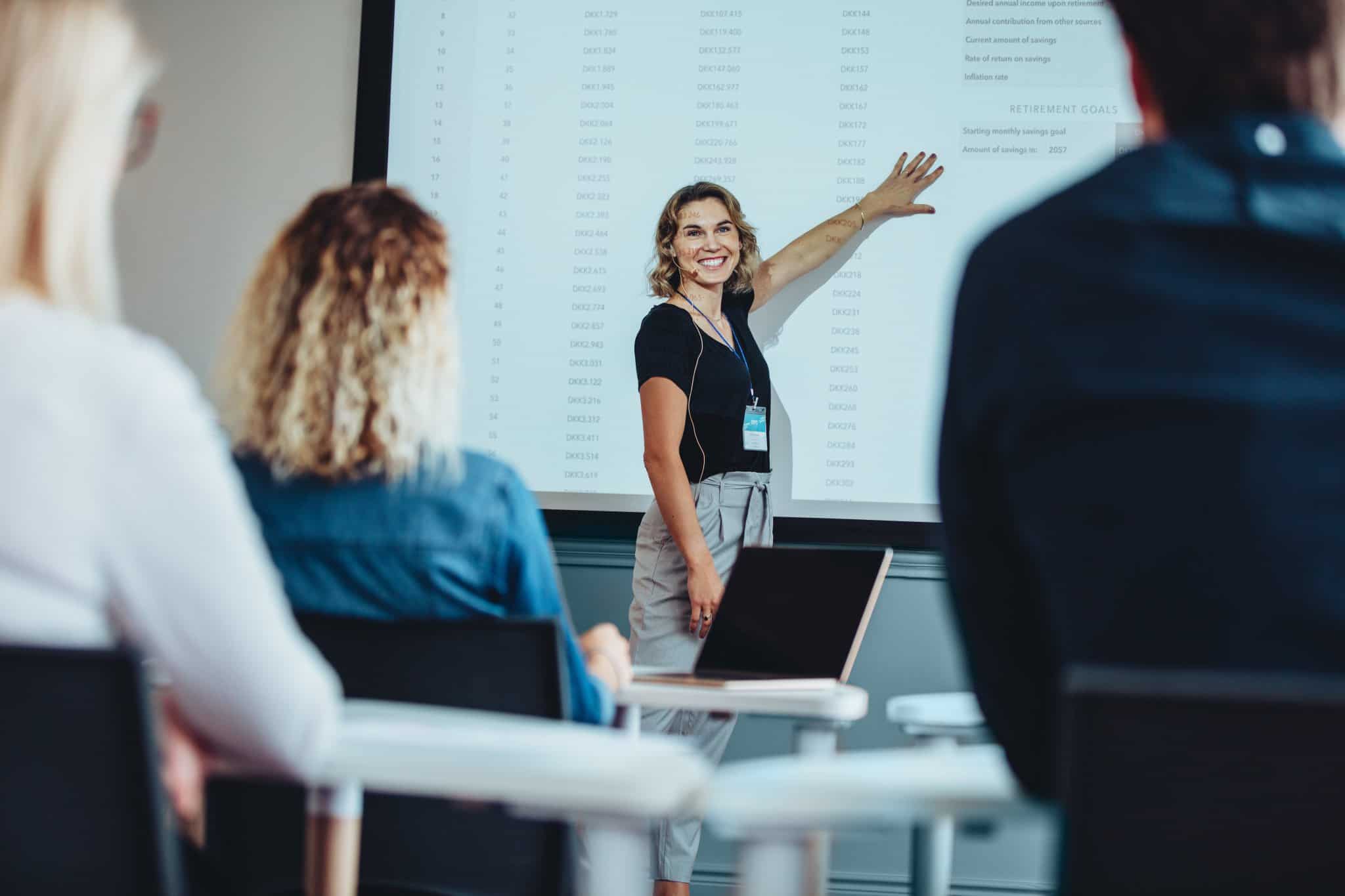 Imagine you're watching an exciting video but it keeps.lagging.every.10.seconds. You'd be super annoyed, right? Well, so would your audience if you keep confusing them with abrupt, unnatural speech.
It's normal to feel pressured to talk because you feel every minute is precious. But crafting the convo in a way that makes the crowd understand the assignment is so much more important.
Our first tip for delivering a great presentation is to practice flowing. From the introduction to the conclusion, every part needs to connect and link with each other like glue.
Go between the sections repeatedly (remember to set the timer). If there's any part in which you feel the urge to speed up, then consider trimming it down or articulating it differently.
Our second tip is for reeling in the audience from the first sentence.
There are countless ways to start a presentation. You can get factual with a shocking, on-topic fact or mention a humorous quote that gets your audience laughing and melting away their (and your) tension.
Secret tip: Don't know if your 5-minute presentation makes an impact? Use a feedback tool to collect the audience's sentiment right away. It takes minimal effort, and you avoid losing valuable feedback along the way.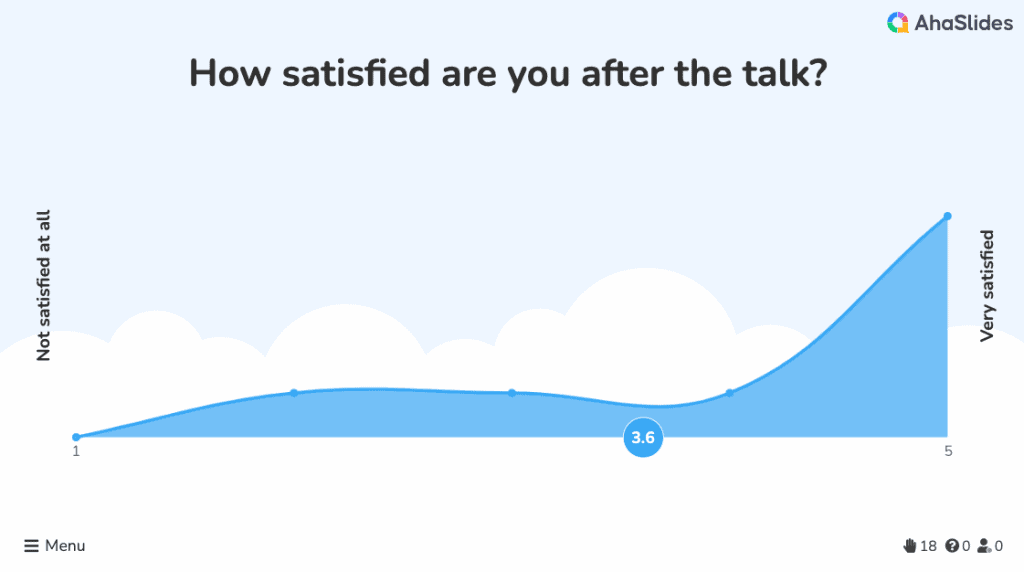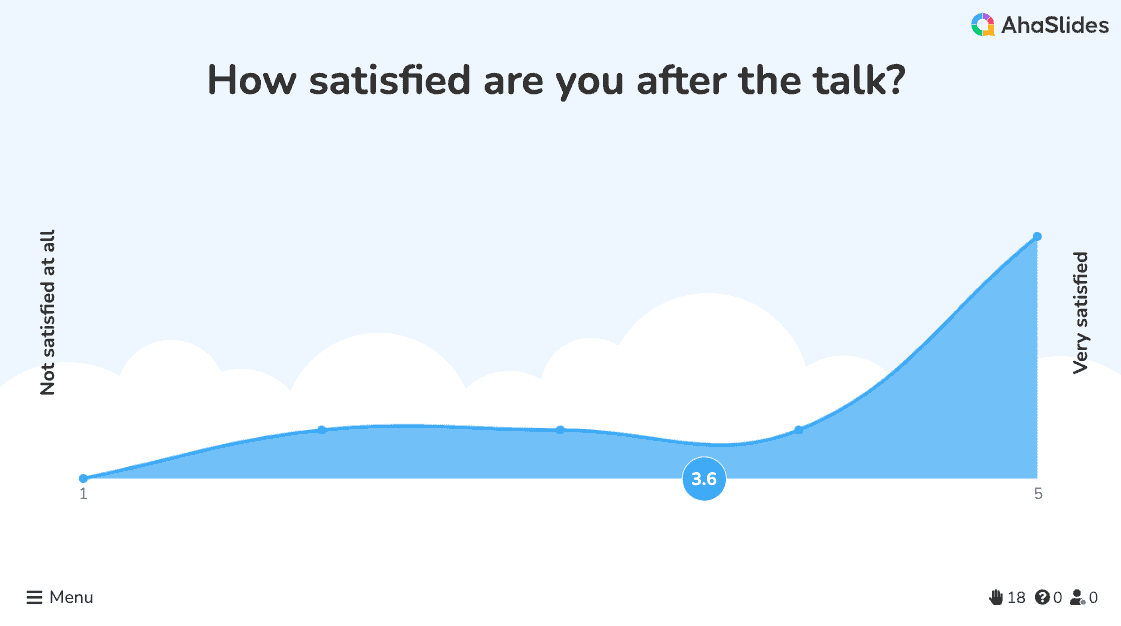 5 Common Mistakes When Giving a 5-Minute Presentation
We overcome and adapt through trial and error, but it's easier to avoid rookie mistakes if you know what they are👇
Going way past your allotted time slot. Since the 15 or 30-minute presentation format has long dominated the scene, keeping it brief is difficult. But unlike the long format, which gives you a bit of flexibility on time, the audience knows exactly what 5 minutes feels like and, therefore will expect you to condense the information within the time limit.
Having a decade-long introduction. Rookie mistake. Spending your precious time telling people who you are or what you're going to do isn't the best plan. As we said, we've got a bunch of beginning tips for you here.
Don't dedicate enough time to prepare. Most people skip the practice part since they think it's 5 minutes, and they can quickly fill that up, which is an issue. If in a 30-minute presentation, you can get away with "filler" content, the 5-minute presentation doesn't even allow you to pause for more than 10 seconds.
Devote too much time explaining complicated concepts. A 5-minute presentation doesn't have room for that. If one point you're explaining needs to link to other points for further elaboration, it's always a good idea to revise it and dig deeper into only one aspect of the topic.
Putting too many complex elements. When making a 30-minute presentation, you might add different elements, such as storytelling and animation, to keep the audience engaged. In a much shorter form, everything needs to be straight to the point, so choose your words or the transition carefully.
5-Minute Presentation Examples
To help you grasp how to make a 5-minute presentation, check these short presentation examples, to nail any message!
William Kamkwamba: 'How I Harnessed the Wind'
This TED Talk video presents the story of William Kamkwamba, an inventor from Malawi who, as a kid experiencing poverty, built a windmill to pump water and generate electricity for his village. Kamkwamba's natural and straightforward storytelling was able to captivate the audience, and his usage of short pauses for people to laugh is also another great technique.
Susan V. Fisk: 'The Importance of Being Concise'
This training video offers helpful tips for scientists to structure their talk to fit the "5 Minute Rapid" presentation format, which is also explained in 5 minutes. If you plan to create a "How-to" quick presentation, look at this example.
Jonathan Bell: 'How to Create a Great Brand Name'
As the title refers to itself, the speaker Jonathan Bell will give you a step-by-step guide on how to create a lasting brand name. He gets straight to the point with his topic and then breaks it down into smaller components. A good example to learn from.
PACE Invoice: '5 Min Pitch at Startupbootcamp'
This video shows how PACE Invoice, a start-up specialising in multi-currency payment processing, was able to pitch its ideas to the investors clearly and concisely.
Will Stephen: 'How to Sound Smart in Your TEDx Talk'
Using a humorous and creative approach, Will Stephen's TEDx Talk guides people through the general skills of public speaking. A must-watch to craft your presentation into a masterpiece.
FAQ
Frequently Asked Questions
---
Got a question? We've got answers.
A 5-minute presentation shows ability to manage time, grab audience attention, clarification as it requires lots of practice to make it perfect!
There are lots of impactful presenters overtimes, with the most famous man named Sir Ken Robinson's TED talk titled "Do Schools Kill Creativity?", which has been viewed millions of times and has become one of the most-watched TED talks of all time. In the talk, Robinson delivers a humorous and engaging presentation on the importance of nurturing creativity in education and society.
TED Talks is successful as it's present in a short format, engaging speakers, diverse topics, high production value and it's accessible everywhere!